These Fruity Pebble Marshmallow Cookies are an ooey-gooey delight! I love a soft, yet chewy cookie and this one is perfect!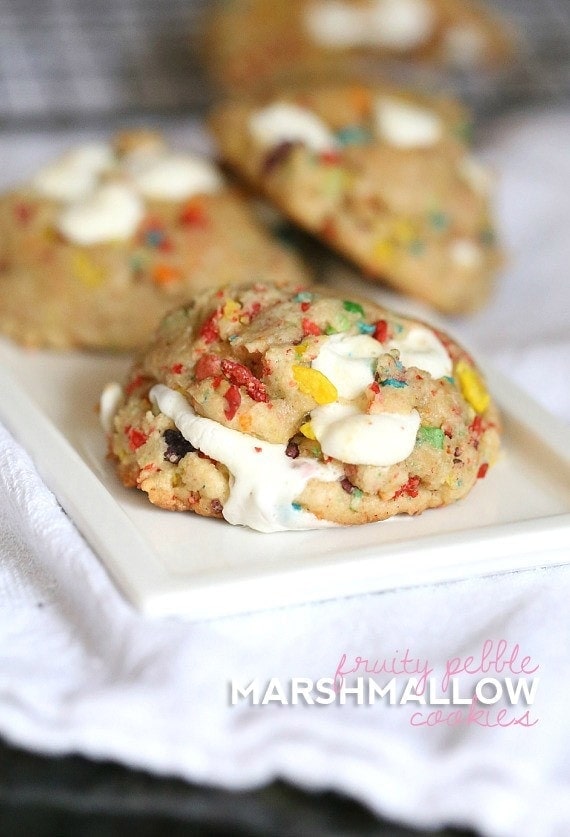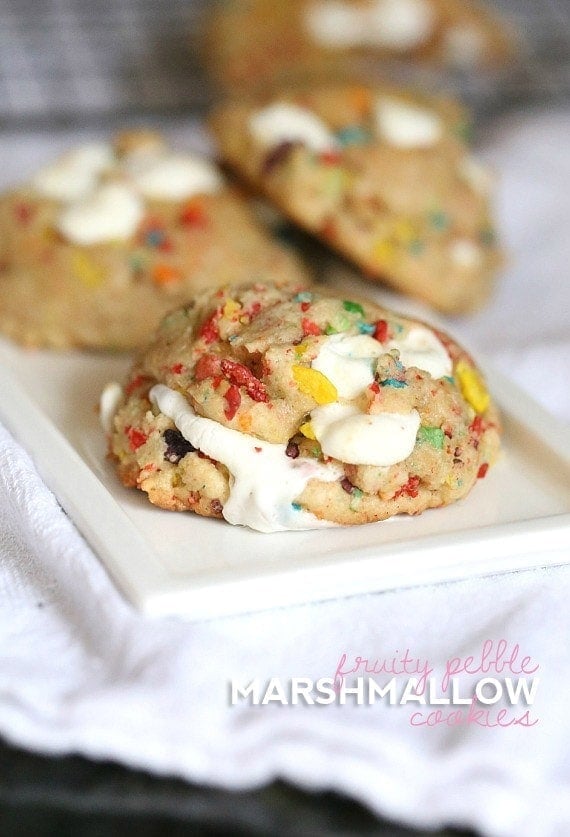 Sometimes cookies just need to happen.
And typically mixing cereal into a cookie wouldn't be my first thought…but really why not?
The idea for these cookies came from my friend Amanda, who said she tried a similar cookie at the Momofuku Milk Bar in NYC…they way she described it sounded like perfection.
So I went ahead and looked up the recipe to make…well…it was a little complicated. And I wasn't in the mood for a complicated cookie…so I dumbed down the recipe.
The idea is the same..Fruity Pebbles and marshmallows in a cookie, but the recipe is totally different…and way easier.
I LOVED these…I mean, I haven't ever had the Momofuku version, and I am sure those are amazing too.. but easy wins for me most of the time!
I posted an image of the process on Instagram, and immediately got a text from Kristan asking what the cookies were! Turns out she had JUST made a similar cookie using Frosted Flakes! How hilarious!! SO definitely hop over and check out her version of this! Can't wait to try those!
In the meantime, let's discuss…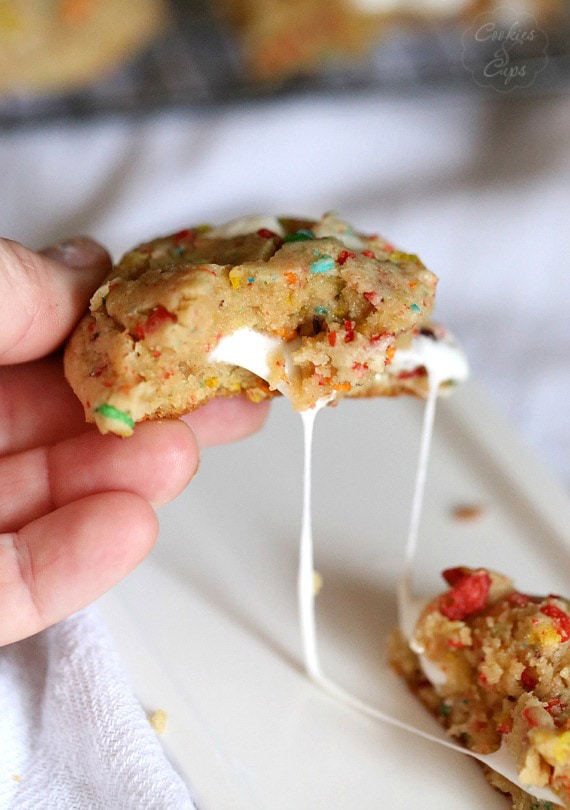 Grab you some Fruity Pebble cereal…only one of my most favorites of all time!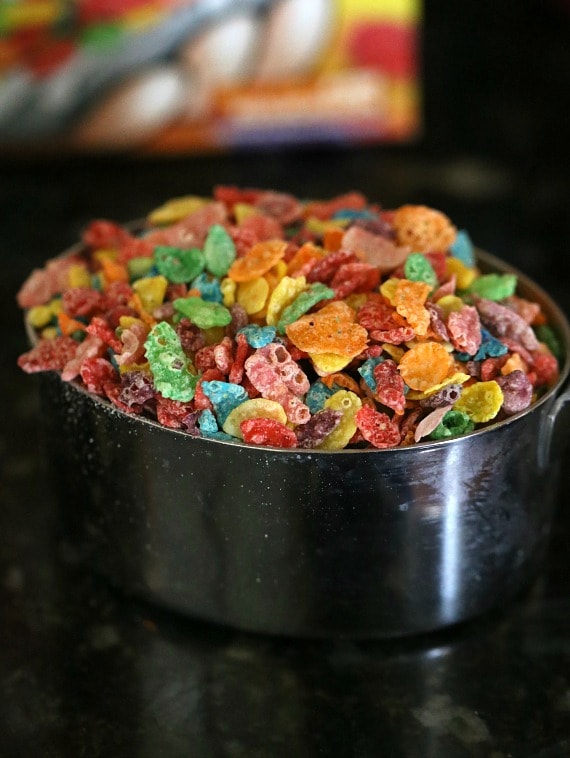 Make up your batter and just pour those right in…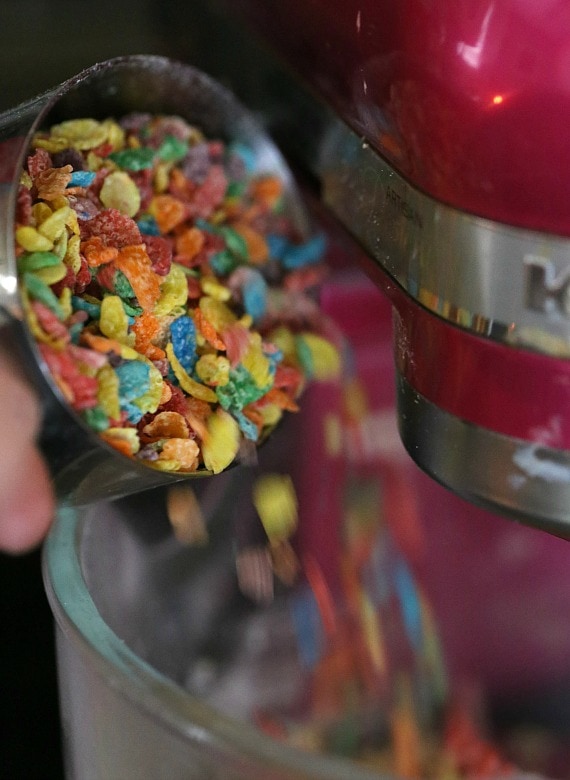 Has there ever been a prettier cookie dough?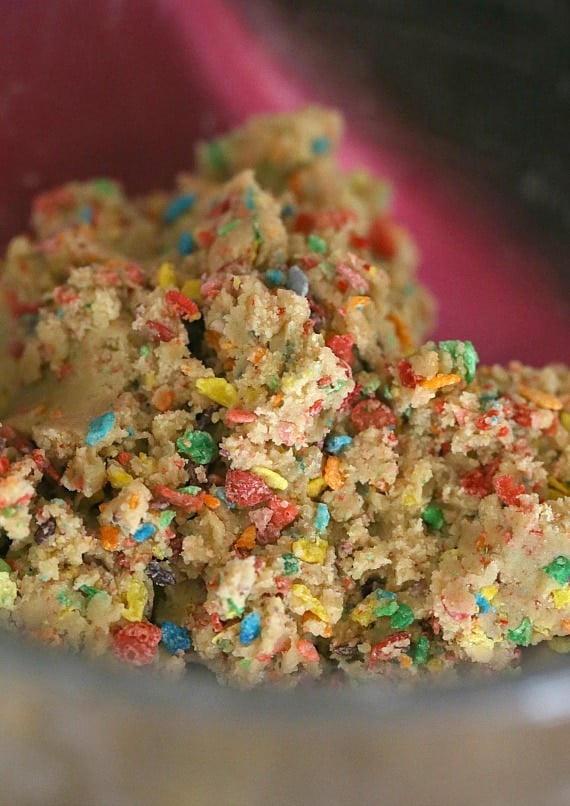 And don't forget about the marshmallows!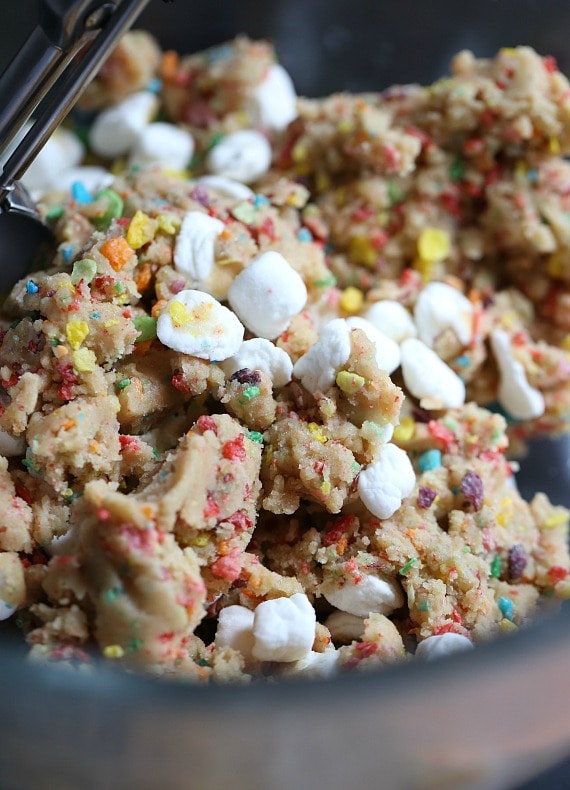 The secret to making cookies with marshmallows is to make sure they are pretty contained in the dough. If they are left on the bottoms or edges they will melt out and cook on the baking sheet, making a crunchy candy-like texture. Oh, I'm not complaining about that..actually I kind of like the chewy/crunchy texture a melted marshmallow makes, but if you want your marshmallows intact, keep them on the inside of the dough!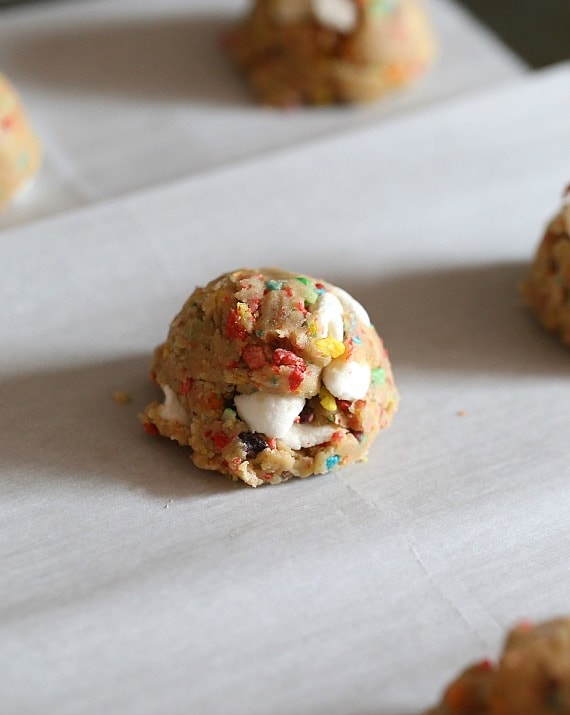 This is a fairly sturdy dough too, to hold up the melting marshmallows.
How perfect do these look?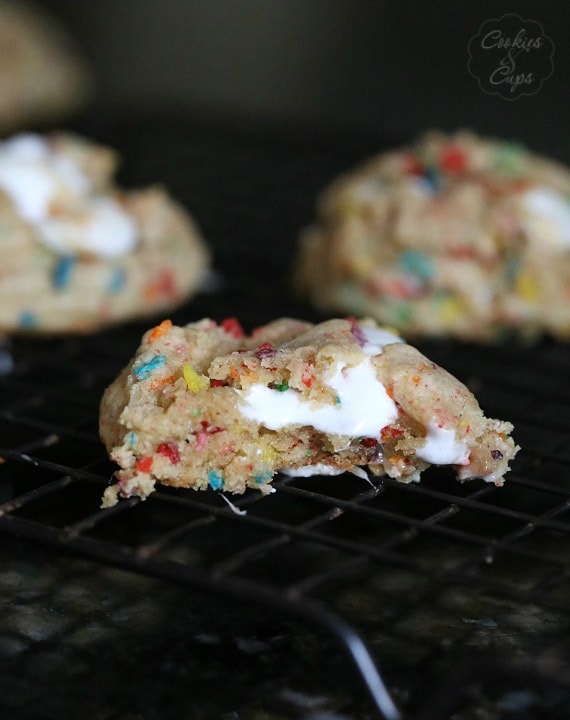 Print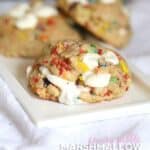 Fruity Pebble Marshmallow Cookies
---
---
10 Tbsp

butter, room temperature

1 cup

light brown sugar

2

eggs

2 tsp

vanilla

1/2 tsp

baking soda

1/2 tsp

baking powder

1/2 tsp

salt

2 tsp

corn starch

2 cups

flour

1 1/4 cups

Fruiy Pebble cereal

1

(heaping) cup mini marshmallows
---
Instructions
Preheat oven to 350°
Line a baking sheet with parchment paper, set aside.
In bowl of stand mixer cream butter and brown sugar together for 2 minutes.
Add in eggs and vanilla and continue mixing until smooth, scraping sides as needed.
Add in salt, baking powder, baking soda and corn starch until mixed in thoroughly. Add in the flour until incorporated. Stir in Fruity Pebbles and marshmallows until evenly combined.
Using a cookie scoop or spoon drop by rounded tablespoon sized portions onto lined pan. Make sure the marshmallows are contained, because they will spread out onto pan if not covered in dough.
Bake 8-9 minutes until edges are set. Don't over bake.
Allow to cool for a few minutes on cookie sheet and then transfer to wire rack to finish cooling.
---
Notes
store in an airtight container for up to 3 days
idea inspired by Momofuku Milk Bar
Want To Save This Recipe?
Find more recipes like this: