Mouthwatering Grilled Huli Huli Chicken is the perfect flavor packed chicken recipe! Marinated in a sweet and spicy, sauce and then cooked until it's tender and juicy. You're going to love this Hawaiian grilled chicken served with pineapple and rice!
Looking for more chicken dinner ideas? Try this orange chicken recipe, or this Instant Pot salsa verde chicken!
Juicy Pineapple Grilled Chicken
Huli Huli Chicken isn't only for restaurant menus. You can make this delicious Hawaiian grilled chicken right on your own grill, and it's incredibly juicy and flavorful! This is one chicken recipe you're guaranteed to be grilling all year long. It starts with a mouthwatering marinade prepared with pineapple and soy sauce. A bit like teriyaki, and full of sweet and spicy tastiness! The chicken is left to soak up all the flavor, and is then grilled to have just the right amount of char. You're going to go bananas (pineapples?) over this amazing pineapple chicken!
We loved serving our huli huli chicken thighs with white rice and grilled pineapple. Fire up the grill and enjoy!
What is Huli Huli Chicken?
Huli Huli Chicken originates in Hawaii, and decades later it's still an island favorite! Traditionally, huli huli chicken is a whole chicken (or portions) cooked on spits over a wood-fired grill. The chicken is turned as it cooks, and is basted in a sweet and spicy huli huli sauce.
What is Huli Huli in English?
Fittingly, "huli huli" means "turn, turn" in Hawaiian, the way the chicken is cooked.
Who invented Huli Huli Chicken?
A man named Ernest Morgado is credited with inventing huli huli chicken, when he first made teriyaki-style chicken for farmers in the 1950s.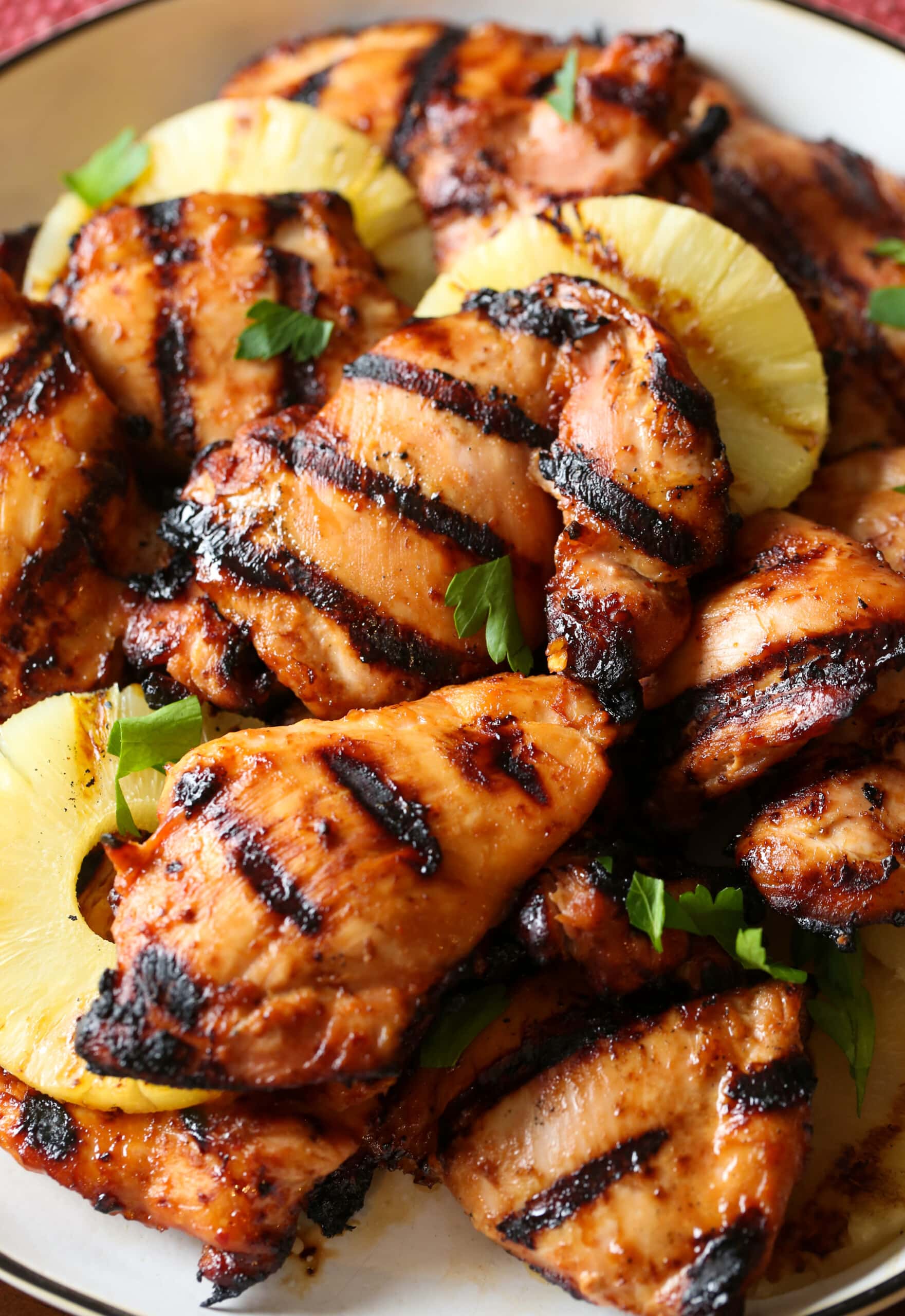 Recipe Ingredients
Layers of flavor come together in the delicious marinade for this huli huli chicken. Here's what you'll need:
Chicken: Boneless, skinless chicken thighs with the excess fat trimmed off. Chicken breast will also work for this recipe.
Pineapple: Pineapple juice for the marinade as well as (optional) pineapple slices for grilling and serving.
Soy Sauce: Brings the Asian flavor to the teriyaki-style marinade.
Ketchup: A hint of tangy tomato sweetness.
Brown Sugar: I use light brown sugar, since it has just enough caramelized flavor.
Red Pepper Flakes: Crushed red pepper brings a little zing to the sauce.
Sesame Oil: Sesame oil is really the best in terms of flavor. However, if you don't have it available, another neutral oil like canola will also work.
Fresh Garlic & Ginger: Minced.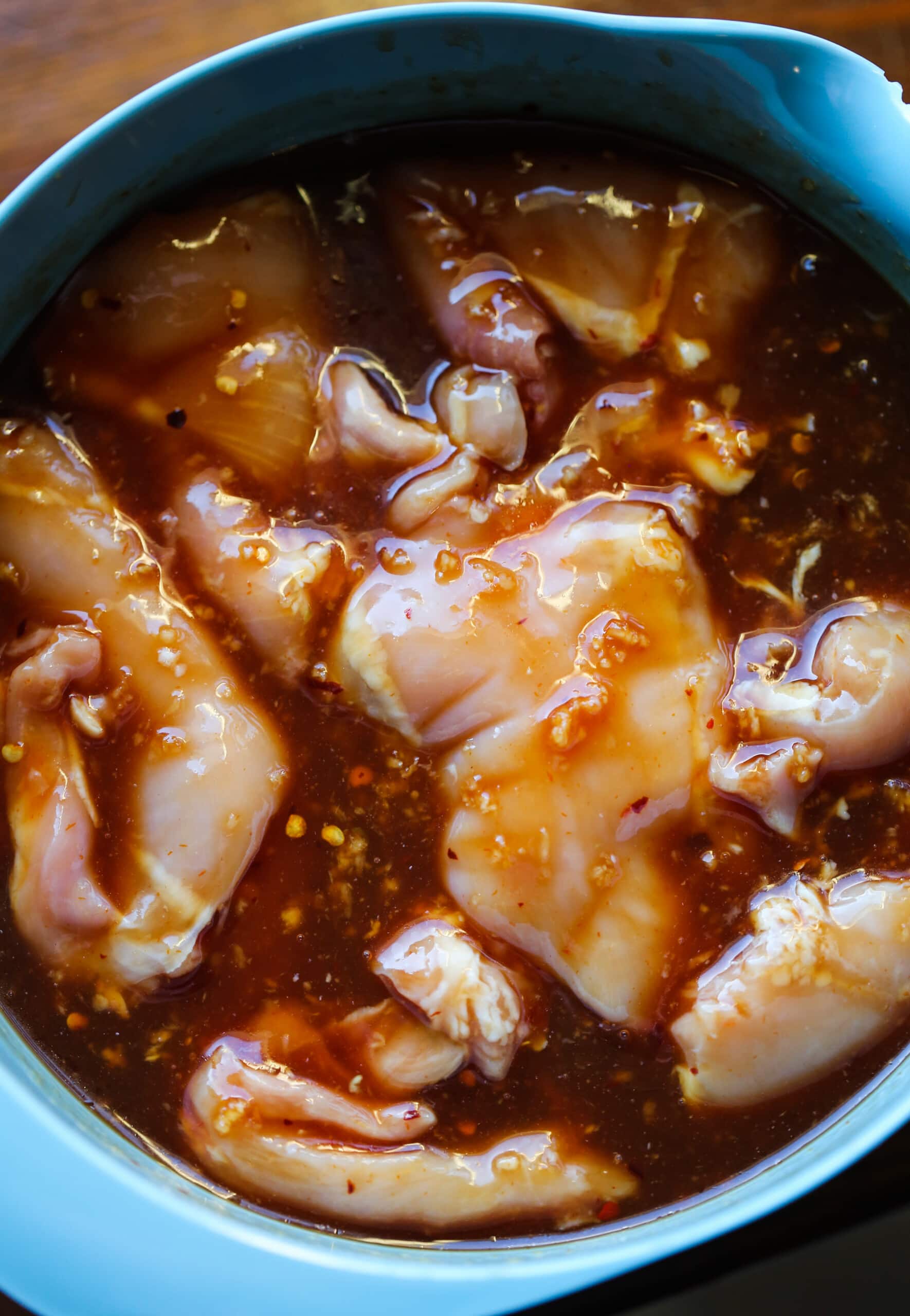 How to Make Huli Huli Chicken
The Hawaiians were on to something with this tender, sweet and spicy chicken! The flavors are just divine, and it's insanely easy to prepare and grill. Here's how you make it:
Make the Marinade: Whisk together the pineapple juice, soy sauce, ketchup, brown sugar, red pepper flakes, garlic, ginger, and sesame oil.
Marinade the Chicken: Place the chicken thighs in a large bowl or in a resealable bag and pour the marinade over top, making sure everything is coated. Leave the chicken to marinate in the fridge (for as long as possible!).
Grill: To ensure an even cook on your chicken, remove it from the fridge about half an hour before you plan to grill it. Grill the chicken on each side until it's cooked through. You can grill the pineapple slices at the same time; they caramelize beautifully and are great to serve with huli huli chicken!
How Long Should I Marinate the Chicken?
For best results, the chicken should marinate in the fridge for 3-6 hours at the very least. However, the real magic happens overnight, or even after 24 hours! Leave that marinade to really work its way into the chicken. It takes a little more planning, but the flavor payoff is totally worth it!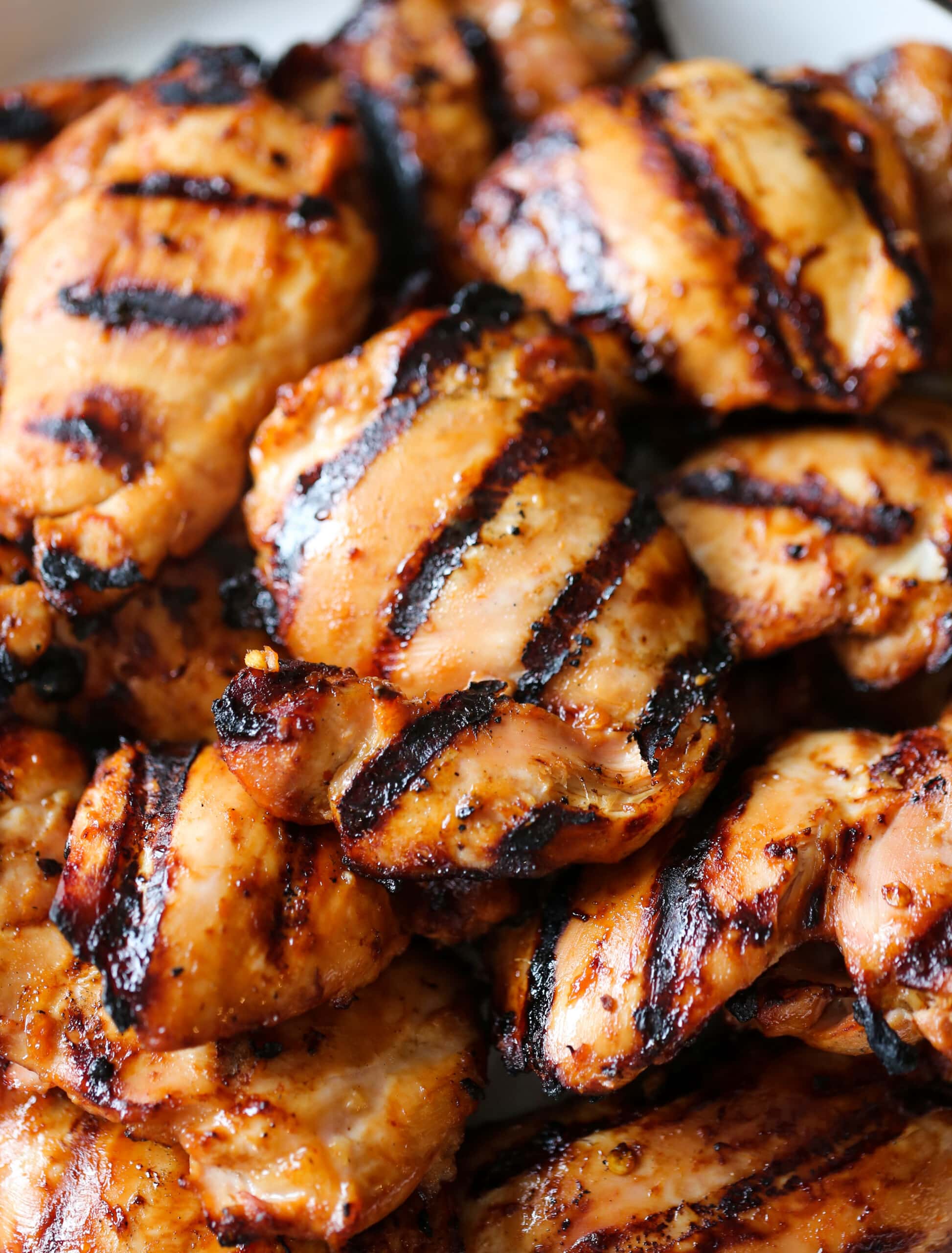 Tips for Success!
Cook to the Right Temperature: Chicken is finished cooking when it reaches an internal temperature of 165°F. Use a kitchen thermometer if you're unsure! The good news is, chicken thighs are less likely to become dry thanks to darker meat and more fat.
Let the Chicken Rest After Grilling: Like most meats, allowing chicken to rest under foil after taking it off the grill will help to keep it flavorful and juicy. Resting lets the moisture redistribute, so give it about 10 minutes or so before serving.
If You're Using Chicken Breasts Instead: It's a good idea to pound them to a uniform thickness so that they cook evenly. Also note to take chicken breasts off the grill just a smidge under 165°F, as they'll continue to cook as they rest.
Set Aside Some Marinade for Basting: If you'd like to do it the authentic way and baste your huli huli chicken while it grills, set aside some of the marinade before it touches the raw chicken. Don't reuse marinade that has come in contact with the raw chicken thighs, as this could be a recipe for food poisoning!
No Grill? No Problem: Make this huli huli recipe easily in the oven by cooking the chicken at 400°F for about 20 minutes. You can even cook it on the stovetop!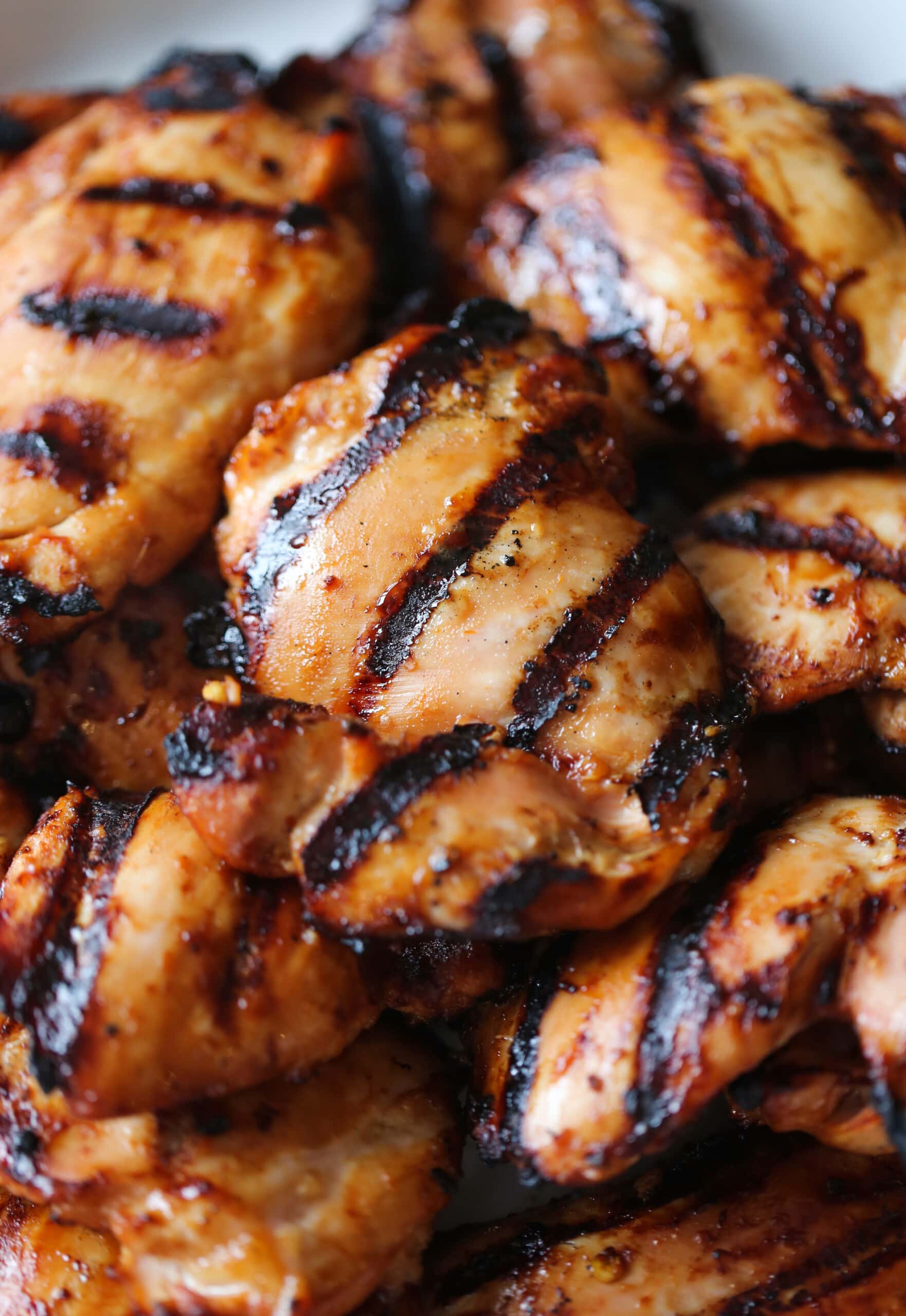 What to Serve with Grilled Pineapple Chicken
This is the perfect recipe for family dinners, weekend barbeques, and potlucks! There are countless ways you can serve your grilled chicken:
How to Store and Reheat Leftovers
Any leftover huli huli chicken can be stored airtight in the fridge for up to 3 days. It makes wonderful leftover cold chicken salads, chicken wraps, or you can also reheat it! Warm the chicken in the microwave or in the oven until it's heated through, and serve.
Can I Freeze This?
Grilled chicken can be kept frozen in a freezer-safe bag or container for up to 3 months. You can store individual portions on their own if you're making this recipe as meal prep! Thaw the chicken overnight in the fridge before serving.
More Easy Chicken Recipes
Print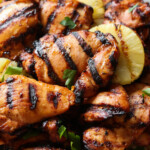 Hawaiian Grilled Huli Huli Chicken
Author:

Prep Time:

5 minutes

Marinating Time:

6 hours

Cook Time:

12 minutes

Total Time:

6 hours 17 minutes

Yield:

6

servings

1

x

Category:

Dinner

Method:

Grill

Cuisine:

American, Hawaiian
---
Description
This Grilled Huli Huli Chicken is the perfect summertime meal! Prepared with tender and juicy chicken thighs marinated in a sweet and spicy teriyaki-style sauce. Serve this Hawaiian chicken with grilled pineapple and rice!
---
1 cup

pineapple juice

1/2 cup

soy sauce

1/2 cup

ketchup

1/3 cup

light brown sugar

1 teaspoon

crushed red pepper flakes

4

cloves garlic, minced

2 teaspoons

minced ginger

2 teaspoons

sesame oil

3 1/2

pounds boneless, skinless chicken thighs, excess fat trimmed

Optional – pineapple slices
---
Instructions
In a medium bowl mix together the marinade ingredients: pineapple juice, soy sauce, ketchup, brown sugar, red pepper flakes, garlic, ginger, and sesame oil.

Place the chicken thighs in a large zip-top bag or bowl and pour the marinade on top, coating all the chicken. Marinate the chicken in the refrigerator for at least 6 hours or overnight.

Remove the chicken 30 minutes before grilling. Heat the grill to medium high. Grill the chicken on each side for 6 minutes, or until the chicken is cooked through and the internal temperature reaches 165°F.

If desired, grill the pineapple slices for 2 minutes on the hot grill. Serve with the chicken.
---
Notes
Store airtight in the refrigerator for up to 3 days.
Keywords: grilled chicken recipe, hawaiian chicken
Want To Save This Recipe?
Find more recipes like this:
PIN for later: