Norwegian apple cake is a classic apple cake made with simple ingredients! Loaded with tart and sweet apples, and cinnamon sugar, the buttery cake is perfect with a cup of coffee in the morning or a scoop of ice cream for dessert!
Love apples? Make sure you try out my MOST favorite Apple Pie Recipe!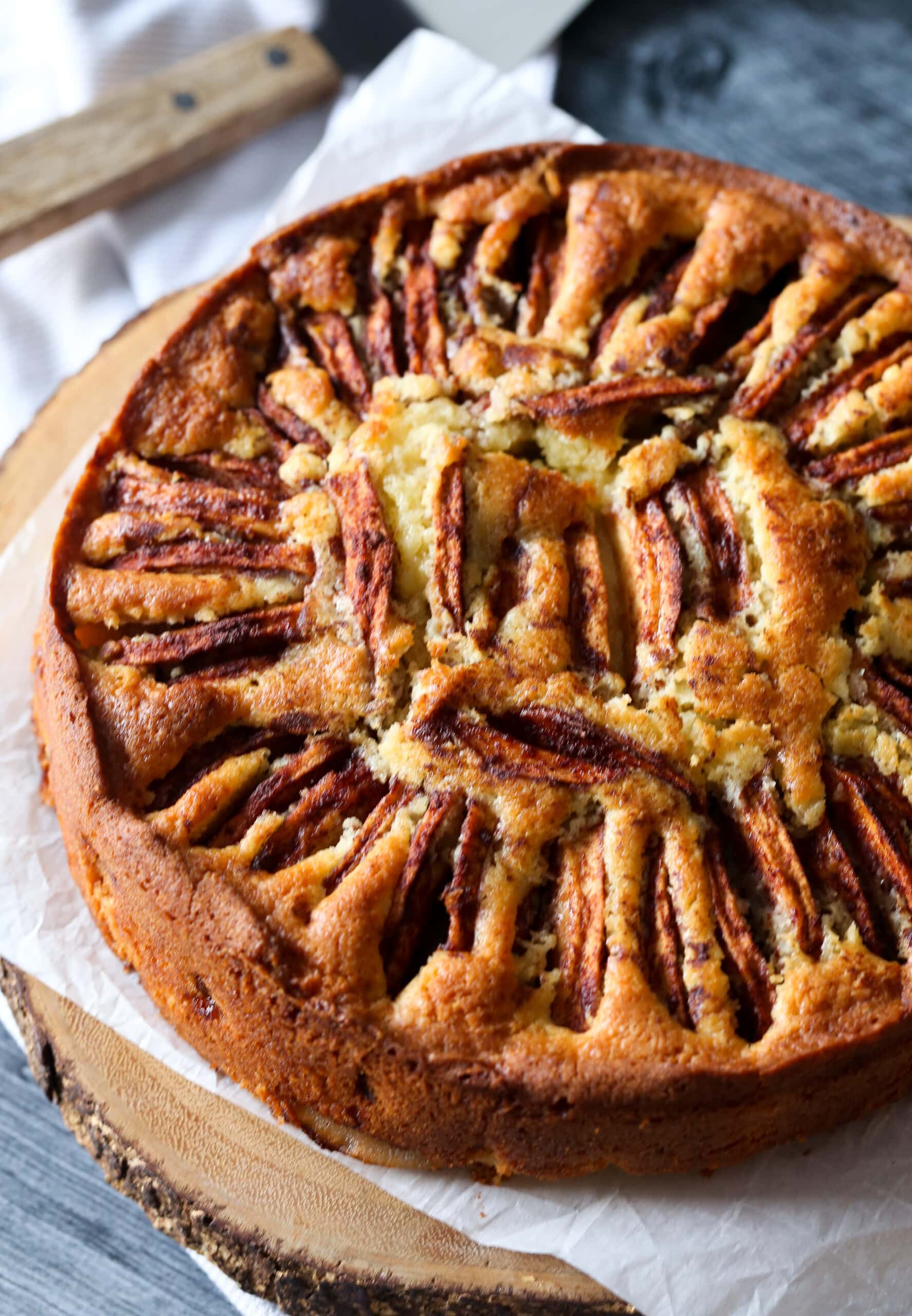 This recipe was developed in partnership with my friends at Imperial Sugar.
Norwegian Apple Cake (Eplekake)
This Norwegian Apple cake is an authentic, simple cake that is outstanding. Classics are classics for a reason! While I have never been to Norway, I have had versions of this cake throughout my life. This is a butter cake is filled with cinnamon sugar apples, which is perfect paired with whipped cream, vanilla ice cream, or plain! You can enjoy this apple cake for breakfast with a cup of coffee, as an afternoon snack, or even for dessert!! But I will say that while I am partial to enjoying this cake warm, it is one of those cakes that (in my opinion) is better the next day!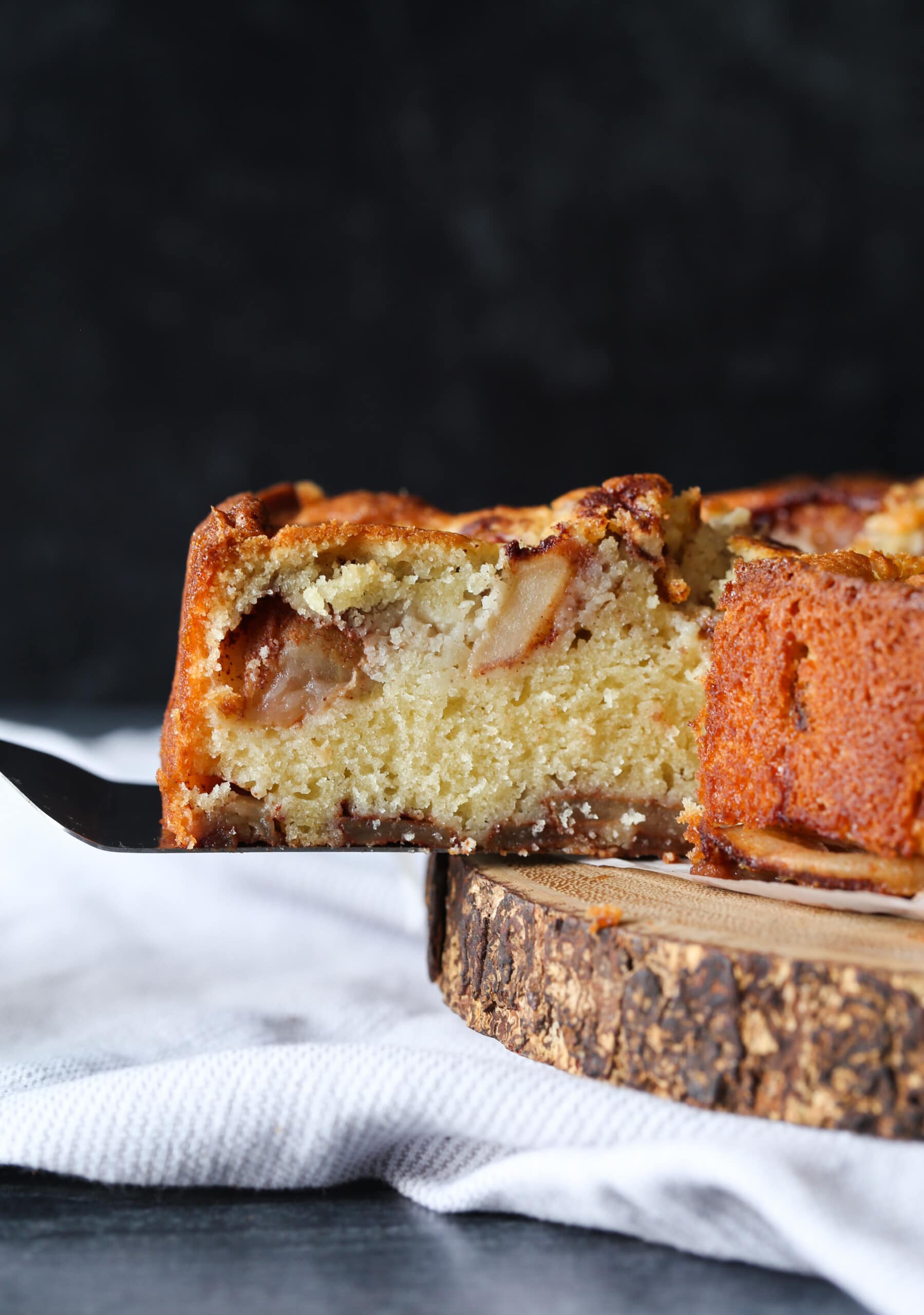 Ingredients:
For the full ingredient list and instructions CLICK HERE.
Granny Smith apples, peeled and sliced 1/2- inch thick
Granulated sugar
Ground cinnamon
Salted butter (I like salted specifically in this recipe, as you don't add any additional salt and it adds flavor.)
Granulated sugar
Large Eggs
Milk
All purpose flour
What Are the Best Types Of Apples For Baking?
There are so many apples to choose from when you get to the supermarket! They all look so beautiful, but know that all apples are not great for baking! I almost exclusively use Granny Smith apples when I bake this apple cake. These tart apples hold their structure while they bake, not turning to total mush, and are sweet so their flavor really pops!
Apples To Avoid In Baking:
Certain apples are just too soft, or don't have enough flavor to pack a punch in baking. Here is a list of apples that should be enjoyed fresh or turned into applesauce!
McIntosh
Macoun
Gala
Red Delicious
Apples That Are Great To Bake With:
These apples are firm, sweet, and a little tart. They hold their structure in baking and their flavor really comes through without getting too mushy!
Granny Smith
Pink Lady
Braeburn
Cortland
Fuji
Honeycrisp
What Tools Do You Need?
This recipe is ultimately very simple, but a few kitchen tools will make the process extra easy!
How to Make Norwegian Apple Cake?
For the full recipe click here.
Preheat the oven to 350°F. Coat a 9- inch springform pan with nonstick spray. Set aside.
Place the sliced apples into a large bowl. Sprinkle 3 tablespoons granulated sugar and the cinnamon. Stir to coat evenly. Set aside.
In the bowl of your stand mixer fitted with the paddle attachment mix the butter and 1 1/4 cup granulated sugar together on medium speed until creamy, 2 minutes. Add in the eggs one at a time and mix until combined, scraping the sides and bottom of the bowl as necessary. Add in the baking powder and mix to incorporate.
Turn the mixer to low speed and in alternating additions, add the flour and milk, beginning and ending with the flour, until just combined. Don't over mix.
Assemble: Cover the bottom of the prepared pan with apples. They can overlap, but you want a single layer. Top the apples with the cake batter and spread evenly to cover all the apples. Press the remaining apple slices into the batter vertically making concentric circles in the batter.
Bake for 55 – 65 minutes, or until the cake is golden brown and set and in the center and a toothpick comes out clean.
Allow the cake to cool for 15 minutes in the pan. Run a butter knife around the edges and then release the side of the pan.
Slice and serve warm with whipped cream, dusted with powdered sugar, or even ice cream.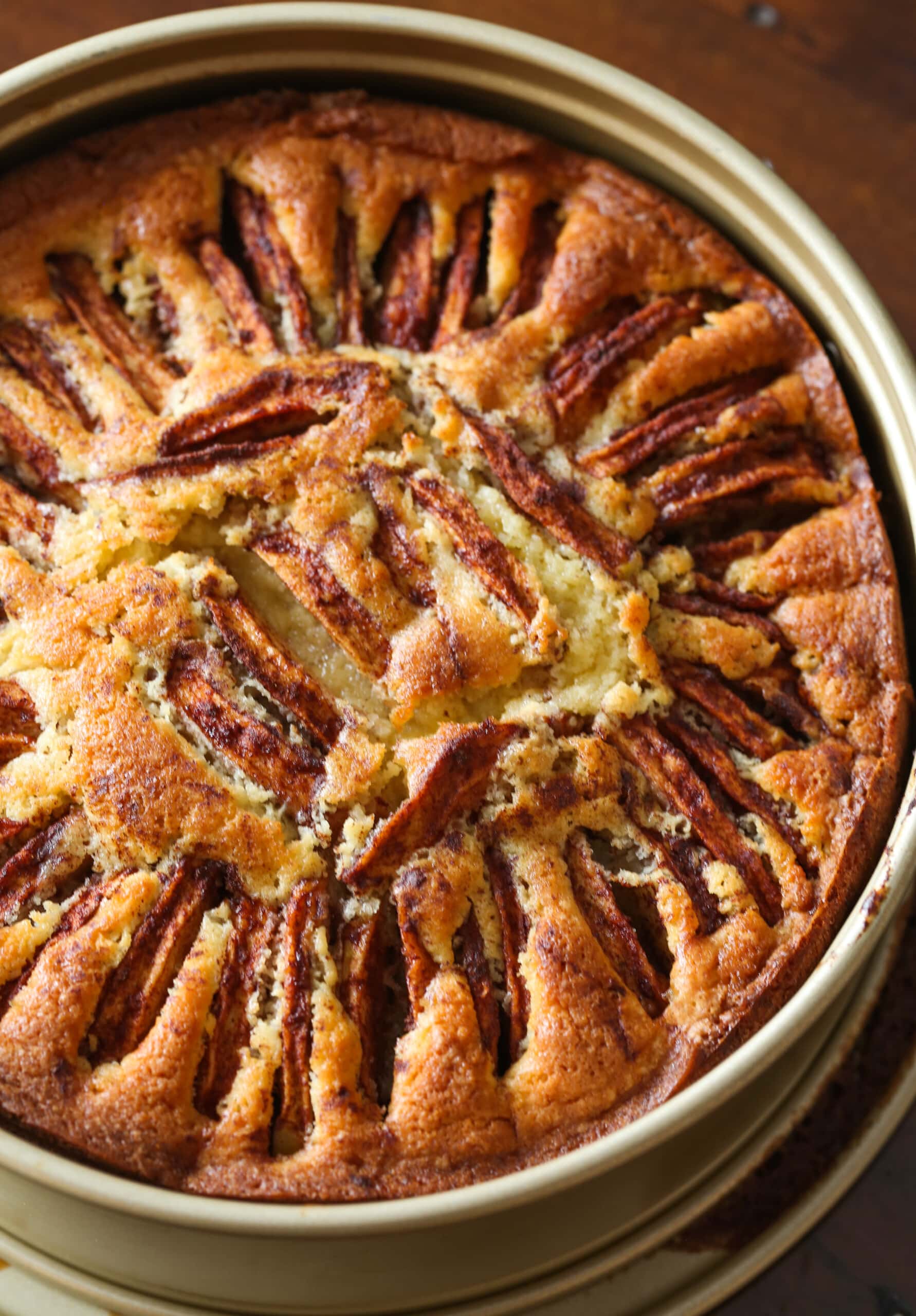 Variations:
You can amp up this recipe in many ways, which is what is so great about it. It's perfect in its simplicity, but you can really get creative! Here are a few ideas to start:
Add sliced almonds, walnuts, or pecans to the top of the cake!
Add a few teaspoons of vanilla to the batter to enhance the flavor.
Dust the whole cake with powdered sugar for an extra pretty appearance.
Drizzle a sweet sugar glaze icing the the top before serving.
Add berries to the cake. This would be fantastic with a cup of raspberries thrown into the batter as well!
Use peaches instead of apples!
Add 1 teaspoon of cardamom to the batter to really give it that Norwegian flavor.
How To Store:
This cake is great for up to 3 days if stored airtight at room temperature. You can also freeze this cake! It freezes beautifully if stored airtight for up to 30 days. Allow it to thaw out at room temperature and enjoy room temperature or warm it up in the microwave for a few seconds!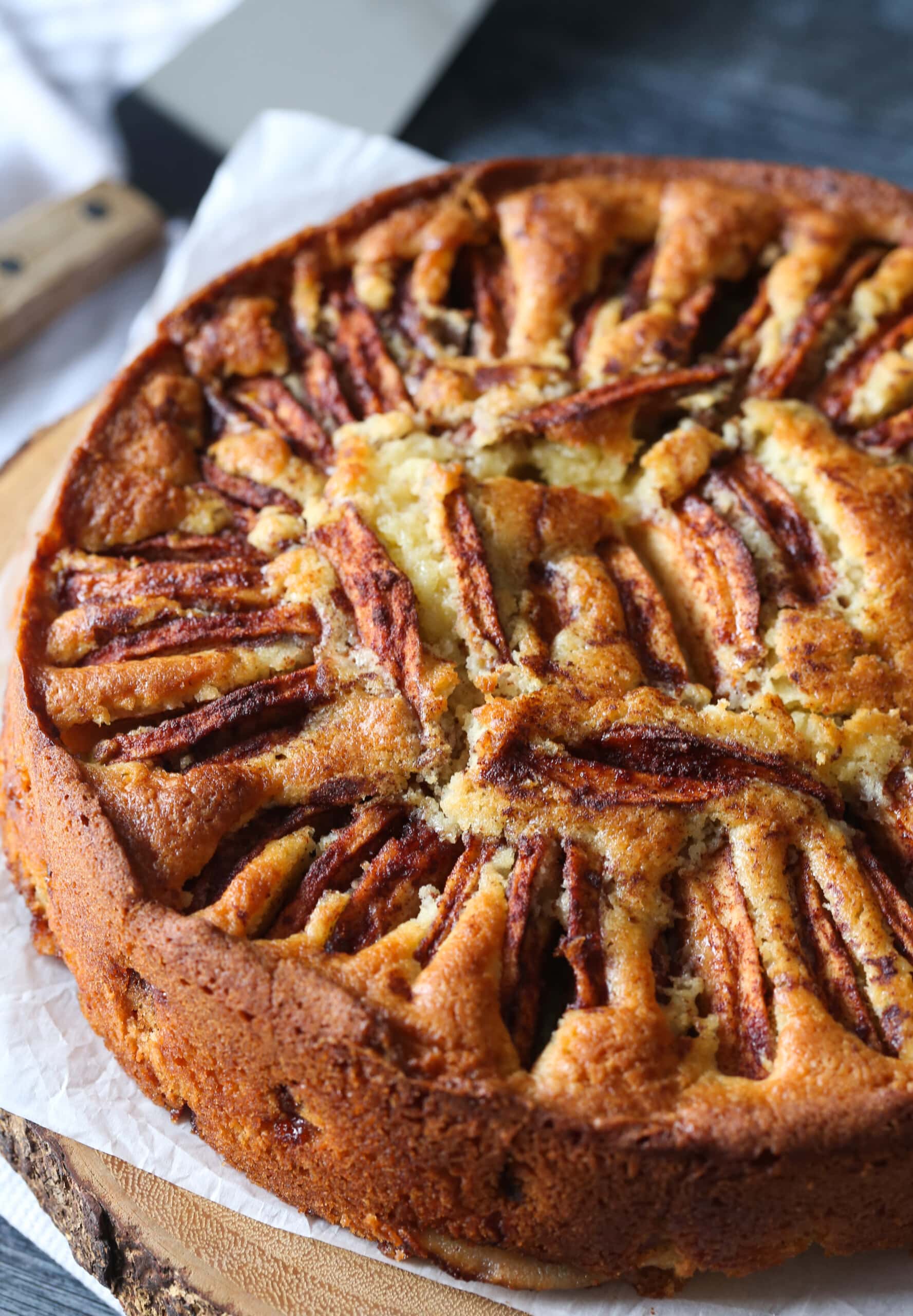 Click here for the FULL RECIPE!
Love Apples? Here Are A Few Other Apple Recipes You Might Love: