These Lemon Meringue Krispie Treats are actually flavored with a pudding mix! Mixing pudding right into the marshmallow base is a super easy and delicious way to flavor your krispie treats!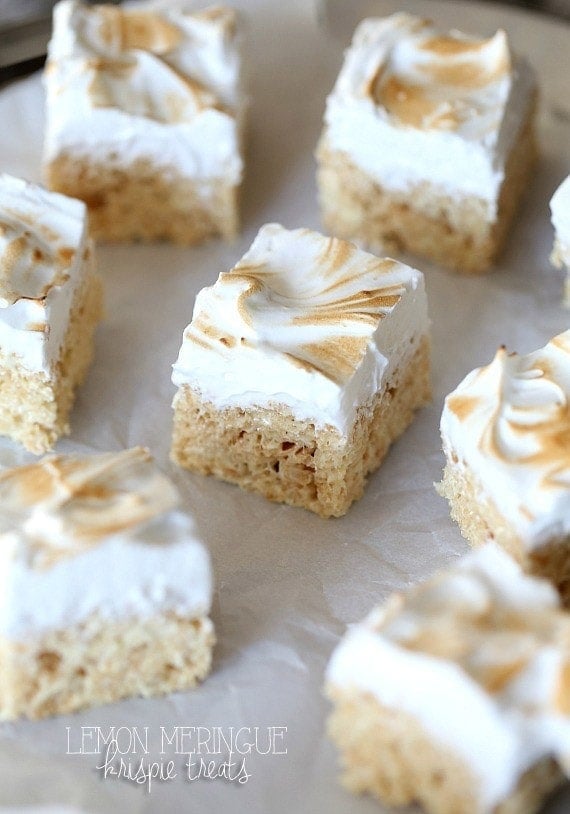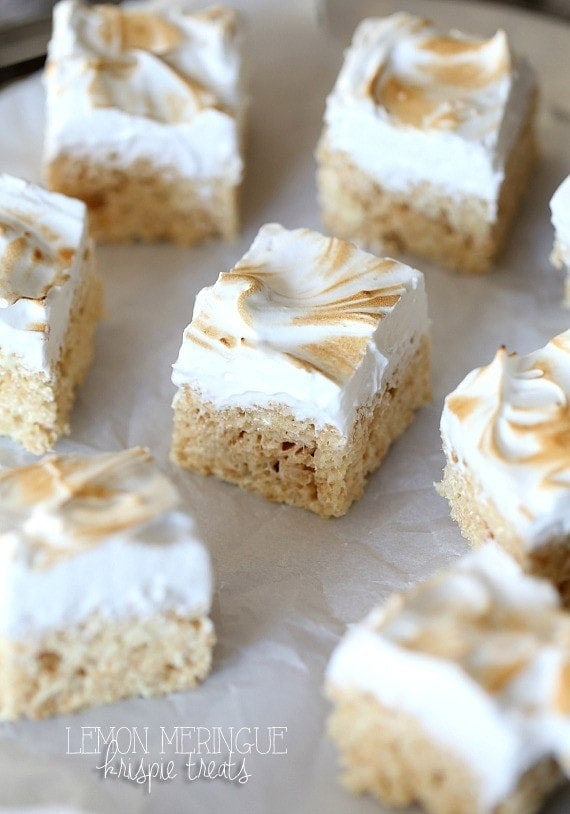 I am officially spring obsessed.
Yes, it's still 30 degrees at my house today, and yes I suffer ridiculously from Spring allergies, but right now there is nothing more that I want than a 65 degree day and a handful of tissues.
I believe this is the never-ending winter. Never. Ending.
So what I have decided, is that I am going to crank up my heat, wear shorts around the house and eat citrus flavored food until May.
Because that is the most rational thing to do.
Anyhow, let's start out the warmer days with a fun spin on a 2 classics! These are Lemon Meringue Krispie Treats AND I used a pudding mix to flavor the krispie treats! How fun is that? Honestly the possibilities are pretty endless, right?
AND I decided that they couldn't be lemon MERINGUE unless there was meringue frosting involved. So yeah…these are everything you could hope for in a krispie treat.
Let's discuss…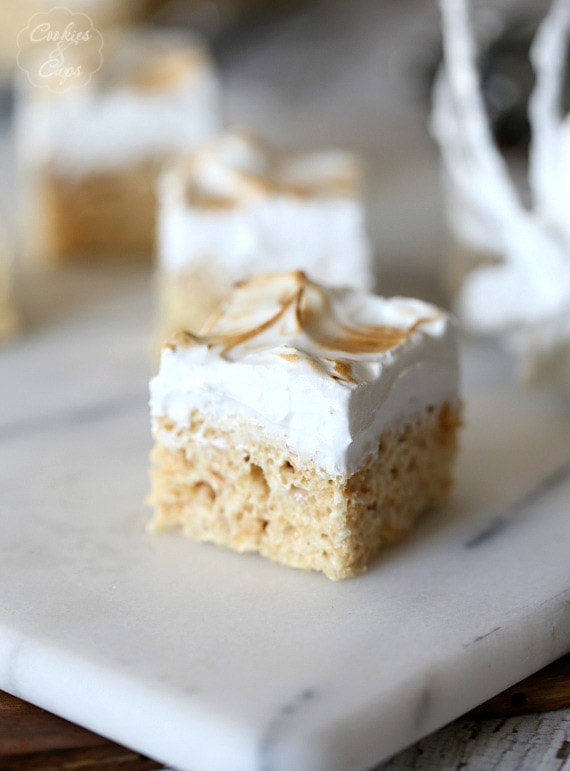 Start you krispie treats like you normally would…melted butter, marshmallows…
BUT when the marshmallows are melted this time around go ahead and pour in your packet of dry pudding/pie filling mix.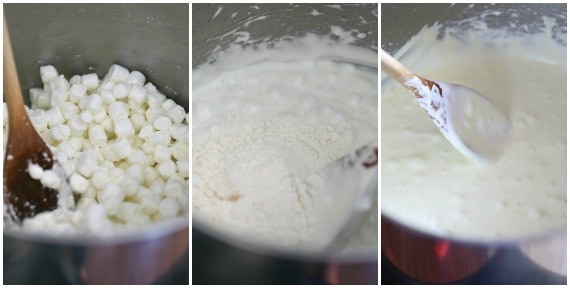 Just stir the mix right into the melted marshmallow.
Then add in your cereal, like you normally would and stir.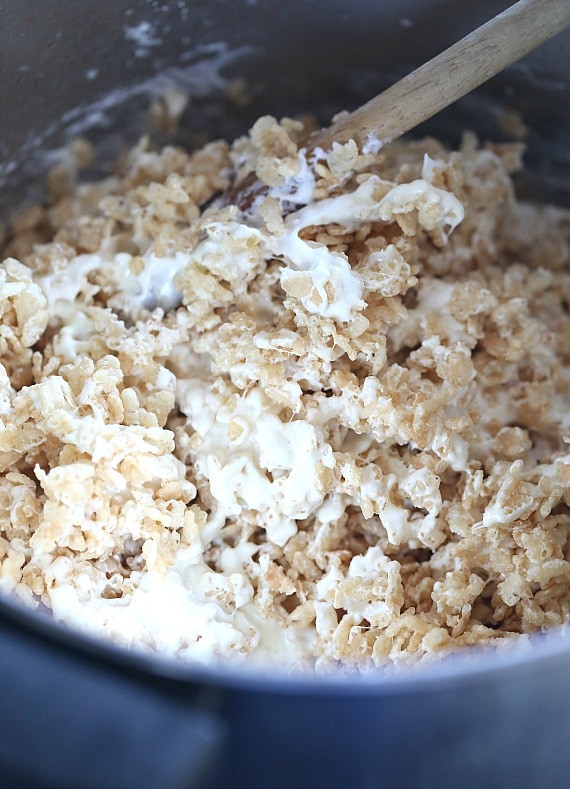 Press that into a lined pan and let it cool.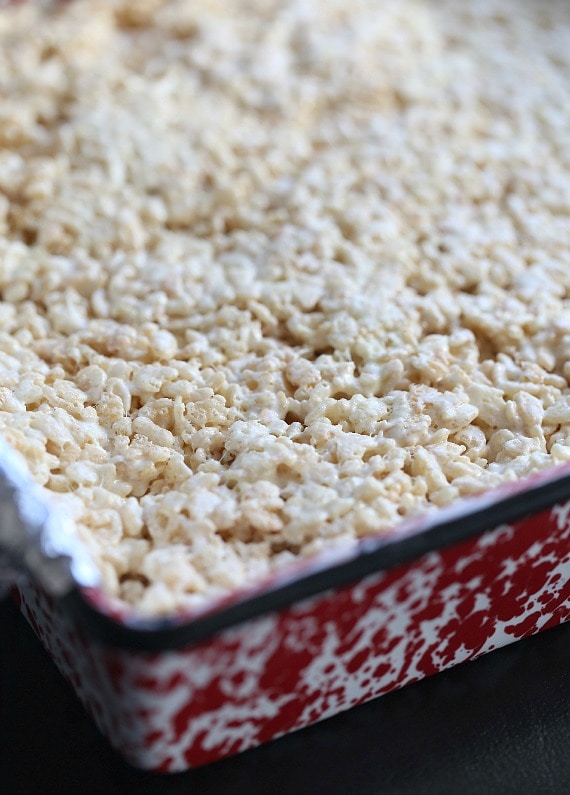 Next up, make your topping.
It will require a candy thermometer. Sorry about that.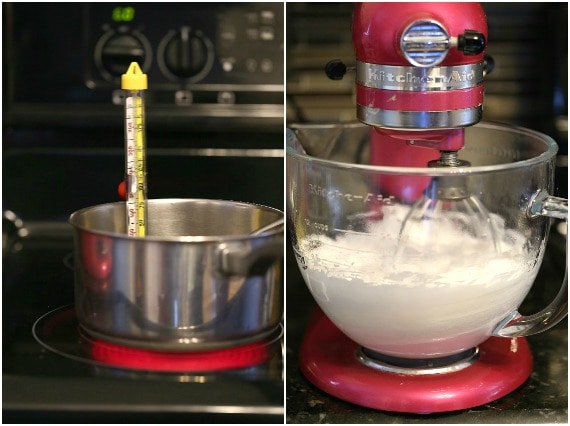 You beat some egg white and sugar in your bowl until they form soft peaks and then heat a sugar/corn syrup/water mixture until it reaches 230°.
Drizzle the hot mixture into the egg whites and beat it for 7 minutes.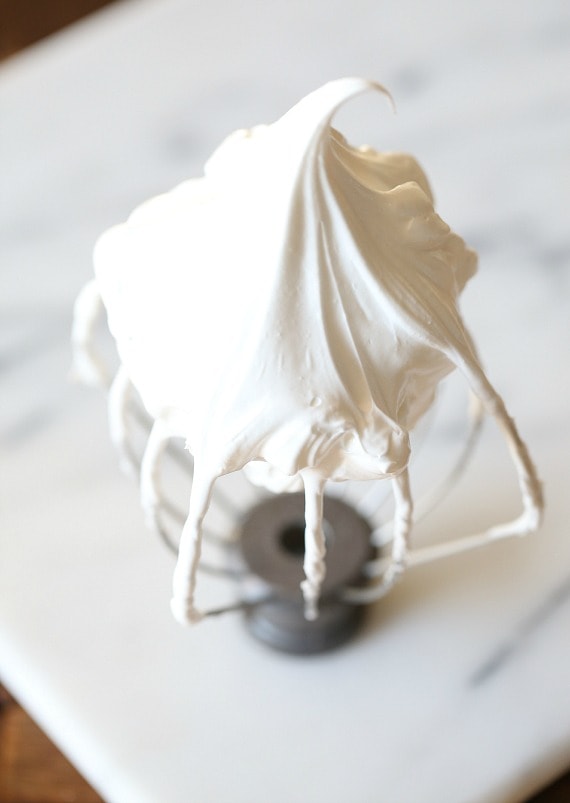 So pretty.
Just spread than on your krispie treats.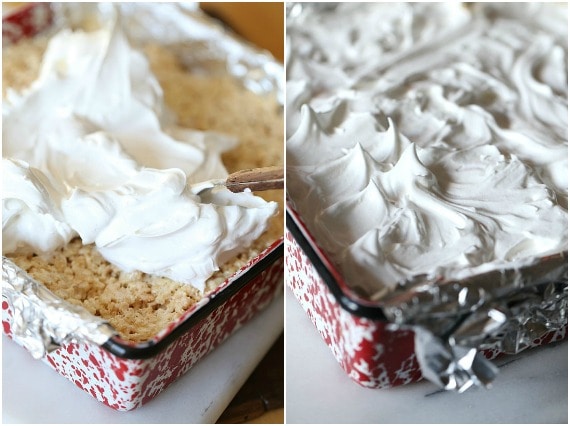 And if you have one you can use your kitchen torch to toast the frosting…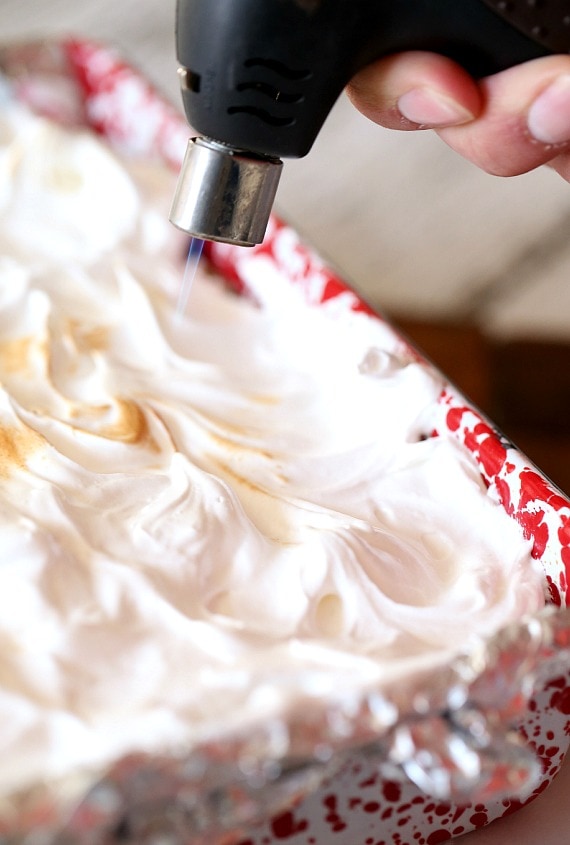 If you don't have a torch, no worries…just pop it under the broiler for a few seconds.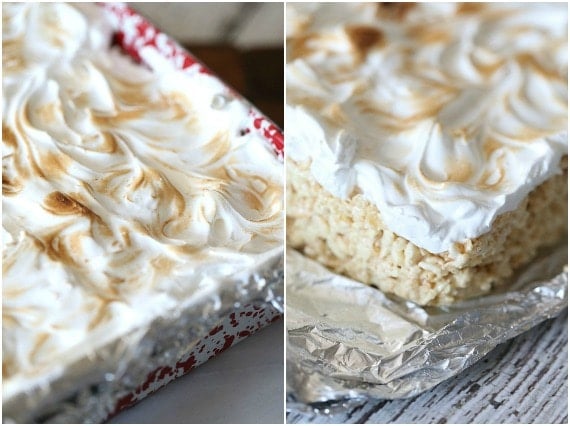 When you're ready to cut it into squares easily remove it from the pan using the foil lining and cut!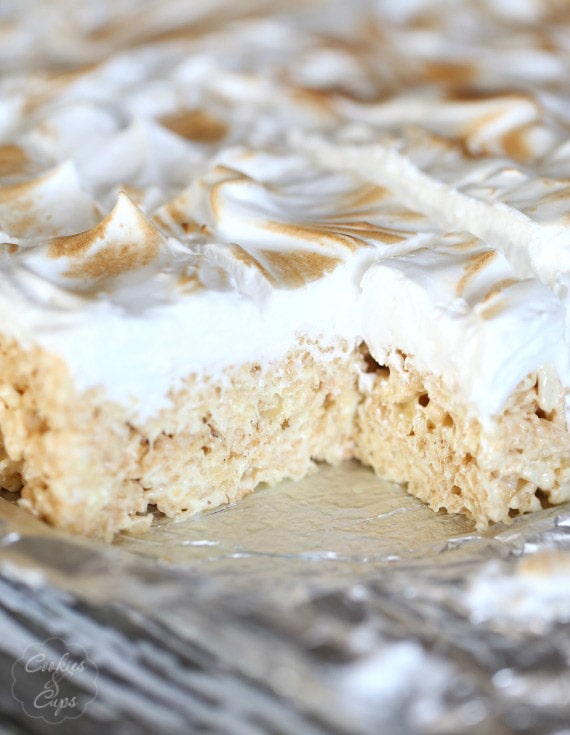 I love the flavor of the lemon in these! Not over powering at all…just enough!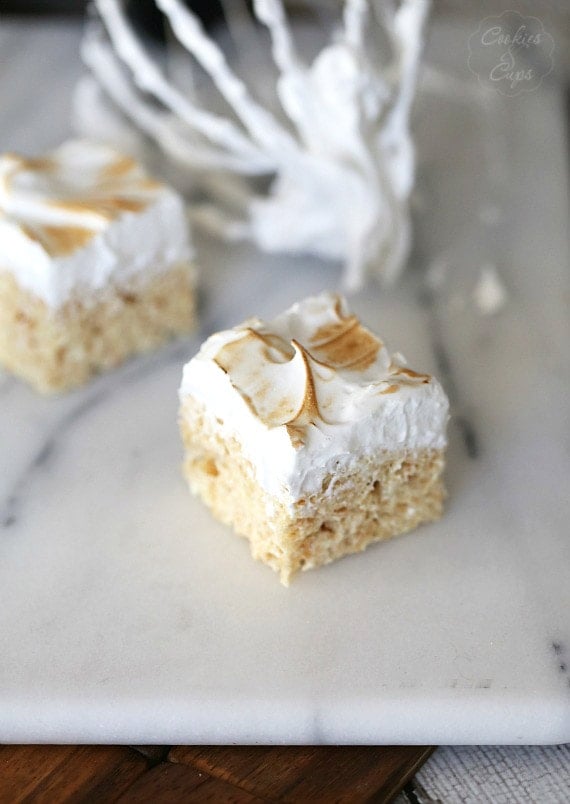 So many flavor possibilities! Can't wait to make pistachio krispies! Look for those in the next few weeks!
Print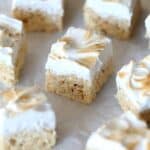 Lemon Meringue Krispie Treats
---
---
Krispies
1/4 cup

butter

16 oz

mini marshmallows

8 cups

krispie cereal

1

(4 serving) box of lemon pudding mix/pie filling (not instant)
Meringue Frosting
3

egg whites

2/3 cup

granulated sugar, plus 2 Tbsp

1 Tbsp

light corn syrup

2 Tbsp

water
---
Instructions
Krispie Treats
Line a 9×9 pan with foil and spray lightly with cooking spray, set aside.
In large saucepan melt butter over medium low heat. Add in the marshmallows, stirring constantly until melted. Stir in dry pudding mix. Remove from heat.
Immediately stir in krispie cereal.
Spread evenly into prepared pan and press evenly. Cool completely, about 20 minutes.
Meringue Frosting
Bring 2/3 cup sugar, water and corn syrup to a boil in a medium sauce pan over medium heat. Bring up to 230° using a candy thermometer. Takes about 5 minutes.
Meanwhile beat egg whites and remaining 2 Tbsp sugar with whisk attachment in stand mixer until soft peaks form.
When sugar mixture has come to temperature remove from heat immediately and slowly pour into egg whites by drizzling down the side of the bowl while beating mixture over medium speed. Once all the sugar syrup is incorporated, turn mixer up to high and beat for 7 minutes.
Frosting will be glossy and thick.
Assembly
Spread frosting on top of cooled krispies and using a torch brown the top. If you don't own a torch place under broiler for 30 seconds, watching closely not to burn.
---
Want To Save This Recipe?
Find more recipes like this: