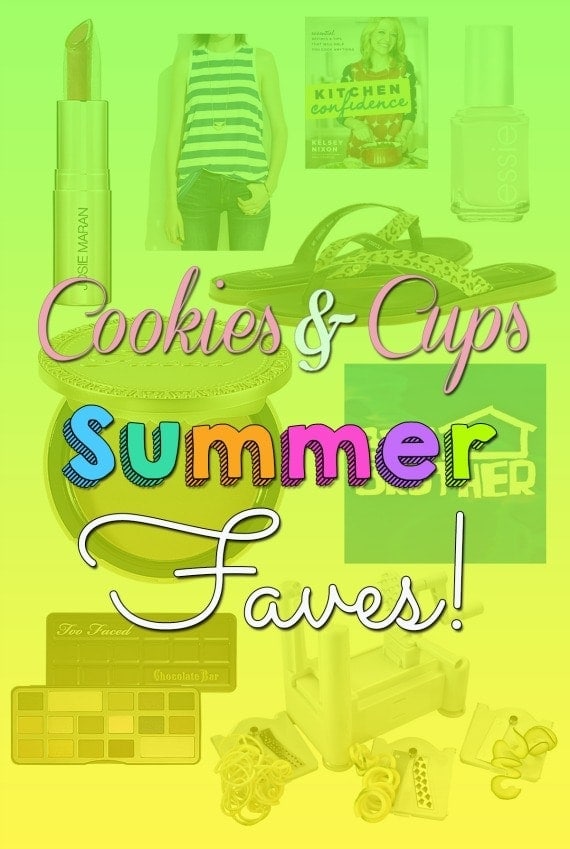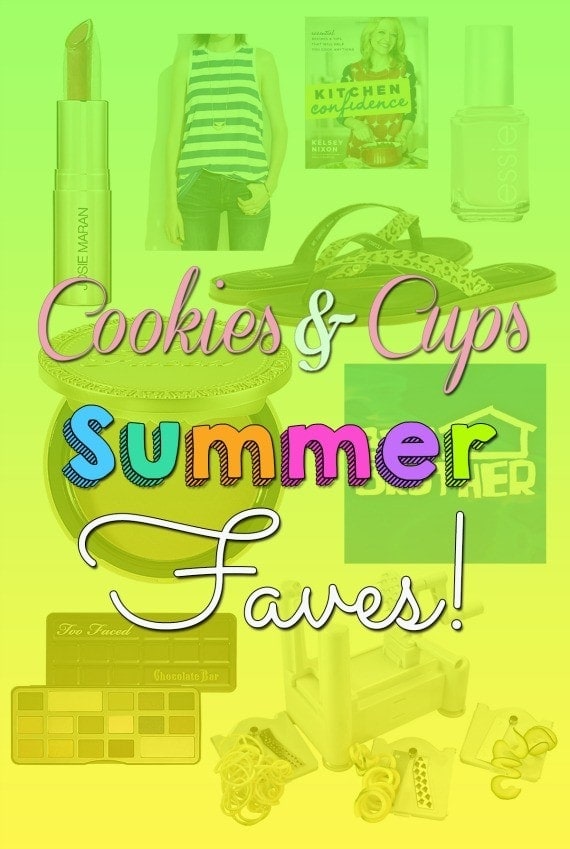 Hey friends! I am popping in for some summer talk!
I am obviously buried under a giant pile of powdered sugar right now, so I thought talking about something non-food related would be fun. Yes? No? Maybe?
Let's go with yes for the sake of today.
Sound good?
Anyhow I'm just gonna go stream of consciousness on you and mumble out all sorts of different things I am into currently.
First I want to get this hair. Thoughts?
Also we just got a new dining room table. Finally. I have been talking about it for the past million years and one day a few weeks ago I just decided to order it. Online. Site unseen. Thank goodness it worked out because my husband would NOT have been happy. I am a fairly impulsive person, but I would say that the million years I have been talking about a new table cancelled out impulsivity in this scenario.
AND I made an FAQ section HERE where I try and act professional and answer questions. Who am I kidding?
So anyway, let's talk about summer stuff…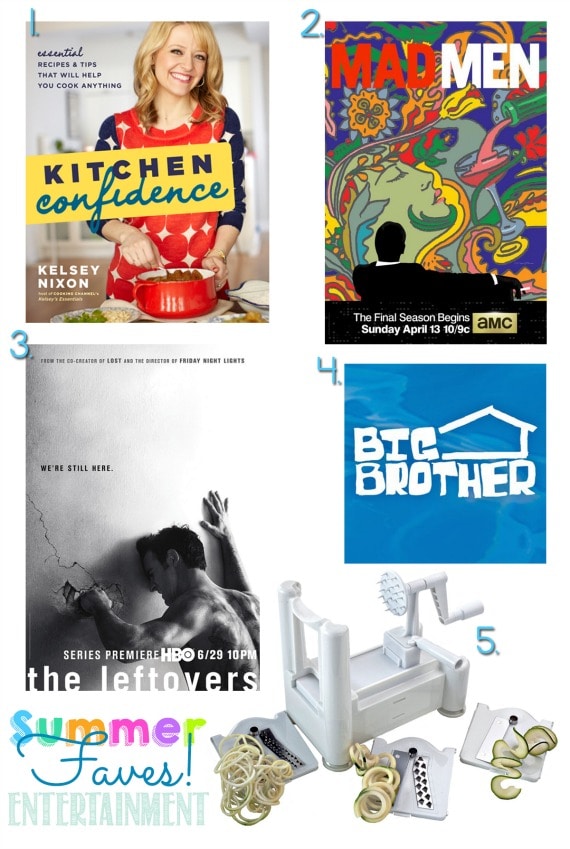 1. Kelsey Nixon's new book Kitchen Confidence is my new favorite! I have made the Grilled Panzanella salad 3 times in the past week. Also she is so cute I want to hate her but I love her. I actually had the chance to meet and fangirl her a few years ago, and I have to say she was as sweet as she is adorable. Some girls…
2. Mad Men. Can we talk about this for a minute? So I resisted since the beginning. Actually my husband and I tried to watch it together when it first started but he got bored and kept saying, "NOTHING IS HAPPENING!". Anyhow, I decided to give it a try again on my own. I have been binge-watching it on my iPad for the past month and am obsessed. I think power watching shows is the only way to do it. Also, earbuds on my iPad is a game changer. No distractions. I watch it in bed which has taken away from my reading time. But I can't stop. Also, I so do NOT love Don Draper. I do not even love to hate Don Draper. I just dislike him. Which makes it confusing to me why I am so all over this show. I'm still only in Season 5, so no spoilers if there are any…
3. The Leftovers on HBO. Have you guys started watching this? It's based on the Tom Perrotta book (which I never read). Anyhow it stars Justin Theroux, who I am convinced looks exactly like a young biker version of John Slattery. Yep, too much Mad Men. Anyhow, I don't really understand what's going on…but it's only been one episode, so I will give it some more time.
4. Big Brother. Seriously. I know, it's a sickness…but it's a summer tradition. Also can we talk about the weirdos they cast on this SHOW? Pow Pow? Ugh.
5. Ok, I officially jumped the shark and bought a spiralizer. I had it in my head I was gonna be all healthy-ish and make zucchini noodles and spirally veggies. Well, I have to say that MAKING the noodles is fun. It's a super easy tool and they come out exactly like the picture. BUT. After that one time I haven't pulled it out again. It wasn't a huge investment, so that's good… but they aren't noodles, people. Anyhow I will definitely give them another try..I'd love to hear any great recipes too!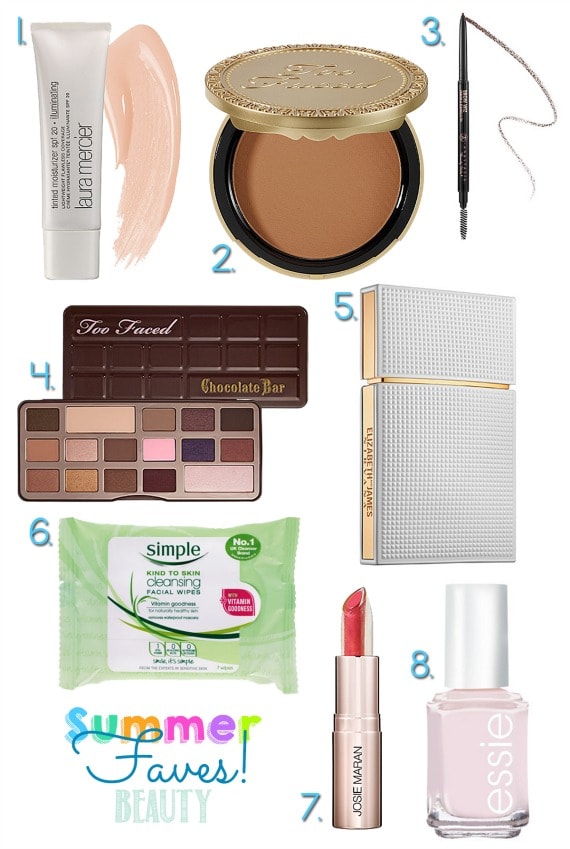 1. Summer beauty stuff is tricky..I usually don't wear a ton of make up in the summer months, except mascara. Always mascara. But here are a few things that I am really loving…first up my Laura Mercier Illuminating Tinted Moisturizer. The coverage is light, but nice and the illumination is perfect glow..not glittery. And it also has a SPF 20, which is nice. I mostly have been using this after I wash. If I'm feeling dry I will layer it over another moisturizer.
2. This Too Faced Milk Chocolate Soleil Matte Bronzer is THE. BEST. Obviously I love it because it smells like chocolate, but beyond that it is the perfect shade with no shimmer. It doesn't make you look ruddy at all and I have been using it to help contour a bit. So good.
3. The Anastasia Brow Wiz is my new favorite. It's a brow pencil…a game I'm fairly new to. I have pretty dark eyebrows, and have never really thought I needed a brow pencil…but while my brows are dark, they aren't completely even. After getting this put on at Sephora I was sold. A perfect brow changes everything!! Also this pencil is super thin and has a little brush on the other side to help blend. I really love it!!
4. The Too Faced Chocolate Bar Eye Palette was an impulse buy. I admit it. The packaging is just too darling to pass up. But what's inside makes it even better! It's a fairly neutral palette with some really fun unexpected colors! The gold shimmery color at the bottom left is my favorite! It looks great with a green eyeliner 🙂
5. Elizabeth and James Nirvana in White is soooooo gooooooood. I did NOT think I would like this one…I mean MaryKate and Ashley? But I am so in love with this fragrance! The Black version is a little too much for me, but the white is the prettiest, summery smell ever. Love!
6. These Kind to Skin Facial Wipes for Sensitive Skin are my new go-to. Love them! They take off my eye make up perfectly and smell nice! And they're cheap. Love that!
7. This Josie Maran Argan Hydrating Lipstick is my lip favorite. I pretty much love Josie Maran's entire line and this one didn't disappoint. I have the rosy nude color and it's a light neutral color that's like a gloss, lipstick and lip balm all in one.
8. Essie in Fiji. Always on my nails. My essential nail color.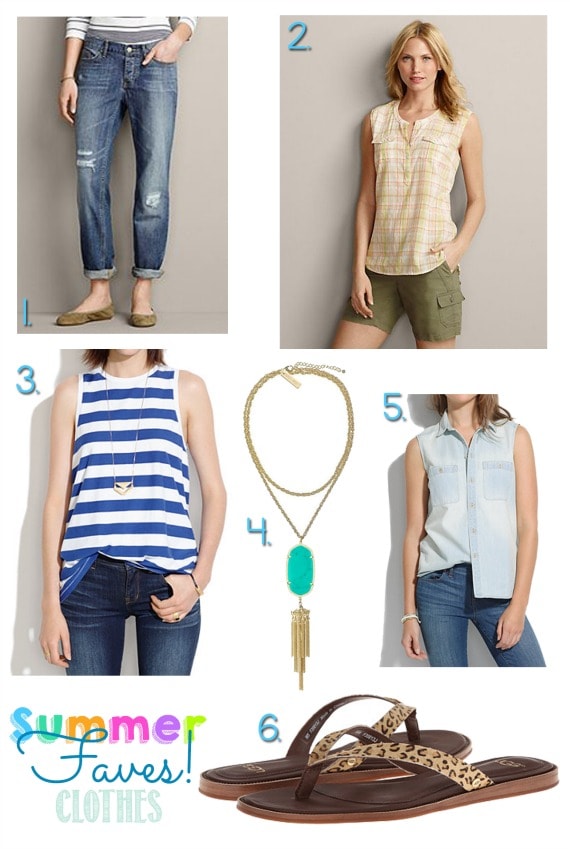 1. This summer I have been living in my Eddie Bauer Boyfriend crops. This is the second year they have been my favorites and I can't find another boyfriend crop I love as much.
2. Also Eddie Bauer has the cutest tops lately! I have this sleeveless henley in a few colors and it's so cute on!
3. Speaking of tops, no one does t-shirts better than Madewell. I swear to you..they are cut so perfect. Just try one on and you will be a changed woman. There is something to a perfect cut T-Shirt…and I have to mention their denim is perfection as well. Get yourself to Madewell.
4. This Kendra Scott necklace is my latest "wear all the time" necklace. I love love it. I have some of her earrings too that I love. Plus, Kendra and I went to the same high school one year apart, so I have to give a shout out to a fellow Bearkat!!
5. Ok, another Madewell shirt. This light chambray top is on my body at least twice a week. It's so cute and comfy! And yes, cut perfectly.
6. Ugg Flip Flops. Boring but essential. Wear them almost every single day.
So yeah, there you go. My latest summer stuff.
Notice how I didn't include a bathing suit or pair of shorts? Sorry, I am just not there yet 🙂
I'd love to hear your favorites!!
*this post is completely unsponsored…all my own favorites right now that I have bought on my own. And full disclosure, there are a few affiliate links thrown in there.