This Overnight Blueberries and Cream French Toast Recipe is the perfect answer to hosting a brunch!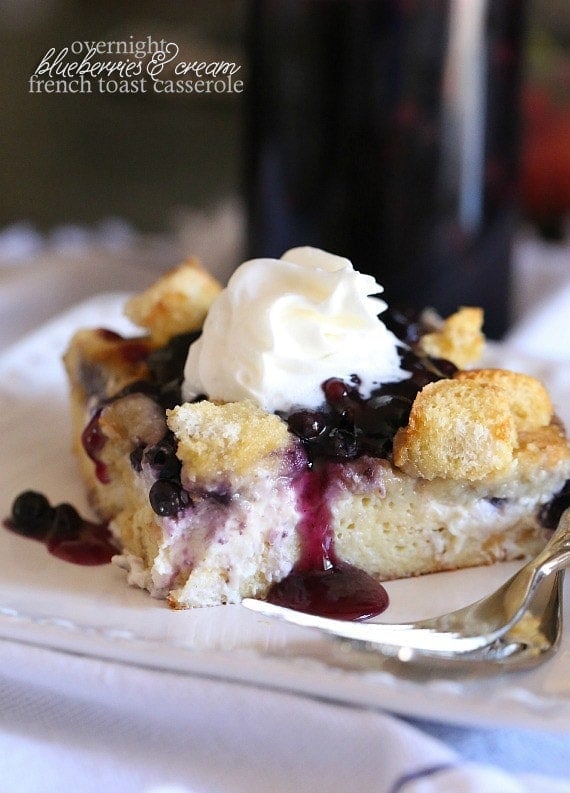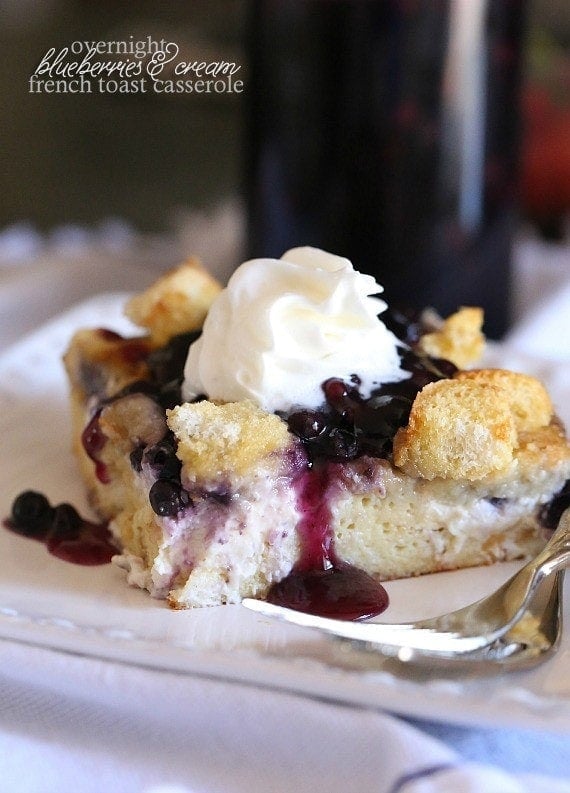 So I am obsessed with casseroles.
I know, I know.
But just the idea of everything in one place all baked up together is comforting and cozy…
Which brings me to today's deliciousness.
It's Overnight Blueberries and Cream French Toast Casserole, and it's literally what dreams are made of.
Plus, making breakfast the night before is like a dream come true.
Sorta.
Honestly what IS a dream come true is the fact that I am working with PHILADELPHIA Cream Cheese this year as a brand ambassador…hello, what IS this life?
So I get to play with cream cheese over the next 12 months and share my creations you all you!
With Easter coming I thought you guys might be interested in a brunch-ish recipe.
Yep, brunch-ish is totally a meal.
And during the holiday time when you have guests coming over it's nice to not run around like a crazy lunatic before people arrive trying to get your meal together. That's why this one is so great.. it's a make-ahead dish!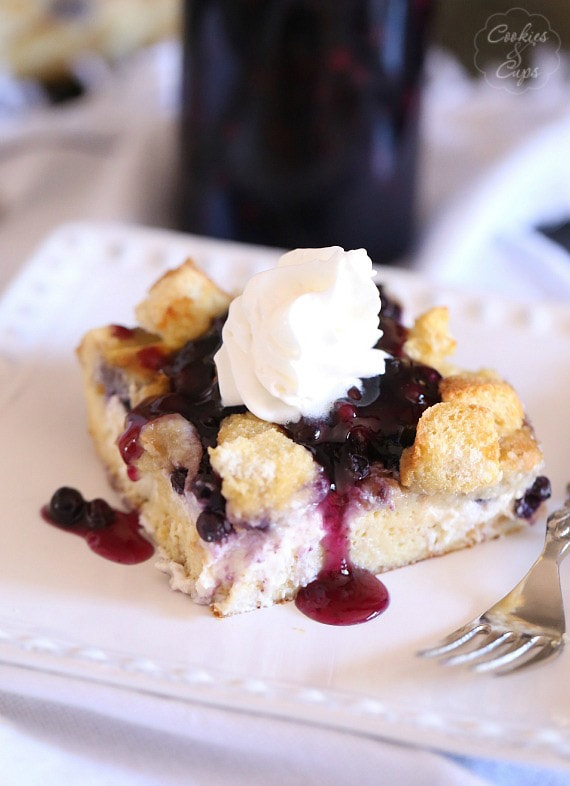 Using PHILADELPHIA Cream Cheese in this one makes me happy because I can always count on it's quality. They use Fresh Local Milk and Real Wholesome Cream, it's Farm to Our Fridge in Just Six Days AND there are no preservatives in the original PHILADELPHIA cream cheese brick (which is what I used today). Fantastic!
So let me walk you through the steps…
First grab some bread…it's best if it's not SUPER fresh, day old works great!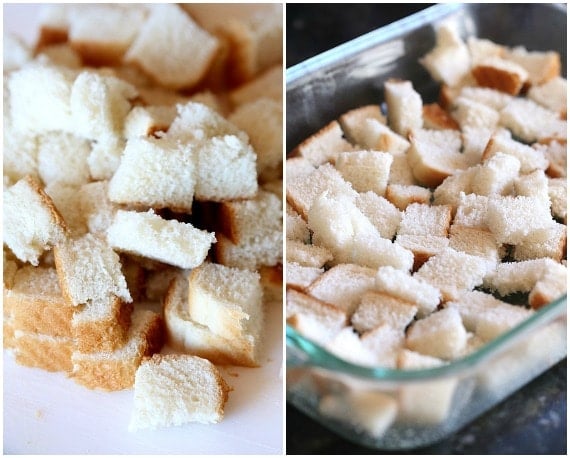 Cut it into cubes and place half of them in a greased 9×13 dish.
Then grab your PHILADELPHIA Cream Cheese .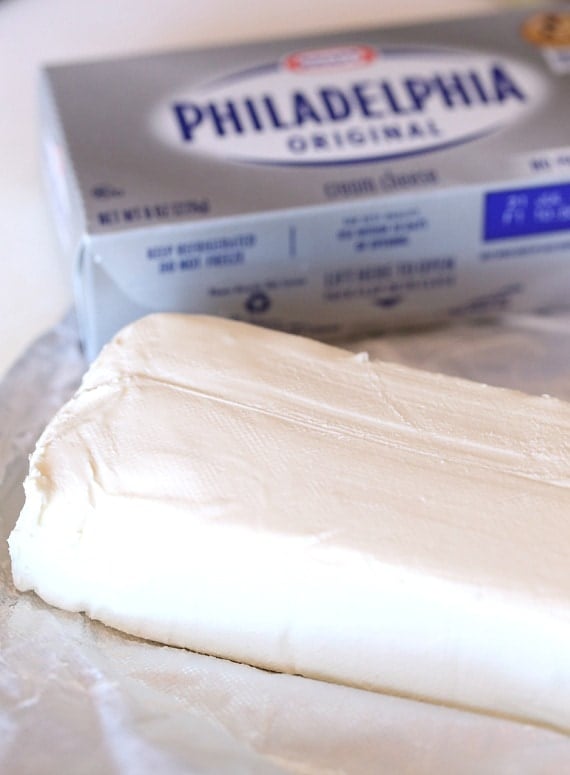 I mixed mine up in the mixer with a little bit of sugar and spread it all over the cubed bread.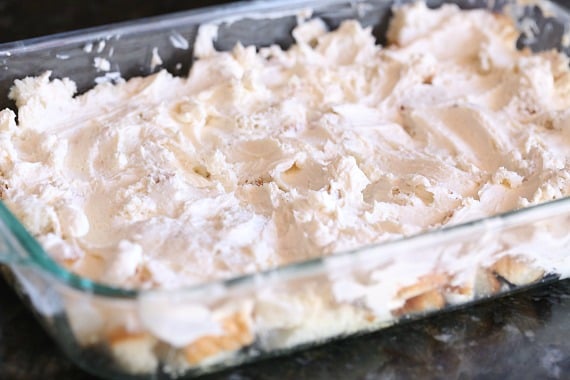 That can be a little tricky (the spreading), so feel free to just drop on the bread in teaspoon sized amounts without spreading.. it works just as well!
Then spread some blueberries all over that!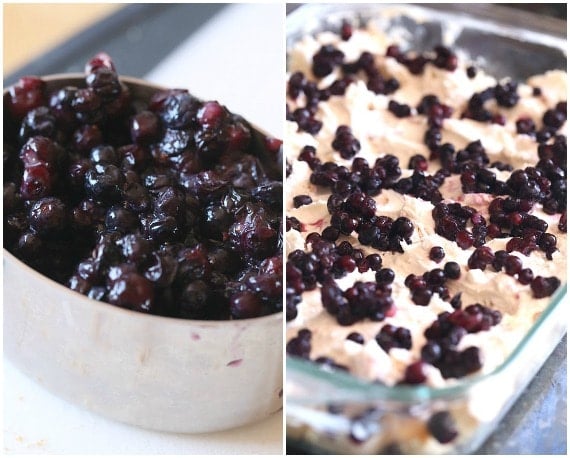 I actually used frozen blueberries (thawed out), but absolutely use fresh if they are available!
Next grab some eggs…you will need 10.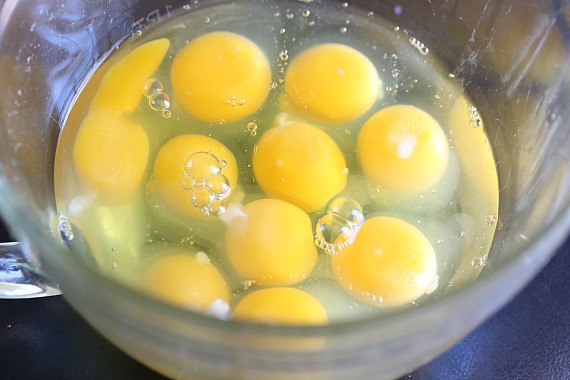 Mix that with some milk and vanilla.
Spread the remaining bread all over the top of the blueberry layer and pour the egg mixture over all of it!
Now, cover it with plastic wrap and let it sit in the fridge overnight!
When you're ready to bake it, bring it out of the fridge about 30 minutes prior, to take the chill off and bake it!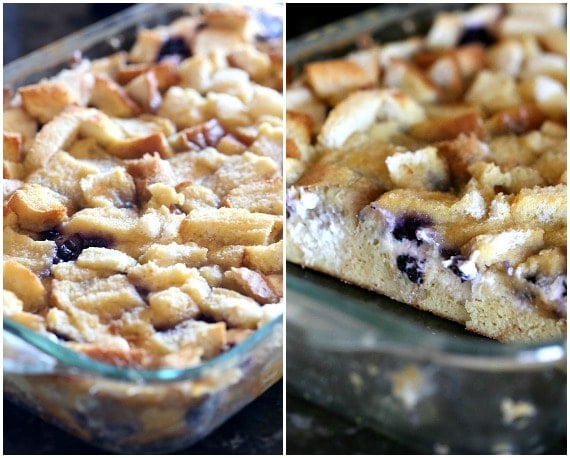 Serve it warm!
But first you HAVE to make the blueberry syrup to go with it.
It's absolutely optional, but totally NOT optional!
Again, grab some more blueberries…I used frozen again. This time they don't really need to thaw.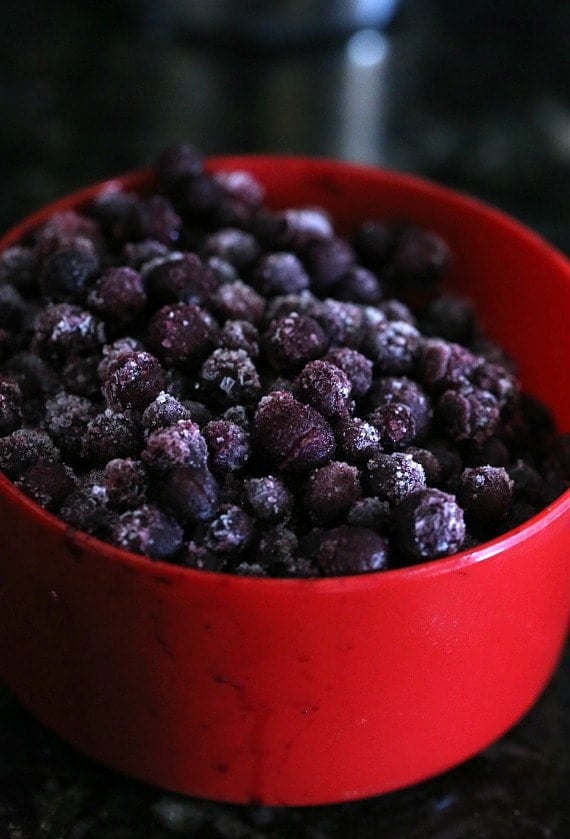 And make a quick syrup on the stove top with sugar, water and cornstarch.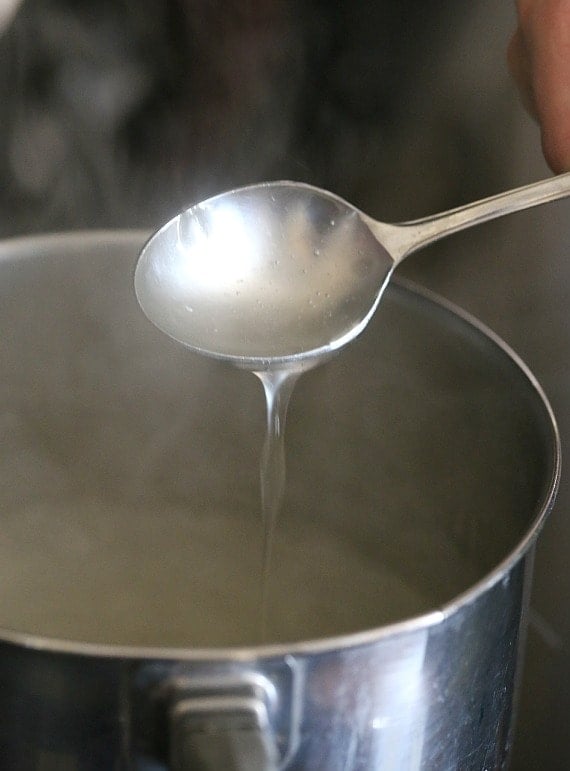 Add in the blueberries and allow it to cook a bit more. You will end up with a glorious syrup!
When you're ready to serve, slice your casserole…
And pour that loveliness all up on there…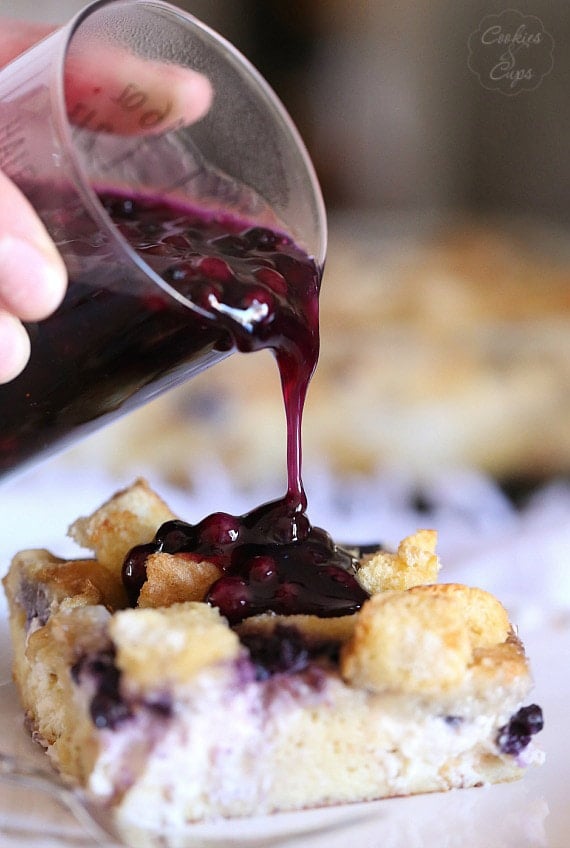 I mean, right?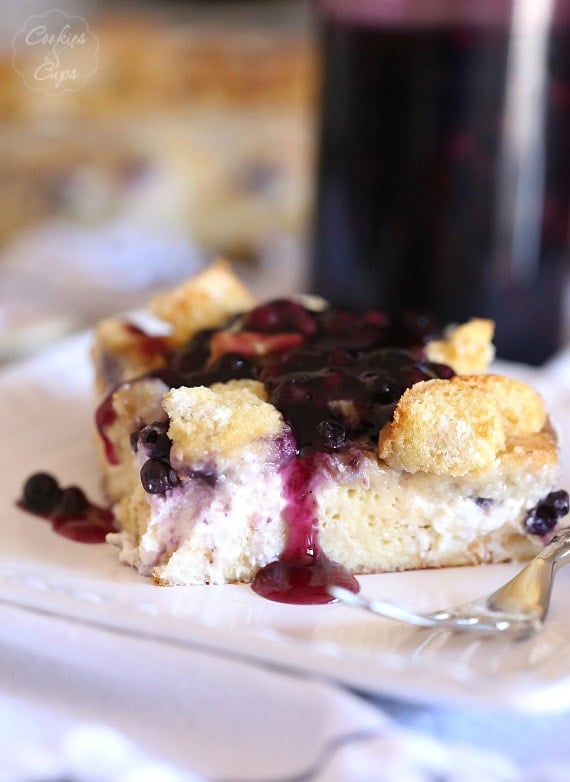 Then you should definitely add some whipped cream. It would be wrong not to.
Oh good gracious.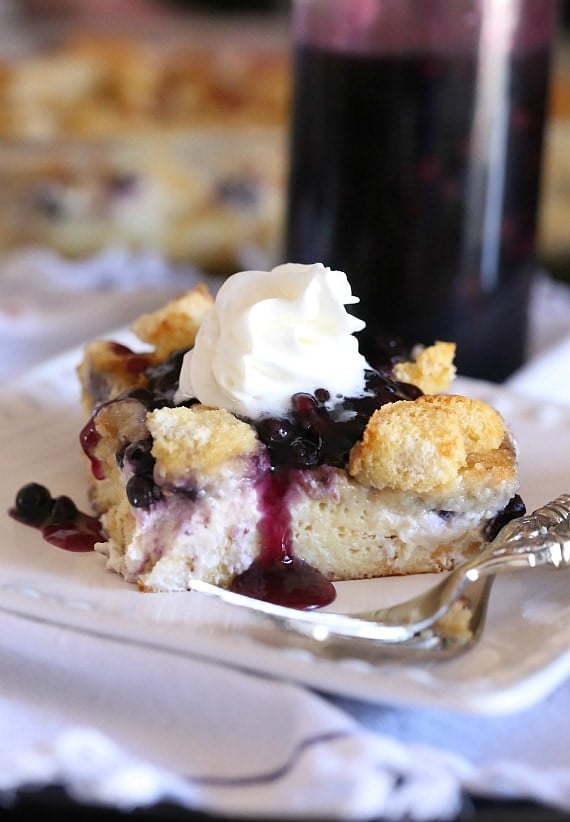 Enjoy!
Print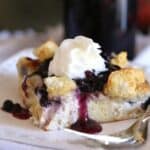 Overnight Blueberries and Cream French Toast Casserole
---
---
Casserole
18

slices of white bread, day old works best

2

(8 oz) blocks Philadelphia Cream Cheese, room temperature

1 cup

fresh blueberries or 2 cups frozen blueberries (before thawed)

1/4 cup

powdered sugar

10

eggs

1 1/2 cups

milk

2 tsp

vanilla extract

1/3 cup

maple syrup
Blueberry Syrup
1 cup

granulated sugar

2 Tbsp

corn starch

1 cup

water

1 cup

fresh blueberries or 2 cups frozen blueberries (before thawed)

1 Tbsp

butter
---
Instructions
Spray a 9×13 pan with baking spray.
Cut all the bread in the cubes. Spread half the bread in the prepared pan, pressing down slightly.
In bowl of stand mixer beat cream cheese and powdered sugar together. Drop by the spoonful the cream cheese mixture evenly on the bread layer, spreading if desired. (Spreading this is a little difficult, but I prefer it). Top with the blueberries and then the remaining bread.
In a large bowl whisk together the eggs, milk, vanilla and maple syrup. Pour over the entire casserole. Cover with cling wrap and place in the refrigerator overnight.
When ready to bake, remove from the fridge 30 minutes before baking to take the chill off.
Remove Cling Wrap and cover with foil to bake.
Bake covered at 350° for 30 minutes and then remove cover and bake an additional 25-30 minutes until center is set.
Allow to cool slightly before serving.
Blueberry Syrup
While the casserole is baking prepare the syrup. In a medium saucepan combine sugar, corn starch and water. Bring to a boil, stirring occasionally. Once it's reached a boil simmer for 3-4 minutes until thickened. Add in blueberries and butter and simmer for 10 more minutes.
Pour syrup over entire casserole or individual portions.
---
Notes
Serve immediately, or cover and store for up to 2 days, reheating before serving.
recipe adapted from all recipes
Want To Save This Recipe?
Find more recipes like this:
I have been selected by Kraft Foods to be a spokesperson for PHILADELPHIA Cream Cheese. While I have been compensated for my time, my opinions are my own.