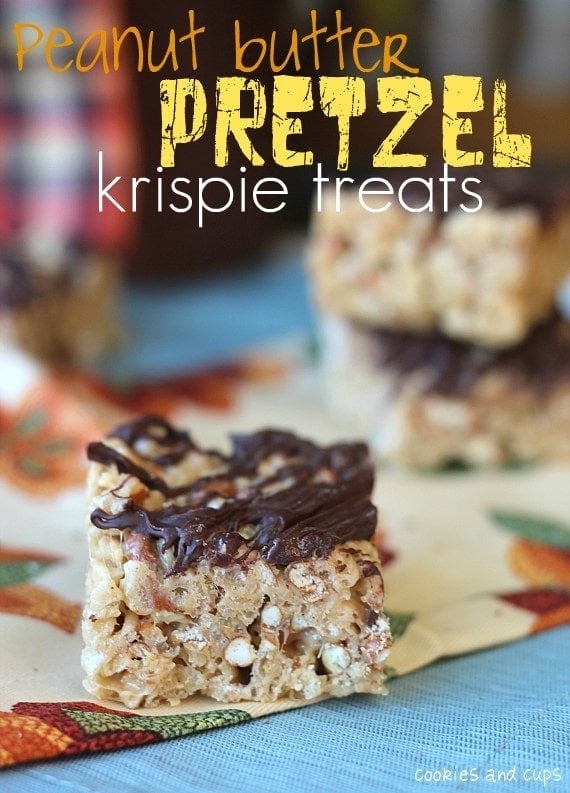 Some days you wake up and can't stop thinking about Cheesy Bacon and Ranch French Fries.
THEN on that same day you go to the gym.
So you think that maybe you have earned those Cheesy Bacon and Ranch French Fries…
I mean you don't do biceps curls and squats for lettuce.
So maybe after the gym you go to the mall to think about possibly-maybe ordering some Cheesy Bacon Ranch Fries.
But then you get there.
And the food court is crowded.
And the Cheesy Bacon Ranch French Fry line is really long.
You decide the universe is telling you not to sabotage your post-holiday diet.
So you turn around and leave cursing the universe.
Then you notice…the Cinnabon line is short.
What is a girl to do?
This whole story was completely hypothetical. *ahem
On a completely unrelated note, I wanna share some yummy krispie treats with you.
Salty, sweet and peanut buttery.
They might not be Cheesy Bacon Ranch Fries or a Cinnabon, but really, what is?
First start with some pretzels.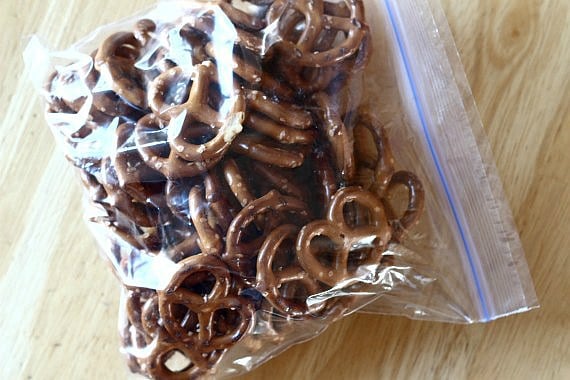 Crush those babies up into smallish, medium pieces. Make sense?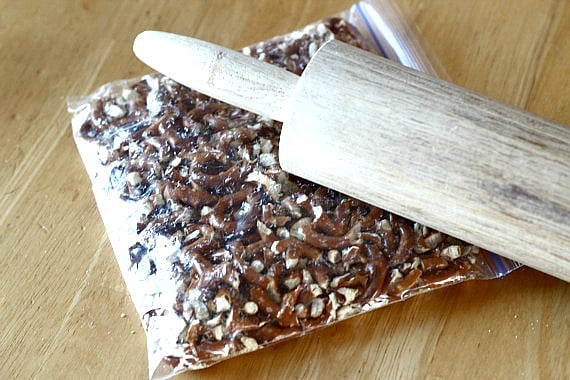 Melt some butter on your stove top. Then some marshmallows.
You'll need peanut butter.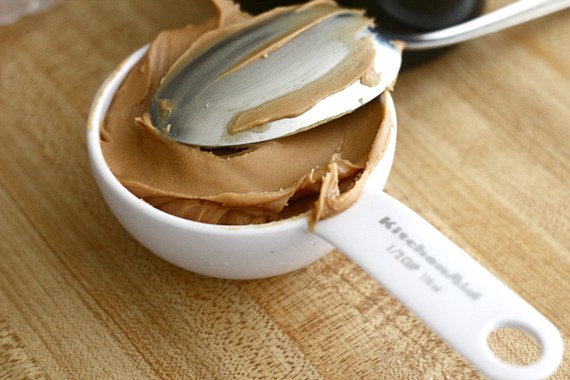 Add that in the melty goodness…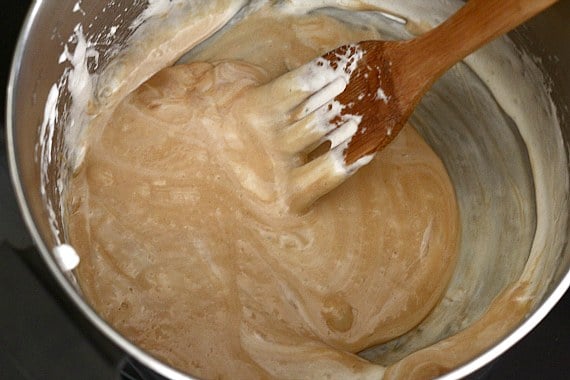 Remember those crushed pretzels? Yeah, you'll need those now…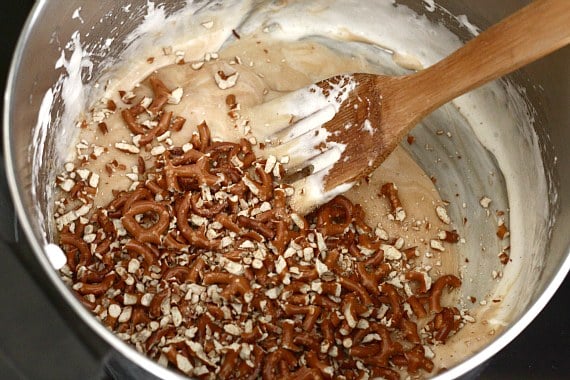 And of course the krispies…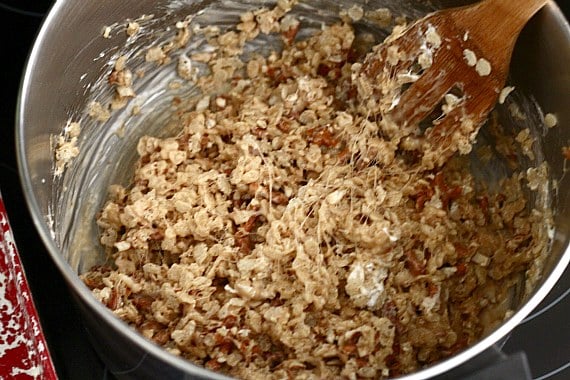 Press that beautiful disaster into a greased up pan.
Now, if you're feeling fancy, you can get your drizzle on.
Melt some chocolate chips…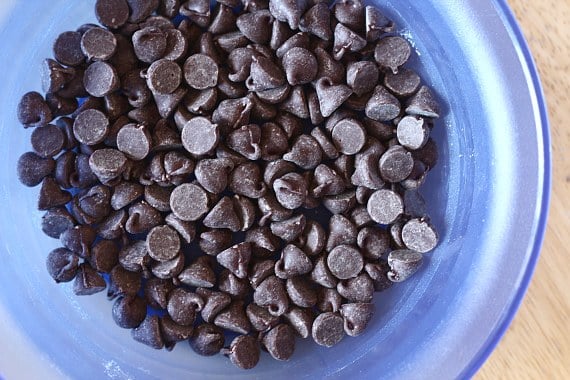 And get all loosey-goosey…
Drizzle 'til you can't drizzle no mo'.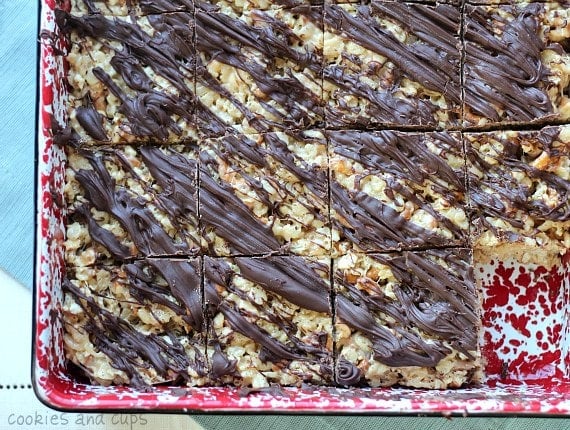 Let the chocolate set up and you are done. Dunzo. Dun-duh-duh-Dun.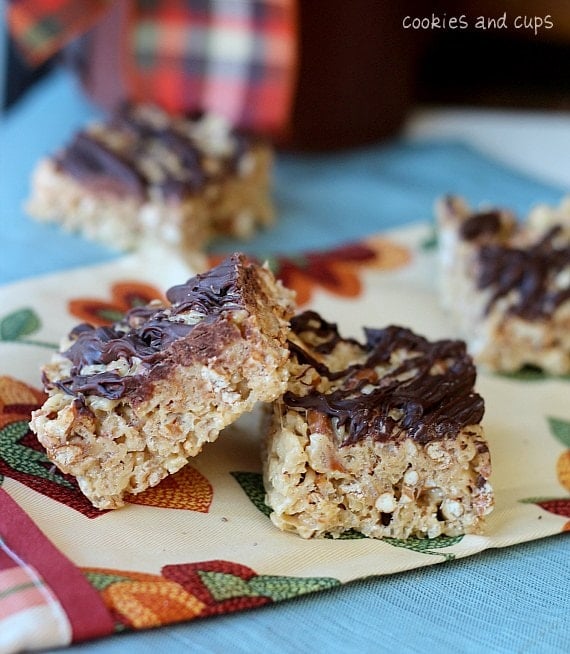 Print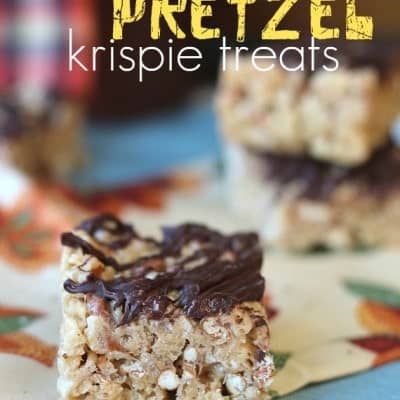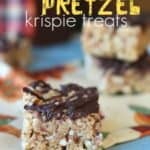 Peanut Butter Pretzel Krispie Treats
---
---
4 cups

Rice Krispie cereal

2 cups

"rough" crushed pretzels

1/4 cup

butter

1/2 cup

creamy peanut butter

1

(10.5 oz) bag of mini marshmallows

1/2 cup

chocolate chips, melted ~ optional for garnish
---
Instructions
Prepare a 9×9 pan by spraying with cooking spray. Set aside.
Crush your pretzels (it will take approximately 2/12 cups of pretzels to make 2 cups crushed). I put my pretzels in a ziplock bag and with a rolling pin crushed. Don't crush them until they are dust.
In a large sauce pan over low heat melt your butter.
When the butter is melted, add your marshmallows and stir until almost melted.
Add the peanut butter and stir until smooth.
Remove from heat. Immediately add your pretzels and krispie cereal.
Stir until combined.
Press evenly into prepared pan.
If desired drizzle melted chocolate on top of krispies.
When chocolate is set, cut into squares.
---
Notes
Store in an airtight container for up to 2 days.
Want To Save This Recipe?
Find more recipes like this: