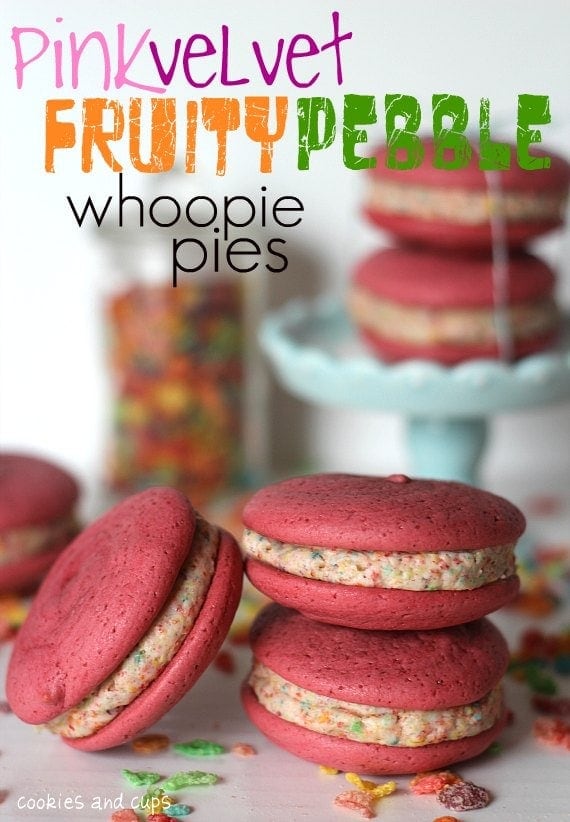 Today my husband and I went to the supermarket.
Together.
It is always kind of nice going food shopping with him, because it's something I usually do alone.
Having company to walk down the aisles on a Sunday morning was nice.
The thing about going with him to the store is that we always end up with more junk food than one would think is physically possible.
Ring Dings? Check.
Frozen Pizzas? Check.
Cheese in a can, "for the kids"? Check.
*disclaimer ~ I would never in a hundred million years feed my children cheese in a can…but apparently my husband half-owns the kids too…and he insists that they can have canned cheese as a "treat". My obvious plea that, "canned cheese is a punishment, not a treat", goes completely overlooked 100% of the time.
But here's the point: when we finally reach the cereal aisle, after our cart is loaded up with my husband's guilty pleasures, I throw a box of Fruity Pebble cereal in the cart and he says this, "that's junk food".
So yeah, I get judged for my Fruity Pebbles and he buys Ring Dings and squeeze cheese with a clear conscience.
It's a good thing that we don't go shopping together more often…we would both weigh 700 pounds and probably be divorced.
The end.
I know you all are wondering whatever happened to that box of Fruity Pebbles, right? Just pretend, ok?
So, a few months ago I came across THESE from the very cute and sweet site, The Novice Chef.
She took a super fancy macaron and brought it down to my level. She added cereal. Not just any cereal…Fruity Pebbles.
And she filled her super fancy macarons with Fruity Pebble Buttercream.
I immediately started weeping with joy at the possibilities.
Since I have never really gotten into the whole French Macaron thing I decided to make something a little less scary…a Whoopie Pie.
And because Fruity Pebbles are so colorful and happy, I decided to go with a Pink Velvet Whoopie Pie.
I think I made the right choice.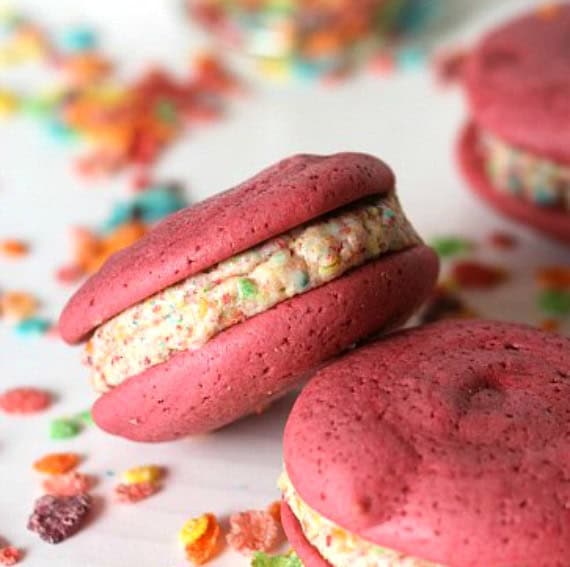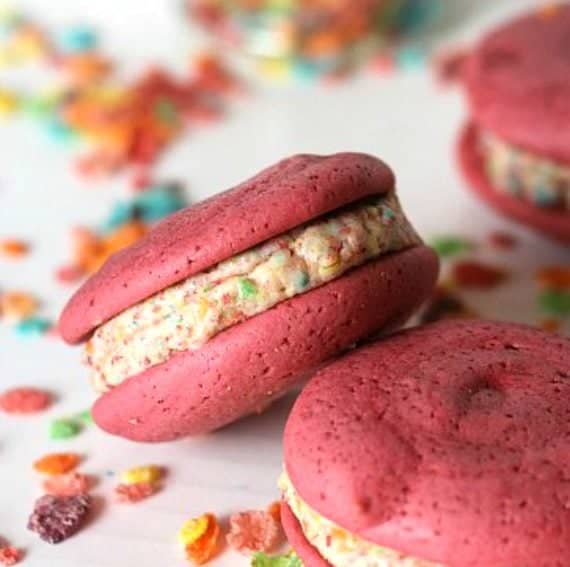 I used THIS recipe for the Whoopie Pies, I just subbed out the orange food coloring with a deep pink…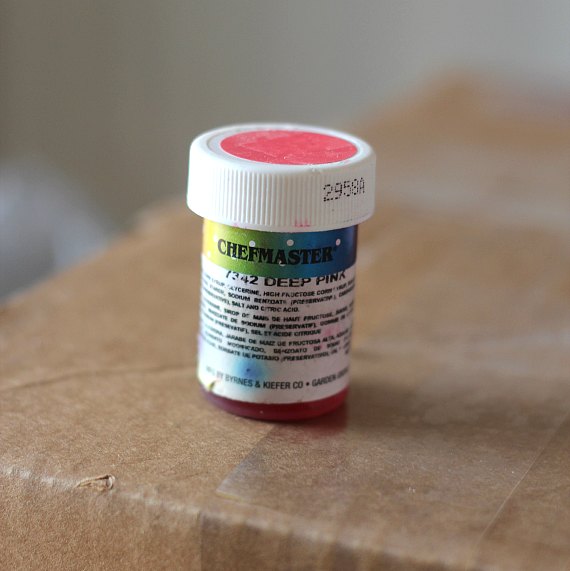 If you don't have pink food coloring just use a little bit of red.
I just kept adding the color into the batter until I got the shade of pink that I liked…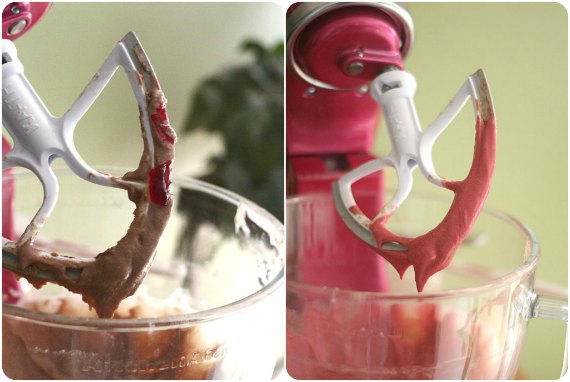 Using the technique that I described in the recipe I filled a ziplock bag with the batter and piped it on to my baking sheet…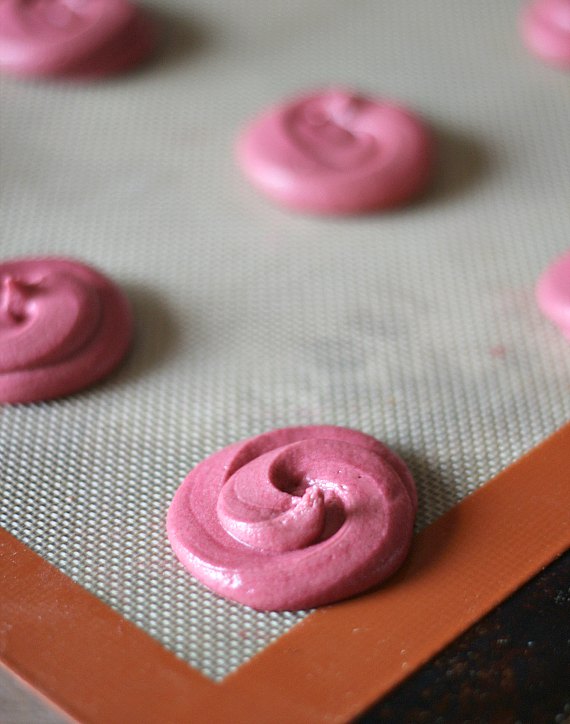 When they're baked up they'll look like this…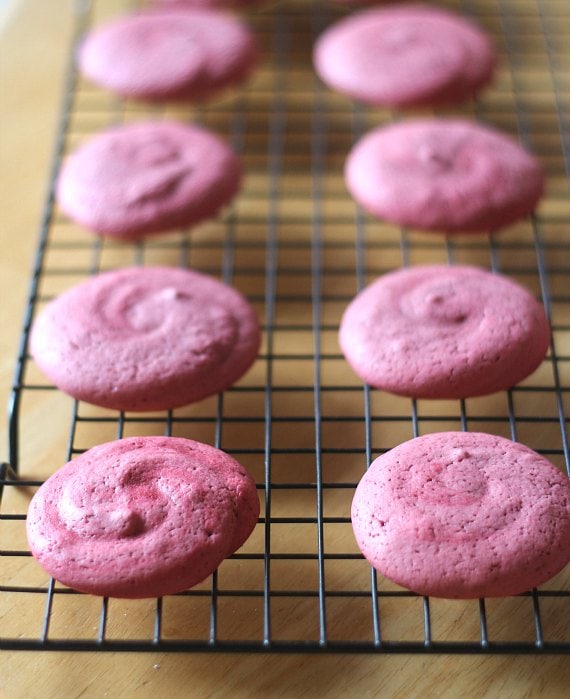 While they are cooling go ahead and make your filling…
Crush up some Fruity Pebbles. You can use a food processor or a ziplock bag and a rolling pin. Whatever is easiest for you.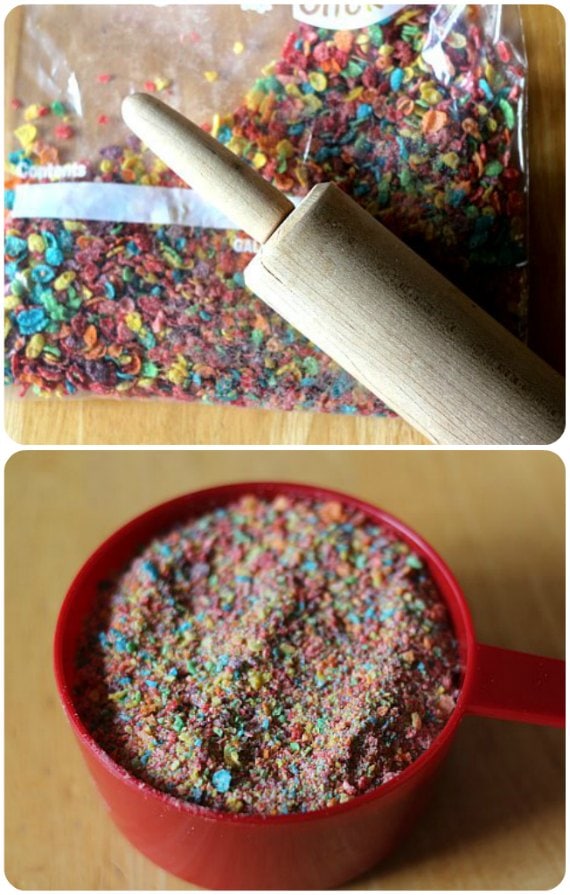 Mix up some butter and shortening in your mixer with some powdered sugar and when that is smooth, beat in your crushed Fruity Pebbles…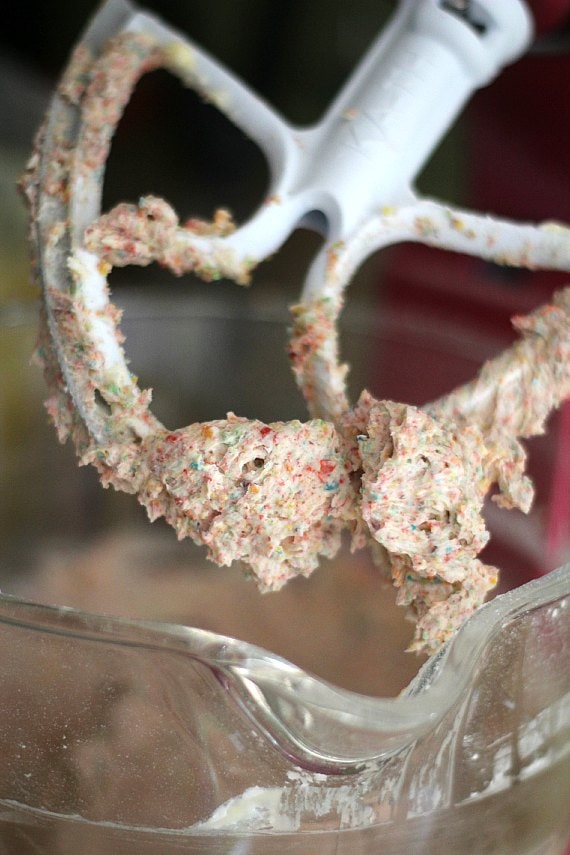 I filled my Whoopie pies by using a Ziplock bag to pipe the Fruity Pebble Buttercream…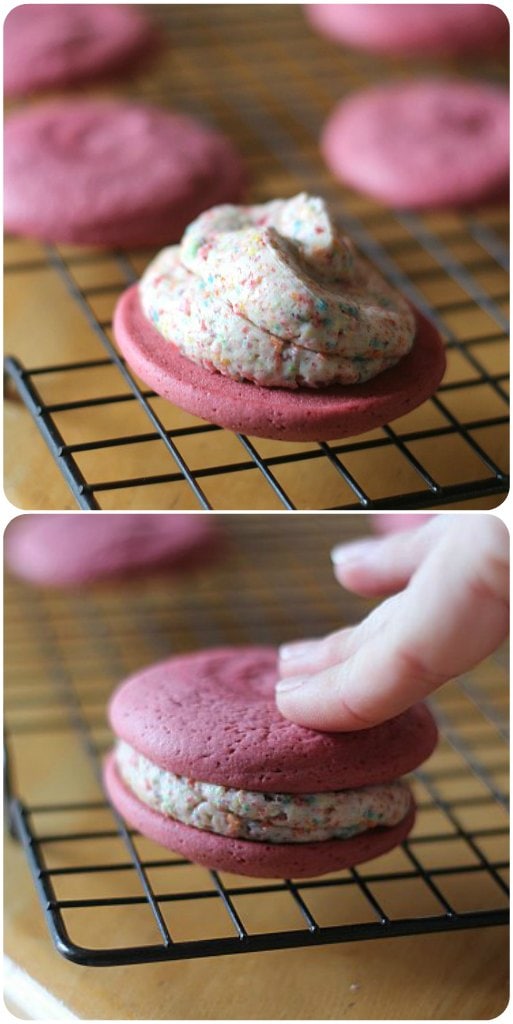 That's it.
How cute are these?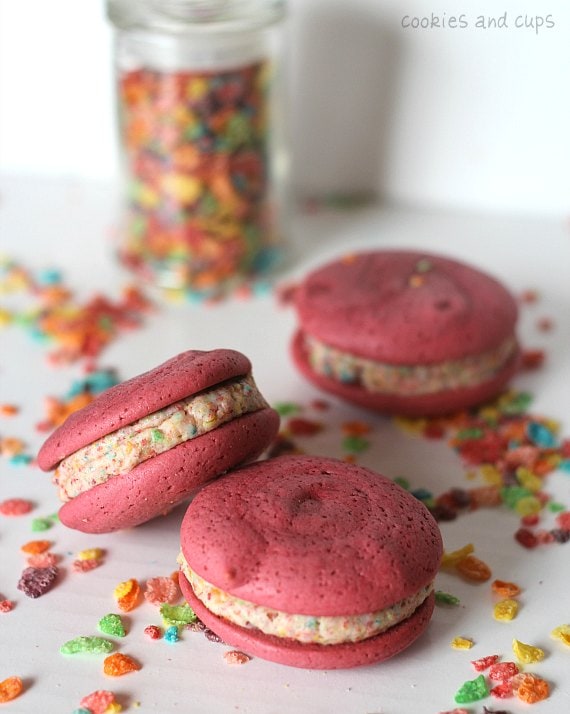 Thanks Jessica for your divine inspiration!
Recipe for Whoopie Pies can be found HERE, using pink food coloring.
Print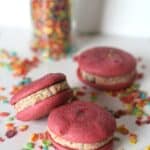 Fruity Pebble Buttercream
Author:

Prep Time:

10 minutes

Total Time:

10 minutes

Yield:

1

batch

1

x

Category:

Frosting

Method:

No Bake

Cuisine:

American
---
Description
Fruity Pebble Buttercream is perfect for making Fruity Pebble whoopie pies! You can use Fruity Pebble frosting in cakes, cookies, etc., too!
---
1 cup

finely crushed Fruity Pebbles (about

2 1/2 cups

un-crushed)

1/2 cup

butter, room temperature

1/2 cup

vegetable shortening

2 cups

powdered sugar

2 Tablespoons

milk
---
Instructions
Cream your butter and shortening together until smooth.
On low speed slowly add in your powdered sugar, when incorporated, add your milk and turn speed up to medium and beat until smooth and fluffy.
Turn back to low speed and add in your crushed Fruity Pebbles cereal and mix until incorporated.
---
Notes
recipe adapted and inspired by The Novice Chef
Keywords: fruity pebbles buttercream, fruity pebbles frosting, best filling for whoopie pies, pink velvet whoopie pies
Want To Save This Recipe?
Save