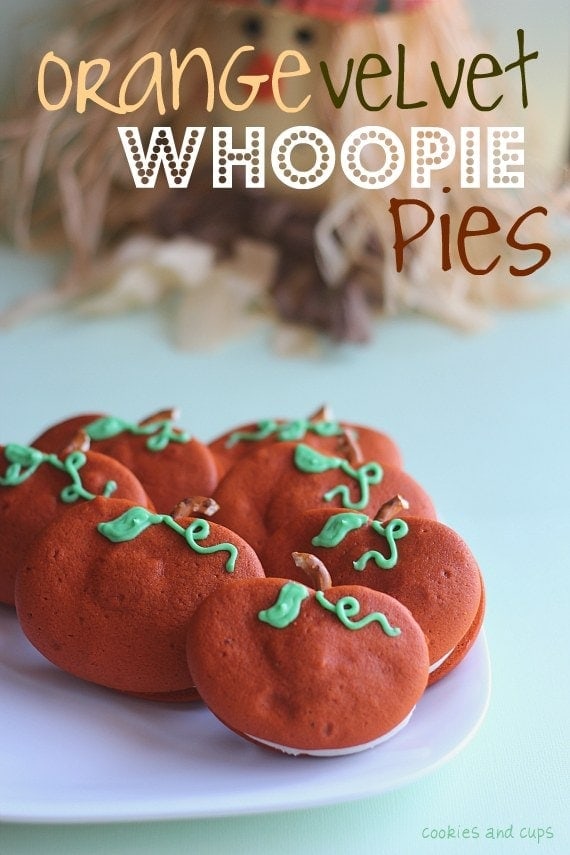 This week I am gonna get organized. No, for REAL this time.
I will not make any more stacks of mail.
I will not let the laundry pile high.
I will pack my kid's lunches at night, so the morning isn't rushed and all angry-like.
I will plan my meals and grocery shop for the items I NEED. NO YODELS!
I will go to bed early-ish and NOT get sucked into brain-cell-killing shows like Most Eligible Dallas.
I will go to the gym and actually exercise, not just walk around with yoga pants and sneakers on LOOKING like I might have exercised.
I will clean my closet and finally get rid of some lingering sizes that humiliate me on a daily basis.
AND I will actually order photo books for the 4,528 pictures that have been uploaded on my computer since 2007.
I will do all this while staying in a positive mood, without rolling my eyes at my husband and with make-up on.
That's my plan for the week.
Do you believe any of that?
Yeah, me neither. Sigh.
I think I need a cookie.
Or even better a Whoopie Pie, which is basically a super great invention where you get to eat 2 cookies and call it one. Brillz.
So these kinda went together in a breeze. Not like a Martha Stewart, "It's easy" breeze..an ACTUAL, anyone can do it breeze.
Pumpkin Shaped Orange Velvet Whoopie Pies!
First you make your whoopie pie batter…I adapted a red velvet whoopie pie recipe…just used orange food coloring!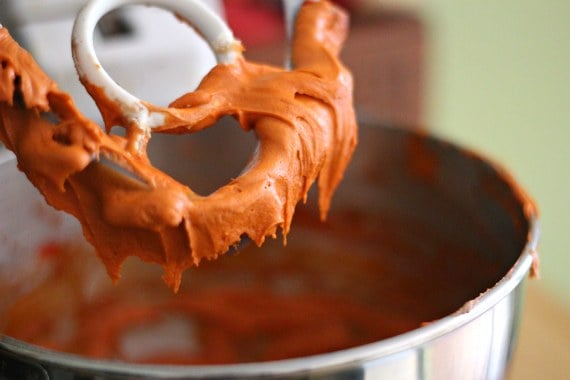 I put the batter in a ziplock bag with the end snipped off…that way I had better control of the shape. You could use a piping bag too.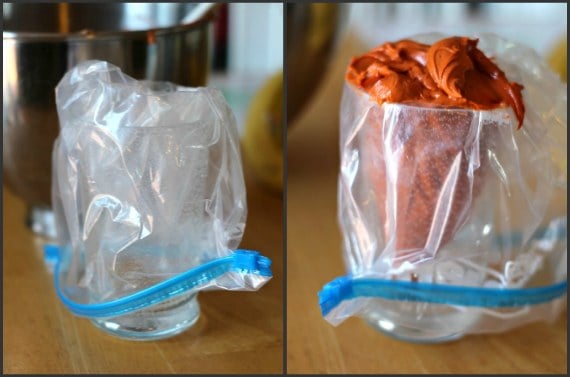 You'll want to line you baking sheet with parchment paper or a Silpat because they will stick.
I eyeballed my pumpkins…that's how I roll. They are all ABOUT 2.5″ wide and ALMOST 2″ in height.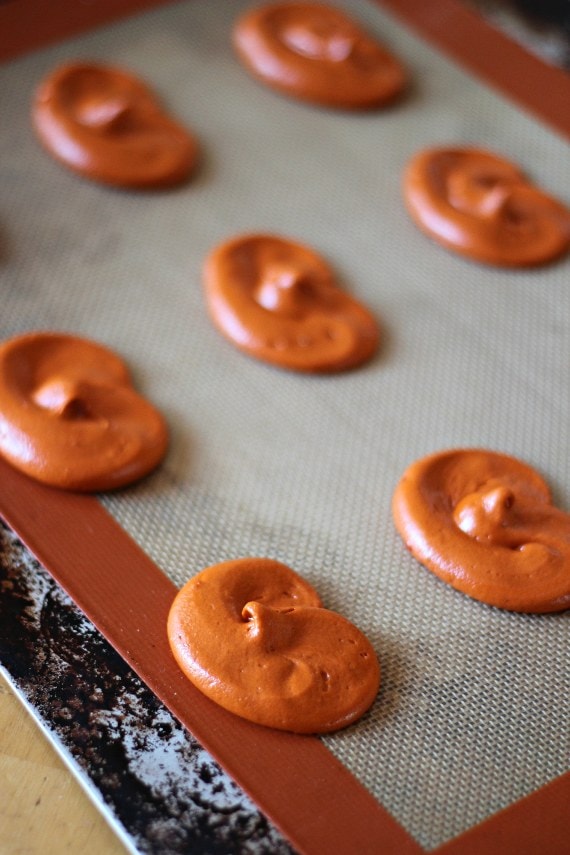 After you bake them let them cool for 2 minutes or so and transfer them to a wire rack.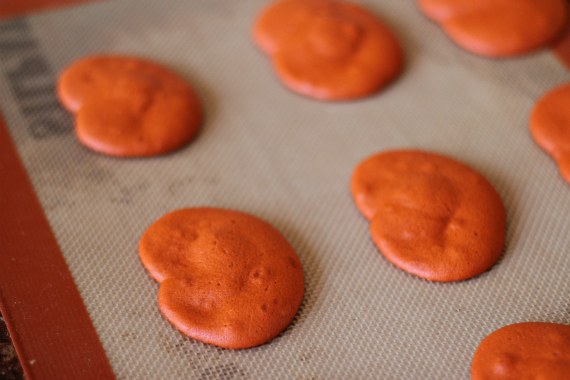 You can make your cream cheese filling now…and using another snipped-off Ziplock you can fill them.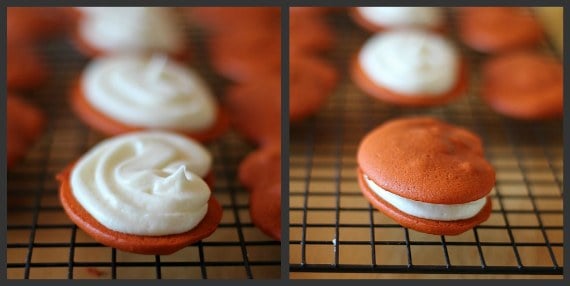 I broke some mini pretzels…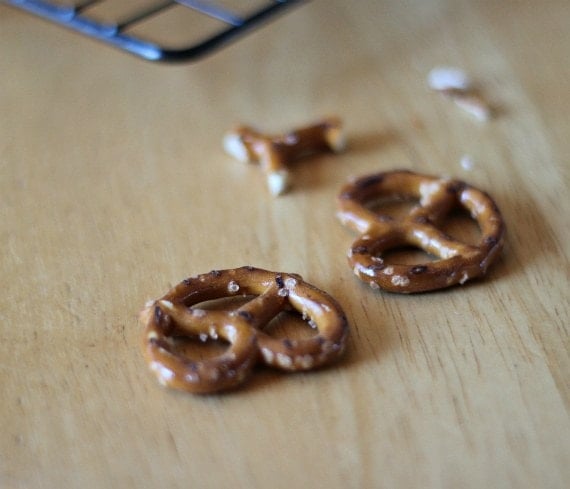 and used them as the pumpkin stalks.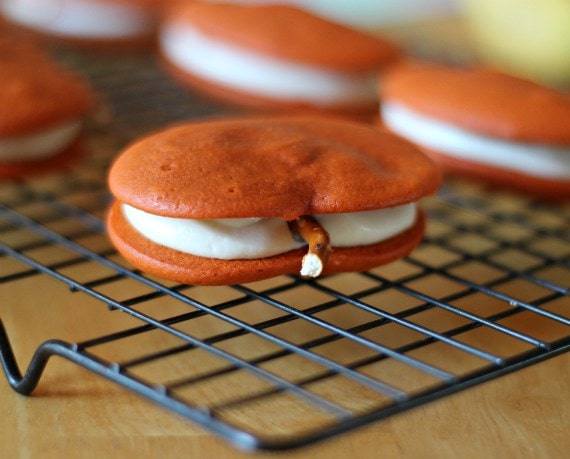 I used some extra filling and colored it green. I piped on some vines and leaves…you don't have to, but sometimes instead of organizing my mail I pipe stuff. That's me.
Then you're done. Aren't they cute?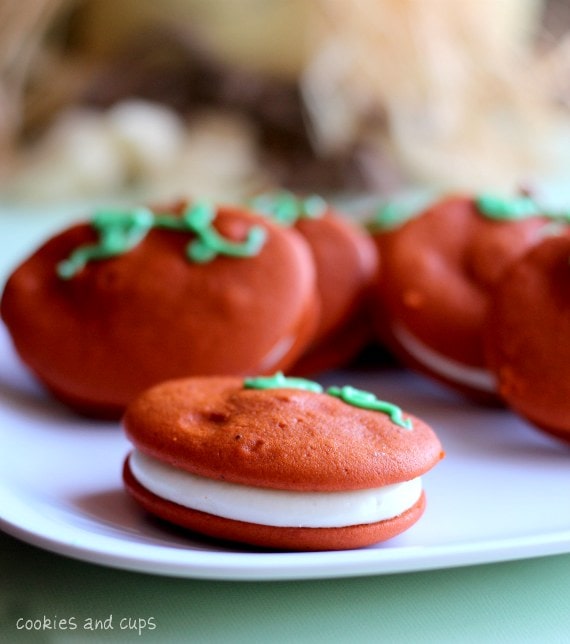 Print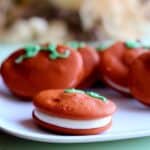 Pumpkin Shaped Orange Velvet Whoopie Pies
---
---
Cookies
2 cups

all purpose flour

2 Tbsp

cocoa powder

1/4 tsp

baking powder

1/2 cup

room temp butter

1 cup

light brown sugar

1

egg

2 tsp

vanilla

1/2 cup

buttermilk
Orange food coloring (gel)
Cream Cheese Filling
8 oz

cream cheese, room temperature

1/2 cup

butter, room temperature

1 tsp

vanilla

2 cups

powdered sugar
---
Instructions
Cookies
Preheat oven to 375
Line you baking sheets with parchment paper.
Cream butter and sugar together.
Add egg and vanilla, mix until combined.
Mix you dry ingredients together
On low speed add 1/3 of your dry mix, then 1/3 of your buttermilk…continue adding in this order until all your dry ingredients and milk are mixed in and smooth.
Now add you orange food coloring. It didn't take very much for me to achieve a pretty orange color, but add until the color you like is reached.
Mix on low to combine the food coloring, scraping the sides until color is even.
Transfer batter into a piping bag or snipped off ziplock.
Pipe in the shape of pumpkins (kind of a fat heart shape) about 2 inches apart.
Bake for approx 6 minutes until they are set.
Let cool on baking sheet for 2 minutes and then transfer to a wire rack to finish cooling.
Fill each with your cream cheese filing.
Filling
In a mixer, cream together your butter and cream cheese until smooth.
On low speed add in your vanilla and powdered sugar.
Turn speed up to medium until combined, scraping sides of bowl when necessary.
---
Want To Save This Recipe?
Find more recipes like this:
Helpful tip… Out of buttermilk?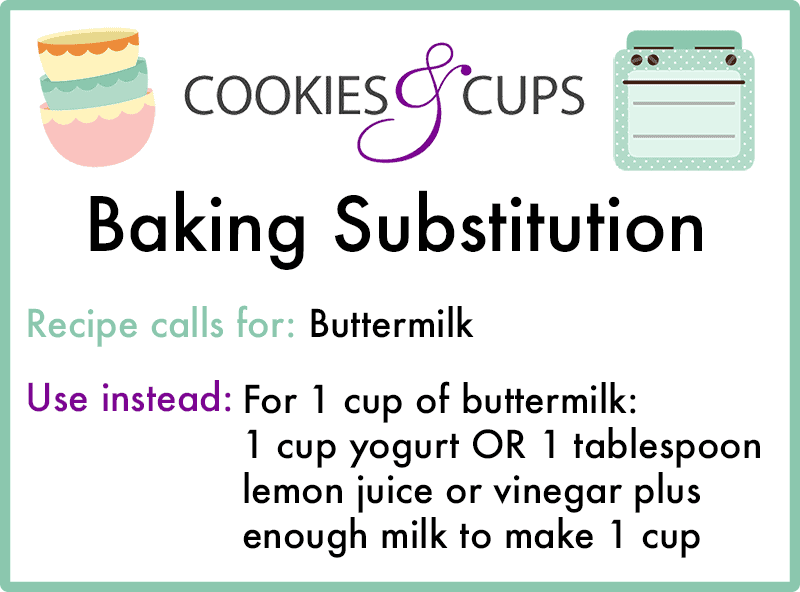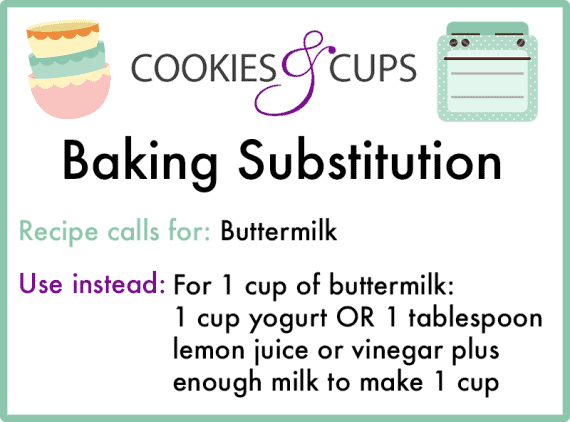 Save