Apple Butter Whoopie Pie with Cinnamon Buttercream Filling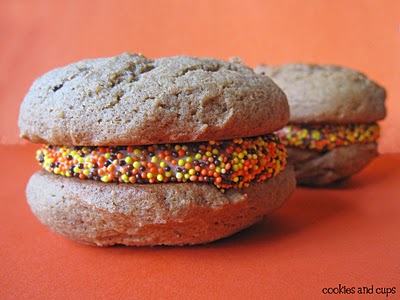 Next week is Thanksgiving. Duh.
A whole holiday solely revolving around food.
So what did I do yesterday?
I ordered a diet book.
Not for now, of course..that would just be silly.
For after.
After Thanksgiving…
or maybe after Christmas.
Because who starts a diet before Christmas?
Well, not RIGHT after Christmas…because then there's New Year's.
Ok.. definitely after New Years.
So, I will be totally prepared when 2011 rolls around…
because come January it's on!
For real this time!
Not like the last time…or the time before that.
My husband asks me why I keep buying diet books.
He doesn't get it.
He told me that if I put all my diet books in a backpack and walked around carrying them I would definitely lose weight.
Meh.
And while that's mostly true..I would probably throw out my my back in the meantime.
But until January, let's focus on the food…
I am definitely not the source for learning how to truss a turkey.
But, I can help you out in the dessert department.
Especially in the cute dessert department.
Because we all know that desserts are better when they're cute.
And really, what's cuter than a whoopie pie?
This is my first-ever whoopie pie, and I'll tell ya ~ they were fun.
And tasty.
And cute.
What more can you ask for?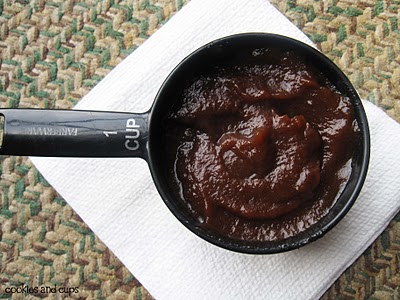 The inspiration for these came from a big old jar of Apple Butter that the folks over at
Musselman's
sent me.
To be honest, I didn't really know what to do with apple butter.
But I'll tell you..if anyone asks me now what to do with apple butter, clearly, it's make a whoopie pie!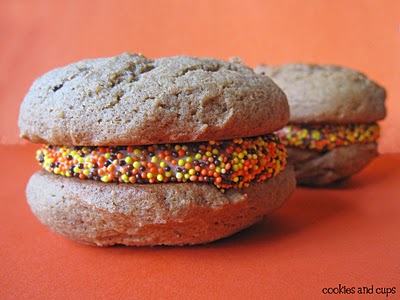 For easy filling, put buttercream in a ziplock and snip off the corner.
Squeeze a generous amount of filling on bottom, leaving some space for the squeeze factor…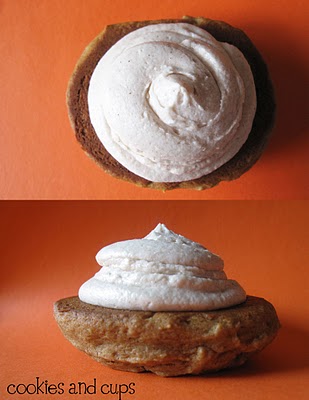 Roll in sprinkles…if you're feeling a little crazy 😉
Print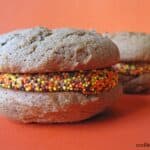 Apple Butter Whoopie Pies with Cinnamon Buttercream
---
Description
makes approx 9 assembled pies
---
Ingredients
Cookies
1/2 cup

room temp. butter

1 cup

brown sugar

1

egg

1 cup

apple butter

1

t. baking soda

1

t. baking powder

1

t. cinnamon
pinch nutmeg

1/2

t. salt

2 cup

s AP flour
Filling
1/2

c. room temp butter

1

t. cinnamon

3

c. sifted powdered sugar

2

T. milk

1

t. vanilla
---
Instructions
Cookies
Preheat oven to 350
Cream butter and sugar together. Add in egg and apple butter on medium heat until evenly incorporated. Turn mixer to low and add in baking soda, baking powder, cinnamon, nutmeg, salt and flour, stirring combined.
Line baking sheet with parchment.
Scoop out batter (approx 2 T.) using an ice cream scooper. Place 2 inches apart.
Bake 15 minutes until cookies are set.
Cool on wire rack.
Filling
/2 c. room temp butter
t. cinnamon
c. sifted powdered sugar
T. milk
t. vanilla
Cream butter in mixer until smooth.
Slowly add powdered sugar and cinnamon.
Beat until combined.
Add vanilla and milk.
Mix on low until combined, then beat on medium for 1 min, scraping down sides when necessary.
Fill pies with approx 2 Tbsp of filling
---
Notes
For easy filling, put filling in a ziplock and snip off the corner.
Squeeze a generous amount of filling on bottom, leaving some space for the squeeze factor…
Roll in sprinkles…if you're feeling a little crazy