These Root Beer Float Cupcakes with Ice Cream Frosting are all summer! Using ice cream in the frosting is a perfect way to get the ice cream flavor but not worry about the melting!!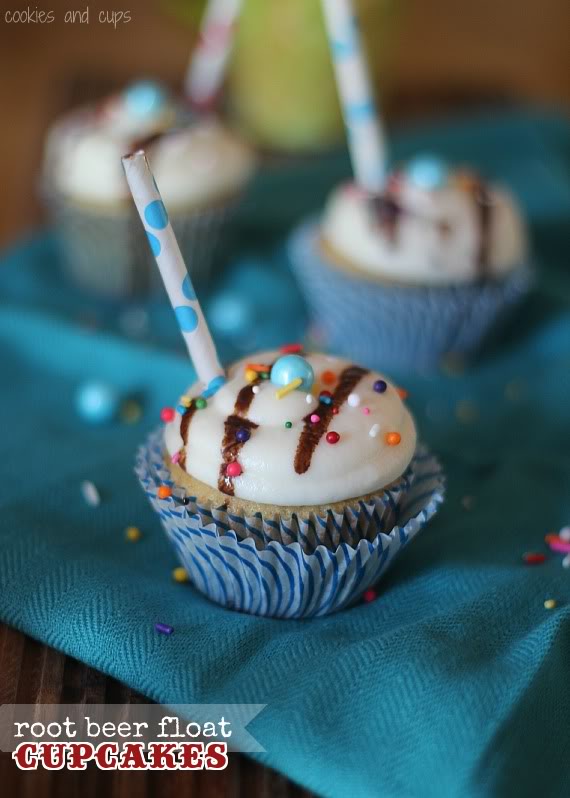 These are a two-fer.
They are Root Beer Float cupcakes, they are also "early-birthday" cupcakes…hence the straw AND the sprinkles.
Got it?
So yeah…my kid has a summer birthday, so he doesn't get a special day designated to him at school…no goody bags to pass out to classmates, no friends making handmade cards to give him, no birthday crown…
The effect of parents letting their guard down in October as opposed to April.
Apparently, though…in the world we live in, where everything is always fair, everyone gets a trophy and there is no last place, my kiddo gets to celebrate his summer birthday during the school year…with a "Summer Birthday Celebration".
The sweet teachers at the school didn't factor in, however, that my child also expected presents on his early birthday, deciding that everyone ELSE in the WHOLE school got "Summer Birthday Celebration Presents".
I let him pick his cupcake flavor instead. Life is a compromise.
The choice du jour was Root Beer Float Cupcakes. Cheaper than a new iPod.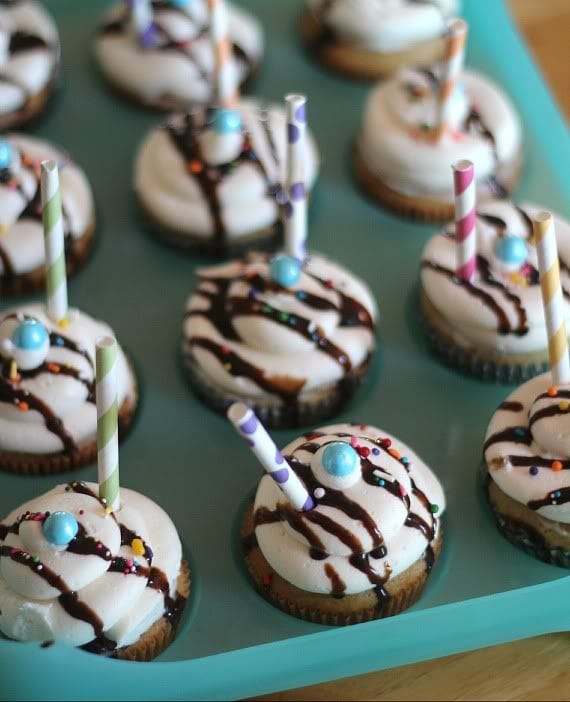 These are an easy Root Beer Float Cupcake with Vanilla Ice Cream Frosting.
Look what I added in there…All Spice and Cinnamon. Not enough to make it a spice cake, but enough to bump up the Root Beer flavor a bit.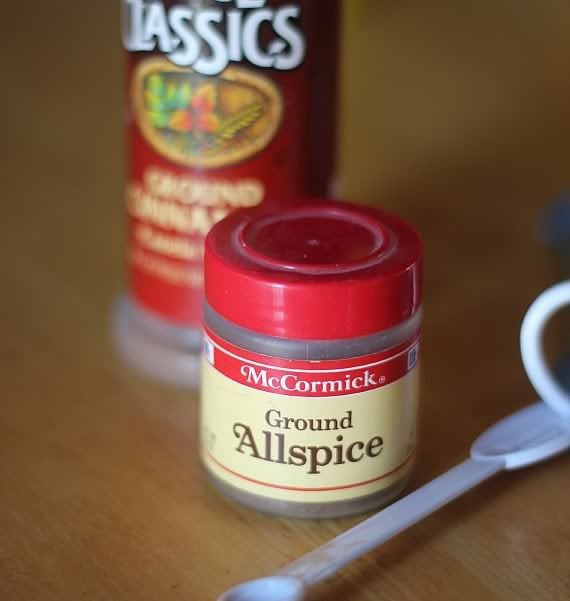 And I also added enough Root Beer to make them completely kid-friendly.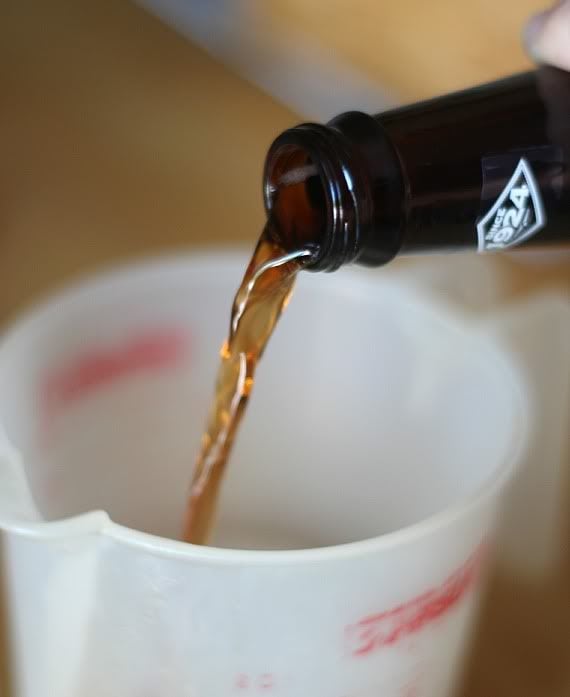 With the batter mixed, I baked them up…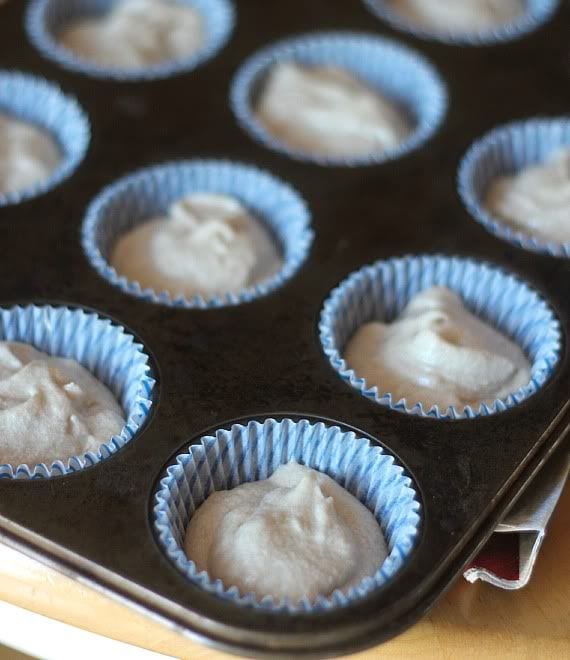 And started on the frosting.
It began with some vanilla ice cream.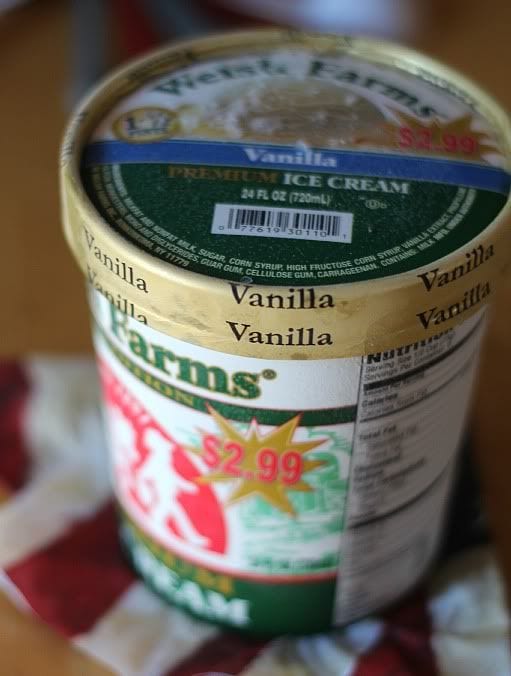 Honestly, the ice cream doesn't make a HUGE taste difference, since I used vanilla, but the idea of throwing ice cream into the frosting made me happy.
You need to let the ice cream sit out for a bit so it isn't frozen…if you make that mistake the frosting will seem perfect until the ice cream melts, and then you will have a melty frosting cupcake.
I know this because, well, I didn't factor that in the first time.
Yes, melty cupcakes everywhere.
Learn from my mistakes.
After I got the frosting just right, I drizzled it with a little Root Beer syrup, but you could easily use chocolate.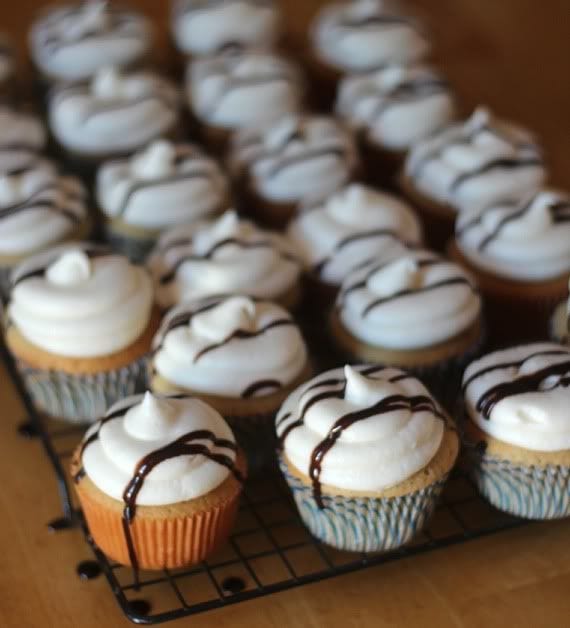 And since we couldn't forget that they were for a "Summer Birthday Celebration" I added some sprinkles…to amp up the birthday-ness of it all.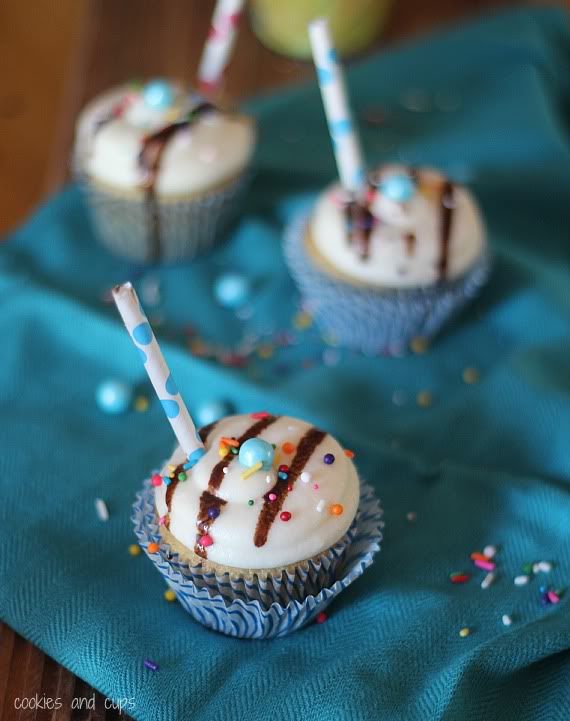 No presents, just cupcakes.
Feel sorry for my child.
Print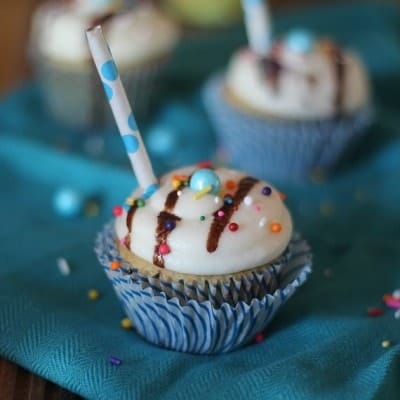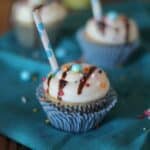 Root Beer Float Cupcakes with Ice Cream Frosting
---
---
Cupcakes:
3/4 cup

butter, room temperature

1 1/2 cups

granulated sugar

3

eggs

1 tsp

vanilla extract

1 1/2 tsp

root beer extract

2 1/2 cups

flour

2 1/2 tsp

baking powder

1 tsp

salt

1/8 tsp

all spice

1/8 tsp

cinnamon

1 1/4 cups

root beer
Ice Cream Frosting:
1 cup

butter, room temperature

1/2 cup

vegetable shortening

1/2 cup

vanilla ice cream, softened

8 cups

powdered sugar
---
Instructions
Cupcakes:
Preheat oven to 350°
Line muffin tins with cupcake liners
Beat butter and sugar together for 2 minutes on medium speed until light and fluffy.
Add eggs and extracts and continue mixing for 1 more minute, scraping down sides as necessary.
In a separate bowl whisk together flour, baking powder, salt, all spice and cinnamon.
Turn mixer to low and add half the dry mixture and half the root beer, stirring until combined, repeat with remaining dry mixture and root beer until combined.
Fill lined muffin tins about 2/3 full (approx 1/4 cup batter) and bake 15-17 minutes until centers are set.
Cool on wire rack completely before frosting.
Frosting:
In stand mixture cream butter and shortening together until smooth. Add in 1/2 cup softened ice cream and mix until combined. Slowly add in powdered sugar.
When all powdered sugar is incorporated turn mixer up to medium and beat for 30 seconds.
If necessary, add more ice cream 1 Tablespoon at a time until desired consistency is reached. But remember not to add too much ice cream, as when it comes up to room temperature it could make your frosting too soft.
*optional ~ drizzle cupcakes with root beer or chocolate syrup, if desired and decorate with a straw cut in half.
---
Want To Save This Recipe?