This Salty Churro Toffee Snack Mix is SO crazy addictive and delicious! Salty/Sweet/Cinnamony/Buttery perfection!
Run, don't walk, to the kitchen right now and make this.
I feel like that's all I have to say…
HA. Right. What would this blog be without a whole slew of unsolicited opeenionnnns?
Boring. That's what it would be.
Anyhow, this snack mix is a riff on my Praline Crack recipe (which you NEED to make if you haven't already). And between you and me, I should have called it Churro Crack, but the Crack police get on me when I use "crack" in a title. So I opted for the super wordy Salty Churro Toffee Snack Mix, as not to offend.
But between you and me, it's Churro Crack.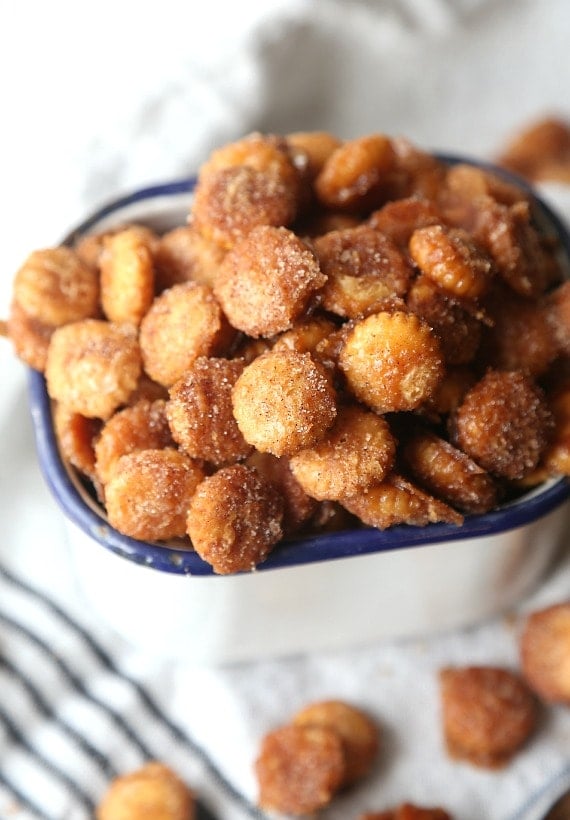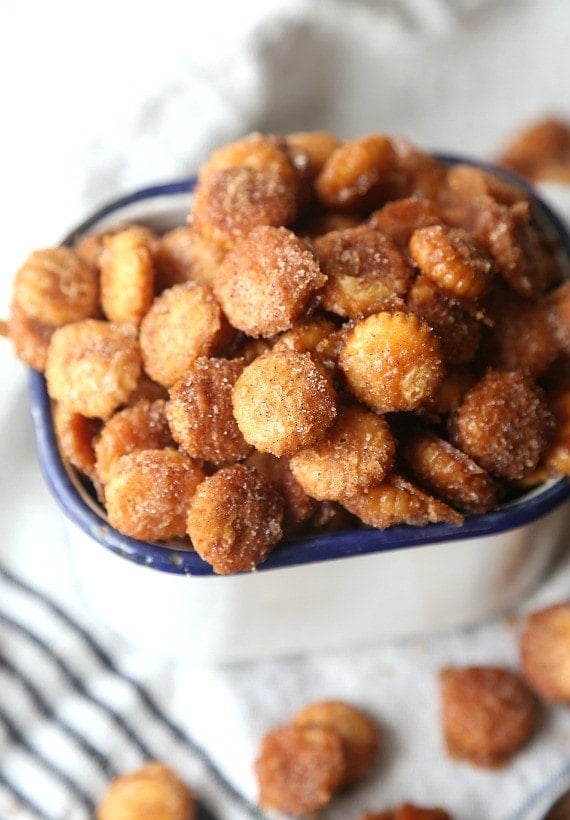 It's so super easy, and really impossible to mess up. Unless you burn it. So don't do that.
You start with about 5 cups of Oyster Crackers. It's basically an entire bag. Lay them out on a foil lined baking sheet…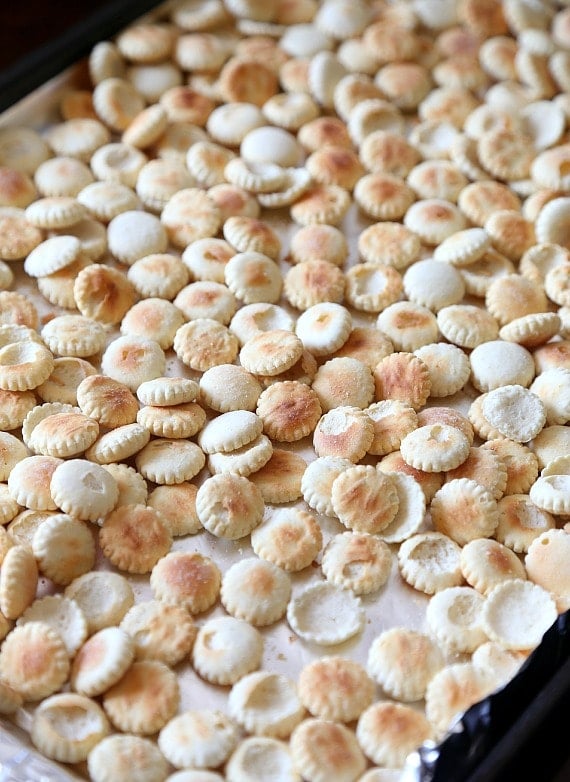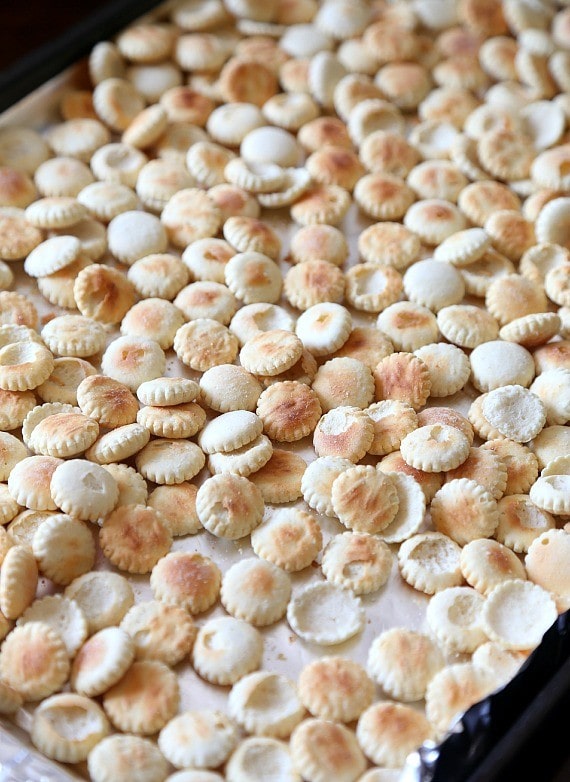 Then boil together some butter and brown sugar and add a dash of cinnamon too. Coat your crackers with that mess…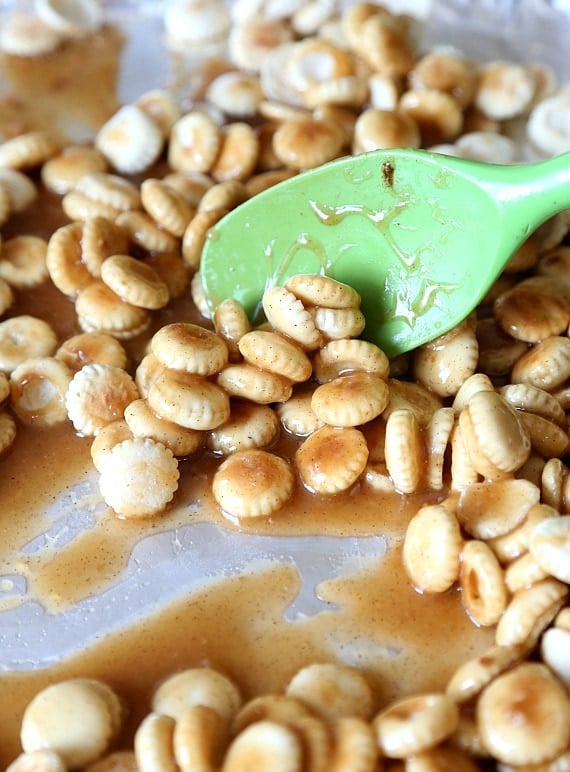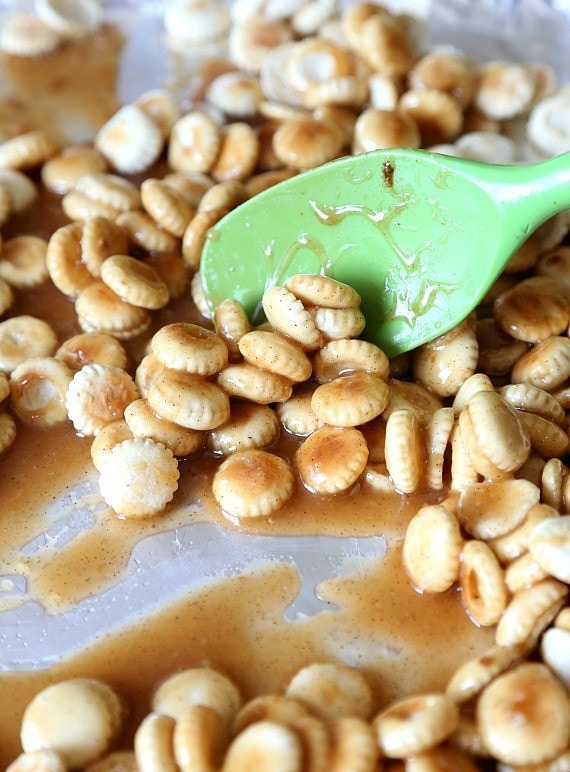 Stir them to make sure all the crackers get coated evenly.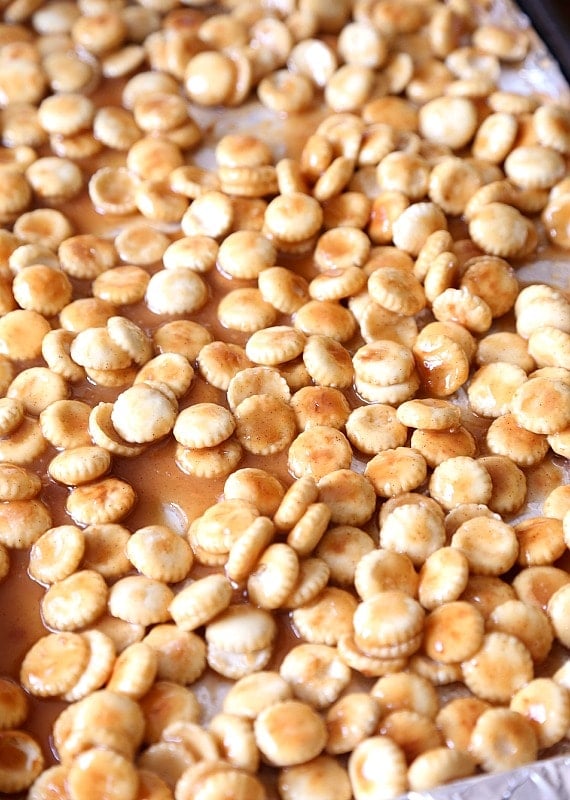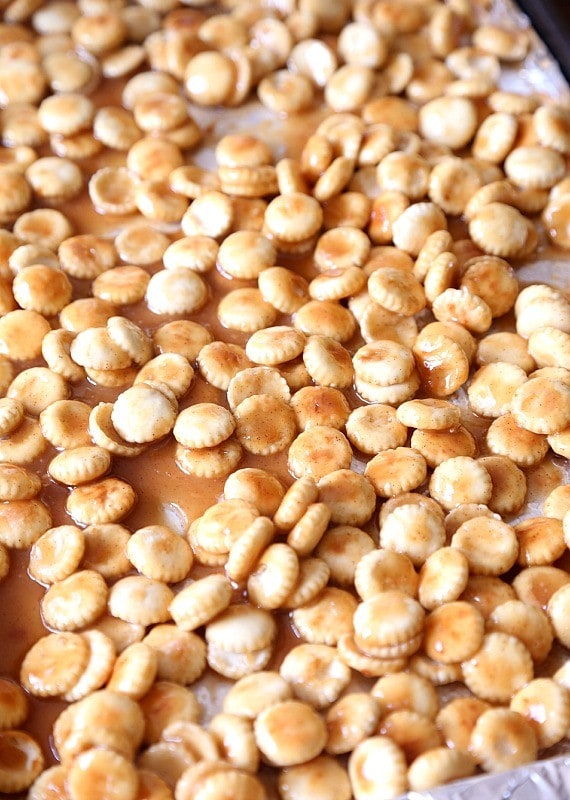 And bake it up! It will be bubbly and gorgeous.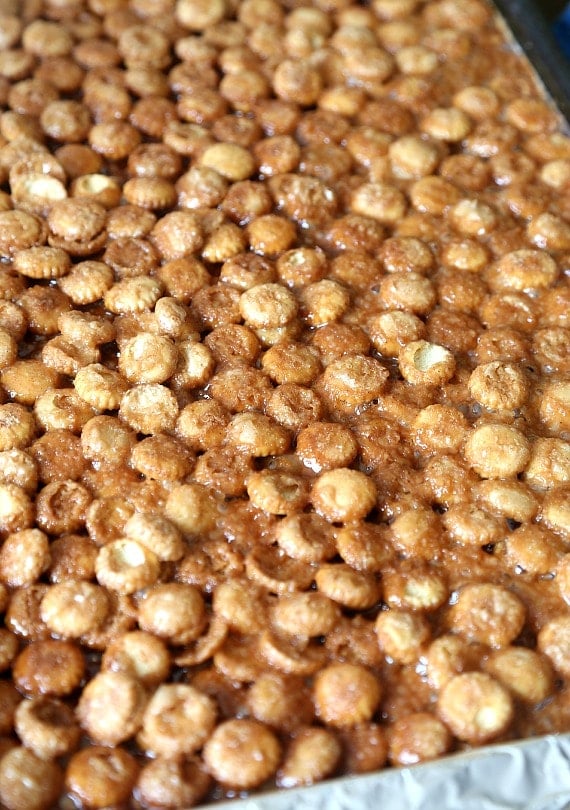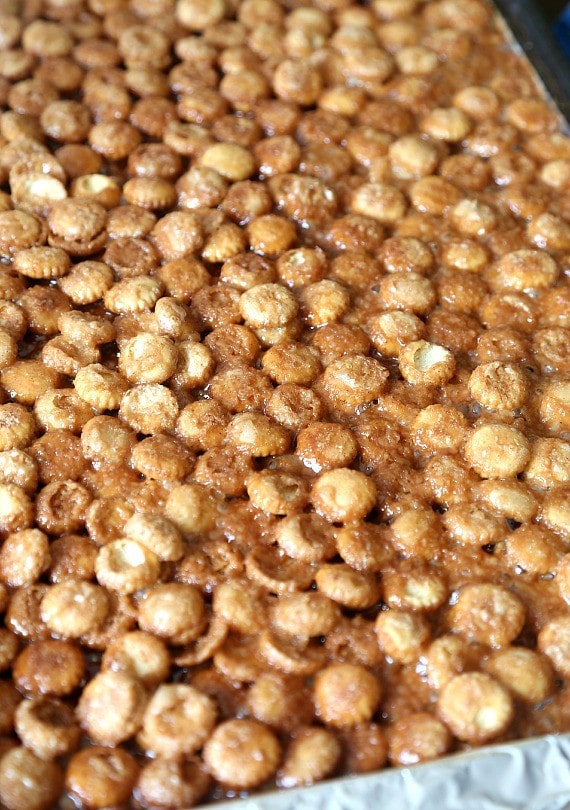 While it's in the oven make up a salty, cinnamon sugar…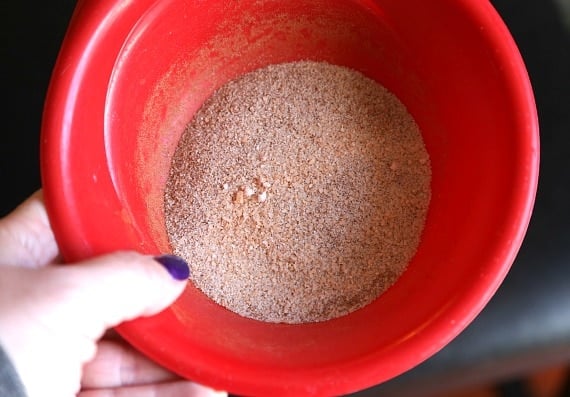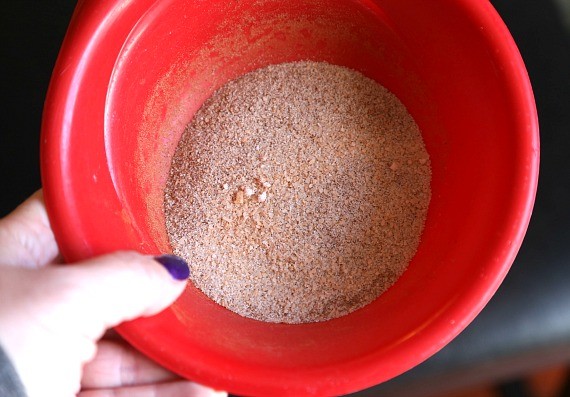 And as soon as it comes out of the oven sprinkle it all over the top…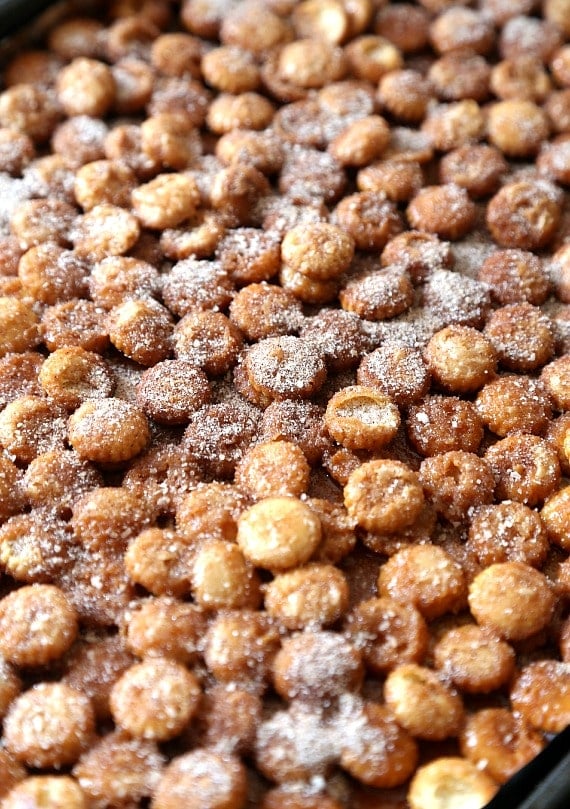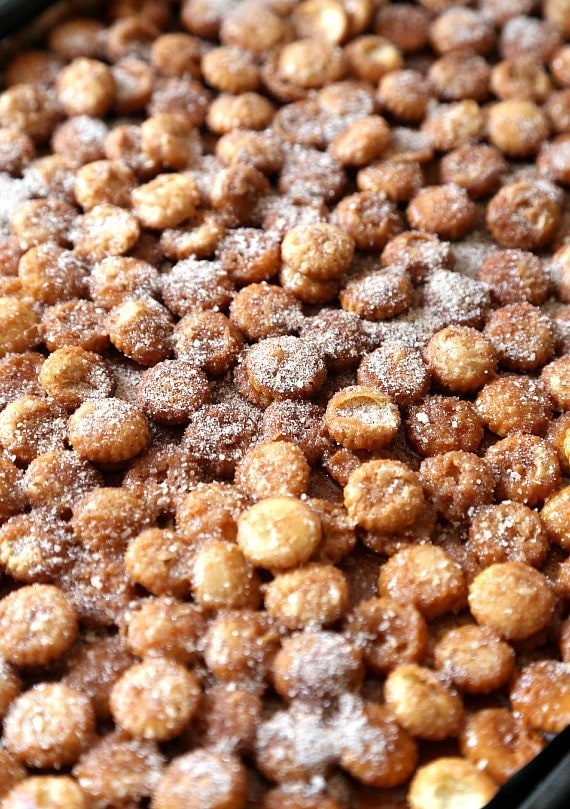 Let it cool and then break the crackers apart…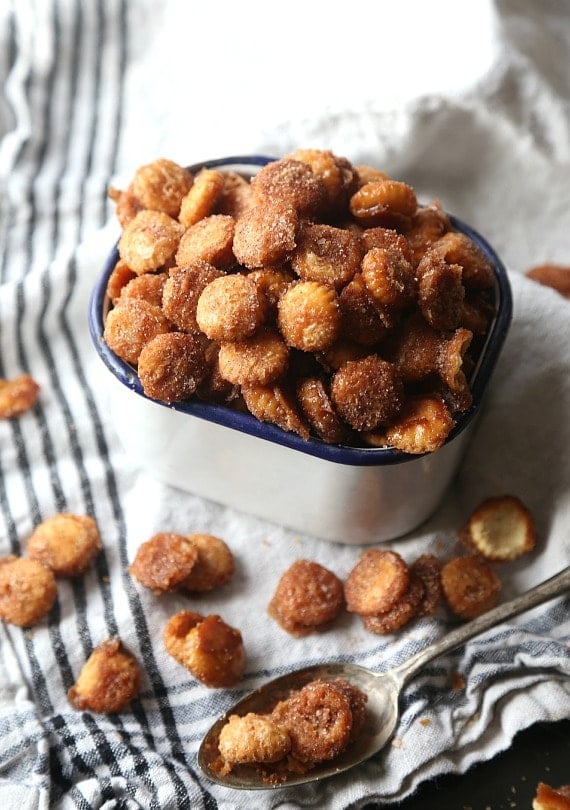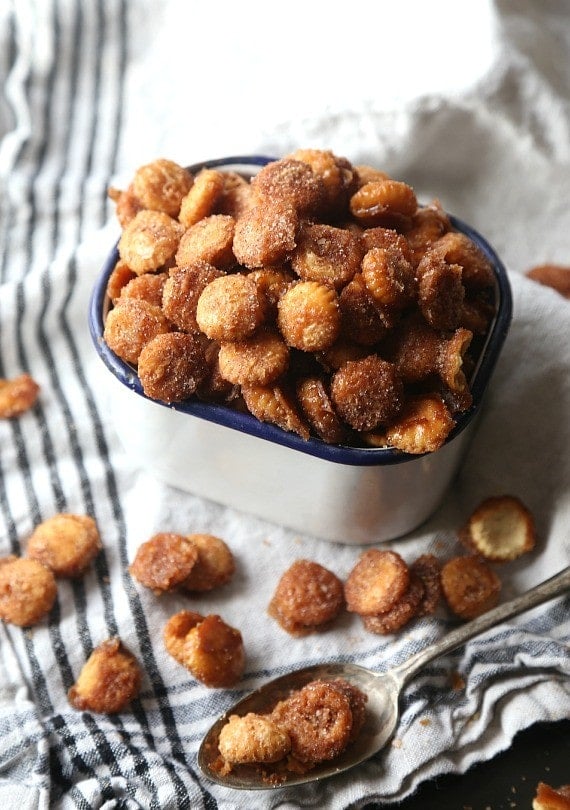 I'm telling you, this stuff is legit.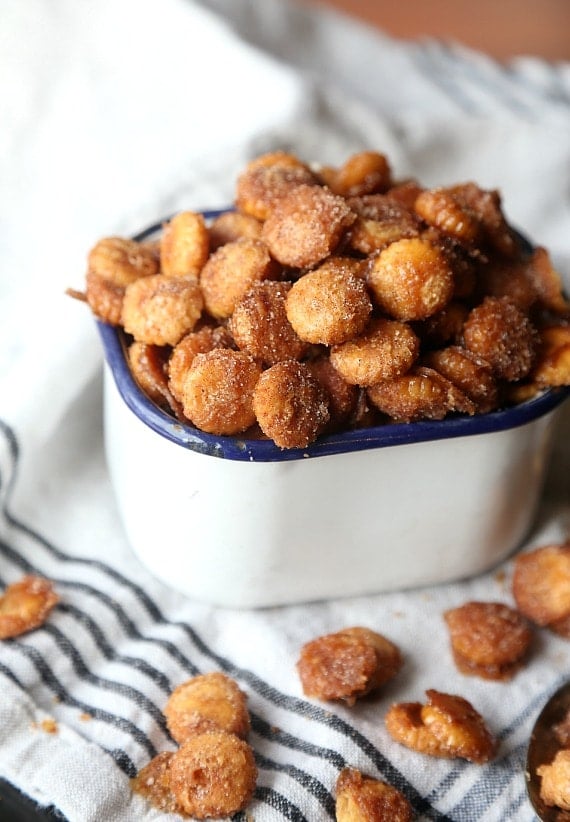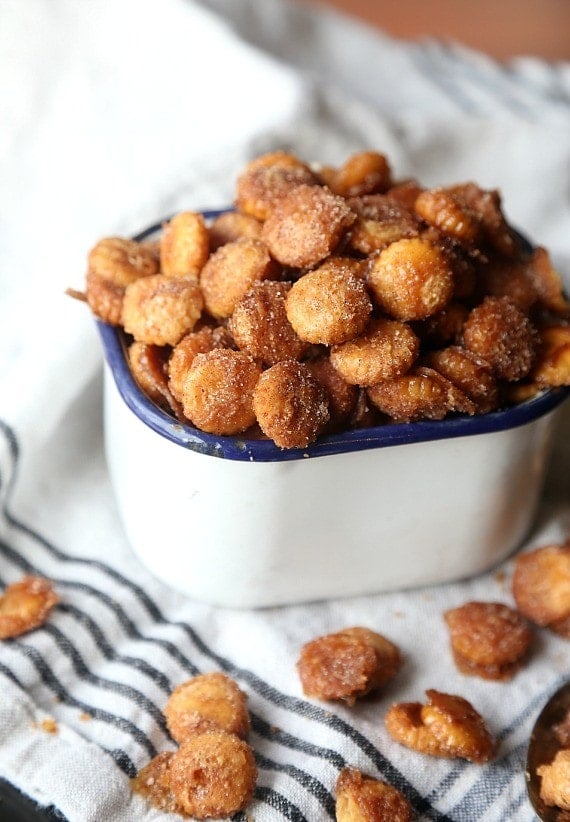 Make it now, thank me later.
Print
Salty Churro Toffee Snack Mix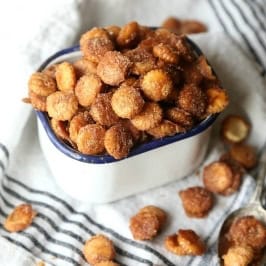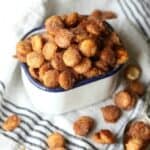 ---
Description:
Salty Churro Toffee Snack Mix. This is SO crazy addictive and delicious! Salty/Sweet/Cinnamony/Buttery. PERFECT for parties!
---
Ingredients:
5 cup

s Oyster Crackers

1 cup

butter

1 cup

light brown sugar

1 1/2 teaspoon

s cinnamon

1 teaspoon

vanilla

2 tablespoon

s granulated sugar

1 teaspoon

cinnamon

1 teaspoon

kosher salt
---
Instructions:
Preheat the oven to 350°F/175°C
Line a baking sheet with foil. Spread the crackers evenly on the baking sheet and set aside.
In a medium saucepan combine the butter and brown sugar. Stirring consistently bring the mixture to a boil and boil for 2 minutes. Remove the mixture from the heat and stir in 1 1/2 teaspoons of cinnamon and vanilla. Pour this immediately on top of the crackers. Use a rubber spatula, stir and coat the crackers evenly with the mixture.
Bake the crackers for 10 minutes until it's bubbly all over.
While the crackers are in the oven combine the granulated sugar, cinnamon and salt. Set this aside.
When the crackers are done remove the pan from the oven and sprinkle immediately with the salty cinnamon sugar mixture evenly.
Let the crackers cool and then break into pieces.
Serve immediately or store airtight for up to a week.
Want To Save This Recipe?