My Skin Care Routine is one of my most requested posts! Today I am sharing my everyday skincare ritual with high-end and drug store products, so there are options for every budget!
A lot of you follow along with me on Instagram, and you KNOW I love all things makeup/beauty related. It's definitely a second passion behind baking and cooking, which is why I started doing monthly favorites. I asked you guys a while back if I should start another instagram page for lifestyle stuff, but overwhelmingly you said no to keep it all in one place. As usual you were totally right. We bond over sugar AND mascara. Gosh, I love you.
Anyhow, when I share my Sephora hauls, and makeup purges I get BOMBARDED with questions regarding my skincare routine. We all know that you care wear all the make up you want, if you don't take care of the skin underneath, it's never going to look good.
So, I decided to get my act together and share what I use everyday of my life on my face….morning and night. I have always been pretty strict about skincare. My grandma put me on a skincare regime in high school, and while the products have varied over the years, I've always come back to her basic plan:
Wash morning and night
Tone/treat your skin prior to any product
Exfoliate regularly
SPF
Use different products at night, than during the day to nourish your skin while you sleep.
None of these tips are revolutionary, but I stick to them, and it's served me fairly well. Of course genetics and sun damage plays a huge role in your skin's appearance, but do your best with what you have!
Also, I will tell you, I use some kinda-expensive products. I know, I am aware. I enjoy splurging on luxury brand products. You asked what I use, and I'm going to tell you. And please note, almost everything I am sharing I have been using for years. I stand behind them 100%. But, I have also included some drugstore options that I also love, so whatever budget you're on I've got you.
Step 1 – Cleansing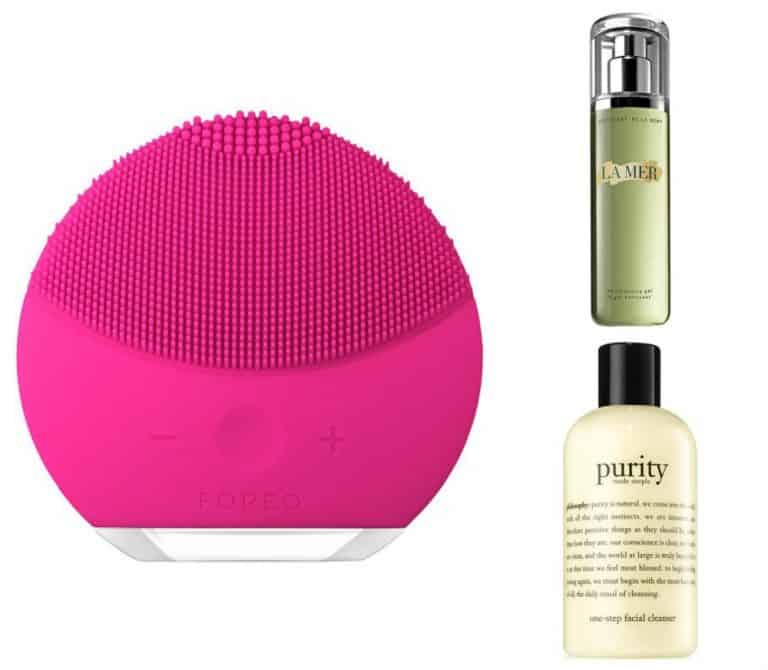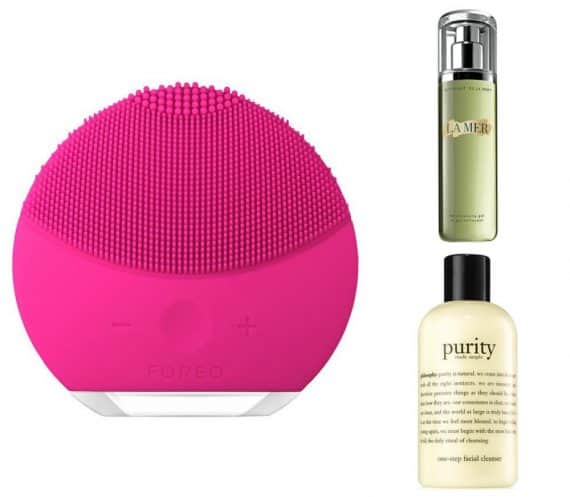 Foreo / La Mer Cleansing Gel / Purity Face Wash
I just started using the Foreo Cleansing device (?) about 6 weeks ago and I love it SO much. I formerly used the Clarisonic for years, but decided to try the Foreo and I love it so much. It's gentle, compact, holds charge FOREVER, and has 8 different pulse settings so you can control the intensity. I feel like you use way less product, and it's gentle, but also effective. I really, REALLY love it.
I am currently, and have been for about 2 years, using La Mer Cleansing Gel. I 1000% understand it is expensive. I know. But I love it so so so much. It's the perfect cleanser for my face. I have tried SO many cleansers, and this is gentle and effective. It cleans my face beautifully without stripping my face of all the moisture. I only like cleansers that lather up, and this one is a great gel with a light lather. And while I totally understand the La Mer might be a little more than you want to spend, another cleanser that I used for years before the La Mer is Purity by Philosophy. It's a fantastic cleanser that I totally recommend. You can also use the Purity to clean you make up brushes, which I LOVE!
Step 2 – Serum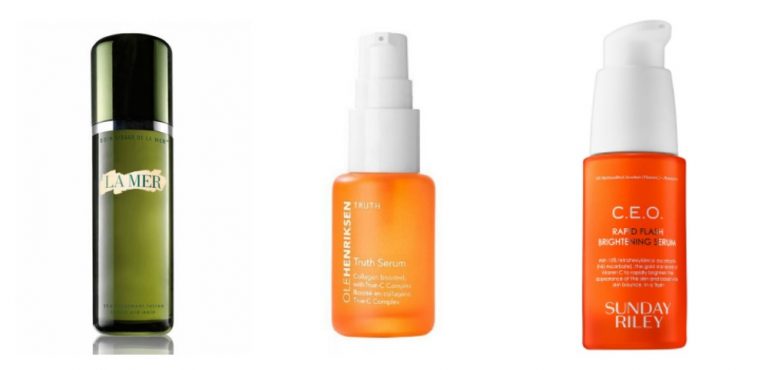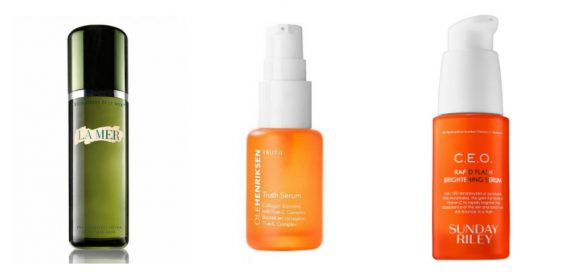 La Mer Treatment Lotion / Ole Henricksen Truth Serum / Sunday Riley C.E.O Rapid Flash Brightening Serum
Step 3 – Day Cream
After I cleanse I use the La Mer Treatment Lotion. It's like a treatment hydrating water (essence) filled with lots of good stuff. It's similar to the SKII that is great as well, I just find the La Mer to be a bit more hydrating, which I need. If I had to eliminate a step from my skin care routine, this would be it, but I really like the drink this gives my skin after I cleanse before I apply my serum. I feel like it's helped with the texture, elasticity, and hydration of my skin. Also, yes, it's expensive, but I have had this bottle for a year and I'm maybe 2/3 of the way through, so it lasts a long time. I apply a few drops to my fingers and press it into my skin. I don't waste any product by using a cotton pad!
As for serums, I am super into Vitamin C products right now. For the past year and a half I have alternated between the Truth Serum and the CEO Brightening Serum. I love them both, and alternate between the two. They are both effective at brightening and hydrating.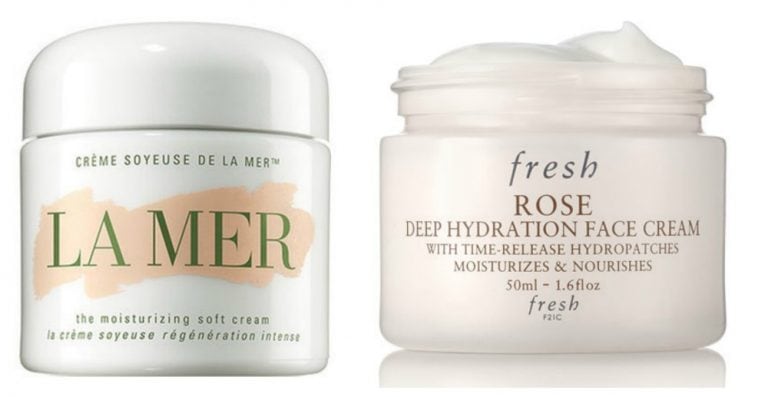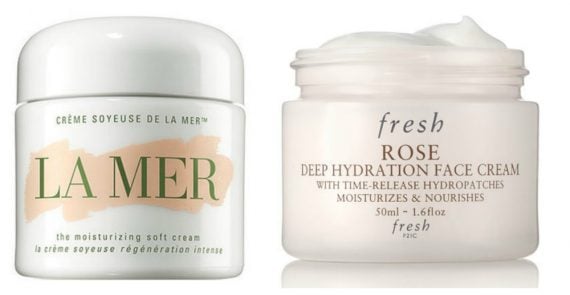 La Mer Soft Cream / Fresh Rose Deep Hydration
I have used the La Mer Soft Cream for almost 3 years pretty exclusively. I took the plunge on this very pricey cream and haven't looked back. It's just the best cream out there. It hydrates, smooths, and absorbs into your skin like no other face cream I have ever used. I have never loved a moisturizer like I love this one. It just does what it's supposed to, and it never lets me down. BUT with that said, the price tag is overwhelmingly high.
And recently I decided to try out the Fresh Rose Deep Hydration Face Cream. Before I used La Mer I used the Fresh Lotus Preserve face cream and really, really liked it, but sometimes it wasn't quite enough for me and my dry/combo skin. During the Sephora VIB sale I grabbed the Rose Deep Hydration Cream, and I will tell you it is AWESOME. I have been using it on and off for the past 6 weeks and I really think it stands up there with the La Mer. Also, it does NOT smell like Rose. It smells like fresh cucumber. I REALLY, really like this one.
Step 4 – Night Cream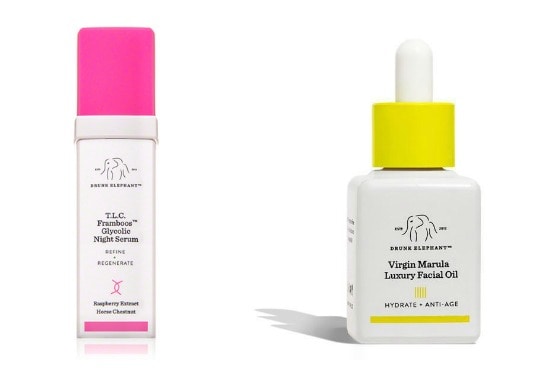 Drunk Elephant TLC Framboos Glycolic Nigh Serum / Drunk Elephant Marula Oil
You know how much I love my Drunk Elephant Products. I have really liked most products from the line, but the two stand outs for me are the TLC Framboos Glycolic Serum and the Marula Oil. They recommend you use the two together, and after trying them each alone, I agree that together is where the magic happens. At night, after I wash my face, I apply the Night Serum and then the oil. When I wake up my face is smooth and soft. The Night Serum is MAGIC for texture, and I promise you will love it so much. The Marula Oil is the perfect facial oil, in my opinion. It absorbs, hydrates and just leave syou with beautifully hydrated skin. I don't use it during the day, only at night.
If you want to give this duo a try, but don't want to drop the bucks on the full size, try THIS COMBO to get an idea if you like it (you will).
Step 5 – Exfoliate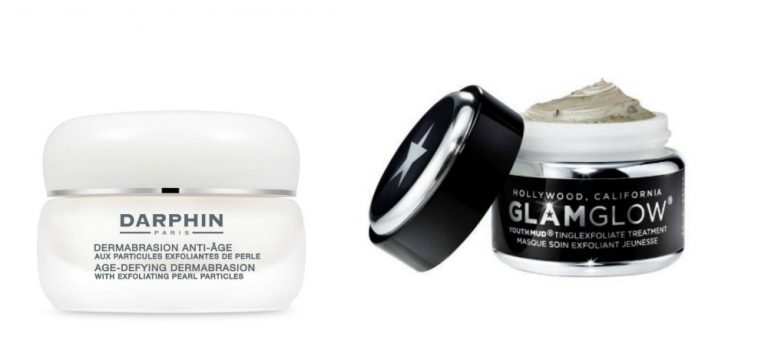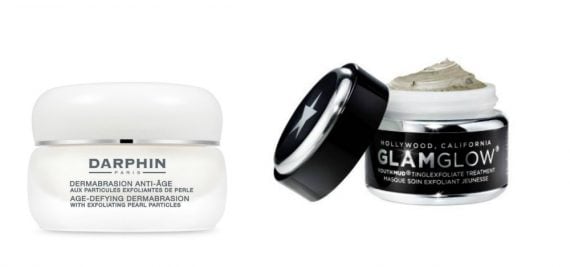 Darphin Dermabrasion / GlamGlow YouthMud TingleExfoliate Treatment
I am a firm believer in exfoliating once a week. I also use an exfoliating mask (more on that in a minute), so I don't use a scrub more than once during the week. I also use the Gycolic Night Treatment, which is another form of exfoliator, so I definitely don't want to overdo it. With that said, I have tried lots of exfoliators over the years, some too gentle, some much too harsh. About 2 years ago I started using the Darphin Dermabrasion because a friend of mine let me try hers and I loved it. I use it on cleansed, dry skin. I massage it on my face for 60 seconds, and then rinse and continue to massage until my face is squeaky clean. It's a very nice, fine grain exfoliator.
BUT I got a sample of the GlamGlow YouthMud TingleExfoliate Treatment and folks, I think I have competition fro my Darphin…and while I haven't used this for very long, I can tell that it will be a favorite. It does have some strange particles in it that look like paper that threw me off the first time I used it. After a little research I think these are tea leaves. ANYHOW, it made my skin soft, and minimized pores. It tingles a little and if you have very sensitive skin, this might be a little harsh, but I really like it. You can get samples at Sephora, or even purchase the Mini Size to give it a try!
Extras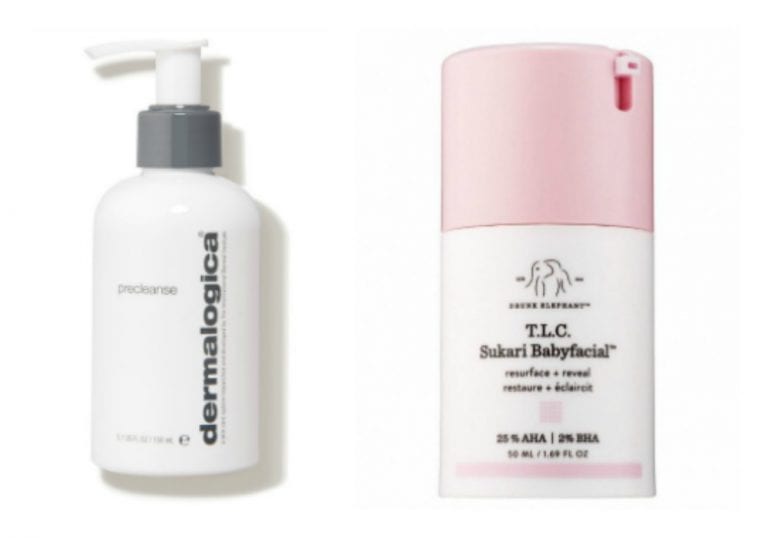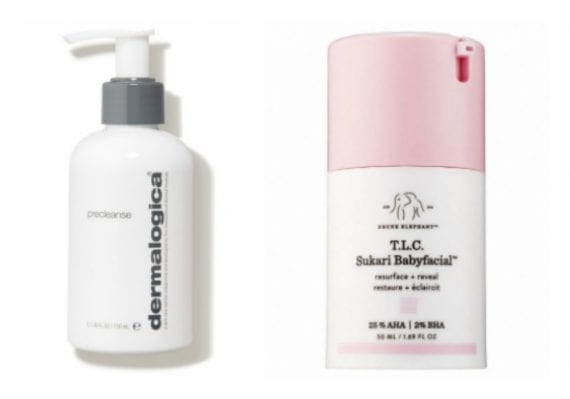 Dermalogica PreCleanse / Drunk Elephant T.L.C Sukari Babyfacial
I wear make up most days, and I really feel like you need a good make up remover to get off that stubborn eye makeup. I love mascara, but HATE taking it off, which is why the Dermalogica PreCleanse is an essential. I feel like if you don't want to rub your eyelid, causing wrinkles or your lashes to fall out, this is the product for you. I have used PreCleanse for, maybe, 3 years and feel like when I run out or don't have it, I MISS it. It literally melts off eye make up. I use a pump on dry skin and gently massage it into my mascara and it melts right off. I follow up with my Foreo and La Mer cleanser.
Also, I have been really getting into masks the past 6-ish months. I try to do one at least once a week, and the Drunk Elephant T.L.C Sukari Babyfacial is by far my favorite. It is a resurfacing mask, and paired with an exfoliator one time a week, I feel like I am keeping my skin as fresh as I can. Also, I use my Marula Oil after I use this mask and it leaves my skin feeling so soft….with that said, I use this mask generally in the evening before bed.
DRUGSTORE OPTIONS
Even though you guys ask what I use everyday, and all the products I listed above are what I use currently and have been using for quite some time, I wanted to share some options of products that I love that are a little more budget friendly. Note, that I am not currently using any of these (except the Miscellar Water), but I have used all of these in the past, and really love them. I have tried TONS of drugstore options over the years, and these are the ones that work the best for me, and wouldn't think twice about reincorporating back into my routine.
Serums and Creams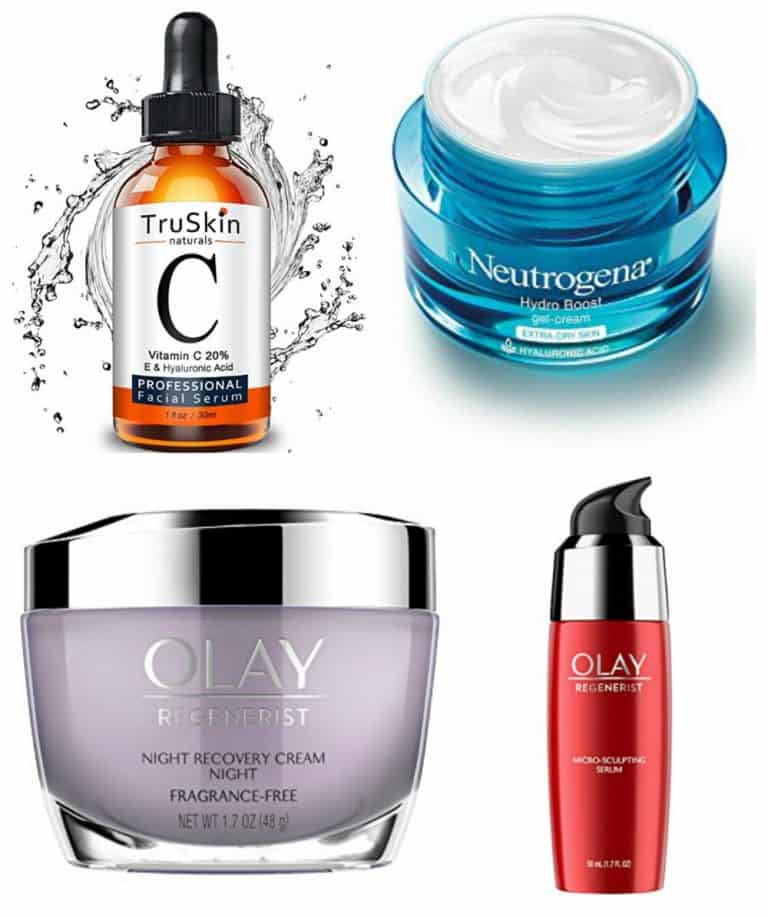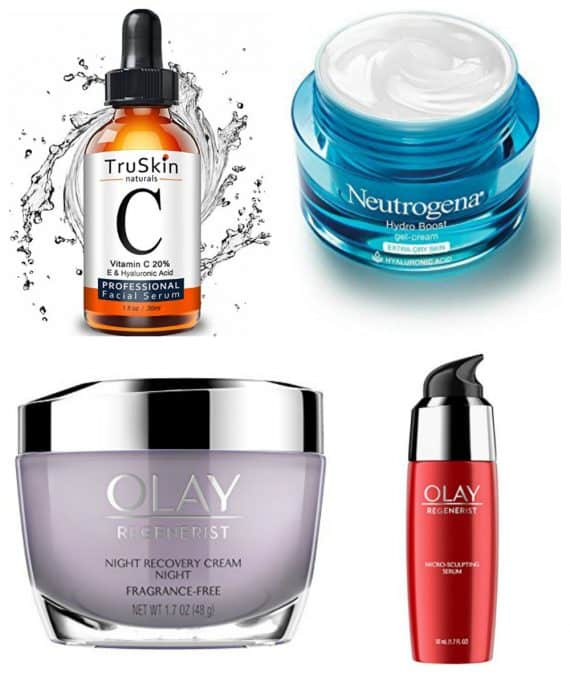 TruSkin Vitamin C Serum / Neutrogena HydroBoost Gel Cream / Olay Regenerist Night Recovery Cream / Olay Microsculpting Serum
Like I said above, I am super into Vitamin C serums now. I got this TruSkin serum on Amazon after a friend recommended it. I really liked the fact that it contains hyaluronic acid, which helps the vitamin c absorb. I felt like it absolutely delivers on its promises, and holy reviews, thousands of people agree. The only drawback on this one over the other high end favorites of mine, were I didn't feel like it offered as much moisture to my skin. BUT with summer coming up, this might be a great option when I don't feel as dry.
The Neutrogena Hydroboost Gel Cream is AWESOME. I really really love this one. I love the water creams that are so popular now, but I never feel like they keep my skin hydrated throughout the day. This one is a gel-cream and totally works. Fantastic.
I won't go into the two night options I love…both from Olay, the Microsculpting Serum and the Night Recovery Cream. I really feel like you can't go wrong with Olay products. They are effective, beautiful products. They aren't necessarily cheap, but I'm finding even drugstore skincare is getting pretty pricey!
Cleansers, Exfoliators, Make Up Remover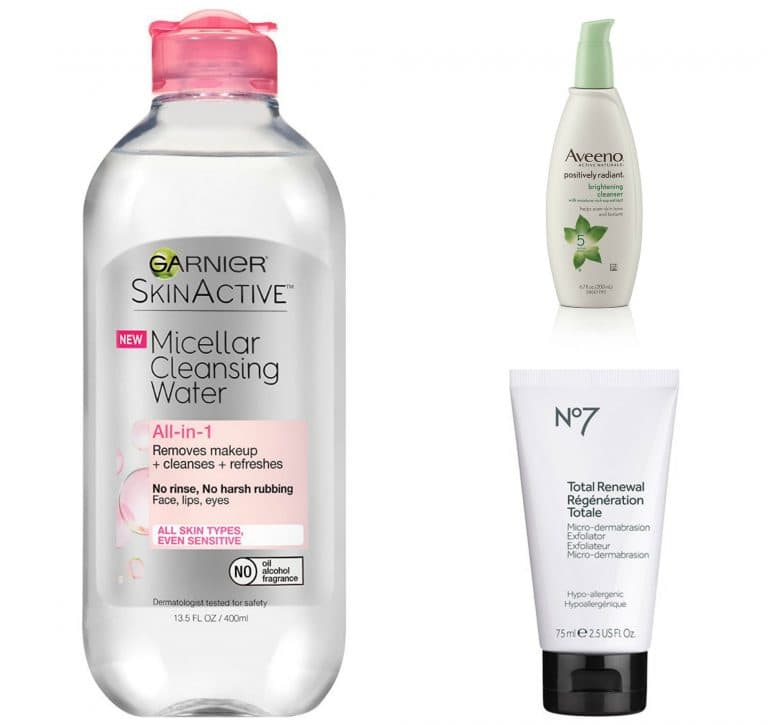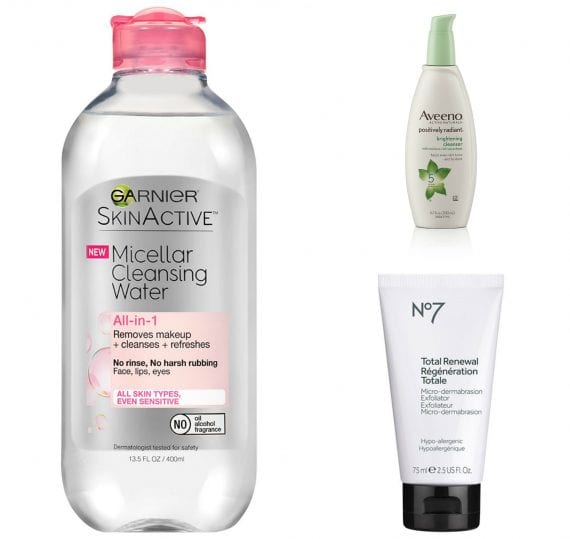 Garnier Micellar Cleansing Water / Aveeno Positively Radiant Brightening Cleanser / No 7 Total Renewal Micro-dermabrasion
I love Garnier Micellar Water. I've been using it for years, and on days when I don't wear a lot of eye makeup, or I run out of my Dermalogica Precleanse, I use this. I've spent more on other Miscellar Water, and it's 100% not worth it. I don't know how it works, but it really is a great makeup remover!
As for cleansers, I have liked a lot of drugstore cleansers, but I really LOVE my high end options. BUT with that said, I really like the Aveeno Brightening Cleanser. It's gentle, but it foams, and cleans fantastically.
I consider No. 7 a drugstore brand…you can find it at Target, and it's a really solid brand all around. Their exfoliator is definitely tops on my list of drugstore options. Again, it has tons of great reviews, and I feel like it's great for all skin types, even sensitive skin.
Masks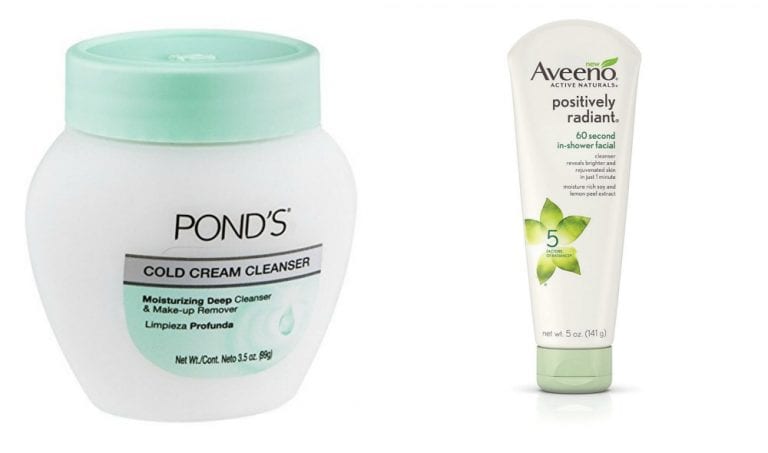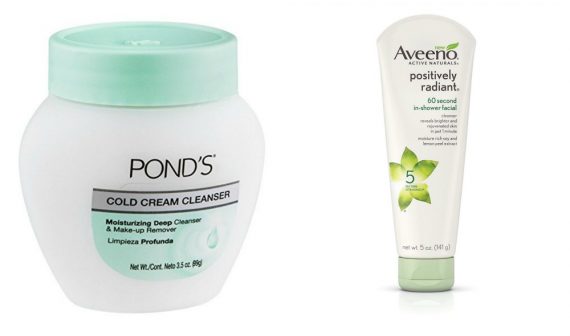 Pond's Cold Cream Cleanser / Aveeno Positively Radiant 60- Second In shower Facial
I'm taking it way back with Ponds Cold Cream, but this is a product that my grandma had me use. When I was a teen I had crazy hormone skin, and while I didn't ever have acne, I had really dry, patchy skin. She had me use Pond's Cold Cream at night as a sleep mask after my skin was cleansed. I am telling you I woke up, washed my face and had perfectly hydrated skin. I have gone back to this time and time again over the years when my skin is freaking out…generally when the weather starts to turn cold and I get red, angry skin. Pond's is a miracle worker for me. It calms and hydrates my skin better than any moisture/sleep mask I have ever tried!
Another fun product that I really like from the drugstore is the Aveeno Positively Radiant 60- Second In shower Facial. Sometimes you don't have 30 minutes to dedicate to a mask, or you just forget, and this 60 second in shower facial is a huge time saver! It works with the steam of the shower to clean out your pores and gently exfoliate your skin. While I don't think it's a replacement for the TLC Babyfacial, I think it's a quick alternative when your life gets crazy!
So there you go! I would love to hear what you think…if you've tried anything I love, or are planning on getting anything I listed! I am always up for trying new products too, so let me know!
*As always, this post contains affiliate links, but is in no way sponsored. I bought everything here with my own money. Anything I earn via affiliate links goes to support my online shopping addiction. xo