I am going to show you today how to make a Dessert Charcuterie Board, complete with a Homemade Chocolate Salami recipe that makes your dessert board EXTRA special!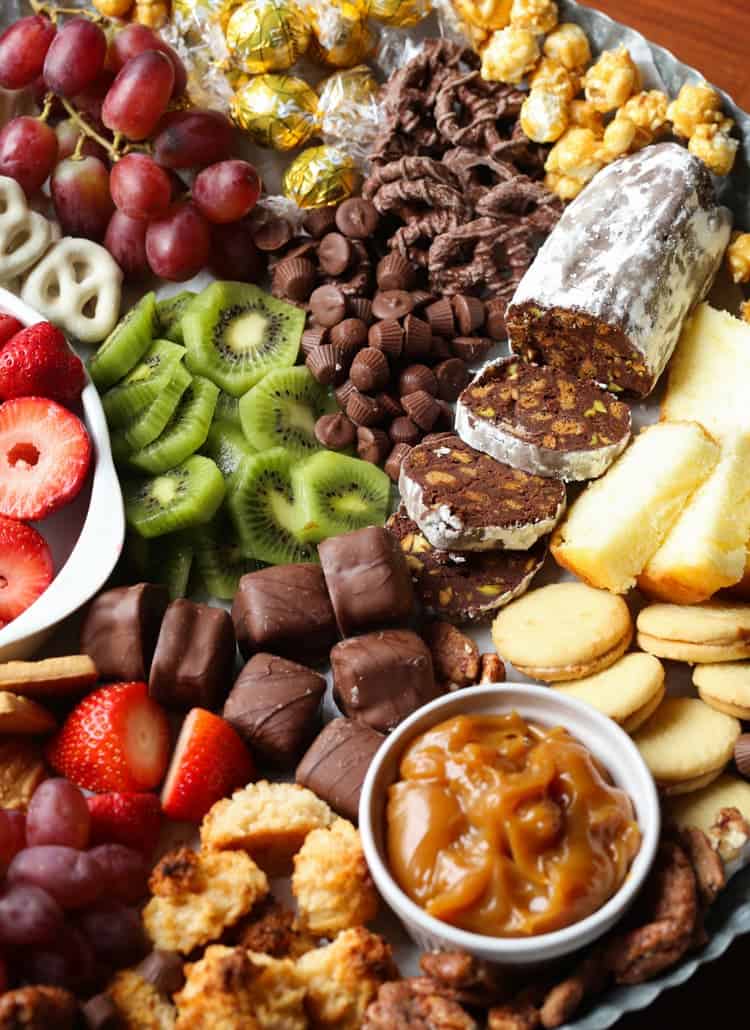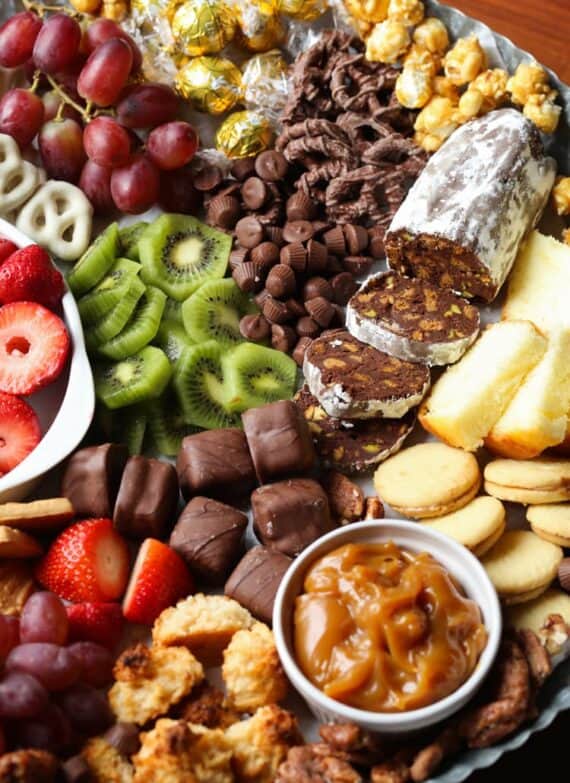 For the past few years I have been pretty obsessed with making charcuterie boards. It's my favorite thing to bring to friend's homes for dinner parties, or to make for a happy hour, or girl's wine night. It's basically food that doubles as a craft. Putting the boards together with cheeses, meats, crackers, nuts, and spreads is almost more fun than eating them. If you follow me on Instagram you see charcuterie boards often on my stories.
Also, can we first address the elephant in the room…how the freak do you say charcuterie? I always feel awkward every time I say it, even though I know it's correct…or at least I think so! So, to get that out of the way, let's all say it together….shar-KEW-tah-ree. And again, shar-KEW-tah-ree.
Got it?
AND apparently charcuterie is really a branch of cooking that all about cured meats, primarily pork. And a charcuterie board is supposed to be a combination of meats with a good balance of flavors and textures. Many charcuterie boards include cheeses, fruits, nuts etc…Basically anything that will pair well with the meats.
Ok, now that we have that out of the way, let's move on.
I don't know why it took me so long to play on the charcuterie concept and make a DESSERT charcuterie, but finally, here we are! Obviously, I am not really into meats in my dessert, so, instead I decided that my board would have a CHOCOLATE salami!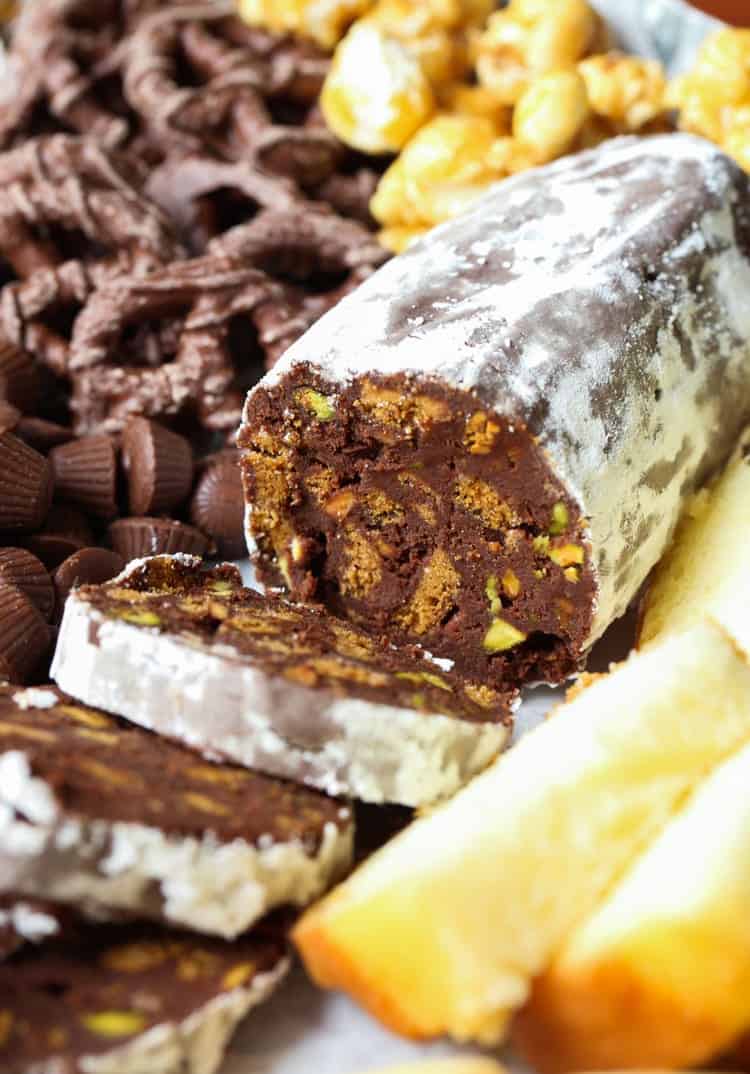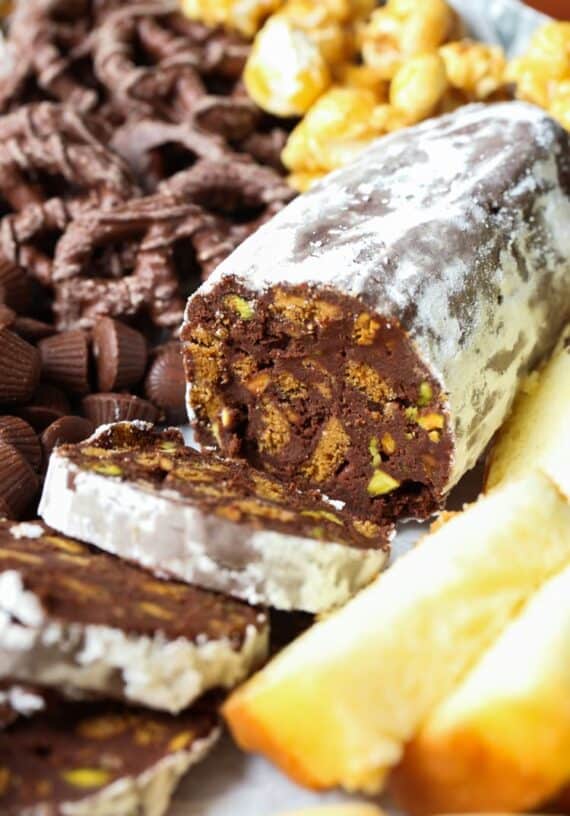 The chocolate salami is really the centerpiece to the dessert charcuterie board, and it's SO easy to make! No really, it's easy…AND it can be made WAY ahead, so when it's time to put together the board it will be all set.
So before we get into how to build your board, let's make the chocolate salami. All it is, is chocolate, chopped up cookies, nuts, and even dried fruit if you want.
I melted some chocolate and heavy cream together and then added chopped pistachios and chopped Biscoff cookies…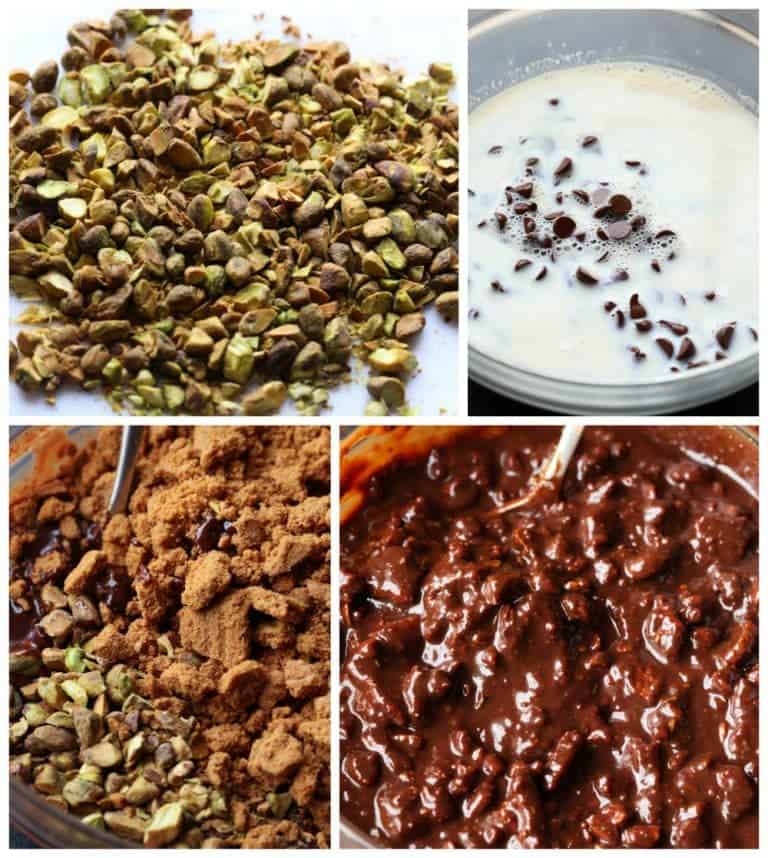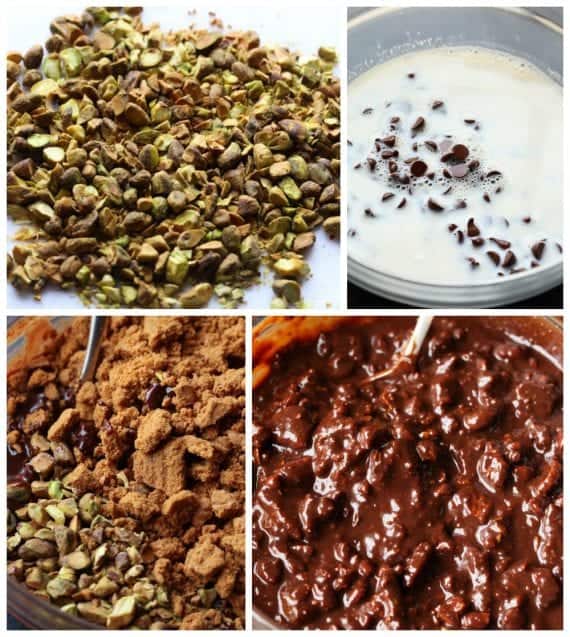 Let the mixture cool for a few minutes and then spoon it onto cling wrap and form it into a log shape.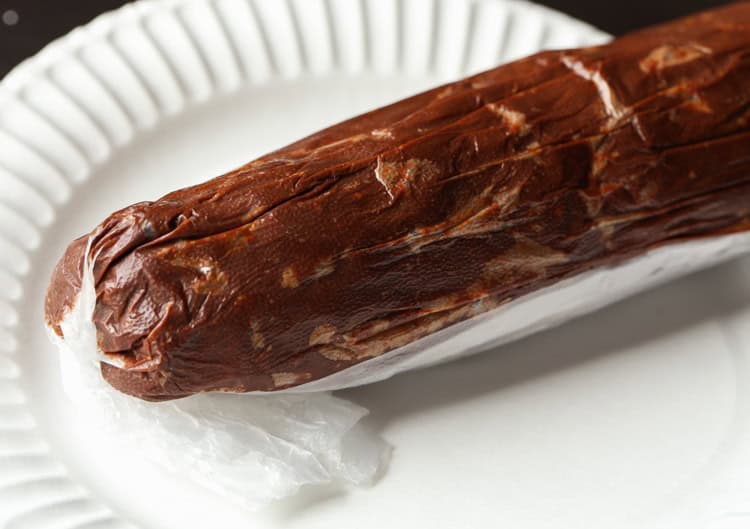 Let that chill for a few hours until the chocolate sets. Then you can roll the chocolate in powdered sugar so it really looks like a salami.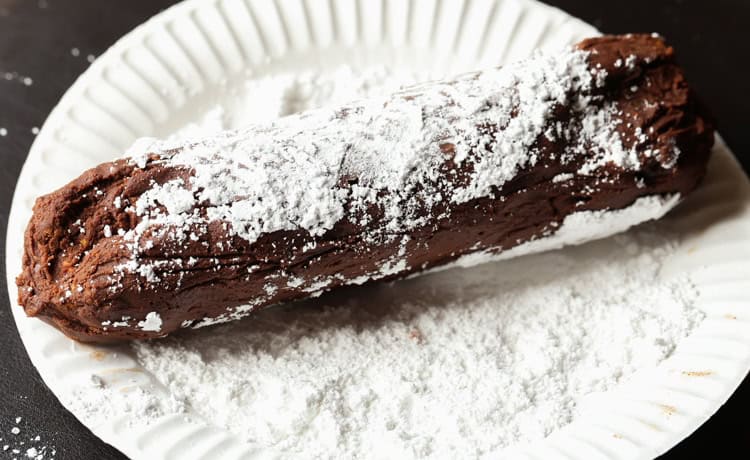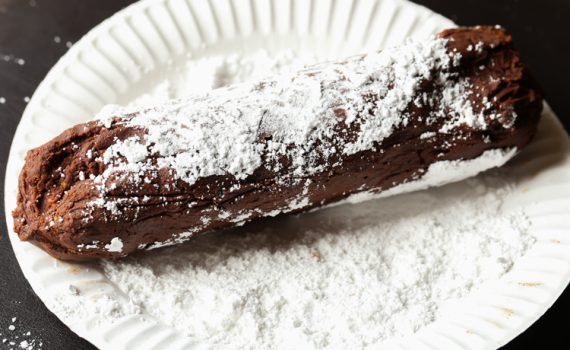 I'm telling you, it's so cool how much it looks like ACTUAL salami.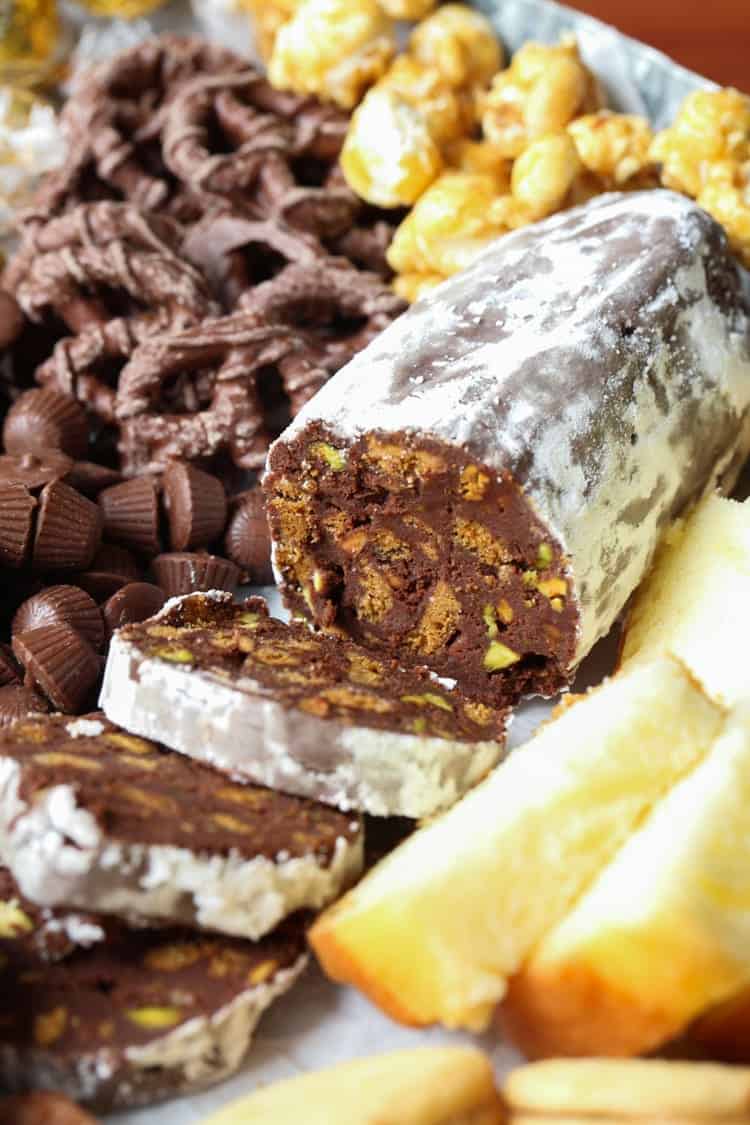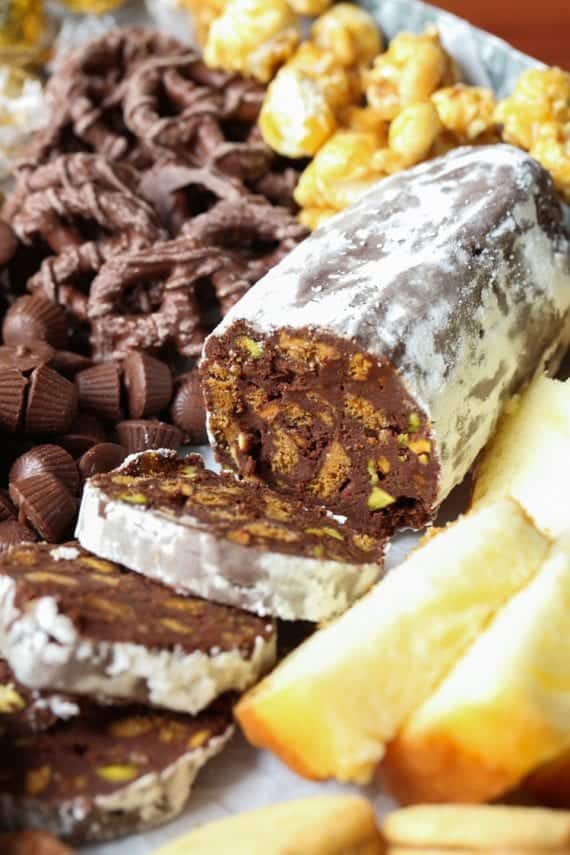 Isn't that fun? And like I said, this can be done a week in advance. Or you can even freeze it for up to a month!
When you're ready to prepare your dessert charcuterie it's time to get creative! Putting different flavors and textures, just like a regular charcuterie, is the key.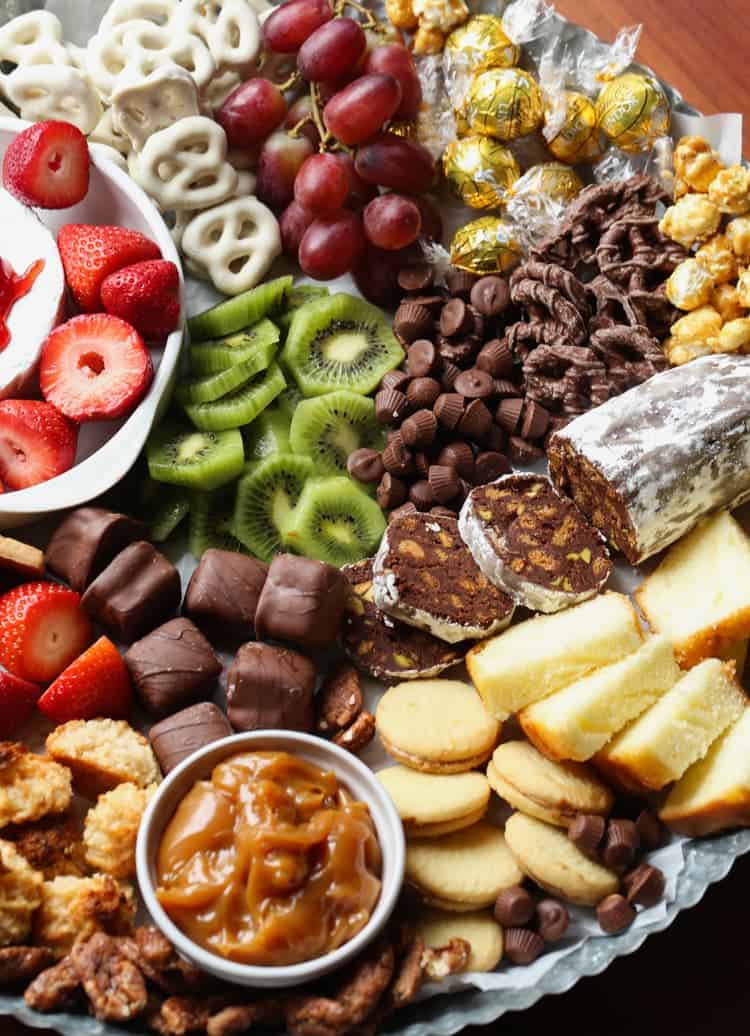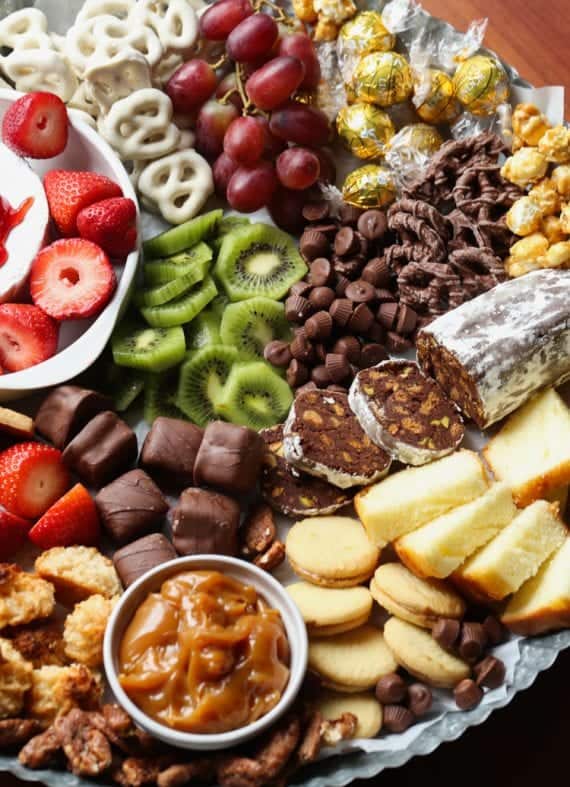 Places like Trader Joe's is a great spot to grab lots of unique and interesting items to add. Of course, if you don't have Trader Joe's local to you, that is not a problem at all…you can get all your goodies at Target just as easily.
Great additions to your Dessert Charcuterie:
Fruit. This is an easy place to start. Fruit is easily accessible, and adds great color to your board! Grapes, Kiwi, Strawberries, and cherries are perfect. Anything that you can grab with your fingers is key.
Caramel Dip, Cookie Butter, or Nutella. A thick caramel sauce or dip is an easy, inexpensive addition. People love to dip!
Pound Cake. Certainly you can make your own pound cake to cut up into pieces for your board, but I usually just buy a pound cake from my local bakery!
Candied nuts. Candied pecans, coconut cashews, or cocoa almonds are a simple space filler for your board.
Cookies. Add some of your favorite cookies like shortbread, or graham crackers. These are great to enjoy the chocolate salami with, or dip in the caramel sauce.
Truffles. Lindt Truffles add a pop of color and yumminess to the board!
Brie. To add an element of savory to your board you can easily add a wheel of brie cheese. It pairs fantastic with the fruit and graham crackers. You can even add some preserves on top of the brie, or even bake it in puff pastry.
Caramel Corn. You can make your own using my recipe, or buy some pre-made. Either way, it's a great texture, and salty/sweet addition.
Pretzels. Whether they are chocolate coated pretzels, or plain, pretzels are super for your dessert charcuterie board. You can dip them in the caramel, or the brie, or just be a great way to incorporate a little salty into all the sweet.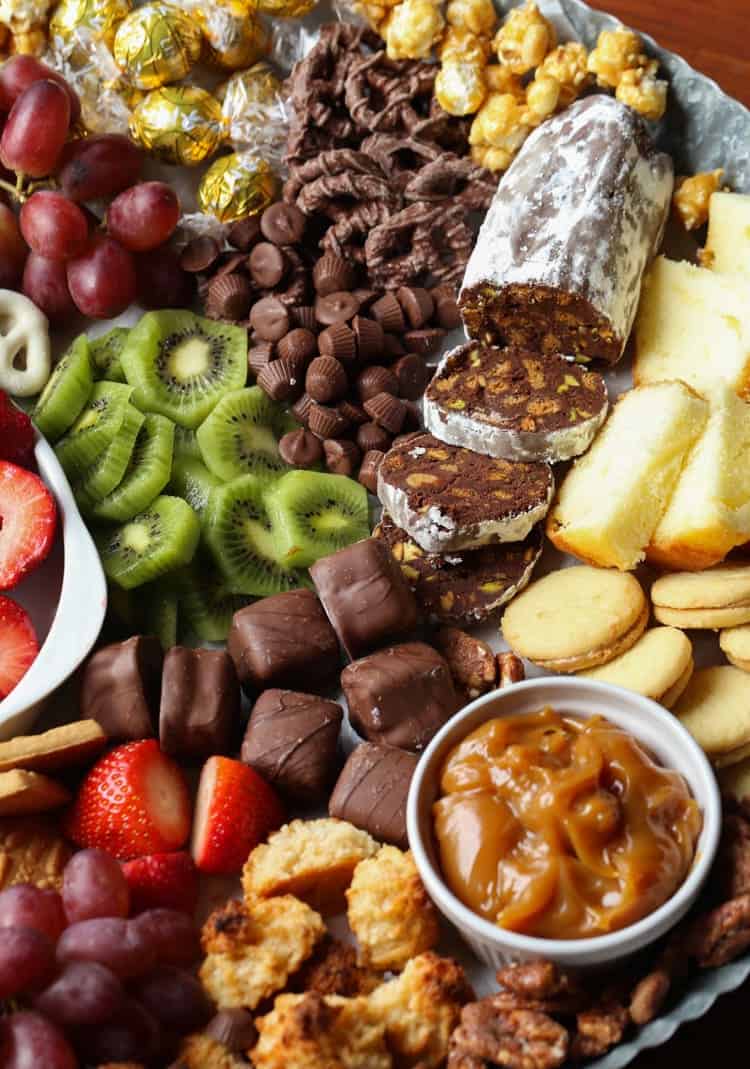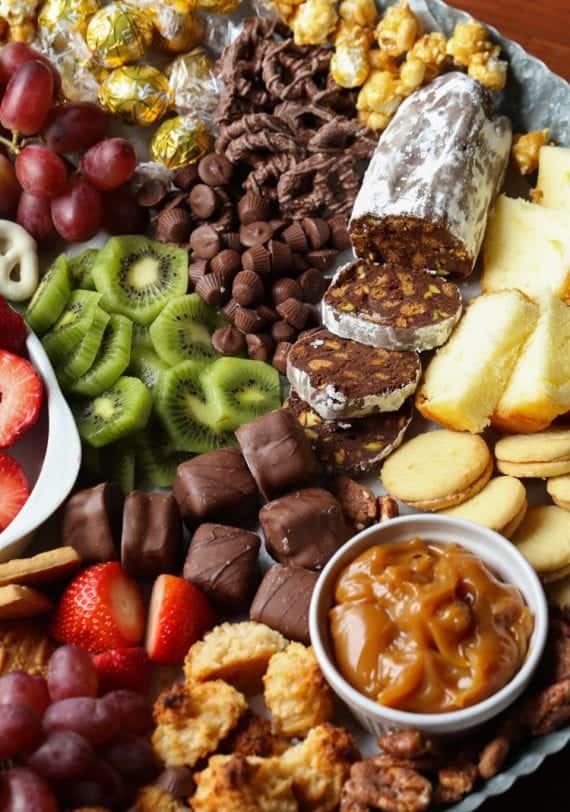 The fun part of putting a Dessert Charcuterie Board is getting creative. You can make them as elaborate or as simple as you want. If you're having a small party, just choose a few options and arrange them on a beautiful board. It's about how you put your board together that counts.
A trick to putting a charcuterie board together, no matter the size, is to fill all the space. You want your board to look abundant, and the key to this is fill up the empty spots. You can do this with nuts, peanut butter cups, or popcorn….really anything that can fill in the blank space.
But don't forget the Chocolate Salami. It's really the star of the show!
Print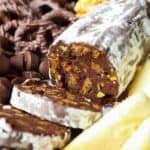 Chocolate Salami
Author:

Prep Time:

20 minutes, plus chill time

Total Time:

48 minute

Yield:

2

logs

1

x

Category:

Snacks

Method:

Stovetop

Cuisine:

French
---
Description
This Chocolate Salami Recipe is the perfect addition to a Dessert Charcuterie Board
---
2 cups

(12- ounces) chocolate chips or chopped chocolate

2/3 cup

heavy cream

3/4 cup

chopped nuts (I used pistachios)

12

–

14

ounces Biscoff or shortbread cookies, coarsely chopped

1/4 cup

powdered sugar
optional – 1/2 cup dried fruit, such as raisins or chopped dates
---
Instructions
Place chocolate chips in a medium bowl.
Heat heavy cream in a sauce pan or microwave until it starts steaming, but not boiling.
Pour the hot cream over the chocolate and allow it to sit for a few minutes to allow the chocolate to melt. Stir the chocolate and cream together until smooth. Stir in the nuts, chopped cookies, and dried fruit if using.
Allow the mixture to cool for 10-15 minutes until it's cooled slightly.
Divide the mixture in half and spoon onto 2 pieces of cling wrap. Using the cling wrap, form the mixture into 2 logs. Twist the ends up and place in the refrigerator to chill completely, 3-4 hours, or overnight.
When the chocolate is cooled, dust on all side with powdered sugar.
Slice and serve.
---
Notes
You can make this chocolate salami up to 2 weeks in advance, or freeze for up to a month.
If freezing, allow the chocolate to thaw before slicing. Also, dust with more powdered sugar if necessary.
Nutrition
Serving Size:

1 Slice

Calories:

187

Sugar:

14.7 g

Sodium:

2.5 mg

Fat:

11.4 g

Carbohydrates:

20.2 g

Protein:

3.9 g

Cholesterol:

9 mg
Keywords: Dessert Charcuterie, appetizer recipe, chocolate and nut log recipe, Chocolate Salami
Want To Save This Recipe?
Find more recipes like this: