This is the perfect granola recipe…it makes Snacking Granola Clusters..perfect for an on-the-go treat. Big Cluster granola is the best!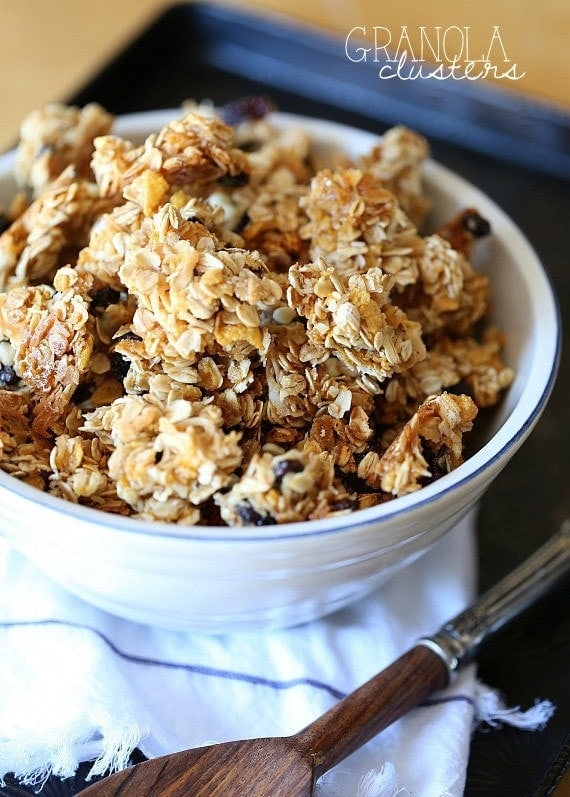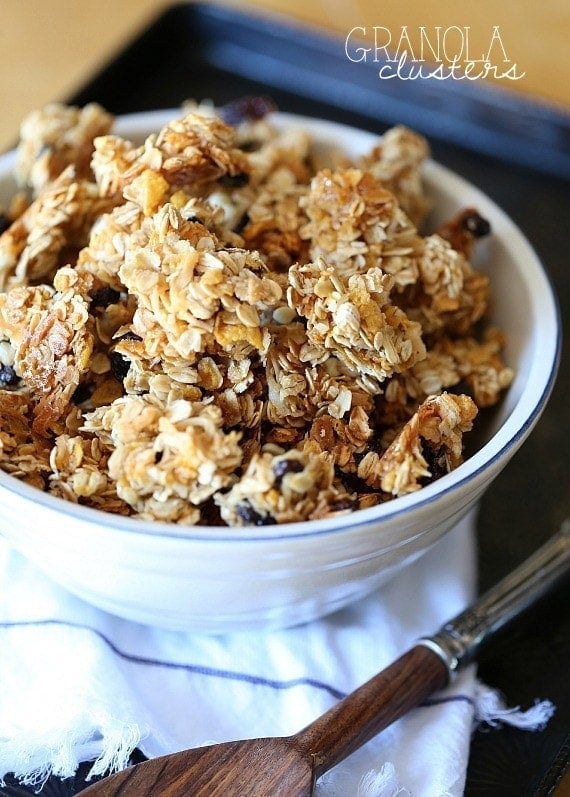 I know granola might seem boring.
But can I just tell you that I make the best granola?
Like the besty best?
You wanna know why it's the best? Because it's all clumpy and clustery… not all loosey goosey oats.
I don't eat granola in milk, so maybe that explains my preference…but you know as well as I do that when you open a box of granola you go straight for the clusters. Don't lie. You do it. So do I.
SO why don't they make all clusters? Well, people..I did.
And not only is this clustery…it's also my favorite granola recipe. Perfectly sweet..a touch salty and totally snack-able.
Plus, this recipe is perfect because you can add or not add whatever…don't like raisins? No problemo. Don't do nuts? Not an issue!
But I will say I ave a few "secret ingredients" in my granola..so listen up.
Grab your oats. This isn't the secret ingredient.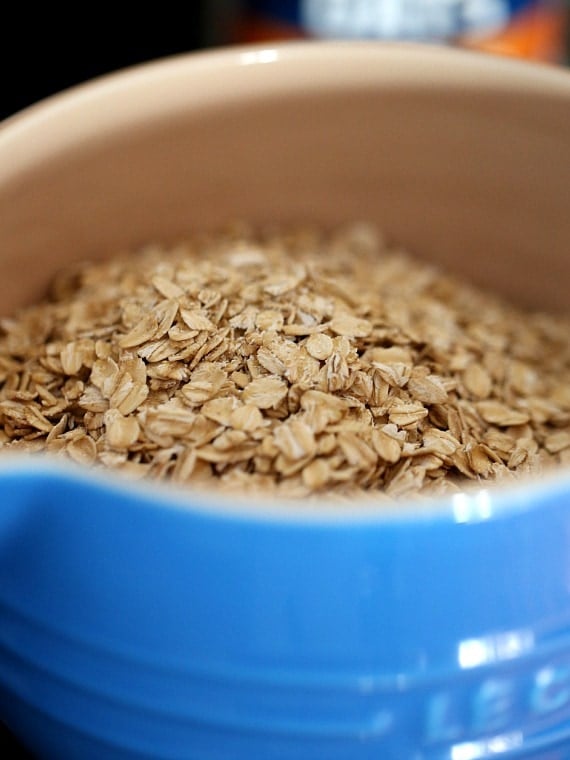 I like to use old-fashioned oats in mine, but you could absolutely use Quick Oats if that's what you have in your pantry.
Next up Corn Flakes…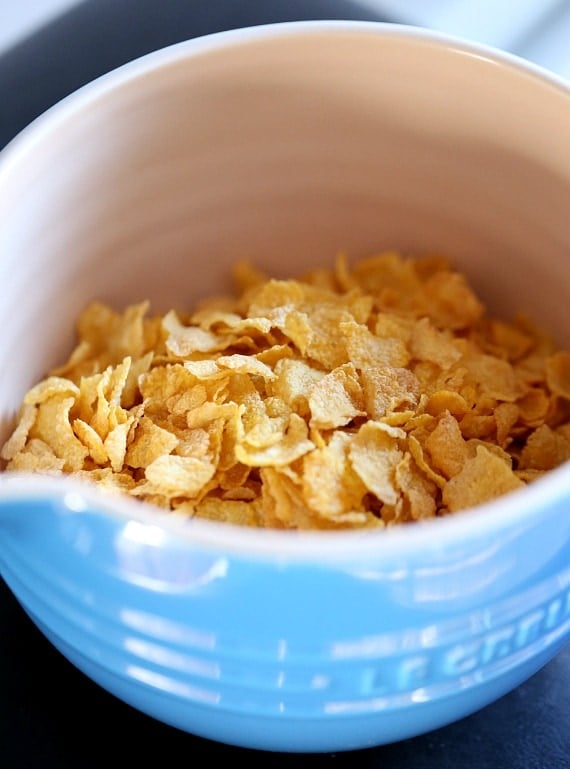 So these are a secret ingredient that I like to add to give my granola extra crunch. If you're feeling crazy you could even sub in Frosted Flakes for the Corn Flakes.
You're gonna need to crush them up. People will never even know they're in there. Promise.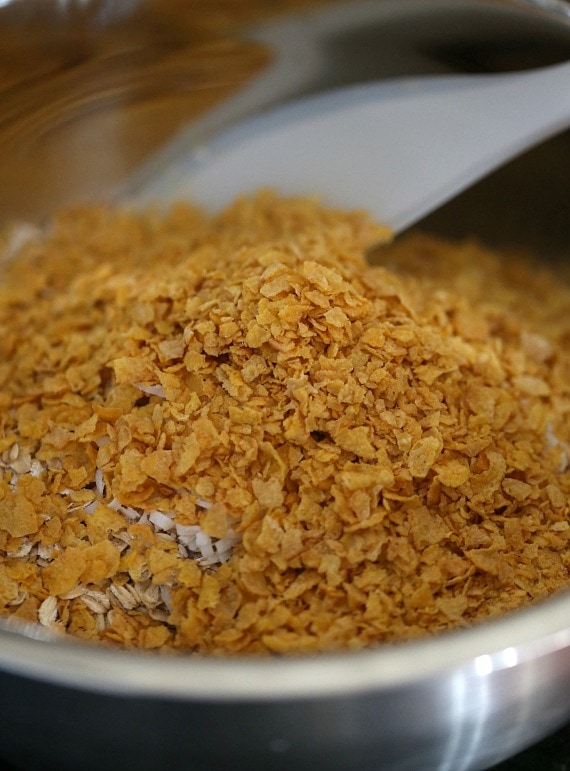 I LOVE coconut in my granola…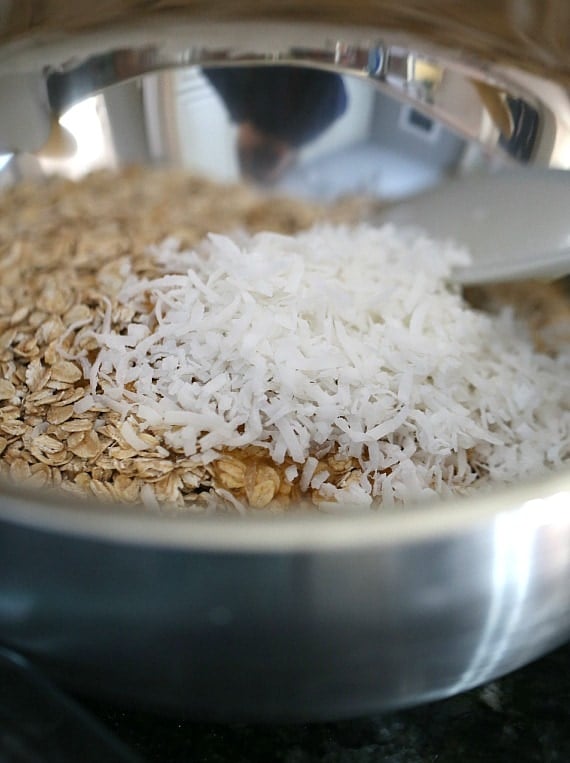 And yes, I add raisins. You could put in any other dried fruit you like, or leave it out completely…Whaterrr.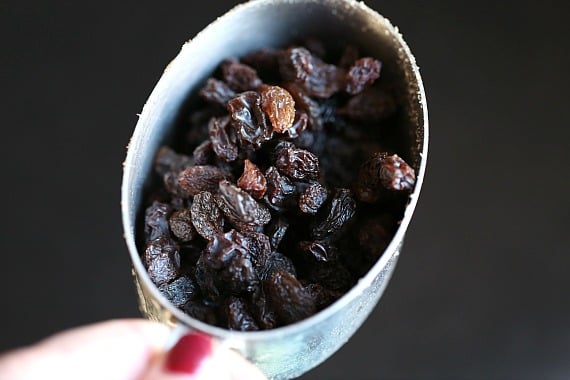 Now, secret ingredient #2.
Beat up one egg white and mix that into the ingredients.
An egg white helps bind everything, making it more clustery…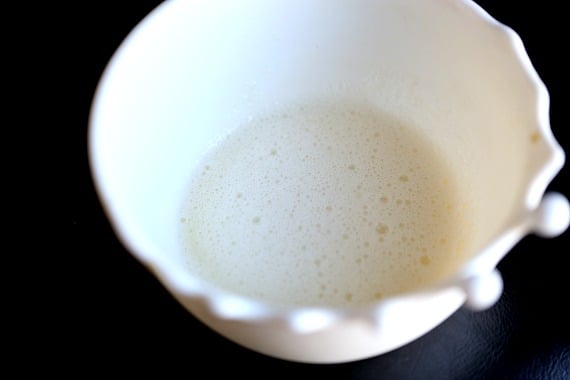 Spread all your granola out onto a lined baking sheet and bake at 300° for 20 minutes.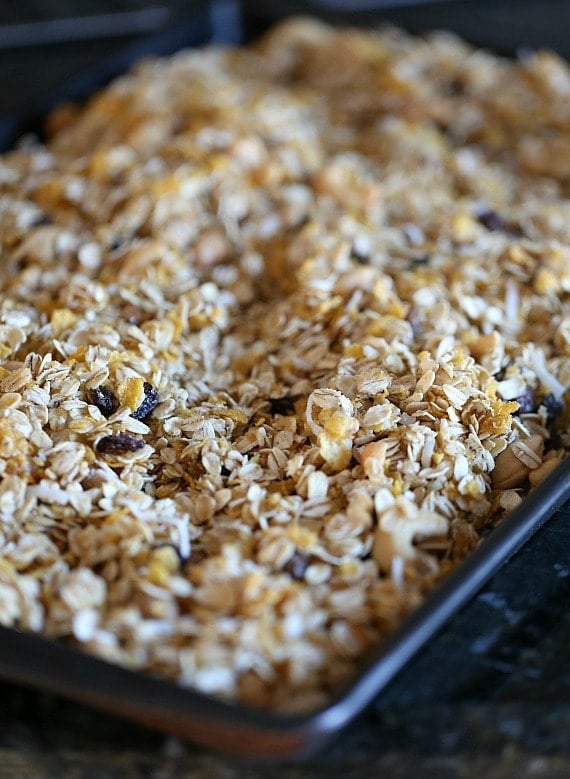 THEN. This is another trick…after the 20 minutes turn off the oven and let it sit..overnight is best, until the oven and the granola are completely cool.
I discovered this method one day when I started making the granola but had to leave the house suddenly. I knew it wasn't done baking, so I just shut the oven off. Many hours later when I came home I was pleasantly surprised at the results! Not only was it perfectly crunchy, but it held together in big hunks!
The egg white discovery came later, but those 2 things are my tricks for getting all clusters.
When it's baked and cooled it will look like this…kinda flat…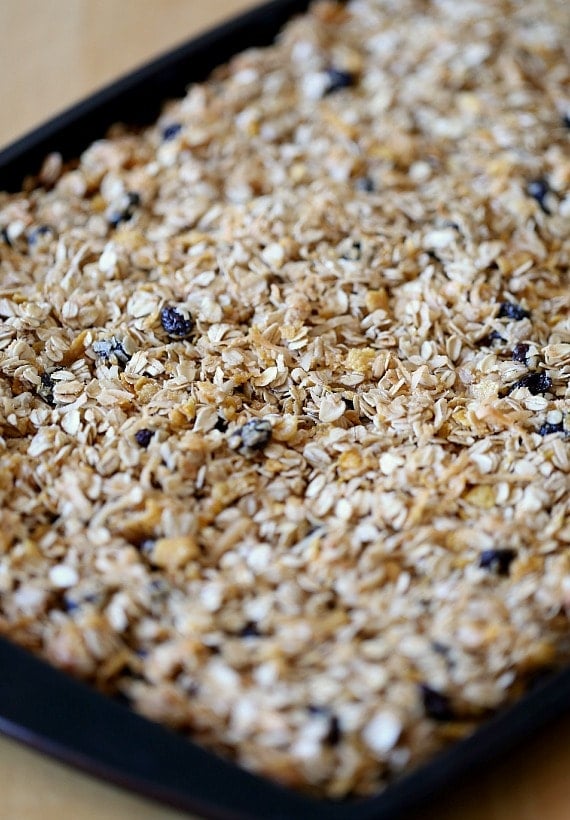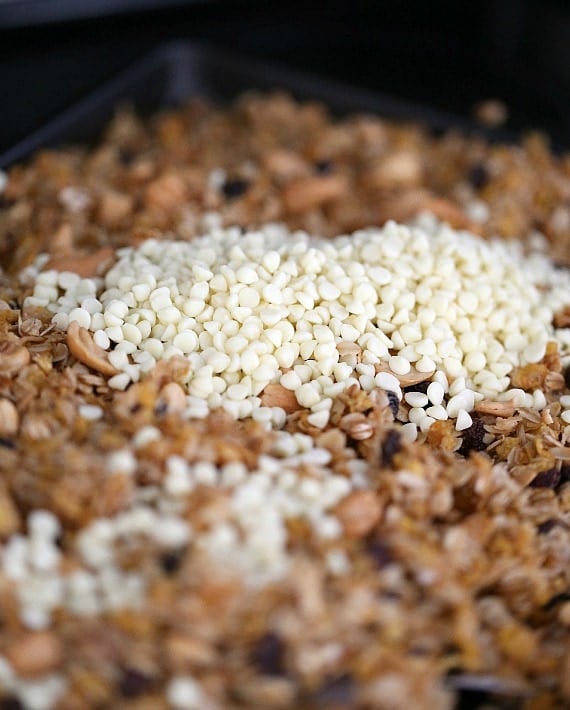 I like white chocolate chips in mine. You can if you wanna.
Then just peel it off the foil or parchment, breaking it into pieces…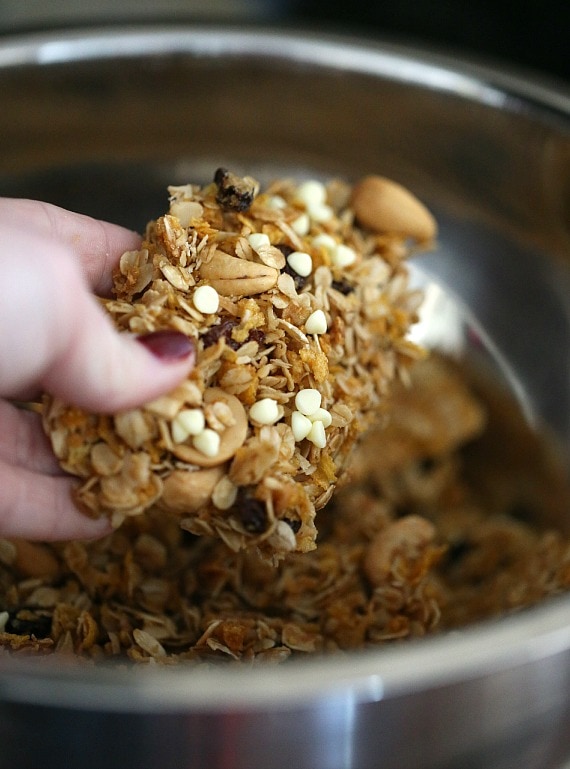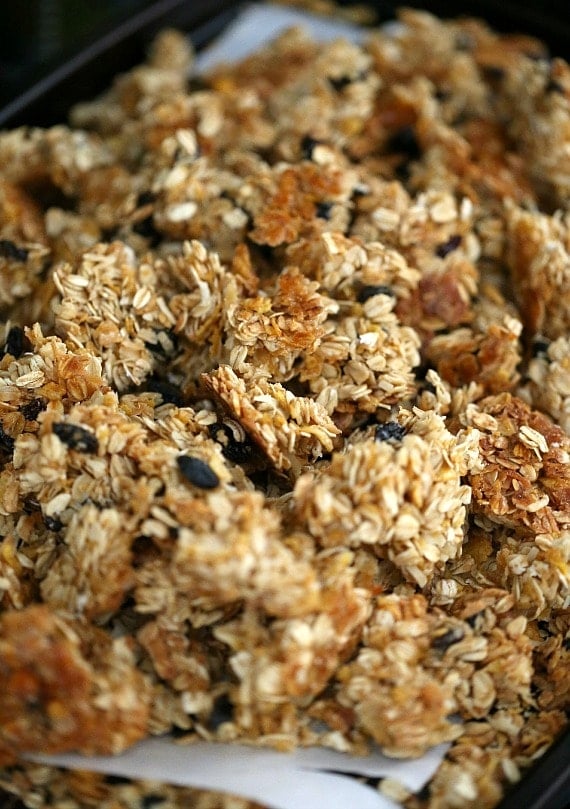 And you'll have this…
Isn't it pretty?
Honestly my recipe is perfectly sweet, but not too sweet!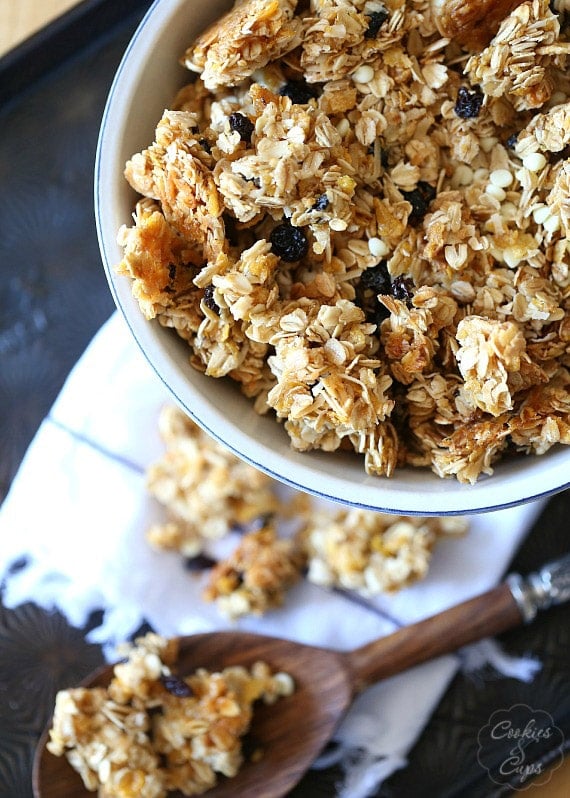 If you're not a cluster-lover you can stir the granola every 10 minutes while cooking and bake it a little longer, removing it from the oven immediately.
It will look more like this picture….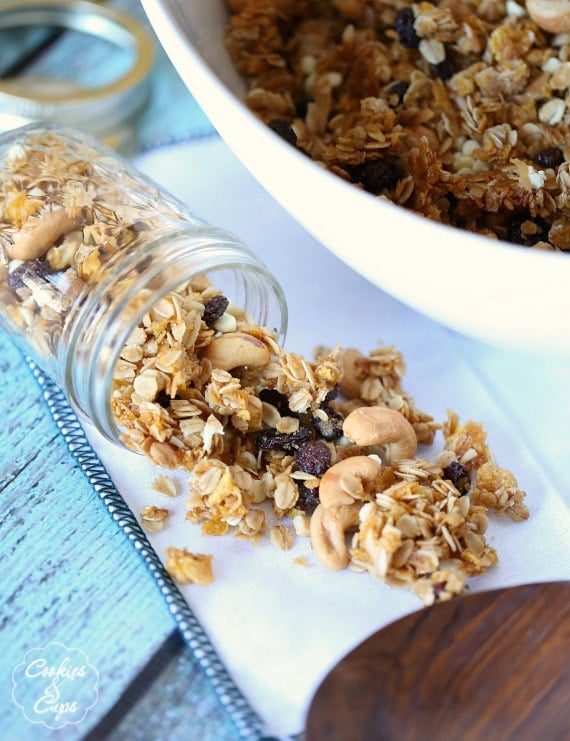 Either way it's a success!
Print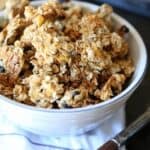 Snacking Granola Clusters
---
Description
makes approx 10 cups granola
---
5 cups

old-fashioned oats

1/2 cup

butter, melted

1/2 cup

+

2 Tbsp

cup brown sugar

1/2 cup

honey

1 cup

raisins

2 cups

sweetened flaked coconut

4 cups

corn flakes, crushed

1 tsp

kosher salt

1 cup

salted cashews or any kind of nut

1

beaten egg white

1 cup

white chocolate chips
---
Instructions
Preheat oven to 300°
Line a (15×11) baking sheet with sides with parchment paper.
Mix all ingredients except the white chocolate chips together in a large bowl until evenly coated with butter and honey. Finally stir in beaten egg white evenly.
Spread mixture onto baking sheet.
Bake for 20 minutes without stirring.
Turn oven off and allow granola to stay in oven until cooled.
Break into pieces.
---
Notes
Store airtight for up to 2 weeks.
If you prefer not-clustered granola, stir the granola every 10 minutes while baking and remove from oven when done baking. Also, omit the egg white form the ingredients. UP the bake-time to 25-30 minutes.
*loosely based on a granola recipe from Elk Haven Nursing Home Cookbook
Want To Save This Recipe?