My husband loves him some Snickerdoodle, and I have been saying for a while now that I would try them in cupcake form…well, check that off my list..mission accomplished.
I browsed the blog-world for some inspiration and found that many of you out there have tried these with success. I wanted to do one with a filling, but the more I thought about it, adding a filling took too much away from the Snickerdoodleness. I know it would have been delicious, but why mess with it ~ at least on the first go-round.
So, putting my own stamp on this ended with a delicious


Snickerdoodle cupcake topped with a white-chocolate ganache and finished with cinnamon buttercream.


We'll call it Snickerdoodle-inspired…yes, that's probably more accurate!
I adapted, my girl, Martha's recipe, but halved it because this was experimental and I didn't want 28 cupcakes around here…kinda wished now I had made them all, though…they were THAT good!
Here's the full recipe:

1 1/2 cups all-purpose flour
1 1/2 cups cake flour (not self- rising), sifted
1 tablespoon baking powder
1/2 teaspoon salt
1 tablespoon ground cinnamon
1 cup (2 sticks) unsalted butter, room temperature
1 3/4 cups sugar
4 large eggs, room temperature
2 teaspoons pure vanilla extract
1 1/4 cups milk
Directions:
Preheat oven to 350 degrees. Line standard muffin tins with paper liners. Sift together both flours, baking powder, salt, and 1 tablespoon cinnamon.
With an electric mixer on medium-high speed, cream butter and sugar until pale and fluffy. Add eggs, one at a time, beating until each is incorporated, scraping down sides of bowl as needed. Beat in vanilla. Reduce speed to low. Add flour mixture in three batches, alternating with two additions of milk, and beating until combined after each.
Divide batter evenly among lined cups, filling each three-quarters full. Bake, rotating tins halfway through, until a cake tester inserted in centers comes out clean, about 20 minutes. Transfer tins to wire racks to cool completely before removing cupcakes. Cupcakes can be stored up to 2 days at room temperature, or frozen up to 2 months, in airtight containers.
The White chocolate Ganache:
6 oz. white chocolate
1/4 cup cream
Melt white chocolate over double boiler…when melted add cream and stir with whisk until cream is heated through. Remove from heat and let cool approx 30 min or so.
Dip the tops of each cupcake in and let excess drip off.
You don't want it to drip all down the sides of your cupcake.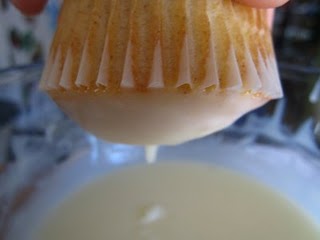 Let them set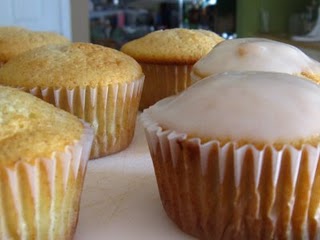 When ganache is set. Top with cinnamon buttercream.
For buttercream frosting follow directions for vanilla buttercream, but add 2 teaspoons cinnamon when you add the powdered sugar.
Pipe on top and add sprinkles or coarse sugar if you want. A dusting of cinnamon sugar might be nice too.