Sour Cream Candied Pecans are my new obsession! These glazed pecans are like a pecan praline, but with an even creamier, sweet coating.
Love glazed pecans? Try my classic candied pecan recipe too!
Sour Cream Candied Pecans Are A Southern Classic Snack!
I LOVE pecan pralines…like LOVE. They are a serious guilty pleasure of mine. And being able to make them at home is a slippery slope. But I decided to throw caution to the wind, and try out making Sour Cream Candied Pecans, which are like a rich and creamy version of a praline.
It not only worked, but they are ABSOLUTELY INCREDIBLE!
Sour Cream Pecan Pralines Are Easy To Make!
In just minutes these will be ready to enjoy…which may or may not be a good thing! BUT that makes them a great last minute snack, dessert, or hostess gift!
Tools You Will Need:
A wooden spoon or rubber spatula
A large baking sheet
Ingredients:
3/4 cup granulated sugar
1/4 cup sour cream
2 cups pecan halves
1 teaspoon vanilla extract
1/2 teaspoon kosher salt
How Do You Make Sour Cream Candied Pecans?
Line a baking sheet with parchment paper and set aside.
Add the sugar and sour cream to a medium saucepan over medium heat and stir constantly until mixture comes to a boil. Once boiling, reduce the heat to low and continue cooking, stirring constantly, until thick and bubbly, approximately 5 – 6 minutes, reaching 240°F on a candy thermometer.
Remove the pan from the heat and stir in the vanilla extract and salt. Next add the pecan halves and stir until coated.
Spread the pecan mixture onto the prepared baking sheet and let cool completely.
Break into pieces before serving.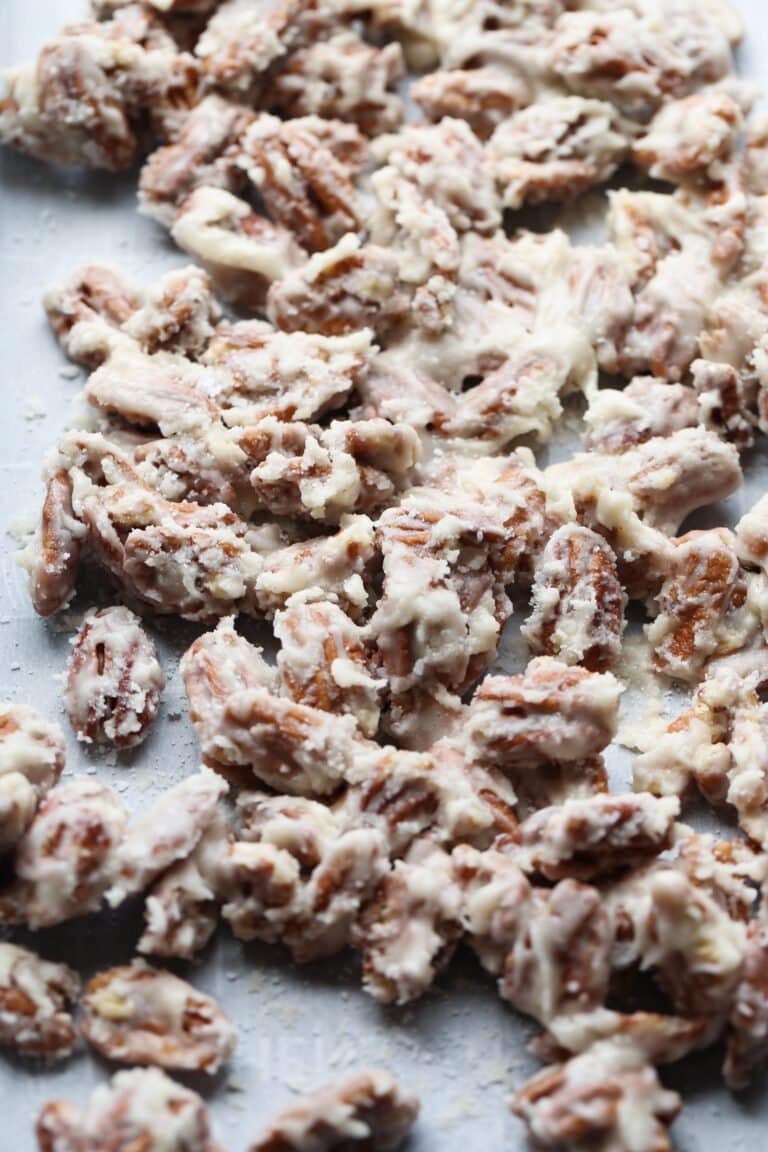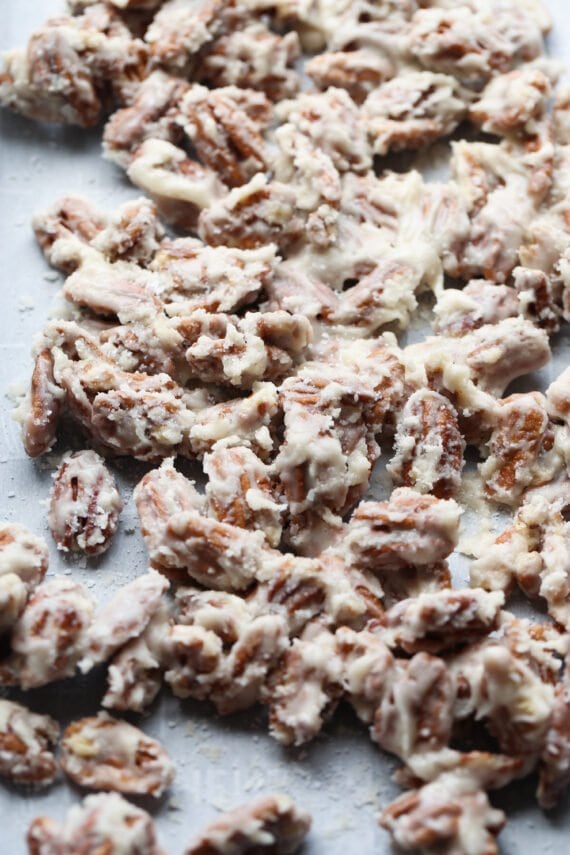 How To Store Candied Pecans
You can easily store these pecans at airtight at room temperature for 2 weeks.
Freezing these nuts is possible, but as they thaw they will get sticky, so I don't recommend it. Plus, I can't imagine there will be leftovers because they're so delicious!
Can I Cut This Recipe In Half?
Absolutely, yes! This recipe can easily be cut in half or even doubled, which is great at the holidays if you want to give them as gifts!
Pro Tip:
To make these pecans crispier, toast the pecans lightly before coating them. You can do this a few ways:
In a Skillet: Place the pecans in a skillet on medium heat. Stirring frequently toast the pecans for 2-5 minutes until they are lightly toasted and fragrant.
In the Oven: Preheat the oven to 350°F. Toast nuts on a baking sheet for 7-8 minutes until toasted and fragrant.
*This post was in partnership with Imperial Sugar. Fr the full printable recipe, CLICK HERE.
PIN for later: