My absolute favorite Hummingbird Cake recipe is an amazingly soft, classic Southern cake that's loaded with banana and pineapple and topped with velvety cream cheese frosting.
If you love this recipe you might also like this fluffy frosted banana cake!
Pineapple Banana Cake With Cream Cheese Frosting
If you've ever visited the southern states, chances are you've at least heard of Hummingbird Cake. We once spent a week in Seaside, Florida (one of my favorite vacation places by far!), and I remember seeing it on the menu at just about every restaurant we visited.
I grew up with my Grandma's hummingbird cake. Let me tell you, every time I make it now, I can't get enough. It's the sort of life-changing, diet-ruining, eat-your-heart-out cake recipe that just hits every note on the delicious scale. I'd finish the whole cake if I could (because that's never happened…). It's THAT good.
What is Hummingbird Cake?
Hummingbird Cake is a classic Southern dessert, sweet enough to attract the hummingbirds! It's a super moist spice cake made with mashed bananas, pineapple, and chopped pecans. A bit like a mashup between banana bread and a carrot cake, only without the carrots. From my research, hummingbird cake has roots in Jamaica (that explains all those delicious tropical flavors!), and it became super popular in the US once Southern Living published the recipe in the 1970s.
Of course, like many cake recipes, there are loads of variations out there with different add-ins (more on that later). My old fashioned hummingbird cake is based on my grandmother's recipe, but just about everyone in the south has their own favorite family version!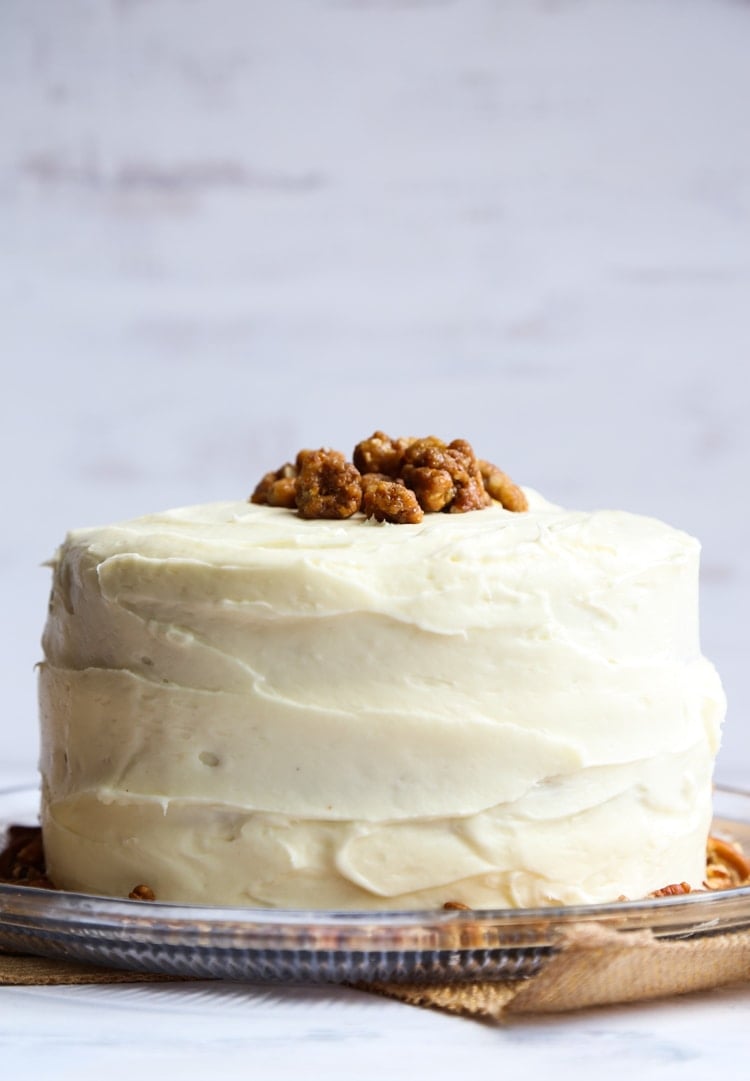 Recipe Ingredients
Simple ingredients make the best recipes, and this cake is no exception. Here's everything you'll need to make this classic homemade hummingbird cake from scratch (full ingredient amounts are in the recipe card!).
For the Cake
Flour: Your choice of all purpose flour brand.
Sugar: I use regular granulated white sugar when baking cakes, for consistent results.
Baking Soda: For leavening.
Salt
Canola Oil: Or another neutral vegetable oil, like grape seed oil. Using oil over butter results in a more moist cake.
Bananas: You'll need some slightly older, overripe bananas for mashing. They don't need to be completely black, but they should have some nice speckling.
Pineapple: I use canned crushed pineapple, and leave it undrained to really enhance the flavor and moisture of the cake. If you prefer, you can also use fresh pineapple if it's in season.
Eggs: Eggs bind the ingredients together and work with the baking soda for a risen, fluffy cake.
Vanilla Extract: I love the subtle background flavor that comes from pure vanilla extract. Use the real deal (and not imitation vanilla) for best results!
Pecans: Chopped pecans bring an irresistible crunch and texture to the cake. Walnuts are a next-best option, too.
For the Frosting
Cream Cheese: Take your cream cheese out of the fridge about a half hour or so before you start. This lets it come to room temperature, making it much easier to mix!
Butter: Also at room temperature for the reasons above. I recommend using unsalted butter in your frosting.
Powdered Sugar: Powdered sugar, a.k.a. Confectioner's sugar gives the cream cheese frosting an exceptionally smooth texture and sweet flavor.
Vanilla Extract
Candied Pecans: I love candied pecans for a bit of sweetness, or you can use more chopped pecans as an optional garnish.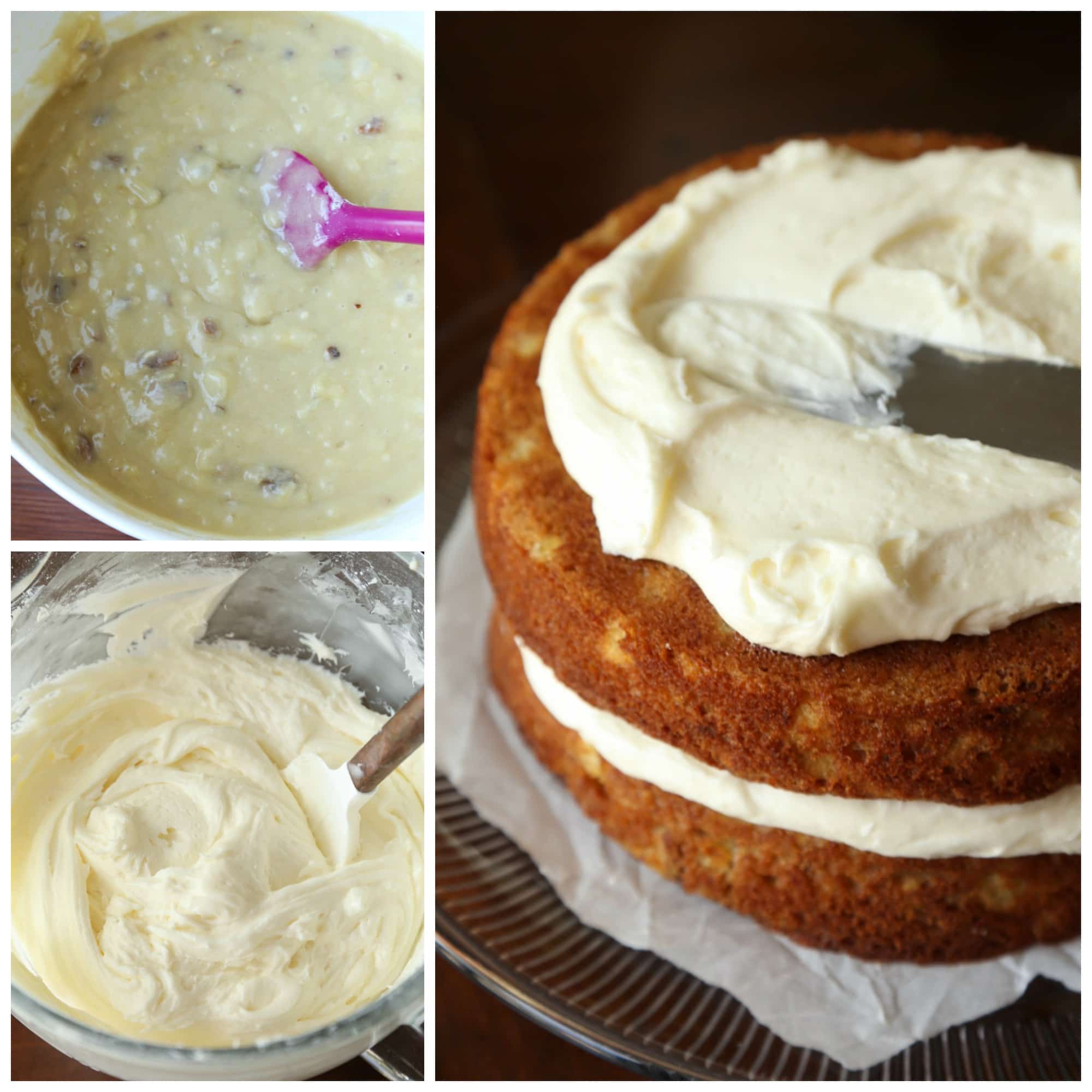 How to Make Hummingbird Cake
One of the best things about this tiered banana cake recipe is that the method is very similar to banana bread. Very little fuss with major flavor payoff! Let's get started:
Prep the Pans: While the oven is preheating, spray your cake pans with nonstick spray and line the bottoms with parchment paper.
Make the Batter: In a mixing bowl, whisk together the flour, sugar, baking soda, and salt. In a separate bowl, whisk together the oil, bananas, pineapple, eggs, vanilla and pecans. Combine the wet ingredients with the dry ingredients and stir until just combined.
Bake: Distribute the batter evenly between your prepared pans, and pop the cakes into the oven. The cakes are done when a toothpick stuck into the center comes out clean. Let the cakes sit in the pan a bit before inverting them onto a wire rack to finish cooling.
Make the Frosting: I recommend using a stand mixer for the frosting if you have one. First, cream together the cream cheese and butter until smooth. Gradually add the powdered sugar into the mix, followed by the vanilla. Give everything a good whirl with the mixer for a minute or so until the frosting is nice and creamy.
Assemble the Cake: Once your cake layers have cooled completely, it's time to frost! Beginning with the first layer, spread a heaping cup of cream cheese frosting over the cake. Repeat with the second and third layers, and then frost the cake all over with the remaining frosting. I use an offset spatula to give the frosting a smoothed-over effect.
Garnish your hummingbird cake with candied pecans, or give it a sprinkle with any leftover chopped pecans you may have for extra crunch. You can also get creative with toppings and variations, see the section later on.
Tips for the Best Hummingbird Cake
Here are some tips for the fluffiest, most flavorful layer cake:
Line the Pans: Since this cake contains sticky ingredients like pineapple juice, spraying the pans alone doesn't always cut it. I highly recommend lining the pans with parchment paper, to avoid unnecessary struggle when removing the cakes.
Use Room Temperature Ingredients: When it comes to ingredients like butter and cream cheese in the frosting, having them at room temperature makes mixing so much easier!
Measure the Flour Correctly: Too much flour will lead to a dense, tough cake. To make sure you're measuring the right amount, use a kitchen scale, or otherwise spoon the flour into the measuring cup and then level it off with the back of a knife.
Don't Over-Mix the Batter: Another tip for a cake that's fluffy and moist, but not dense, is to avoid over-mixing. Stir the ingredients just until there aren't any streaks left in the batter.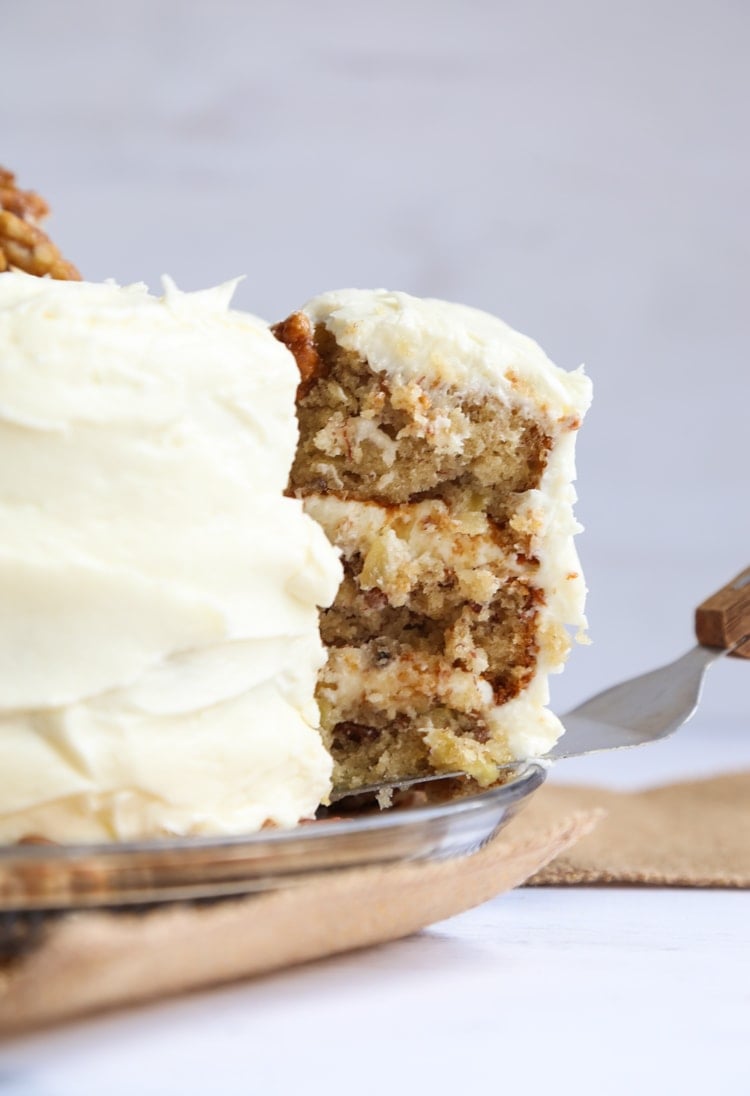 Variation Ideas
I love a classic hummingbird cake, but I also like getting creative, and this recipe leaves loads of space for creativity! Here are some ideas to change it up:
Ground Cinnamon: You may have wondered where the cinnamon has been this whole time. It's true that many hummingbird cake recipes include cinnamon – I just prefer mine without! You can definitely add cinnamon into your cake for some yummy, spicy flavor if you prefer. Just whisk in 1 teaspoon in with your dry ingredients.
Nutmeg. Just a pinch can add even more warm spice to this cake.
Sweetened Flaked Coconut: Add a cup of coconut into the batter for some extra tropical flair. Toasted coconut also makes a great cake garnish, too.
Substitute the Pecans: You can easily swap the pecans for walnuts in this recipe. Or, if you're making nut-free hummingbird cake, omit the nuts entirely.
Different Frosting: Of course, if you're keeping this recipe classic like I do, there is no option except cream cheese frosting! But if you aren't a fan or would prefer something different, try this cake topped with Vanilla Buttercream, Heritage Frosting or my Brown Sugar Frosting instead.
Make Cupcakes: This recipe will yield about 3 dozen hummingbird cupcakes. Bake the cupcakes for 20-22 minutes at 350ºF. Prepare the frosting as written, then use a piping bag or ziplock bag with the corner snipped off to decorate.
Make a Bundt Cake: Pour the batter into a 10-15 cup bundt cake pan and bake for 50-60 minutes at 350ºF. You can halve the frosting recipe.
Make a Sheet Cake: Make a hummingbird sheet cake using a 9×13 pan, baked at 350ºF for 25-35 minutes. Use half the frosting recipe.
FAQs
What does a Hummingbird Cake taste like?
Hummingbird Cake tastes like a cross between banana bread and pineapple upside-down cake. The texture of similar to carrot cake with bits of pineapple and pecans throughout the cake.
Why do they call it a Hummingbird Cake?
Some say the cake gets its name from being sweet enough to attract hummingbirds (who only eat nectar). Others think this cake got its name because the colors look like a variety of Jamaican hummingbird called a Red-billed Streamertail. The yellow streaks of banana in the cake reminded people of the bird's plumage.
How to Store Extras
Store leftover hummingbird cake airtight in the refrigerator for up to 3 days. Take the cake out of the fridge about a half hour before serving to let it reach room temperature again.
Can I Freeze This?
Cream cheese frosting doesn't hold up in the freezer, so a frosted hummingbird cake shouldn't be frozen. However, you can freeze the unfrosted cake layers for up to 2 months! Just wrap them tightly in plastic wrap plus an extra layer of foil, and store frozen until you're ready to thaw and assemble the cake. Defrost the cake at room temperature, and then whip up a batch of frosting!
More Homemade Cakes to Try
Print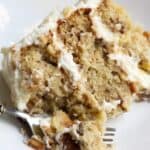 Hummingbird Cake
Author:

Prep Time:

15 minutes

Cook Time:

25 minutes

Total Time:

40 minutes

Yield:

serves

1

2

1

x

Category:

Cake

Method:

Oven

Cuisine:

Dessert
---
Description
This homemade Hummingbird Cake recipe is an amazingly soft, classic Southern cake that's loaded with banana and pineapple, plus layers of velvety cream cheese frosting.
---
For the Cake
3 cups

all purpose flour

2 cups

granulated sugar

1 teaspoon

baking soda

1 teaspoon

kosher salt

1 1/2 cups

canola oil

2

large bananas, mashed (

1 1/2

–

1 3/4

cups)

8 ounces

crushed pineapple, undrained

3

large eggs

2 teaspoons

vanilla extract

3/4 cup

chopped pecans
For the Frosting
2

(8- ounce) blocks cream cheese, room temperature

1 cup

butter, room temperature

8 cups

powdered sugar

1 teaspoon

vanilla extract
Optional garnish – Candied Pecans or chopped pecans
---
Instructions
Cake
Preheat oven to 350°F.
Coat 3, 8- inch or 9- inch cake pans with nonstick baking spray. Cut 3 rounds of parchment paper to fit into the bottom of each cake pan. Place the parchment paper in the bottom of the prepared pan and coat again with nonstick spray. Set aside.
In a large mixing bowl whisk together the flour, sugar, baking soda, and salt. Set aside.
In a medium mixing bowl whisk together the oil, bananas, pineapple, eggs, vanilla, and pecans.
Stir the wet ingredients into the dry ingredients and stir together using a rubber spatula or wooden spoon until combined.
Pour the batter evenly into the prepared pans and bake for 25-30 minutes, or until the cakes are set and a toothpick inserted into the center comes out clean.
Allow the cakes to cool for 10 minutes in the pan and then turn the cakes out onto a wire rack to cool completely.
Frosting
In the bowl of your stand mixer fitted with the paddle attachment combine the cream cheese and butter on medium speed until combined and smooth.
Turn the mixer to low and slowly add in the powdered sugar until combined, scraping the sides of the bowl as necessary. Add in the vanilla and then turn mixer up to medium and mix until smooth and creamy for 1 minute.
Place one cake on a cake plate and cover the top of the cake with a heaping cup of the frosting and spread evenly. Top with another cake and repeat. Top with the remaining cake layer and frost the cake with the remaining frosting, smoothing with an off-set spatula.
Garnish with chopped pecans or Candied Pecans.
---
Notes
Store airtight for up to 3 days in the refrigerator.
You can sub in walnuts for their pecans, or omit the nuts entirely!
Optional add-in: 1 cup coconut
Nutrition
Serving Size:

1 slice with frosting

Calories:

1293

Sugar:

173.7 g

Sodium:

457 mg

Fat:

54.9 g

Carbohydrates:

200 g

Protein:

9.6 g

Cholesterol:

107.6 mg
Keywords: banana cake recipe, homemade cake recipes, southern food
Want To Save This Recipe?