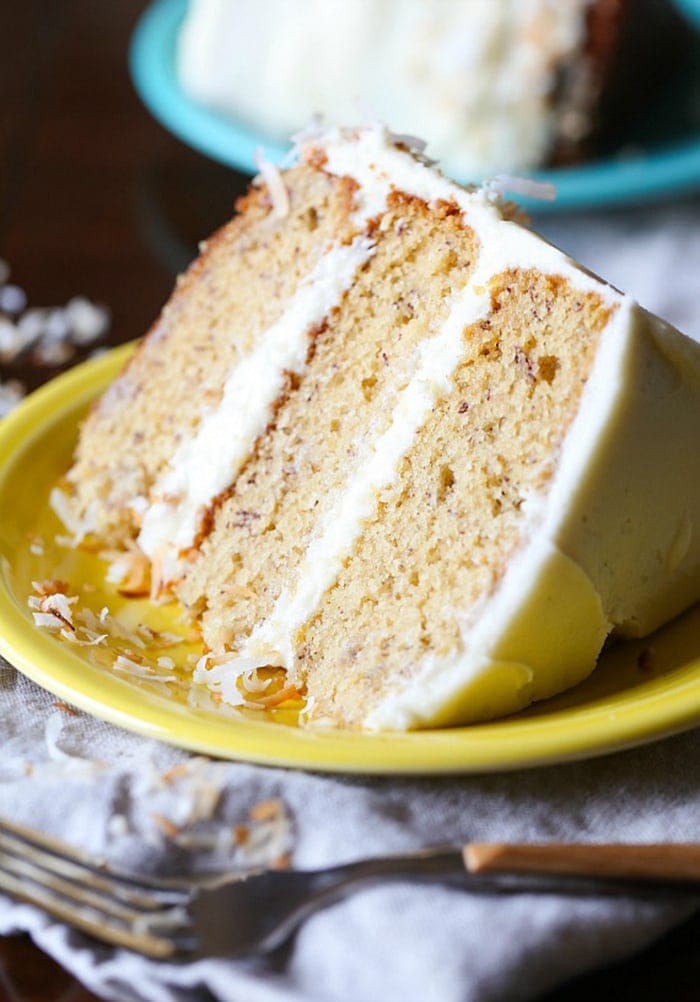 This is truly the Best Banana Cake Recipe ever! It's soft, sweet with the perfect amount of banana and it's topped with creamy frosting!
I have been holding out on you.
You see, this cake. Oh this cake. It's been on my list to share for some time now, but I always seem to get side-tracked!

MY OTHER RECIPES
So today I end the hold-out and talk cake…specifically this EPICALLY DELICIOUS BANANA CAKE.
Dudes, it's so great I can't even tell you. Like so great you should probably go ahead and make it now. Plus, bananas + cream cheese = breakfast material folks. Sprinkle a few chia seeds on top and you're basically drinking a smoothie.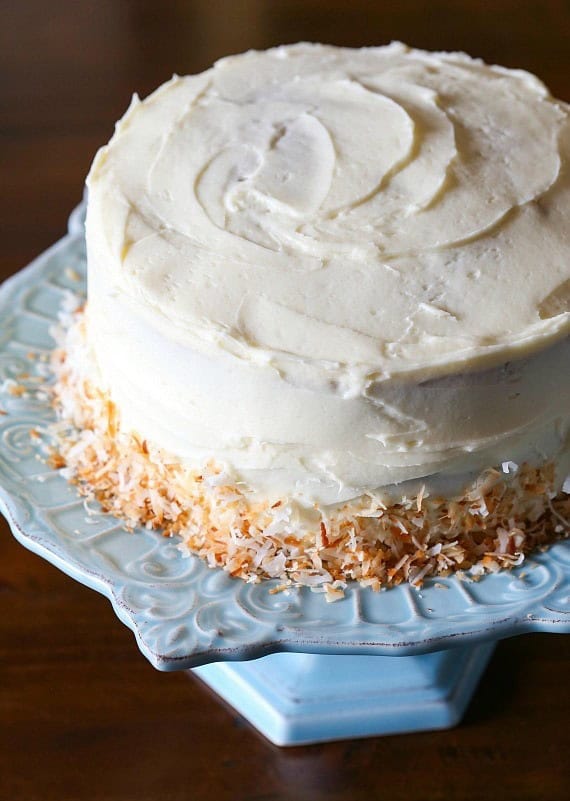 Also, you may think that you don't need a WHOLE cake sitting on your counter on a random weekday. I'm here to debunk that negativity.
You do need cake. Cake needs you. It's a relationship that's bound to happen, so don't fight it.
You can diet when the cake is gone. Trust me, that's my life's motto.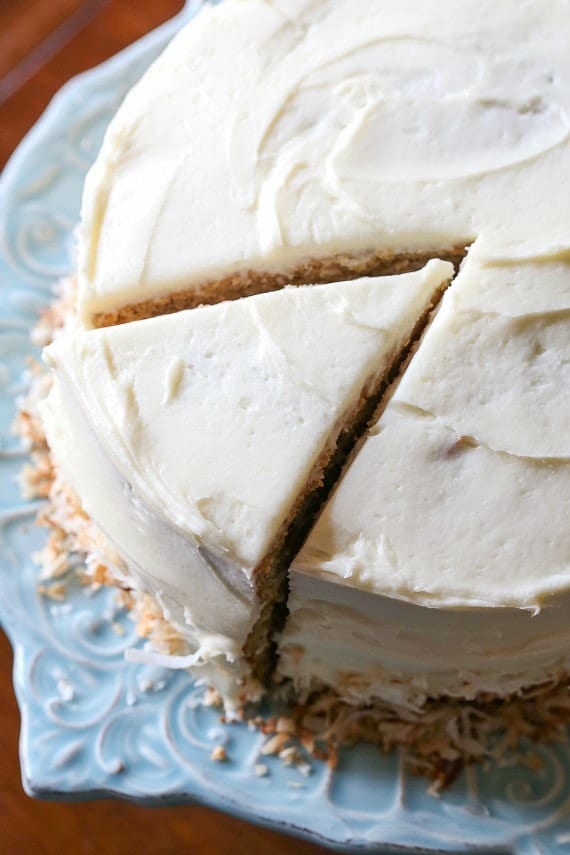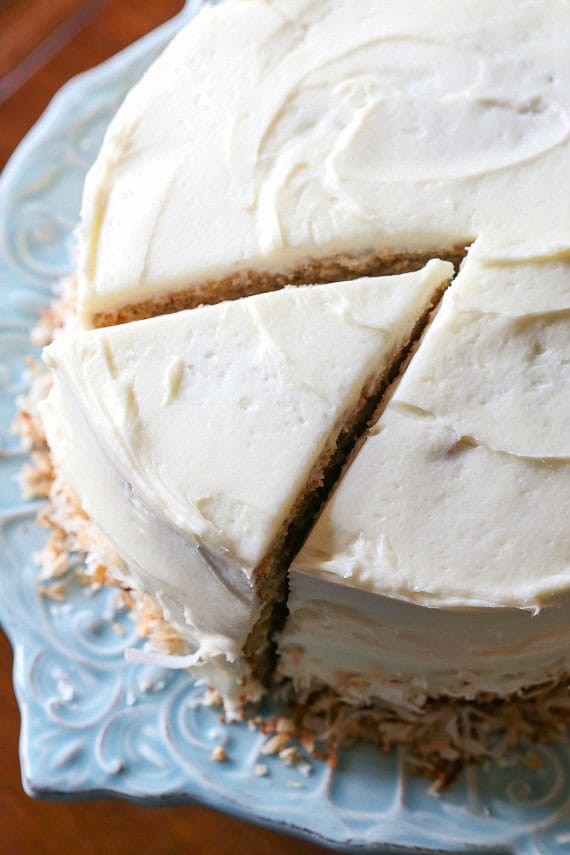 This post is going to be a little picture heavy, because that cake was so dang photogenic!
PLUS I made a short little video if you like that sort of thing!

But first, let's talk about how to do it…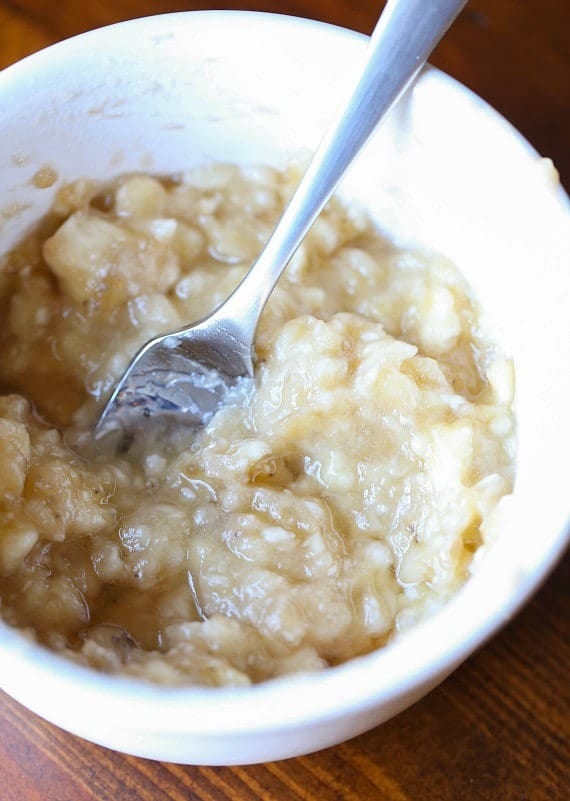 You're going to start with mashed bananas. Obvi.
The cake batter is really easy. You can bake it in 3, 8- inch round pans or 2, 9- inch round pans! I like 3 layers…because more frosting.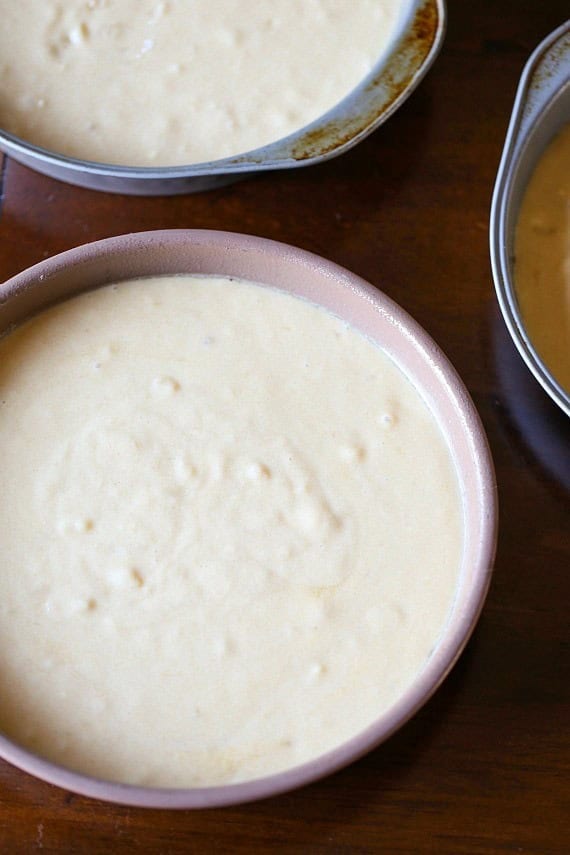 The cakes bake up like the champs they are.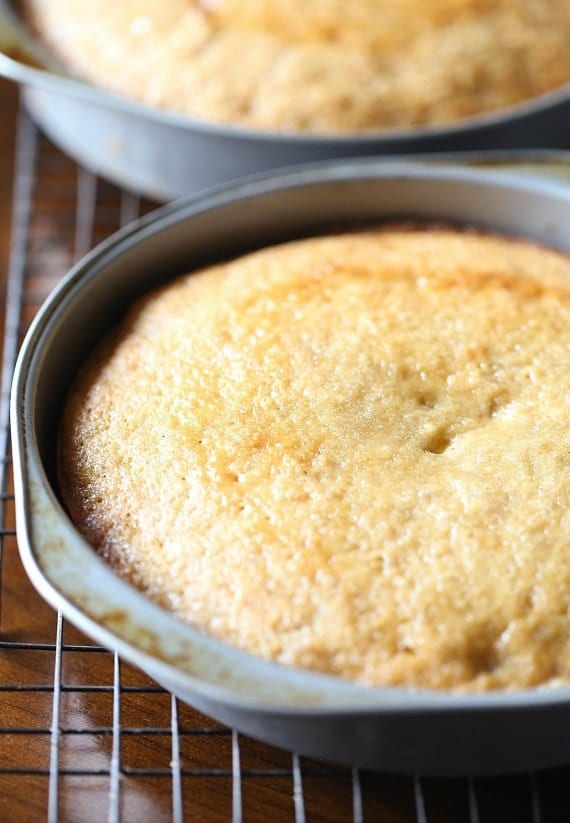 When they are cooled you can get busy dressing them up with some ridiculous frosting.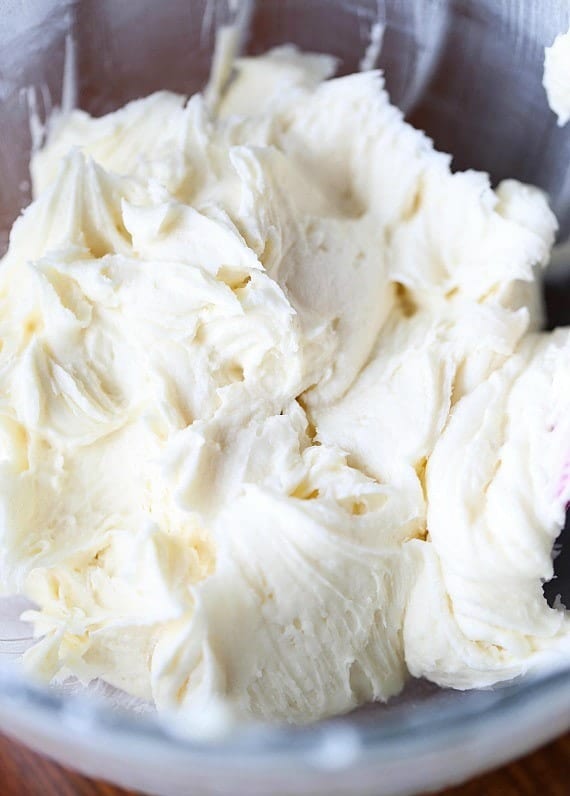 I feel like cream cheese frosting is the right choice here, but if you aren't a fan of cream cheese use my Vanilla Buttercream frosting instead!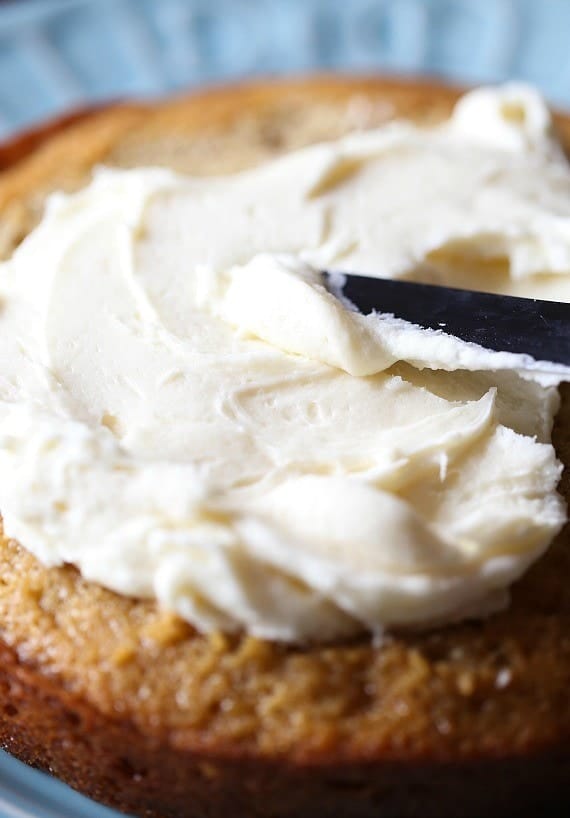 Top each layer with a healthy dose of frosting and assemble the cake!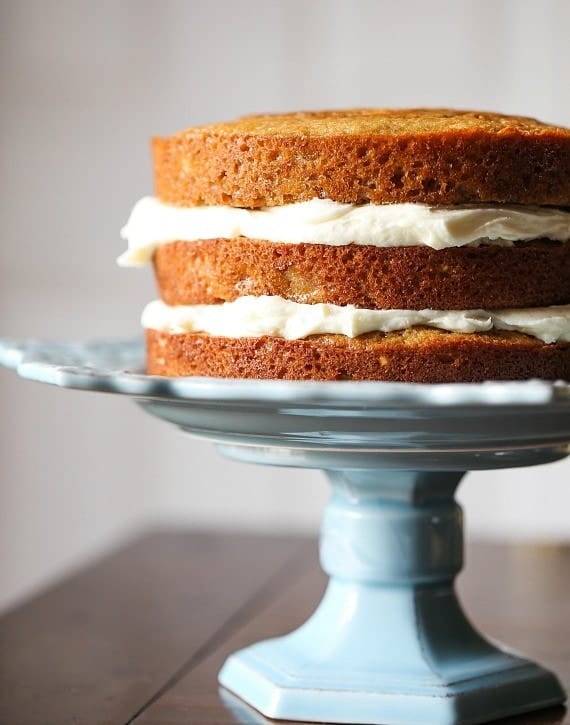 You will have the perfect amount of frosting. Trust me. No leftovers here.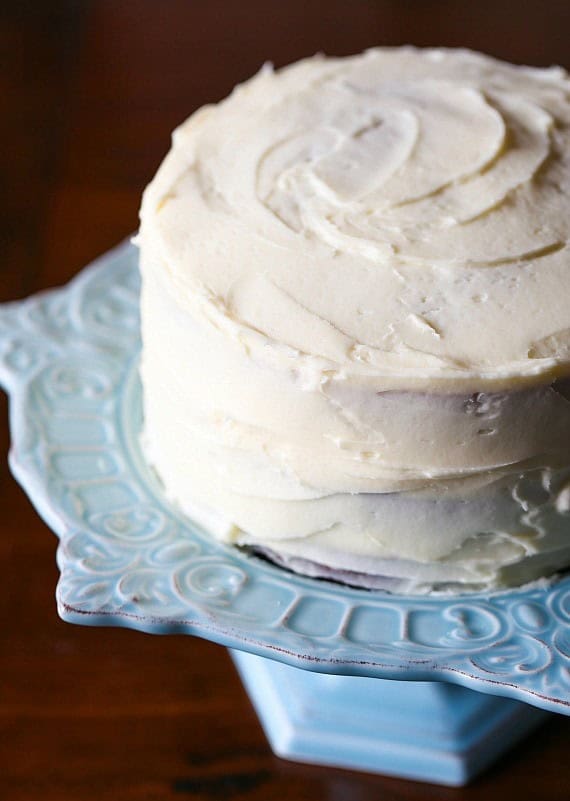 Then if you're feeling crazy, toast some coconut. This is a totally optional step, but I am telling you it's one of my favorite parts of this cake!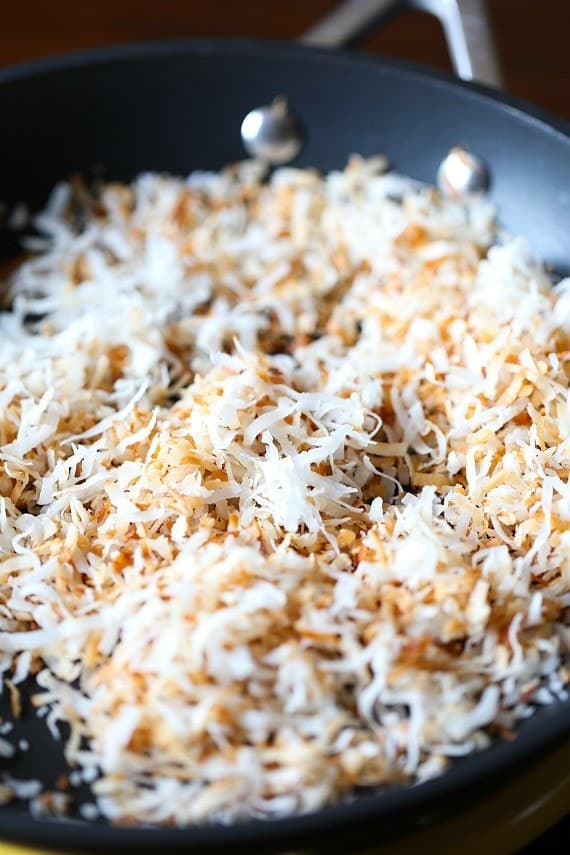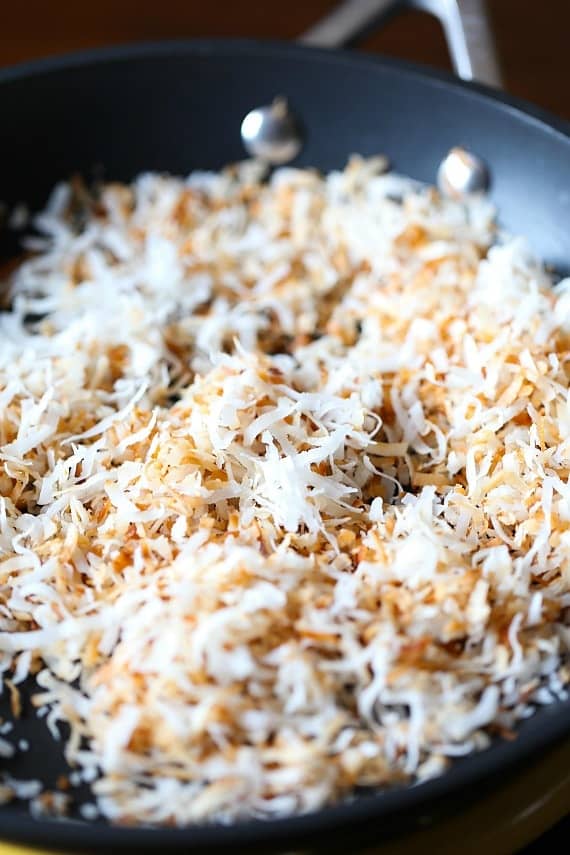 I just press it on the bottom of the cake, so it looks pretty. You could put as much or as little as you would like!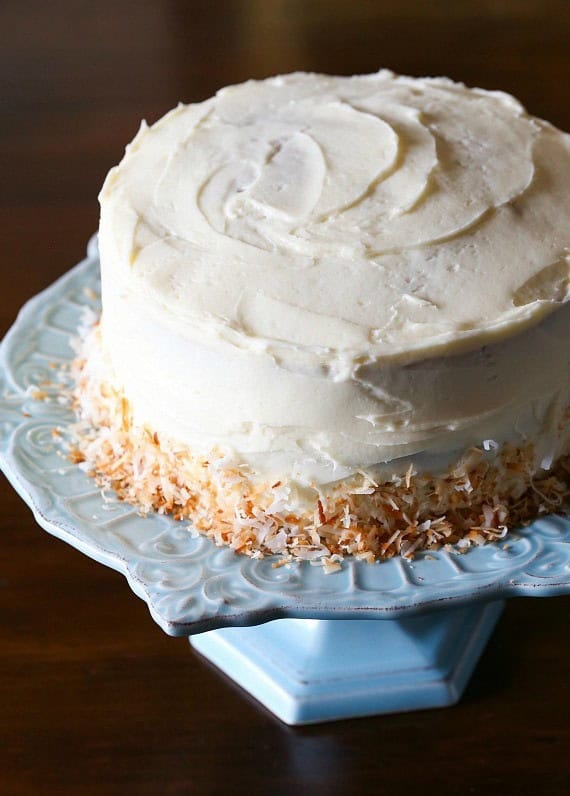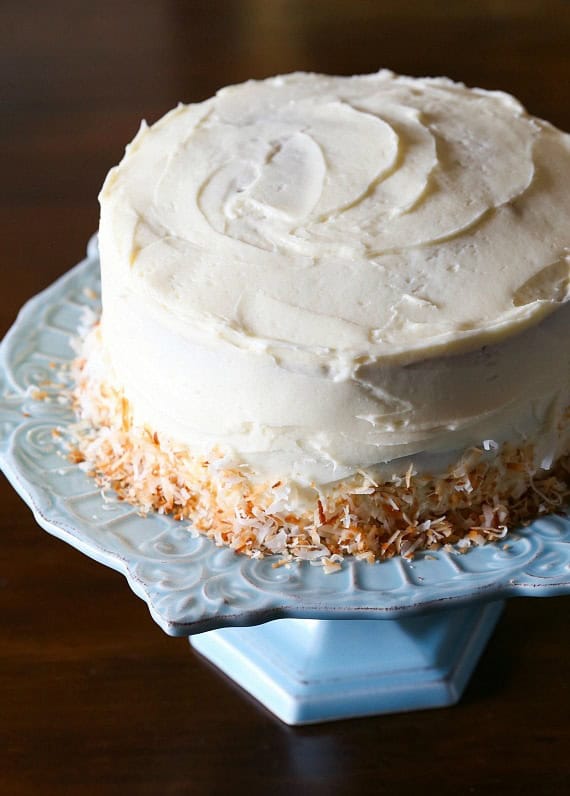 Then really, get down to it and slice that beauty.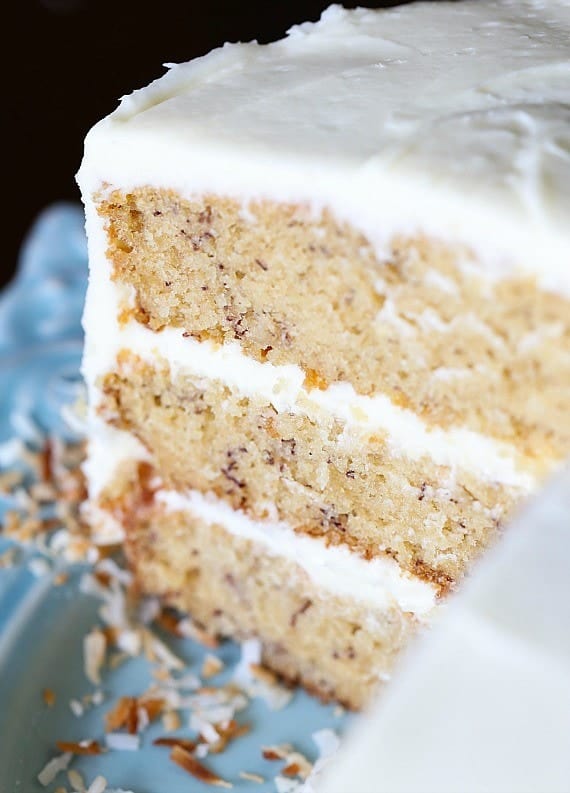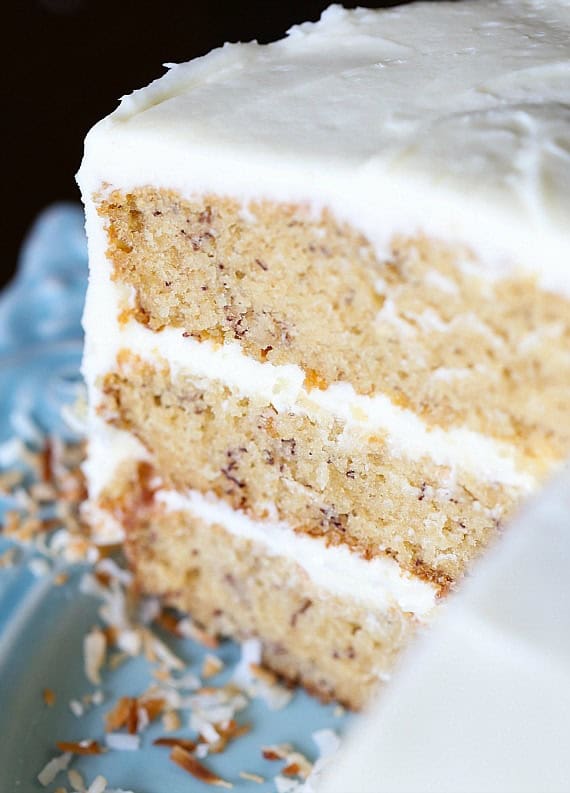 I seriously can't even take how perfect this cake is.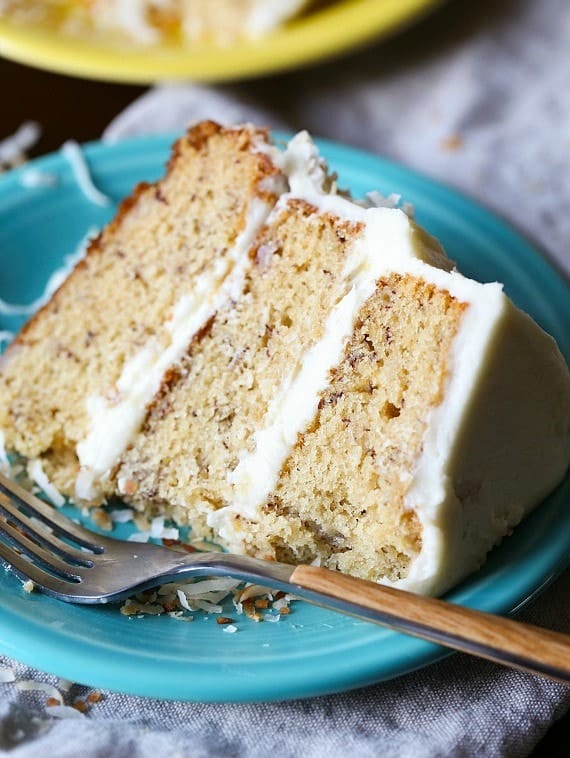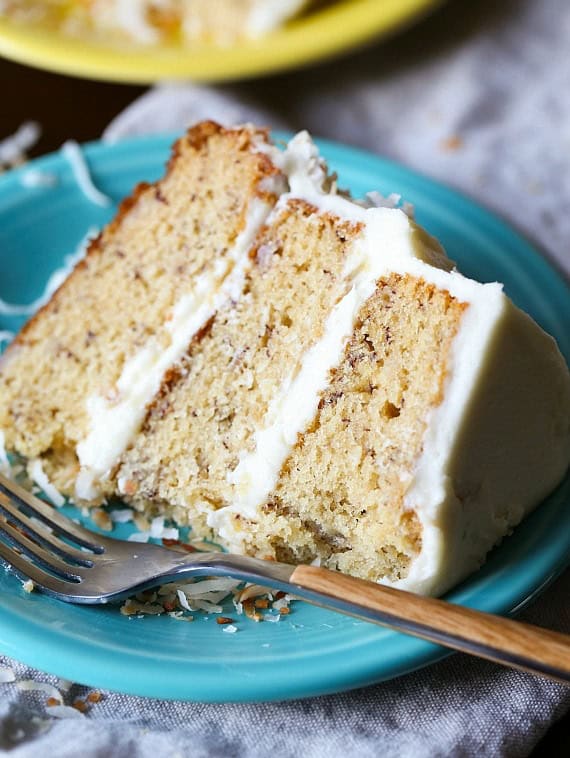 And dig in! You guys are going to love this so much!
Print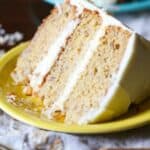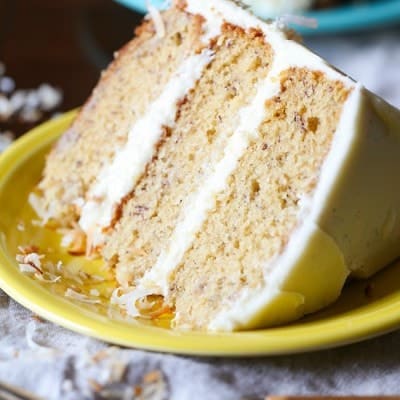 Best Banana Cake
Author:

Yield:

serves 10
---
Ingredients
Cake
1 1/2 cups milk
2 tablespoons lemon juice
3/4 cup butter, room temp
1 cup light brown sugar
1 cup granulated sugar
3 eggs
1 tablespoon vanilla extract
1 teaspoon kosher salt
1 1/2 teaspoons baking soda
3 cups flour
3 ripe medium bananas mashed, approximately 1 1/2 cups
Frosting
8 ounces cream cheese, room temperature (I used Challenge Cream Cheese)
1 cup butter, room temperature
6 cups powdered sugar
1 teaspoon vanilla extract
1-2 tablespoons milk
optional – 3/4 cup sweetened flaked coconut
---
Instructions
Preheat oven to 325°F
Coat 3, 8-inch round cake pans or 2 9-inch round cake pans with nonstick spray. Cut parchment paper into rounds to fit into the bottoms of the pans. Place the parchment into each pan and coat again with nonstick spray. Set aside.
In a medium bowl combine the milk and lemon juice. Stir and set aside.
In the bowl of your stand mixer fitted with the paddle attachment beat the butter and both sugars on medium speed for 2 minutes.
Add in the eggs, vanilla, salt and baking soda and mix until smooth, scraping the sides of the bowl as necessary.
Turn the mixer to low and add in the flour and milk in alternating additions, beginning and ending with flour, scraping the sides of the bowl as necessary.
Finally mix in the bananas until just incorporated.
Divide the batter evenly among the pans and bake for 35 minutes or until a toothpick inserted in the center comes out clean, rotating the pans in the oven half-way through baking.
Allow the cakes to cool in the pans for 15-20 minutes and then remove from the pans and place on a wire rack to cool completely.
Frosting
In the bowl of your stand mixer fitted with the paddle attachment mix the butter and cream cheese together for 2 minutes until creamy. Turn mixer to low and add in the powdered sugar.
Finally add in the vanilla and 1 tablespoon of milk.
Turn the mixer up to medium and mix until creamy, scraping the sides of the bowl as necessary.
If desired add in the remaining tablespoon of milk and mix until combined.
Frost cake.
If desired place the coconut in a nonstick skillet. Heat over medium-low, stirring frequently. The coconut will begin to turn golden brown. Watch closely, as the coconut will burn quickly.
Remove the pan from the heat and allow the coconut to cool completely.
Garnish cake with the toasted coconut.
Save