This is truly the Best Banana Cake Recipe ever! It's soft, sweet with the perfect amount of banana and it's topped with creamy frosting!
Looking for more Banana Recipes? Try My Chocolate Chip Banana Bread or my Banana Crumb Cake!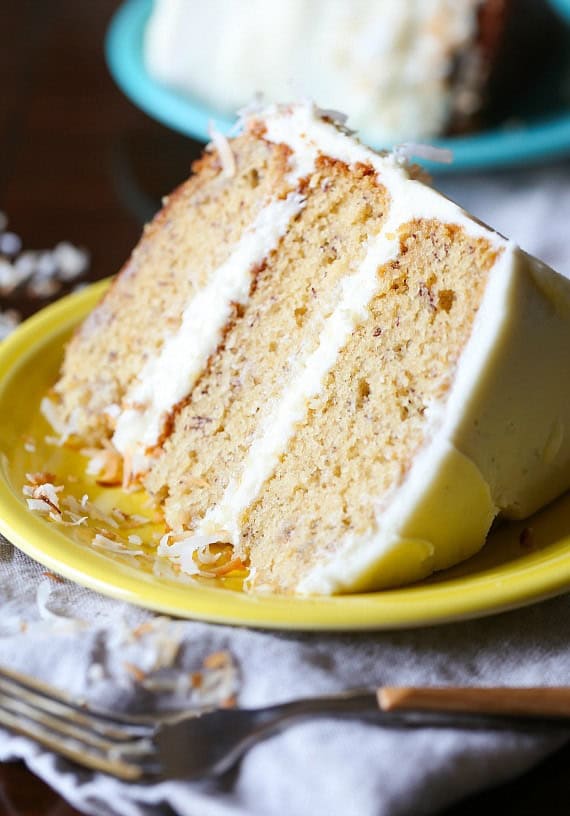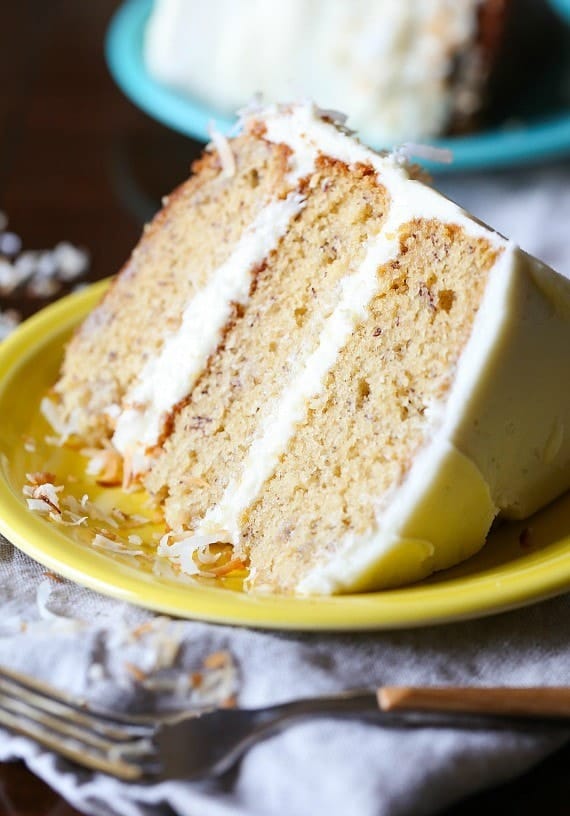 I have been holding out on you. You see, this banana cake. Oh this cake. It's been on my list to share for some time now, but I always seem to get side-tracked!
This Is the BEST Banana Cake You Will Ever Try!
So today I end the hold-out and talk cake…specifically this EPICALLY DELICIOUS BEST BANANA CAKE.
Dudes, it's so great I can't even tell you. Like so great you should probably go ahead and make it now. Plus, bananas + cream cheese = breakfast material folks. Sprinkle a few chia seeds on top and you're basically drinking a smoothie.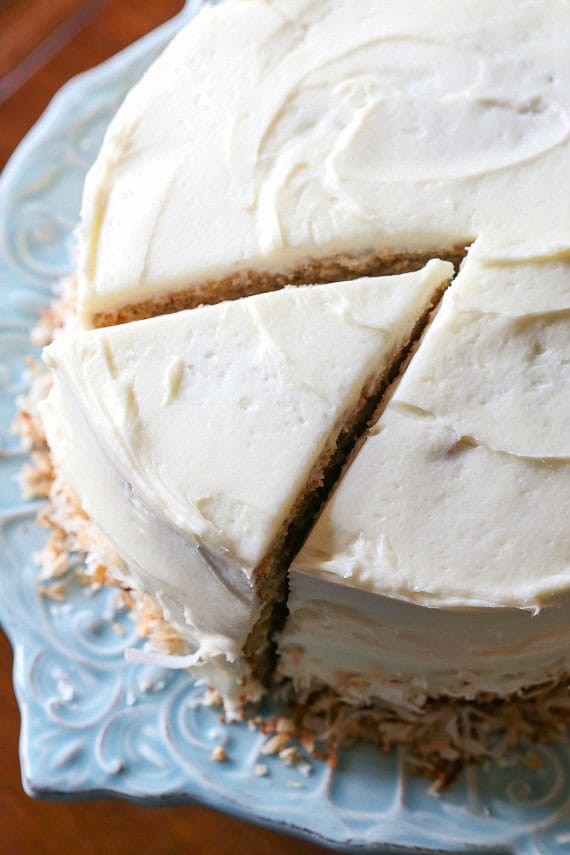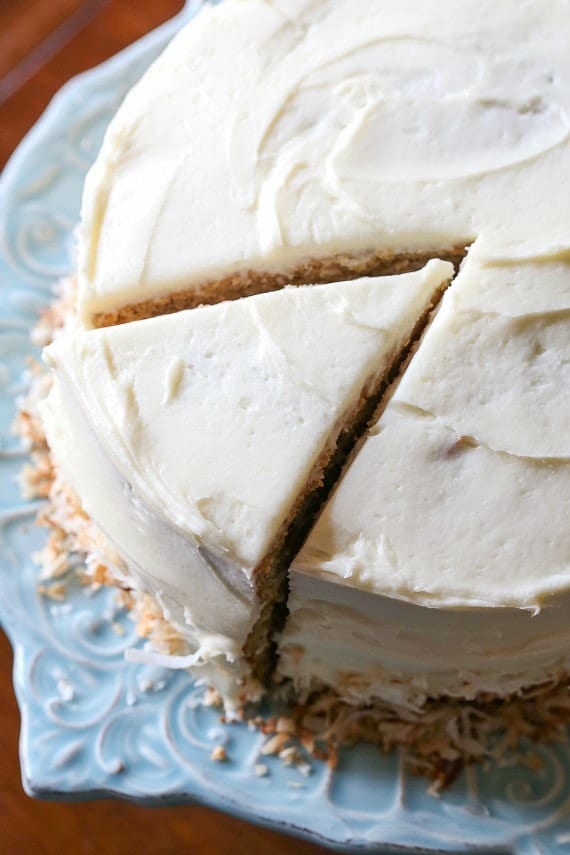 Also, you may think that you don't need a WHOLE cake sitting on your counter on a random weekday. I'm here to debunk that negativity.
You do need cake. Cake needs you. It's a relationship that's bound to happen, so don't fight it. You can diet when the cake is gone. Trust me, that's my life's motto.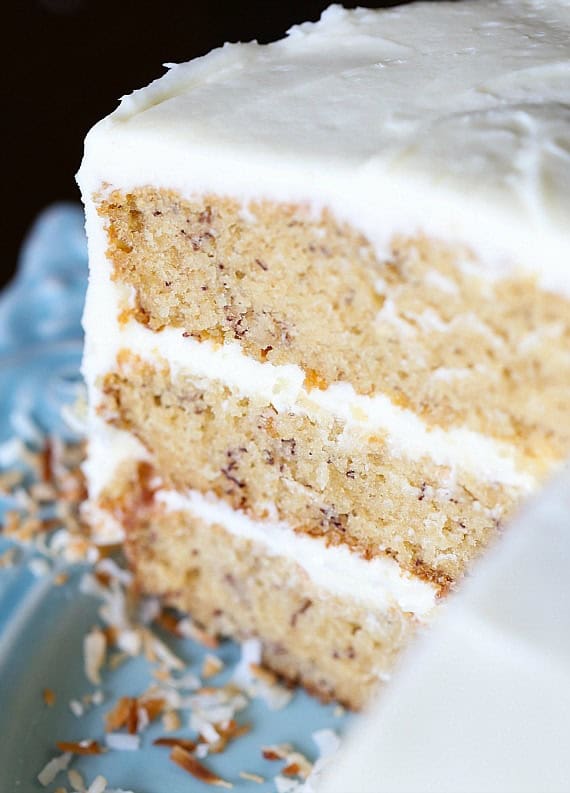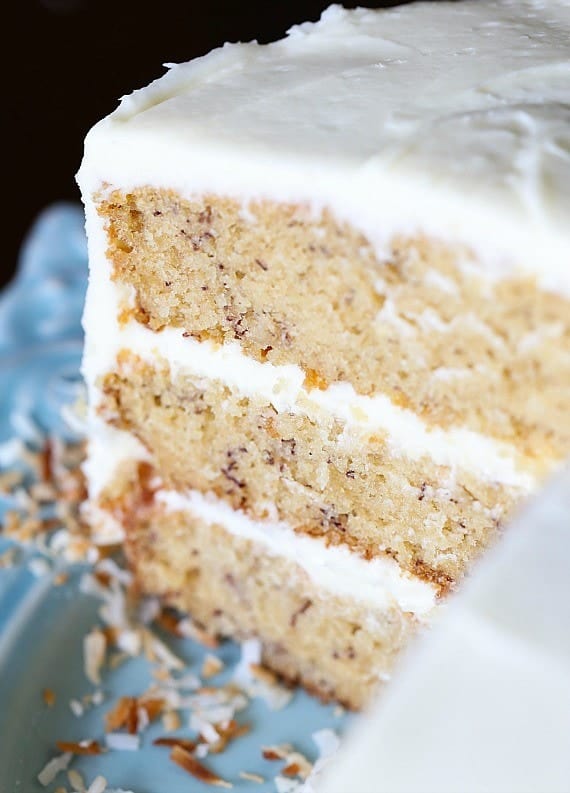 How to Ripen Bananas Quickly
You're going to start with mashed bananas. Obviously. Using very ripe bananas will produce the best results. If you have a day or so put your bananas in a brown paper bag. The ethylene will build up and circulate within the bag, speeding up the ripening process.
If you want to make this cake asap, or any banana recipe for that matter, and you don't have time to wait for bananas to ripen I've got a quick trick! Poke holes in the banana peel with a fork on all sides pretty liberally. Then microwave the banana for 30 seconds to 1 minute unless it's dark and kind of mushy. It isn't ideal, but it's definitely worth doing in a pinch!
OR you can do this same technique in the oven! Preheat your oven to 300°F. Place your (unpricked) bananas on a parchment lined baking sheet for 30 minutes, but check them at 15 minutes to see how things are going. Bake them until they start to brown and get soft!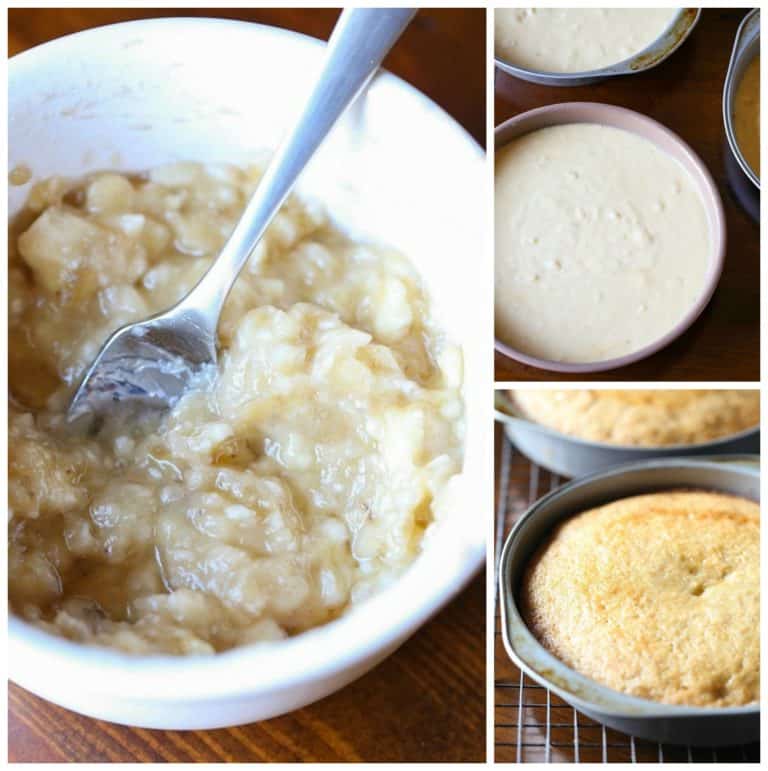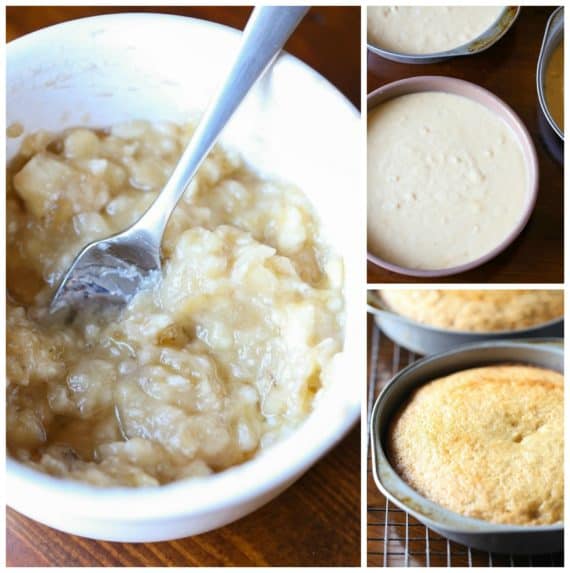 How to Bake the BEST Banana Cake
The batter for this banana cake recipe is really easy. You can bake the banana cake in 3, 8- inch round pans or 2, 9- inch round pans! I prefer 3 layers…because more frosting.
Also make sure to coat your pans with nonstick spray, and also line the bottoms of the pans with parchment paper rounds, that are cut to fit the pan. I find that for this banana cake recipe, and honestly all cake recipes, this method works best for perfect removal.
This banana cake recipe calls for a mixture of bth granulated and brown sugar. The added brown sugar adds moisture and depth of flavor, which pairs beautifully with the banana!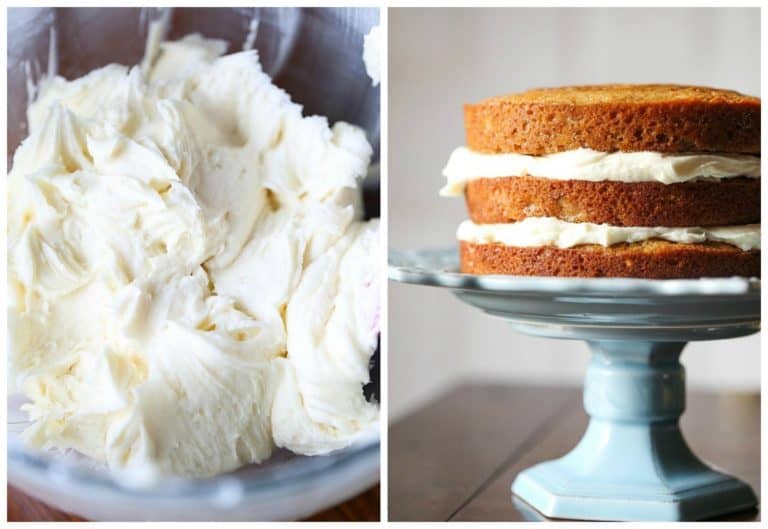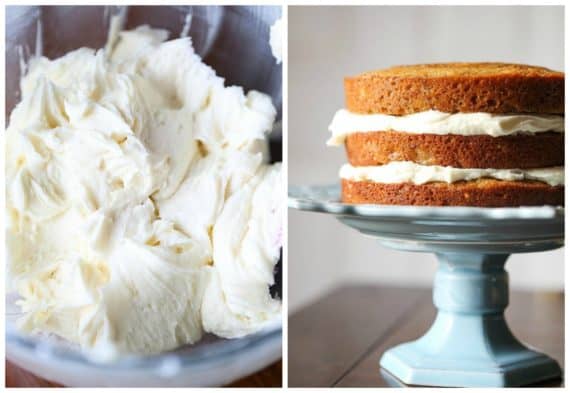 Frosting your Banana Cake
I really feel like cream cheese frosting is the right choice on this Banana Cake, BUT if you aren't a fan of cream cheese here are a few other options that would be fantastic on this cake:
My Perfect Buttercream recipe is the BEST Buttercream frosting! It's a buttery, vanilla buttercream that's delicious on anything!
My Creamy Chocolate Frosting is OH so delicious, and chocolate and banana are a match made in heaven!
Something a little different, but ridiculously delicious, is my Heritage Frosting recipe. It's a cooked flour frosting that my mom used to use on her Red Velvet Cake. It's buttery and creamy!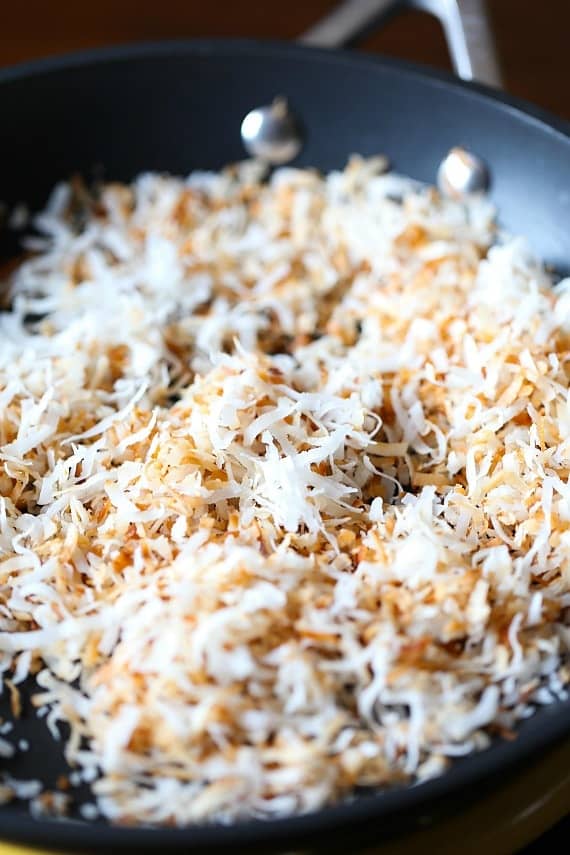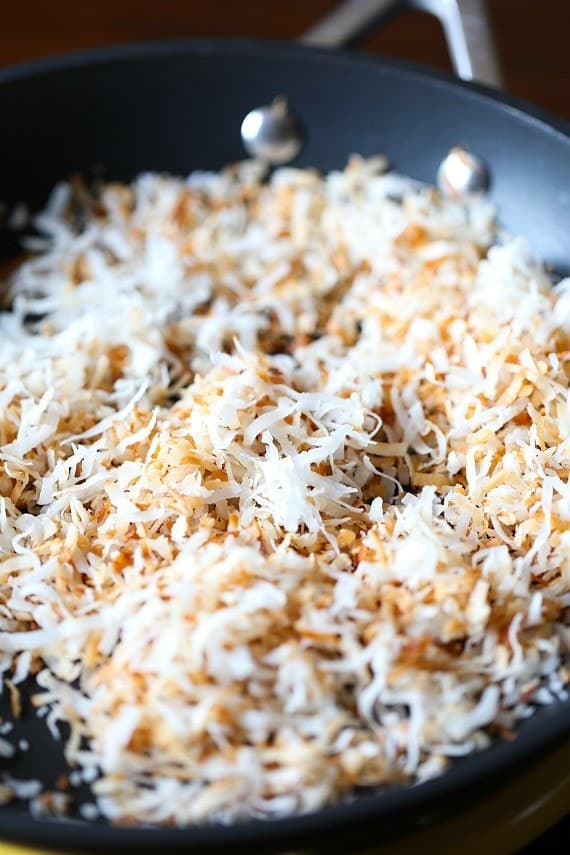 How to Toast Coconut
I LOVE the addition of toasted coconut on my Best Banana Cake recipe. You absolutely don't have to add the coconut, but it's not only a pretty garnish, but it pairs beautifully with the banana cake and cream cheese frosting. You can even buy toasted coconut flakes nowadays, but it's easy to make yourself!
In a medium skillet add your sweetened flaked coconut and heat it to medium-low. Stir the coconut flakes frequently because as it heats up it will begin to brown. This will happen quickly once it's warm, so watch it carefully and stir often so it doesn't burn. Once it's toasted, remove it from the warm pan so it doesn't continue to cook. That's it!
If you would prefer to toast your coconut in an oven, that's easy as well! Preheat your oven to 325°F. Spread the coconut flakes on a baking sheet in a thin, even layer and bake for 5-10 minutes. It won't take long!
Once your coconut is toasted, just press it on the bottom of the cake, so it looks pretty. You could put as much or as little as you would like!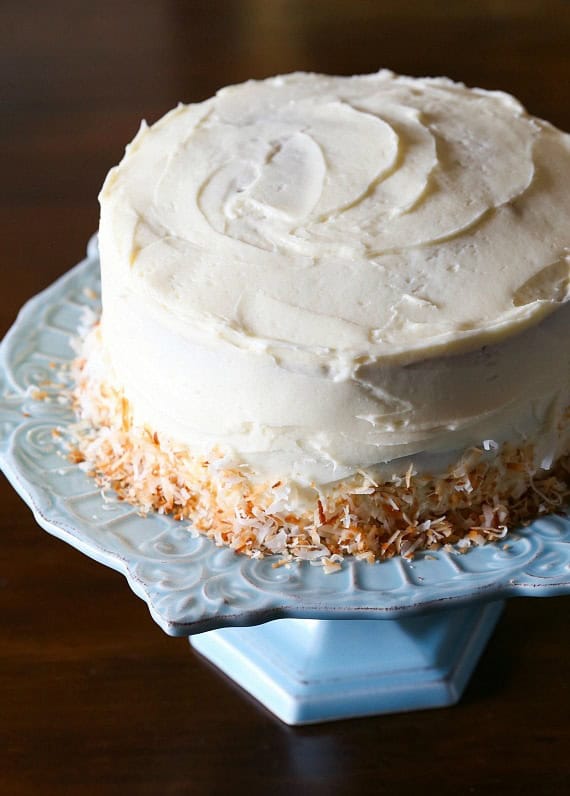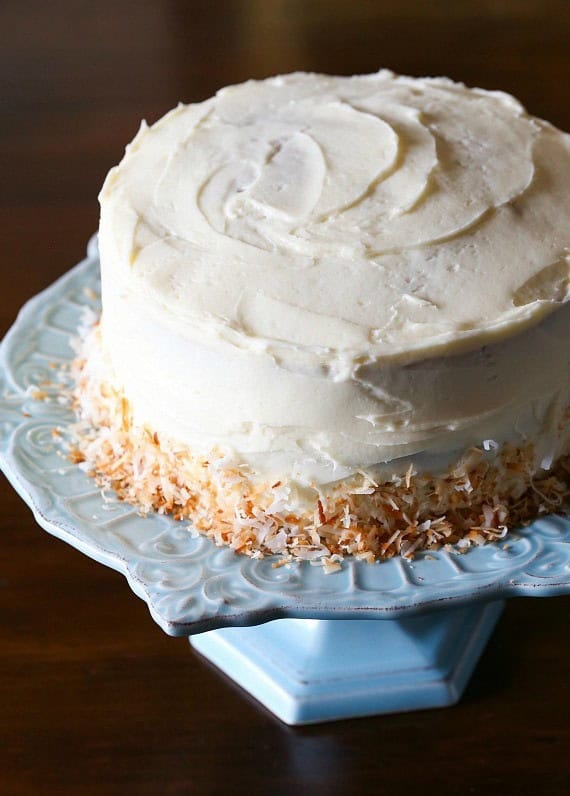 Again, if you really don't like coconut you could use toasted walnuts or pecans instead. Mini chocolate chips is another fun alternative to the coconut. Or of course you could choose to leave it plain…totally up to you!
Then really, get down to it and slice that beauty.
I seriously can't even take how perfect this cake is. It's the BEST Banana Cake because it's so moist and packed with flavor!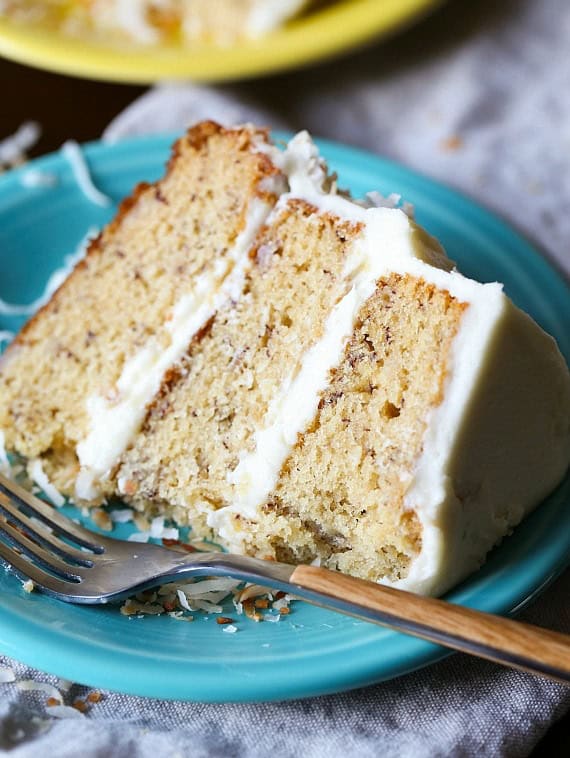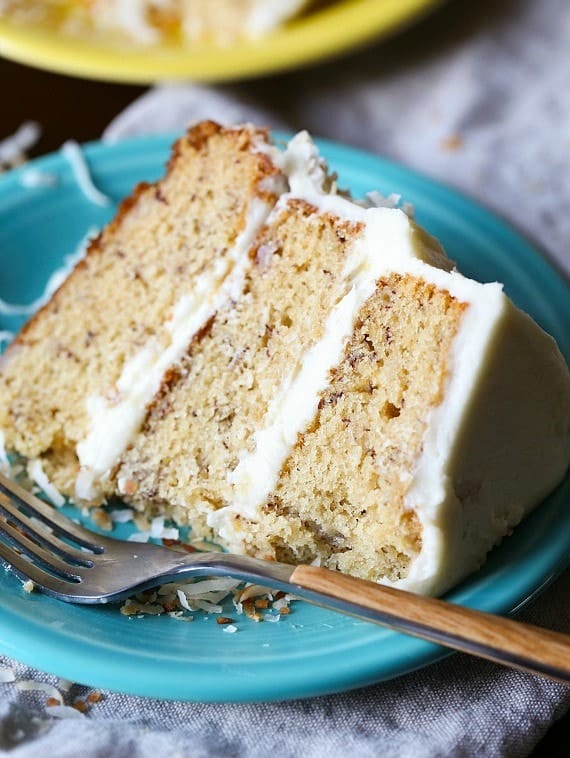 And dig in! You guys are going to love my BEST Banana Cake recipe so much!
If you like this Cake Recipe You Should DEFINITELY Try These:
Print
Best Banana Cake
Author:

Prep Time:

20 minutes

Cook Time:

35 minutes

Total Time:

55 minutes

Yield: serves

10

1

x
Category:

Cake

Method:

Baking

Cuisine:

Dessert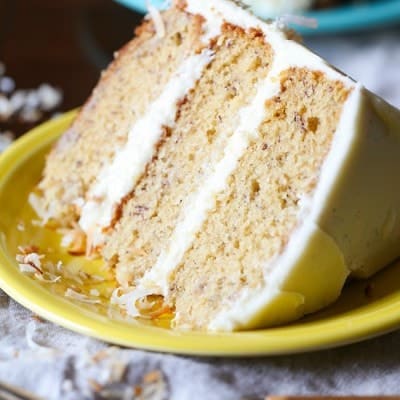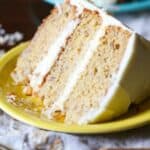 ---
Description:
The Best Banana Cake with Cream Cheese Frosting
---
Ingredients:
Cake
1 1/2 cups

milk

2 tablespoons

lemon juice

3/4 cup

butter, room temp

1 cup

light brown sugar

1 cup

granulated sugar

3

eggs

1 tablespoon

vanilla extract

1 teaspoon

kosher salt

1 1/2 teaspoons

baking soda

3 cups

flour

3

ripe medium bananas mashed, approximately 1 1/2 cups
Frosting
8 ounces

cream cheese, room temperature

1 cup

butter, room temperature

6 cups

powdered sugar

1 teaspoon

vanilla extract

1

–

2

tablespoons milk
optional – 3/4 cup sweetened flaked coconut
---
Instructions
Preheat oven to 325°F
Coat 3, 8-inch round cake pans or 2 9-inch round cake pans with nonstick spray. Cut parchment paper into rounds to fit into the bottoms of the pans. Place the parchment into each pan and coat again with nonstick spray. Set aside.
In a medium bowl combine the milk and lemon juice. Stir and set aside.
In the bowl of your stand mixer fitted with the paddle attachment beat the butter and both sugars on medium speed for 2 minutes.
Add in the eggs, vanilla, salt and baking soda and mix until smooth, scraping the sides of the bowl as necessary.
Turn the mixer to low and add in the flour and milk in alternating additions, beginning and ending with flour, scraping the sides of the bowl as necessary.
Finally mix in the bananas until just incorporated.
Divide the batter evenly among the pans and bake for 35 minutes or until a toothpick inserted in the center comes out clean, rotating the pans in the oven half-way through baking.
Allow the cakes to cool in the pans for 15-20 minutes and then remove from the pans and place on a wire rack to cool completely.
Frosting
In the bowl of your stand mixer fitted with the paddle attachment mix the butter and cream cheese together for 2 minutes until creamy. Turn mixer to low and add in the powdered sugar.
Finally add in the vanilla and 1 tablespoon of milk.
Turn the mixer up to medium and mix until creamy, scraping the sides of the bowl as necessary.
If desired add in the remaining tablespoon of milk and mix until combined.
Frost cake.
If desired place the coconut in a nonstick skillet. Heat over medium-low, stirring frequently. The coconut will begin to turn golden brown. Watch closely, as the coconut will burn quickly.
Remove the pan from the heat and allow the coconut to cool completely.
Garnish cake with the toasted coconut.
---
Notes:
Store airtight refrigerated for up to 3 days. Allow the cake to come up to room temperature before serving.
Keywords:: cake, recipe, banana cake, banana recipe, cream cheese, cream cheese frosting
Want To Save This Recipe?
Save