Sticky Toffee Pudding Cookies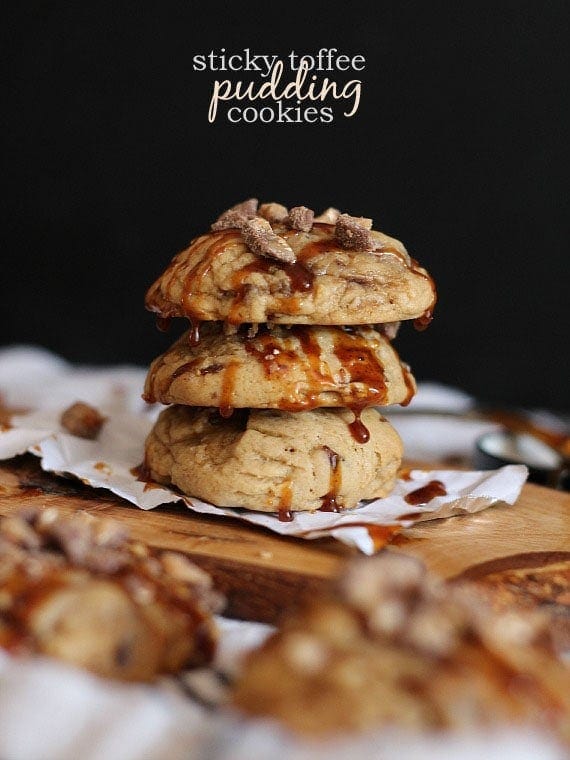 Sticky Toffee Pudding Cookies are such a fun and easy way to enjoy the classic dessert, Sticky Toffee Pudding!
These cookies are in honor of a super sweet girl. My friend, Amber. She is welcoming her first little one into the world in a few weeks, so some of her closest blog friends organized a party! Since we can't all be together on her special day, we decided to make food, in her honor!
Amber and I have a few remarkable things in common…most notably being displaced Texans. We both grew up in the Lone Star State and for one reason or another are now both living in New Jersey. I have to say, it's nice to be able to commiserate the lack of good Tex-Mex with someone who truly gets it!
Over the past year Amber and I have transitioned from online friends to real-life friends, which is kinda great. Plus, she makes some killer salsa, and you always need a friend who can show up with salsa. Friendship 101, people.
Another thing that we have in common is England. How you ask? Well, her husband is famously from the UK…and so is my dad. Which makes me half British. So there's that.
So I decided that for her special day, while the rest of the girls were celebrating Amber's Texas roots, I'd involve her husband, because this little baby that's on it's way is gonna be half a Brit! What I'm saying is, we'll basically be related.
Makes total sense.
On that note, let's talk Sticky Toffee Pudding Cookies.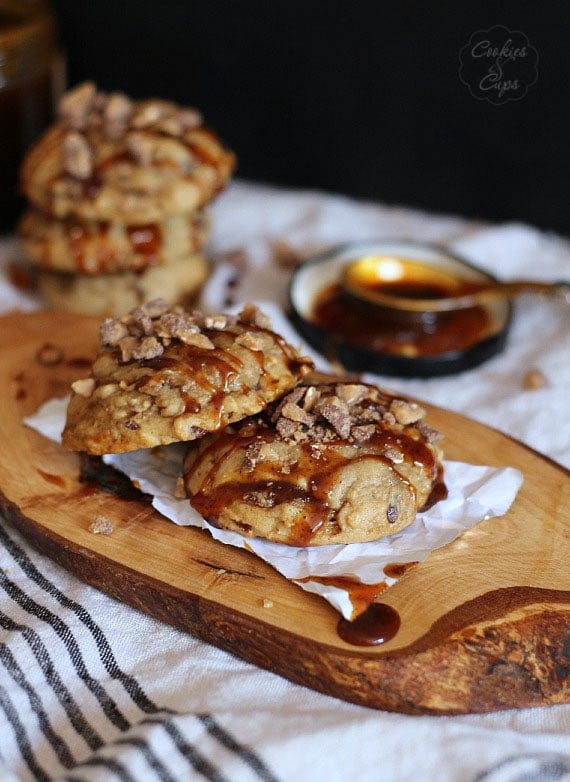 Sticky Toffee Pudding is a famous British dessert…happens to be one of my dad's favorites too! So I thought we would try and mix up all the flavors of that into a cookie.
Well, it totally worked.
First up you have to get some pitted dates. I'm going to admit, I am scared of dates. They look gross, for real.Like cockroaches or something.
Anyhow, I moved past my fear and chopped them into bits. Because they are basically a defining ingredient in Sticky Toffee Pudding. Who knew?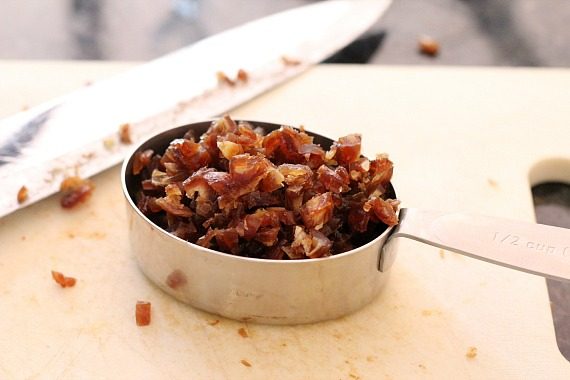 Anyhow, I whipped up a simple cookie dough using dark brown sugar (it's a must here) and mixed in the dates…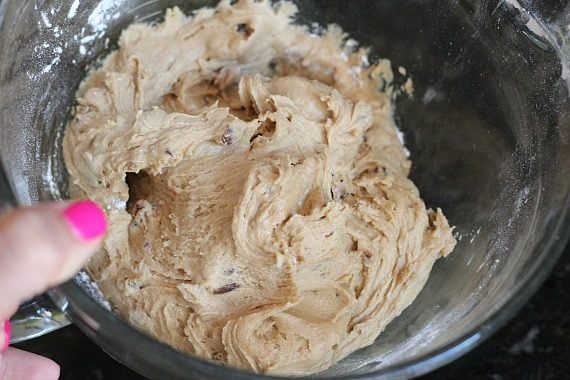 I let the dough chill overnight, although you could probably get away with a few hours. I just wanted a big fat cookie, so chilling helps with that.
I scooped generous portions onto a lined baking sheet…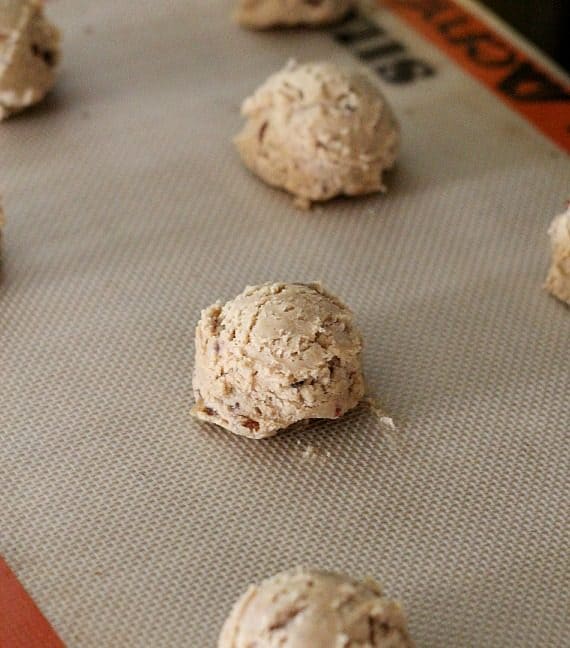 And baked them up for about 10 minutes…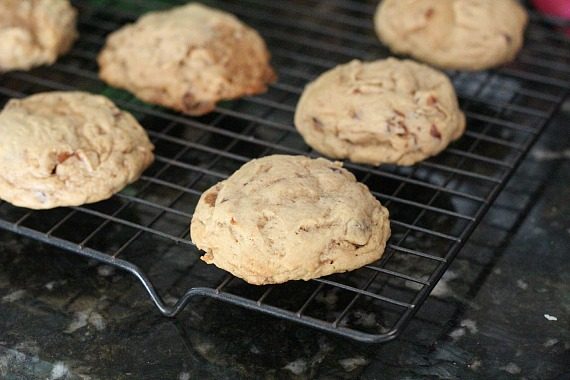 Then I drizzled them to death with caramel sauce. And then dressed them with toffee bits.
Hello…Sticky TOFFEE cookies.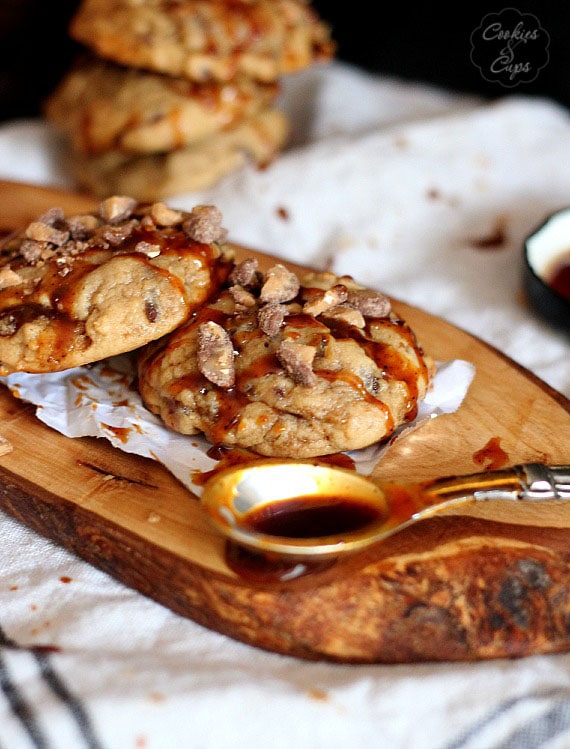 Really rich and amazing and buttery and sweet and chewy and crunchy all at the same time.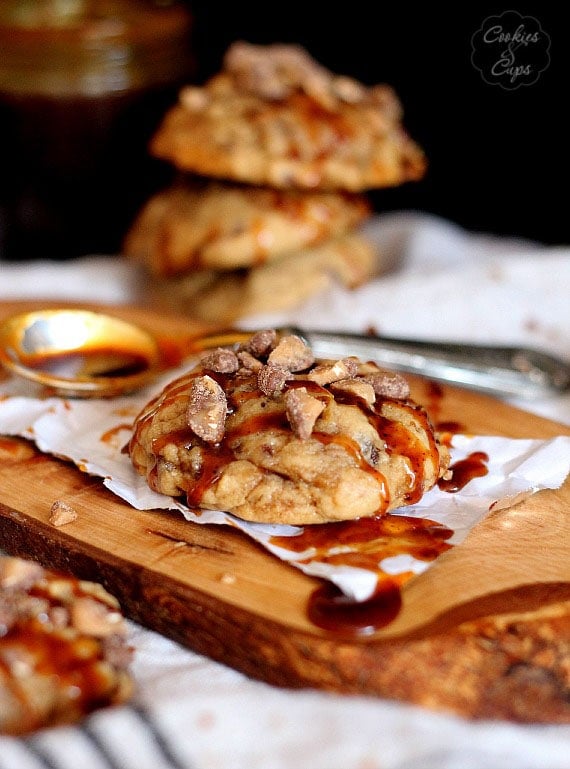 Print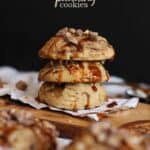 Sticky Toffee Pudding Cookies
---
Description
makes 20 large cookies
---
Ingredients
2 cup

s flour

1 tsp

baking powder

1 tsp

salt

1/8 tsp

nutmeg

1/2 cup

butter, room temperature

1 cup

dark brown sugar

2

eggs

1 tsp

vanilla

1/2 cup

finely chopped pitted dates

1/2 cup

caramel ice cream topping or dulce de leche

1/2

–

3/4

cup toffee bits
---
Instructions
Whisk flour, baking powder, salt and nutmeg together in a bowl, set aside.
In bowl beat together butter and brown sugar until light and fluffy, 1-2 minutes.
Add in eggs and vanilla and beat until smooth.
Mix in dates until evenly incorporated.
With mixer on low, add in dry ingredients until combined.
Chill dough 2 hours or overnight.
When ready to bake, preheat oven to 350°
Line a baking sheet with parchment paper or a silicone liner.
Scoop out cookie dough in 2-3 tablespoon portions, using a cookie scoop or rounded spoon.
Bake 10 minutes until edges start to golden.
Transfer to wire rack to cool completely.
Drizzle with caramel sauce or dulce de leche and sprinkle with toffee bits