Like I told you guys last week, I am knee deep in book photography and recipe testing.
Actually waist deep. Or neck deep. Whatever. It's deep…
So instead of fooding it today for you. I am going rogue. Let's talk.
1. That picture of cupcakes up there are for my book. Can't share the recipe yet, but makes you want to buy 14 copies, right?
2. Loving THIS Mascara right now. Like loving. It. It's thick thick and creamy creamy and I adore it.
3. I haven't gotten out of sweats the past few weeks and Splendid makes my most favorite cute comfies ever to exist in this life. BUT I saw these pants on the site…I need your input. YES TOTALLY? or GURLLLLLL no.
4. Also, can we all PLEASE talk about The Bachelor? OMG. Y'all. Luckily my friend is recapping the highlights. I can't take how much I love this ridiculous show. It's sick. Also was Ashley S. FOR REAL? I just can't believe she is actually that cray. Discuss please.
5. And while we're talking about TV for a second we just started watching Peaky Blinders on Netflix…do any of y'all watch? I kinda love it so far, and am pushing to get through season one, because apparently my boyfriend, Tom Hardy, joins the cast in Season 2. So…
6. I might just have bought these annoying tennys. In purple. Dumb.
7. Is it bad I am obsessed with this gloss? Like super obsessed.
8. I had a bit of a Nordstrom spend-splurge this week too. The Nordie App will be the death of my bank account! THIS site does NOT help my problem. She is the cutest thing ever and I have bought so many things based on her recommendations…like THIS! and THESE!
9. You might not know this about me, but I am a salad freak… not like a regular salad, but generally one completely unhealthy with bacon and meat and candied nuts and allthethings. Anyhow, check out THIS SANDWICH…which turns my favorite all-time classic salad (Ranch please) into a sammie. Do it. With extra bacon.
9. This is totally random, but have you guys noticed the lack of normal people in the word? Kristan and I were talking about this the other day…I mean, why is it so hard to come by a NORMAL PERSON? People are sneaky-like and act all regular and cool..and then you actually get to know them and you realize they are just weirdos in a cute clothes… I have just encountered my fair share of crazies lately and it's overwhelming. I mean I'm not talking about YOU of course…
Anyway, it led me to think that if I think everyone else is weird..maybe I'M the weird one? That couldn't be…right? RIGHT??
11. It's also ridiculously cold here right now. We were supposed to get a massive blizzard earlier in the week which didn't really amount to much (thank goodness), but now it's just cold. Like REALLY cold. This morning it was -4° outside, which makes me want to hibernate even more than usual! I think I'll make a giant pot of stew and forget about it.
12. As for book stuff my dad and stepmom left today…they were here for about 3 weeks, which you might think is crazy, but we love having them here. AND my stepmom was a SAVIOR for me in the kitchen. We worked pretty consistently, only taking a few days off and got 107 recipes tested and photographed!! I can NOT wait to share some of the new recipes with you guys. I am including some dinner stuff in the book and I have to say that there are some FAB weeknight meals that I know you will love.
Speaking of the massive amount of baking and cooking I did these past few weeks..omg all I'm craving is NORMAL food. Like a bowl of Cheerios or something! We used about 5 dozen eggs…36 pounds of butter…endless amounts of brown sugar… you guys. It was a frenzy in the best way possible. Also I need a juice cleanse like stat.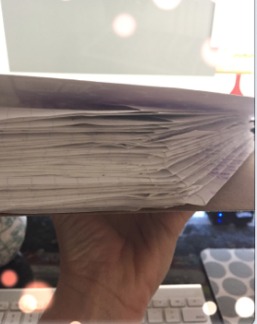 That picture right therr is my super hi-tech way of writing all my recipes. It's a 99 cent spiral from Target. I dogeared the pages after we remade them and photographed them. Notice how ALL the pages are folded over. Hallelujah praise Jesus. Now to just type them out. UGH.
Have a fantastic weekend!
xo