White Chocolate Macadamia Nut Cake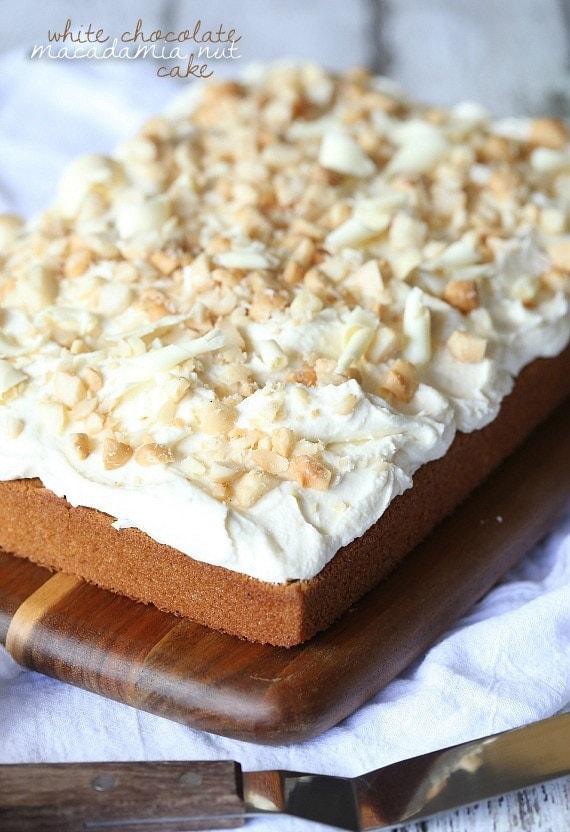 This is a White Chocolate Macadamia Nut Cake. The cake itself is a brown sugar buttermilk cake, topped with rich white chocolate frosting and salty chopped macadamia nuts. Salty, sweet and PRETTY!
Sometimes you just need a cake in your life.
Right?
My husband is a huge white chocolate macadamia nut guy.
I never used to like nuts in my desserts…and I guess still am not COMPLETELY on board…but I have broadened my horizons in my old age.
And old people always like nuts in their desserts. It's a fact.
So that brings me to now. Cake.
With nuts.
But don't be scared…macadamia nuts are like the most girlie nuts out there. Even more than pistachios.
They're like nuts for lightweights…not to be confused with geriatric-walnutty nuts.
Macadamia nuts are fresh and clean and pretty. They're the most popular nut at the nut high school.
Convinced?
Ok, even if you aren't, just leave off the dang nuts. It's fine. But you'll regret it, because the saltiness of the nuts on top the white chocolate frosting is major.
ANNNND the cake itself is a brown sugar buttermilk cake that totally rules.
Try it. White Chocolate Macadamia Nut Cake…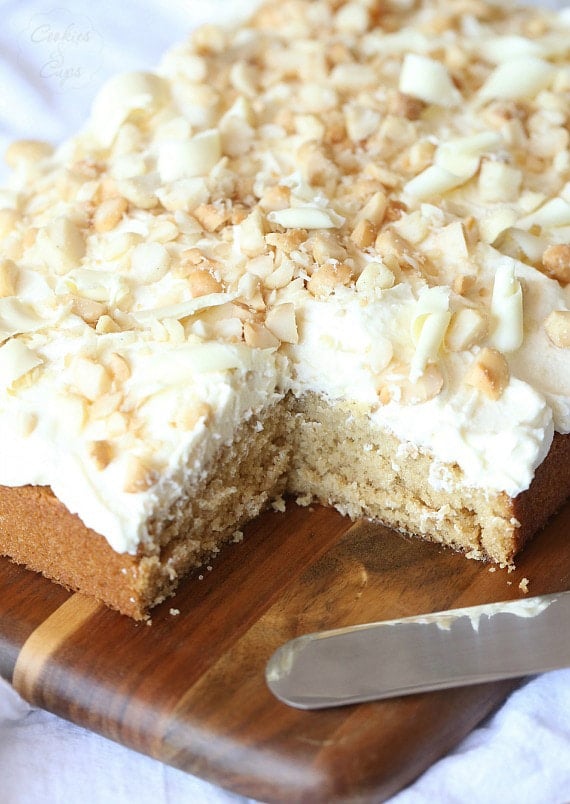 Like I said, the cake itself is a brown sugar buttermilk cake. It;s super good.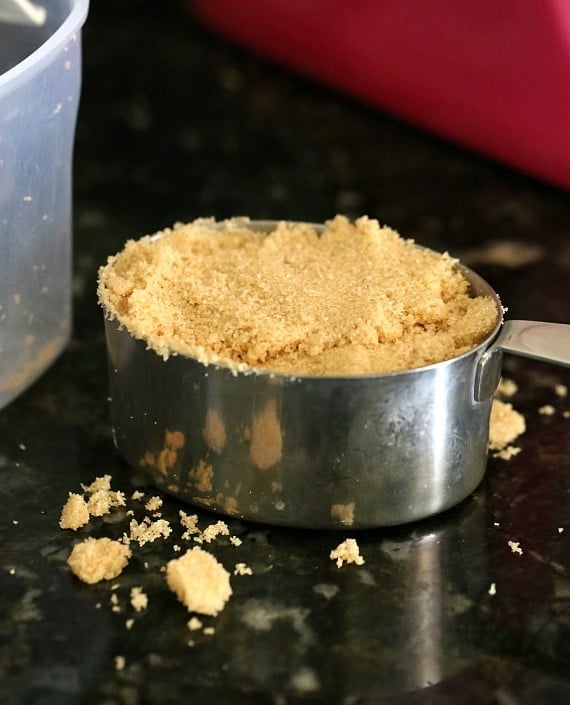 I actually buy dry buttermilk and keep it in the fridge. It's handy because I never have fresh buttermilk on hand.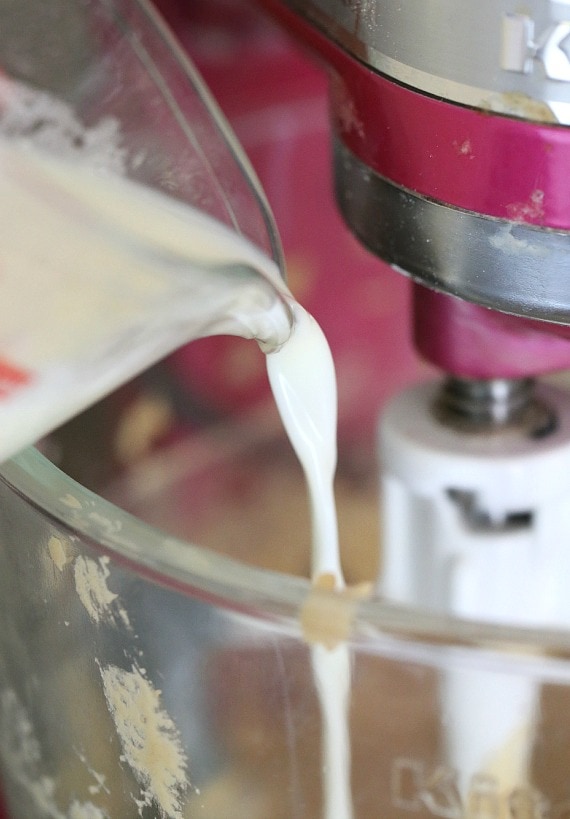 Pour your batter into a greased 9×13…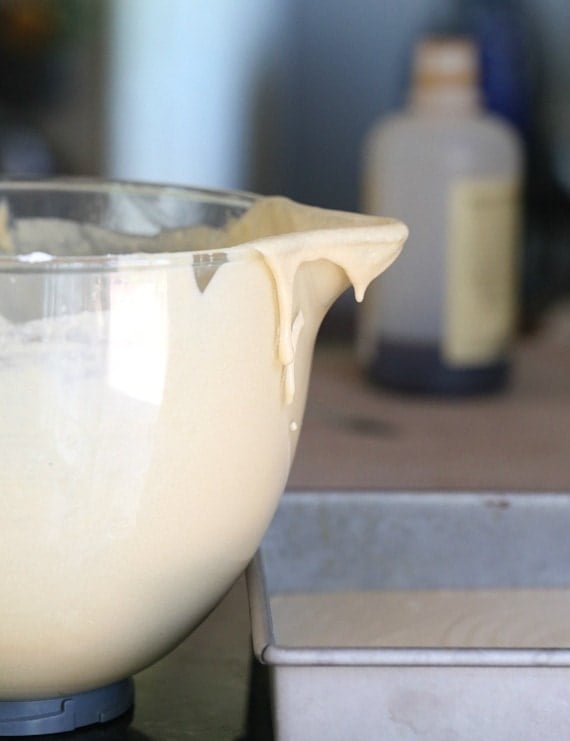 When your cake is done it will look like this…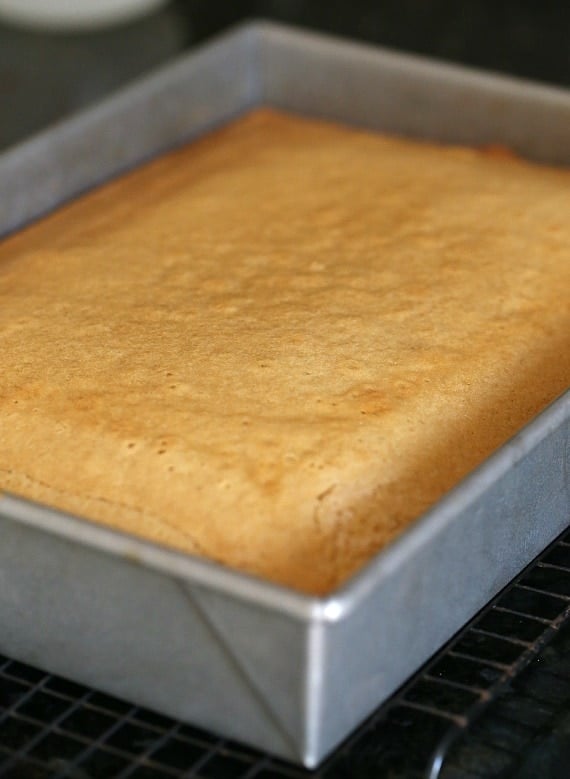 Meanwhile make your frosting.
Powdered sugar, of course…oh and butter. Duh.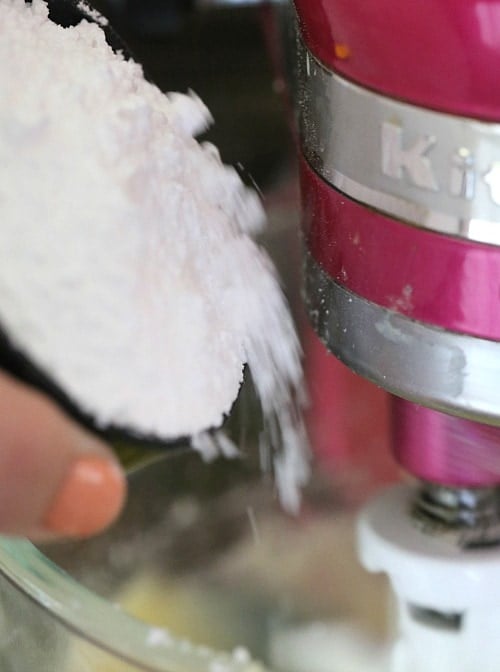 Melted white chocolate…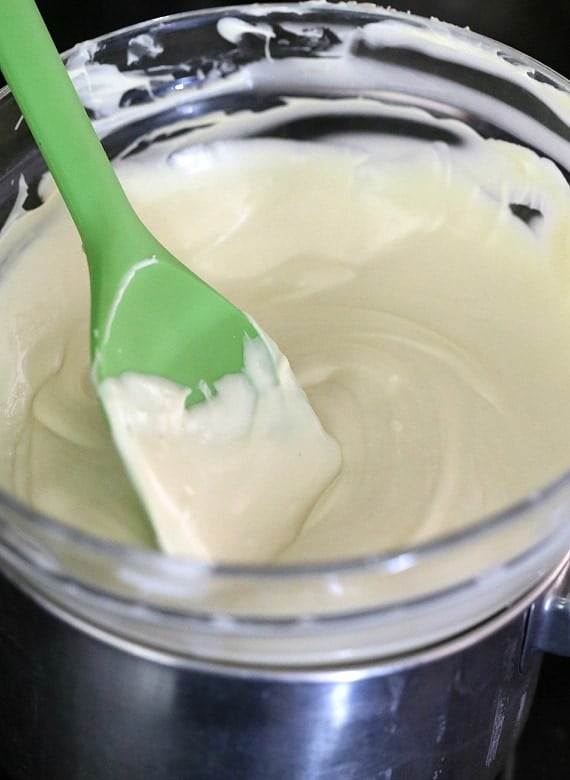 Plop that frosting all up on there…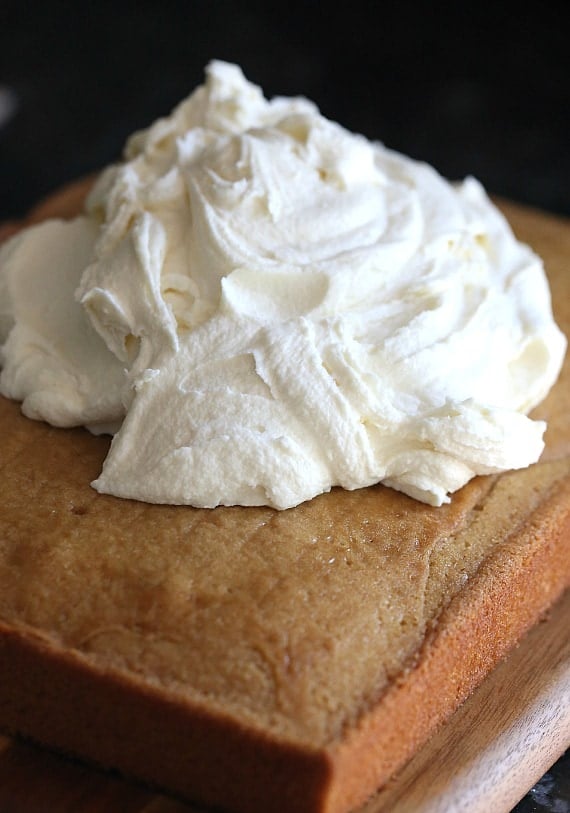 And just zhush it around…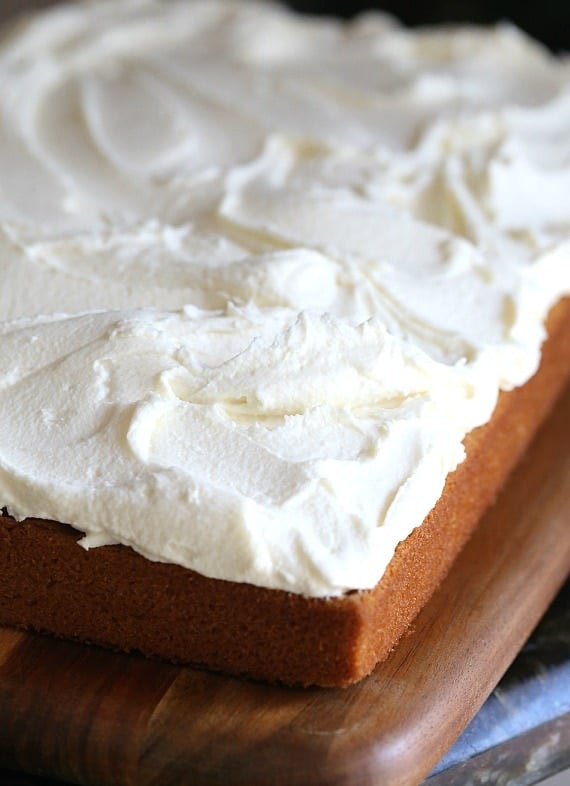 Then grab some super salty macadamia nuts. And chop 'em up.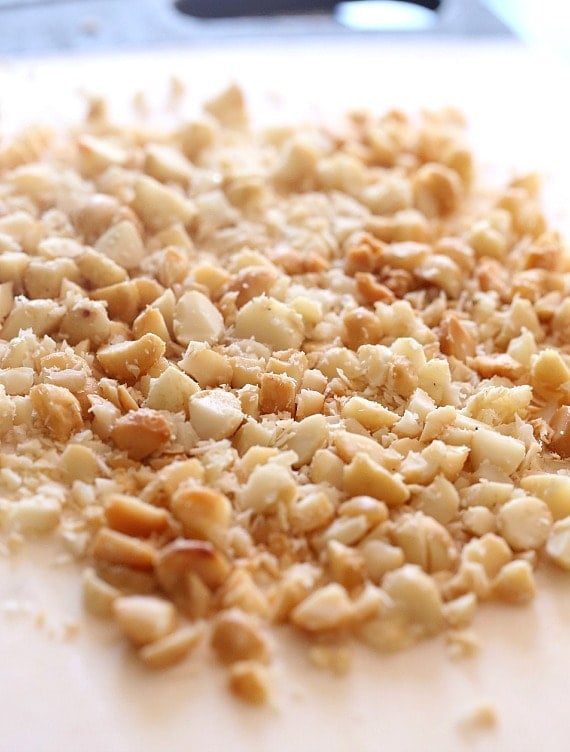 Add those all over the top…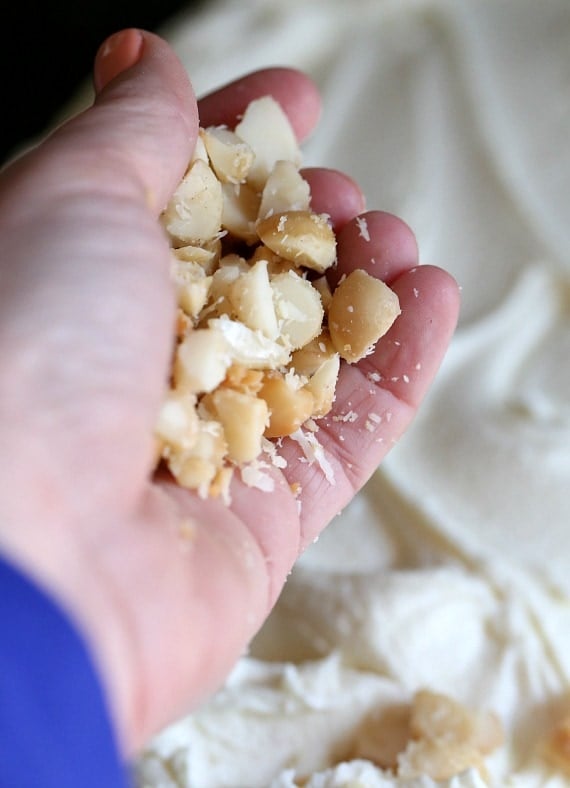 I even got fancy and made a few white chocolate curls…and then quit because I was cussing too much. Those things are annoying.
Instead of curls sprinkle some white chocolate chips on top. Less cussing involved.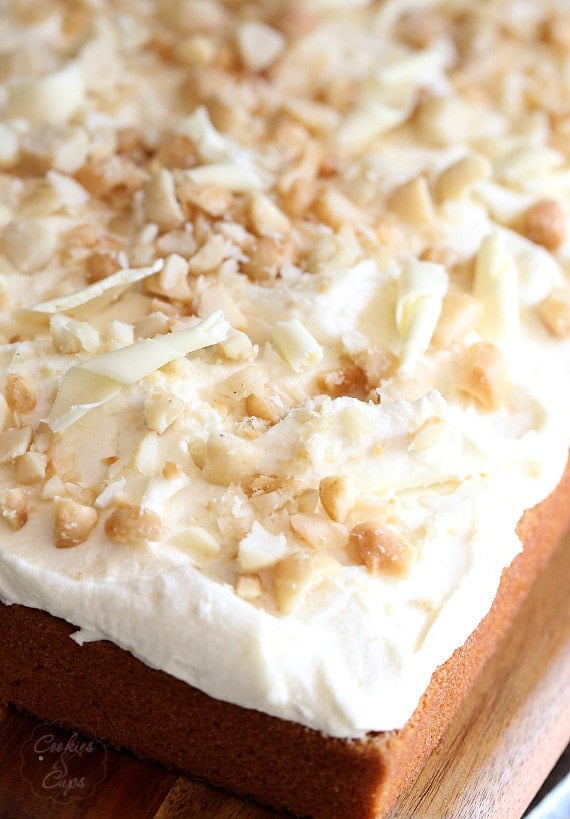 Then immediately eat.
I mean, you don't HAVE to eat immediately, but you probably want to. And I won't deny you that…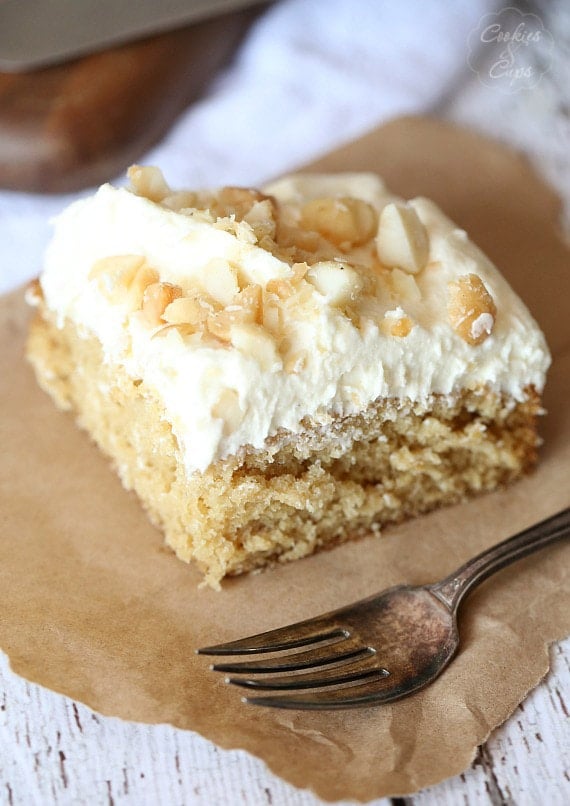 So yep! White Chocolate Macadamia Nut Cake. It's a good idea!
Print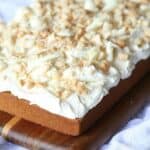 White Chocolate Macadamia Nut Cake
---
---
Ingredients
Cake
1/2 cup

butter, room temperature

2 cup

s light brown sugar

2

eggs

2 tsp

vanilla

2 cup

s buttermilk

2 tsp

baking soda

1 tsp

salt

3 cup

s cake flour
Frosting
1 cup

butter, room temperature

2 1/2 cup

s powdered sugar

6 oz

white chocolate, melted and slightly cooled

3

–

4

Tbsp heavy cream
Garnish
1 cup

salted macadamia nuts, chopped
white chocolate curls or chips (optional)
---
Instructions
Preheat oven to 350°
Spray a 9×13 baking pan generously with baking spray. Set aside.
In bowl of stand mixer beat butter and sugar for 2 minutes until combined. Add in eggs and vanilla and continue beating until smooth.
Slowly pour in your buttermilk and continue mixing. Mixture might look "curdled" or have a strange texture…don't worry!
Mix in your baking soda and salt and finally your flour. Beat on medium for 1-2 minutes until batter is smooth.
Pour into prepared pan and bake for 35 minutes or until a toothpick comes out clean.
Allow to cool completely before frosting.
Frosting
Beat butter and powdered sugar together. Slowly mix in your melted and slightly cooled white chocolate. Turn mixer to medium high and beat , adding in milk one tablespoon at a time until desired consistency is reached. Beat frosting for an additional 2 minutes.
Assembly
You can leave the cake in the pan or remove from pan. Frost top of cake. If you removed from pan, you can frost the entire cake (tops and sides) if desired. Sprinkle with chopped macadamia nuts and white chocolate chips or curls.
---
Notes
cake recipe adapted from King Arrthur Flour
Frosting recipe adapted from food.com
Helpful Tip… Out of buttermilk?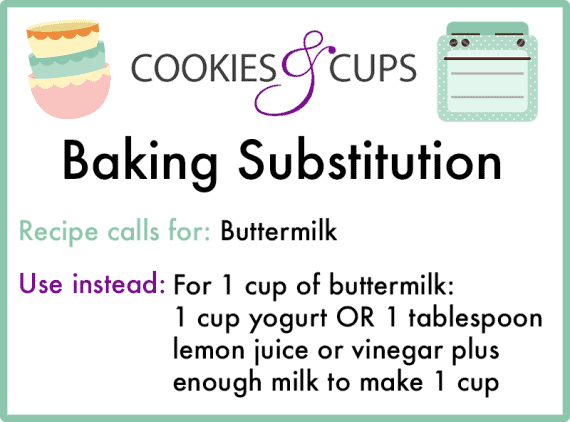 Save