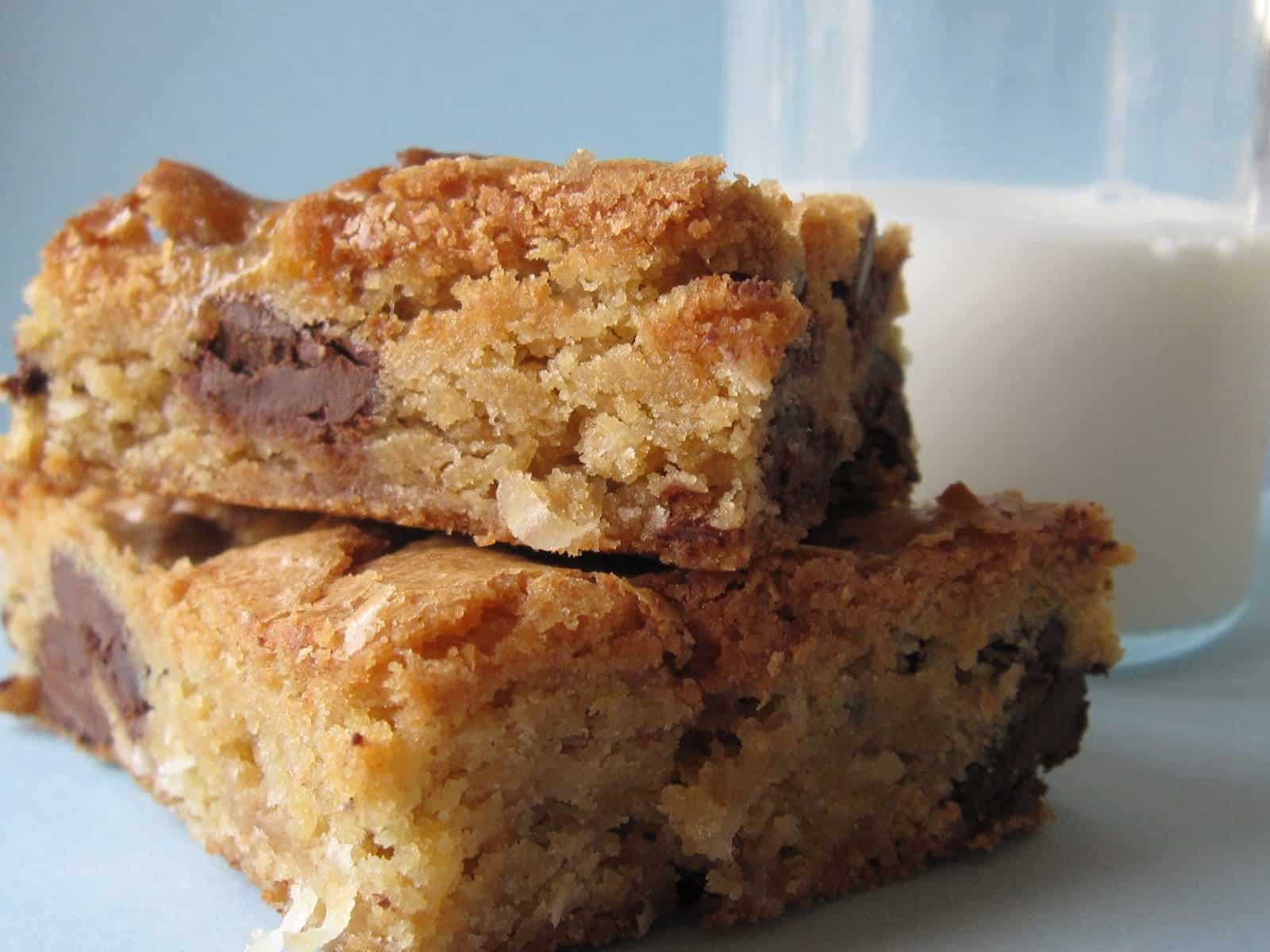 I have an issue that I would like to address…actually my 5 1/2 year old SON has an issue that HE would like to address…"Can only kids with brown hair eat Brownies?"
I turned and looked at him, not quite understanding what he meant. "Why would you say that?", I responded. "Well," he continued, "I have blonde hair and…", he paused and I understood.
The blondie is a little overlooked in the world of desserts, don't you think? I've never understood why they are not as popular as their chocolate cousin. In my opinion they are superior, but shhhhh…I am not playing favorites 😉
So in the name of equality I decided to make Blondies for my blondie!
In my experience the IDEA of the blondie was always better than the finished product…maybe that's why people don't make them as much…UNTIL the recipe I am about to share with you stepped into my life. In my opinion it is THE BEST. Please don't be alarmed by the amount of butter in these, while, yes, it seems a bit indulgent this receipe makes a lot of bars. Trust me on this.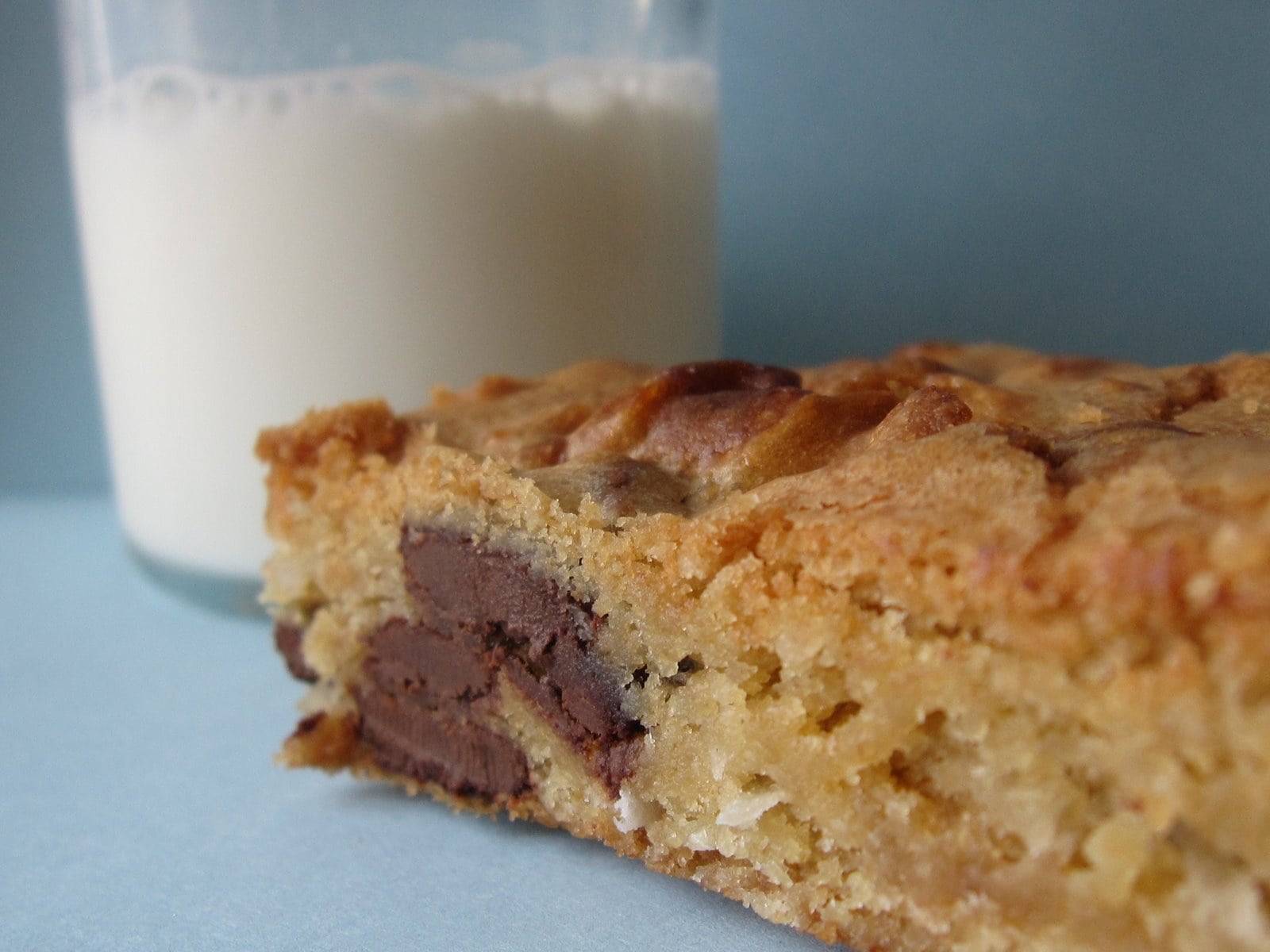 recipe adapted from

GOOP

2 cups (4 sticks) butter at room temperature
1 1/2 cups granulated sugar
1 1/2 cups dark brown sugar, firmly packed
4 large eggs
1 tablespoon + 1 teaspoon pure vanilla extract
4 1/2 cups AP flour
1 teaspoon sea salt – or kosher, but I prefer sea
1 teaspoon baking soda
1 cup shredded sweetened coconut
2 cups chocolate chunks
1 1/2 cups mini marshmallows

Preheat to 350

Mix dry ingredients (flour, salt and baking soda) in a bowl. Set aside.
Cream butter and sugars in mixer at med-high speed until fluffy. Add the eggs one at a time, mixing well. Add vanilla. Slowly add the flour mix to the butter mixing on low until combined.
Using a wooden spoon fold in the chocolate chunks, marshmallows and coconut.
Spread the batter evenly into a nonstick, or parchment lined standard cookie sheet with 1″ rim (jelly roll pan).
Bake for approx. 25 min. Center will be set. Do not over bake!
Let cool in pan and cut into squares.
Makes 60 bars.
You can adapt these in many ways, maybe add nuts, or white chocolate chips or even peanut butter chips. Don't be afraid of the coconut ~ my kids don't like coconut and didn't even notice it ~ it just adds a nice element to the bar. Also, the marshmallows worried me a bit the first time I made them, but they just melt into the bar and adding yummy chewy bits on top.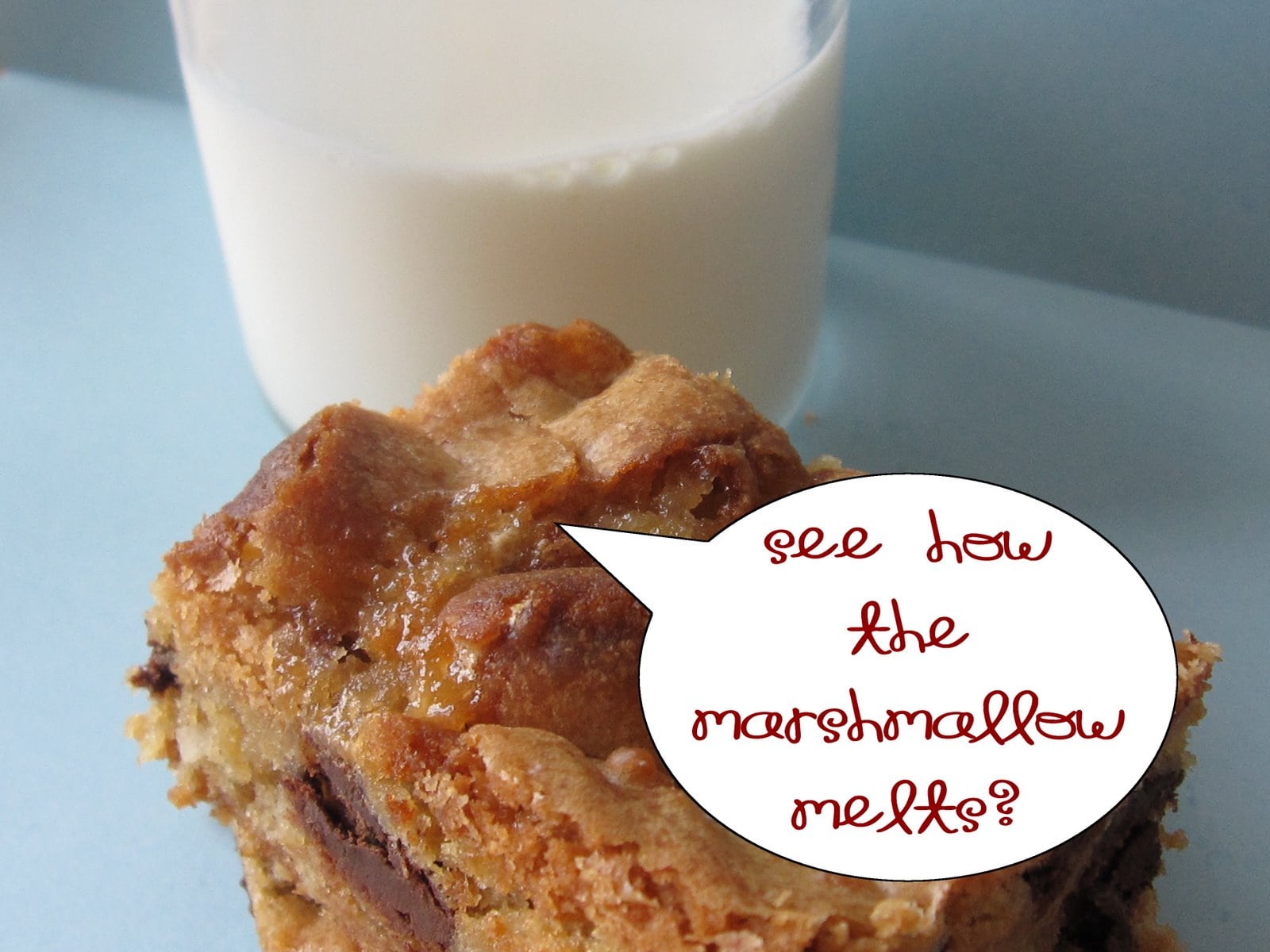 Enjoy and hope everyone had a great holiday weekend!