The Perfect Blondie Recipe is the only blondies recipe you'll ever need. Straightforward, no tricks, just a sweet, chewy blondie with the perfect addition of coarse sea salt. This will be in your recipe box for years to come!
I post a lot of recipes here. But my favorite, and most requested recipes are always the classics. There's just something about delicious fudgy brownies, snickerdoodle cookies, or even a perfect rice krispie treat that is comforting. I mean, they are classic for a reason!
The Perfect Blondie Recipe Is A MUST!
So while I definitely like to play around with inventive, and creative recipes, I love to have recipes that are always in style. And I KNOW you need a perfect blondie recipe. Everyone does. It's a life skill.
And I promise you, this blondie recipe is complete and utter perfection. The Perfect Blondie recipe ever. Everrrr.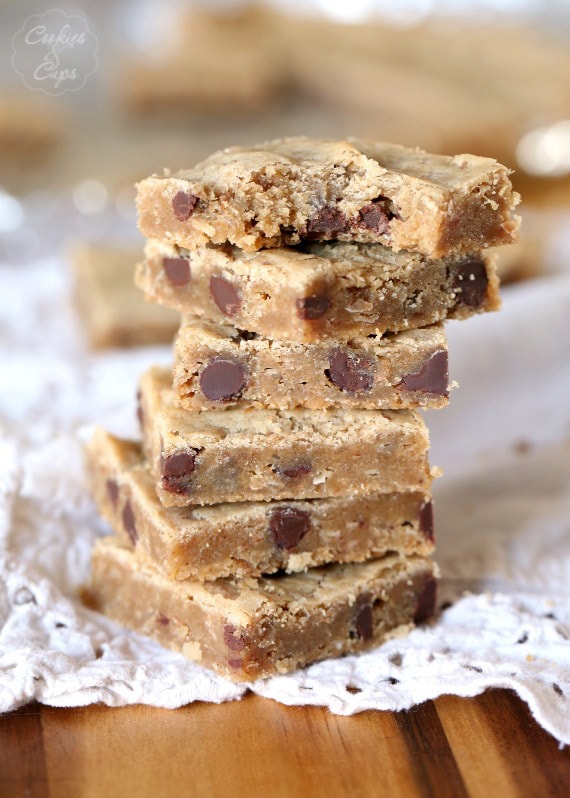 Tips to making the best blondies ever!
I will start by saying that I have made these many times…and have found that I prefer them with browned butter. You don't HAVE to brown your butter, you can absolutely use melted butter, but you're here today to make the best. And the best means browning the butter. Don't be a quitter now. you can do it.
Another secret tip I use in my blondies recipe is using coarse sea salt. If you haven't ever tried a coarse sea salt in a blondie, or even a chocolate chip cookie, stop what you are doing now and try it. The little salty nuggets make it all worth it!
Next up I add toasted coconut. Please people do it. Even if you don't like it. I SWAYRE!
You won't taste "coconut" and the coconut texture is completely lost, thanks to the toasting and the baking. I really pinky-promise mean it. BUT if you REALLY don't think you could do the coconut, go ahead and try it without. They'll still be good…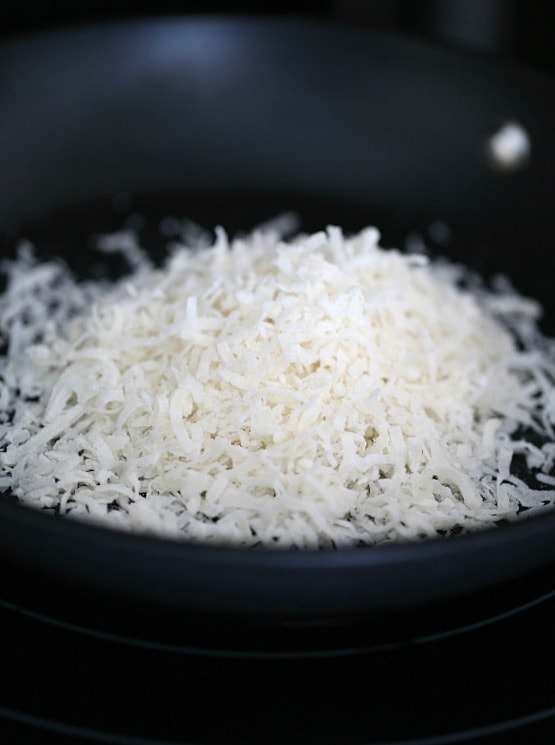 How to Toast Coconut
Just add your sweetened flaked coconut to your skillet. Then heat your skillet to medium-low heat. Stir the coconut frequently. As it heats up it will begin to brown. This will happen quickly once it's warm, so watch it carefully and stir often so it doesn't burn.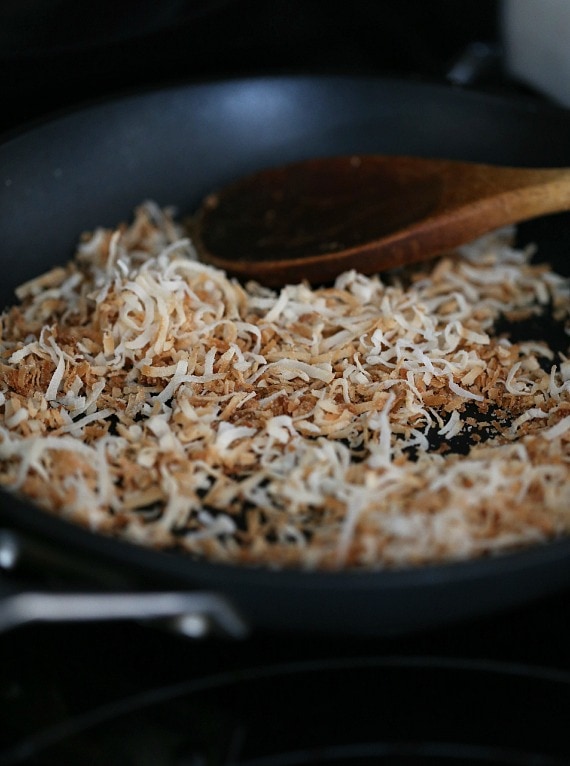 Remove the coconut from the skillet, as it will continue browning if it sits in the hot skillet.
Once that step is done just mix your browned butter and brown sugar together…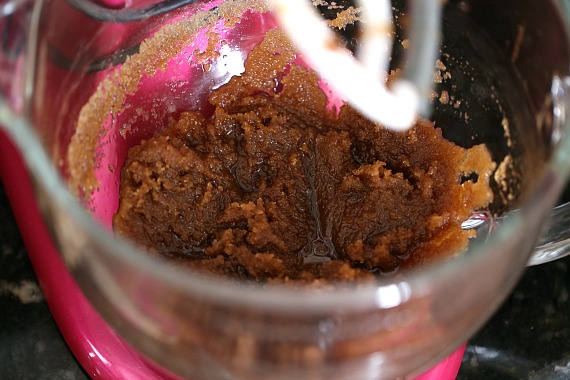 I like to use my stand mixer for ease, but you can absolutely do this without a mixer. Just a big bowl and a wooden spoon will be fine!
Once the butter and sugar is mixed together add in the remaining ingredients, and finally stir in your toasted coconut and some chocolate chips. If you are a purist, you can leave the chocolate chips out, totally up to you! You could even add in nuts if you would like!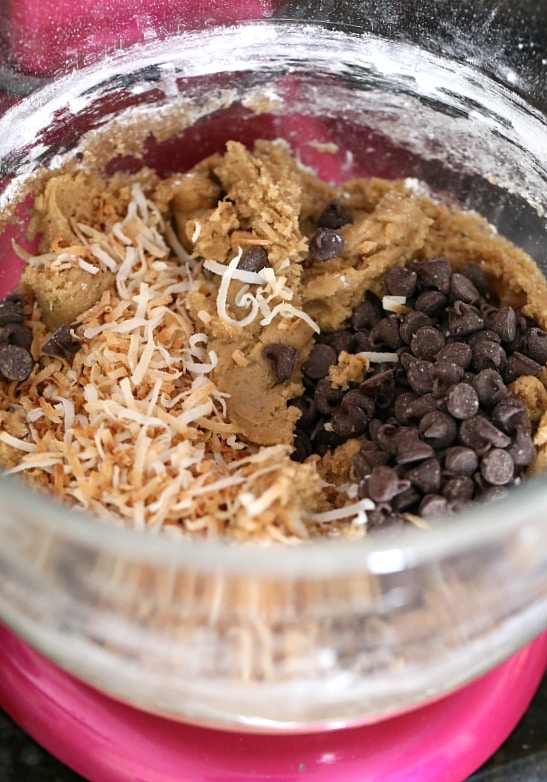 Once you have your batter made, press that all into a lined and sprayed baking pan.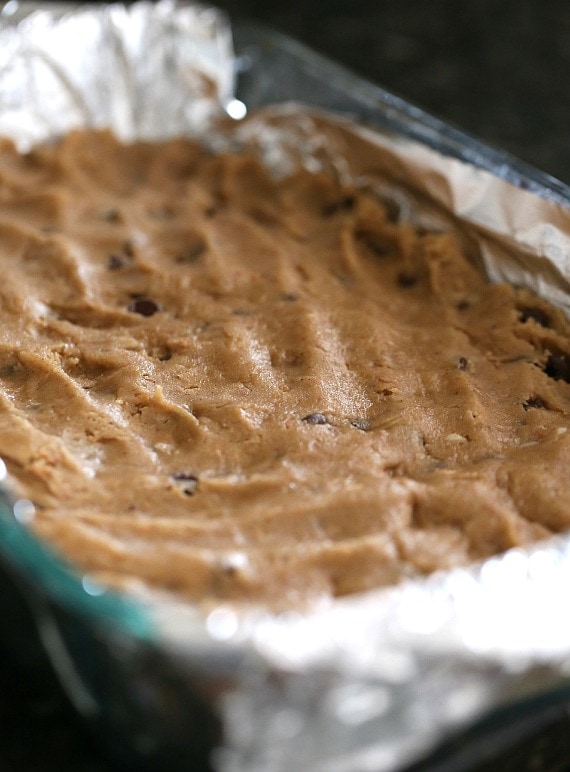 I baked these in a 9×13, which gave me thinner blondies. If you prefer a thicker blondie, go ahead an bake these in a 9×9 pan! You might just need to bake them a few minutes longer.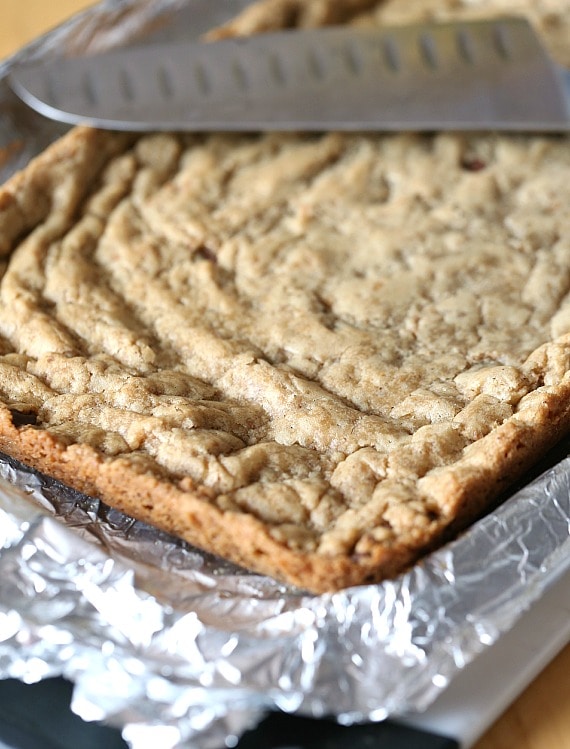 Once they are cooled, they will look like that. Crinkly and perfect.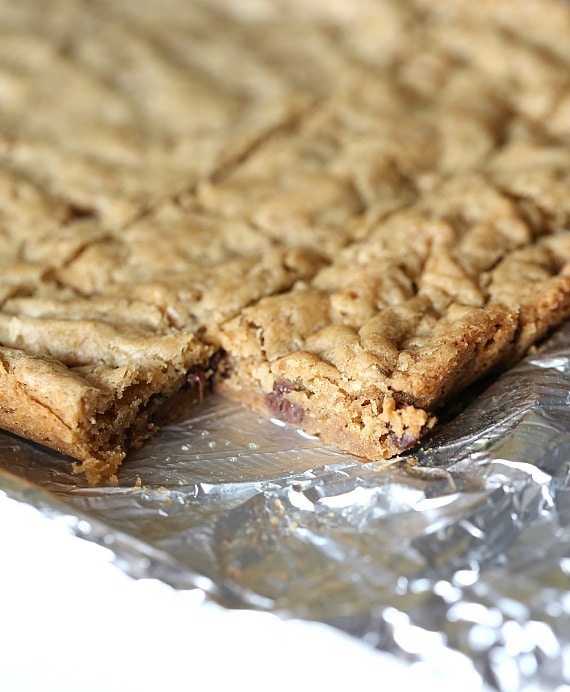 Go ahead and cut the blondies into squares.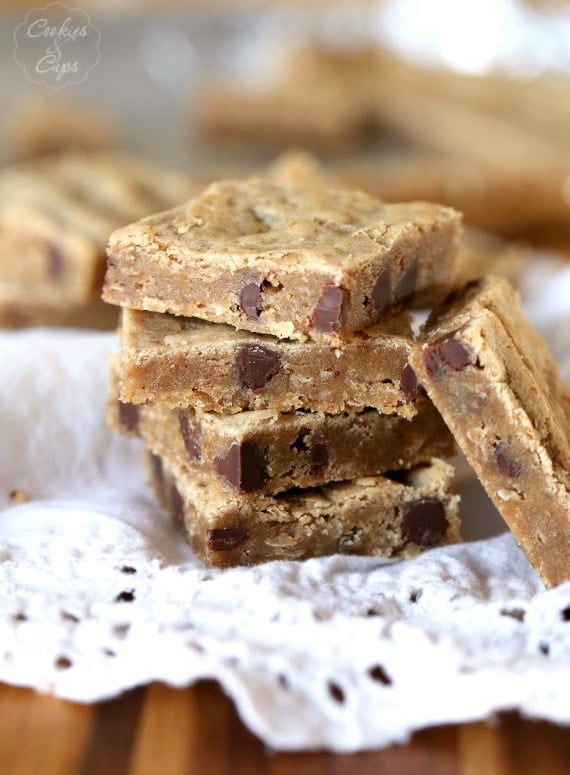 This is really the best blondies recipe you will ever try. They are chewy, buttery, and full of flavor. They're definitely the PERFECT BLONDIE!
Print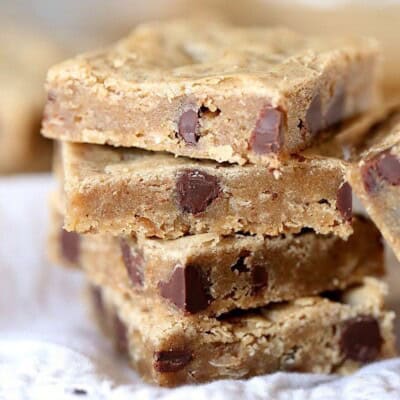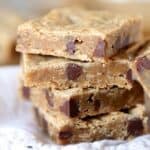 The Perfect Blondie
Prep Time:

20 minutes

Cook Time:

20 minutes

Total Time:

40 minutes

Yield:

20

bars

1

x

Category:

Cookie Bars

Method:

Baking

Cuisine:

Dessert
---
1 cup

butter, melted and browned

3/4 cup

flaked sweetened coconut, toasted

2 cups

light brown sugar, packed

1 tablespoon

vanilla

1

egg, plus one yolk

1 teaspoon

coarse sea salt

1 teaspoon

baking powder

2 cups

all purpose flour

1 cup

semi-sweet chocolate chips
---
Instructions
Preheat oven to 350°F. Line a 9×13 pan with foil and coat with nonstick spray. Set aside.
To brown the butter – melt your butter over medium heat in a medium saucepan. Once melted, continue to cook, swirling pan constantly until the butter reaches a deep golden color. Remove from heat immediately and allow to cool slightly.
In a medium skillet toast your coconut flakes over medium heat until lightly golden, stirring frequently. Once they begin to golden in color watch carefully as they will burn quickly. Remove from heat and set aside.
In the bowl of your stand mixer fitted with the paddle attachment, combine the butter and sugar on low speed until mixed evenly. Alternately you don't have to use a stand mixer, you can use a large bowl and wooden spoon.
With the mixer still on low combine the egg, the yolk and vanilla, mixing until evenly incorporated.
Add in baking powder and salt until combined and then finally the flour, stirring until mixed in.
Stir in chocolate chips and toasted coconut.
Spread in prepared pan and bake for 20-25 minutes they are just set.
Allow to cool completely before cutting into squares.
---
Notes
If you prefer a thicker bar, you can bake these in a 9×9 or 8×8 pan. Cooking time might need to be increased slightly.
Store airtight for up to 3 days.
Nutrition
Serving Size:

1 blondie

Calories:

218

Sugar:

18.2 g

Sodium:

115.3 mg

Fat:

11.6 g

Carbohydrates:

27.4 g

Protein:

2.4 g

Cholesterol:

35.8 mg
Keywords: blondies, recipe, brown butter, coconut, toasted coconut, chocolate chips
Want To Save This Recipe?
Find more recipes like this: