These Air Fryer Chicken Tenders are brined in PICKLE JUICE making them the most flavorful, juicy chicken tenders ever! The air fryer makes them extra crispy and they taste just like Chick Fil A, but you can absolutely make them in the oven too!
These Air Fryer Chicken Tenders Are Packed With Flavor!
I am no stranger to a chicken recipe. MIYM Chicken is on our table probably once a week. BUT besides nachos, chicken tenders are probably my favorite food (yes, I'm 12). I've made a few versions here on my site like my Crispy Coconut Chicken Strips and my Chicken and Stuffing Tenders…but today's recipe might be my new go-to recipe for easy, homemade chicken tenders! There are two big factors that make these SO good: Pickle Juice and the Air Fryer!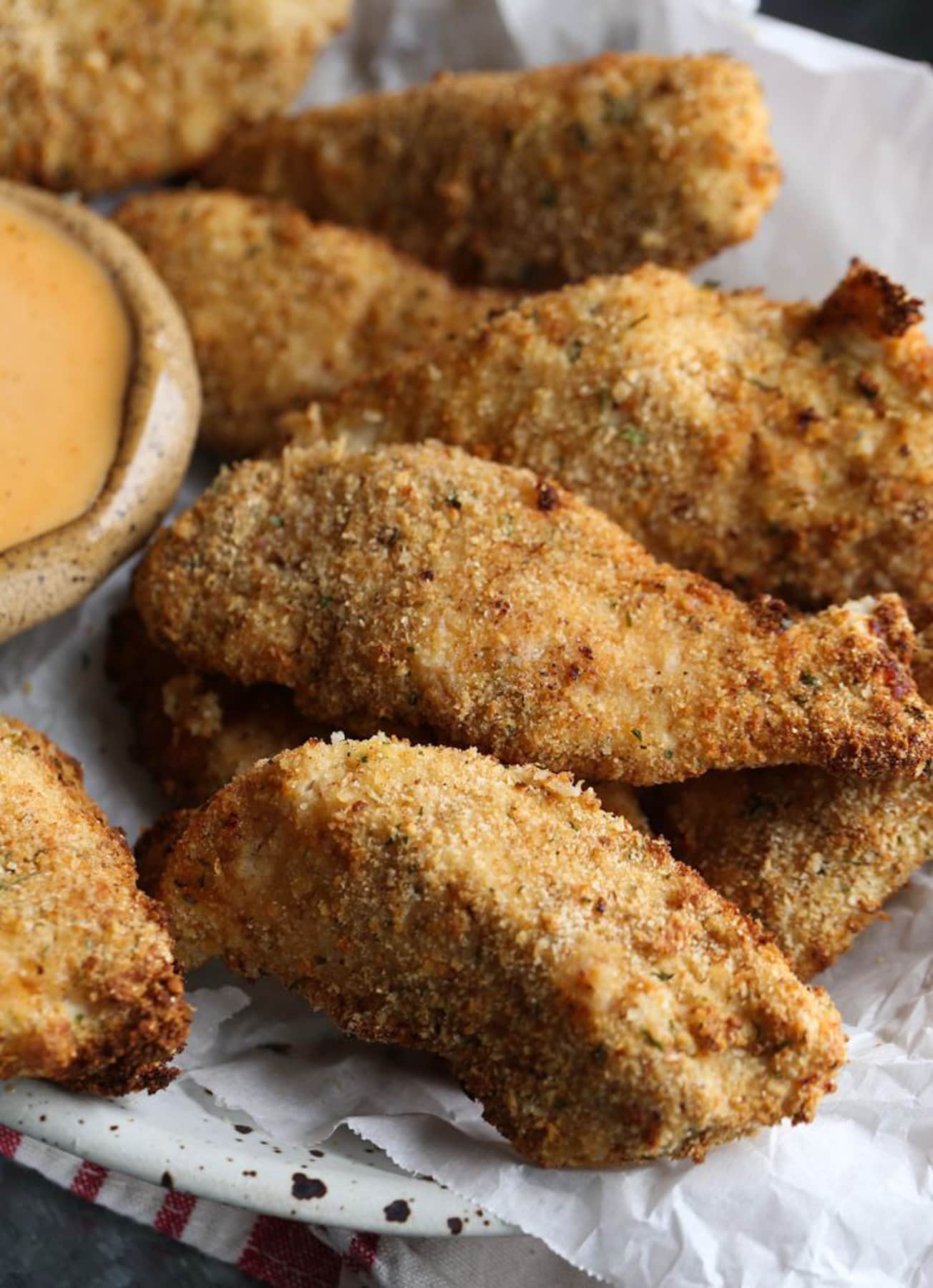 Why Use Pickle Juice?
Stay with me here, we'll talk it out. Brining chicken in pickle juice makes COMPLETE sense. Plus it's an internet urban legend that this is what makes Chik Fil A chicken nuggets so amazing. While I don't know if that's true, I will say that it gives your chicken a really delicious flavor, while still being subtle. This won't replace my favorite chicken marinade recipe, but it serves a different purpose. AND I don't know if you remember the "secret ingredient" in my Chicken Salad Recipe, but it's a full circle moment.
What is Brining?
Brine is essentially a salt water solution. What brining meats does is it imparts more moisture into the meat. The meat absorbs the brining liquid as it's soaking, which will make a leaner meat more juicy. It's a technique used when baking whole turkeys or chicken, as they can dry out as they bake. The cool thing about brining in pickle juice is that while salt and water and two main ingredients, there are additional spices and flavors already added in! It's like a pre-packed seasoned brine!
What's IN Pickle Juice?
Pickle Juice is generally a combination of vinegar, water, salt, garlic, spices (like dill), and maybe some sugar. This brine is what you place cucumbers in to make them pickles. BUT those ingredients sound a lot like a traditional brine, so it makes so much sense to dual-purpose your pickle juice!
Can You Over-Brine Your Chicken?
Yes, certainly you can, especially with chicken tenders, as they are a small cut of meat. A whole chicken or turkey can be brined for 12 hours or up to 2 days, but you don't want to leave the chicken tenders in the pickle juice too long, as it contains vinegar, which will start to break down the meat giving it an unappealing, mushy texture.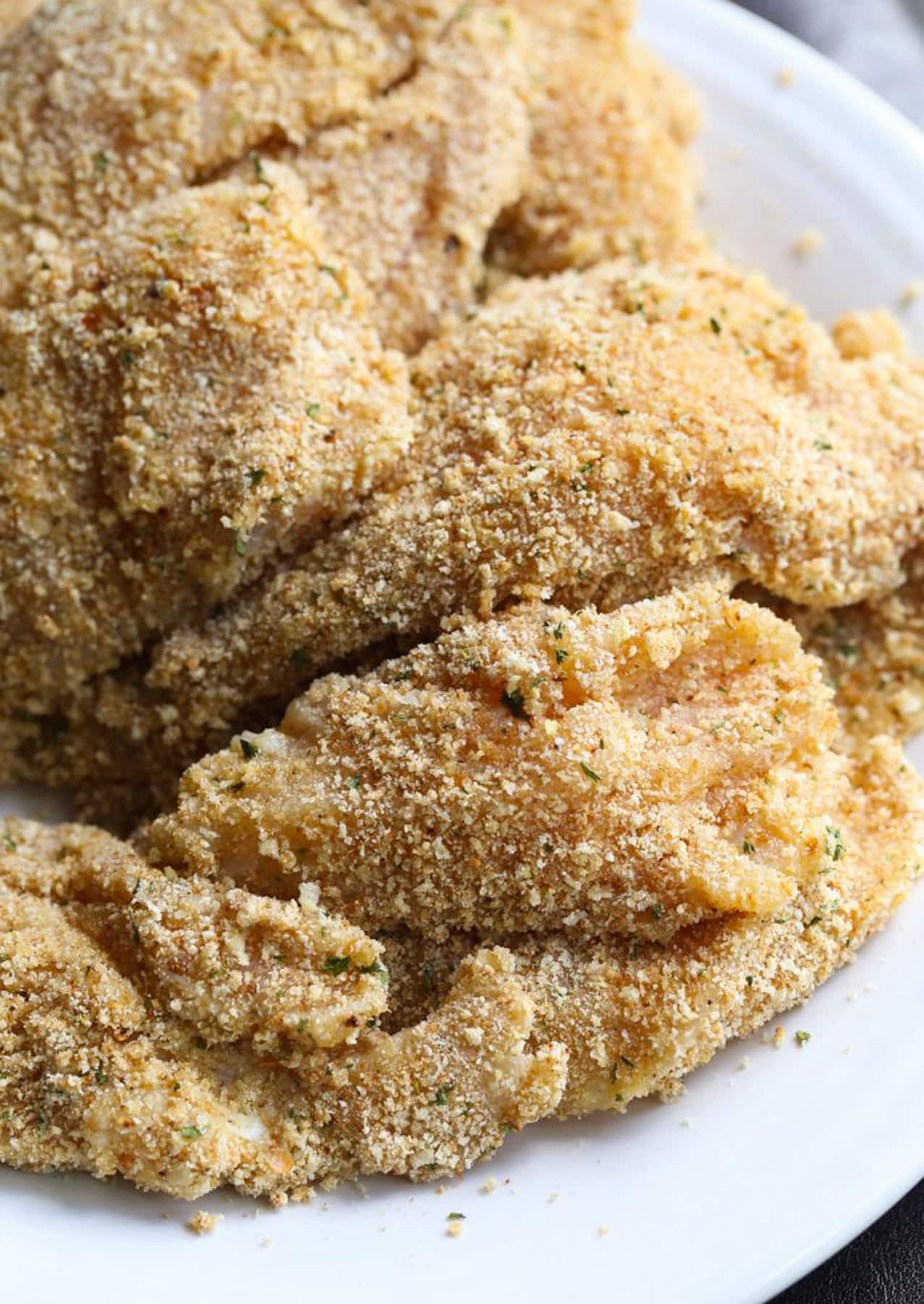 But What Is An Air Fryer?
I had never used an Air Fryer before, and was pleasantly surprised to find that it's a really easy appliance to use. I've even since made a flank steak in mine, and couldn't believe how good it came out. Brown and charred on the outside, and perfectly rare on the inside!
I will say that I had been hesitant to buy an Air Fryer, because I feel like I have so many appliances that I rarely use. AND I have a convection setting on my oven. But I can easily see how an Air Fryer could be a go-to for a lot of people. It's small, it's quick (preheating in only 3 minutes) and produces perfectly crispy food!
An Air Fryer is a pretty compact countertop appliance that cooks food using a fan to circulate the heat. Many ovens have a convection setting as well, but since the air fryer is so much smaller than an oven it cooks much faster and circulates the heat more quickly creating food that is crispy, a lot like deep frying.
How Do You Make Air Fryer Chicken Tenders?
The answer is easy on this one: Just like you'd make chicken tenders in the oven or deep frying them!
You Brine the Chicken Tenders in Pickle Juice for 8 hours and pat dry.
Coat the Chicken Tenders in a simple egg wash.
Dip the Chicken into seasoned breadcrumbs.
Preheat the air fryer to 400°F.
Place the chicken in batches into the air fryer basket. Cook for 10 -12 minutes, flipping halfway through.
Can You Make This Recipe in the Oven?
Absolutely. If you don't have an air fryer, no worries! You can absolutely make these chicken tenders in the oven, or even deep fry them if that's your thing!
Oven Method: Preheat oven to 400°F. Line a baking sheet with parchment paper and place the chicken tenders on the baking sheet. Bake for 20-ish minutes (or until internal temperature is 165°F), flipping halfway through baking.
Deep Fry: Heat skillet with oil 1- inch deep. Bring the oil up to 350°F. Place chicken carefully in the hot oil, cooking for 3-4 minutes on each side, until golden brown and internal temperature reaches 165°F.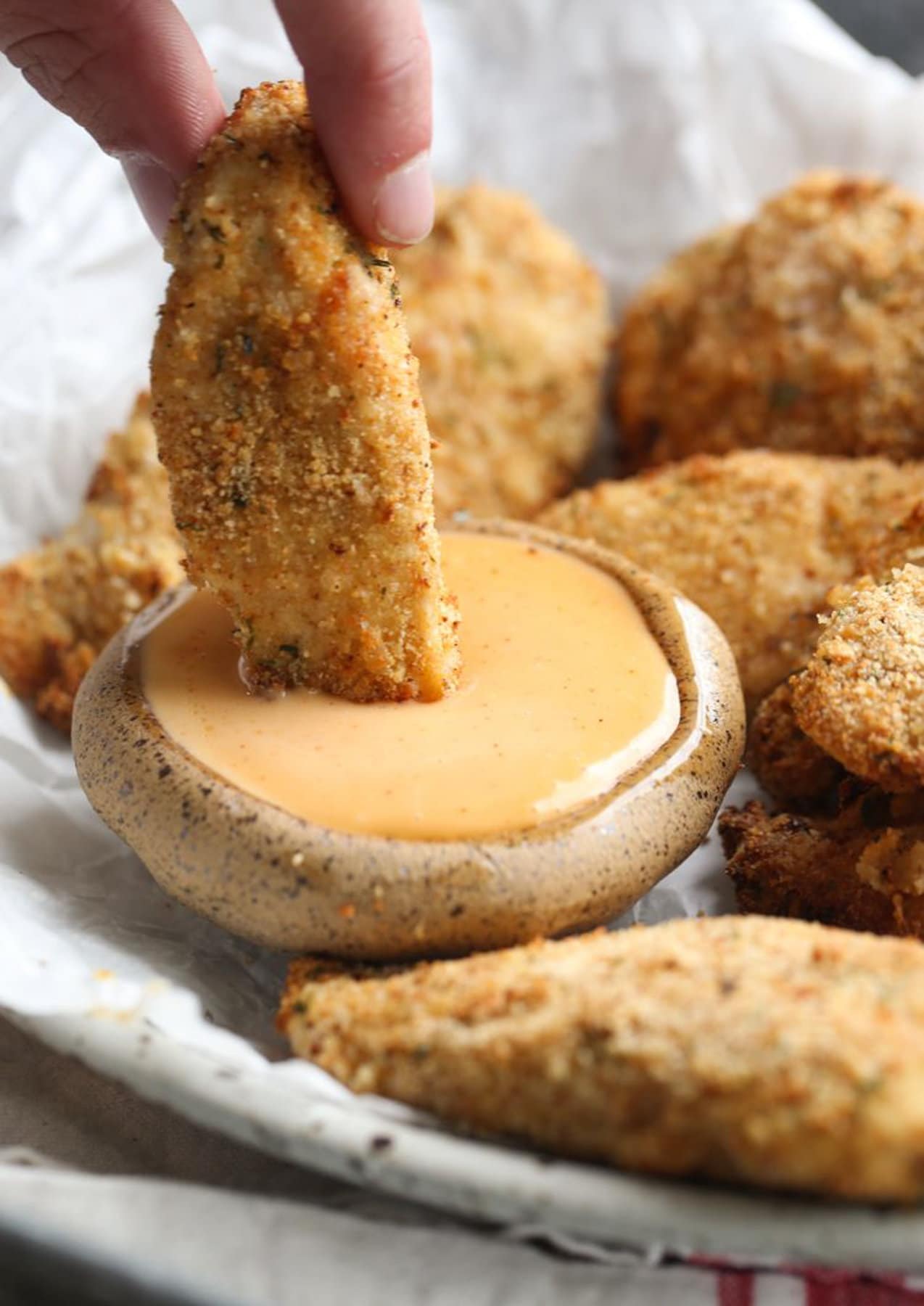 What Sauce Goes With Chicken Tenders?
I HIGHLY recommend trying some of my favorite dipping sauces with these chicken tenders:
What Can I Serve With Chicken Tenders?
This Pickle Brined Chicken is so moist and flavorful, I know I will be making this recipe again and again!
Print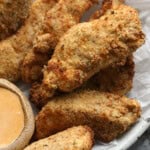 Air Fryer Chicken Tenders
Author:

Prep Time:

15 minutes

Cook Time:

12 minutes

Total Time:

27 minutes

Yield:

serves 4

Category:

Chicken

Method:

Air Fryer

Cuisine:

Dinner
---
Description
Cooking these chicken tenders in the air fryer makes them super crispy, but you can also bake them in the oven. I brined them in pickle juice which made them crazy flavorful!
---
12

Chicken Tenders (

1 1/4

pounds total)

1 1/4 cups

dill pickle juice, plus more if needed

1

large egg

1

large egg white

1/2 teaspoon

kosher salt
freshly ground black pepper

1/2 cup

seasoned bread crumbs, regular or gluten-free

1/2 cup

seasoned panko bread crumbs, regular or gluten-free
Olive oil spray
---
Instructions
Place the chicken in a shallow bowl and cover with the pickle juice (enough to cover completely). Cover and marinate for 8 hours in the refrigerator.
Drain the chicken and pat completely dry with paper towels (discard the marinade).
In a medium bowl, beat together the whole egg, egg white, salt, and pepper to taste. In a shallow bow, combine the bread crumbs.
Working with one piece at a time, dip the chicken in the egg mixture, then into the bread crumbs, gently pressing to adhere. Shake off any excess bread crumbs, and place on a work surface. Generously spray both sides of of the sides of the chicken with oil.
Preheat the air fryer to 400°F.
Working in batches, arrange a single layer of the chicken in the air fryer basket. Cook for 10-12 minutes, flipping halfway, until cooked through, crispy, and golden. (For a toaster oven-style air fryer, the temperature remains the same; cook for about 10 minutes.) Serve immediately.
---
Notes
To bake these in the oven, preheat the oven to 400°F. Place chicken tenders on a parchment lined baking sheet and bake for 20 minutes or until the internal temperature is165°F, flipping once through baking.
---
Nutrition
Serving Size:

3 tenders

Calories:

257

Sugar:

1 g

Sodium:

742 mg

Fat:

5.5 g

Saturated Fat:

1.5 g

Carbohydrates:

14 g

Fiber:

1 g

Protein:

35 g

Cholesterol:

137 mg
Keywords: cookies and cups, air fryer, chicken recipe, air fryer chicken, chicken tenders, pickle juice
Want To Save This Recipe?
Find more recipes like this:
PIN for later: