Hello Hello!
The Cookies & Cups Cookbook has officially GONE TO PRINT! AHHHHH! That means no more edits, no more tweaks, no more obsessing! Well, maybe a little obsessing. Always, always.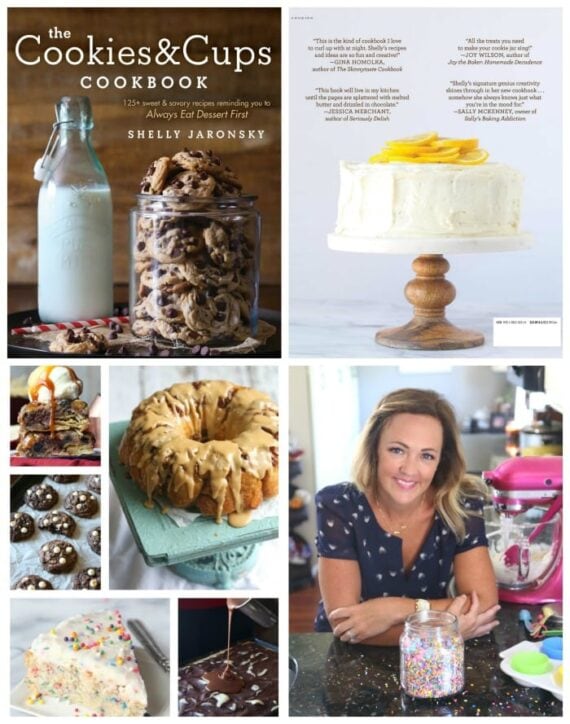 In just a few weeks I will be holding my book in my sticky little fingers pretending to act all cool like it ain't no big thing, when it's actually a pretty huge thing. This has been almost 2 years in the making. 2 years of thinking, writing, brainstorming, photographing, baking …
I've loved it all but seriously can't WAIT to be able to share it with you. There are so many great recipes for sweet treats, but an added bonus section at the end of amazingly yummy everyday dinners…yep, it's a cookbook IN REVERSE! Baking is my main squeeze, but since I do really love to cook I wanted to share a sneak peek into what I make in my kitchen, for my family, every night of the week. I feel like it's perfect reflection on my life & my website!
And today I want to share a little bit more about what you will find inside…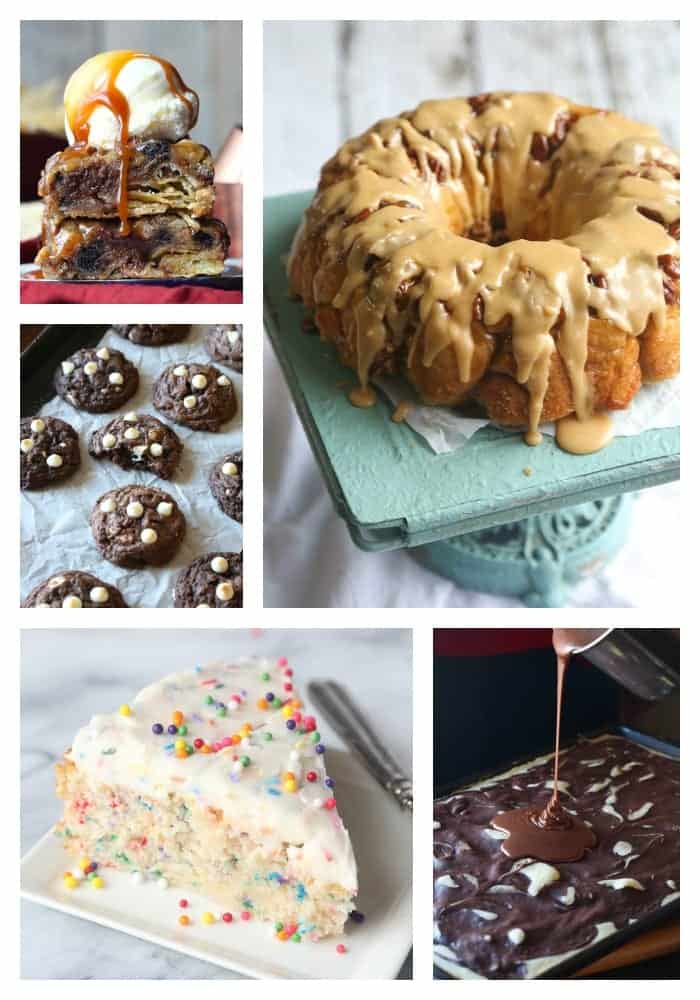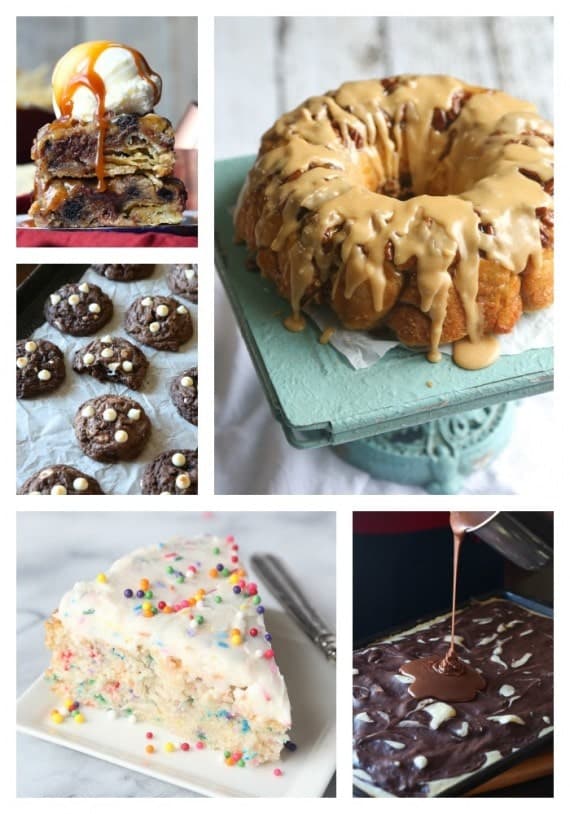 Kitchen Sink Blondies | Cookies and Cream Cookies | OMG Pull Apart Praline Bread | Confetti Cake | Marble Sheet Cake
Those are just a few of the 125+ recipes that will fill The Cookies & Cups Cookbook. I gave you a bitty glimpse inside a few months ago HERE when I revealed my cover as well, but more recently my publisher and I decided on a back cover too! We wanted to keep it simple and pretty. Do you like??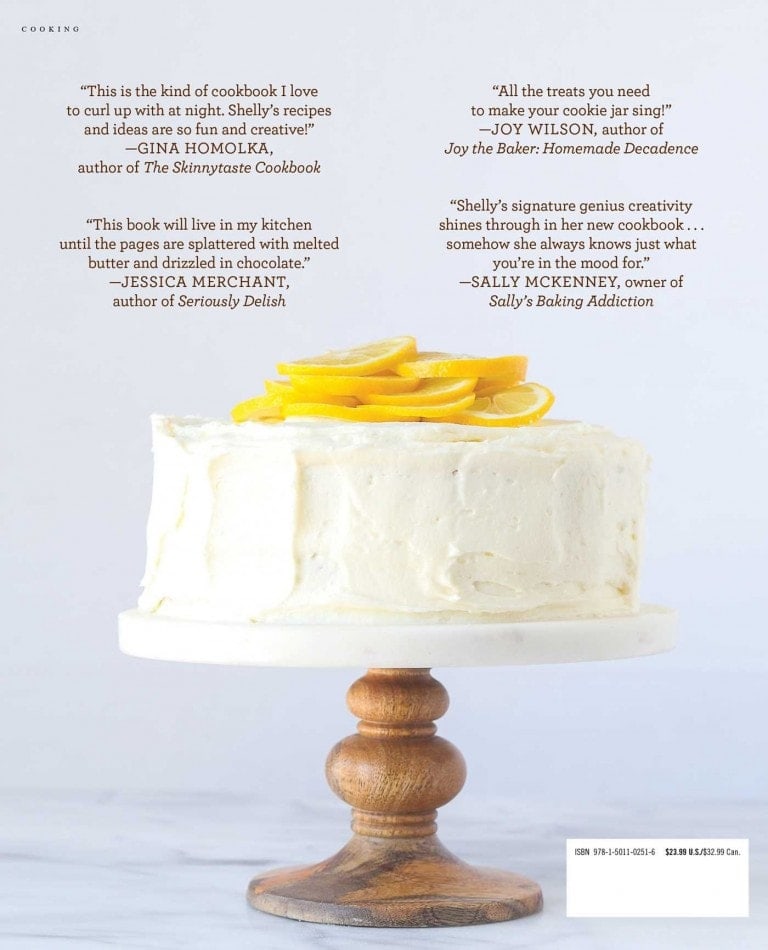 AND I got some ridiculously kind girls to share some ridiculously kind words about The Cookies & Cups Cookbook!
"This is the kind of cookbook I love to curl up with at night. Shelly's recipes and ideas are so fun and creative!"
– Gina Homolka, author of The Skinnytaste Cookbook
"All the treats you need to make your cookie jar sing!"
– Joy Wilson, author of Joy the Baker and Joy the Baker: Homemade Decadence
"Shelly's signature genius creativity for mouth watering breakfast treats, easy family-friendly dinners, and indulgent desserts shines through in her new cookbook! Packed with photos for each recipe, she teaches us that food should always be approachable and fun, and dessert should definitely come first. Somehow she always knows just what you're in the mood for, be it warm brown sugar cinnamon bread, a huge slice of toffee banana cream pie, or a plate packed with ranch-style mac & cheese."
– Sally McKenney, author of Sally's Baking Addition and Sally's Candy Addiction
"The Cookies and Cups Cookbook is my new go-to book for every decadent dessert imaginable. I was instantly hooked with one peek at the Hot Fudge Sundae Cake. It's like Shelly is inside my head, coming up with every fabulous flavor combination that I never even knew that I wanted! This book will live in my kitchen until the pages are splattered with melted butter and drizzled in chocolate."
– Jessica Merchant, author of Seriously Delish
As always you can pre-order my book at any of the places linked to here:
Amazon | Barnes&Noble | Books-A-Million | Indie Bound | Simon&Schuster
Amazon Kindle | Nook by B&N | iBooks | Google play
THANK YOU & a GIVEAWAY!
I've been seriously blown away by the tremendous support I've gotten from my amazing internet family. You guys are PRE-ORDERING my book, which means you are excited about it, which makes me SO INSANELY GRATEFUL! Pre-orders are a pretty big deal, I'm learning, so thank thank thank you to anyone who has gone the extra mile for me! With that said I want to do a fun little giveaway.
I am SO in love with my Polaroid ZIP Printer lately. I included it on my Valentine's Favorites List as well as on my 2015 Favorites List!
It's an amazing portable printer, about the size of your phone that wirelessly prints photos FROM your phone INSTANTLY! I am obsessed with mine. It's ink free, which is great and simple to use. Just download the app on your Andriod or IOS device and send your pictures to the printer. I am SUPER guilty of having thousands of pictures on my phone that I never print out. This is such a convenient way to use all those sweet snaps! Plus the ink paper peels off so the back is a sticker! LOVE THAT!
If you've pre-ordered THE COOKIES AND CUPS COOKBOOK (thankyou thankyou) you are eligible to win a POLAROID ZIP PRINTER!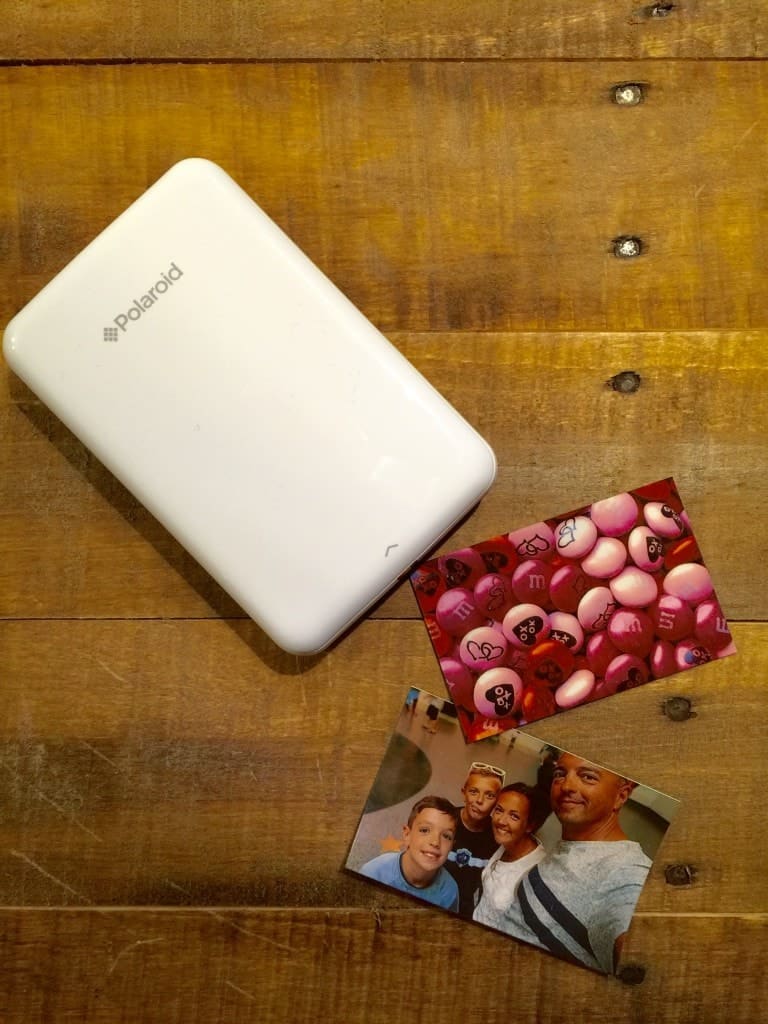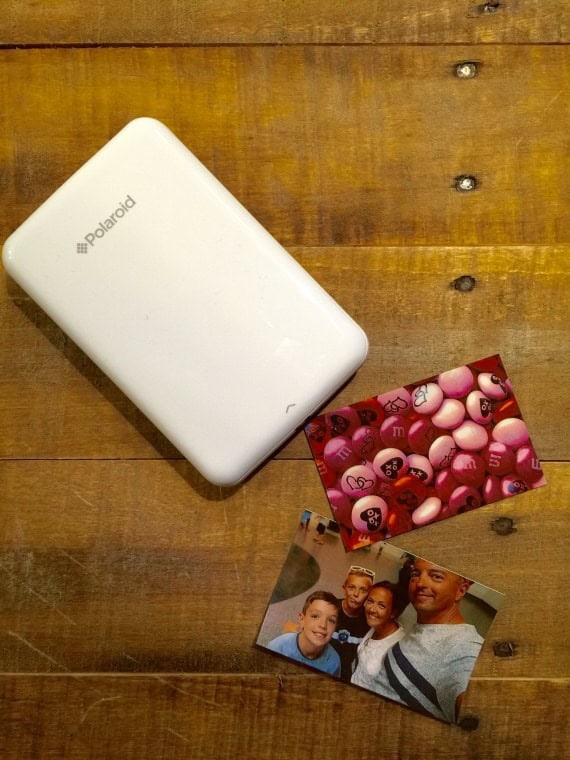 I am running this giveaway over on my Instagram page and it couldn't be easier to enter.
HOW TO WIN:
You must have pre-ordered The Cookies & Cups Cookbook.
Hop over to my INSTAGRAM PAGE and follow me if you don't already.
Next leave me a comment telling me your favorite Valentine's Day Candy and TAG A FRIEND who might like my book as well!
That's it! Again, to be eligible to enter you must have pre-ordered my book. When the winner is selected, proof of pre-order will be required to receive the prize.
Good luck and thank you again for everything. You guys are the best.