Boston Cream Pie in a Jar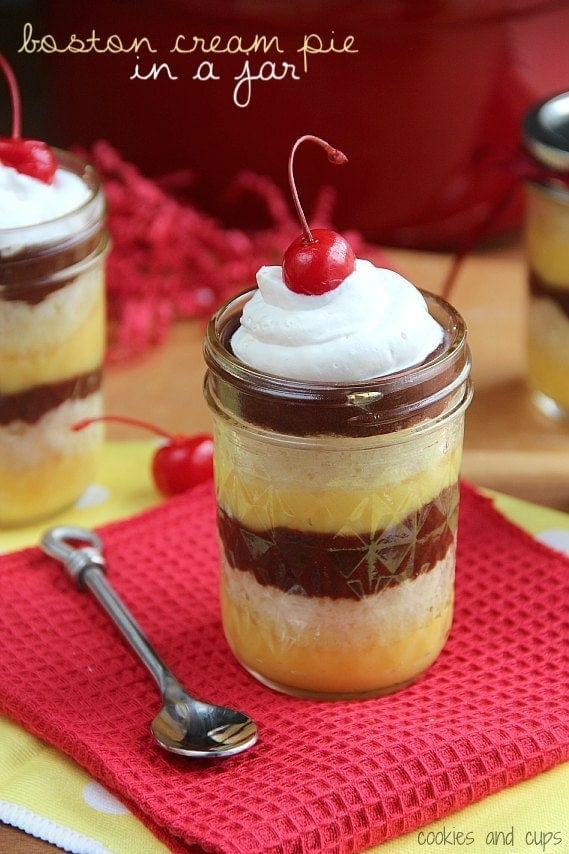 This whole weekend was a bit of a blur.
Not the college weekend or spring break type of blur…grow up, y'all. The kind of adult-blur where you are driving to and from sports games for your kids, trying to catch up on stuff like laundry, cleaning and filing away receipts and expenses. When did I get boring?
But, check it…I totally made a spreadsheet for my expenses…in Excel. Are you impressed? I have to say, looking at my super-official spreadsheet I felt kind of like I was winning at being an adult.
We will glaze over the fact that after I made the spreadsheet I watched an episode of Punk'd and then went to the QuickCheck in pajama bottoms and bought popcorn shaped gummies. Whatever.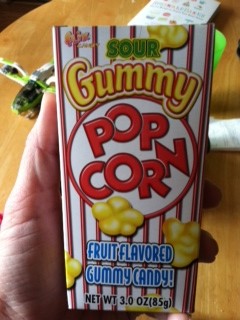 In my quest to become a full fledged grown-up I also decided to make a big girl dessert…ie, no candy involved.
THEN I thought better of the situation and put the dessert in a jar, which not quite as "adult", but undeniably cute and convenient.
What can I say? I'm trying.

I know I am a little late to be jumping on the whole "in a jar" bandwagon, but they're just too dang cute!
My friend, Shaina has even written a whole stinking book about Desserts in Jars…so my jar investment is totally justified.
Justification of unnecessary purchases is basically my second job. AND having a second job is a really adult thing to do…sooo…
I made the whole deal with boxed stuff…boxed pudding, boxed cake and canned frosting…feel free to make everything from scratch, I won't judge you.
Boston Cream Pie in a Jar.
First up, pudding…


Then make some cake. I baked mine in a 1/2 sheet cake pan because you'll need thin layers of cake. If you don't have a 1/2 sheet cake pan, you can divide the batter in half and bake it in 2, 9×13 pans.

Cut your cake into rounds that will fit in the jar. I used a 2″ cookie cutter, which was perfect, but if you don't have one just trace your jar lid on a piece of clean cardboard and use that as a template to cut around.


Heat up your frosting in the microwave so you can pour it into the jar…


Then start your assembly process.
First pudding…


Then cake…


Then chocolate…


Repeat finishing with chocolate…


Top with some whipped cream and a cherry if you want. Whipped cream is always a good idea.

Here are some other fun Boston Cream Pie inspired desserts from around the internet:
and finally traditional Boston Cream Pie
Print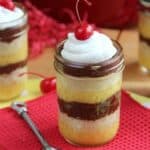 Boston Cream Pie in a Jar
---
Description
makes approx 14 jars
---
Ingredients
2

(1.4 oz) boxes French Vanilla or Custard Pudding, prepared and chilled according to package directions

1

box French Vanilla Cake Mix, prepared and baked according to package directions

1

(16 oz) can chocolate frosting

14

(8 oz) jelly jars
---
Instructions
Bake cake according to package directions in a 1/2 sheet pan (12″x18″) and let cool in pan.
Prepare pudding according to package directions and chill until set up.
Open chocolate frosting and microwave for 45 seconds to thin.
When ready to assemble cut cake into circles. I used a 2 inch circular cookie cutter.
Start with a heaping tablespoon of pudding followed by a cake round and then a tablespoon of the chocolate frosting. Repeat the process again, ending with the chocolate frosting.
When finished store in refrigerator until ready to serve.
Garnish with whipped cream and a maraschino cherry if desired.
---
Notes
If you don't have a cutter that is the same size as the opening on the jar just create a template by tracing the opening of the jar on a clean piece of cardboard and cut the cake into circles using the template as a guide, using a sharp knife.
Can be made a day ahead, if necessary.