These Bourbon Pecan Brownies are rich, fudgy, and a little boozy! You can leave out the bourbon if that's not your thing, or add a splash extra if you love the flavor!
Make sure to try my classic fudgy brownies too!
Bourbon Pecan Brownies are the Ultimate "Adult" Brownie Recipe!
These brownies are not for the faint of heart. They're a rich, fudgy brownie recipe studded with pecans and amped up with chocolate flavor thanks to a little bourbon baked right in. The texture is thick and chewy, with so much flavor!
Can You Taste the Bourbon?
You can't really taste the bourbon…a little bit if you know it's there, but if you don't know there is bourbon added to the recipe you most likely wouldn't be able to put your finger on it.
The bourbon works a little like adding espresso or coffee to the chocolate, it just amps up the chocolate flavor without adding a distinct flavor of its own.
You don't need to use fancy bourbon in these brownies…just use whatever you have on-hand. But you only need 3 tablespoons, so even if you only have expensive bourbon to use, it's not a lot!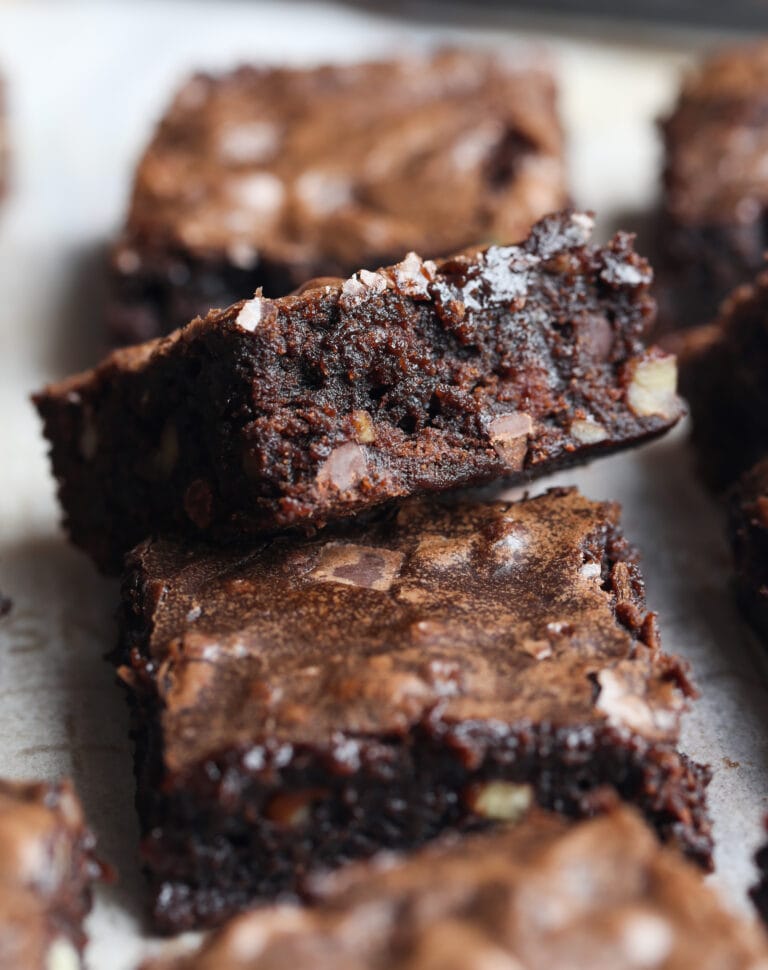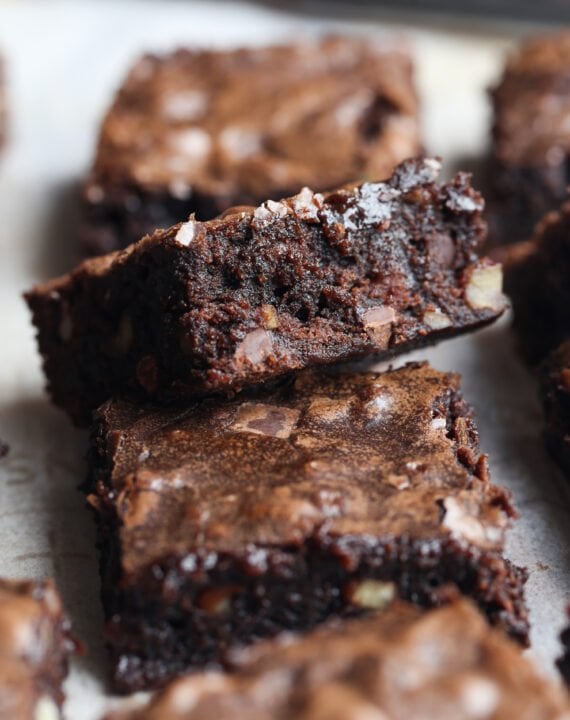 Ingredients You Need:
1 cup butter
2 1/4 cups granulated sugar
4 large eggs
1 1/4 cups unsweetened cocoa powder
1 teaspoon baking powder
1 teaspoon kosher salt
3 tablespoons bourbon
1 1/2 cups all-purpose flour
1 cup semi-sweet chocolate chips
1 cup chopped pecans
Method:
Preheat oven to 350°F. Line a 9×13 baking pan with parchment paper and coat with nonstick spray. Set aside.
In a medium saucepan over medium heat, melt the butter. Once melted, add in the granulated sugar, and stir constantly until the sugar is combined and begins to dissolve and gets shiny, but not bubbly. Temperature should reach 120°F. Remove from the heat.
In a large bowl whisk together the eggs, cocoa powder, baking powder, salt, and bourbon. Mixture will be very thick. Add in the warm butter mixture and continue whisking until mostly smooth.
Using rubber spatula or wooden spoon stir in the flour until combined, about 50 strokes. Add in the chocolate chips and pecans and stir until evenly incorporated.
Spread the brownie batter into the prepared pan and bake for 28-32 minutes, or until a toothpick inserted 2- inches from the edge of the pan comes out clean.
Allow the brownies to cool completely in the pan before removing them using the parchment paper and transferring to a cutting board to cut into pieces.
My Trick To Making Bourbon Pecan Brownies…
This isn't a necessary step by any means, but it's an easy way to intensify the chocolate flavor even more!
This recipe calls for cocoa powder, and while you can use regular unsweetened cocoa powder you can also use Dark or Dutch Processed Cocoa Powder. BUT I don't love the look of brownies that are made with all dark cocoa powder. It gives them an almost black appearance, which isn't visually appealing to me.
So what I like to do is use half regular cocoa powder and half dark cocoa powder. This gives the brownies extra chocolate flavor while also keeping them a pretty dark brown color!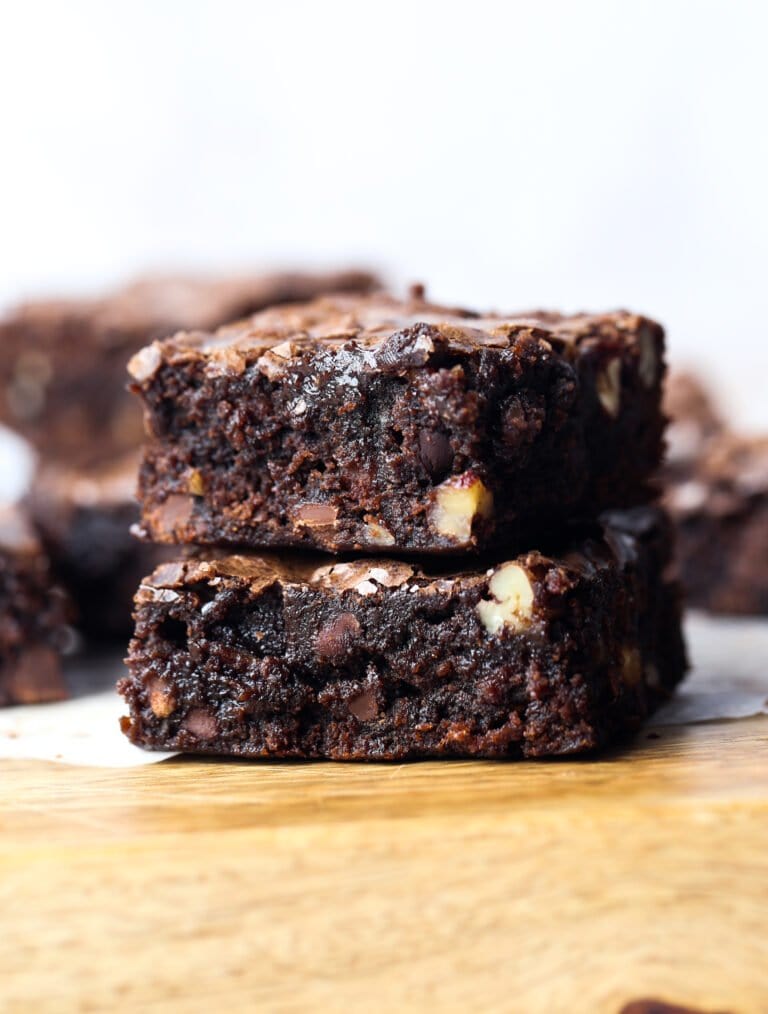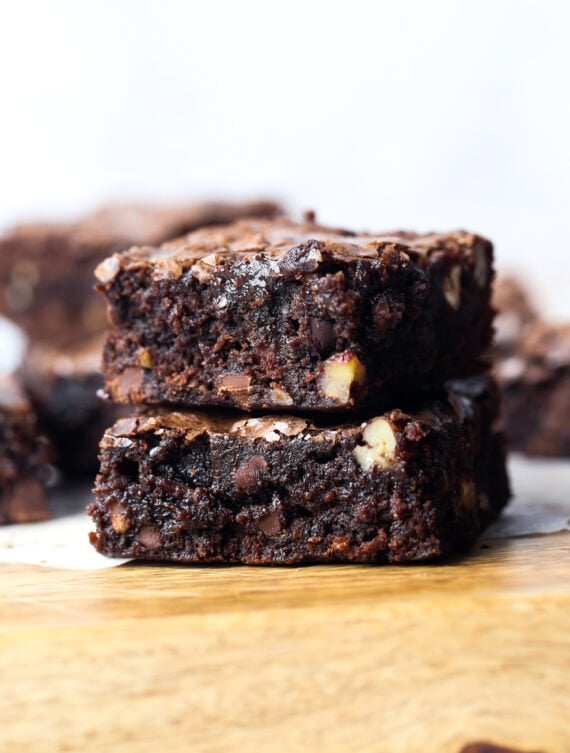 How To Cut Brownies Perfectly…
There are a few tricks to ensure that you end up with pretty brownies! You've gone to all the trouble of baking them, and with a little patience they will look pretty too!
Make sure they are cooled COMPLETELY! I even like to allow brownies to sit in the pan overnight after they are baked before cutting.
Use parchment paper in your pan so you can remove the brownies before cutting.
Use a sharp knife or a bench scraper with a flat sharp edge to cut them.
Run the blade under warm water and wipe it dry before cutting. Wipe it clean in between cuts and repeat.
Some say using a plastic knife works well too, but I've never tried this method.
I partnered with Imperial Sugar on the recipe for these brownies. Check out the full recipe and print it out HERE!
Looking For More Brownies Recipes? Try These: