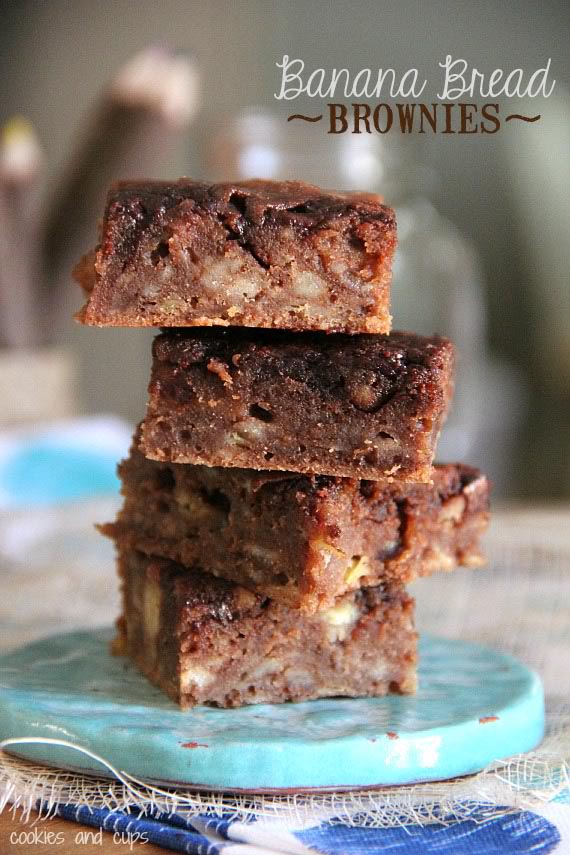 Keeping with my whole fruit situation that I have going on, I started thinking about bananas.
Which took me about 1.7 seconds.
You see, I don't love bananas.
Actually I really don't even like them in their natural state. The mushiness, the smell…
Funny thing about it, is it's actually a fruit I am not allergic to.
Yes, people, I have an actual fruit allergy. It's a real thing.
Anyway, I'm not a huge banana fan.
But I do like banana bread. It's this strange situation. I like it even better with peanut butter cups, in case you were wondering.
So here I am. Thinking about bananas once again…
How can I eat one without having to actually EAT one?
Then I remembered this recipe that I jotted down a few years ago that went into the depths of my recipe folder…
I have no idea where I got it, no idea when I wrote it, but there it is…
Banana Bread Brownies.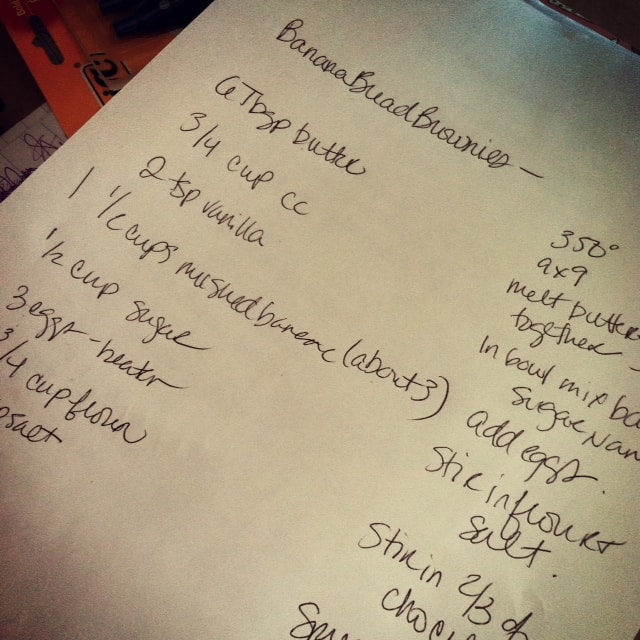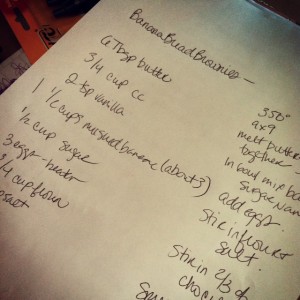 So I decided to get to work.
I had these from bunch to mouth in about 45 minutes…and I didn't even have to use my mixer.
Just get some old bananas.
Did you ever wonder if getting into banana bread was on the bucket list of bananas? I mean they have this nice long life, get all old and squishy and then either end up in someone's compost OR in a delicious loaf of banana bread. Think about it, worms burrowing through your banana body or being baked with sugar and vanilla…It's really the perfect way to go.
I think I want my death to be via banana bread. Not today, I mean. When I get old and squishy.
That didn't make sense.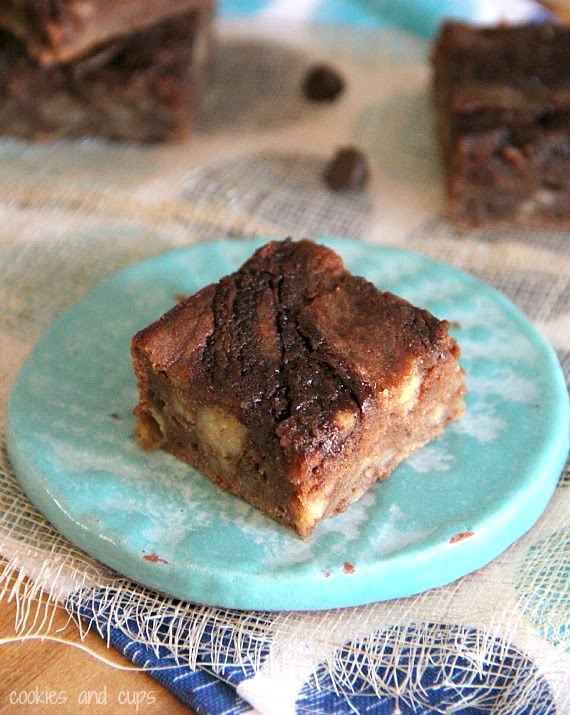 On a side note I have spelled banana wrong every single time I have typed it so far. Don't you think it looks better as bananana?
First you need to melt some chocolate chips and butter together.
I forgot to take a picture of that…so close your eyes and imagine a saucepan with chocolate chips and butter melted together.
Good.
Set that aside to cool.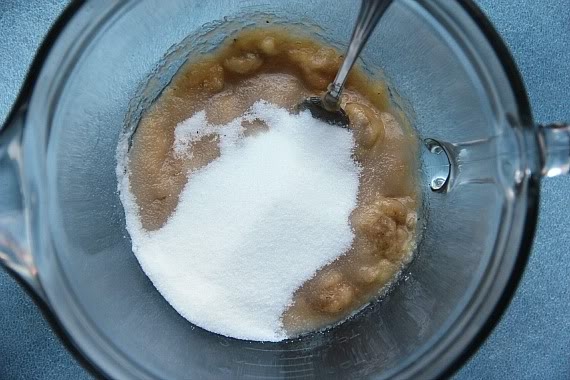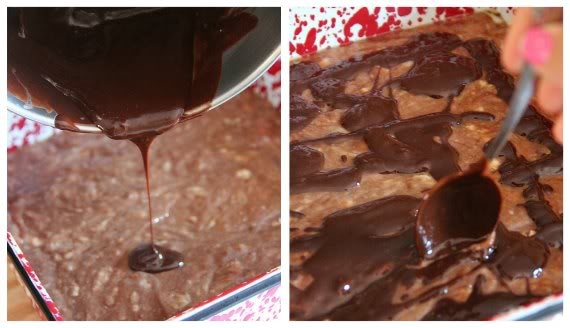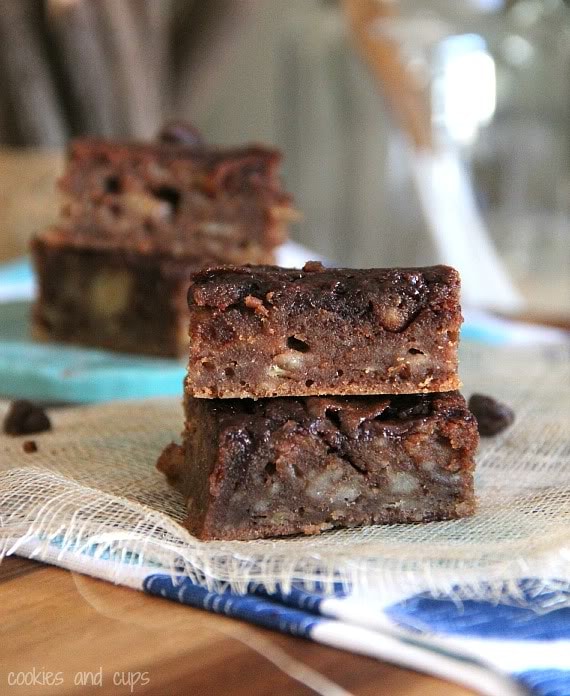 Now get some elderly bananas and mush the heck of of them.
Then add some sugar and vanilla…

Mix that together, then add some beaten eggs, some flour and salt.
Then pour almost all of your melted chocolate into the batter. Set aside 1/4 cup of the chocolate to use in a minute.
See, now pour the last bit of chocolate on top and swirly-whirl it in.
Then bake. That's it.
See how pretty?
These brownies are dense and yummy filled with just the right amount of banana flavor!
Print
---
---
6 Tbsp

butter

3/4 cup

semi-sweet chocolate chips

2 tsp

vanilla

1 1/2 cups

mashed ripe bananas (about 3)

1/2 cup

granulated sugar

3

eggs, beaten

1 3/4 cup

all purpose flour

1/2 tsp

salt
---
Instructions
Preheat oven to 350°
Spray a 9×9 pan with cooking spray, set aside
In a medium sauce pan, combine butter and chocolate chips. Over medium-low heat, melt together, stirring occasionally. When melted, set aside to cool.
In a large bowl combine the mashed bananas, sugar and vanilla. Stir in beaten eggs until evenly incorporated.
Stir in flour and salt until just combined.
Pour all but 1/4 cup melted chocolate into the banana mixture and stir.
Pour the batter into your prepared pan and drizzle remaining 1/4 cup melted chocolate on top, and swirl it into the batter.
Bake 25-30 minutes until the center is set and a toothpick comes out clean.
Brownies will be very dense.
Cool completely and cut into squares.
---
Notes
store in an airtight container for up to 3 days
Want To Save This Recipe?
Find more recipes like this: