This Peanut Butter Cup Brownie Cheesecake is a show stopper! It's a super easy cheesecake recipe that's packed with chocolate peanut butter flavor! It's impossible to not love this cheesecake!
Peanut Butter Cup Brownie Cheesecake
How was your holiday??
I'm back after a 2 week break. It was really fantastic, I have to say…I baked for my family and didn't take ONE. SINGLE. PICTURE. And while that might not seem like a huge deal to most of you…to me, it's everything.
As you can imagine why.
BUT after all that time off I am ready.
SO ready.
Which is why we're starting the year off with this bad boy.
I could go the way of all the rest and serve you up some skinny-alternate version of dessert…but seriously. What's the point? It's like non-alcoholic beer.
So we're hitting it hard this January with a cake that weighs 14 pounds and is guaranteed not to make your jeans fit any better.
But it will make you happy, I can guarantee that.
It's Peanut Butter Cup Brownie Cheesecake.
And it's essentially a no-bake cheesecake, layered with brownies and hot fudge and topped with a squigillion peanut butter cups.
AHHHKNOW!
I actually made this to take to a New Year's Eve Party, which is good in theory…except, I didn't allow for the chill time and couldn't take "staged" pictures of the final product.
So the first and last photo were taken in the middle of my friend's kitchen, while seventy hundred children almost ate my face waiting to get a piece.
Kids and dessert are no joke.
I thought about making this again to take better "slice" pictures, but I'm lazy. That's me.
Let's talk how…(and please enjoy the pretty process pictures)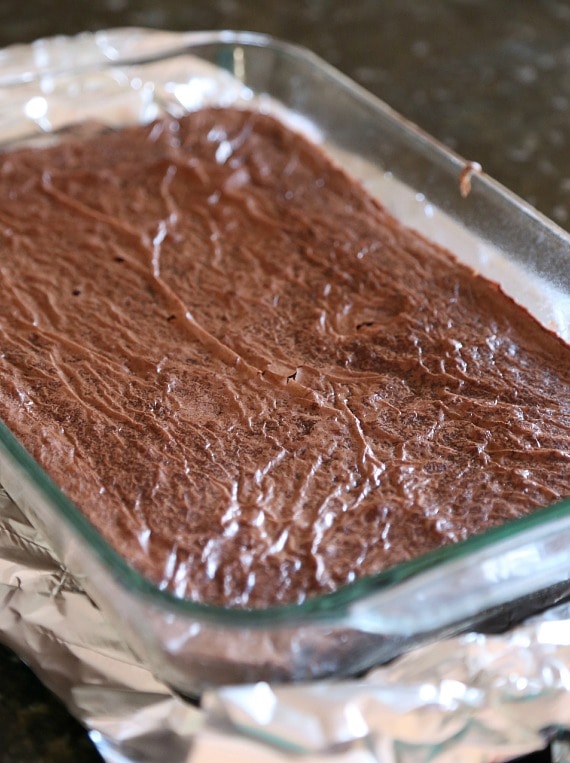 Peanut Butter Cup Brownie Cheesecake Recipe
Bake some brownies! I used a box mix, but if you want to use a "from scratch recipe" go right ahead. My fudgy brownies are delicious!
Allow them to cool completely and then cut them into bars.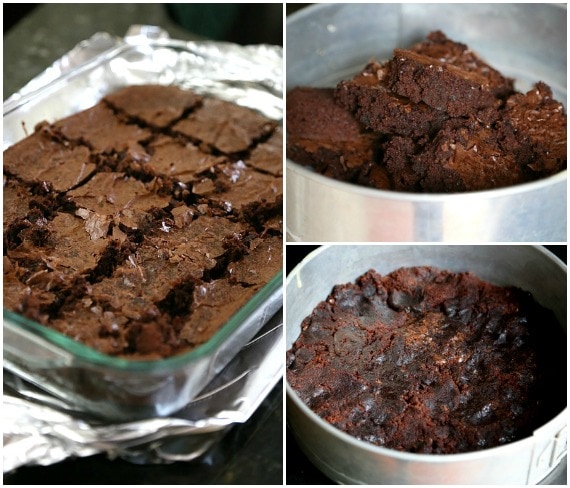 Remove 3/4 of the brownies from the pan and press into the bottom of a 9″ springform pan. This will serve as your base.
Next up beat some peanut butter and cream cheese together. Oh yeah and some sweetened condensed milk.
Cantstopwontstop.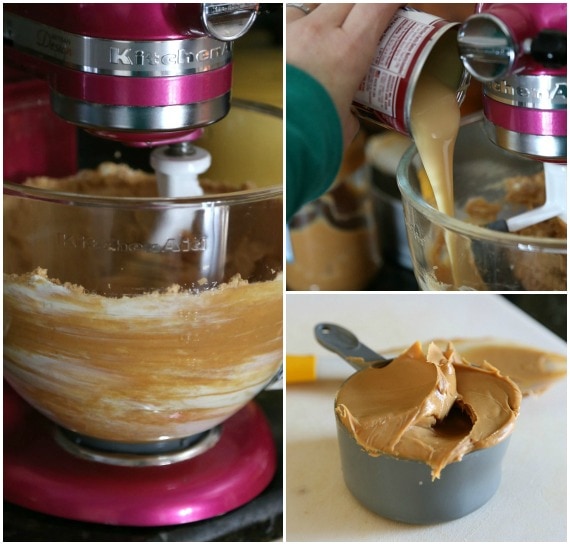 Then make some whipped cream. YES…MAKE WHIPPED CREAM. Don't you even think of subbing in Cool Whip here peeps. Do it up proper.
Also, this stinker always shows up right around the time my stiff peaks are formin'. He's got whipped cream Spidey senses.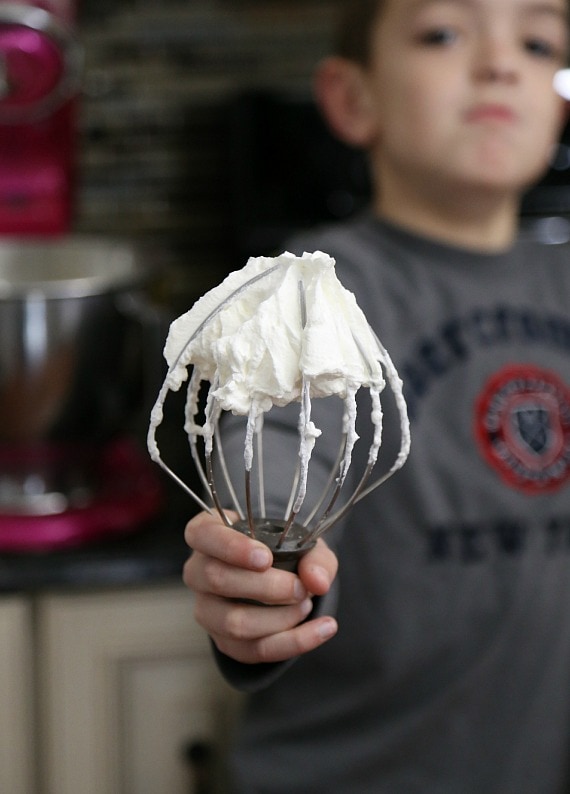 Fold all but 1 cup of that whipped cream into the peanut butter mixture…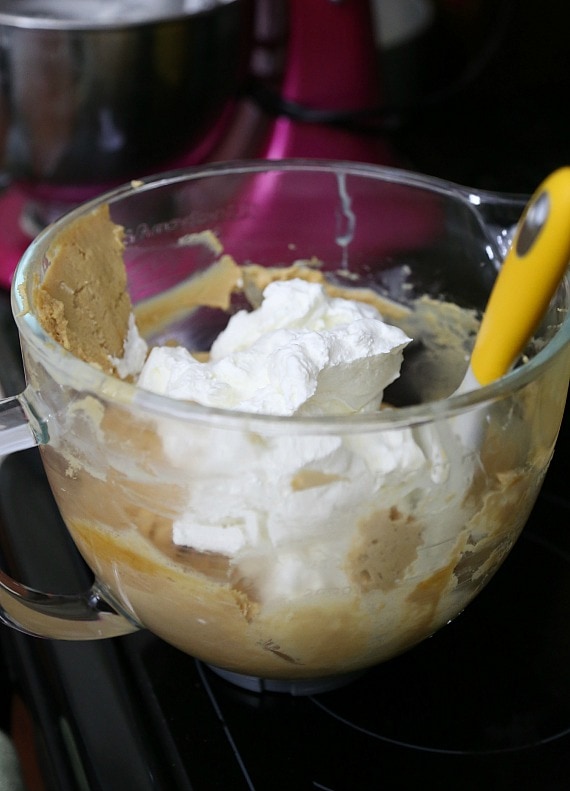 It will be a light pretty color…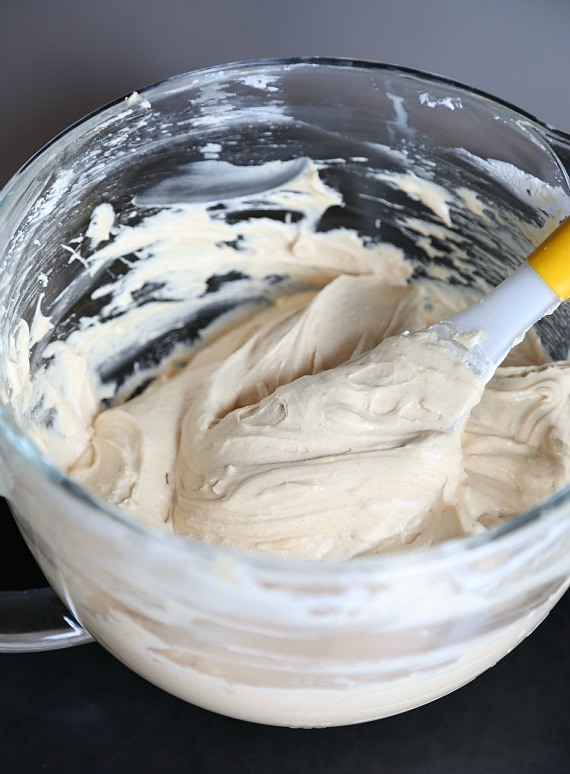 Then grab your hot fudge sauce…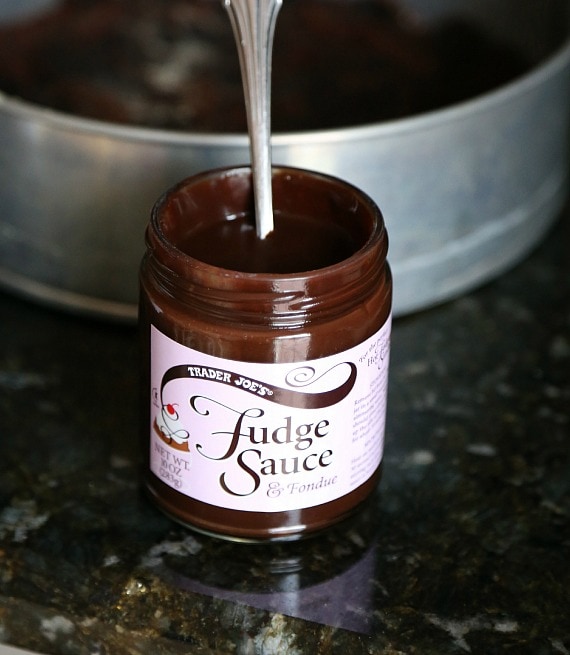 Heat it up if necessary and pour about 3/4 cup on top of your brownie base…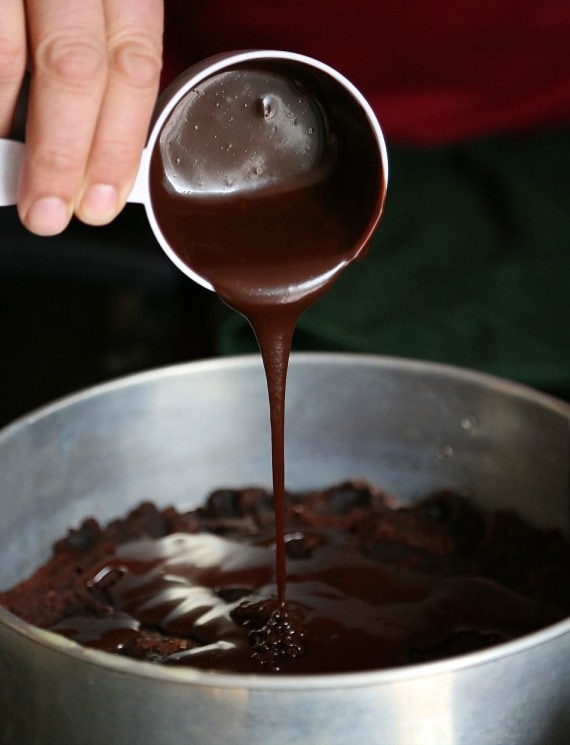 Top that with half of your peanut butter mixture…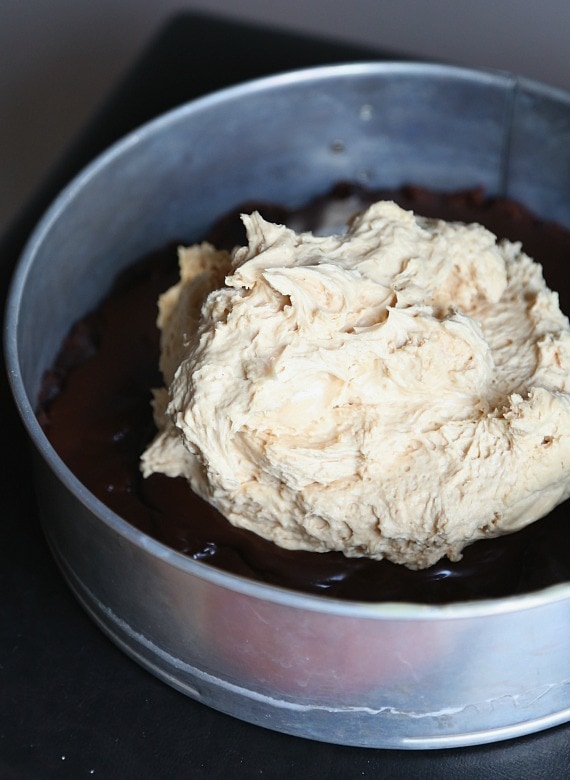 Then grab the remaining brownies.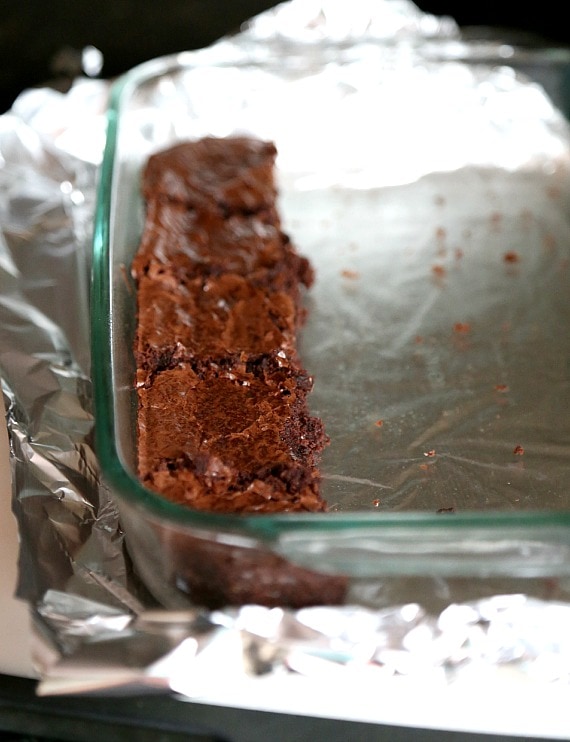 Cut them into pieces.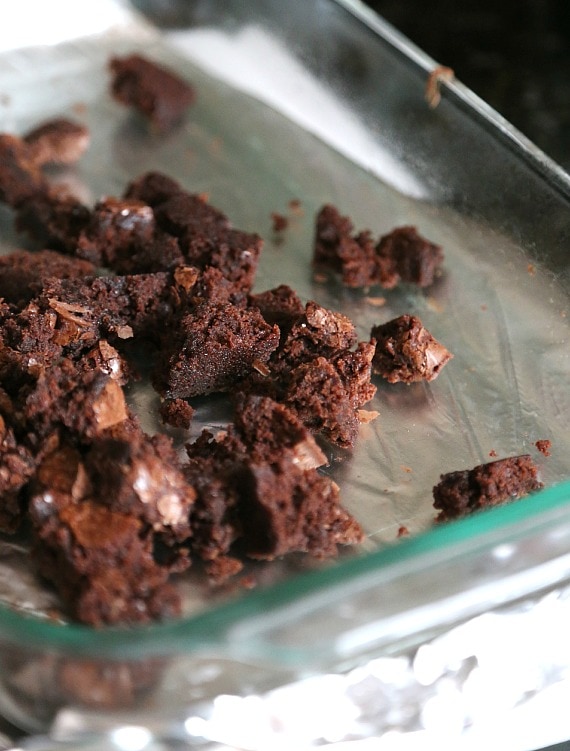 And sprinkle them all over the layer of peanut butter cheesecakey-ness…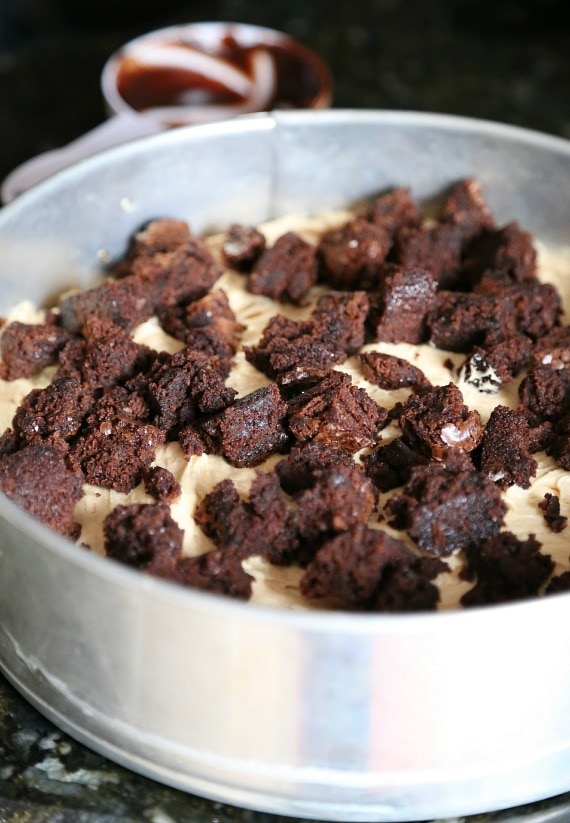 Almost there.
Top that with the last of the peanut butter stuff…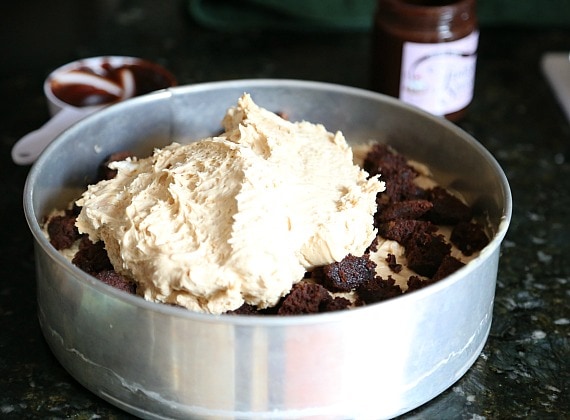 And then top that with the remaining whipped cream.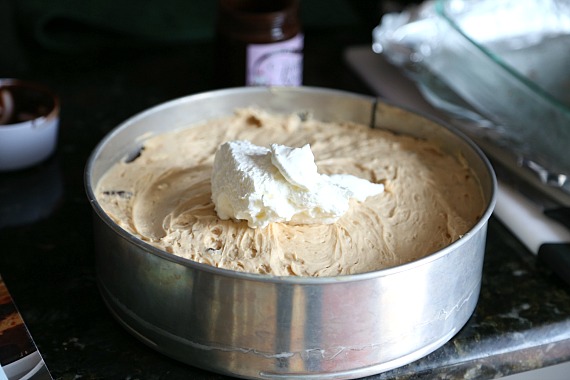 It just keeps getting better.
Grab your peanut butter cups and choppity chop chop them.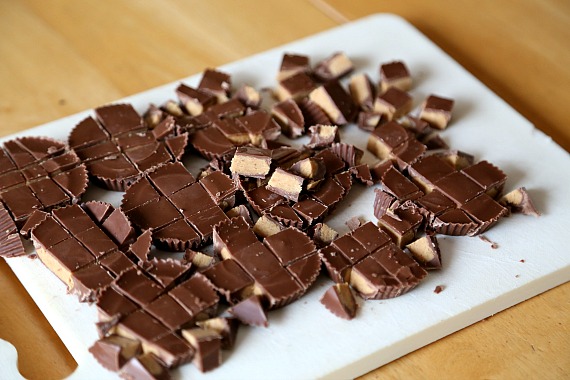 Add those to the top.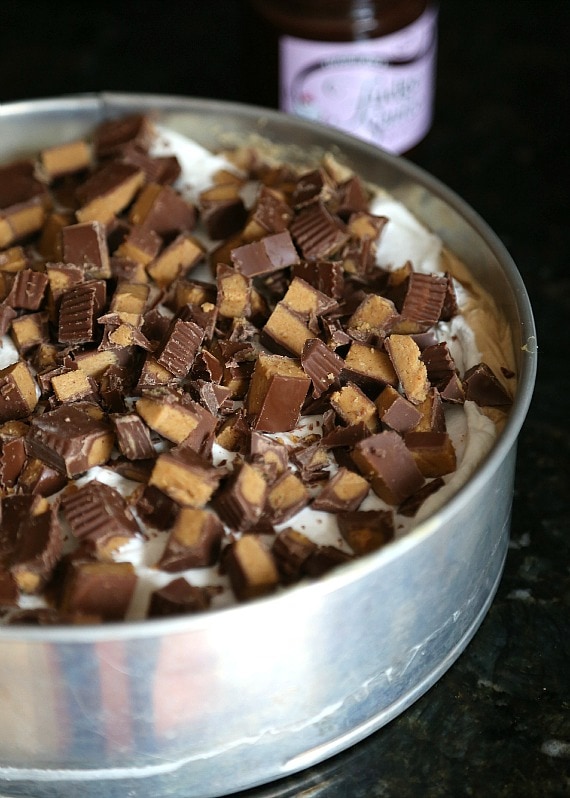 And then FINALLY drizzle the last of the hot fudge sauce on…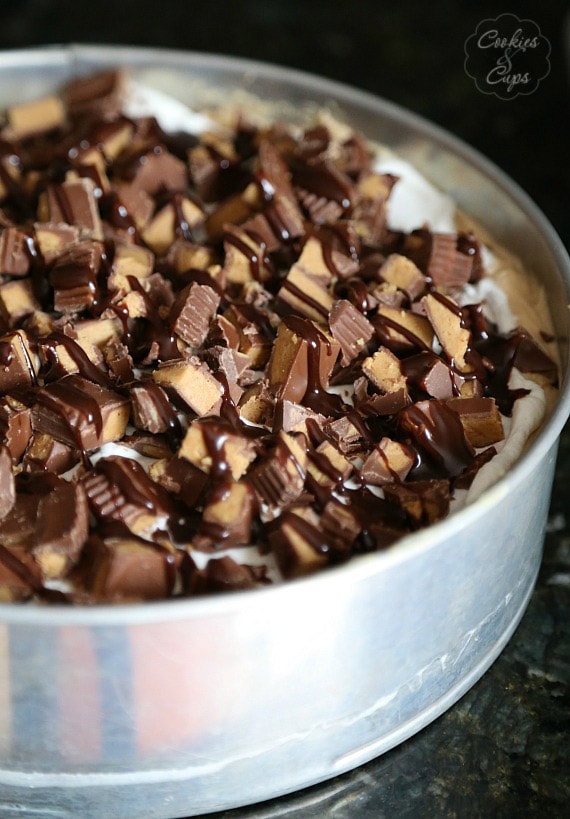 Waiting is the hardest part, isn't it?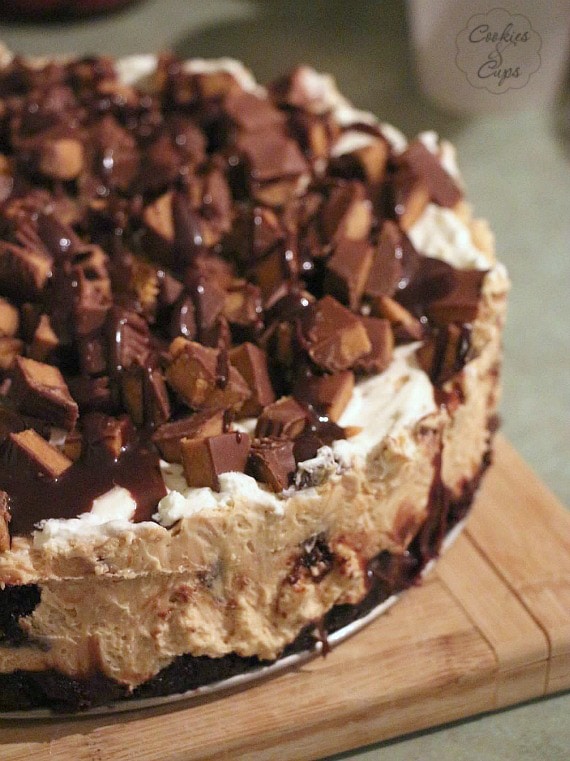 Print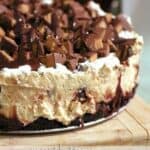 Peanut Butter Cup Brownie Cheesecake
Author:

Prep Time:

20 minutes

Cook Time:

Box directions

Total Time:

0 hours

Yield:

About

12

slices

1

x

Category:

Dessert

Method:

Oven

Cuisine:

American
---
Description
This Peanut Butter Cup Brownie Cheesecake is a show stopper! It's a super easy cheesecake recipe that's packed with chocolate peanut butter flavor! It's impossible to not love this cheesecake!
---
1

19 1/2 oz brownie mix (prepared in 9x

13

pan according to package directions)

1 cup

hot fudge sauce, divided

2

(8 oz) packages cream cheese, room temperature

1 1/2 cups

creamy peanut butter

1

(14 oz) can sweetened condensed milk

2 cups

heavy whipping cream

1/4 cup

powdered sugar

12

peanut butter cups, chopped
---
Instructions
Bake brownies according to package directions, allow to cool completely.
When brownies are cooled cut into bars. Remove 3/4 of the bars from the pan and press into the base of a 9″ Springform pan. Set the remaining 1/4 of the brownies aside.
Heat hot fudge sauce for 30 seconds and then spread 3/4 cup onto brownie base. Set aside.
In bowl of stand mixer beat cream cheese and peanut butter until smooth and combined. Add in sweetened condensed milk and mix until evenly incorporated.
In another bowl combine heavy cream and powdered sugar and beat on high until stiff peaks form. Reserve 1 cup of whipped cream and set aside. Fold remaining whipped cream into peanut butter mixture until smooth and evenly combined.
Spread half of peanut butter mixture on top of brownie base. Crumble remaining brownies and sprinkle them on top of peanut butter mixture. Top with remaining peanut butter mixture and finally remaining whipped cream.
Sprinkle chopped peanut butter cups on top and drizzle with remaining hot fudge sauce.
Chill for at least 4 hours. Overnight is best.
Remove sides of Springform pan when ready to serve.
---
Notes
Store airtight in refrigerator for up to 3 days.
Recipe adapted from Midwest Living
Nutrition
Serving Size:
Calories:

766

Sugar:

62.2 g

Sodium:

450 mg

Fat:

44.5 g

Carbohydrates:

80.9 g

Protein:

16.3 g

Cholesterol:

56.7 mg
Keywords: peanut butter cheesecake recipe, brownie cheesecake recipe, peanut butter cheesecake, brownie cheesecake, easy cheesecake recipe, chocolate cheesecake recipe
Want To Save This Recipe?
Find more recipes like this:
Save