This is the Best Bran Muffins Recipe ever! Moist, packed with flavor and easy to make, this recipe starts with bran cereal and be prepped the night before!
It's great to have classic muffin recipes that always turn out great, so make sure to try my Blueberry Muffins and my Banana Muffins too!
Bran Muffins Don't Have To Be Boring!
Forget what you have always thought about Bran Muffins. Yep, let all that go. If you grew up in a house where Bran Muffins meant dry, tasteless, "healthy" muffins we're about to push all that to the side and start fresh. I mean, don't get me wrong, I won't say these aren't healthier than a chocolate chip muffin…they certainly have more protein and fiber which is awesome. BUT I won't bog you down or try and to trick you into thinking they're health food. Especially if you spread on some butter which I believe is a non-negotiable. Plus, the Nutrition Facts are there in plain site below the recipe for all to see.
They aren't a bad option AT ALL. In fact, I feel confident serving these to my children for breakfast knowing that their bellies will be full because Bran Muffins are a rather hearty muffin option if we're playing the comparison game.
But my long-winded point here is to forget anything you thought you knew about Bran Muffins and make these. You will not be disappointed. The texture is dense, but moist. The flavor is subtly sweet in the best way possible, and the addition of turbinado sugar on top adds the perfect crunch!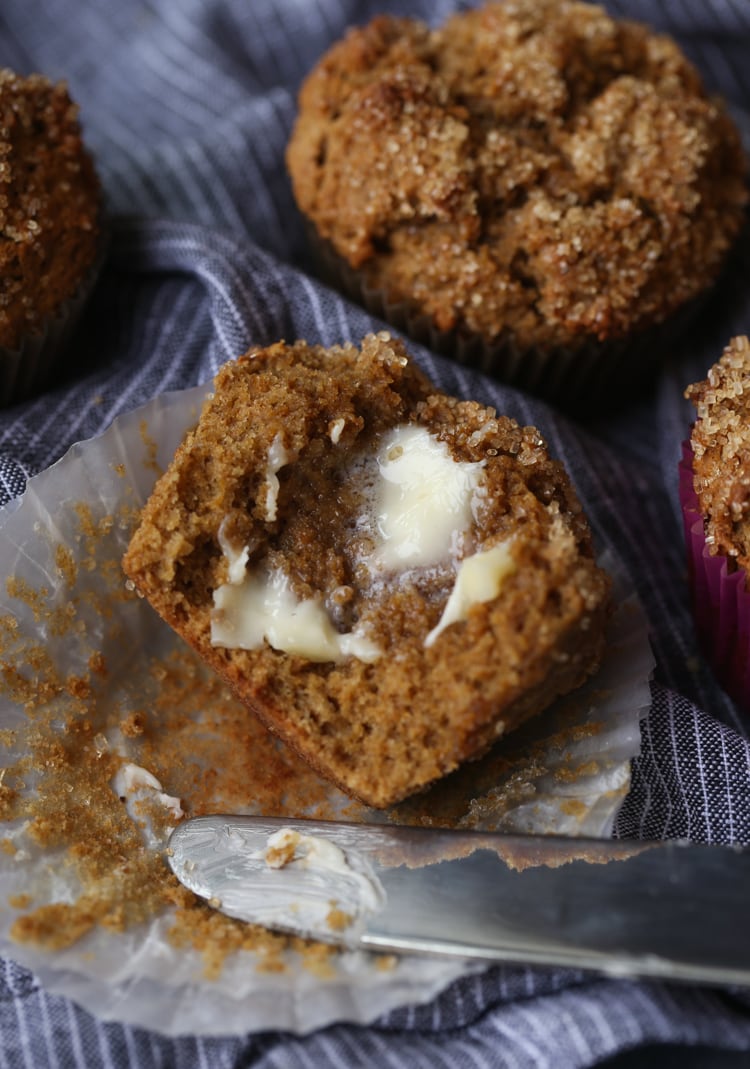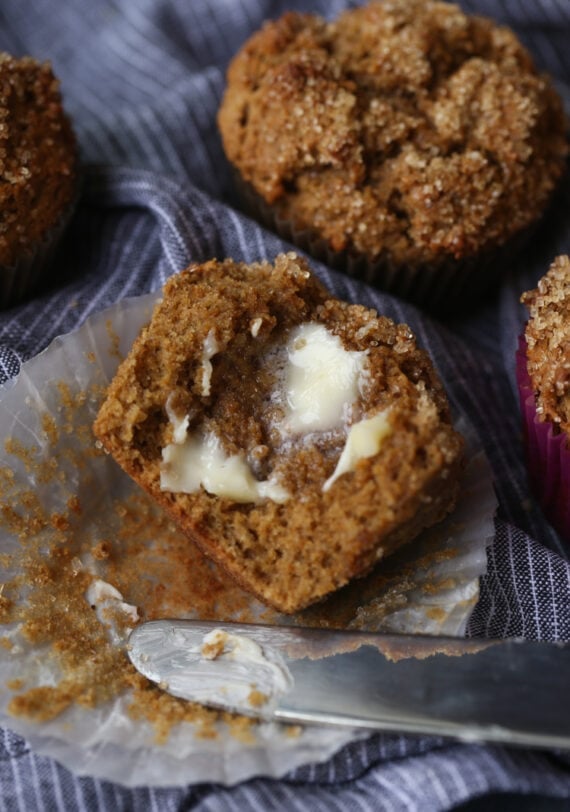 This Bran Muffin Recipe Is From the Cookbook Midwest Made!
This is one of the many fantastic recipes from the book Midwest Made by Shauna Sever. I became online friends with Shauna many years ago and she has knocked it out of the park with her books like Marshmallow Madness, Real Sweet, and Pure Vanilla. Midwest Made is her latest and it's a cozy blanket of a book filled with food from my childhood.
There were so many recipes in this book that I wanted to feature, but I get asked SO frequently for a delicious Bran Muffin recipe, I knew it was the one I had to make first. And I was right. You guys are going to LOVE these muffins!
How Do You Make Bran Muffins?
This muffin recipe is ultra easy and you don't need any special or fancy ingredients…no specific flours, or health-food-style ingredients. You make them all in one bowl, which is always a bonus and the "secret" bran ingredient is one you might not expect!
Do You Use Cereal In Bran Muffins?
The answer here is yes! Like I said, there are no fancy bran flour or bran meal in this recipe, it's regular old bran cereal that you can easily (and cheaply) find in any supermarket! You might even have a box of it in your pantry that you need to use up and this is the PERFECT way to do so!
You could even use Raisin Bran and pick out the raisins before you crush the cereal. You can easily add the raisins back into the batter later if you would like to make a Raisin Bran Muffin! How good does that sound?
I simply pulverize the cereal in my blender or food processor. You could also use a zip-top bag and a rolling pin, just make sure you crush them up finely!
How To Measure the Cereal:
I've gotten this question many times in the comments to this recipe, so I want to edit this to add that you measure the 3 cups of cereal out, THEN crush it.
The recipe is written 3 cups bran flake cereal, finely crushed. Otherwise it would have been written 3 cups finely crushed cereal 🙂 Hope this helps clarify this recipe and other recipes moving forward!
This Bran Muffin Recipe Can Be Prepped the Night Before!
One of the things that I absolutely love about this recipe is that you can prep it the night before. You need to let the batter rest for at least 4 hours, but overnight works too! The cereal needs time to soften up and absorb the moisture.
Is the Batter Supposed To Be THAT Thick?
Yep! After the batter rests it will be very thick. When you scoop it into your muffin tins it will be like a fluffy ice cream! And go ahead and fill those muffin tins up…while the batter rises while it bakes it doesn't "spill" over like a traditional muffin. It puffs up and creates a crackly texture, which along with the turbinado sugar creates a lovely crunchy top.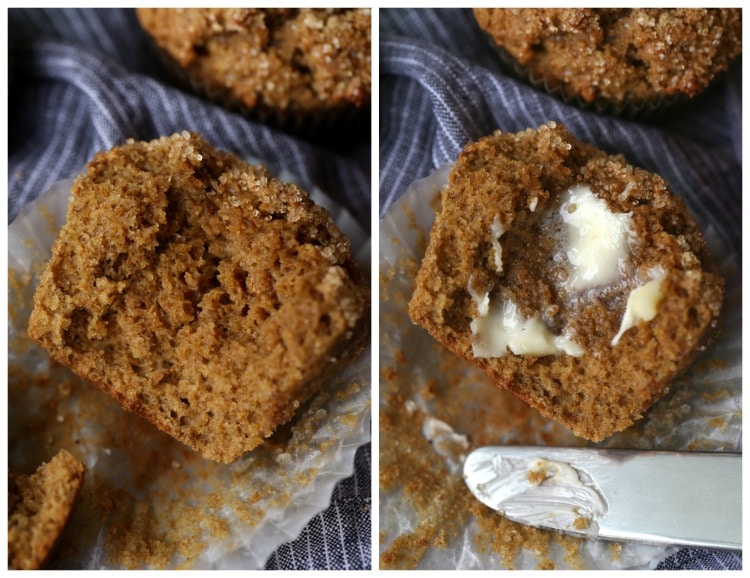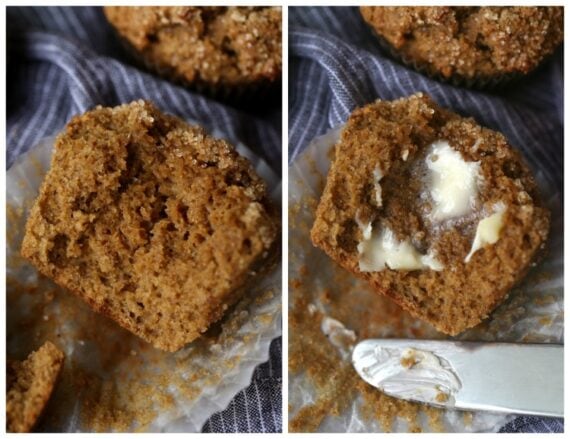 What Else Can I Add To Bran Muffins?
This is a recipe begging for add-ins, so get creative! Here are a few starter ideas and I would add about a cup of any of these:
Raisins
Fresh Fruits like blueberries, diced apples, or raspberries
Pumpkin Seeds
Looking For More Muffins Recipes? Try These:
Print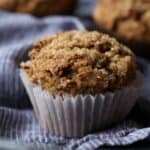 Bran Muffins
Author:

Prep Time:

10 minutes

Cook Time:

20 minutes

Total Time:

30 minutes + chill time

Yield:

10

muffins

1

x

Category:

Muffins

Method:

Oven

Cuisine:

Breakfast
---
Description
These moist, flavor-packed Bran Muffins are a classic and this recipe is the best ever!
---
3 cups

bran flake cereal, finely crushed (*see note)

1 1/4 cups

all purpose flour

2/3 cup

light brown sugar

1 1/2 teaspoons

baking soda

1/2 teaspoon

kosher salt

1/2 teaspoon

ground cinnamon

1 cup

buttermilk

1/3 cup

vegetable oil

1

large egg

1 teaspoon

vanilla extract

3 tablespoons

turbinado sugar for sprinkling
---
Instructions
Combine the cereal, flour, brown sugar, baking soda, salt, and cinnamon into a large bowl and whisk together. Set aside.
In a separate bowl whisk together the buttermilk, oil, egg, and vanilla. Pour the wet ingredients into the dry and stir to blend well. Cover the bowl tightly with plastic wrap and refrigerate for at least 4 hours or up to 12 hours. The batter will become very thick.
Preheat oven to 400°F. Line your muffin tin with 10 paper liners and set aside.
Divide the batter evenly among the liners, filling them completely. Sprinkle with the turbinado sugar.
Bake for 18-20 minutes or until a toothpick inserted into the center comes out clean.
Allow the muffins to cool in tin for 2 minutes and then transfer to a wire rack to cool completely.
---
Notes
Note – Measure 3 cups of the the Bran Cereal and THEN crush it. You won't have a total of 3 cups of crushed cereal. The measurement is for pre-crushed.
Store in an airtight container for up to 3 days.
Nutrition
Serving Size:
Calories:

254

Sugar:

18.1 g

Sodium:

398.1 mg

Fat:

9.2 g

Carbohydrates:

38.6 g

Fiber:

1.7 g

Protein:

4.5 g

Cholesterol:

21.3 mg
Keywords: cookies and cups, muffin recipe, bran muffins, bran cereal, easy bran muffins, best bran muffins
Want To Save This Recipe?