These Brownie Cookie Sandwiches are made with a perfectly chewy brownie cookie, loaded with melted chocolate and chips. Every cookie is like the edge piece of a brownie!
There seem to be two types of people in this world…the people who like the middle pieces of a pan of brownies and those who like the edges pieces.I am a brownie innards girl all.the.way.
The edges are just a side effect.
I especially like brownie middles when they are ooey-gooey-almost-raw-won't-even-stay-in-one-piece. BUT the edges seem to have this weird cult following. I mean they made a WHOLE PAN to make just edge pieces.
How about a whole pan to make just MIDDLE pieces? Hmm? HMMM???? Someone needs to figure out that little bit of baking arithmetic.
Anyhow..I have finally found the perfect treat that will satisfy BOTH types.
Brownie Cookies.
The are chewy, but also gooey…the tops are crackly and they are loaded with chocolate. AND I made them into Brownie Cookie Sandwiches, because nothing beats a good brownie…except one with peanut butter and frosting.
Sometimes I really feel like I can't get any smarter.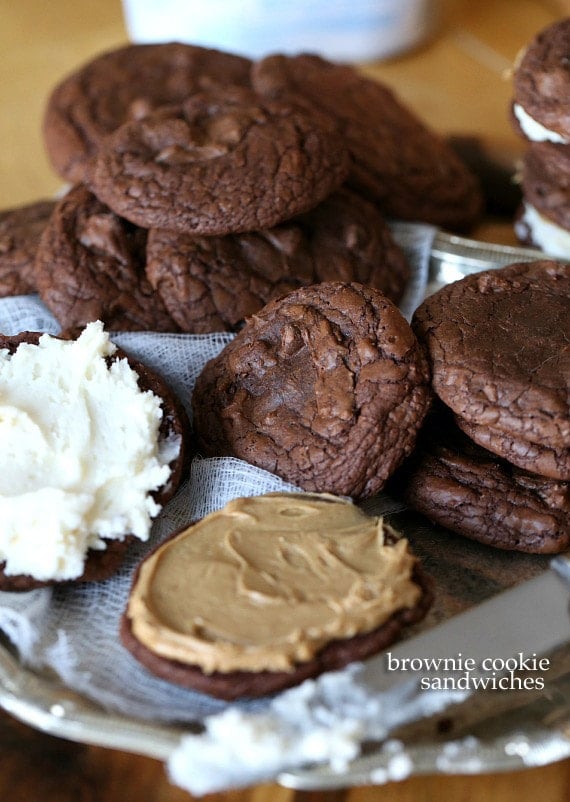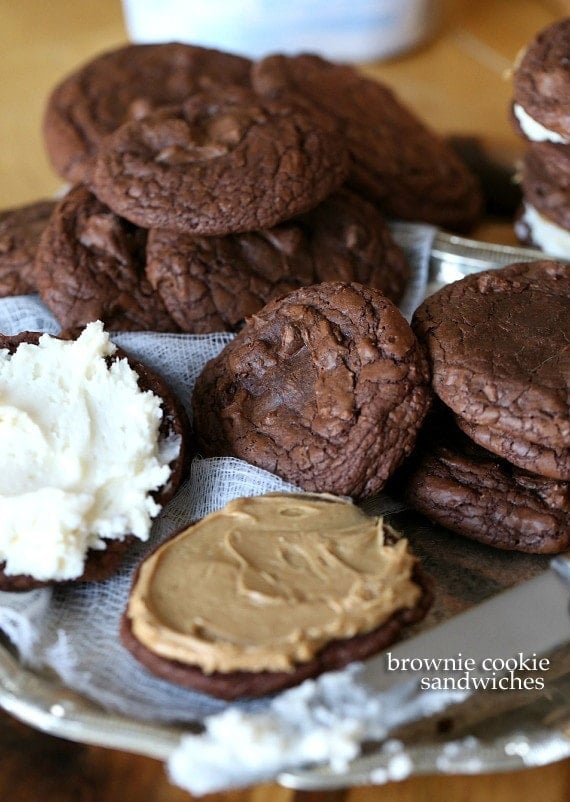 So let's discuss how flipping easy these cookies are to make…
Whisk your dry, whisk your wet…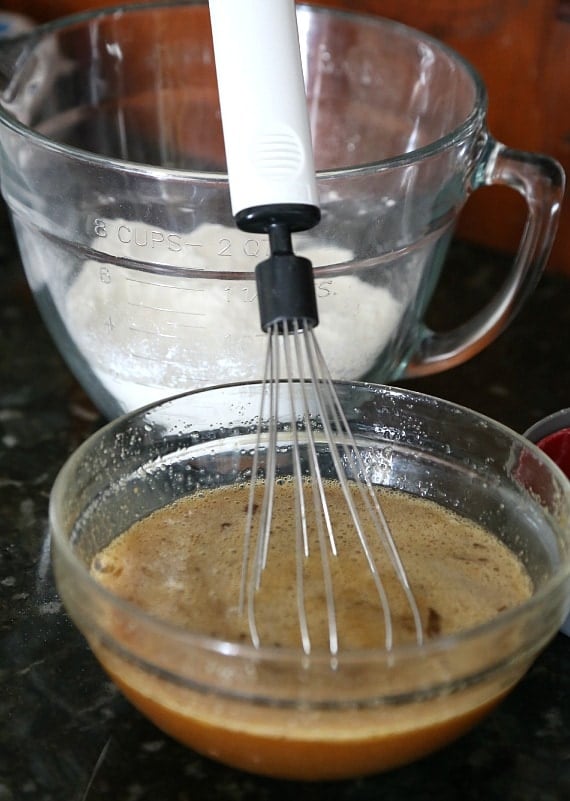 Melt ONE WHOLE POUND OF CHOCOLATE with a WHOLE STICK OF BUTTER.
Just come on.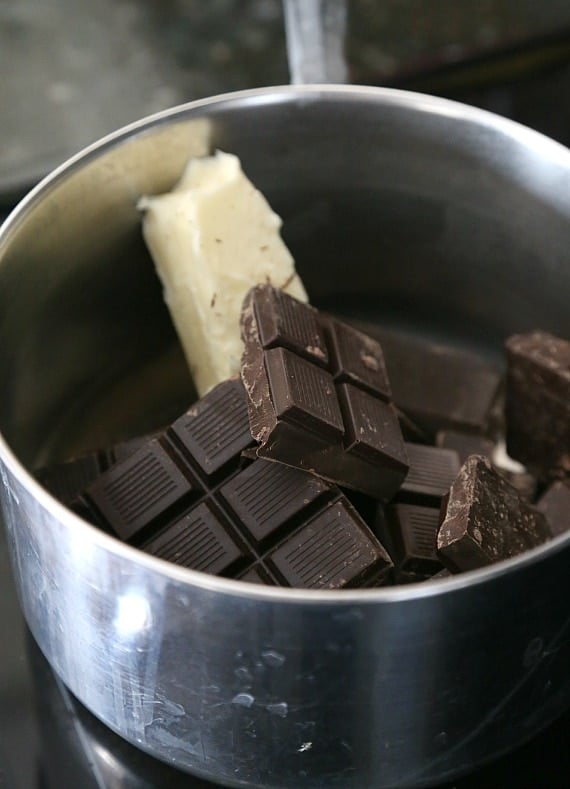 Yes yes yes.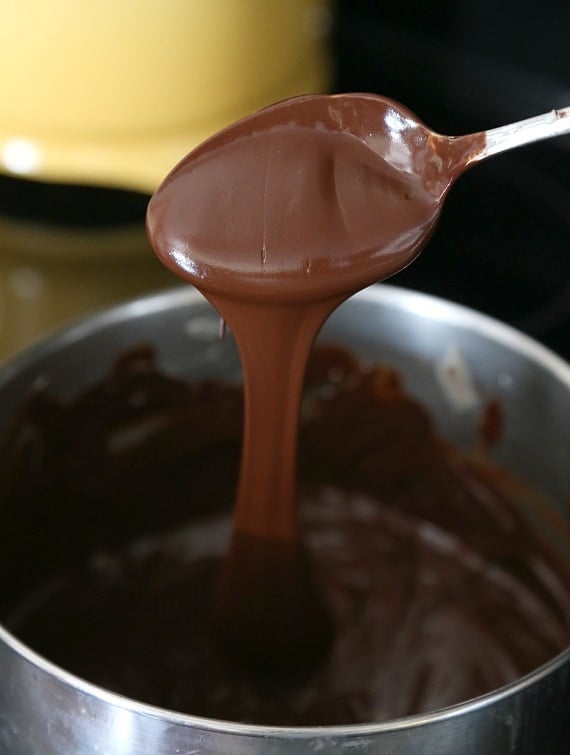 Mix the chocolate in with the wet ingredients and then mix all that in with the dry…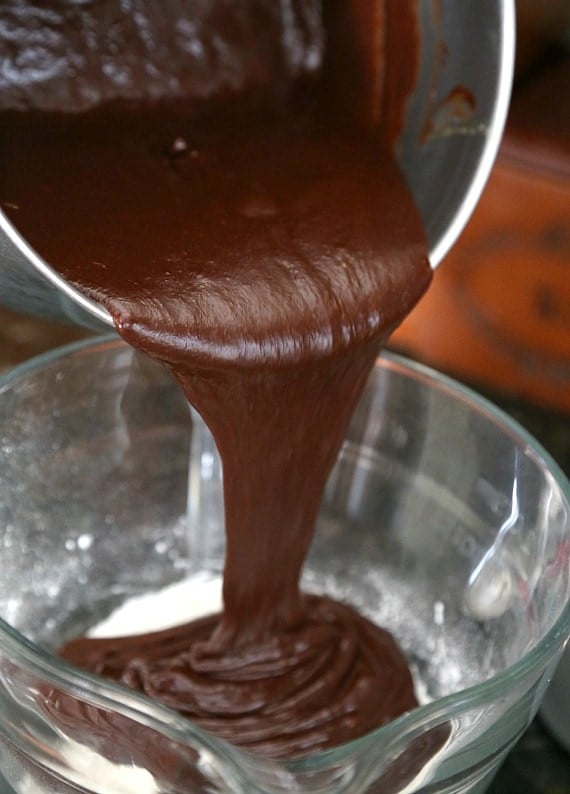 Stir.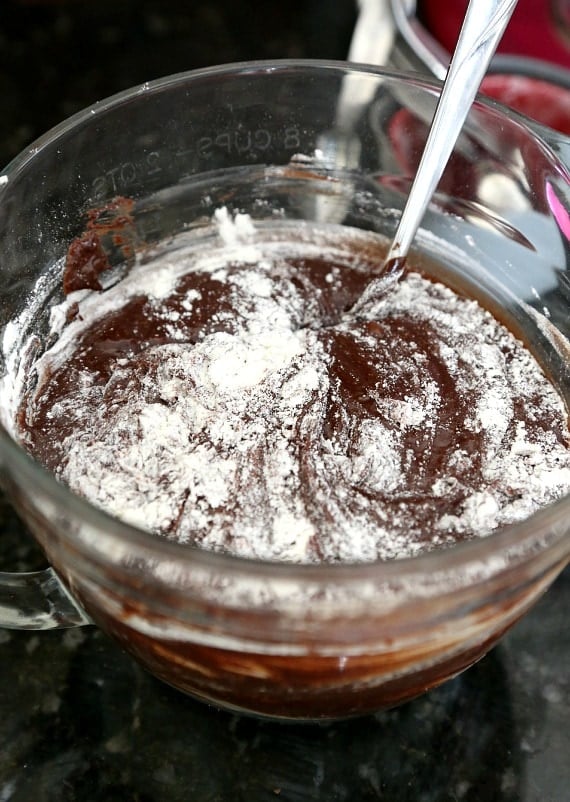 And mix in more chocolate. This time milk chocolate…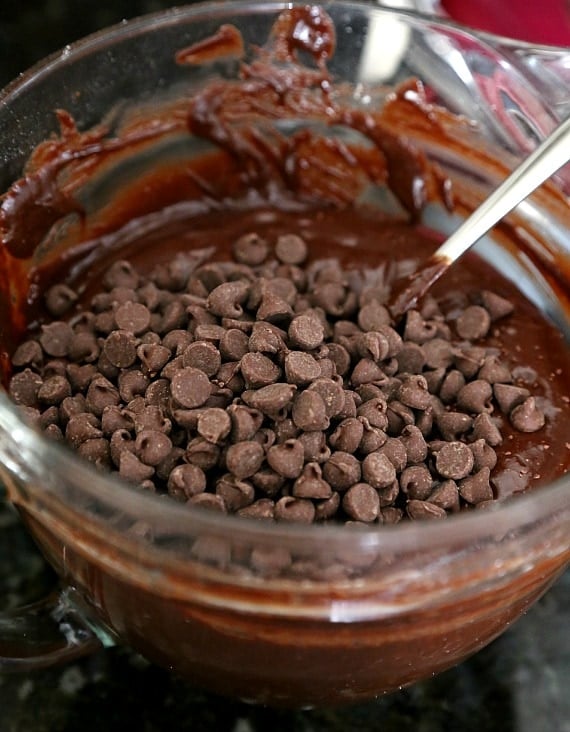 Plop that onto a lined baking sheet…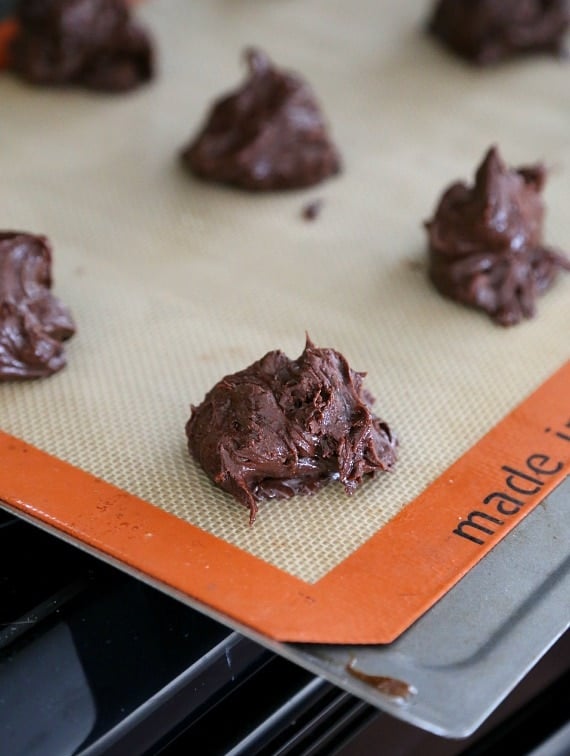 And bake them til they're beautiful.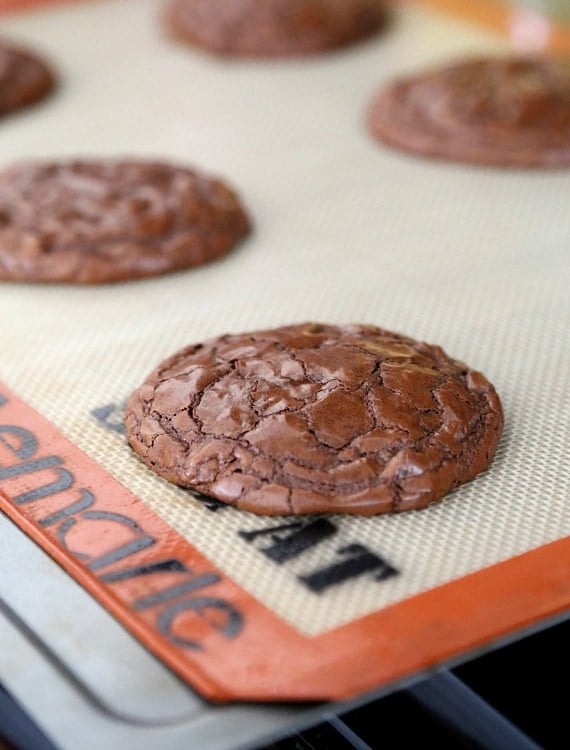 Now you could stop here.
I mean, look at the cookies…gorg.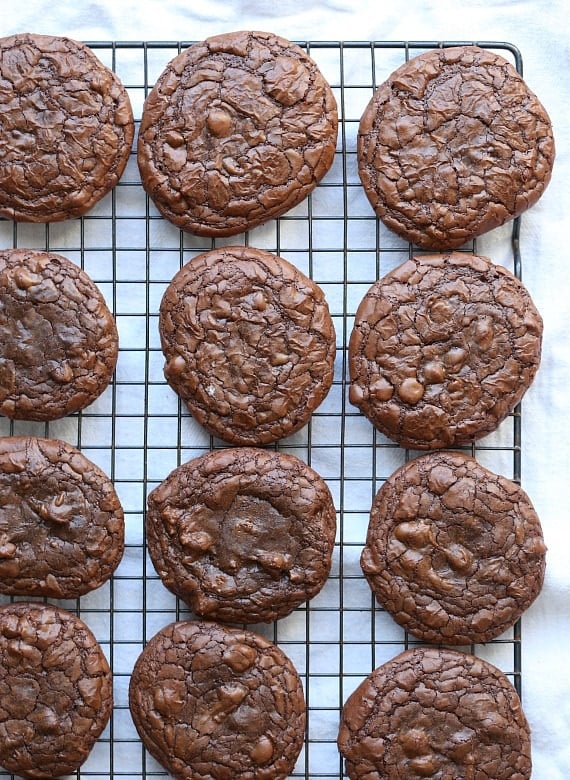 OR you could slather some peanut butter onto one side and frosting onto the other and make this…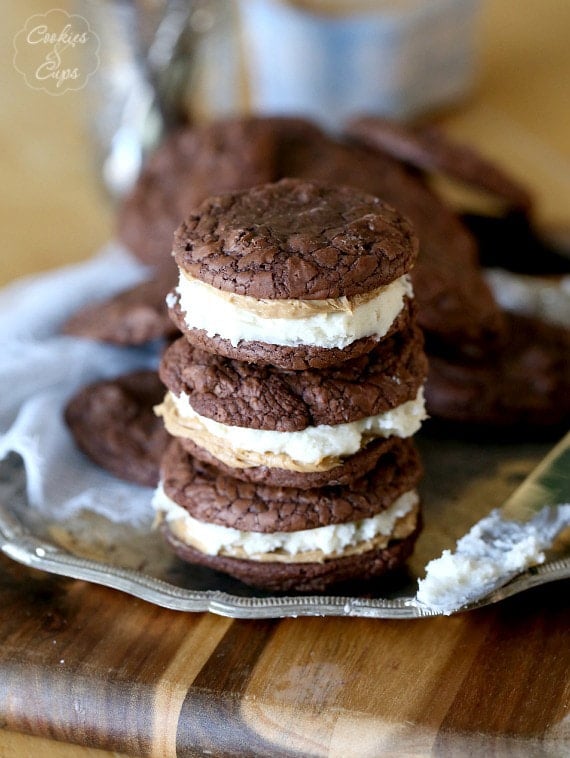 ALSO. This is the recipe that I used for frosting…it's called Crispy Magic Frosting and ohmahgah make it.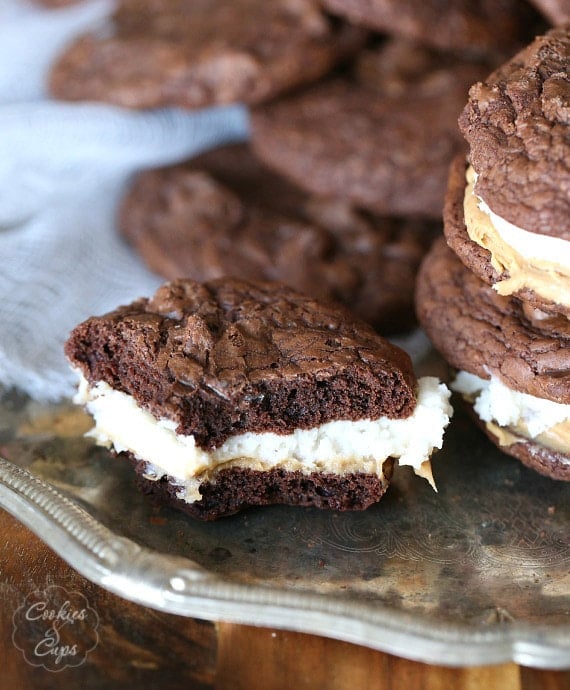 I love these about as much as one could possibly love a cookie. Because.
Click here for Crispy Magic Frosting recipe
Print
Brownie Cookie Sandwiches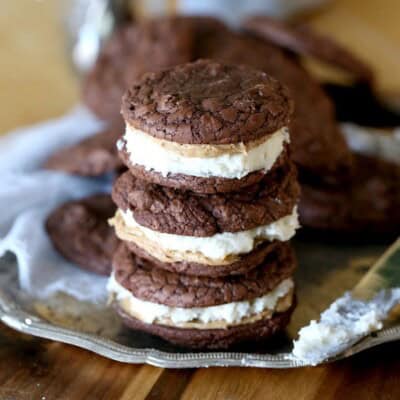 ---
Description:
makes 24 cookies/12 cookie sandwiches
---
Ingredients:
1/2 cup

butter

1

lb semi-sweet chocolate, chopped

1 cup

flour

1 tsp

baking powder

1/2 tsp

kosher salt

4

eggs

1 1/2 cup

s light brown sugar

2 tsp

vanilla

1 cup

milk chocolate chips
*optional frosting and peanut butter to sandwich in the cookies
---
Instructions:
Preheat oven to 350°
Line a baking sheet with parchment or silicone liner, set aside.
In medium sauce pan melt butter and chopped semisweet chocolate over low heat, stirring frequently until just melted. Remove from heat and allow to cool for 5 minutes until warm.
Meanwhile, while chocolate is cooling, in a medium bowl whisk together flour, baking powder and salt. Set aside.
In another medium bowl whisk together eggs, brown sugar and vanilla.
Add chocolate to egg mixture slowly, stirring as you're adding. Stir in the flour mixture next and finally the milk chocolate chips.
Scoop dough by the heaping tablespoon onto lined baking sheet and bake for 9-10 minutes. Allow to cool on baking sheet for 3 minutes and then transfer to wire rack to cool completely.
If desired fill cookies with frosting and peanut butter to form sandwiches.
---
Notes:
cookie recipe adapted from Back in the Day Bakery
Want To Save This Recipe?