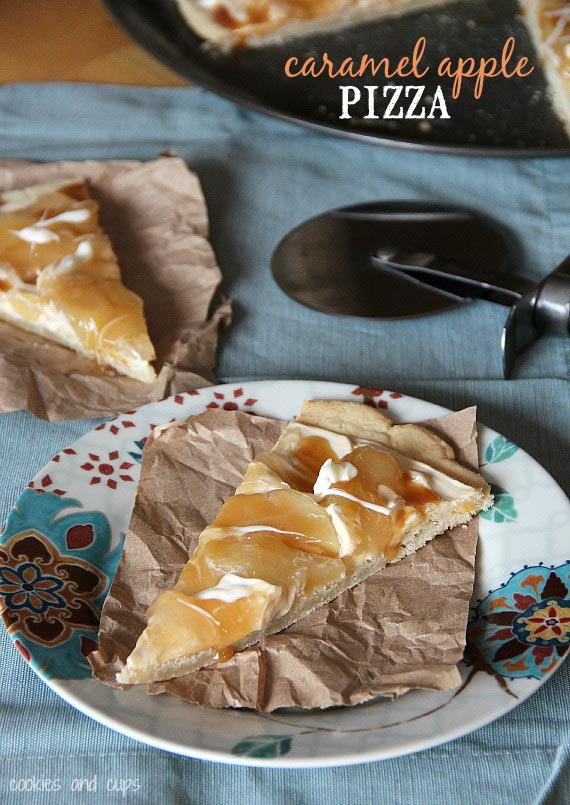 Now that Labor Day 2012 in is our rear-view mirror, do you feel like fall yet?
I am pretty much ready to break out my sweatshirts and boots and hunker down.
Soup, Pot Roast, Apple Pie…I'm ready.
The thing with fall, though, is that it leads to winter.
Would it be wrong to want 9 months of fall and 3 months of summer?
But with fall comes fall television. I am counting the minutes until I see Damon again. And what's gonna happen on Greys? Poor Lexie…
Plus my kids go back to school on Wednesday. I feel like the worst mother ever because I am SO ready. Not ready for homework…gag, but ready for productivity during the daytime hours to commence.
And really, I'm just ready to wear my boots.
It all comes back to footwear, doesn't it?
So how you feeling about Caramel Apple Week so far? Our first round was a winner, for sure…you saw this, right?
Well, how about Caramel Apple Pizza?
I know, right?
This whole thing is kinda..eek…semi-homemade.
I know, I know.
But you can totally do every step from scratch if you're an overachiever.
In my case, I was about oven-to-face in the fastest amount of time. Story of my life.
Grab a roll of sugar cookie dough and press it into a greased pizza pan…about 12″ in diameter…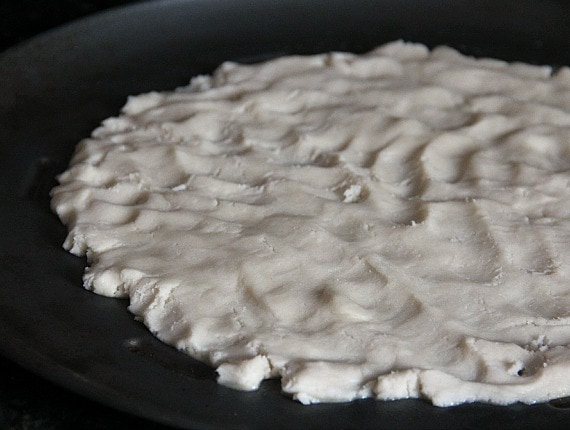 Bake it until you have one giant happy cookie…or about 17 minutes.
Meanwhile mix up some cream cheese and brown sugar. Could there be a better combination?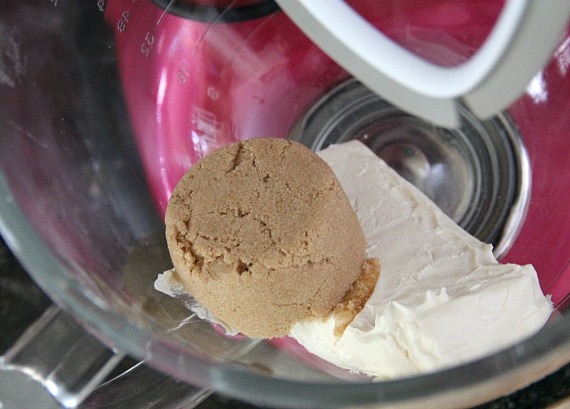 And when your giant cookie is cooked and cooled, give it a good slather with that cream cheesiness.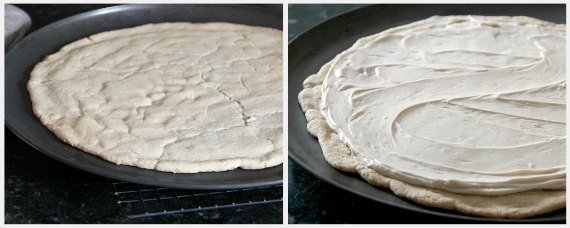 Then pop open a can of Apple Pie filling. Here's my favorite, because there's no high fructose corn syrup.
Spread it all over the cream cheese mixture.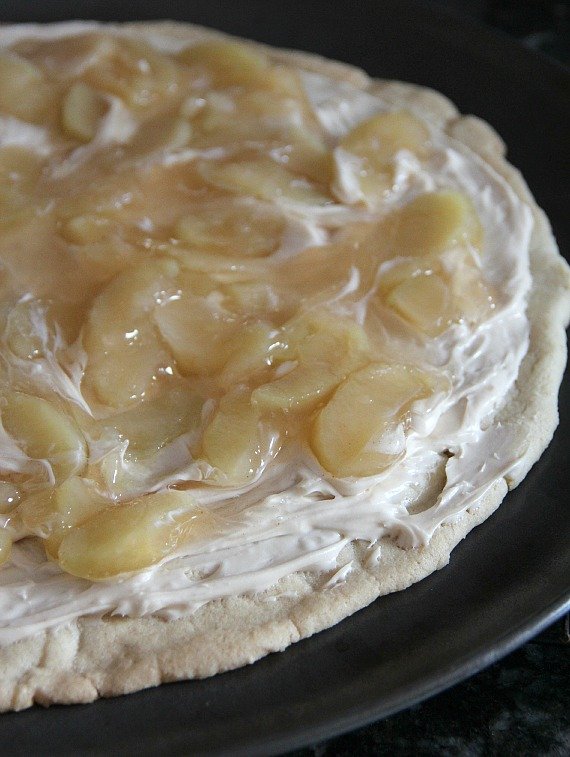 Then drizzle some caramel on top. I used about 1/4 cup.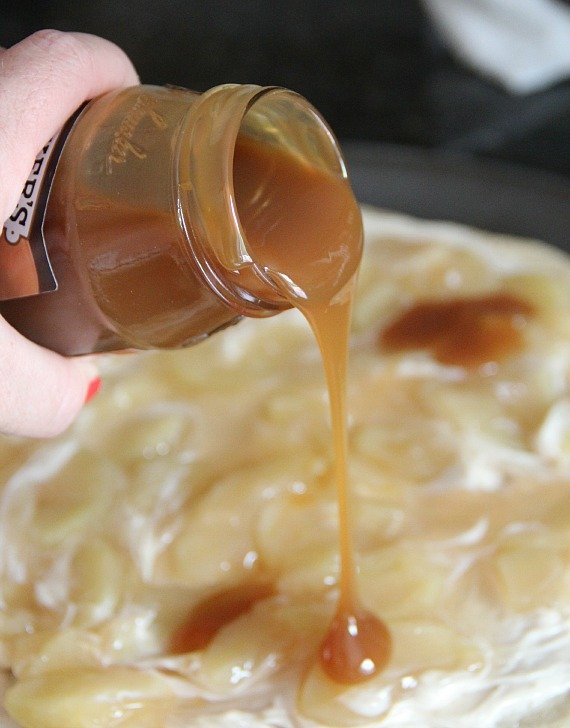 And then because I was feeling fancy I decided to melt some white chocolate and give it some flair.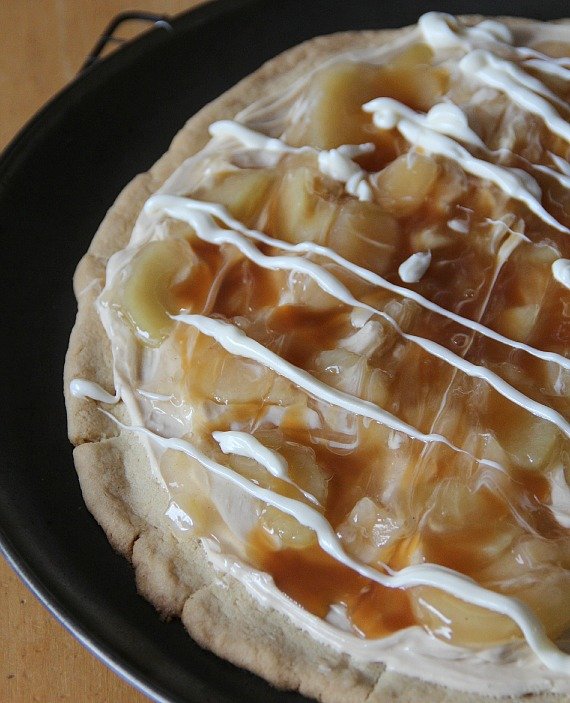 Then I ate.
And ate.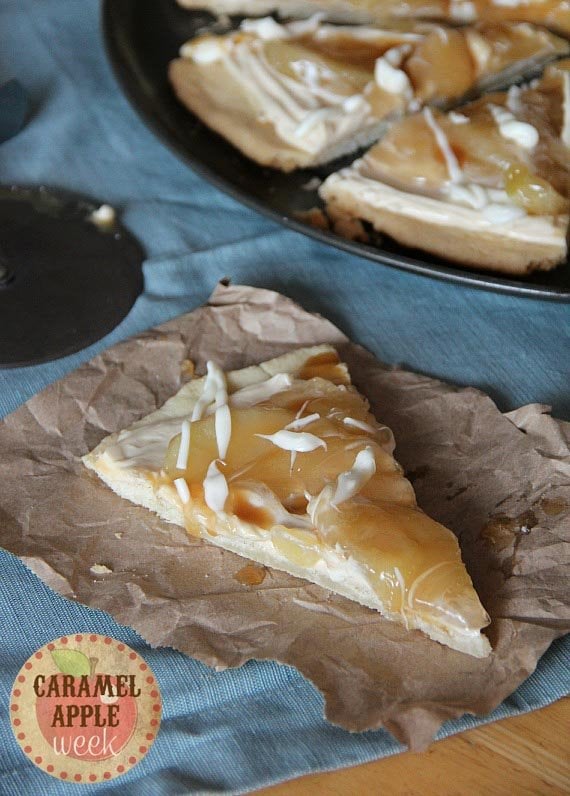 Now I hear that there might be some cute Caramel Apple Cake Pops over at Confessions of a Cookbook Queen today. I could be wrong, though..you should go check.
Print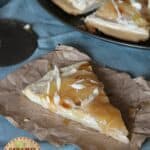 Caramel Apple Pizza
---
---
1

(18 oz) roll pre-made Sugar Cookie Dough

1

(8 oz) block cream cheese, room temperature

1 tsp

vanilla

1/2 cup

light brown sugar

1

(21 oz) can apple pie filling

1/4 cup

caramel sauce

1/4 cup

white chocolate
---
Instructions
Preheat oven to 350°
Spray a round pizza pan with no-stick spray.
Spread the sugar cookie dough out evenly, approx 12″ in diameter.
Bake for 17-18 minutes until dough is golden around the edges and just set in the center.
Transfer pan to a wire rack to cool completely.
While cookie is cooling combine your cream cheese, vanilla and brown sugar in a mixing bowl and beat together for 1 minute until smooth.
When cookie is cooled, spread your cream cheese mixture on top of cookie crust, leaving about 1/2 inch around the edges.
Top the cream cheese mixture with your can of apple pie filling, spreading evenly.
Drizzle caramel over the apple pie filling and then finally melt your white chocolate in the microwave and drizzle that over the entire pizza.
Cut into 2″ – 2 1/2″ slices and serve.
---
Notes
store airtight in the refrigerator
Want To Save This Recipe?