Deep Fried Oreos are an easy and fun treat for special occasions! Only a few ingredients are needed to make the batter crusted, powdered sugar dusted sweet indulgence!
Deep Fried Oreos Are the Ultimate Carnival Treat!
Whether it be at the County Fair, a local carnival, or an amusement park, I'm going to guess that you have at least HEARD of Deep Fried Oreos! I've even seen them on dessert menus at high-end restaurants! Of course, they are the ultimate in dessert overkill…but that doesn't mean they aren't outrageously delicious.
Coating an Oreo cookie in what is essentially pancake batter, deep frying it, and finally coating it in powdered sugar ends up being like a beignet or donut with a melty Oreo inside. Sounds amazing to me!
Making Deep Fried Oreos At Home Is Easy!
This recipe also uses Bisquick, which is simply a pre-made baking mix made of flour, shortening, salt, sugar and baking powder. It's intended for making pancakes, biscuits, waffles, and more as a shortcut ingredient. It can be used in s many ways and is super useful to keep in your pantry in a pinch. In this case, along with a few other simple ingredients makes the perfect batter for Deep Fried Oreos!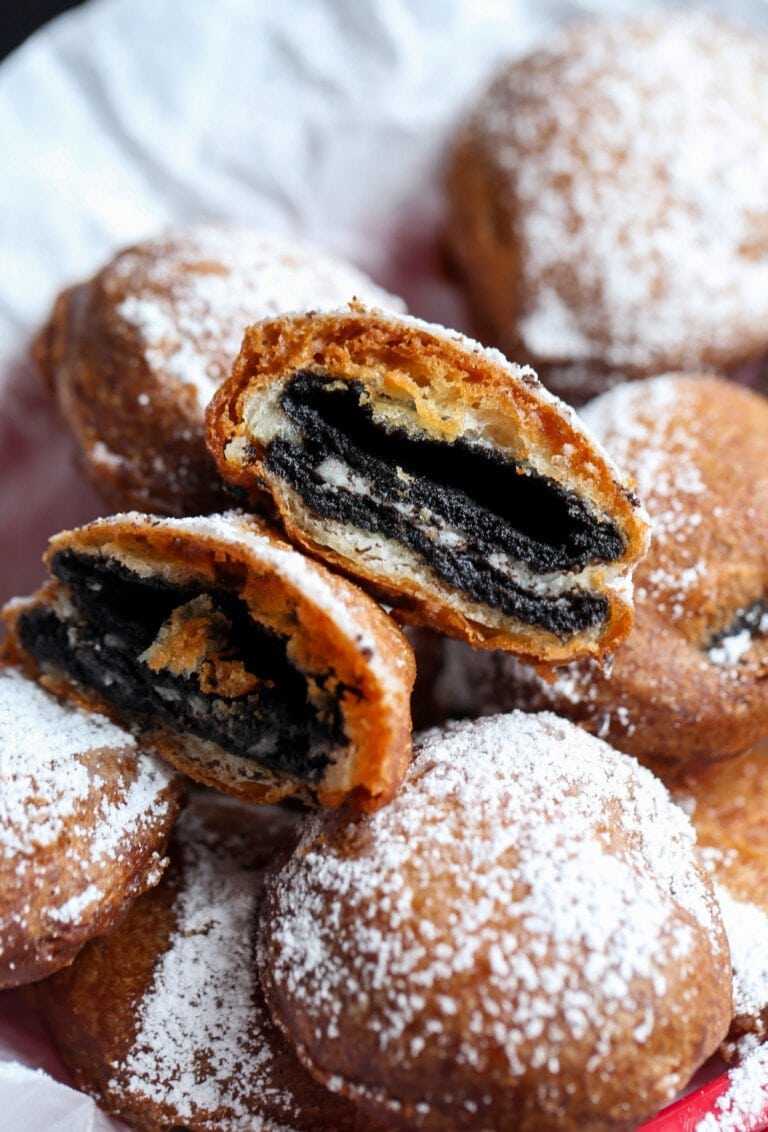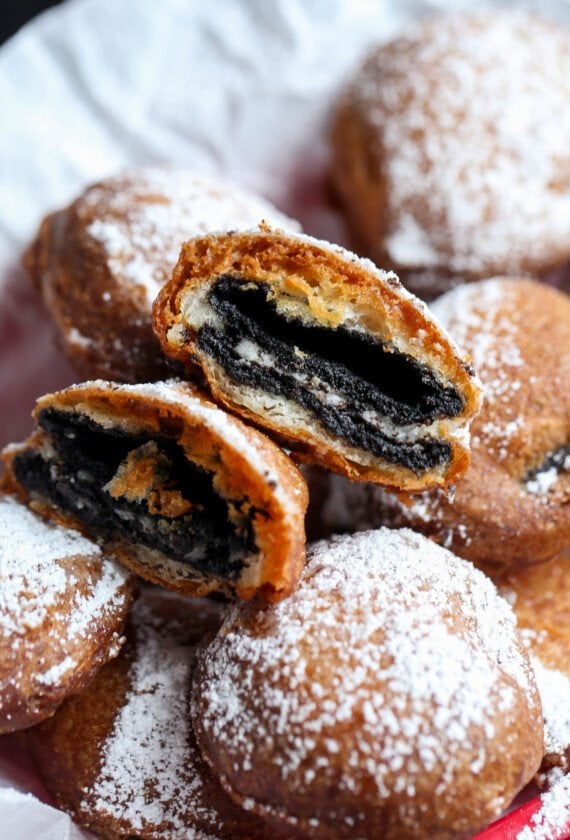 Ingredients:
Oreo Cookies, or any other sandwich-style cookie. You can use Double Stuf or regular…it honestly doesn't make that much of a difference!
Bisquick, or any other generic version of Bisquick that your supermarket sells.
Milk, can be any type.
Egg, I use large-sized eggs
Vegetable Oil, or Canola Oil will work too. You just need a flavorless oil to fry!
Powdered Sugar to dust them with at the end!
How To make Deep Fried Oreos:
The process here really couldn't be easier! Here's a break down of the steps:
Whisk the batter ingredients together until smooth, in a medium-large bowl.
Dip one Oreo at a time into the batter to coat, and using a fork, remove the cookie from the batter, tapping off excess batter. You don't want all the batter to drip off, but any excess just tap lightly.
Place the Oreo directly into oil, heated up to 350°F in a deep Dutch oven. You want the oil to be at least 3- inches deep in the pot for a true "deep fry". It just makes the process easier than going skimpy on the oil!
Allow the Oreos to fry for 3-ish minutes on each side until they are golden brown.
Transfer them to a paper towel-lined plate to cool.
Once they are no longer hot you can dust them with powdered sugar!
What If You Don't Have Bisquick?
A quick Bisquick recipe if you are out is simple:
1 cup all purpose flour
1 1/2 teaspoons baking powder
1/4 teaspoon salt
1 tablespoons butter or vegetable shortening
Whisk flour, baking powder, and salt into a bowl.
Using a pastry cutter or a food processor, cut the butter or shortening into the flour mixture until evenly combined.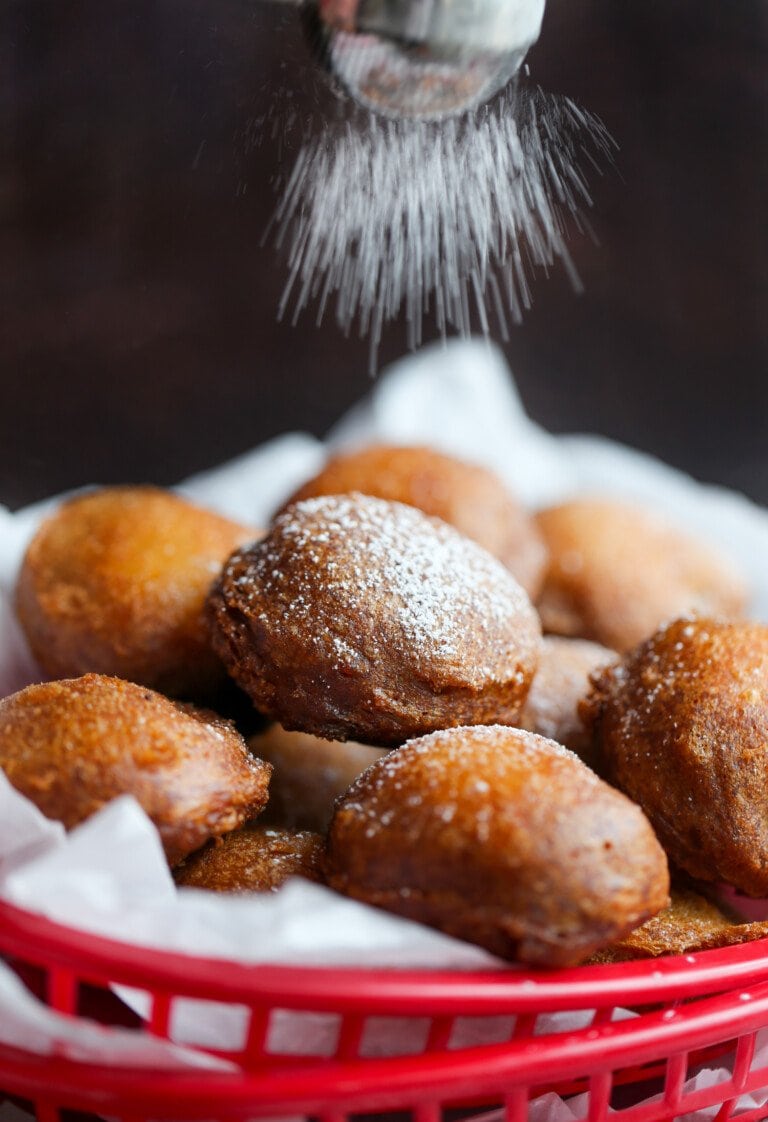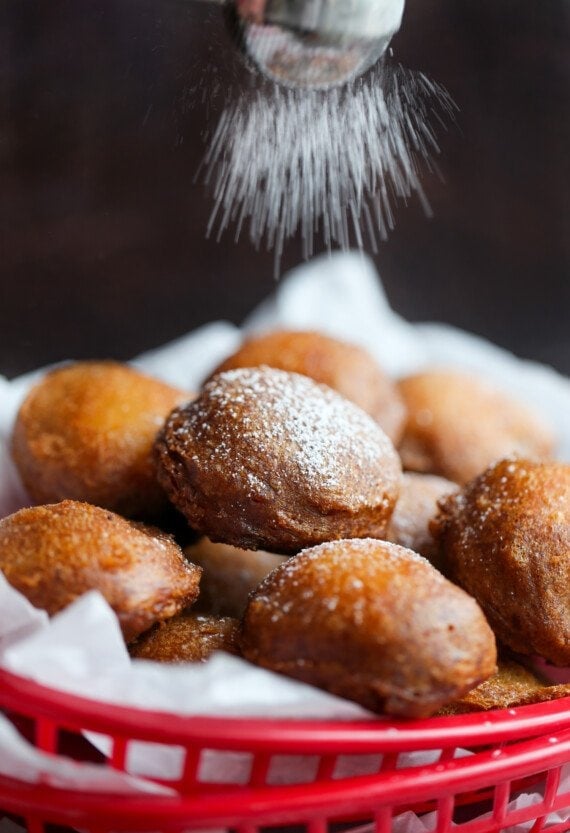 Can You Make These Ahead?
You can make these slightly ahead. I wouldn't recommend more than an hour or two. Just like any fried food, they are best eaten right away!
How To Store:
Again, since I don't recommend making these in advance, I also don't recommend storing these for later. You certainly CAN save them, but they just aren't as good. If you do want to save a few, just store them airtight at room temperature.
Print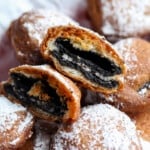 Deep Fried Oreos
Author:

Prep Time:

10 minutes

Cook Time:

3 minutes

Total Time:

13 minutes

Yield:

15

cookies

1

x

Category:

Cookies

Method:

Deep Fry

Cuisine:

Dessert
---
Description
Deep Fried Oreos are the ultimate indulgence…AND they're super easy to make at home!
---
2 quarts

(approximate) vegetable oil for frying

1 cup

Bisquick

2/3 cup

milk

1 teaspoon

vegetable oil

1

egg

15

Oreo cookies
powdered sugar for dusting
---
Instructions
Fill a deep skillet or Dutch Oven 2 – 3 inches deep with vegetable oil. Heat the vegetable oil over medium heat until it reaches 350°F.
While the oil is heating, whisk the Bisquick, milk, 1 teaspoon vegetable oil, and egg together.
Line a large plate with paper towels and set aside.
Working in batches of 3, drop each Oreo into the batter, and using a fork, remove the Oreo from the batter, tapping off excess, and place directly into the hot oil.
Fry the Oreos 3 minutes on each side until golden brown. Using a slotted spoon, remove the fried Oreos from the oil and transfer to lined plate to absorb excess oil.
When the Oreos have cooled, and are no longer hot, dust with powdered sugar.
---
Notes
These are best if enjoyed warm, or within a few hours of frying.
Keywords: cookies and cups, deep fried oreos, oreo cookies, fair food, carnival food
Want To Save This Recipe?
Find more recipes like this:
PIN for later: