This Quick and Easy Caramel Cake topped with creamy cream cheese frosting is sweet, delicious and gets better the longer it sits!
So I just got back from vacation. I feel like it's the best and worst feeling ever.
Like you're SO glad to be home, sleeping in your own bed and showering with all your regular shower stuff…
But then all that means vacation is over. Womp. Womp.
When I come home I always want regular food…like spaghetti…or chicken nuggets…or cake.
Which brings me to THIS cake. It's the perfect post-vacation cake ever. First, it's delicious…duh. Second, it's simple. No one wants to come home and have to make something super complicated. And third, you could possibly have everything you need in your kitchen to make this now. I've got my fingers crossed for you!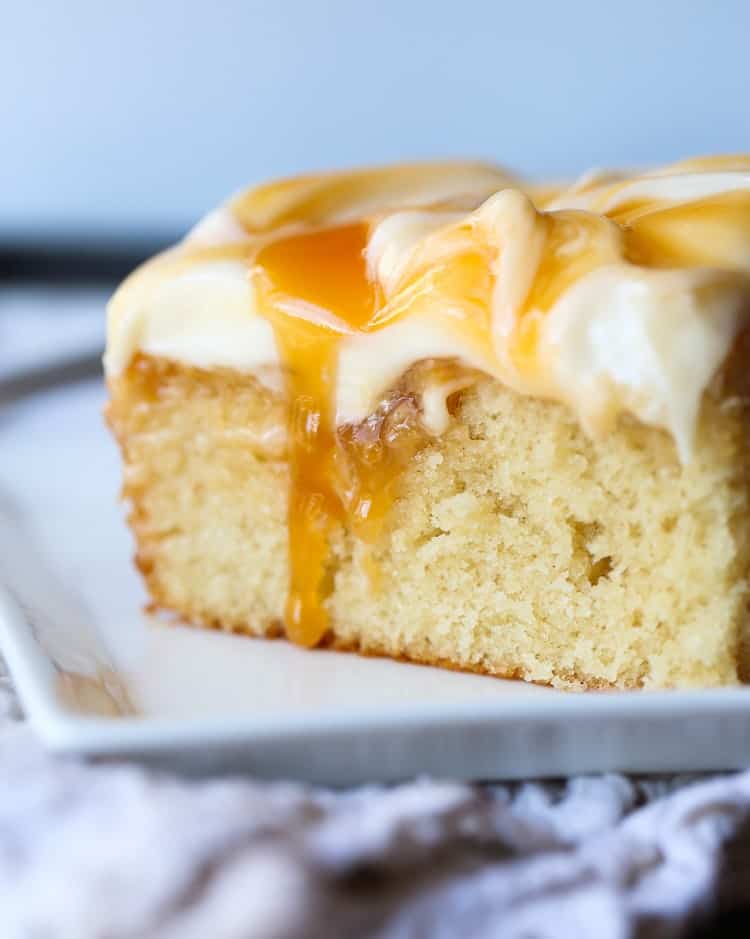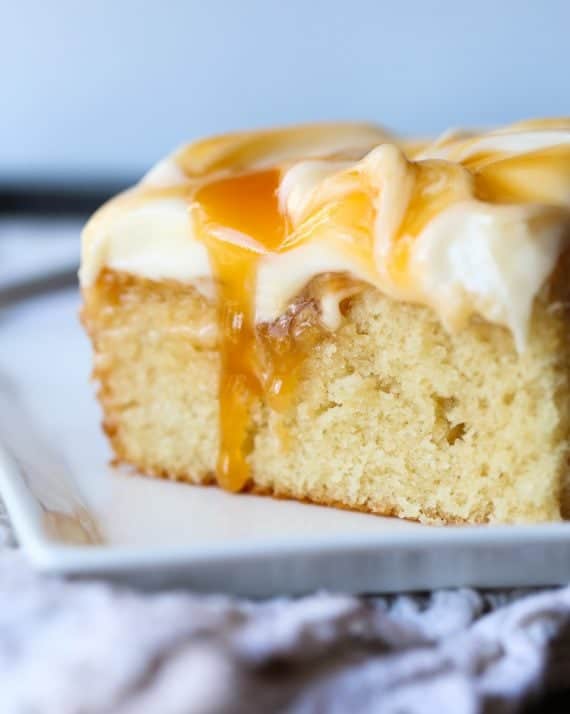 The batter is pretty basic. It's a simple vanilla cake.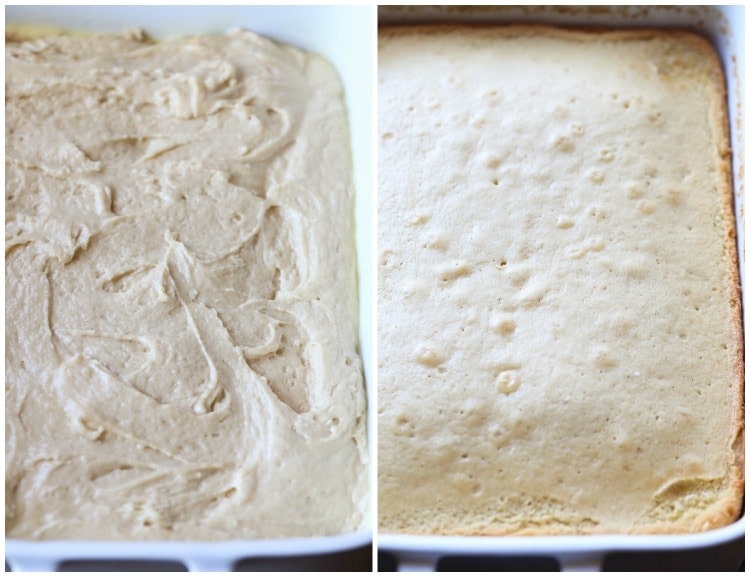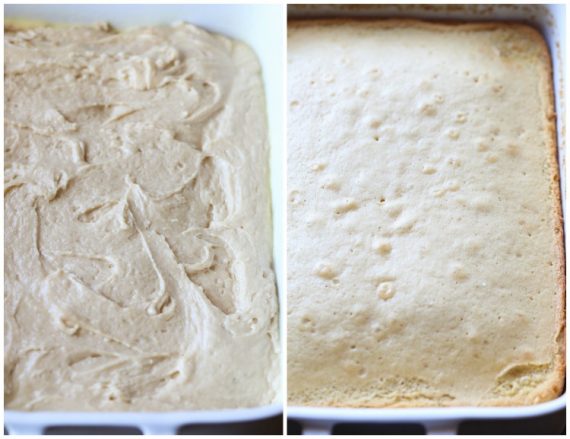 As soon as the cake is baked, poke some holes all over the top…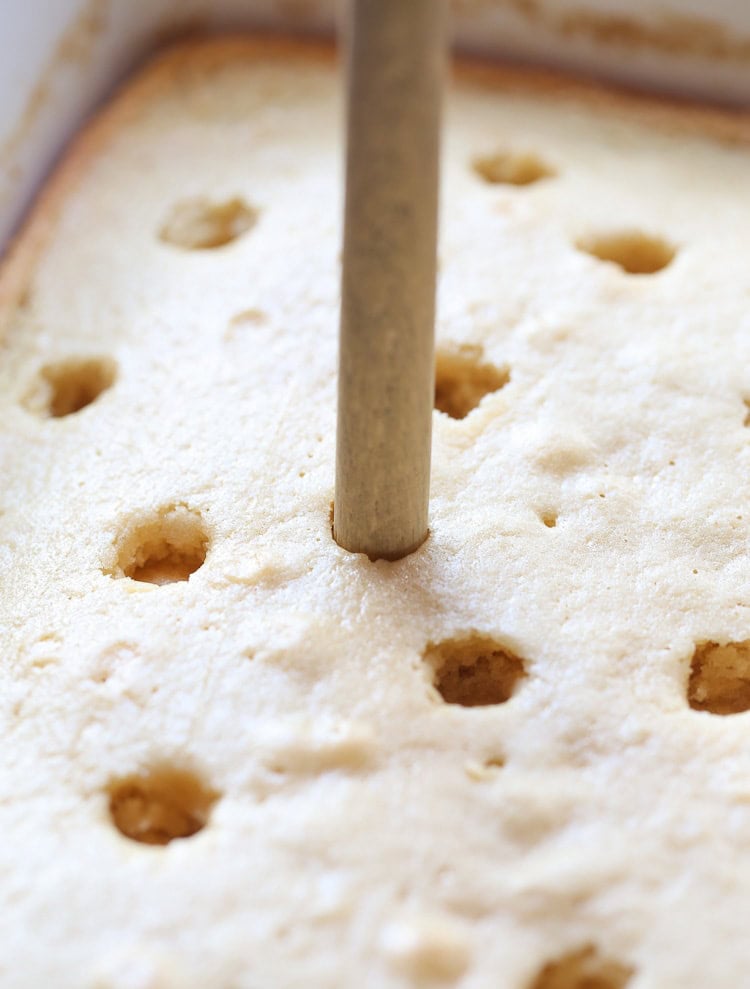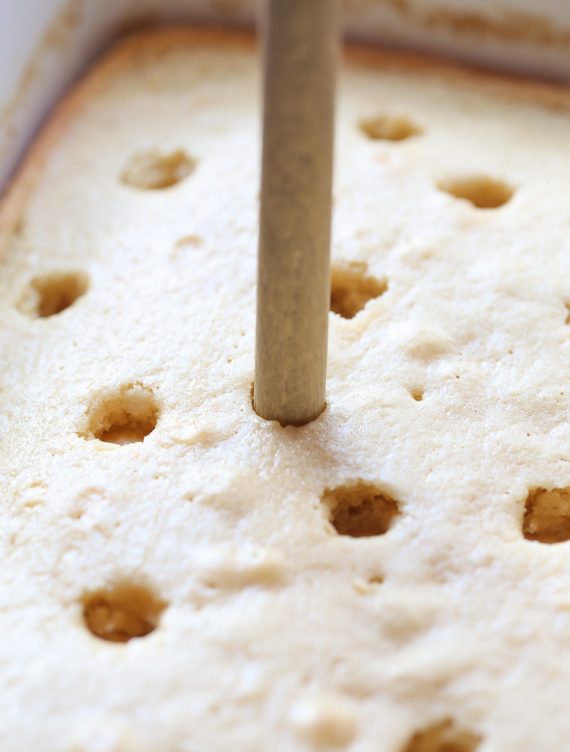 Then pour caramel sauce all over the cake. The caramel will sink into the cake as it cools and pool in the holes you poke with the back of a wooden spoon.
I used just regular jarred caramel ice cream topping.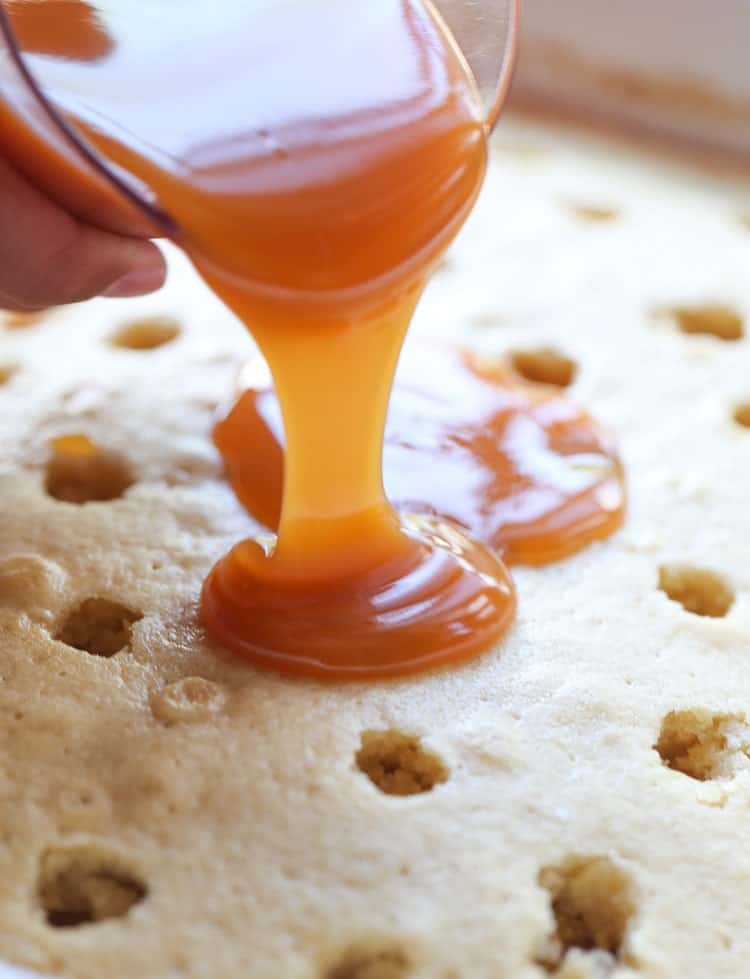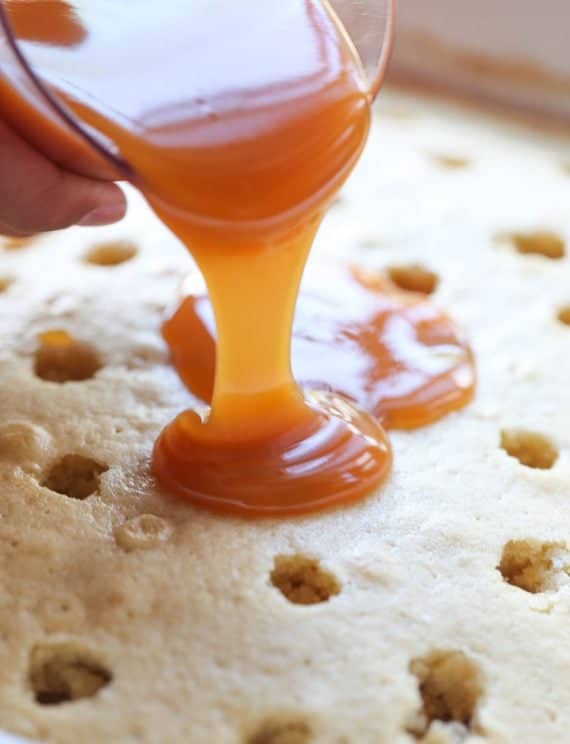 I mean…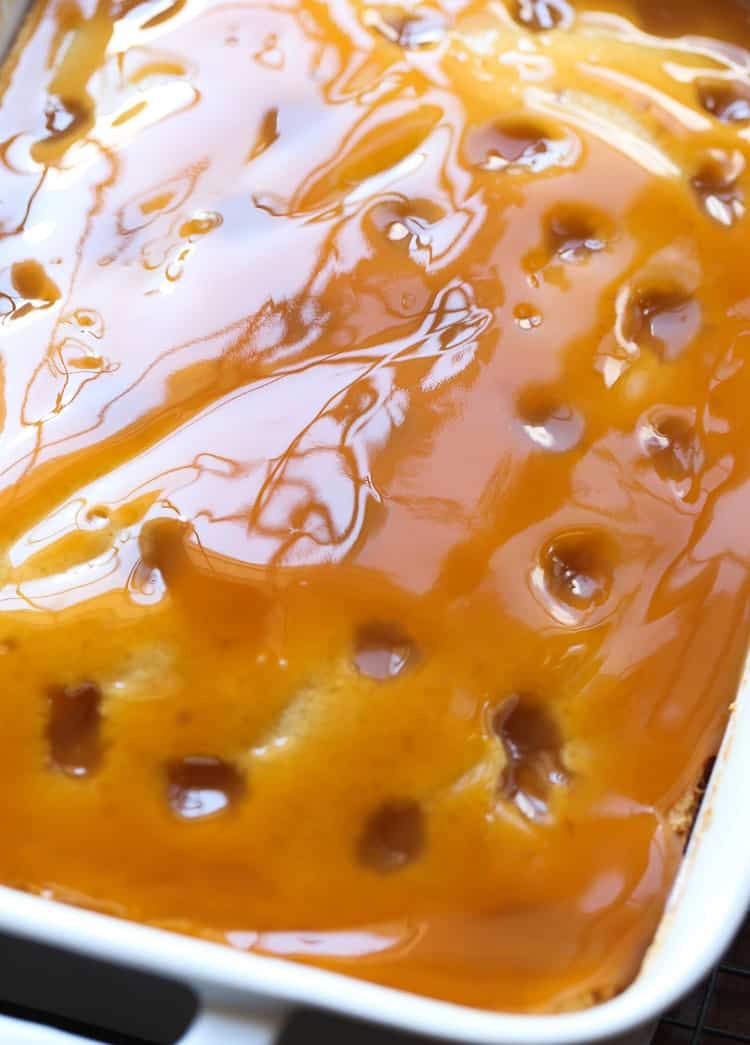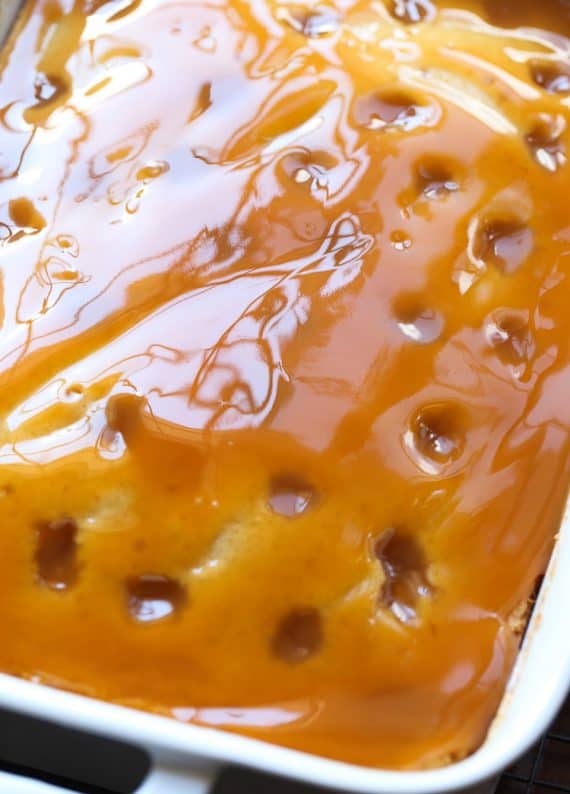 Once it's completely cooled make a simple cream cheese frosting and spread it all over the caramel layer.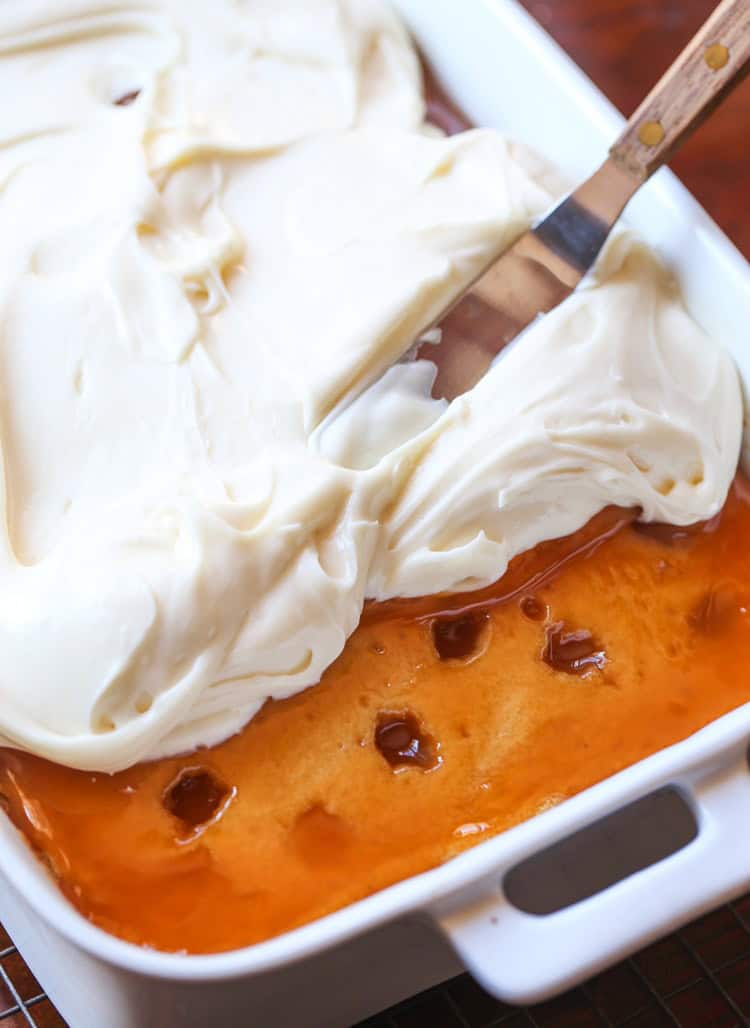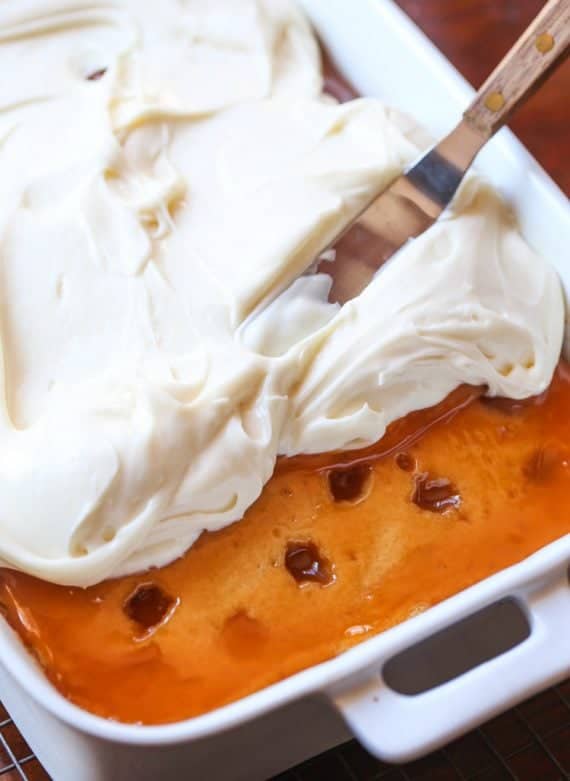 Then if you're feeling like you need a little extra sweet in your life drizzle a little more caramel on top and swirl it in.
Of course this step is optional…hahahahahahaha.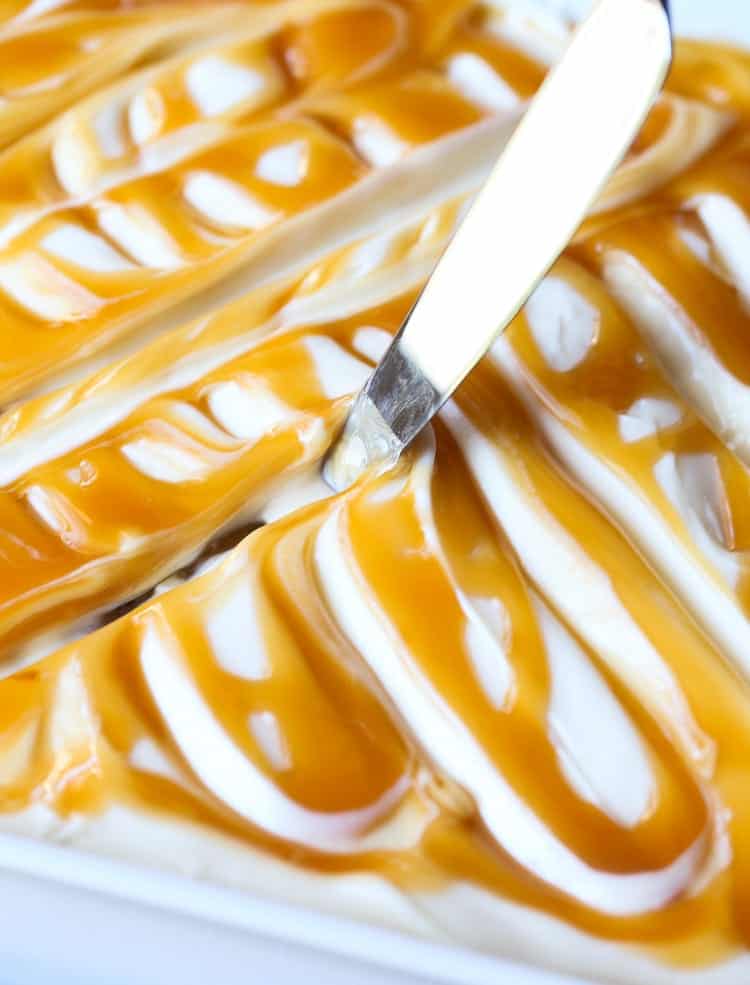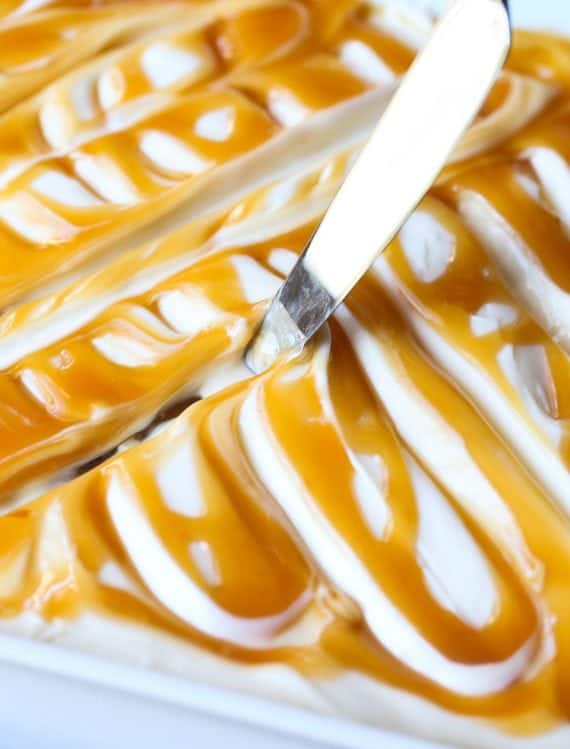 Oh dear.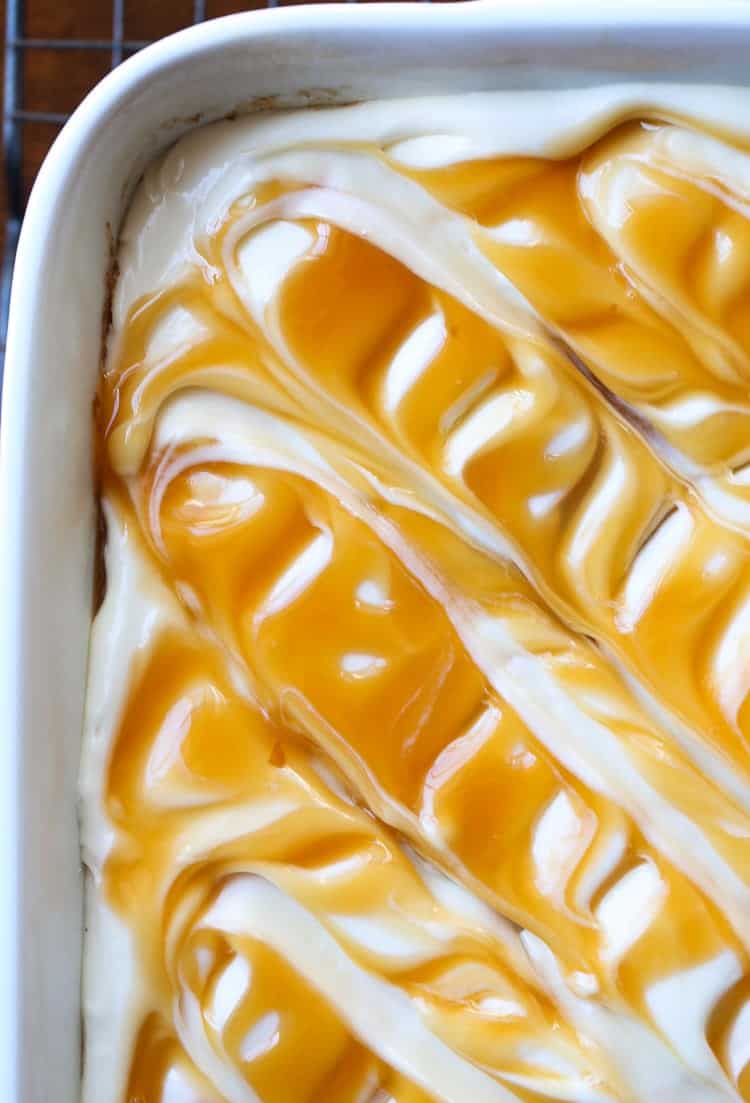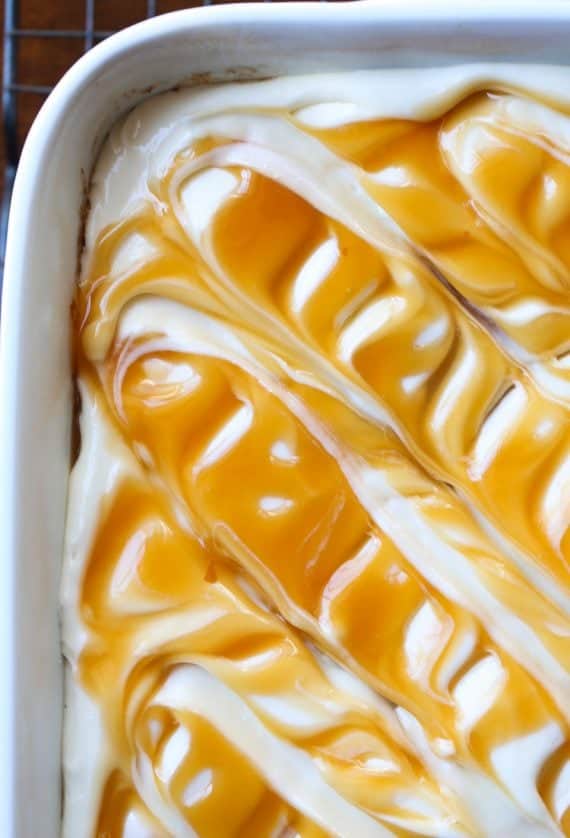 When you slice it you will see how while the caramel absorbed into the top of the cake it still pooled into the holes.
It's a beautiful thing.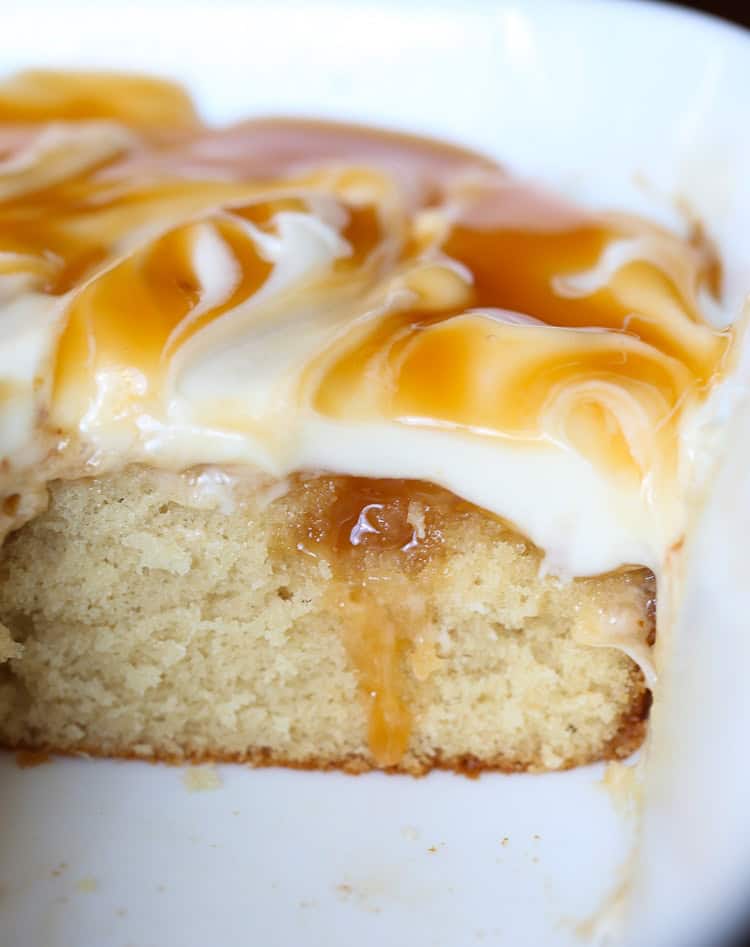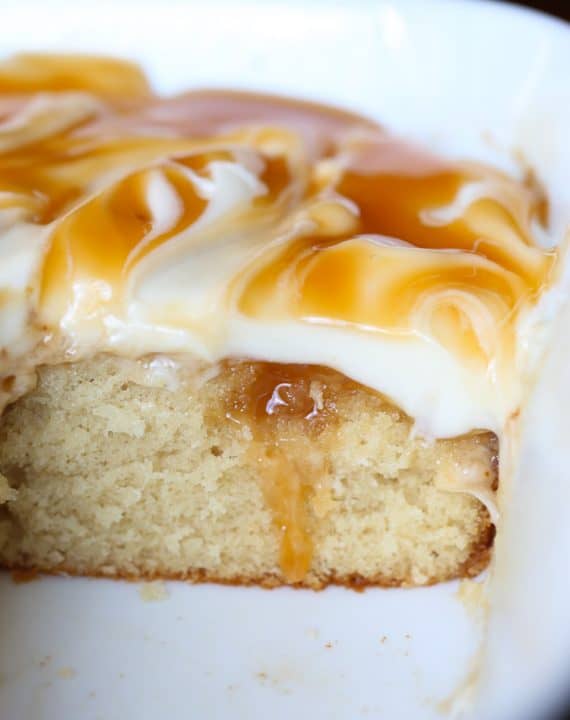 Have a great week!
Print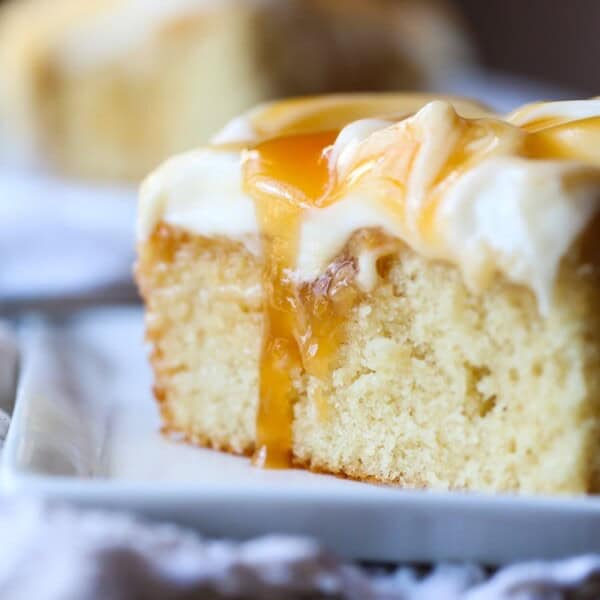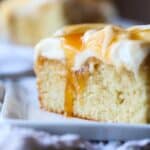 ---
Scale
Ingredients:
Cake
1/2 cup

butter, room temperature

1 cup

light brown sugar

3

eggs

1 tablespoon

vanilla

2 teaspoons

baking powder

1 teaspoon

kosher salt

2 cups

all purpose flour

3/4 cup

milk

2 cups

caramel sauce, divided
Frosting
8 ounces

cream cheese, room temperature

1/2 cup

butter, room temperature

1 1/2 teaspoons

vanilla

4 cups

powdered sugar
---
Instructions
Cake
Preheat oven to 350°F. Spray a 9×13 baking dish with nonstick spray and set aside.
In the bowl of your stand mixer fitted with the paddle attachment mix the butter and brown sugar together on medium speed for 2 minutes. Add eggs in one at a time, scraping the sides of the bowl as necessary. Add in the vanilla, baking powder and salt and mix to combine.
Turn the mixer speed to low and add in the flour and the milk in alternating additions, beginning and ending with the flour. Mix until smooth, about 30 seconds, scraping the sides of the bowl to combine evenly.
Spread the batter into the prepared pan and bake for 25-30 minutes until the center is set or a toothpick inserted comes out clean.
Immediately poke holes into the top of the warm cake, about 1- inch apart. Pour 1 cup of the caramel on top of the cake and allow the cake to sit until it has cooled completely.
Frosting
In the bowl of your stand mixer fitted with the paddle attachment mix the cream cheese and butter together on medium speed until smooth. Turn mixer to low and add in the vanilla and powdered sugar until combined.
Turn mixer back up to medium and mix for 1-2 minutes until smooth and creamy.
When the cake is cooled spread the cream cheese frosting on top. Swirl the remaining caramel on top of the frosting.
---
Notes:
store airtight for up to 3 days
Want To Save This Recipe?
Save
Save