This Pumpkin Roll Recipe is soft, sweet pumpkin cake, rolled up with cream cheese frosting to create the ULTIMATE pumpkin dessert! While it looks like it came from a bakery, I'm showing you how easy this is to make at home! This will be front and center on your dessert table this holiday season.
Looking for more pumpkin cake recipes? Try my Pumpkin Dump Cake or my Pumpkin Earthquake Cake!
This Pumpkin Roll Recipe is an Easy, Homemade Fall Dessert!
There are a few treats that I have always been nervous about making. Lately I've loved tackling these recipes head-on, breaking them down and figuring how to make them less scary! For example, my cheesecake recipe took me a while to perfect, but I figured out how to make it as delicious, and EASY as possible!
Homemade Pumpkin Roll is another one of those recipes that I have always avoided. I had a bad experience once a while back, and I've just never wanted to give it another try.
But in the sake of doing hard things, I got back in the kitchen and got to work. AND let me tell you, I've come up with a foolproof recipe, that produces the most gorgeous, soft, homemade pumpkin roll recipe, while being ACTUALLY easy…and I mean easy in the way that your kids could help you do this one…easy in the way, you will not get anxiety hoping the cake won't crack…easy in the way that it will be your go-to fall dessert!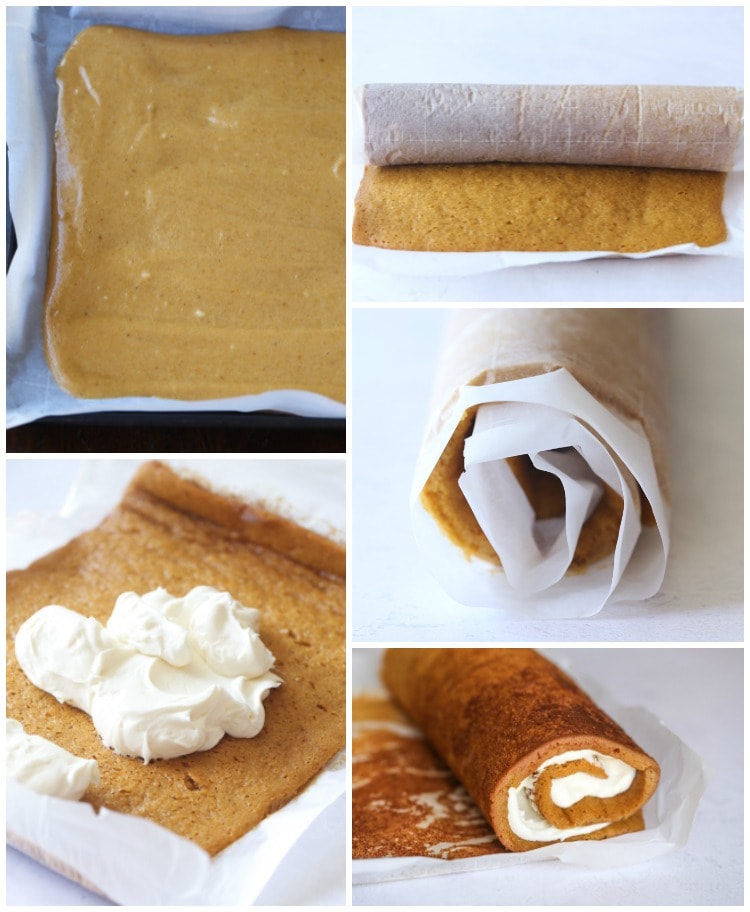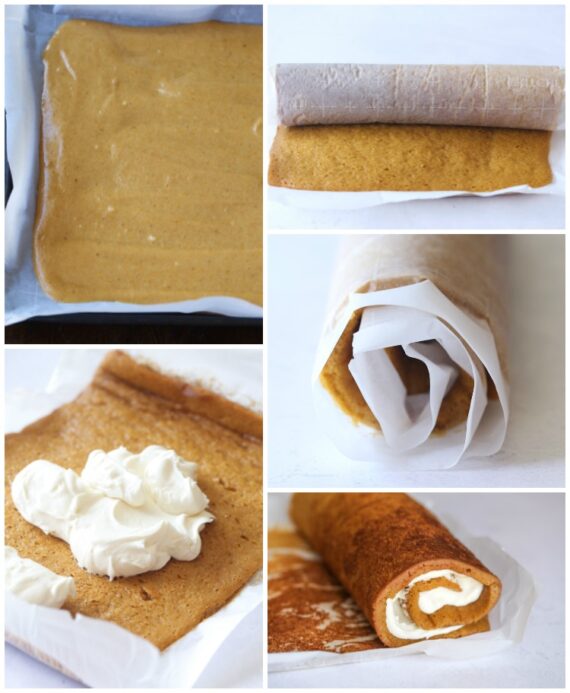 How To Make A Pumpkin Roll
I want you to read through this entire post and recipe before you get to work. This will give you an idea of what to expect, and you won't be caught skipping a step, or not allowing yourself enough time to prep this.
There aren't many steps, but there are a few that are essential to Pumpkin Roll success!
Bake Your Pumpkin Cake
The cake recipe itself it super easy. You will need:
Eggs
Pumpkin – Use Pure Pumpkin Puree for this recipe, not pumpkin pie filling!
Brown Sugar
Pumpkin Pie Spice
Vanilla
Baking Soda/Salt/All Purpose Flour
You might notice that there is no "fat" added to the cake…no oil or butter. Don't worry, I didn't forget to add it, you really just don't need it here. The texture of the cake is super important, because you will be rolling it up and you don't want it to crack, so follow the recipe as written!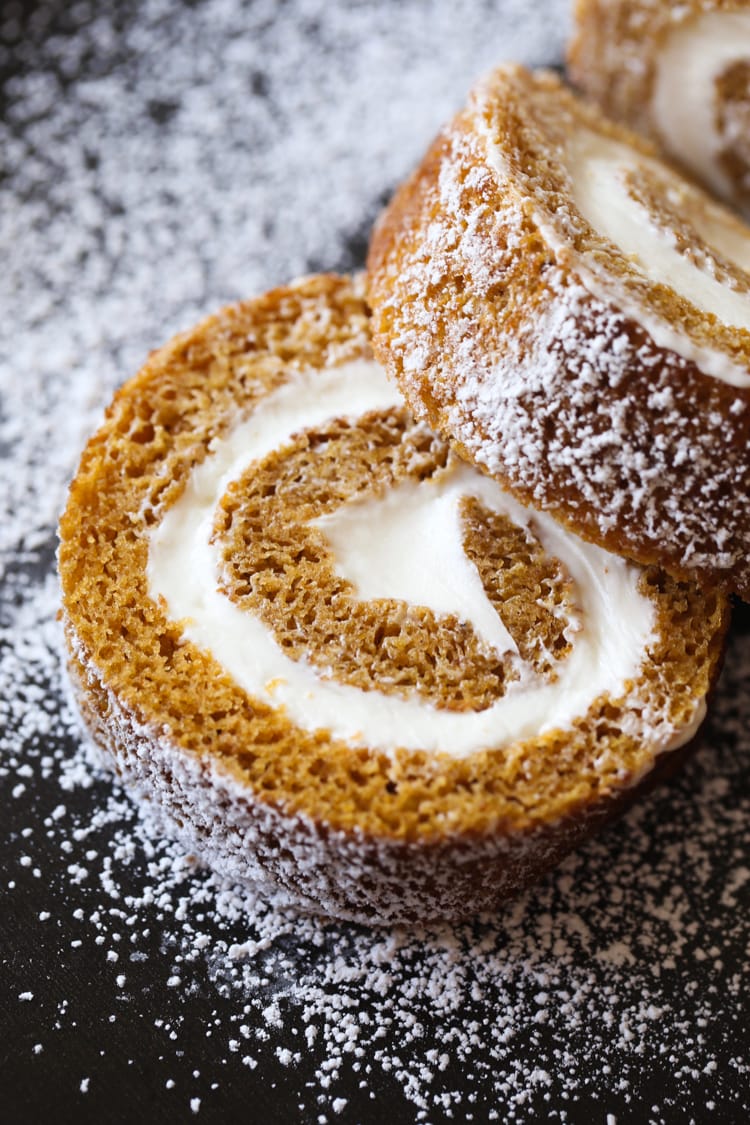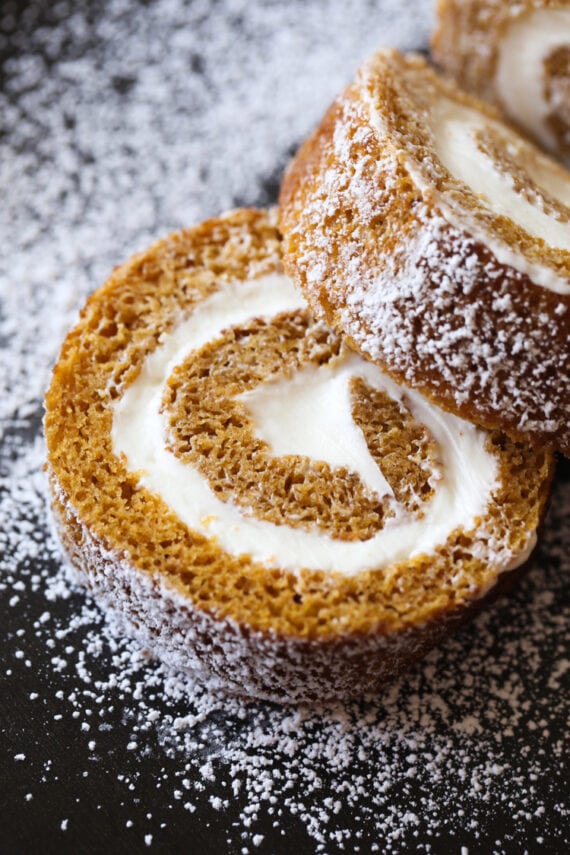 How Do You Prevent Your Pumpkin Roll From Cracking?
Here's How…
Bake your cake on a jelly roll pan…which is essentially a baking sheet with sides. Line it with parchment paper, leaving some hanging over the edges of the pan, so you can grab it easily and remove it from the pan! (tbh you could even skip this step and do the next step right in the pan, but I like to remove it to give myself a little more room to maneuver.
Roll it while it's still warm. When the cake comes out of the oven, while it's still hot, lift it carefully out of the pan using the edges of the parchment and place it on a heat safe counter or work surface. And then…
DON'T REMOVE THE PARCHMENT PAPER YET!
Ok, so here's my BIG TIP on making a pumpkin roll! So many recipes I have seen over the years (and tried) have you remove the cake from the pan, put it on a towel and roll it up.
WHY!?!?
Why would you handle the cake so much, it doesn't make any sense to me! The one big scary thing when making this is to NOT crack the cake, so handling it as little as possible makes the most sense, doesn't it? I feel like I might have reached genius status here. (Also – I have not googled this method, just have gone by the many, many pumpkin roll recipes I've researched over the years and have never seen this method. So it's very possible someone else has done it this way, I just haven't ever come across it).
Immediately and carefully roll the cake up starting from the shorter side WITHOUT REMOVING THE PARCHMENT. Rolling the cake warm and allowing it to cool in that shape, trains it into that shape. If you tried to roll up the cake once it had cooled it would most certainly crack.
Allow the cake to cool completely in the rolled up shape. You could even refrigerate it at this point to speed the process along.
Once it is cooled, carefully unroll it, spread your filling onto the cake and begin to roll it back up and NOW REMOVE THE PARCHMENT!
As you are rolling the cake up with the filling inside, carefully pull the parchment paper away from the cake.
Place the cake onto a baking sheet or platter and allow it to chill so the filling sets up nicely. This way you will have pretty slices!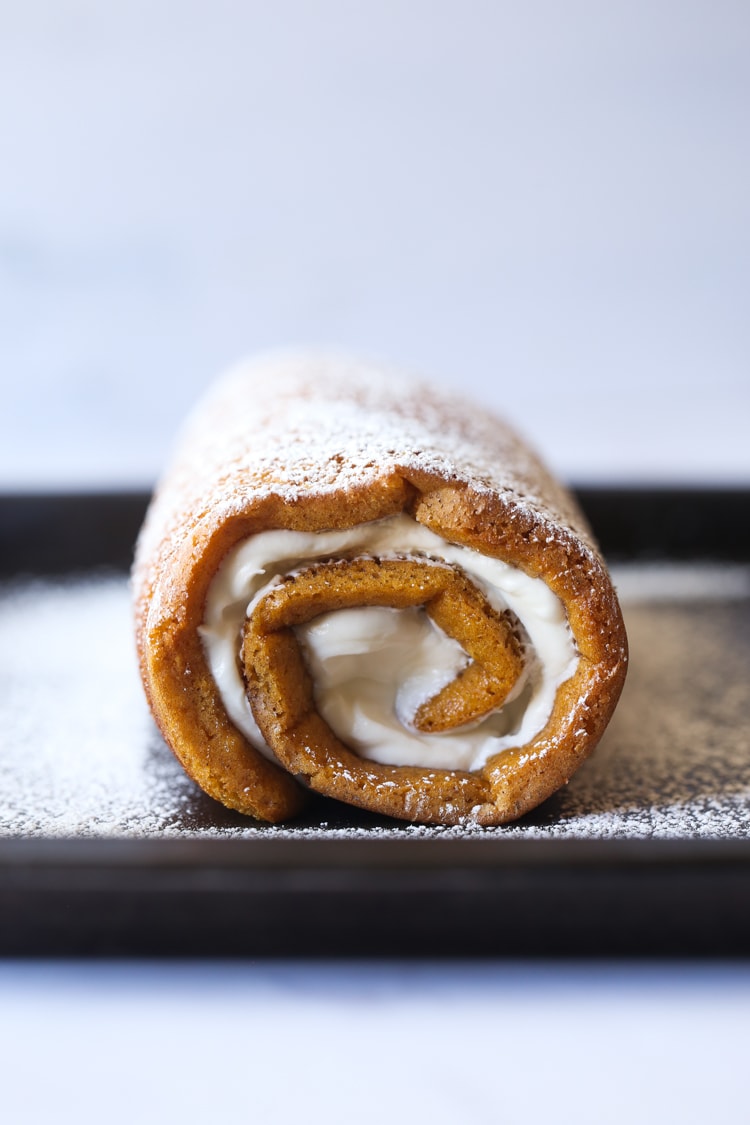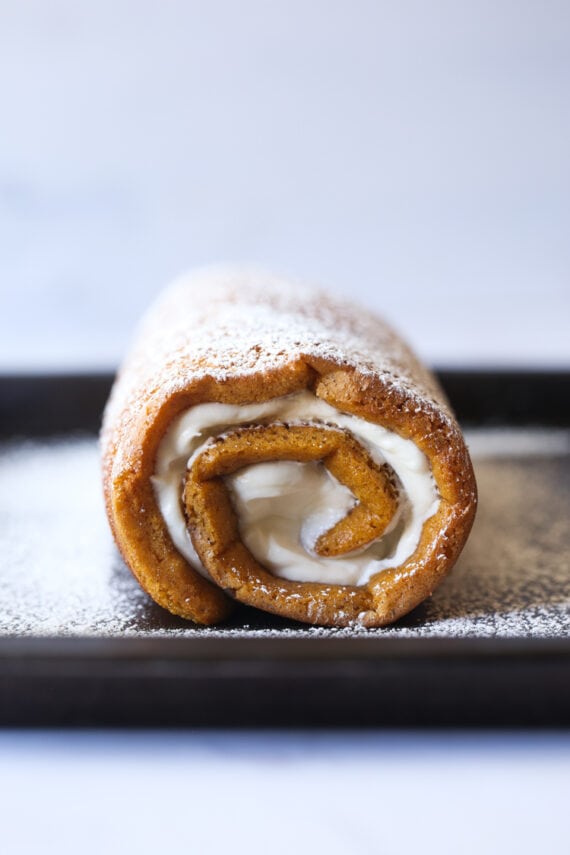 I REALLY hope you guys this recipe a try this season, you won't be disappointed!!
Still Looking For Pumpkin Recipes? Here Are a Few More…
Print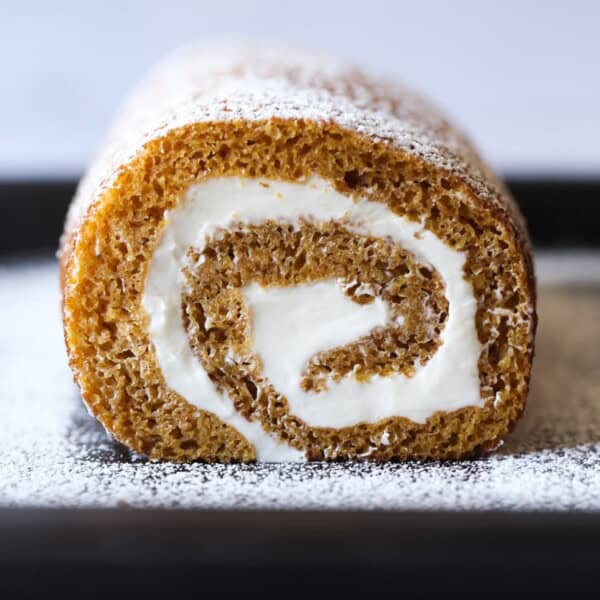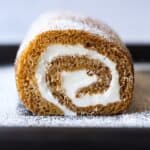 Easy Pumpkin Roll
Author:

Prep Time:

20 minutes

Cook Time:

15 minutes

Total Time:

35 minutes

Yield:

serves

1

0

1

x

Category:

Cake

Method:

Oven

Cuisine:

Dessert
---
Description
This Pumpkin Roll recipe is a classic fall dessert! I've simplified the process making it easier than ever!
---
3

large eggs

2/3 cup

pumpkin puree (like Libby's)

1 cup

light brown sugar

2 teaspoons

pumpkin pie spice

1 teaspoon

vanilla extract

1 teaspoon

baking soda

1/4 teaspoon

kosher salt

3/4 cup

all purpose flour
Filling
6 ounces

cream cheese, room temperature

1/4 cup

butter, room temperature

1 2/3 cup

powdered sugar

1/4 teaspoon

vanilla extract
---
Instructions
Make the Pumpkin Cake
Preheat oven to 350°F.
Line a 10×15- inch jelly roll pan with parchment paper, leaving about an inch of extra parchment at the ends, for easy removal. Very lightly coat the parchment with nonstick spray. Set aside.
In the bowl of your stand mixer fitted with the paddle attachment, add in the eggs and mix on medium until lightly beaten.
Add in the pumpkin, brown sugar, pumpkin pie spice, vanilla, baking soda, and salt and mix for 1 minute until smooth.
Turn mixer to low and add in the flour, mixing for 30 seconds, or until smooth, scraping the sides of the bowl as necessary.
Spread the batter into the prepared pan evenly.
Bake for 15 minutes, or until the cake is set and a toothpick comes out clean. As soon as the cake comes out, while hot, lift the cake out of the pan using the parchment paper and place on a heat safe surface.
Leaving the parchment paper on the cake, roll it up carefully starting with the narrow end, placing it on a wire rack seam-side down to cool completely.
Make the Pumpkin Roll Filling
While the cake is cooling, prepare the filling. In the bowl of your stand mixer fitted with the paddle attachment mix the cream cheese and butter together for 1 minute on medium speed until smooth.
Add in the powdered sugar and vanilla and mix for another minute until creamy, scraping the sides of the bowl as necessary.
Assemble the Pumpkin Roll
When your cake is cooled, carefully unroll it. Using an offset spatula, spread your cream cheese filling evenly onto the cake, leaving 1- inch around the edges.
Now carefully roll the cake back up tightly, but pull the parchment paper away from the cake as you do so. Once you have it rolled up, place it on a baking sheet or serving dish, cover airtight and place in to the refrigerator for at least 30 minutes, or until ready to serve.
Dust with powdered sugar before slicing and serving.
Notes
Store airtight in the refrigerator for up to 3 days. To freeze a pumpkin roll, wrap it tightly in plastic wrap, making sure it's airtight. Place flat in the freezer for up to 30 days. Allow to thaw at room temperature.
Nutrition
Serving Size:
Calories:

258

Sugar:

25.2 g

Sodium:

264.9 mg

Fat:

12.1 g

Carbohydrates:

34 g

Protein:

4.2 g

Cholesterol:

85.2 mg
Keywords: cookies and cups, , pumpkin roll recipe, thanksgiving dessert, how to make a pumpkin roll, easy pumpkin roll recipe, easy thanksgiving desserts
Want To Save This Recipe?
Find more recipes like this: