February is over and I am READY for Spring. I mean, the temps are still pretty cold here in NJ, but March just feels like the light at the end of the winter tunnel.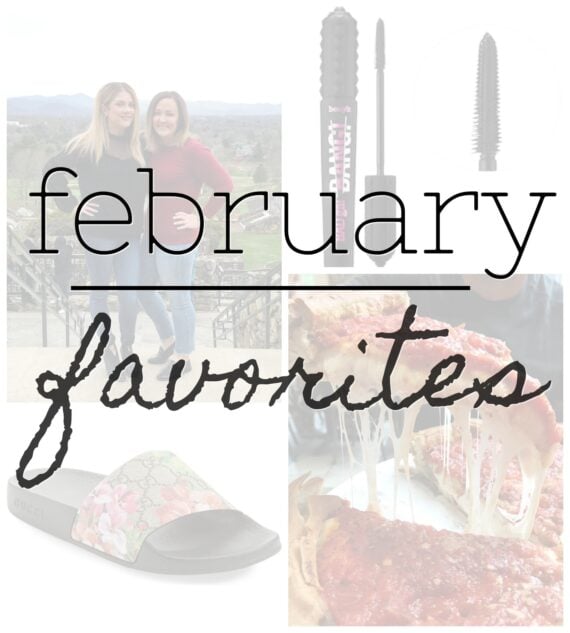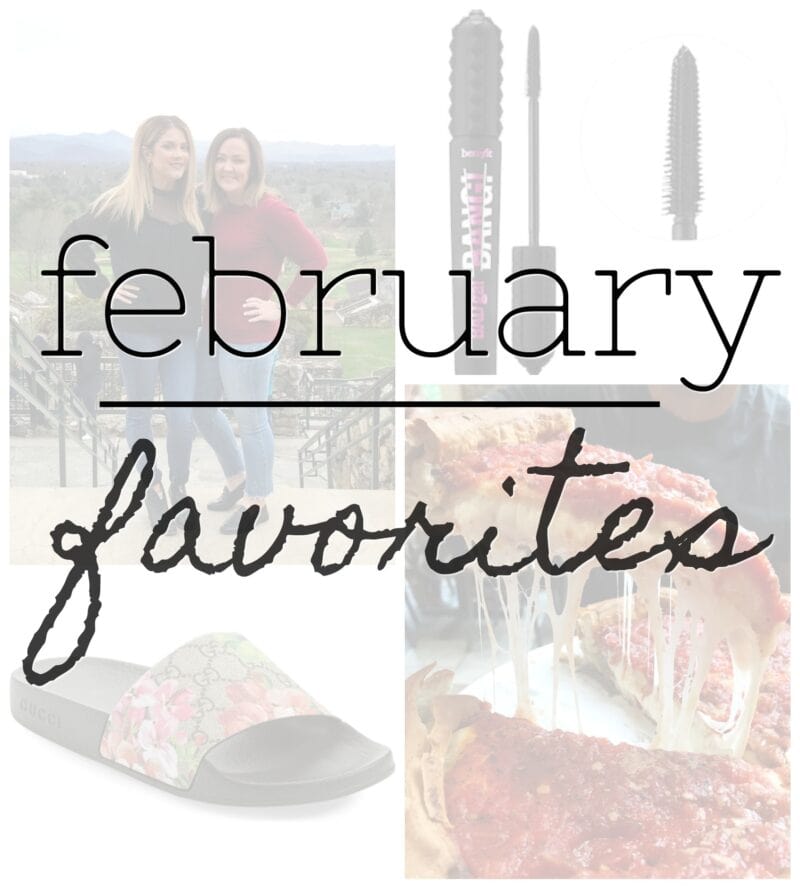 I have some great things that I was (and still am) LOVING this past month. I shared my January favorites HERE, and got a lot of great feedback from you guys! I'm already thinking about my March faves…and I one thing I am super excited about is my hunt for the PERFECT white tee. I have ALL the opinions about a white t-shirt, and am determined to find the best one. If you have any faves, let me know, as I have bough a ton and am going to be trying them all out to find my numero uno!
Anyhow let's focus on February. It was a good month for sure.
Things I did
I went into NYC this month and saw Waitress on Broadway! I am a huge fan of musicals and this one was very cute. PLUS they serve pie in jars at the concession stand…Key Lime, Salted Caramel, and Oreo! Sarah Bareillis and Jason Mraz were in the show, which made it extra fun. Totally a fun thing to do with girlfriends!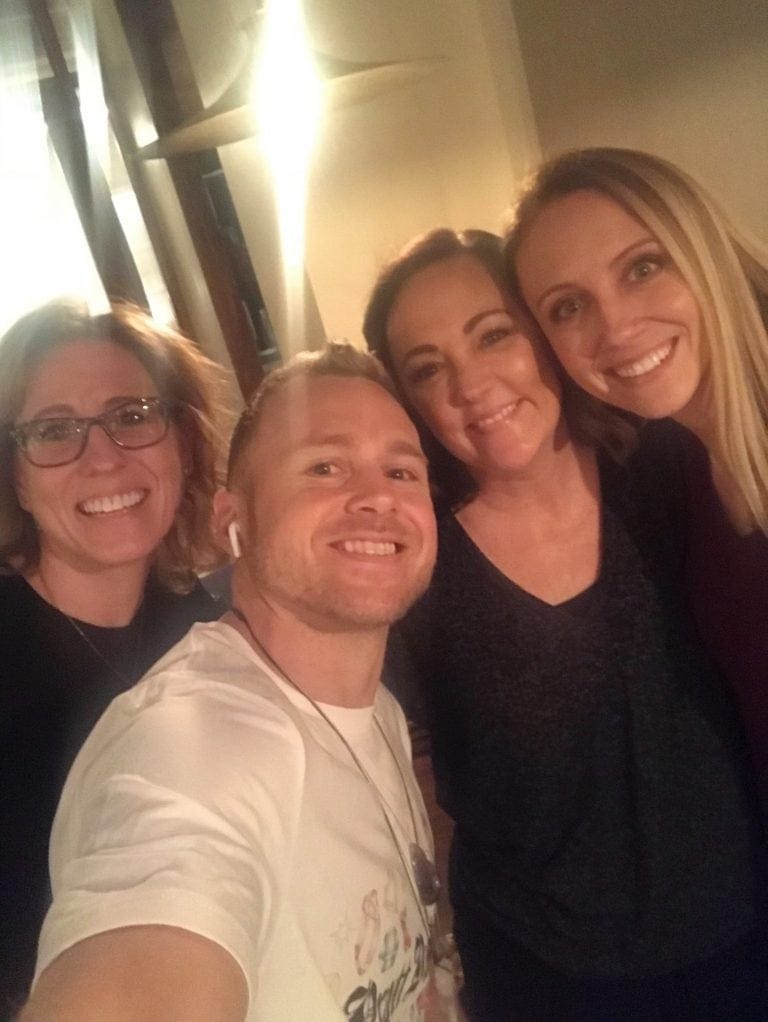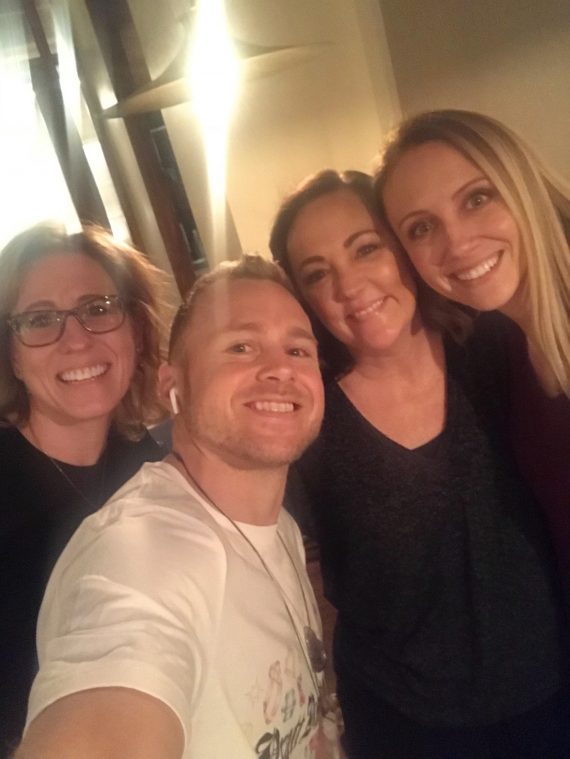 ANNND we went to Blue Fin for brunch before the show and ran into Spencer Pratt. If you ever watched The Hills, you know he is the the most awful person. BUT, turns out, in real life he is super kind. He talked to us for a few minutes and couldn't have been more lovely. And yes, he was snapchatting at the table AND he was wearing a crystal around his neck. ps – his shirt had his instagram handle printed on it. 😉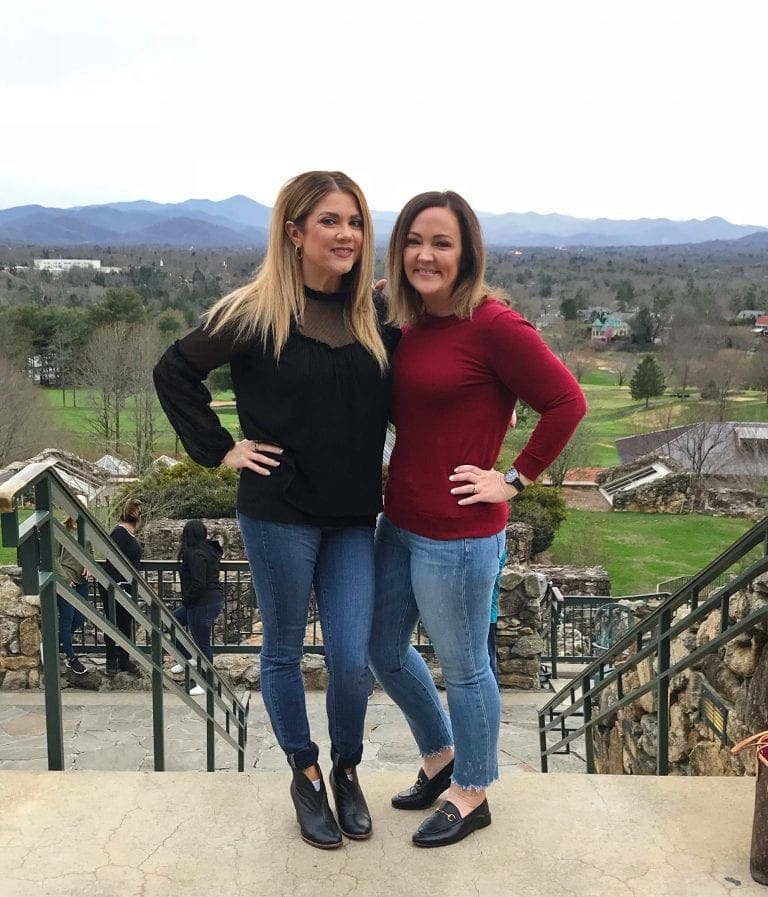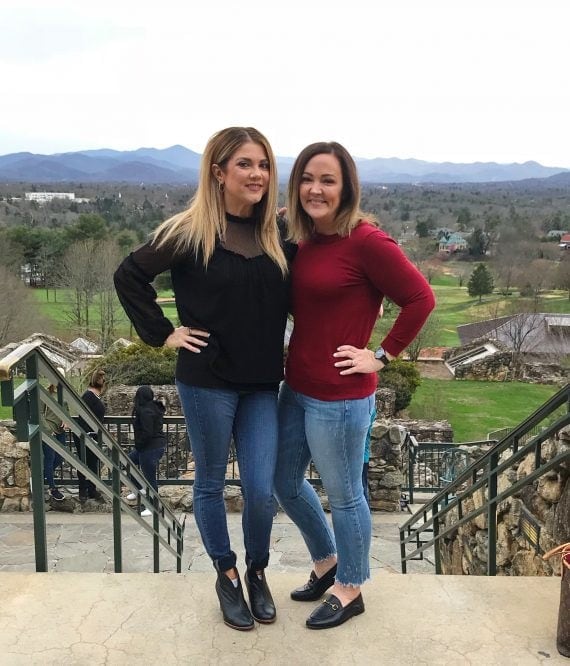 I also took a weekend trip to Asheville, NC. Thank you SO much for all the recs you guys gave me. I went with my friend, Kristan, and we did our best to eat our way through that town! A favorite of mine was Biscuit Heads for sure, and I am working on recreating the epic biscuits we had there!
AND we stayed at the Omni Grove Park hotel and it was STUNNING. It's seriously a destination in and of itself. The shopping, dining, and SPA were all worth the trip. I swear you'd never have to leave that hotel!
What I'm Loving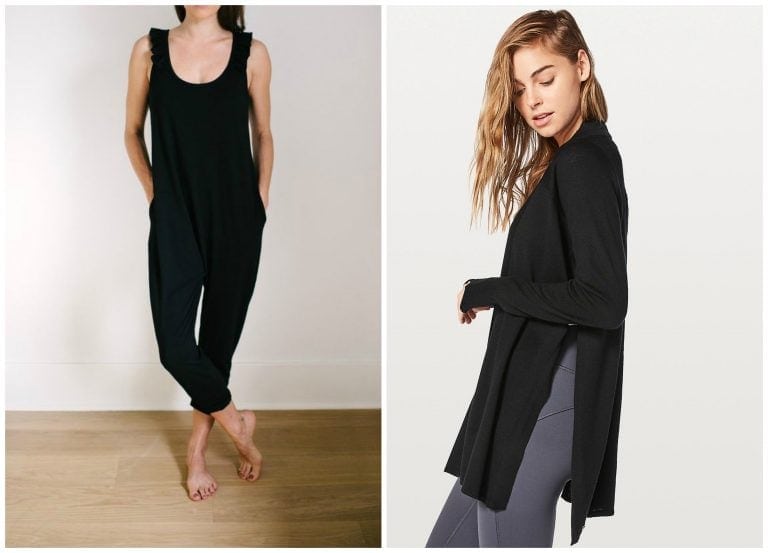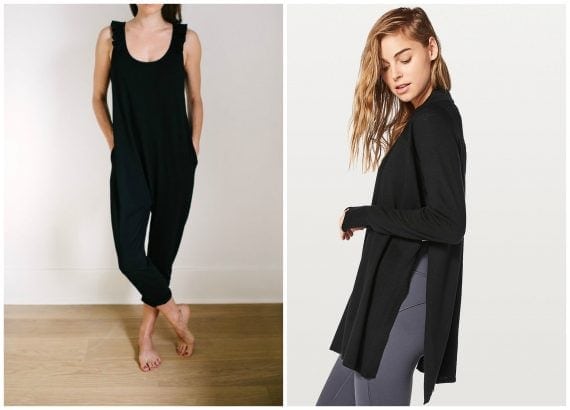 (Smash & Tess Sweetheart Romper / Lululemon Blissful Zen Cardy)
Let's start with clothes. I am trying to limit the amount of clothes I am buying lately…partly because I have SO MANY, and also, because we're in the weird transition period, where it' still cold, but ALL the Spring stuff is starting to come out, but I can't justify buying warm weather clothes yet! SO I'm all about transition pieces now.
BUT I want to start with the brand Smash & Tess. It's a Canadian company that makes rompers, and I have to tell you, I.AM.OBSESSED. The one on the left up there is the latest that I've added to my collection, but I already own the long sleeve AND short sleeved black rompers…I think they're called the Friday and Sunday rompers. ANNNNYWAY, their latest is the Sweetheart romper, which is the sleeveless one with the cute little ruffle. Seriously obsessed with every single romper I have. I wear them ALL THE TIME. They're my favorite gift to give, they're SO totally cozy, cute around the house, but I totally wear mine out and about! Pair it with a cute denim jacket and you're set. Yes, they're a little pricey, but I freaking guarantee you will love it so much you will buy another. They are THAT good.
Next up, I got this adorable Blissful Zen cardigan from Lululemon. It's got these cute slits all the way up the sides that give it a little extra. I know I will wear this for a long time coming.


(Gucci Pursuit Slide / Adidas Swift Run / Vans Slip On)
Meanwhile, in the shoe department I did a little damage this month. I will preface that with, The Gucci Slides were a gift from my husband for Valentine's Day. TOTALLY extravagant, but I love them SO SO MUCH. Like SO much.
I almost don't count buying new tennis shoes as a "shoe purchase". It's how I get around the guilt, I guess. BUT I bought these Adidas Swift runs in black (with gold flecks YES) and I'm in love. I have worn Nike RN Freeknits for the past 4-5 years (always in black, I'm boring)…but when I saw these, I thought I would try them, and I love them! They run really big. I wear a size 8 shoe, and in Nikes I wear and 8.5, but in these I fit into a 7. Crazy…but they're so stretchy and definitely run large, imo.
Finally the Vans Slip ons were a fun little purchase. I just thought they could replace my white Converse that have seen better days, and I really think they're cute.


(Briogeo Leave-in Mask / t3 1.25 Curling Iron / Briogeo Scalp Revival)
My hair has been crazy this month…same with my skin. SO I decided to try some new products and have been LOVING the Briogeo line. The Scalp Revival shampoo is amazing. I don't use it every time I wash my hair, but once a week or so and it's been a life saver! AND their Don't Despair Repair Strength and Moisture leave in mask, I swear has been a life saver. This will be in my hair regimen for a long time coming. I have tried SO many shampoo/condition/heat styling/mask blah blah products and I think I've finally found the line for me. It's also protects from heat styling, and I've seen a huge difference in my hair texture and appearance. Love it We also got the Deep Conditioning Mask that I SUPER love. My whole family has been really loving the line, and will absolutely be using them for a long time to come.
ANNND I bought a new curling iron that I feel like has changed the game for me. I was eyeing this t3 Iron for ages. I watched infinity review videos, talked to friends who have owned it, and obsessed over it for the past year-ish. Finally I bit the bullet and got it. I've owned my fair share of curling irons, from high-end to low-end and this one BY FAR is the best. It seems to hold my curls forever and is so smooth when my hair goes though it. I prefer an iron to a wand, but I've heard their wands are great too.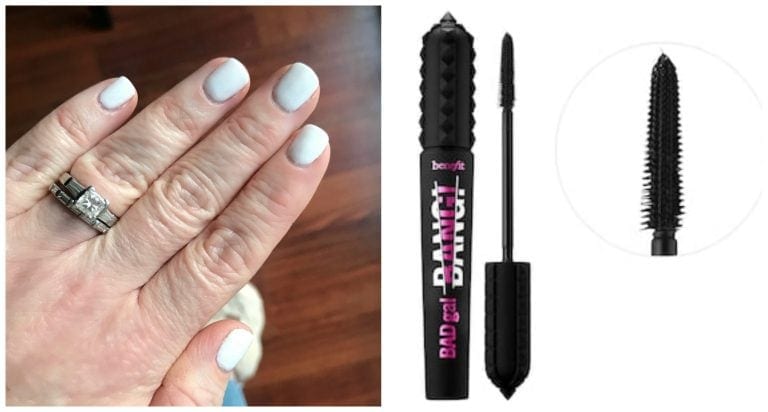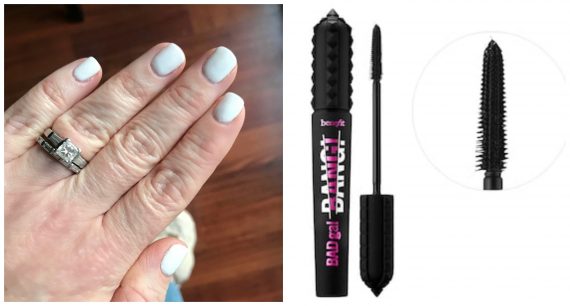 (OPI Alpine Snow polish / BagGal BANG mascara)
As for beauty products I have been using a lot of what I already have a love, but I am SUPER into this OPI Alpine Snow polish lately. It's the perfect white, imo. They have it in regular polish and gel.
You know I love my mascara, and I'm NOT about a natural lash! Give me all the volume!! Anyhow, Benefit makes some REALLY great mascaras, and they've just released their newest, BadGal BANG! I picked it up this week and am IN LOVE! If you're looking for a more "natural lash", this isn't for you (but totally try their Roller Lash). BUT if you like high drama, give this one a try! It can get slightly clumpy if you try to apply too many coats, but I was good with one coat…it's GREAT!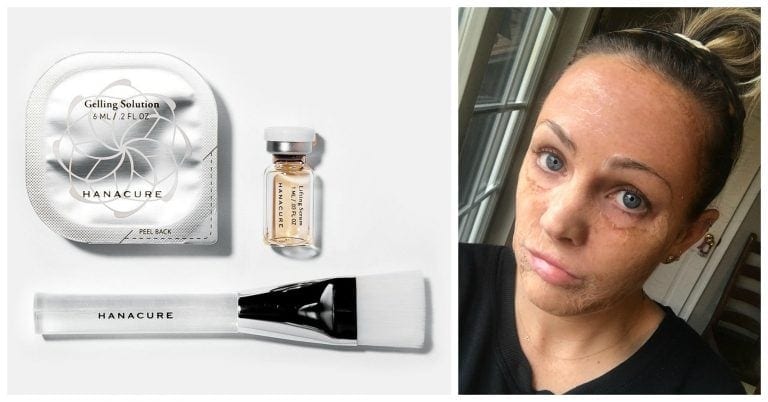 Speaking of beauty…like I said, my skin has been really acting crazy lately, so I tried this RIDICULOUS Hanacure Face Mask. It is supposed to tighten your skin, moisturize, reduce fine lines and all the things you want. Anyhow, it makes you look like you're 400 years old when you wear it. It tightens up SO much on your face, it's crazy. My kids and husband were horrified. I posted the whole process on my Instastory last week, so you might have caught that…BUT I will say I actually loved it. It made my skin a little red after I rinsed it off, but the redness went away after about an hour. I have low-key sensitive skin…nothing too major, but in the cold weather months it gets a little temperamental. When everything was said and done I felt like I got a facial. I bought the 4 pack, and will do it again next week!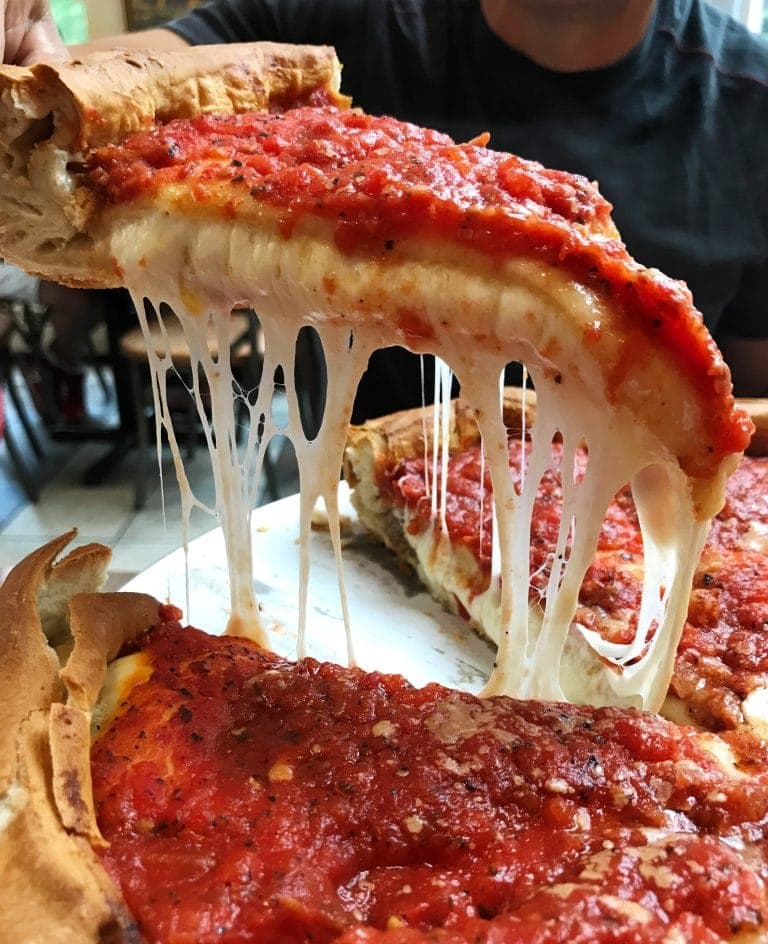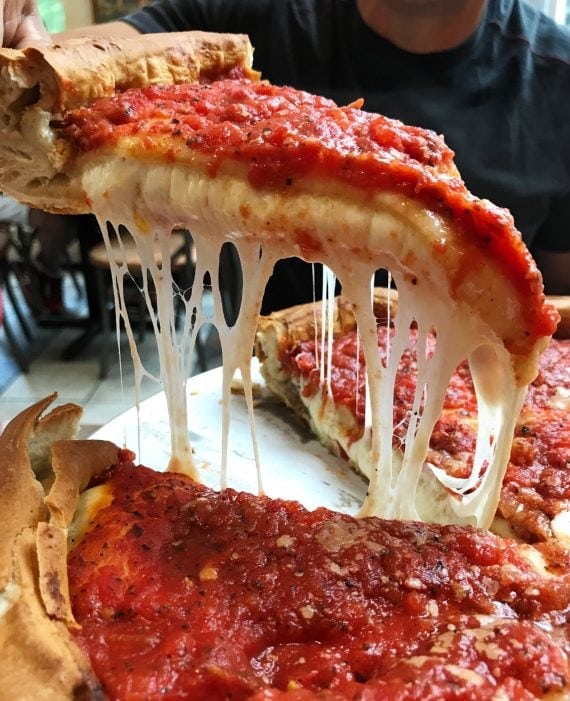 Giordano's Chicago Style Deep Dish
For Valentine's Day this year I ordered a few Chicago Style Deep Dish Pizzas from our favorite, Giordano's. We love the pizza so much when we're in Chicago, and when I found out they deliver all over the country, I decided to splurge and order some for our V-day dinner. We don't usually go out to eat on Valentine's Day, so this was a fun way to spend the evening. I think the pizza was JUST as good made at home (following their reheating instructions) as it is when you get it there. It's a little pricey, but TOTALLY worth it for a special occasion!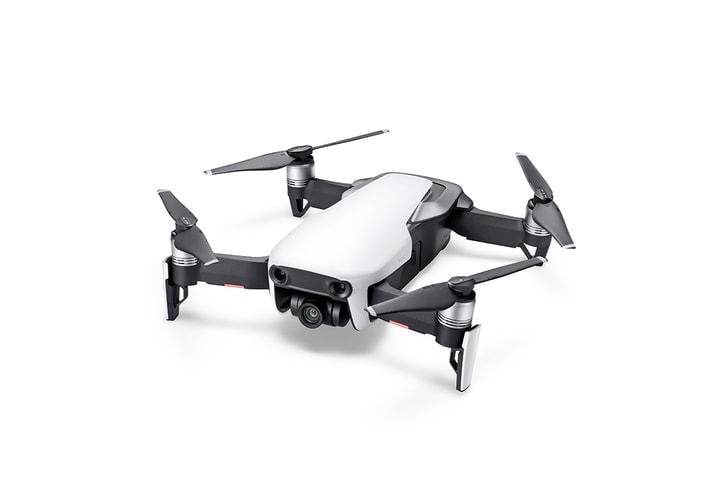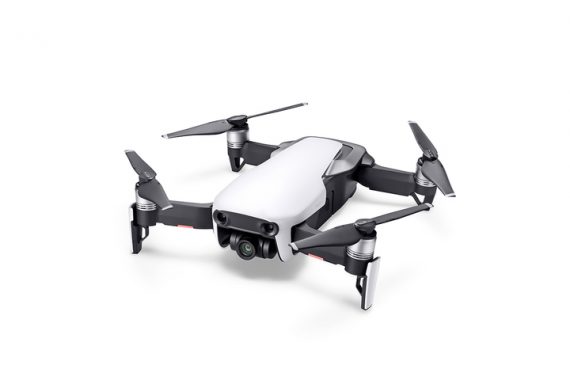 Dji Mavic Air
And this year for Valentines, like I said my husband got my the slides I mentioned above, and I got him this Dji Mavic Air drone he has been wanting! We don't always do big gifts on Valentines Day. Actually, it's pretty rare…but I guess this year we were both on the same page, and did something a little extra. I certainly can't give you a full techy review of the drone, but I will say he LOVES it. My son has the Dji Spark, which is a little less expensive and he loves his as well. Needless to say, there has been a lot of "drone footage" to watch in my house recently.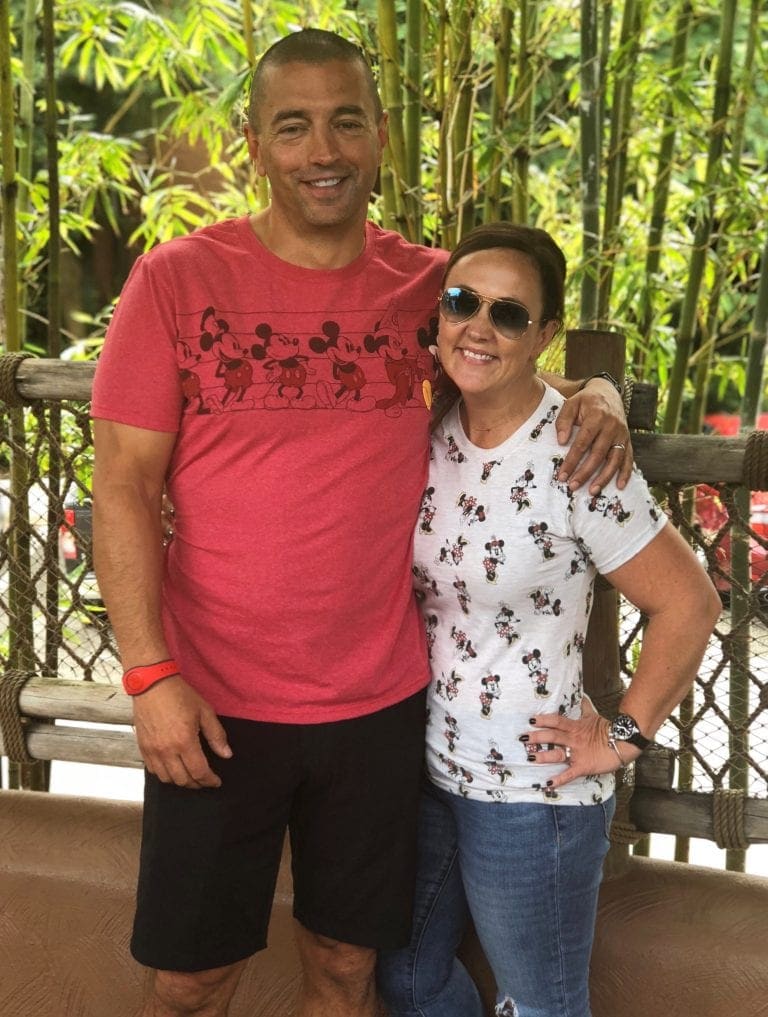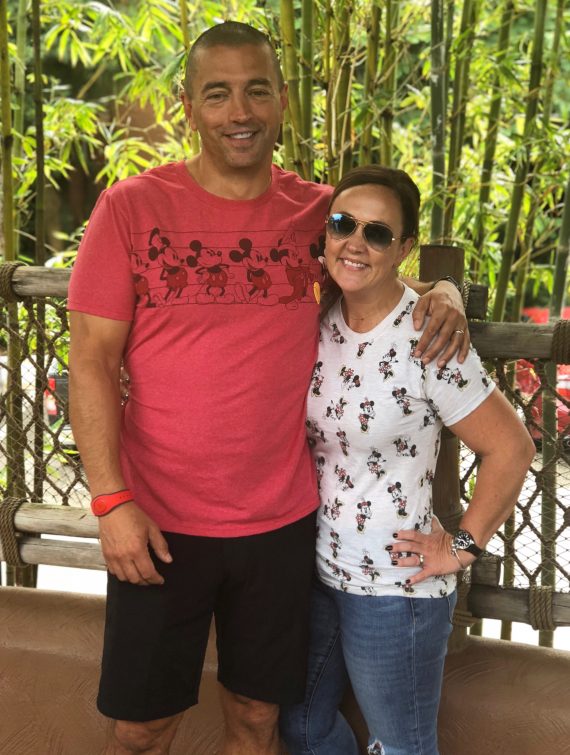 And finally this month we're headed back to Disney with the family (and some friends) to celebrate our 16th wedding anniversary! To say I'me excited would be an understatement. We're going at the time the Flower & Garden festival is happening and I can't wait!!
Anyhow, there is my February in a nutshell! Let me know your thoughts on anything I mentioned OR anything else YOU have been loving!
Cheers to a fantastic March!
**Nothing in this post is sponsored, and I purchased everything with my own money. There are some affiliate links included via reward style and amazon, and the very small commission I make on items purchased help fuel my online shopping addiction, in hopes to bring you more favorites! xo