These French Toast Krispie Treats are crazy good…they are half granola, half krispie treat, made with browned butter and maple syrup. SO yummy!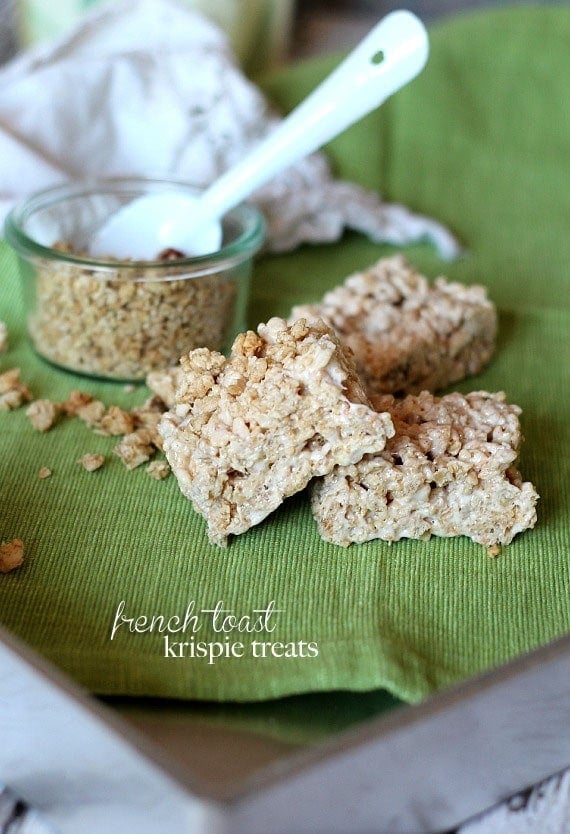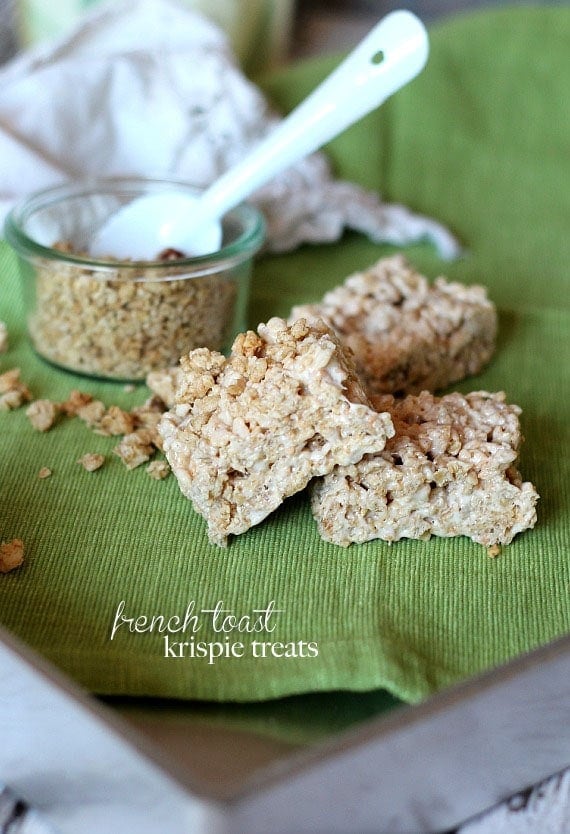 So these krispie treats… you guys.
I know my way around a batch of marshmallow squares..and these bars are the best ones I've ever made. I ADORE them.
Let me backtrack a little bit…I partnered with Naturebox on this recipe. Naturebox is such a fun concept…each month they send you a box of delicious, healthy and UNIQUE snacks to enjoy! My family is obsessed with receiving the boxes…we have loved all the snacks we have tried. And I love incorporating some of the snacks into my kid's lunchboxes!
(ps-right now if you sign up for Naturebox and use the coupon code COOKIESCUPS you'll get 50% off your first box!)
So when choosing which of the snacks to use in a homemade treat it was a tough choice. My kiddo's favorite from one of our boxes was the French Toast Granola. It's a super yummy granola baked with maple syrup…so I thought the texture of the granola would work perfect in a krispie treat.
And I'll tell you, these are outrageously good. I browned the butter to give it that "griddle" taste, mixed in some maple syrup and a pinch of nutmeg. Of course there are marshmallows…and I also used half French Toast Granola and half krispie cereal to create the perfect crunch!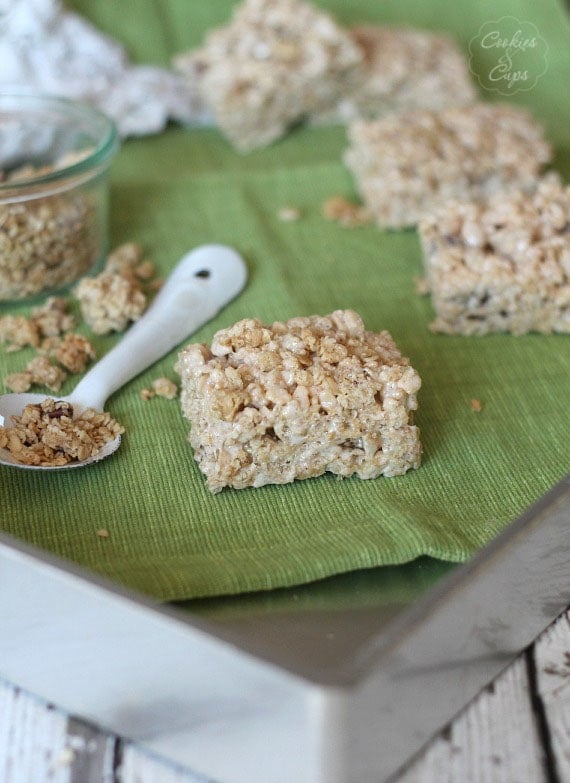 They might look unassuming, but there is so much flavor packed into these guys!
Let me walk you through the steps…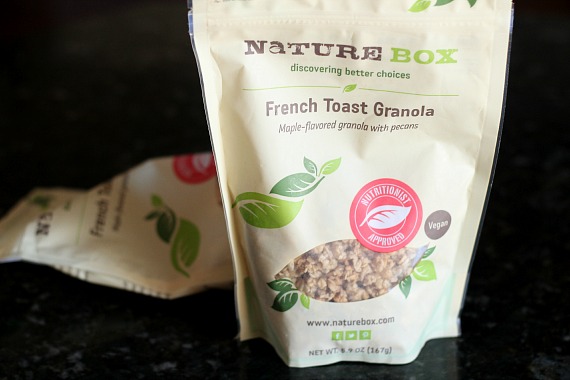 I grabbed my French Toast Granola…It's such a crunchy and not overly sweet granola…love that!
I measuerd out equal portions of cereal to granola..3 cups each!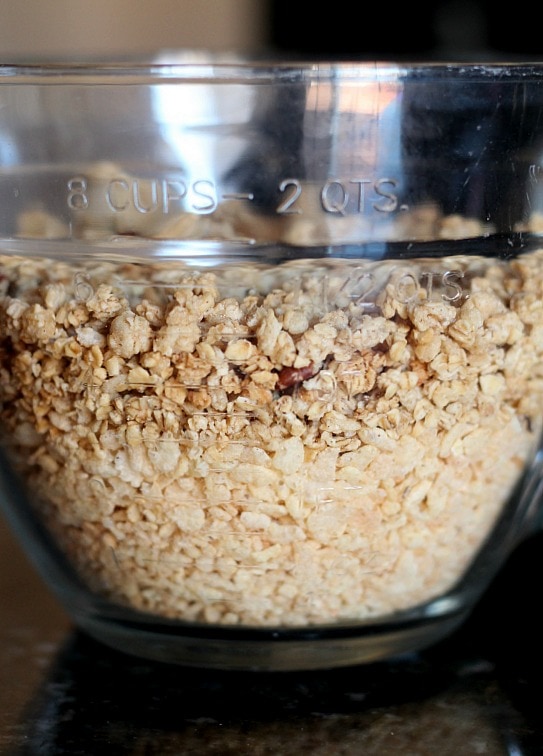 I browned my butter in a saucepan and then added in some maple syrup and a pinch of nutmeg!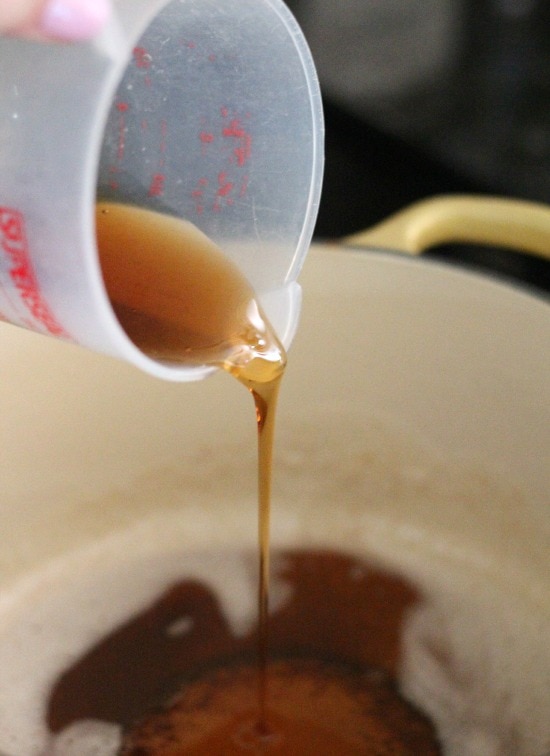 It'll be a deep brown color.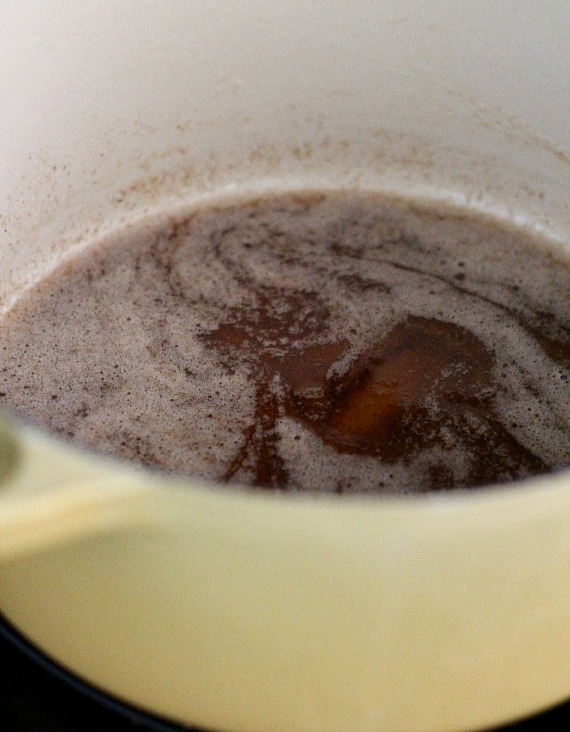 Then I just added in my marshmallows and stirred it up until they were melted!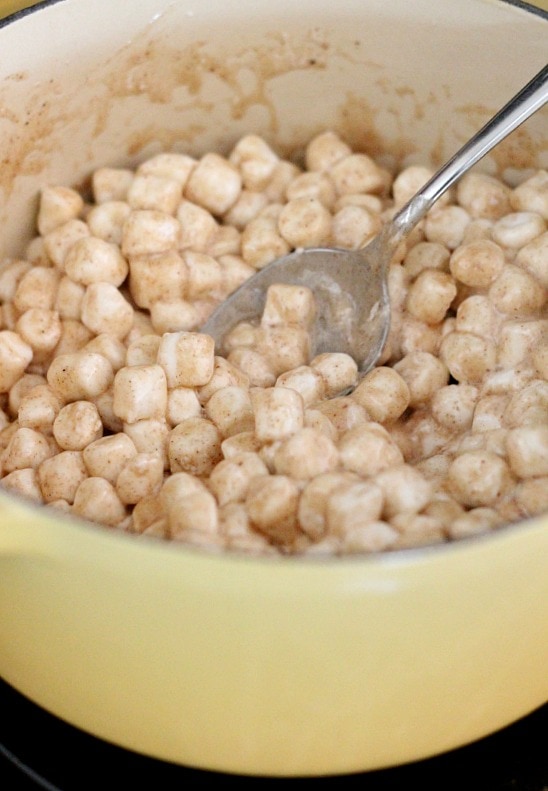 Try not to stick your face in that!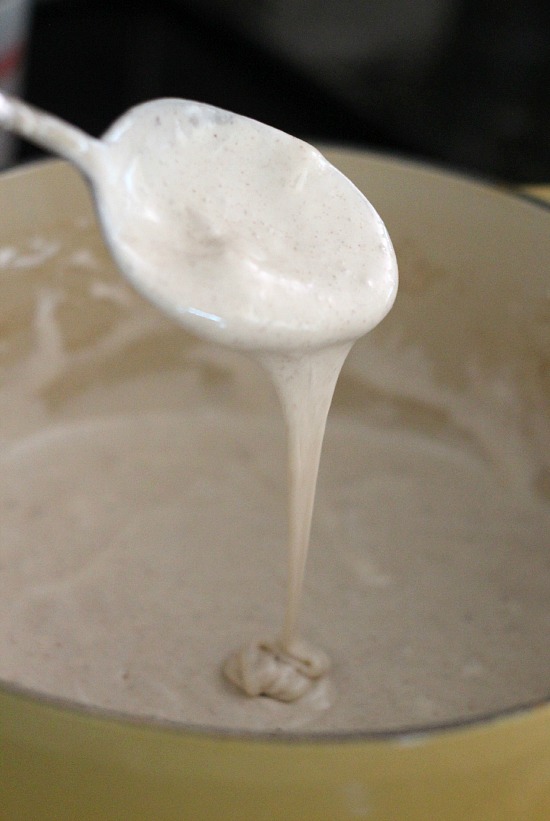 Stir in your granola and cereal…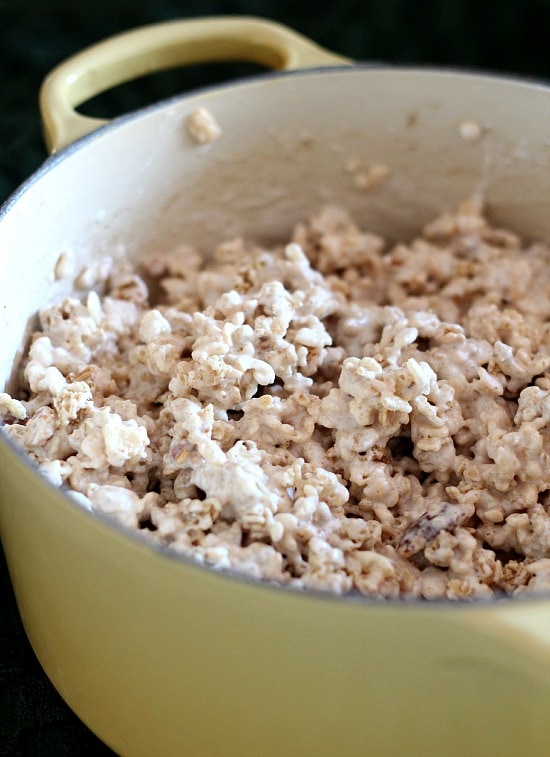 And press it evenly into a 9×9 pan.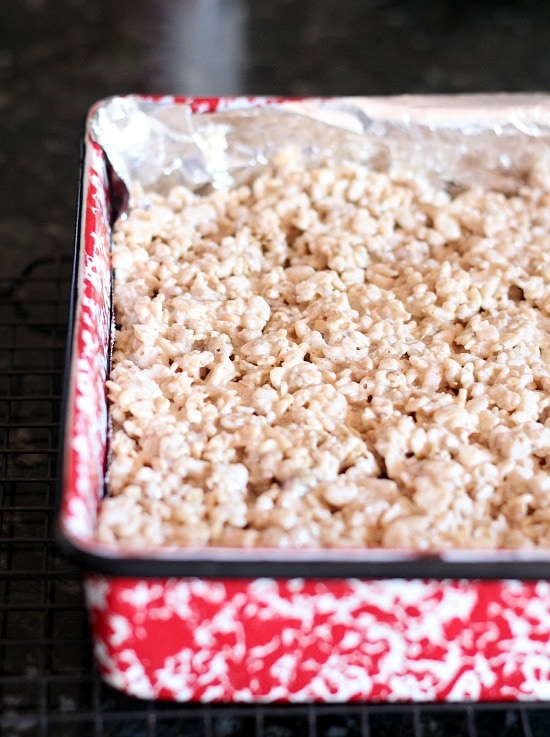 Wait until they are cooled to cut into squares. It doesn't take long.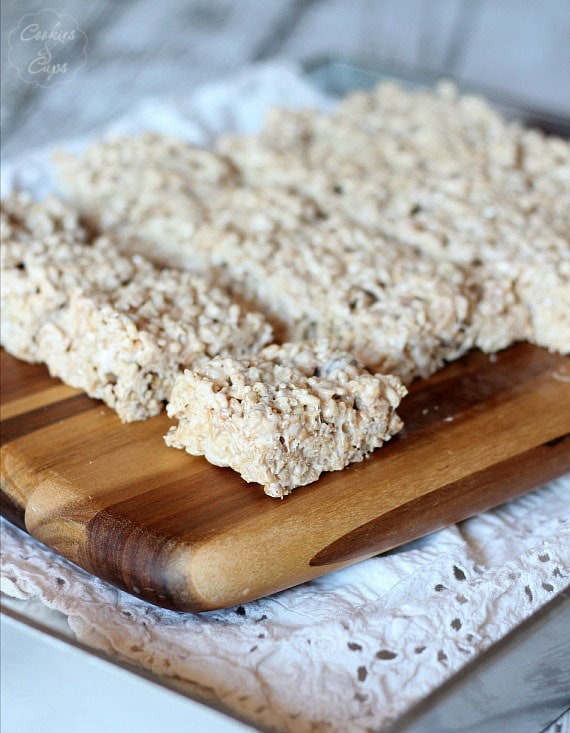 And oh myyyyyyy…..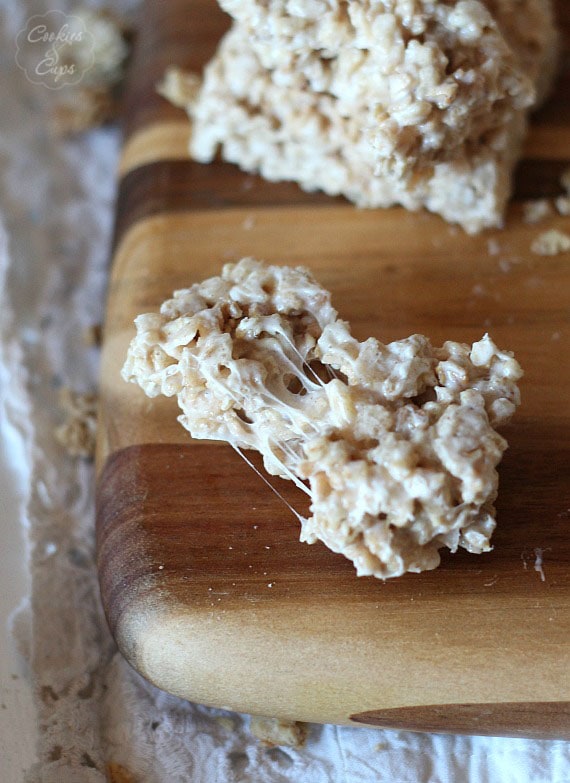 Seriously delicious.
Right now Naturebox is offering my readers a code to get a discount on their box! Again, use the code COOKIESCUPS at checkout!
Honestly give it a shot, there are some really fun things coming your way!
And what I like is there is no commitment…order as frequently or infrequently as you like!
Print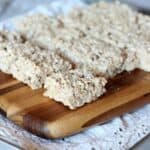 French Toast Krispie Treats
---
---
1/4 cup

butter

1/4 cup

Maple Syrup
pinch of nutmeg

10 oz

mini marshmallows

3 cups

krispy rice cereal

3 cups

French Toast Granola (or Vanilla Granola)
---
Instructions
Line a 9×9 pan with foil and spray with cooking spray. Set aside.
In a large saucepan on medium heat melt butter. Once it is melted continuously swirl the pan as the butter cooks. It will begin to brown, this will take about 5 minutes. Once the butter starts to brown watch it carefully, removing it from the heat as soon as it gets to be a deep golden brown color.
With the butter off the heat stir in the maple syrup and nutmeg.
Lower stove temperature to low, put pan back on burner and add in marshmallows, stirring until they are melted. Once marshmallows are melted, remove from heat.
Stir in cereal and granola, coating evenly with marshmallow mixture.
Pour into prepared pan, pressing evenly.
Allow to cool at least 15 minutes before cutting into squares.
---
Notes
If you can't find the French Toast Granola, just sub in a Vanilla granola.
Store airtight at room temperature for up to 2 days
Want To Save This Recipe?
Find more recipes like this: