These Gooey Cinnamon Muffins are a delicious twist on the classic cinnamon roll breakfast. These muffins are the ultimate cinnamon sugar treats that are sure to brighten up any morning!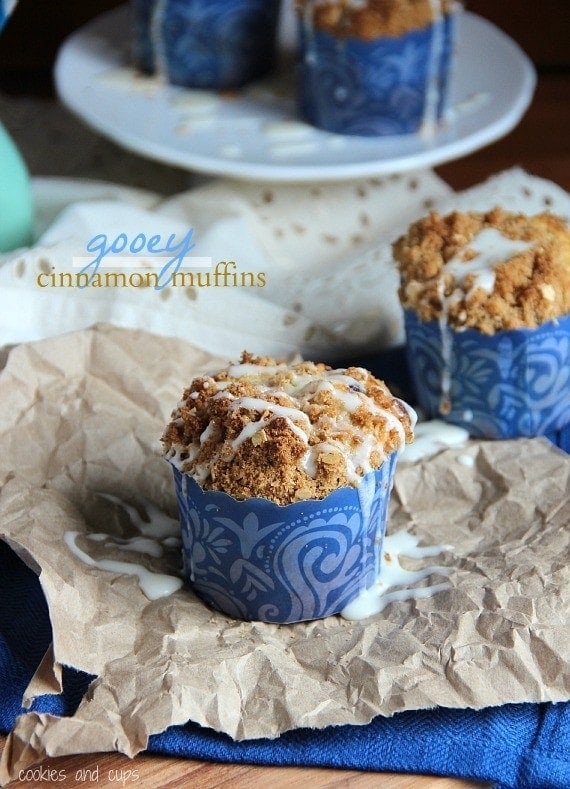 Easy Cinnamon Muffins Recipe
Do you ever wonder how you will react in a panic situation?
I have wondered.
And I know that it will be a mess. Huge.
So I don't wonder about myself anymore.
In panic situations I either make completely inappropriate choices or start crying.
The crying part needs no explanation.
But here's an example of an irrational decision made in a panic situation:
When I was probably about 12-ish we lived in Houston. It was summer and a hurricane was coming through…rain pounding and the wind gusting.
I was home alone with my younger brother and we had the back door open with just the screen door closed.
I panicked because rain was coming through the screen and getting the ground wet.
Instead of doing what any person with normal brain function would do…close the house door…I made the decision to set an umbrella in front of the screen to block the rain.
Nice.
My mom came home to see the back door open, umbrella on the ground in front,  rain pouring in, me crouching in the corner thinking about how I was going to fashion a raft out of the coffee table…
She was like, "What is going on?"
Suddenly I had a moment of clarity. Close the door.  Duh.
Of course I made up some giant lie on how the wind was blowing so hard I couldn't get the door closed, hello Wizard of Oz, which she completely didn't believe…
But yeah. That was my first memory of not handling a panic situation appropriately.
Since then I have had many others.
BUT, here's the thing…Apparently I married a man who also responds poorly when panicking.
This past weekend I was making THIS pound cake.
I had to leave the house before it was done, so I asked my husband if, when the timer went off, if he could test the cake and pull it out when it was done.
Simple task?
I thought so.
Well, when I arrived at my destination (the movies) I noticed there was a message waiting for me on my phone.
I listened to the message and it was a completely irrational, crazy version of my husband yelling into the voice-mail that he had NO IDEA where the TOOTHPICKS are and he CAN'T TEST THE CAKE! CALL BACK IMMEDIATELY!!!!!
So.
I called back.
Here's what happened…
No, he didn't use a knife, a skewer or anything else pointy…
He couldn't find the toothpicks, was scared that I might kill him if he burned/undercooked the cake, so went out back found a twig and WHITTLED HIS OWN TOOTHPICK!
Did you hear me?
WHITTLED HIS OWN TOOTHPICK!
That really happened.
Here's a picture…

So, moral of the story…
If there is ever a hurricane or a cake that needs to be baked, do NOT come to our house.
The end.
Now onto this delicious breakfast food.
How to Make The Best Cinnamon Muffins
There are a few steps to making these, but they are all easy steps, so don't worry.
These muffins have a yummy topping.
Make that first and set it aside.

They also have a filling.
It's made up of butter, cinnamon, brown sugar and water.
Make that next…

Set THAT aside too.
Then make the batter.

Put a little batter in the bottom of your liners and then plop some of the filling on top.
I bought these Wilton liners a few years ago, but here's a similar version.

Finish with more batter and the topping…

Bake them up and eat.
You can make a glaze if you want.
Who wouldn't want?

Make them, you won't be sorry!
Again, here's a link to a similar baking cup, if you're interested.
Print
Gooey Cinnamon Muffins
Author:

Prep Time:

20 minutes

Cook Time:

20 minutes

Total Time:

40 minutes

Yield:

12

muffins

1

x
Category:

Breakfast

Method:

Oven

Cuisine:

American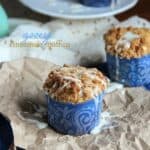 ---
Description:
These Gooey Cinnamon Muffins are a delicious twist on the classic cinnamon roll breakfast. These muffins are the ultimate cinnamon sugar treats that are sure to brighten up any morning!
---
Ingredients:
Topping:
1/2 cup

brown sugar, packed

1/3 cup

old fashioned oats

1/2 cup

all purpose flour

3 Tbsp

softened butter

1/4 tsp

cinnamon
Filling:
3 Tbsp

softened butter

1/2 cup

light brown sugar

3 tsp

cinnamon

5 tsp

water
Muffin:
1/2 cup

butter, melted

3/4 cup

milk

2

large eggs

1 3/4 cup

s all purpose flour

1/2 cup

old fashioned oats

2 Tbsp

cornstarch

3/4 cup

granulated sugar

1 tbsp

baking powder

1 tsp

salt

1/4 tsp

ground nutmeg

1/2 cup

white chocolate chips
Glaze *optional
1 cup

powdered sugar

1 Tbsp

softened butter

2 Tbsp

milk
---
Instructions:
Preheat oven to 400°
Line muffin tin with cupcake liners, or spray with cooking spray.
Topping:
Mix all ingredients together with a fork until crumbly. Set aside.
Filling:
Mix all ingredients together until consistency is similar to a loose frosting or pudding. Set aside.
Muffins:
In a large bowl whisk together butter, milk and eggs. In another bowl combine flour, oats, cornstarch, sugar, baking powder, salt, nutmeg and white chips.
Pour the dry ingredients into the wet and stir until just combined.
Using half the batter, fill each muffin tin with 2 Tbsp batter. Then drop 2 tsp of filling into each tin. Finish, by dropping another 2 Tbsp of batter on top. Depending on the size of the muffin tin, you may get more than 12 muffins.
Now sprinkle your topping evenly on the muffins (about 1 tbsp on each).
Bake 20-25 minutes until centers are set.
Cool on wire rack.
Glaze:
Combine butter, sugar and milk, stirring until there are no lumps, adding more powdered sugar or milk until desired consistency is reached. Drizzle on muffins when ready to serve.
Drizzle with glaze when ready to serve.
---
Keywords:: cinnamon muffins, cinnamon muffins recipe, breakfast muffins, breakfast muffins recipe, easy muffins recipe, best muffins recipe, homemade muffins
Want To Save This Recipe?