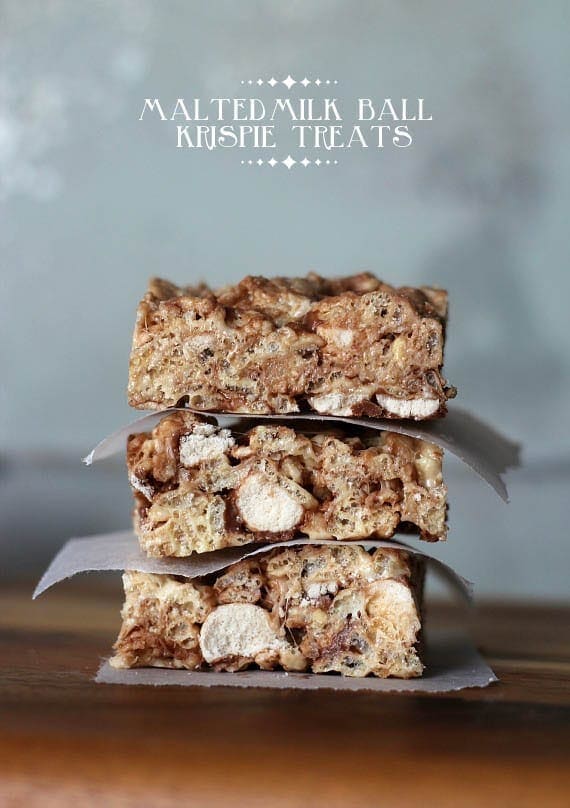 I realize it has been a while since I had made krispie treats.
I know.
Things haven't felt quite right for a while now.
You see, I am completely addicted to krispie treats…My favorite recipe ever ever ever is THIS ONE.
But here's the thing, my husband isn't a krispie guy. Or a marshmallow guy in general, so….
It was almost the reason we didn't get married almost 11 years ago, but I was able to overlook that little imperfection.
I know, I know, I am really an adaptable person.
So I don't make krispie treats as often as I would like. The concessions I make in life really should be rewarded with jewelry and spa days.
Anyhow, while he isn't a krispie treat guy, he IS a Whopper guy. So I thought I would try and fix his krispie treat disorder by adding a bunch of his beloved malted milk balls into a big pan marshmallow coated cereal.
It didn't work.
He just ended up eating all the Whoppers.
Whatever, more krispies for me.
Malted Milk Ball Krispie Treats…aka Whopper Krispie Treats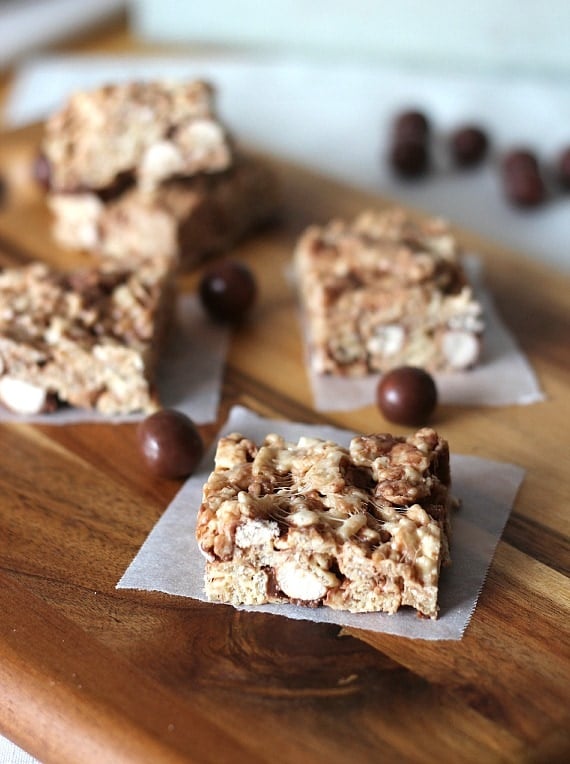 These really are totally easy.
Just chop up some Whoppers…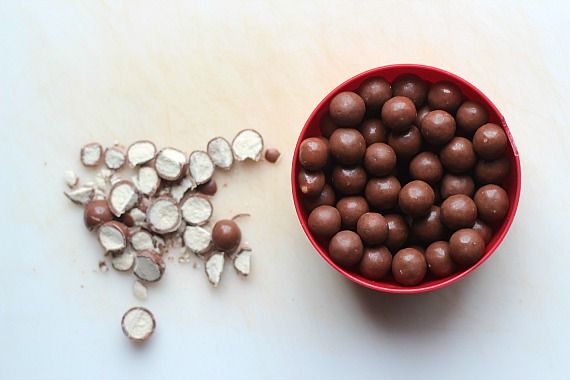 And measure out 3/4 cup of malted milk powder…it changes the whole situation…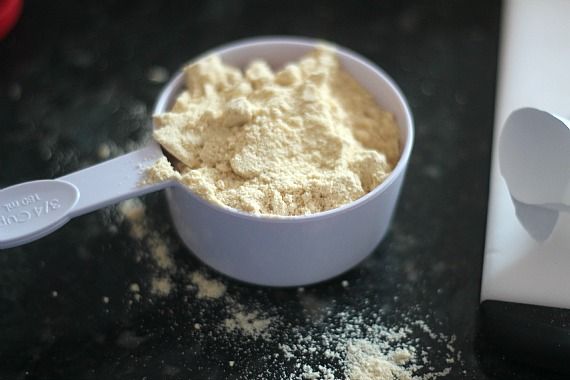 You're only gonna need about 4 cups of Rice Krispie cereal.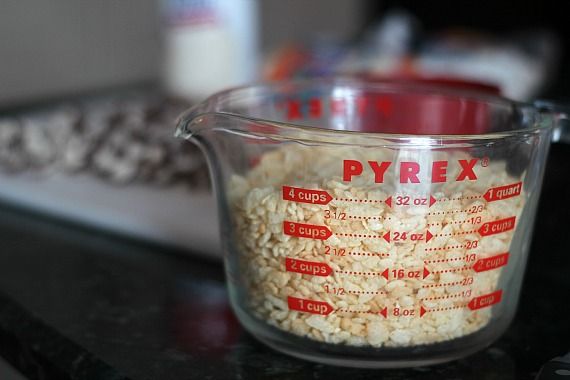 Then just go about your usual krispie making routine…
Until your marshmallows are ALMOST melted. Then add in the milk powder…
You want to get that good and mixed in with the marshmallows, but you don't want the marshmallows to burn!
As soon as the malted milk powder and marshmallows are combined take the pot off the heat and add the cereal. Stir that until it's coated well with the marshmallow mixture, and then add in the malted milk balls. You want to add these last, so the mixture cools slightly and doesn't melt all the chocolate off of the balls.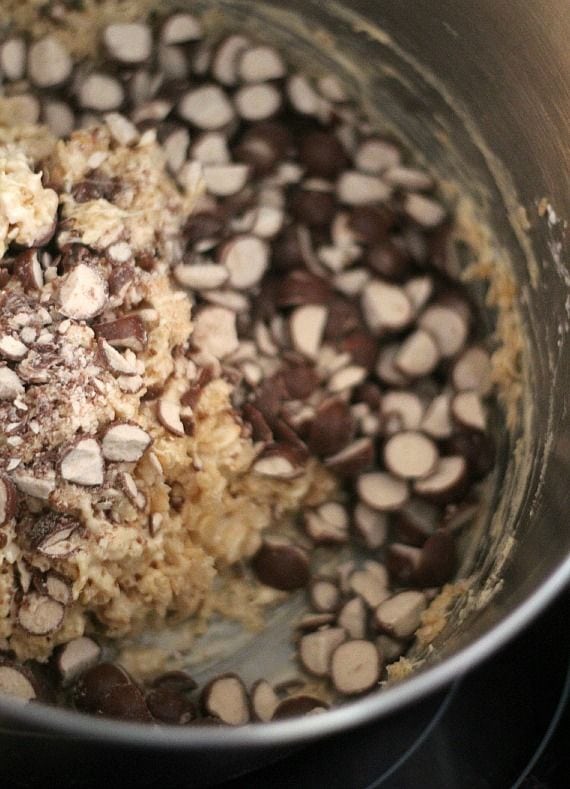 Quickly press that into a 9×9 pan. I always line my pan with foil for krispies, because it makes them easier to remove. Just my personal preference.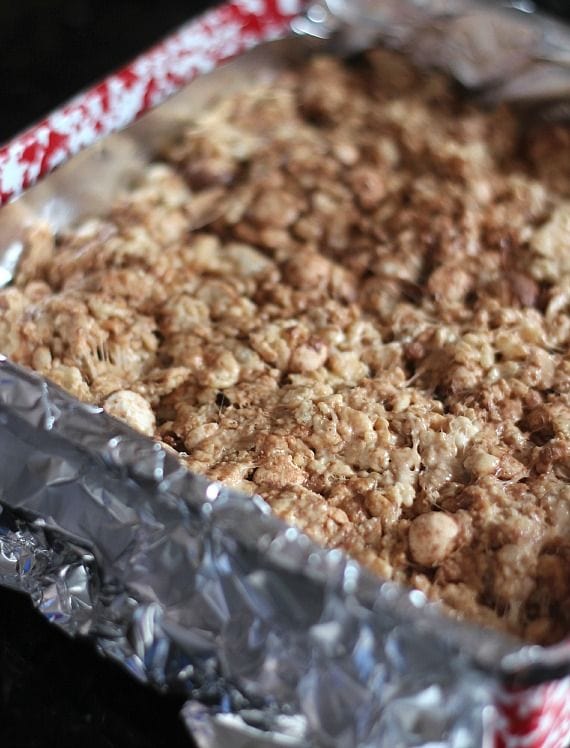 Let them cool and that's it!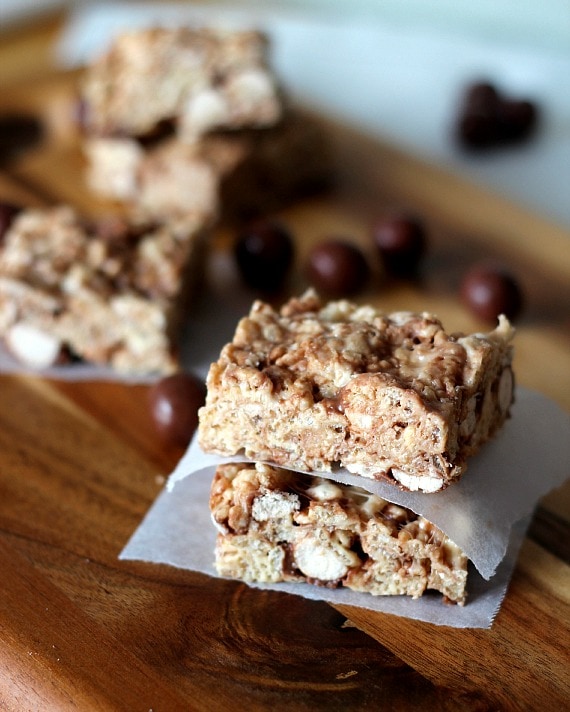 Print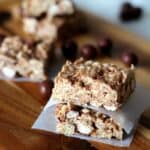 Malted Milk Ball Krispie Treats
---
---
1/4 cup

butter

10 oz

mini marshmallows

3/4 cup

malted milk powder

4 cups

Rice Krispie Cereal

2 cup

chopped malted milk balls (I used Whoppers)
---
Instructions
Line a 9×9 pan with foil and spray lightly with cooking spray. Set aside.
In a large saucepan melt butter over low heat. When butter is melted, add marshmallows and stir until almost completely melted.
Stir in malted milk powder and remove from heat.
Immediately stir in Cereal until coated in marshmallow mixture.
Finally stir in malted milk balls.
Press into prepared pan and let cool, about 20-30 minutes.
Cut into squares when ready to serve.
---
Want To Save This Recipe?
Find more recipes like this: