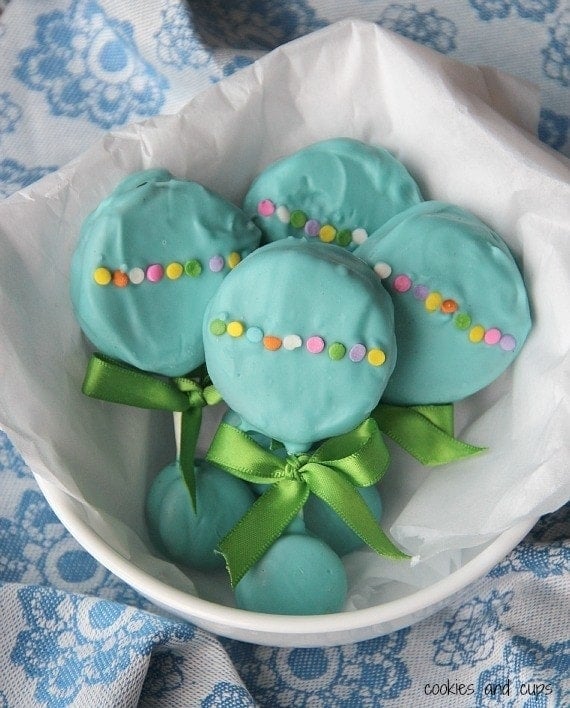 Today's a special day!
We are celebrating our friend Jenny. She's gonna have a baybeh.
Another boy to add to her houseful of boys.
Speaking from one mom of boys to another, you're in for more fun, my friend!
You all know Jenny...she writes the insanely sweet blog Picky Palate. And I have to tell you she is even nicer and sweeter in real life.
So, to celebrate Jenny and her soon-to-be bundle of joy, we are having a fun, "virtual" baby shower, since we all can't be there in in person to give her cookies and hugs before her little nugget arrives.
And because we all know Jenny is an Oreo Queen, I made some super easy, and totally cute Oreo Pop Baby Rattles.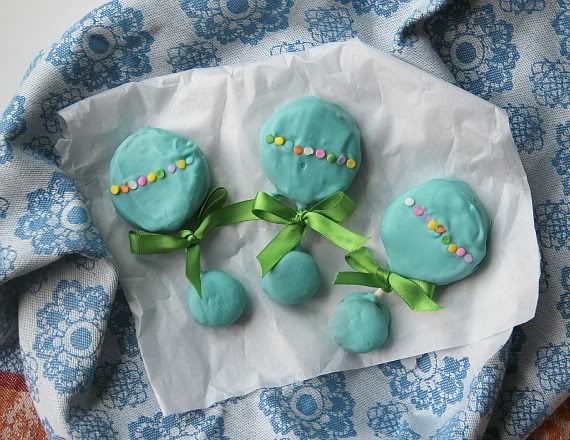 Kinda the easiest thing ever, but perfect for a shower!
All you need are a few supplies to make these. Start with Double Stuf Oreos, Bite Size Oreos, Blue Candy melts, Some sprinkles for decoration…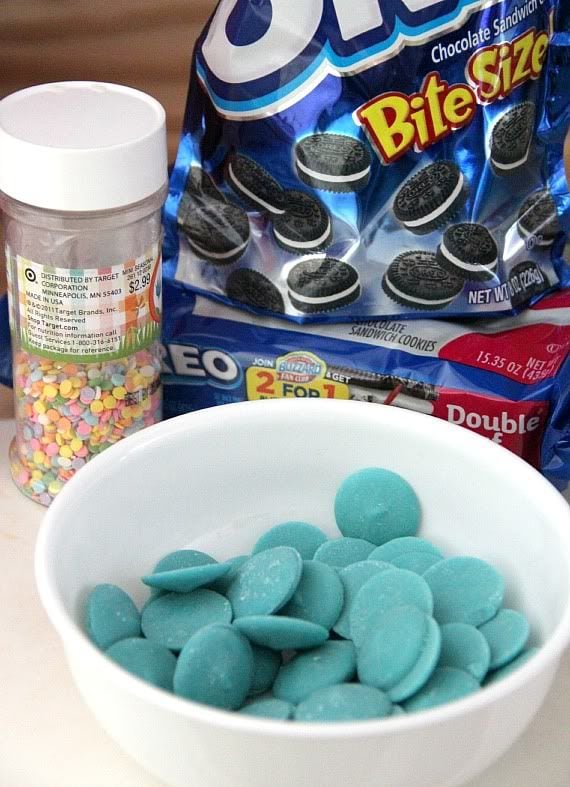 And some lollipop sticks. I cut mine down to 3 inches, so the "rattle" was a little more proportioned,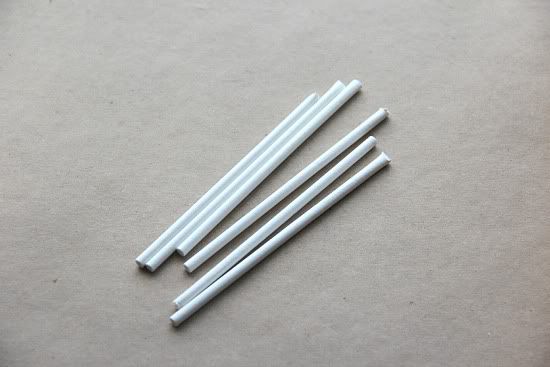 The steps are easy. Separate the Double Stuf Oreo cookie and press the stick gently into the cream. Then press the other half back on top.
Next separate two Bite Size Oreos and using both of the cream sides and sandwich the lollipop stick in between.
* I saved all my extra "uncreamed" sides in a ziplock to use in the future for cookie crumbs or a garnish.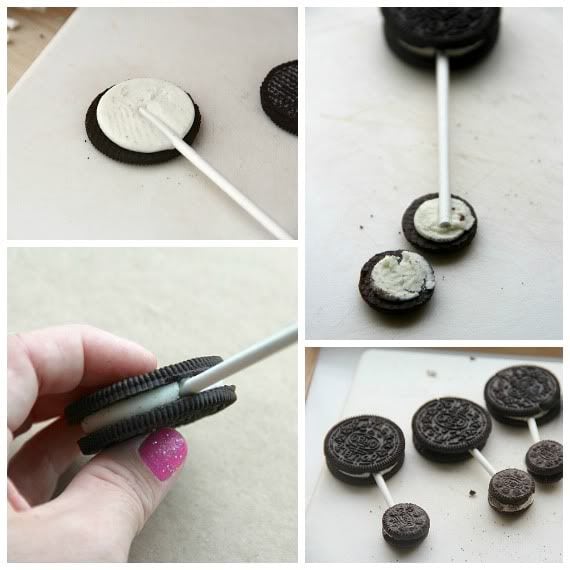 Melt your candy melts in the microwave with about a 1-2 teaspoons of vegetable shortening and dip each side, tapping off the excess. Transfer to wax paper to set.
Immediately press on the sprinkles into the wet candy.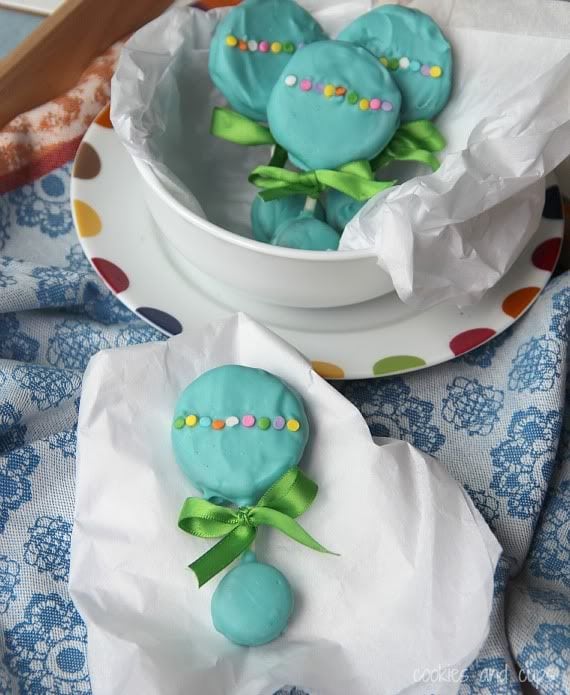 Tie a cute little bow around the stick and that's it!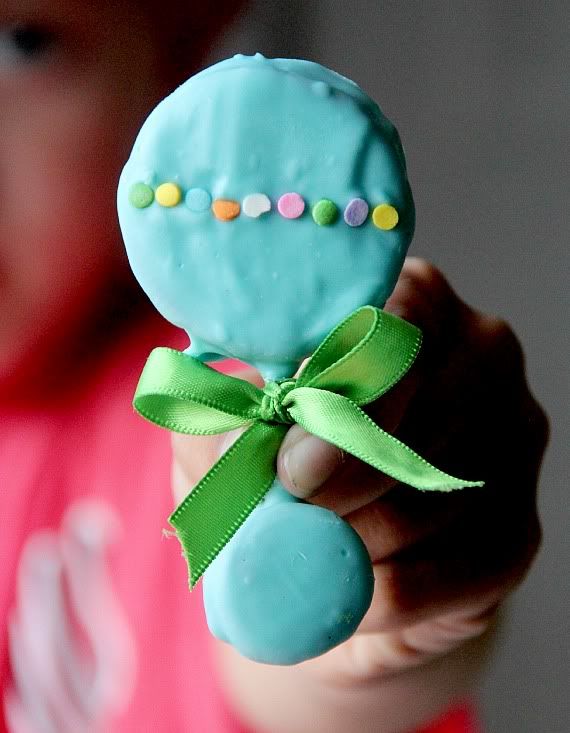 Now here's the fun part…some of Jenny's friends from around the internets are showering her with deliciousness too! Spend some time and check out what everyone made!
Congrats Jenny and I can't wait to see your little guy's sweet face! xoxo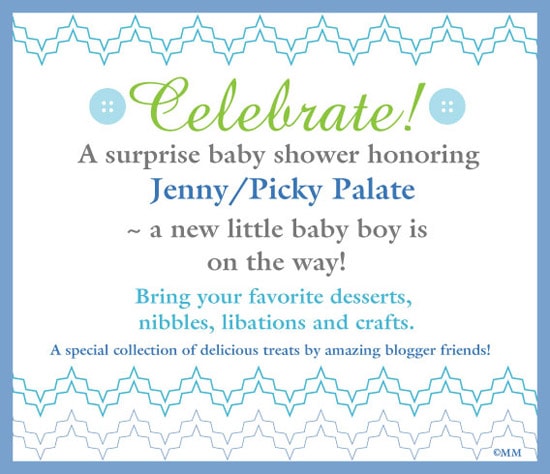 Averie:
Averie Cooks
Chocolate Banana and Biscoff Graham Bars
Julie: The Little Kitchen Mixed Berry Mint Slushies
Kristan: Confessions of a Cookbook Queen Homemade Animal Crackers
Lauren: Lauren's Latest Mini Chocolate Lava Cakes
Lori: Recipe Girl Oreo and Caramel Stuffed Chocolate Chip Cookie Bars
Maria: Two Peas and Their Pod Cookies 'n Cream Sheet Cake
Marion: Sweetopia Baby Shower Cookie Favors
Marla: Family Fresh Cooking Blueberry Mint Agua Fresca
Michelle: Brown Eyed Baker Shrimp Nacho Bites
Recipe Boy: Chocolate Dipped Peanut Butter Cup Stuffed Oreos
Robyn: Add a Pinch: Blue Velvet Baby Shower Cake
Shaina: Food For My Family Ginger Plum Preserves
Shelly: Cookies and Cups Oreo Pop Baby Rattles
Naomi: Bakers Royale – Chocolate and Peanut Butter Chocolate Chip Trifles