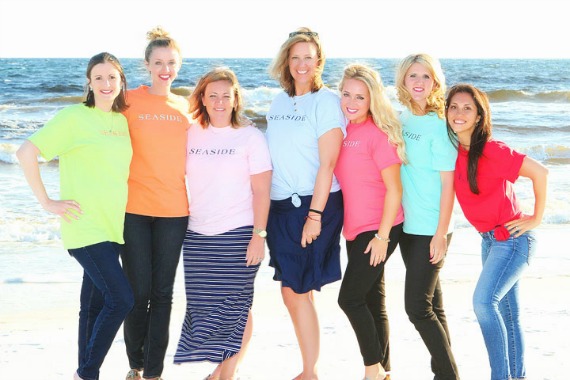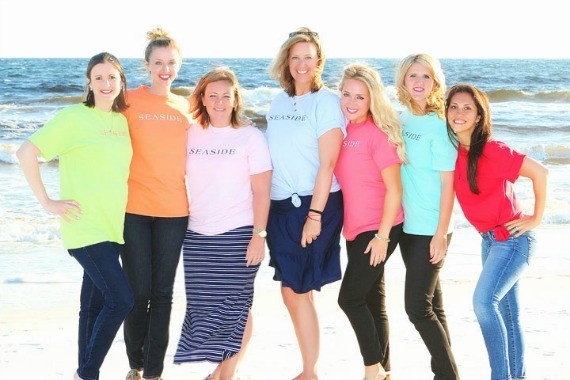 From the left Maria, Ali, Me, Heidi, Jenny, Amanda, and Gina
Hi friends! Popping in on this Saturday to share with you some trip pictures of a weekend in Seaside, Florida!
Oh my word, y'all, what a darling place. I can NOT wait to take my family back for a vacation.
Seaside is near Panama City in Florida (Between Panana City and Destin, actually), and it's a planned community up in the panhandle. It was actually one of the first cities in the US designed on the principles of New Urbanism. Didn't that make me sound smart?
Anyhow it's the cutest town…the people are outrageously friendly and really an ideal place to vacation or live.
I was lucky enough to spend a girl's weekend with some very sweet blog friends…
We stayed at a GORGEOUS house right on the beach. I don't know much about beach rentals, but the next time I go down to Seaside I will definitely use Cottage Rental Agency. The Cottage we stayed in was called the See Ya Cottage and it was SO gorgeous! Here are some pictures…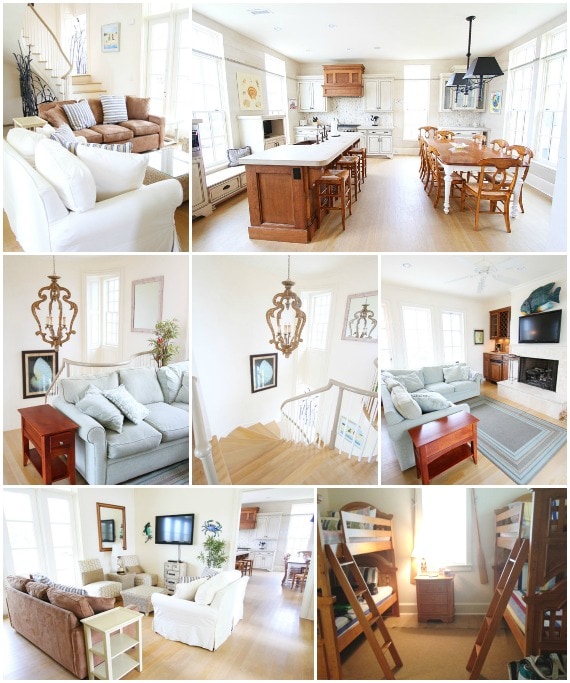 photos from Amanda
The cottage was 3 floors, with 5 bedrooms… the kitchen was massive and every bedroom had a full bathroom. I slept in a room with 2 bunk beds 🙂 So basically I could sleep on a different bed every night!
On the first day we got there it was a little overcast…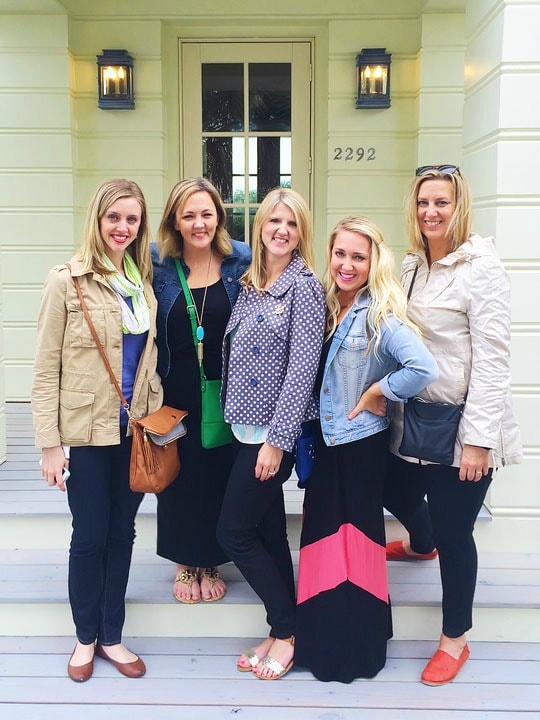 But of course that didn't stop us from going and exploring a little bit!
Our first stop was to Airstream Row, where they have the most adorable airstream food trucks set up with all sorts of delicious food.
The Gourmet Grilled Cheese truck, The Melt Down, was right up our alley…
My favorite was the roasted Strawberry Goat Cheese Grilled Cheese…it might sound odd, but HOLY good!
That night we were treated to a private meal planned by the owners of Raw and Juicy, a raw food and juice bar. The food, while certainly different from my normal dinner, was really fantastic! They served Green Goddess juice right next to a beautiful wine. and the dessert…I can't even describe to you the dessert. It was one of the best things I've ever had. It was a raw chocolate and coconut cream parfait. The chocolate was SO intense and smooth. I HAVE to recreate it.
I'd love to hear if you guys would be interested in raw chocolate…I swear it was kind of life changing!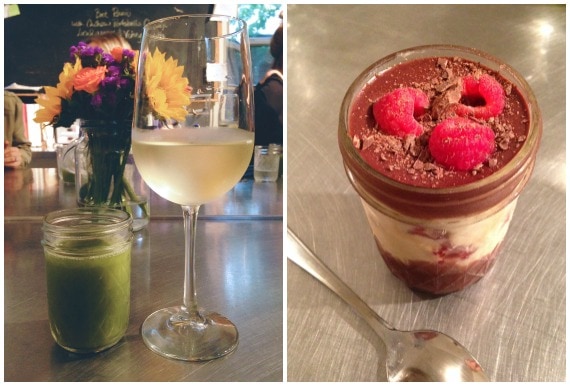 After dinner we went back to the house for some cake (of course) and also to watch Maria on the Today Show! We were all traveling when she appeared with Kathy Lee and Hoda that morning, so we were able to watch online together. Very exciting stuff!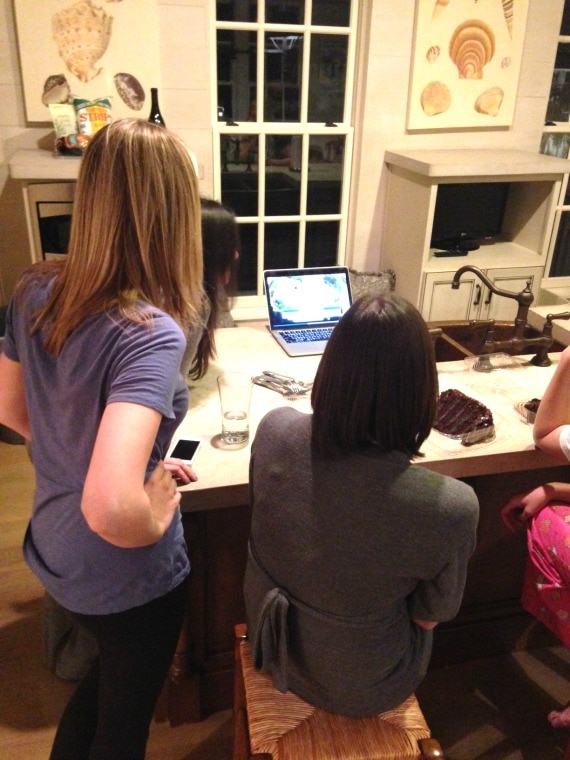 For breakfast there was a sweet little coffee shop next door to our cabin with AMAZING coffee called Amavida. Their Cafe Americano was amaze and the Gruyere and Ham Croissant wasn't too bad either!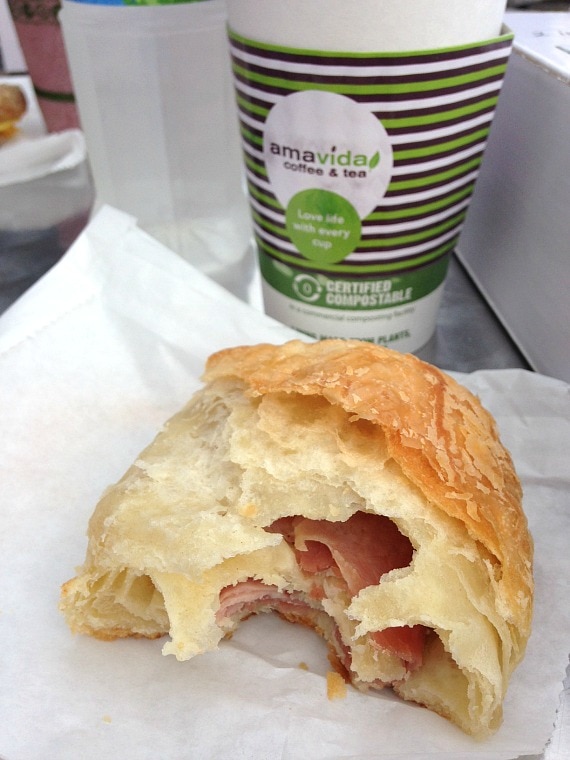 On Friday the sun was shining and we really got a chance to explore Seaside.
The super sweet owners of Fired Up hosted us for a few hours and let us paint some pottery. It was fun to see how creative all these girls are!
Here's Ali using shaving cream and paint to create a swirled effect on her coffee mug..and also and Gina and me painting!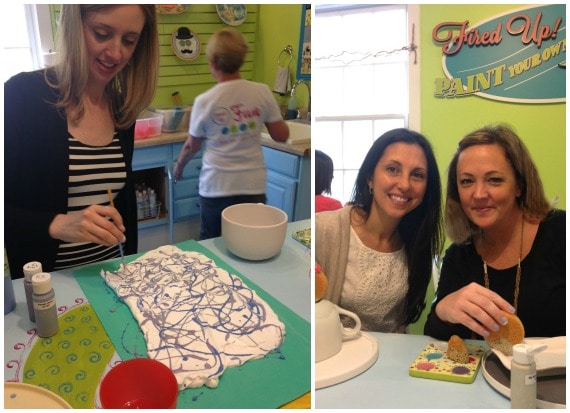 I did my plate with a bubble technique…
Later we all got to pick up our fired pieces…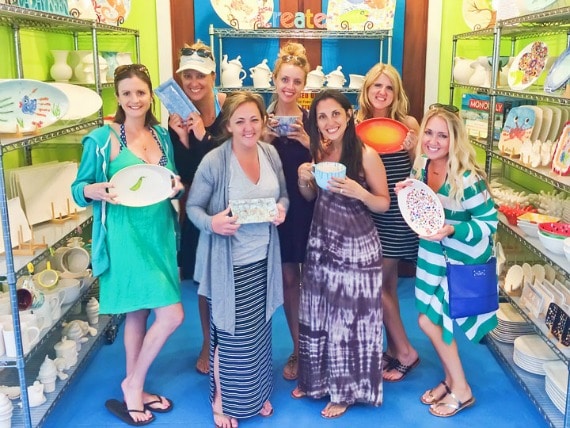 We had an amazing lunch at Crush….one of the best of the weekend and then were able to shop and enjoy some time on the beach!!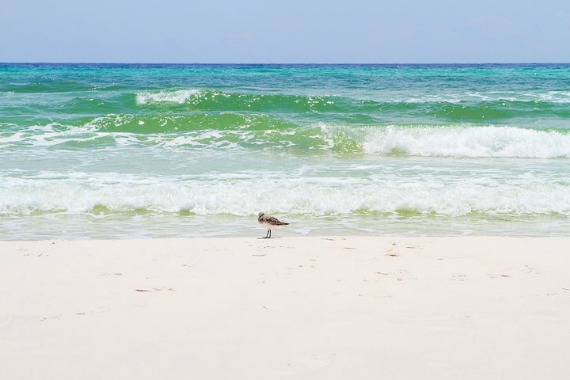 The sand there is like powder..so fine and soft and the water is crystal clear!
That night we were treated to an amazing dinner specially prepared for us by Heavenly Dawson, owner of The Shrimp Shack. The table setting was gorgeous on a patio overlooking the beach and the sunset…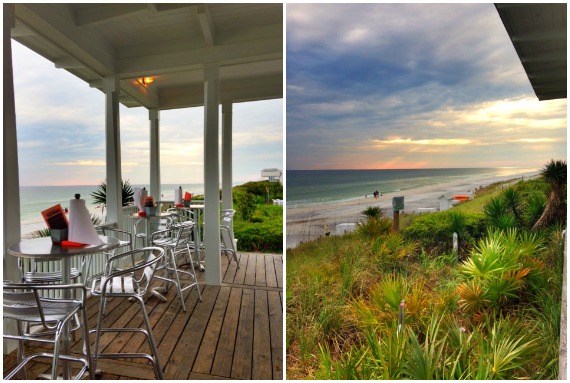 I mean…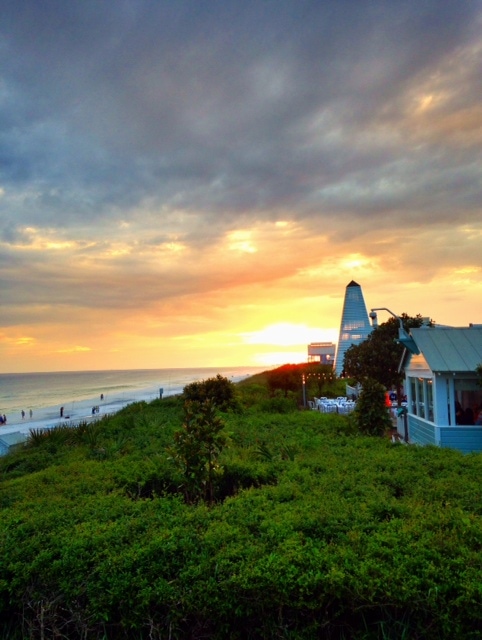 And it also happened to be Ali's birthday, so Heavenly prepared all of Ali's favorites that night for dinner. How sweet was that?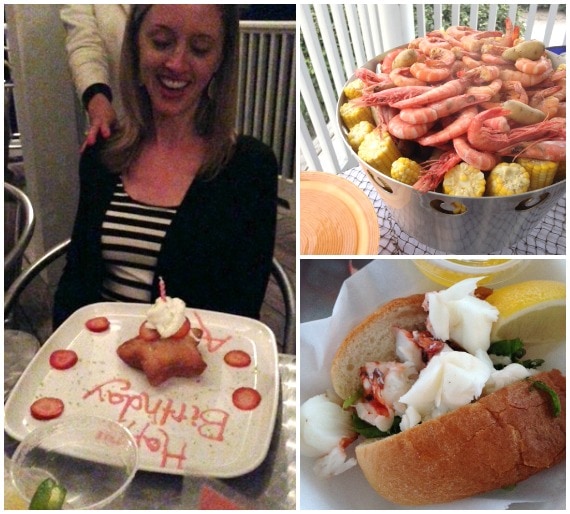 Also, did I mention my favorite of the weekend..the Shaved Ice truck, Frost Bites. There were infinity flavors of Shaved Ice…my favorite being The Wedding Cake flavor…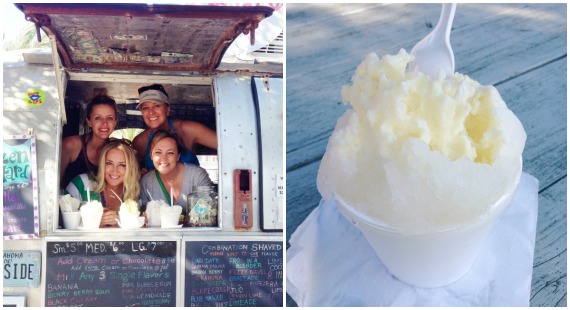 It was Vanilla Frozen Custard on the bottom, wedding cake shaved ice on top all covered in an ample drizzle of sweetened condensed milk. ohhhhh yessss.
We also ate some amazing BBQ at Barefoot BBQ…the pulled pork nachos were out of this world!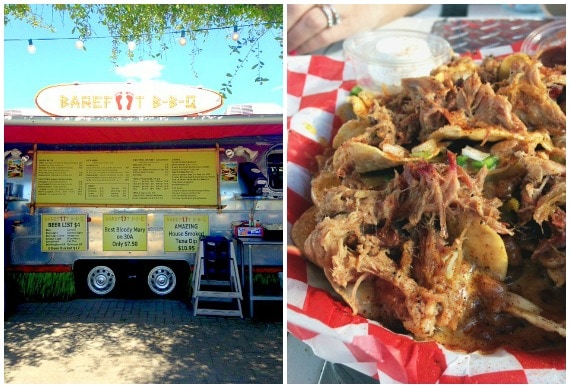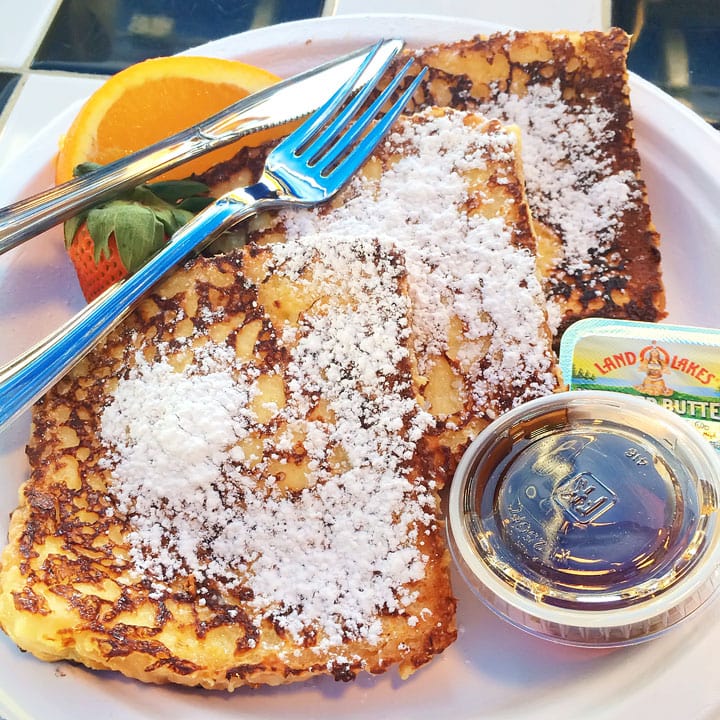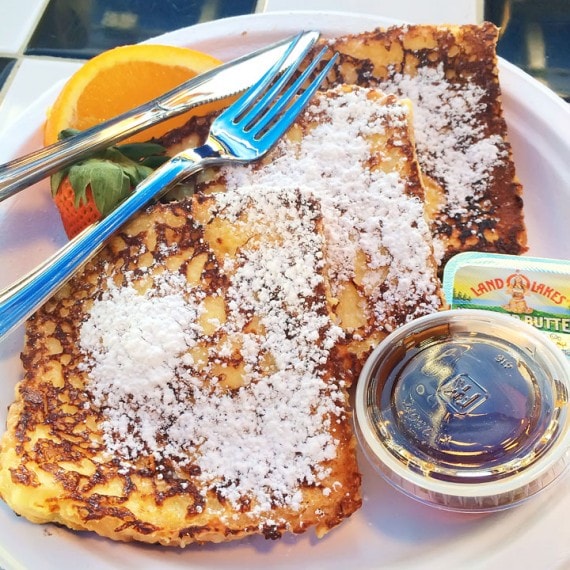 And a highlight was breakfast at Pickles …omg you guys, this french toast…
Her secret is she soaks the bread in melted ice cream before frying. MELTED ICE CREAM! Can you even stand it?
That night for dinner Jenny and I got dressed…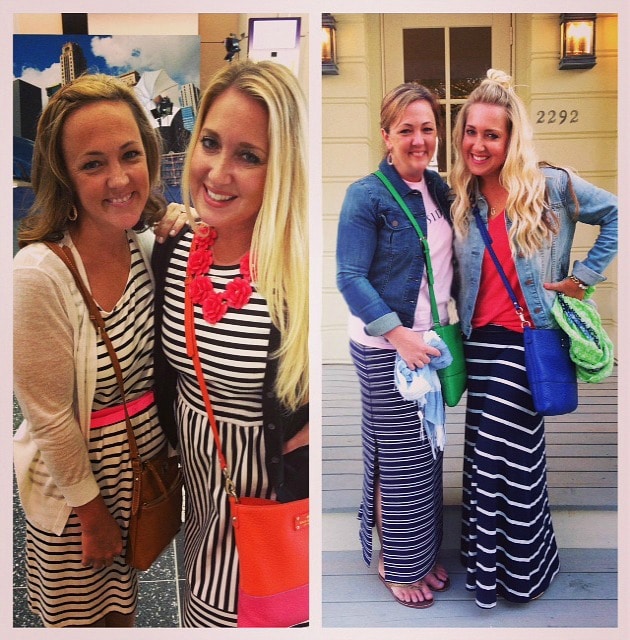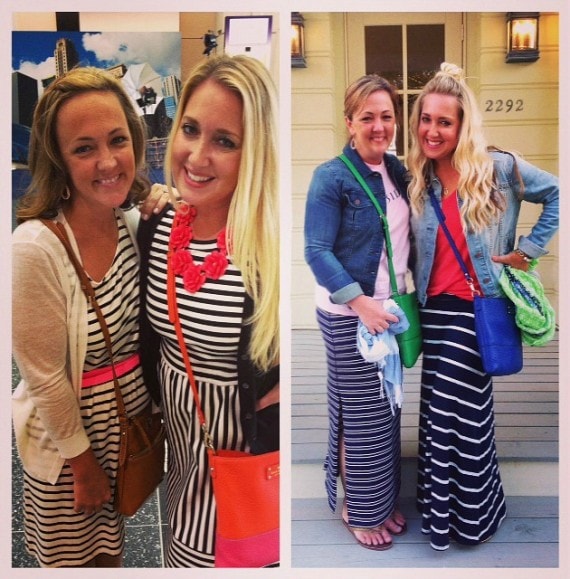 We have done it so many times with almost the exact same outfits…#twinning all the days. (the picture on the left was from last year at an event)
I was so sad to leave Seaside, but had such a fantastic time there. Again, I can't wait to go back!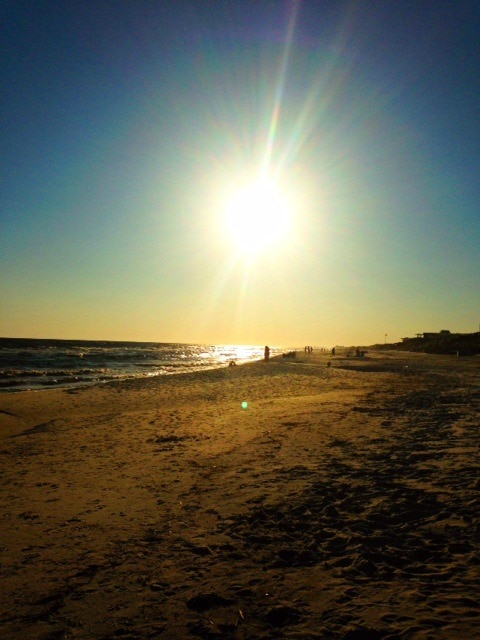 Check out Amanda's recap of our trip HERE
I used some of Amanda's gorgeous pictures in this post along with my own