These 2 Ingredient Pumpkin Cookies are simple and delicious. They're also lower in calories…as long as you don't frost them!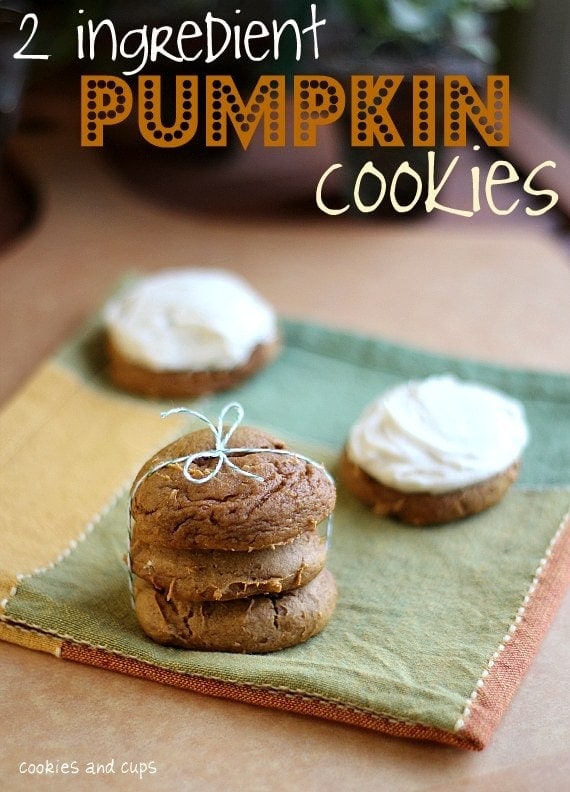 Yep, we're going with another 2 ingredient recipe today.
2 ingredient Pumpkin Cookies.
What can I say, I love a theme!
This one came from a comment left on my Soda Can Cupcake post…
The commenter (Corrie Alexa) said if you combine a Spice Cake mix and a can of pumpkin you can make a cake. WHAT THE?!?
I woudn't have believed it a week ago, but after my soda and cake mix experiment, I won't put anything past the magic-ness that is boxed cake mix.
Another bonus to the 2 ingredient thing is that it's lower in fat, which apparently people are all concerned about fat and calories these days, so yeah…
Well, I decided that with it almost being Thanksgiving I needed to do the pumpkin thing at least one more time before the big day.
So I went into the endeavor with all intentions of making a cake. But as I mixed the pumpkin and cake mix together I got another idea. The 2 ingredient batter is very thick, and I wondered if I could make cookies instead of a cake?
* A side note ~ when I decided to make these as cookies I pretty much thought I was a genius. Well, a quick google search proved me that I am NOT the inventor of these. Damn Google ~ nobody likes a know it all!

Anyway, here's how it started.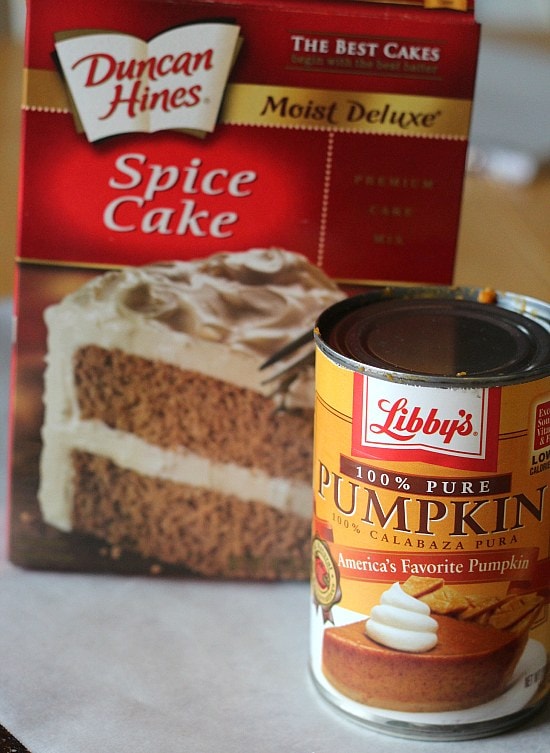 If you can't find spice cake, I bet you could use yellow cake and throw in some pumpkin pie spice, just a thought.
Mix them together…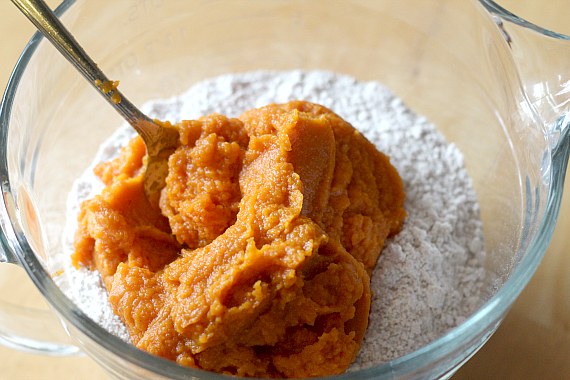 Now, on a lined baking sheet drop batter (rounded tablespoon) about 2 inches apart…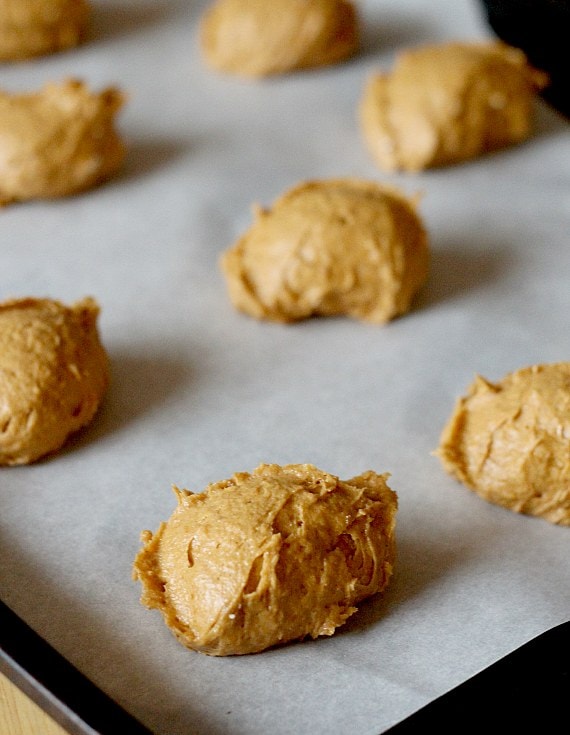 Bake for 13-15 minutes.
There you go! A soft, cakey, yummy pumpkin cookie.
Now you can definitely stop there, in keeping with the whole 2 ingredient deal.
Or….OR…you can top these yummies with some frosting. Because really, what's not better with frosting?
I used about a cup of buttercream that I had in my fridge leftover. You could use cream cheese frosting too, which would be perfectly delicious!
* Fun tip ~I spruced my buttercream up by sprinkling in some pumpkin pie spice. It gave it a nice flavor.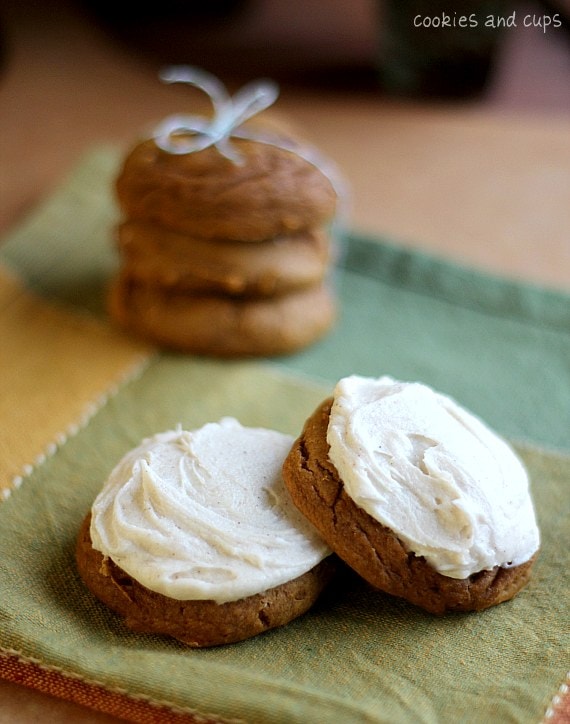 You could probably adapt the cookie recipe and add in some white, chocolate or even toffee chips to make them even more special, but I will tell you they don't need it.
Super yummy and only 2 ingredients.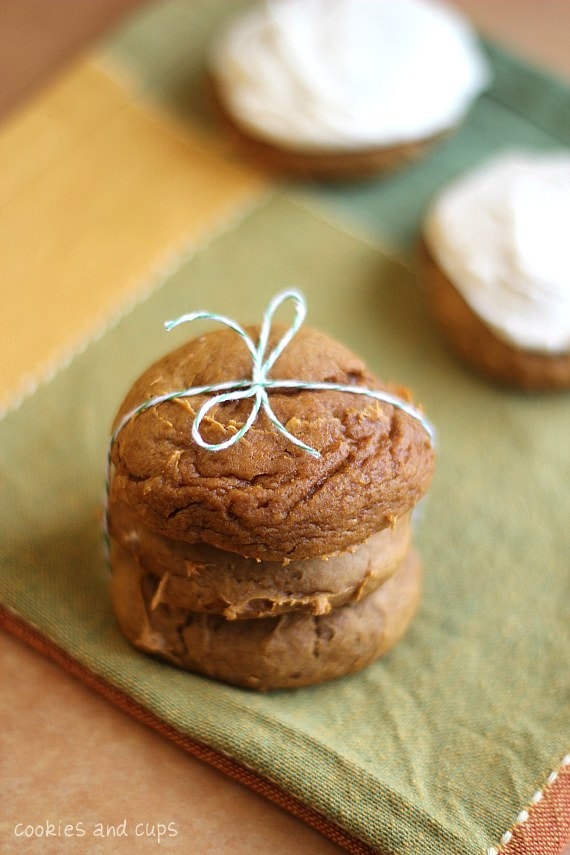 I would love to hear any other short-cut recipes you guys have, because I have decided that you guys are all brilliant!
Also for another fun quick pumpkin/cake mix recipe hope over to Bake at 350…she has some really yummy Cranberry Pumpkin Muffins
And if you're willing to throw in a few more ingredients, try these Pumpkin Oatmeal Cookies with Chocolate Chips and Dried Cranberries from Two Peas.
Print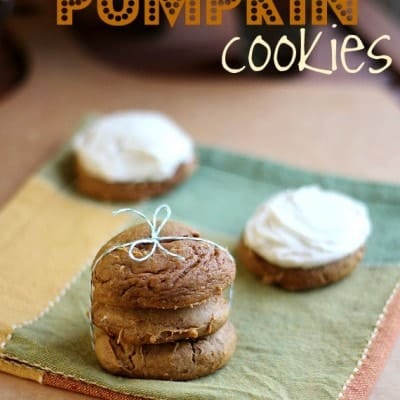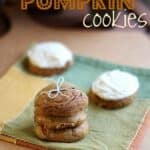 2 Ingredient Pumpkin Cookies
---
---
1

(15 oz) can of pumpkin

1

box spice cake mix
---
Instructions
Preheat oven to 350°
Line baking sheet with parchment paper
Mix your pumpkin and cake mix together in a medium bowl until there are no more lumps.
Drop by rounded tablespoon onto prepared baking sheets, about 2 inches apart.
Bake for 13-15 minutes, until edges start to golden.
Remove from oven and allow to cool 5 minutes on your baking sheet. Transfer to wire rack to finish cooling.
Frost if desired.
---
Notes
Store in an airtight container for up to 3 days
If you would like to frost these cookies here is my buttercream recipe and I added 1 tsp of Pumpkin Pie Spice to that!
Want To Save This Recipe?
Find more recipes like this: