This Brownie Bottom Ice Cream Cake is the BEST Ice Cream Cake EVER! You've got a thick fudgy brownie layer on the bottom topped with creamy chocolate frosting, cookie dough ice cream, whipped cream and sprinkles!
The BEST Ice Cream Cake In All of the Land!
My kids are fairly jaded when it comes to desserts. When they come home from school and there is a giant plate of cookies waiting for them, they don't even waggle an eyebrow. Same old, same old. They have even, on occasion, bypassed my fresh baked cookies for Oreos. I kid you not.
BUT since I just chalk that up to kids being weird, I don't let them get to me. However, they do, every so often, have a pretty fab idea. Which bring me to…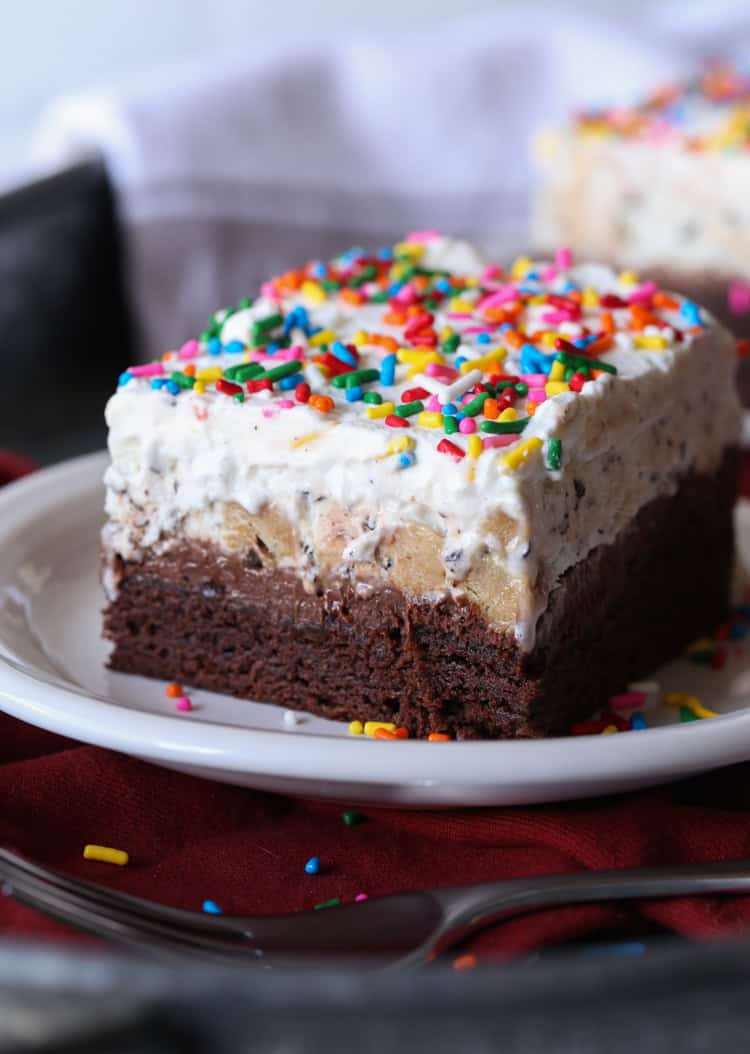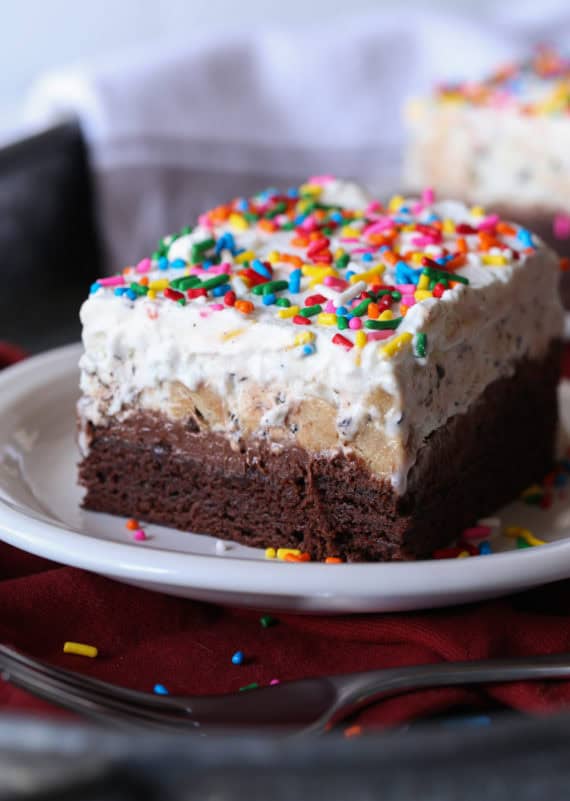 I cannot take full credit for the inception of this cake. You wanna know why? I actually don't like ice cream cake. GASP I KNOW.
Let me explain a quick minute before I lose you. The thing is generally ice cream cakes are…well…all ice cream. I know, I know, duh. I am an oddball. Ice cream isn't my favorite. I mean I love it when ice cream is filled with delicious extras, but I kinda-sorta pick those out and leave all the ice cream.
But that's why this is the BEST Ice Cream Cake…it is filled with all sorts of other yummy things that while it is definitely an ice cream cake, it is a Brownie Bottom Ice Cream Cake topped with chocolate frosting, cookie dough ice cream, whipped cream and sprinkles. You're into this, right?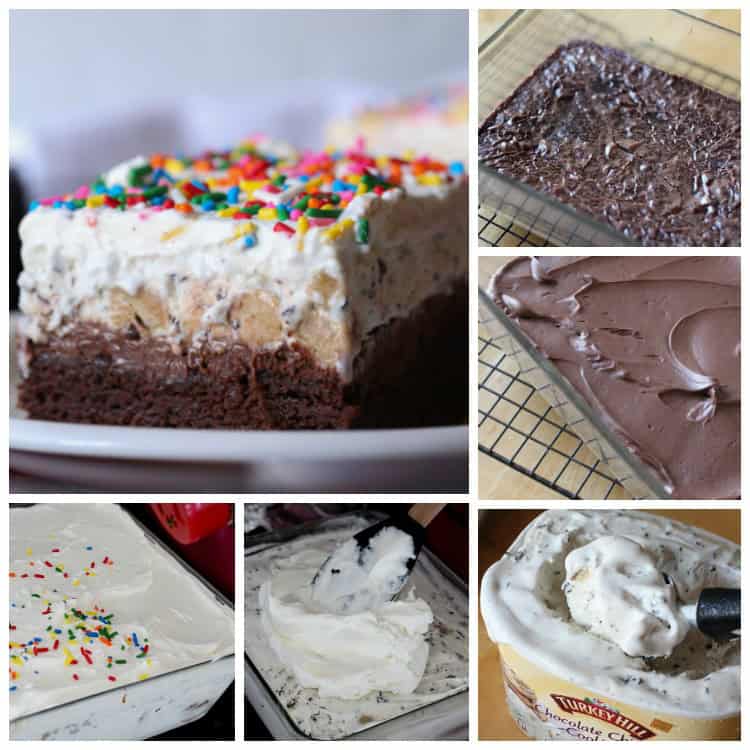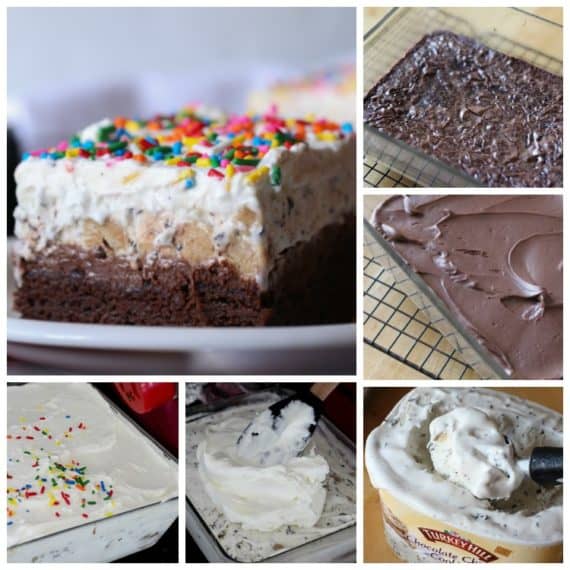 How To Make Brownie Bottom Ice Cream Cake
It's really super simple, and there are tons of variations that we will get to in a minute. But first let's start with the basics:
Bake up some brownies in an 8×8 or 11×7 pan. But make sure the pan has deep sides, because you are going to be topping the brownie with all the extras and you don't want it to overflow! I used a boxed brownie mix for ease in this recipe, but 100% absolutely you can bake brownies from scratch. My Fudgy Brownies recipe would work great! More on the size of the brownie mix in a minute.
Top the brownies with some frosting! You can make your own homemade chocolate frosting, or certainly you can use canned chocolate frosting. Completely up to you and your willingness. Pop the pan in the fridge for 30 minutes to let the frosting set up.
While the frosting is chilling, pull out your ice cream from the freezer to let it soften up, so it will spread easily.
You're pretty much done at this point. Cover the cake with cling wrap and let it freeze for a few hours.
When you're ready to serve it up, make some homemade whipped cream and spread that on top of the ice cream and then finally SPRINKLES!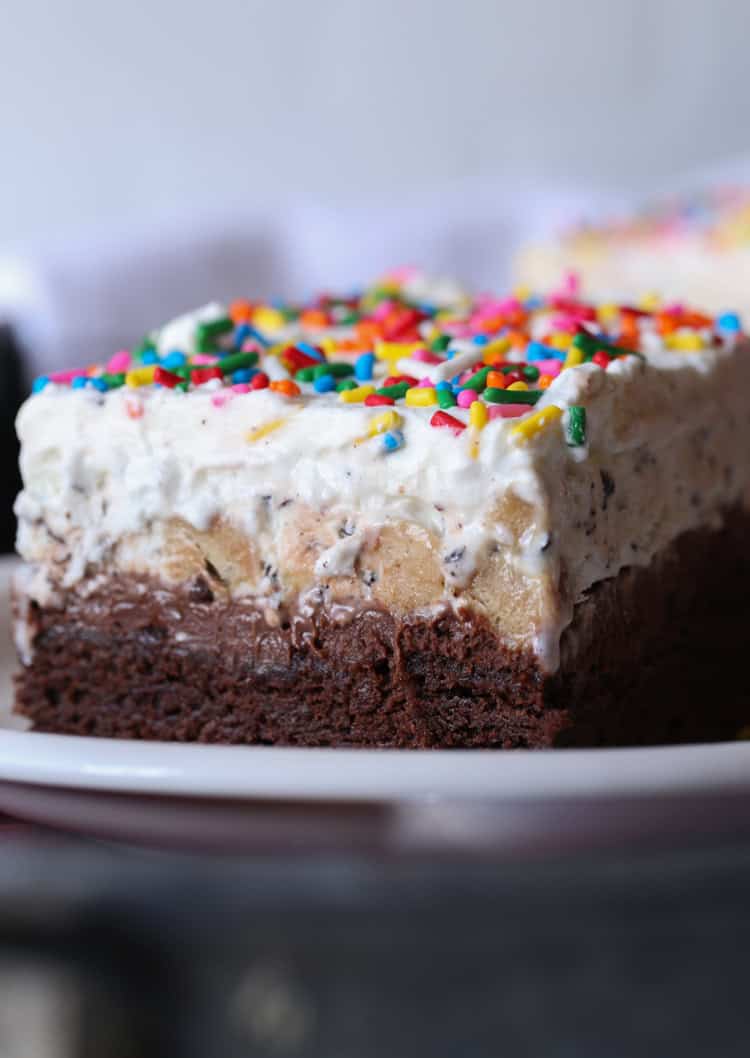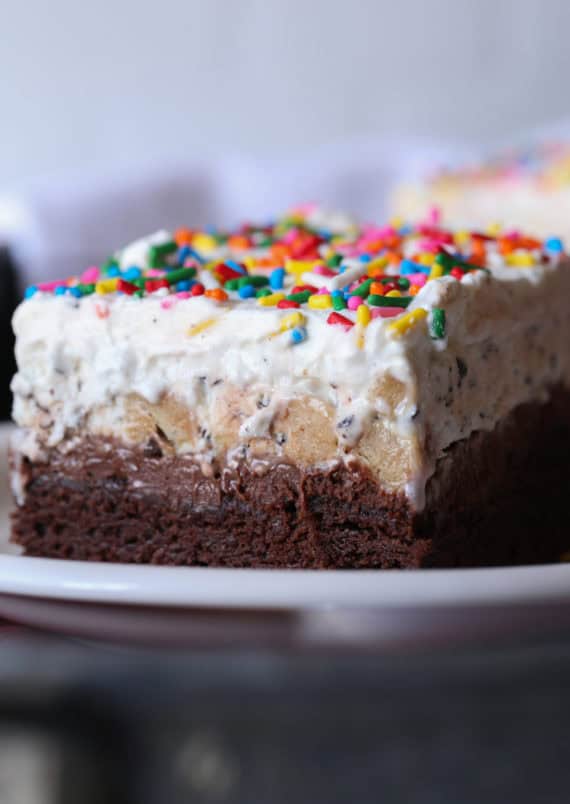 Ice Cream Cake FAQs – This Recipe is Totally Adaptable!
Here's where I am going to try to answer all your questions! There are TONS of adaptations to this "recipe", and I want to set you up for success. So let's chat…
What Size Brownie Mix Do I Use?
Ok, here's the deal. I wrote this recipe using a "regular" sized brownie mix, not a "Family Size" brownie mix. Generally a "Family Size" brownie mix says Bake in a 9×13 Pan on the front. When I buy and make Family Size brownies I always bake them in a 9×9 pan, because I like thicker brownies. But for this recipe a thicker brownie in a 9×9 pan might not leave enough room for all your ice cream unless the pan has tall sides. AND if you use a 9×13 sized pan, the layers of brownie, ice cream, and frosting will be super thin. Have I confused you yet?
So the recipe is written for a 10-ish ounce brownie mix, not an 18-ish ounce brownie mix. BUT. Here's where I am really going to mess with your brain. You can EASILY make this recipe in a 9×13 pan, you will just need to increase the amount of frosting, ice cream and whipped cream by about a third.
Trust me, you're not going to mess ANYTHING up. Make it as big or as small as you want, it's totally up to you. Use this recipe as a guideline and get creative!
Side note – I have even made this using a Family Sized Brownie mix in a 9×9 pan with all the rest of the measurements the same, it just almost overflowed my pan because I didn't decrease the amount of ice cream, but I wan't made about it!
Can I Use Different Flavors of Ice Cream?
1000% yes! Cookie Dough is my favorite, so that's what I used. But imagine the flavor possibilities:
Mint Chocolate Chip Ice Cream: This would be so amazing on top of the brownie and chocolate frosting. You could even use mini chocolate chips instead of sprinkles!
Strawberry Ice Cream: You would have a Neapolitan situation going on!
Vanilla: Nothing wrong with a little plain vanilla for the purest!
Rocky Road: This could be great with chopped peanuts on top of the whipped cream!
Cookies and Cream: Imagine this with chopped Oreo cookies as a garnish!
Butter Pecan: Top the brownie with caramel instead of frosting and sprinkle the whipped cream with chopped candied pecans!
Will the Brownie Be Frozen and Solid?
Nope! Here are my tips to brownie success when it comes to this ice cream cake:
Under-bake the brownie a bit. This is normal for me, as I prefer ooey-gooey brownies, but if you're a rule follower and like to bake a brownie all the way, consider bending the rules slightly here.
I bake brownies until a toothpick inserted an inch or two from the edge of the pan comes out clean. If the toothpick inserted in the center comes out clean, it's over-baked in my book.
An under-baked brownie in this recipe will stay softer.
Also make sure you allow the cake to sit out for 15-20 minutes or so before you slice it! Of course it will be rock solid if you try and eat it straight from the freezer…I mean, it's frozen! So let it warm up a touch and you'll be set!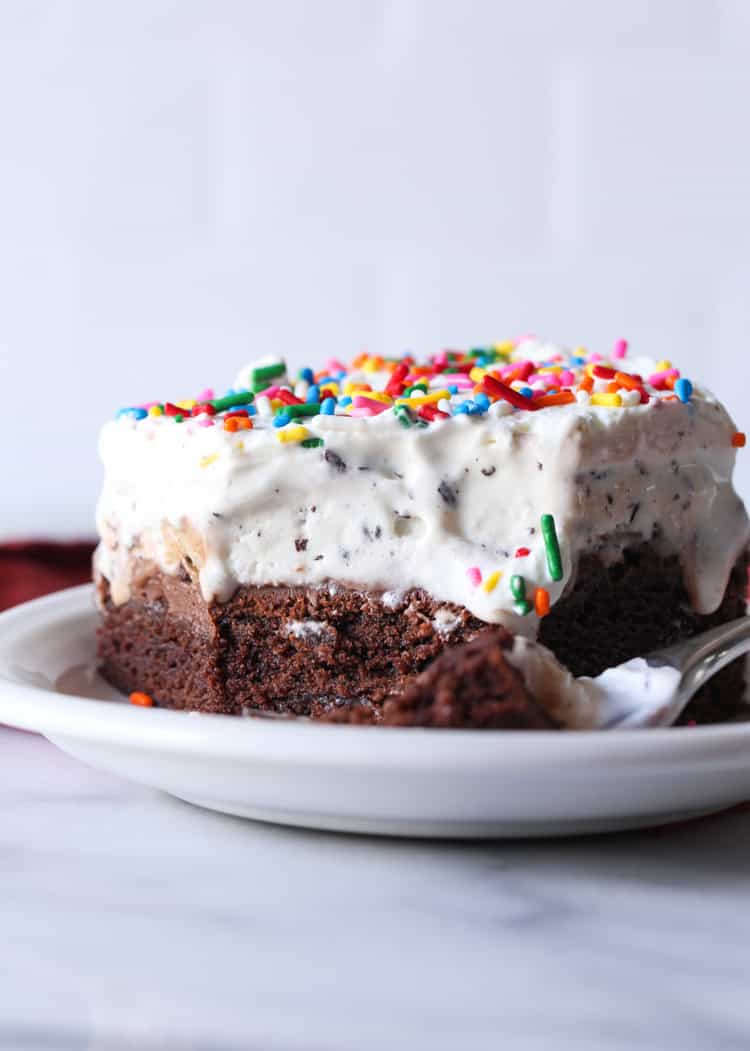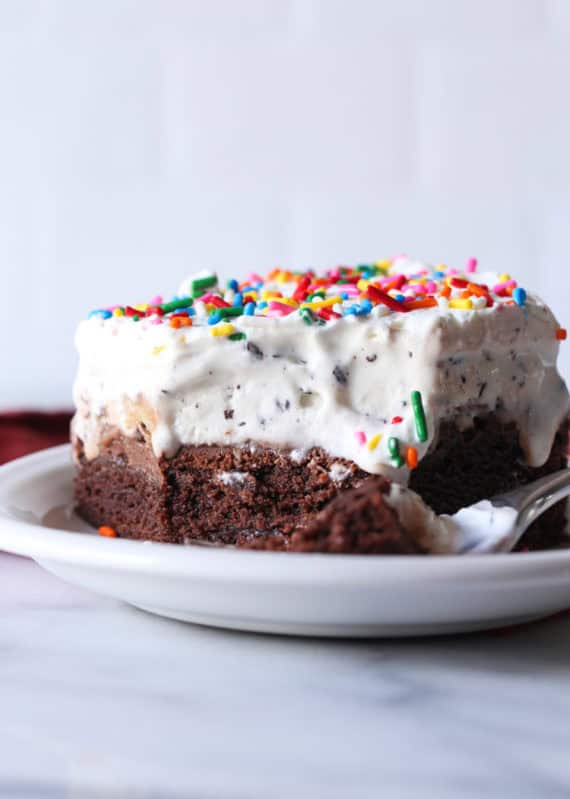 Looking for More Ice Cream Recipes? Try These:
This recipe was originally posted in 2013, but the recipe, tips and pictures have been updated!
Print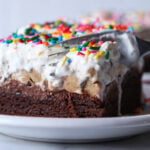 Brownie Bottom Ice Cream Cake
Author:

Prep Time:

10 minutes

Cook Time:

20 minutes

Total Time:

30 minutes

Yield:

serves

1

0

1

x

Category:

Cake

Method:

Oven

Cuisine:

Dessert
---
Description
This Brownie Bottom Ice Cream Cake is the BEST Ice Cream Cake EVER! You've got a thick fudgy brownie layer on the bottom topped with creamy chocolate frosting, cookie dough ice cream, whipped cream and sprinkles!
---
1

(10-15 ounces) Brownie Mix, made according to package directions in an 8×8 pan

1 1/2 cups

chocolate frosting (homemade or store bought)

1.5 quarts

Cookie Dough Ice Cream

1 cup

heavy whipping cream

1/4 cup

granulated sugar
sprinkles to garnish
---
Instructions
Grease an 8×8 or 11×7 deep-dish baking dish. You can also add a layer of foil and grease the foil to make it easier to remove the ice cream cake. If you use foil, it needs to come up the sides of the pan at least 3 inches to leave room for the ice cream and whipped cream layer.
Bake the brownies according to package directions in the prepared pan and allow to cool completely.
Spread chocolate frosting onto cooled brownies. Place frosted brownies in refrigerator.
Remove ice cream from freezer and allow to soften for about 30 minutes while the brownies are chilling.
Remove the brownies from the refrigerator and top with ice cream, spreading evenly with an off-set spatula.
Cover and place in freezer for at least 3 hours.
Before serving prepare your whipped cream. Place heavy whipping cream in bowl of stand mixer fitted with the whisk attachment and add in granulated sugar. Beat cream on high speed for about 2 minutes until it becomes thick.
Spread onto ice cream cake, top with sprinkles and serve immediately.
Notes
Store air-tight in freezer for up to 2 weeks. Allow to soften 15 minutes before serving.
Nutrition
Serving Size:

1 slice

Calories:

403

Sugar:

42.9 g

Sodium:

176.4 mg

Fat:

19.1 g

Carbohydrates:

55.7 g

Protein:

2.9 g

Cholesterol:

27.6 mg
Keywords: cookies and cups, ice cream cake recipe, brownies, cake recipe, ice cream, whipped cream, how to make ice cream cake, homemade ice cream cake
Want To Save This Recipe?
Find more recipes like this: