Krispie Treat Ice Cream Pie
This Krispie Treat Ice Cream Pie is a fun spin on a boring ice cream cake! Mixing Rice Krispie Cereal with white chocolate as the crust gives the ice cream pie a great crunch! There are so many flavor possibilities with this idea!
It's August, it's hot and ice cream pie is happening.
And really I need a reward…because today I BOSSED being an adult.
I went to the bank, went to the POST OFFICE and didn't hide when Jehovah's Witnesses came to my front door.
I actually opened the door and said, "No thank you, sir."
The fact that it was actually a grandma-woman with a child and not a "sir" is besides the point.
Long story short I didn't hide in the closet when the doorbell rang.
Also, seriously, why when someone rings the doorbell am I always scared it is either a murderer in disguise, or some here to turn off my electricity?
I have brain problems.
Because I have A) never been confronted with a murderer-type of situation and B) I have never had my electricity turned off.
Do they even come to the door to tell you? I have no idea…but in my mind apparently they do.
Also C) We totally pay our bills so I don't even know WHY they would be here to turn off our electricity.
WHAT IS THE MATTER WITH ME?!
I guess it's nothing a little Ice Cream Pie can't heal. Maybe?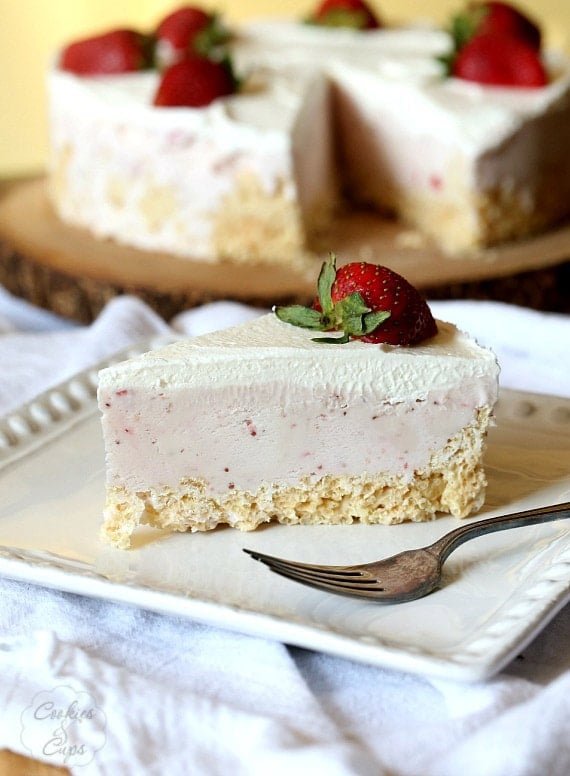 Also, this "pie" has a rice krispie crust…which is the best thing ever. A little crunchy krispie with ice cream never hurt no one.
All I did was mix some melted white chocolate with krispie cereal.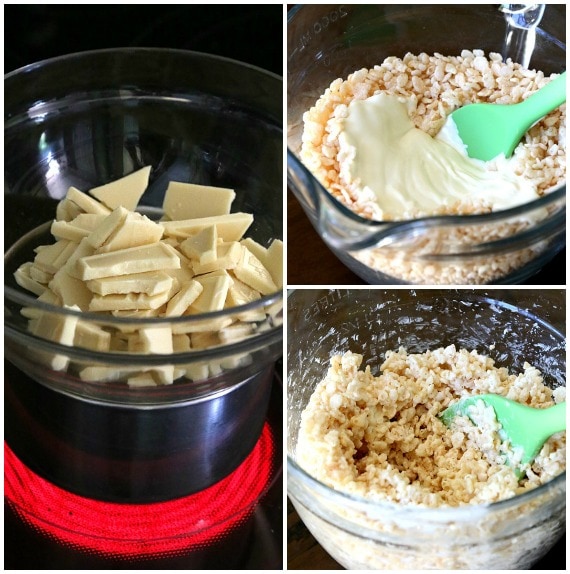 I pressed it all in a spring-form pan…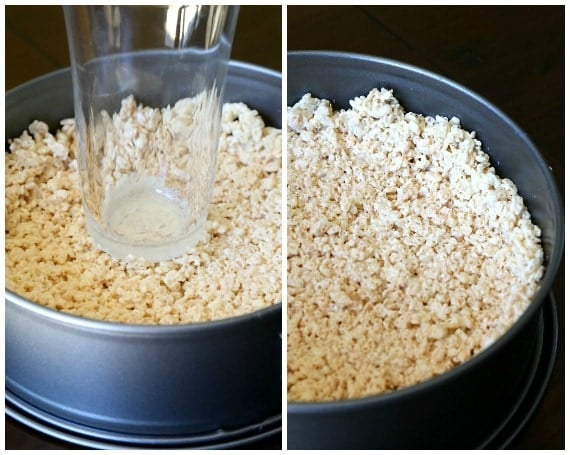 And then filled it with ice cream. I chose Strawberry today because white chocolate and strawberries sounded good…but heck, you can mix any flavor ice cream in there.. even use melted milk chocolate! So many flavor combo possibilities!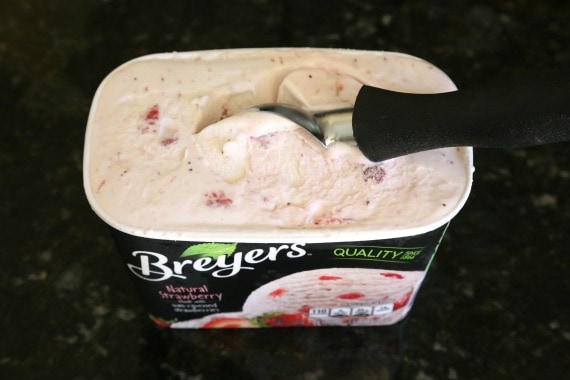 Just press the ice cream into the crust…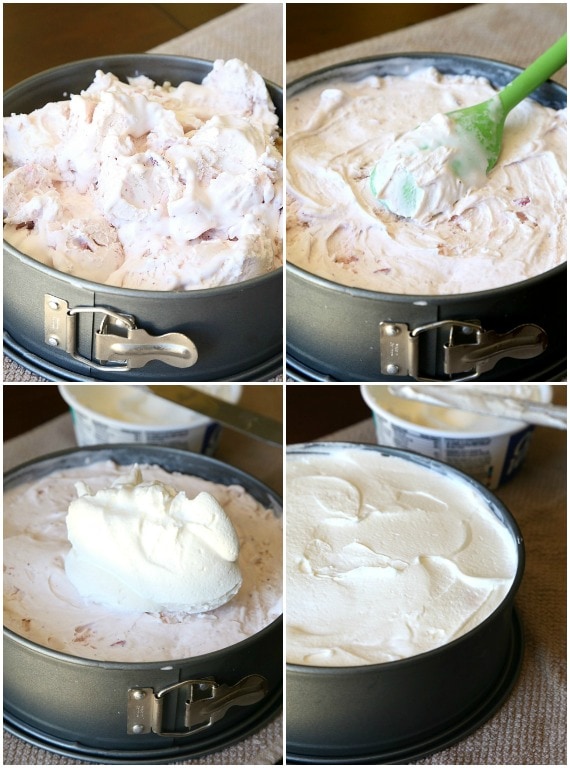 And top with Cool Whip or whipped cream.. or nothing..whatever, it's up to you!
I garnished mine with some extra strawberries cause I was feeling fancy…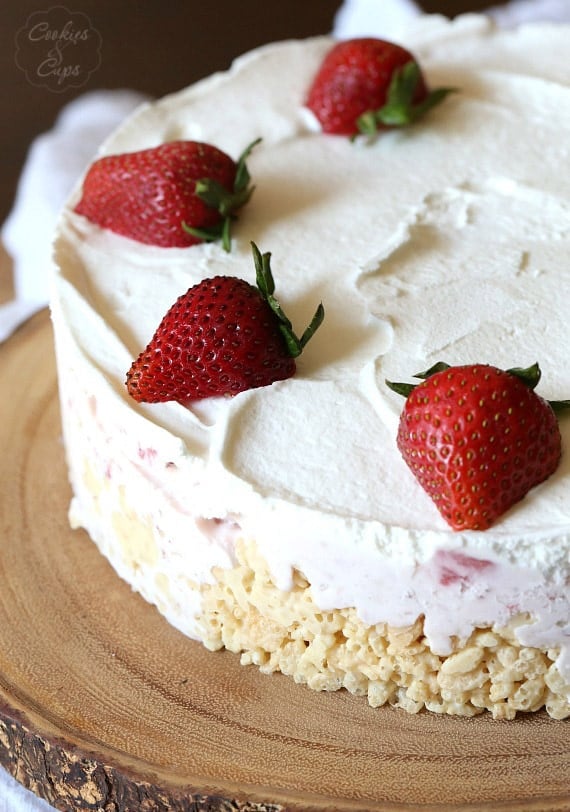 Freeze it for a while and totally dig in!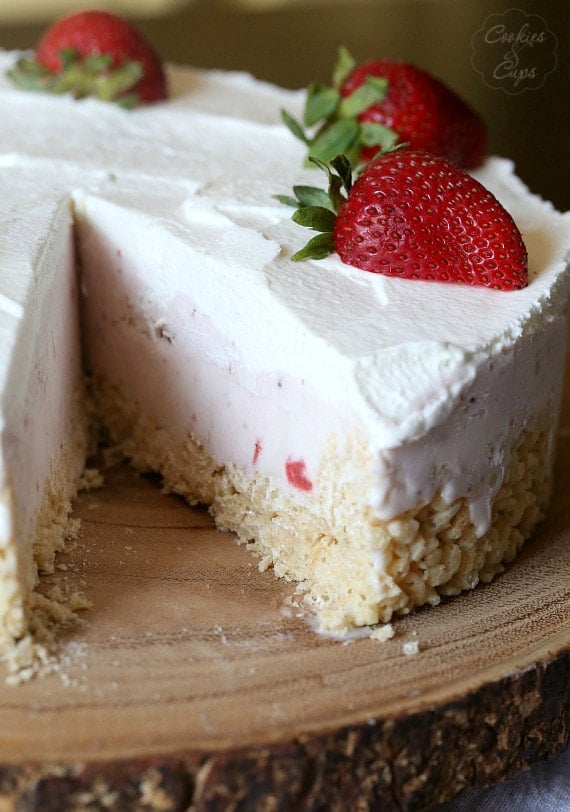 *Tip ~ When you are ready to serve take it out of the freezer about 10 minutes or so beforehand to let the ice cream and crust soften a bit!
AND ps~ you can totally eat this with your hands. It's a beautiful thing.
Print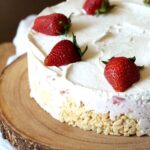 Rice Krispie Treat Ice Cream Pie
---
---
Ingredients
8 oz

white chocolate

4 cup

s rice krispie cereal

1 1/2 qt

s strawberry ice cream (or any flavor you would like), softened enough to spread

2 cup

s Cool Whip, thawed
strawberries to garnish
---
Instructions
Melt the white chocolate in a large bowl in microwave or over a double boiler.
Stir in rice krispie cereal, coating completely with the white chocolate.
Press mixture into the bottom of a 9″ or 10″ springform pan.
Freeze crust for 15 minutes.
Remove from freezer and spread the ice cream on top of crust. Top with Cool Whip and strawberries, if desired.
Cover and freeze for at least 2 hours.
When ready to serve allow to sit out for 15 or so minutes to soften ice cream and crust.