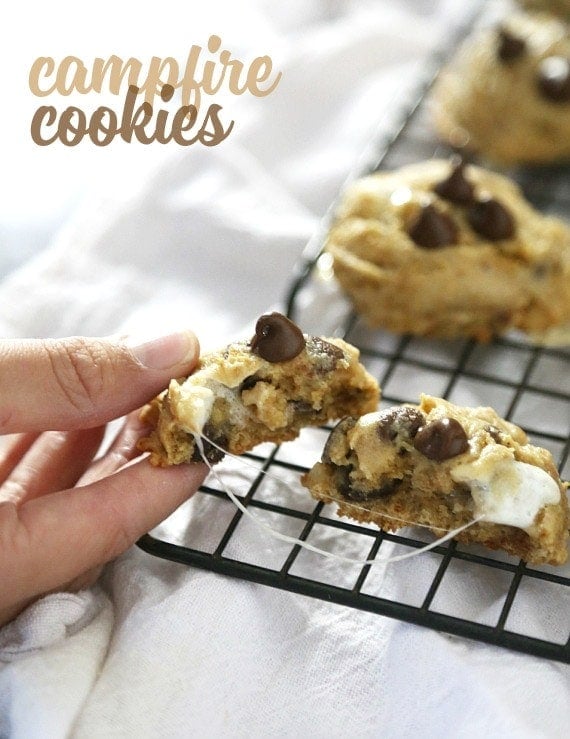 Campfire Cookies are some of my new favorite! Ooey Gooey and delicious!
It's not even officially winter yet…but it's cold outside and has been for a few solid weeks now.
Like COLD…not just cool-ish. The kind of cold where I have to take 3 showers a day to warm up and wear my heavy coat if I plan on going anywhere. Sometimes that anywhere only means the bathroom. Ugh…
Here's the thing my husband is a thermostat tyrant.
So when it's cold outside, you can always bet it's cold inside at my house. We are in a constant battle of me turning the heat up and him turning it down. The man walked into the house the other day and I had cranked up the heat to a paltry 68 degrees. SIXTY EIGHT! And he was all, "it's HOT in here", turn the heat down.
Now, I'm from Texas. I know what HOT is, and I can assure you 68 is NOT hot. If left up to him the house would be a cool 62 degrees at all times.
So I walk around my house in a scarf and mittens while he wears shorts and flip flops. I slep in full sweats (sometimes a hoodie) with socks and 4 blankets and he sleeps in his unders and a sheet. This is NOT an exaggeration.
Unfortunately the cold weather has just begun around here, so I have many months of the thermostat games to enjoy. But in the meantime I am going to dream of July when I was sitting outside roasting S'mores. Life was good back then.
Enter Campfire Cookies.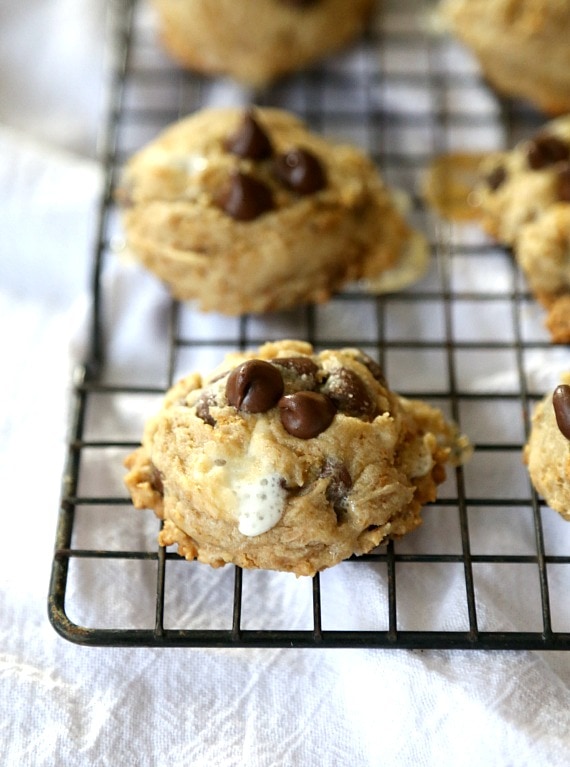 I got the recipe for these cookies from my new favorite cookbook Baked Occasions. I included it on my Cookbook Round up last week and I am obsessed with it. This is actually the first of a bunch of recipes I am going to make from this fab book, so stay tuned.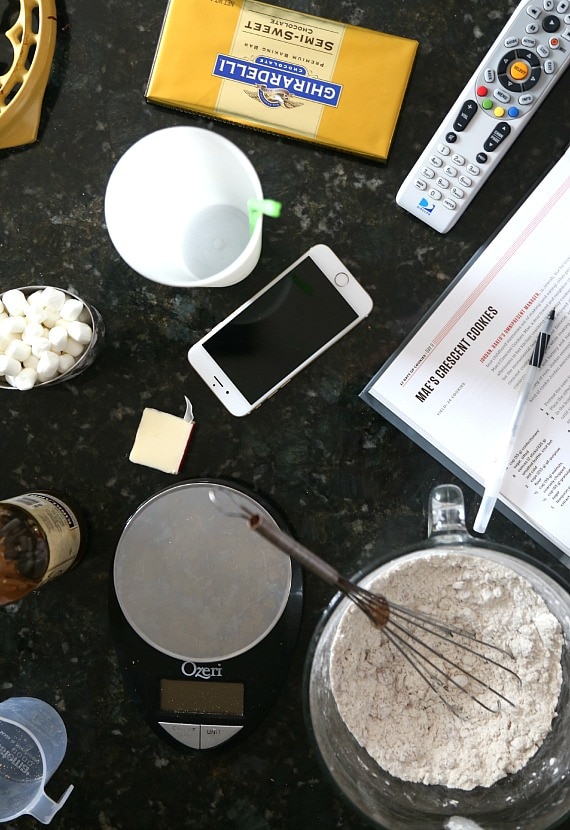 I just couldn't resist a cookie with marshmallows as my first make.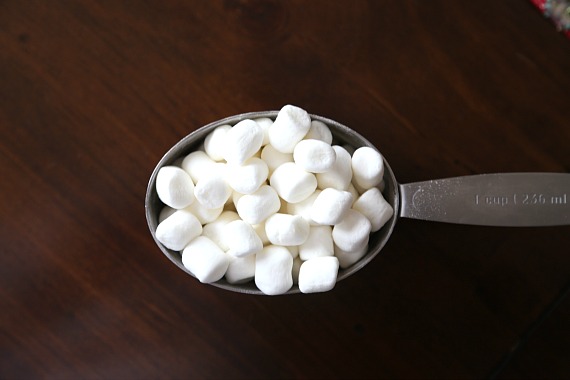 And lots of sweet graham cracker crumbs…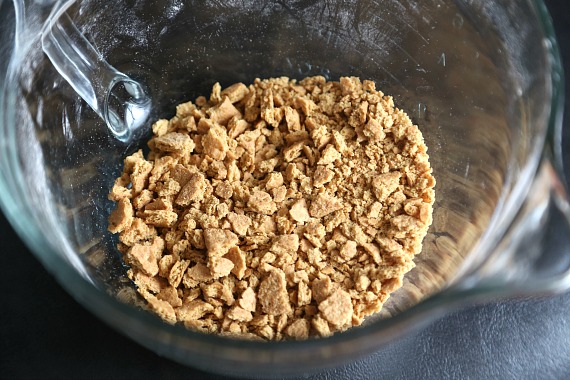 You have to chill the dough a bit for these, but when you're ready to bake them they look like this all pretty and scooped on the baking sheet ready to meet the heat.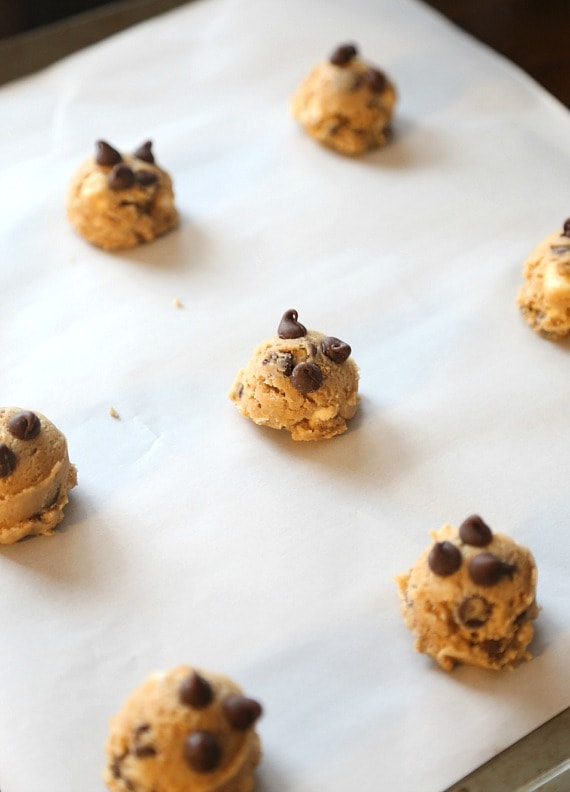 Now like I said these have marshmallows in them, and yes, some will ooze out. Don't worry about that.. I love love the oozy marshmallow bits. They stay chewy in the cookie and get a little crispy on the baking sheet. BUT be careful not to over-bake these guys, because the marshmallow will burn!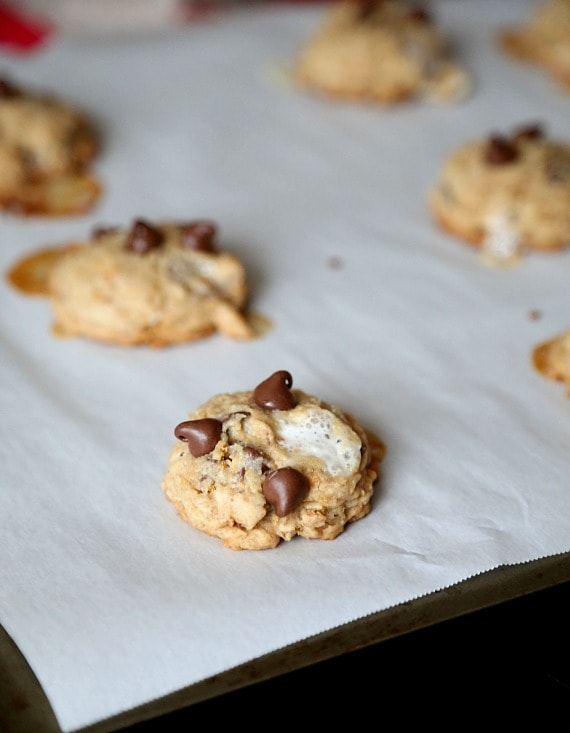 My kids LOVED these!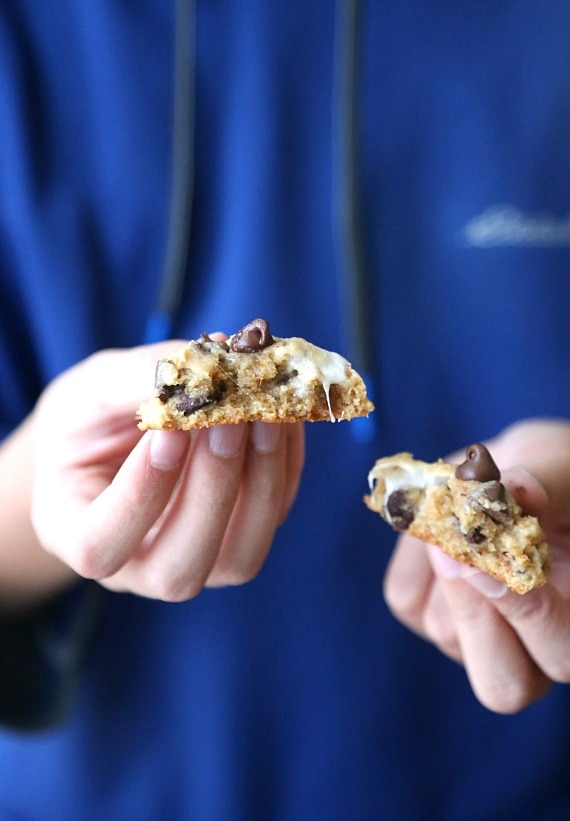 Also note that the type of baking sheet you use will effect the amount your cookies spread. I use a thin aluminum baking sheet and always always use parchment paper! An insulated baking sheet is not recommended for these cookies (or any cookies that need browned edges).
Print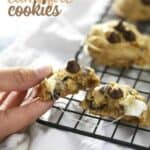 Campfire Cookies
Author:

Yield:

30

cookies

1

x
---
Ingredients
1 3/4 cup

s flour

6

full graham crackers (crushed into coarse crumbs)

1/2 tsp

kosher salt

1/2 tsp

baking soda

1/2 cup

butter, room temperature

1 cup

light brown sugar

1

egg

2 Tbsp

honey

1 Tbsp

vanilla

1 cup

mini marshmallows

1 cup

chocolate chips
---
Instructions
In a large bowl whisk together the flour, graham cracker crumbs, salt and baking soda. Set aside.
In bowl of stand mixer beat butter and brown sugar for 2 minutes until light and fluffy, scraping sides as necessary.
Beat in egg, honey and vanilla until incorporated.
Turn mixer to low and add in flour mixture until just combined.
Stir in chocolate chips and marshmallows.
Allow dough to chill for at least 2 hours.
When ready to bake, preheat oven to 325°
Line a baking sheet with parchment paper and using a 2 Tbsp sized cookie scoop or spoon drop the dough about 2″ apart on the lined baking sheet. Bake for 10-12 minutes until the edges are lightly golden and the marshmallow bubbles and oozes from the cookie. Don't over-bake.
Transfer to a wire rack to cool completely.
---
Notes
Store airtight for up to 3 days
Recipe lightly adapted from Baked Occasions