These easy and Healthy Banana Oat Cookies are completely mix & match to suit your tastes. With no added sugar or flour, you'll love making this healthy cookie recipe for a quick snack or breakfast!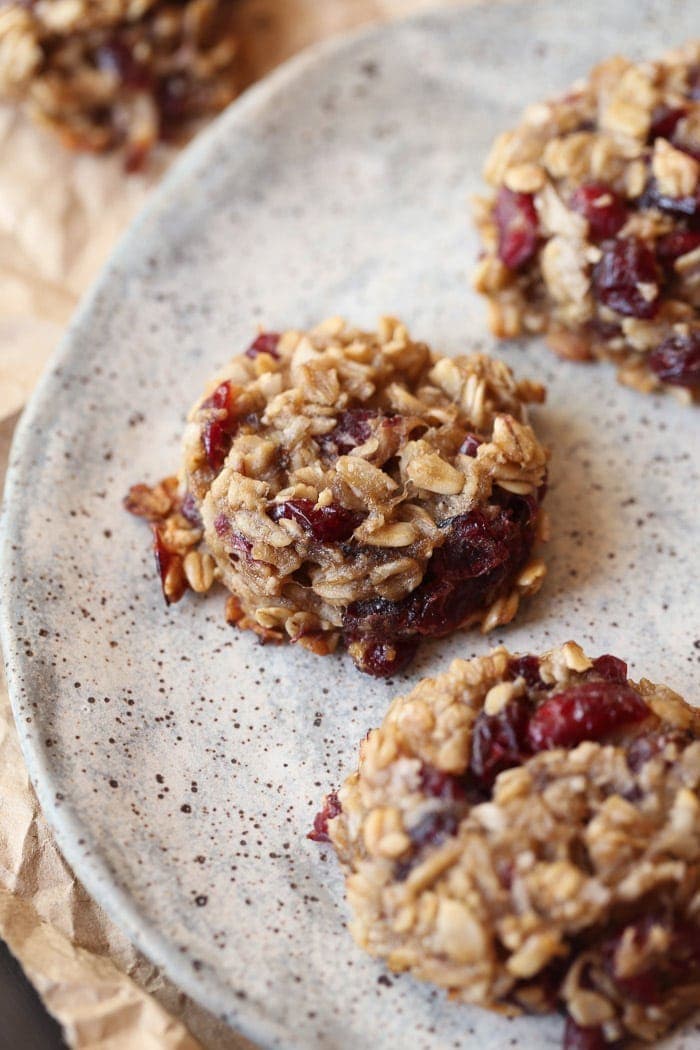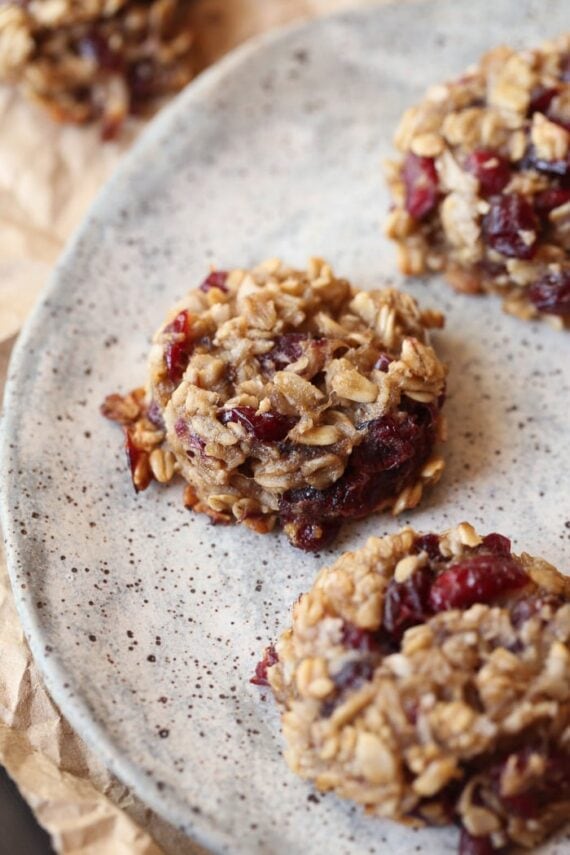 Easy & Healthy Banana Oat Cookies
Ok, stay with me here.
I know "healthy" isn't really a key word around this corner of the internet… I actually try to avoid it entirely. I mean, certainly, in my day to day life I do my best to eat healthy-ish, but I know you come here for sweet treats. And that isn't changing today.
I also know that "healthy" is actually a relative term, funnily enough. This realization came to me one day in the form of a fellow school parent. She was telling me how she lets her daughter have dessert every once in a while in the form of a yogurt.
Wait. What?
You see yogurt is totally on my "healthy" list, but for her yogurt is a dessert item. Now, I am not here to argue who is right and who is wrong (she is wrong) but I am here to say tell you that these cookies have no additional sugar added, no flour, and all natural ingredients. For me, this is a healthy cookie.
They are by no means sugar-free, low-cal, low-carb, or low-fat. They are just a whole ingredient cookie that actually tastes DELICIOUS. Plus, you can totally omit, or add-in different things to make them your own.
Let's discuss…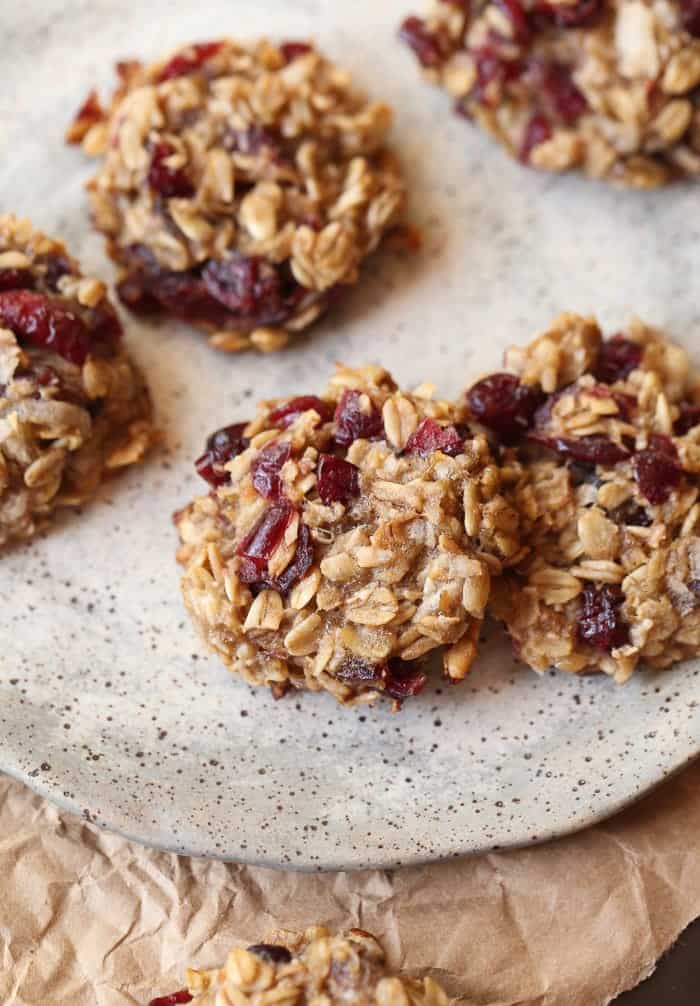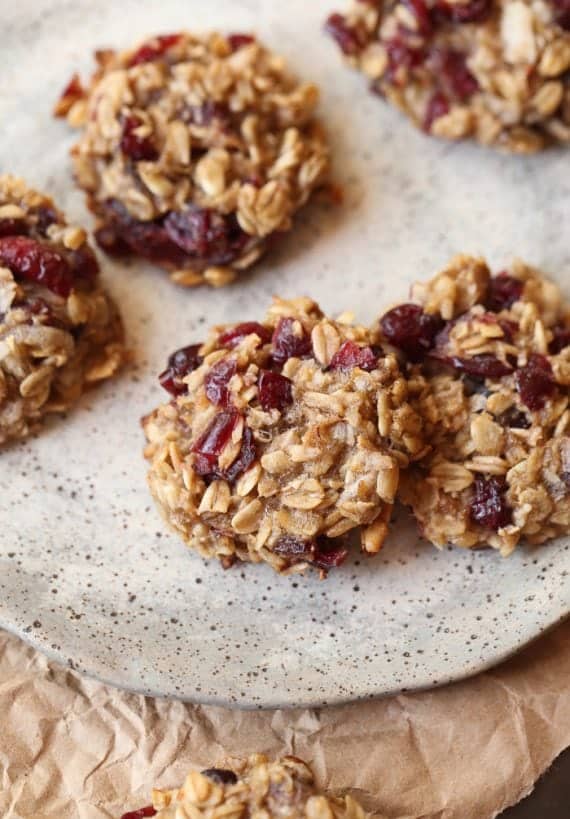 How to Make The Best Healthy Oatmeal Cookies
All you will need are 3 ripe bananas to start. They will work as the "binder" for the cookie.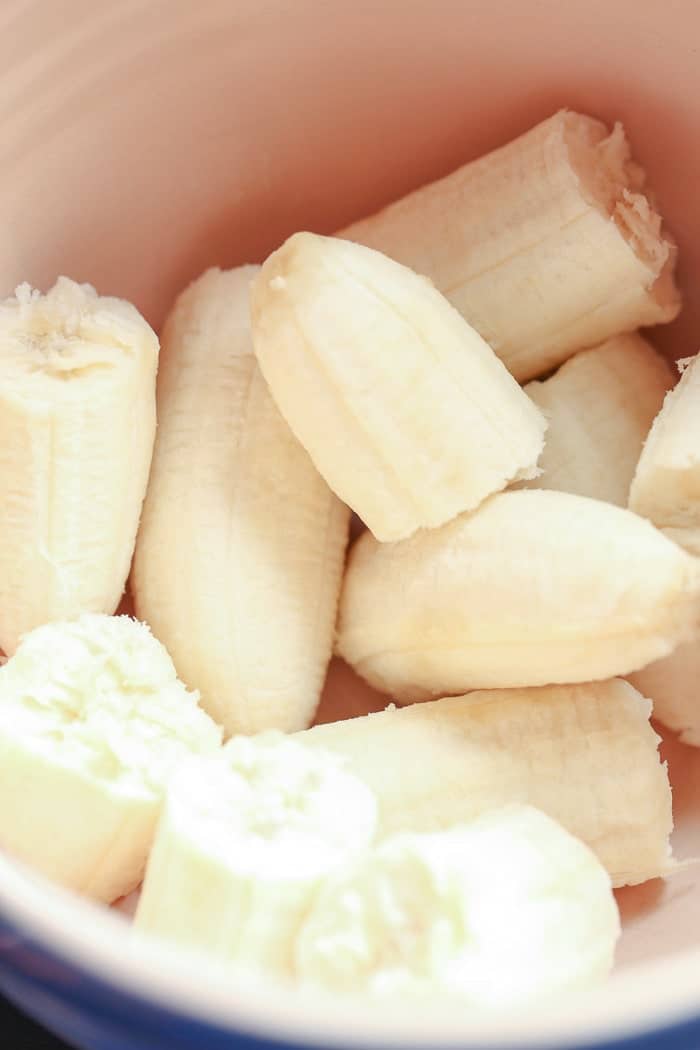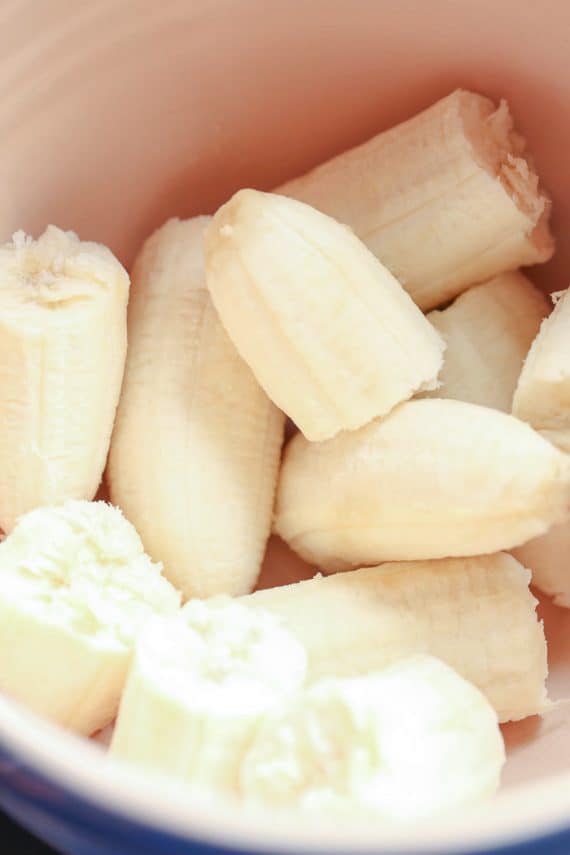 Mash them up and then add in some old-fashioned oats, coconut oil, vanilla and kosher salt.
Here's where you can get creative…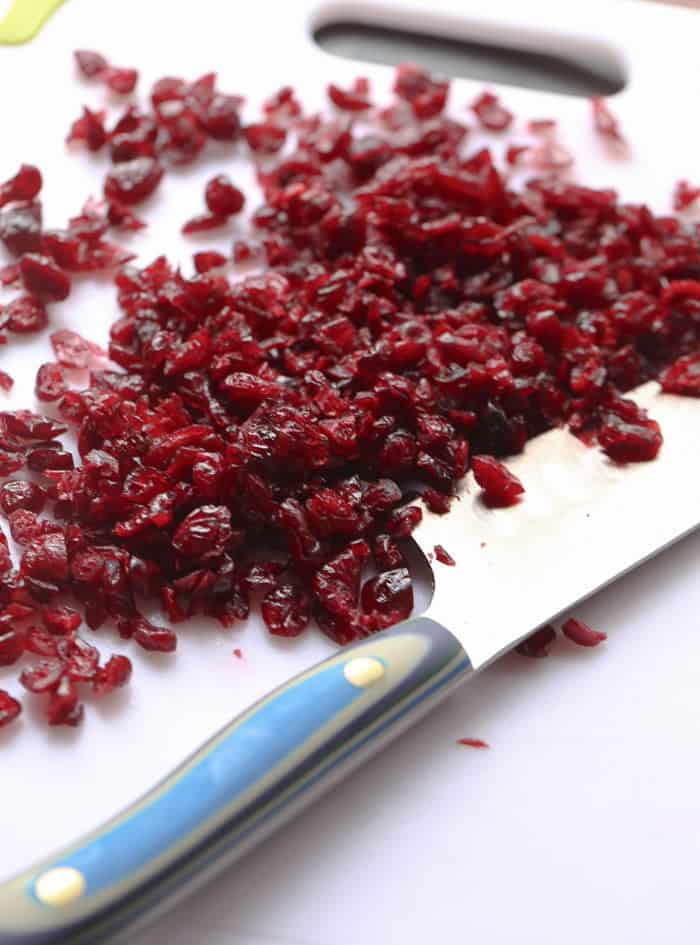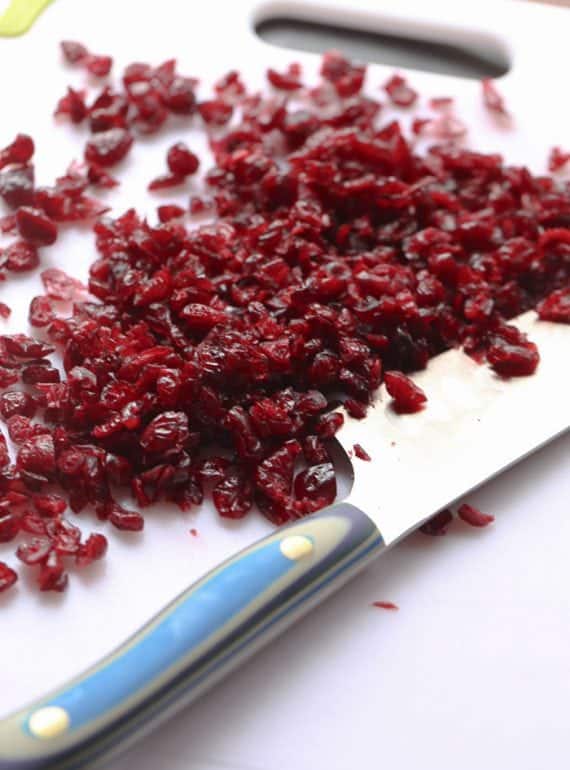 I added Craisins and coconut to mine. I LOVE coconut in these…BUT you can totally omit it if it's not your thing. You can add in raisins or dates instead of Craisins, or you could add in some walnuts or pecans if you want.
Heck throw in some chocolate chips, I won't tell.
Also, that knife up there that I chopped up my Craisins with? Yeah, the best knife EVER. It's a G-Fusion Santoku Chef Knife from New West Knifeworks and I am OBSESSED. Not only is it stunning with a fiberglass, hand-shaped handle, the blade is made from S35VN "Powder Metal Steel" that gives the knife elite sharpness and insane durability. I own 2 of these knives and can't say enough about them.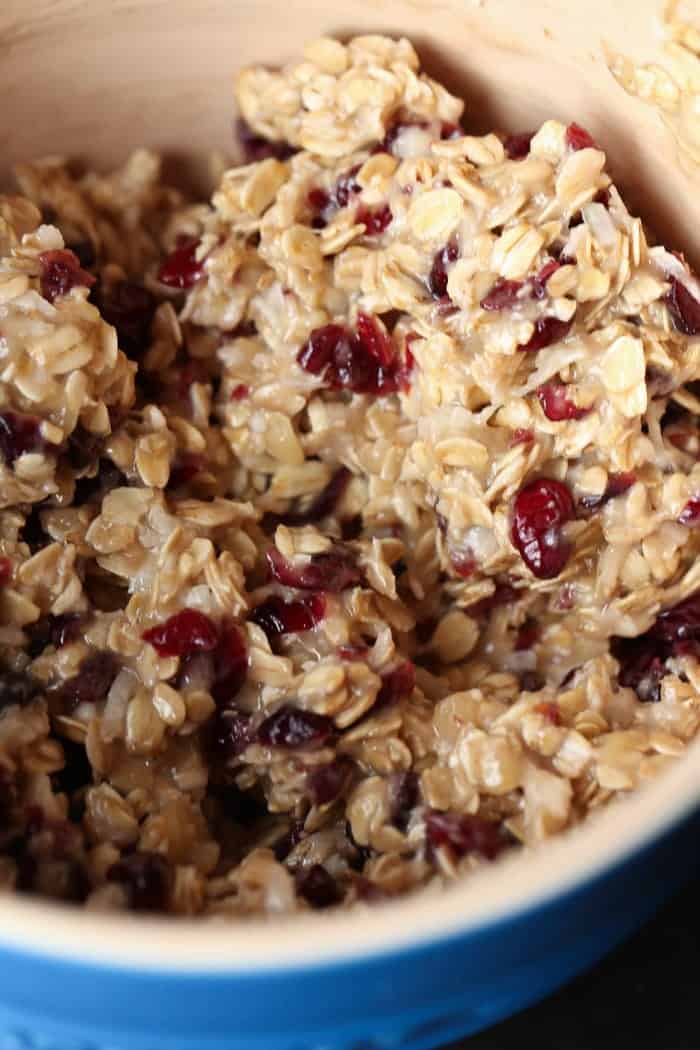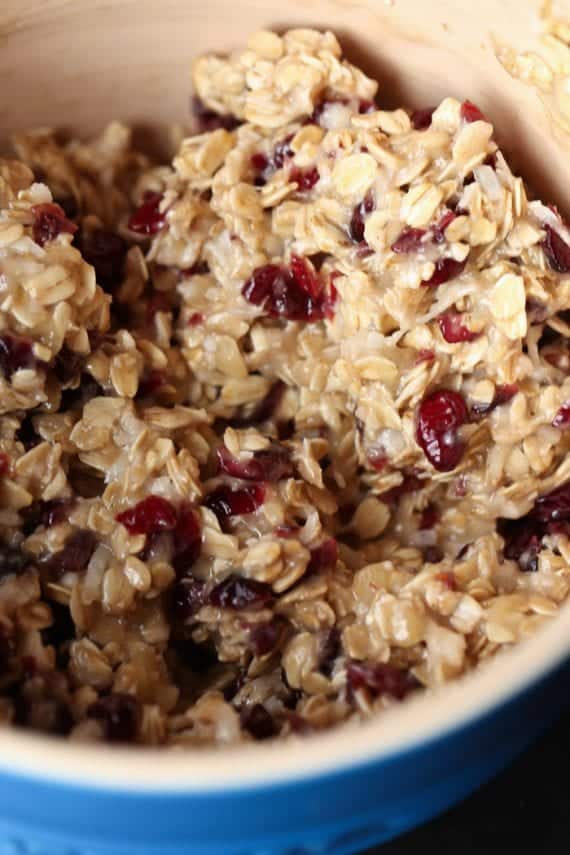 Anyhow, you just mix everything up in a bowl and then drop the mixture onto a lined baking sheet…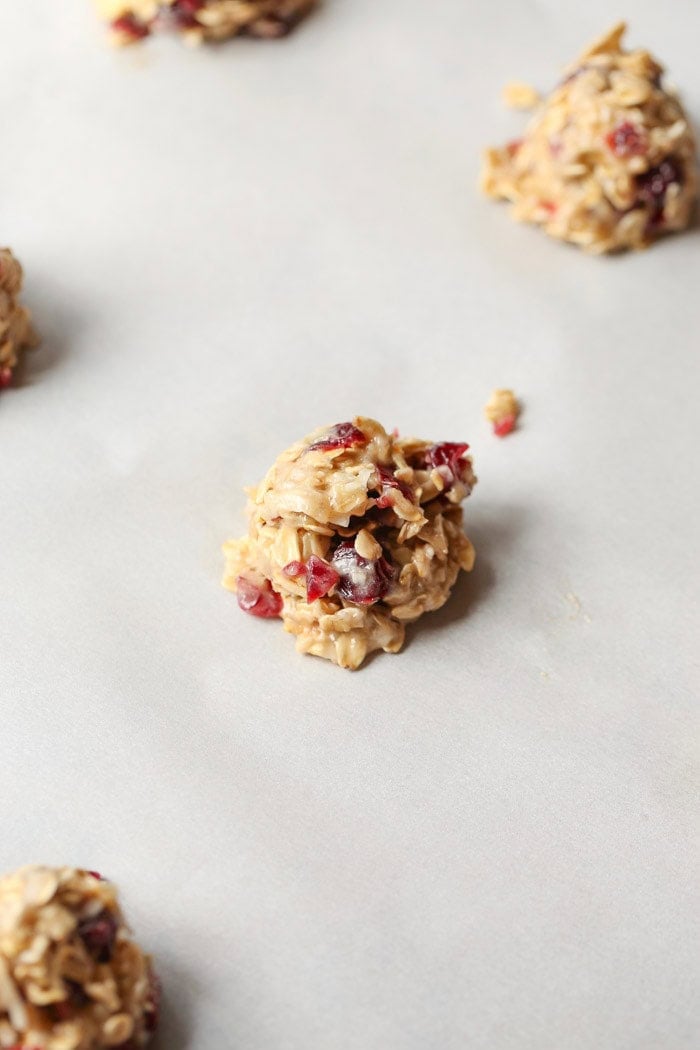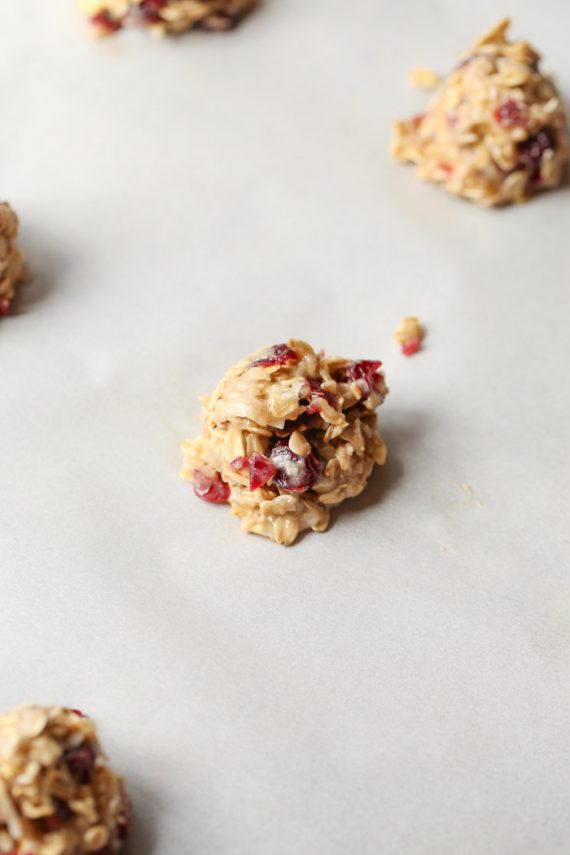 I like to press my cookies down before baking.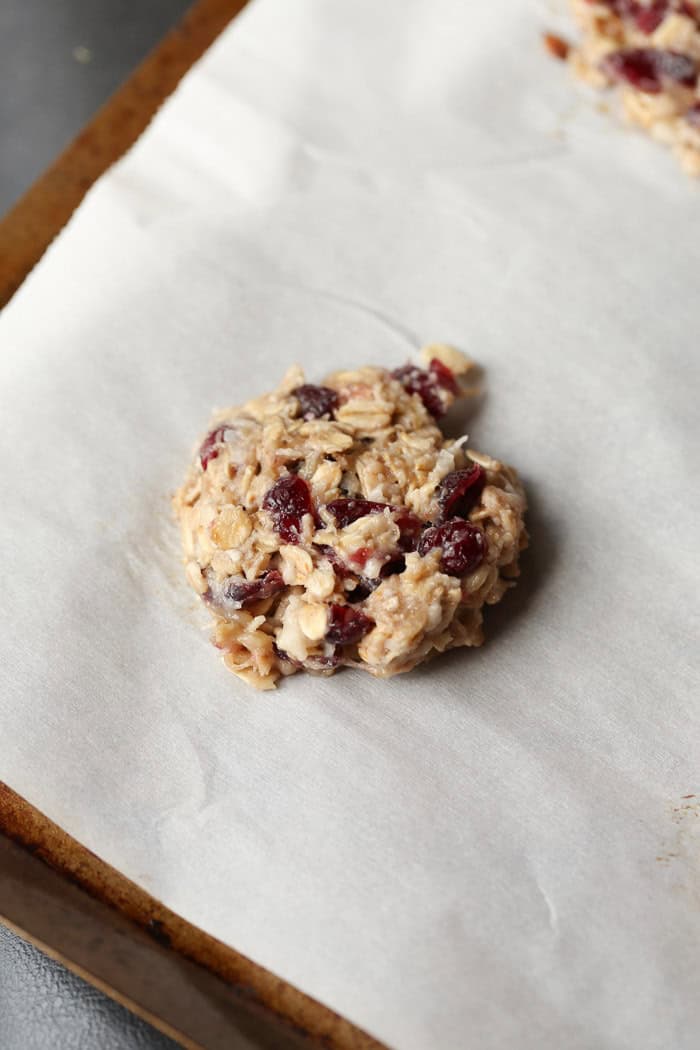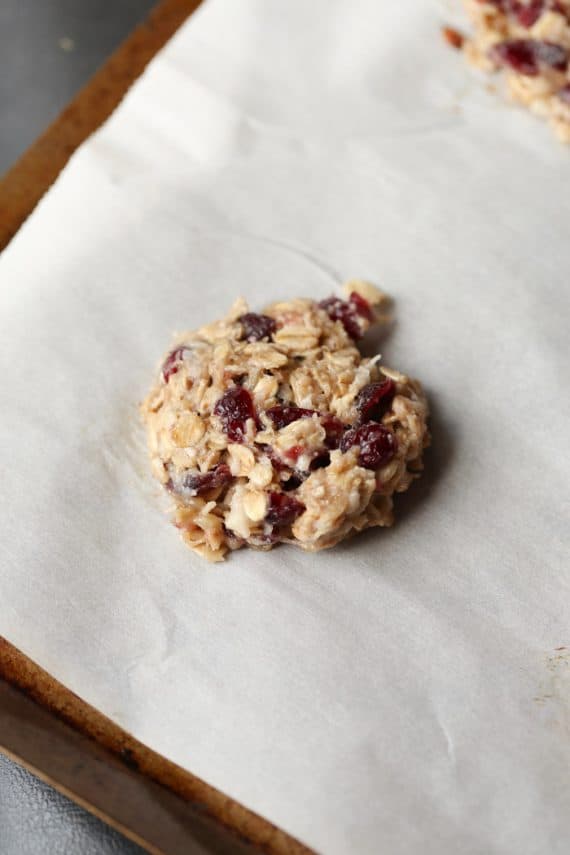 The mixture doesn't spread at all or flatten in the oven, so whatever shape they go into the oven is the shape they come out, so you can leave them in scoops or flatten…up to you!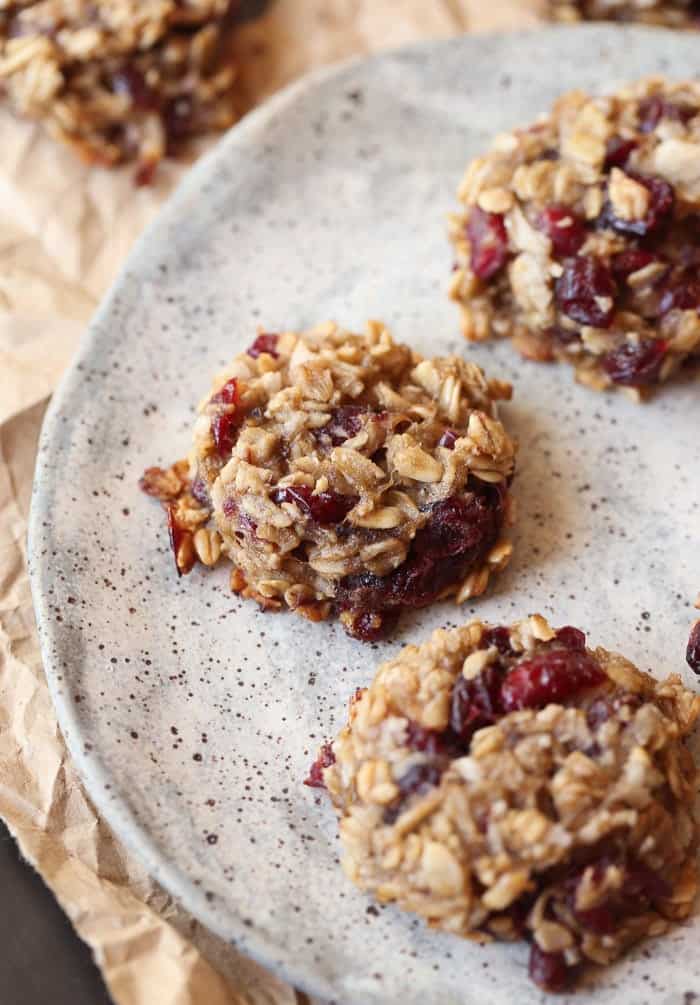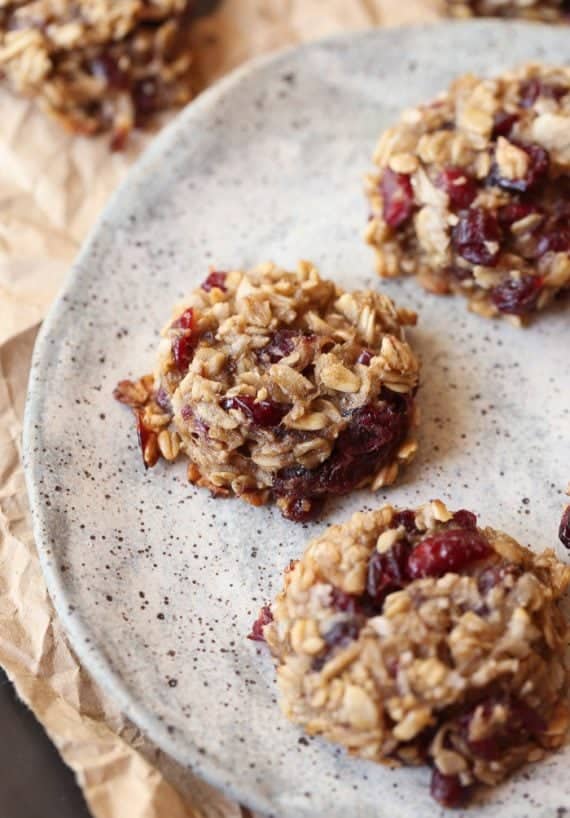 Bake them until they are golden. I like mine to be a little crispy on the edges, especially when I add coconut. It gets crispy and delicious!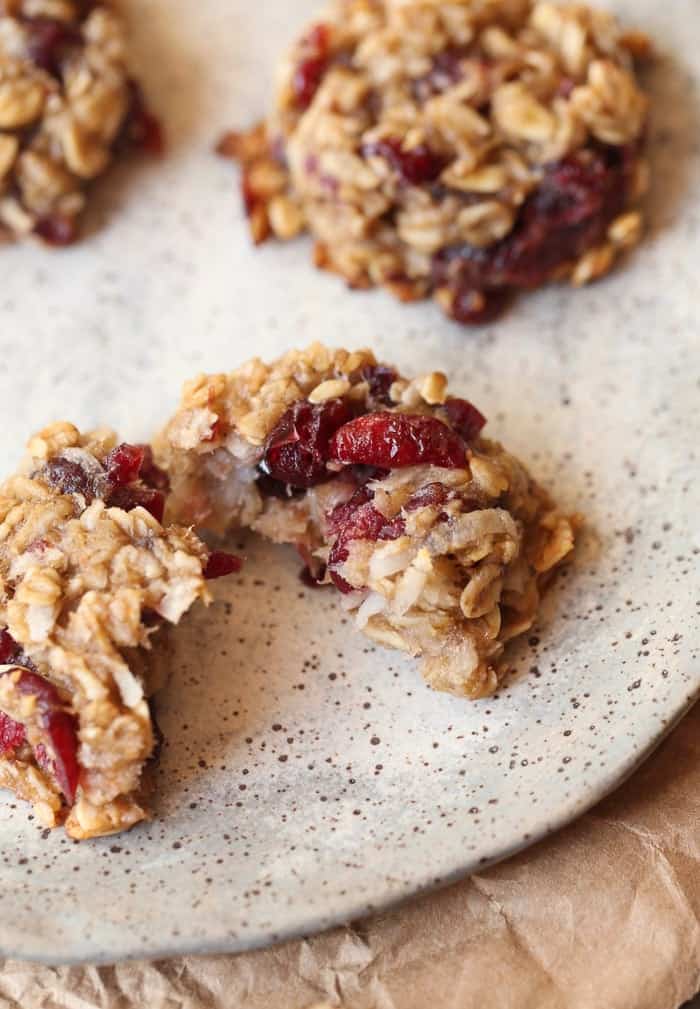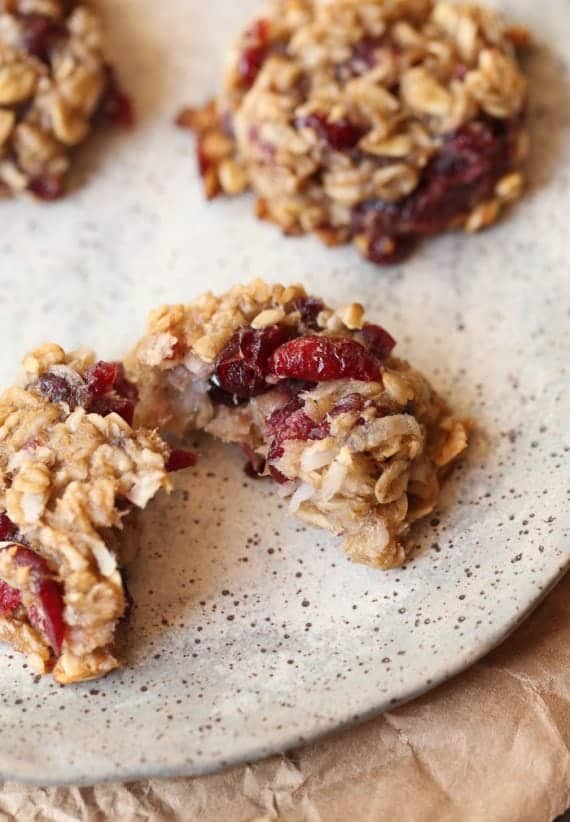 The cookies will stay soft, and actually get softer a day after you make them. I actually prefer them crispy on the edges, so don't be afraid to let them get nice and golden!
Print
Healthy Banana Oat Cookies
Author:

Prep Time:

8 minutes

Cook Time:

17 minutes

Total Time:

25 minutes

Yield:

24

cookies

1

x
Category:

Dessert

Method:

Oven

Cuisine:

American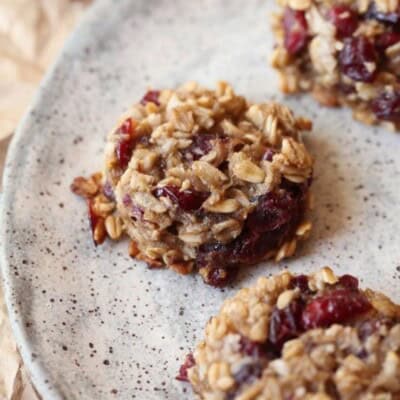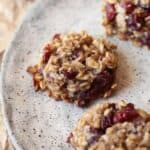 ---
Description:
These easy and Healthy Banana Oat Cookies are completely mix & match to suit your tastes. With no added sugar or flour, you'll love making this healthy cookie recipe for a quick snack or breakfast!
---
Ingredients:
3

ripe bananas, mashed

1/3 cup

coconut oil, in its liquid state

2 cups

old-fashioned oats

1 teaspoon

vanilla

1/2 teaspoon

kosher salt

1 cup

coarsely chopped craisins

1/2 cup

shredded coconut
---
Instructions
Preheat the oven to 350°F. Line a baking sheet with parchment paper and set aside.
In a large bowl combine all the ingredients evenly. Using a medium (2 tablespoon) cookie scoop drop the mixture onto the prepared baking sheet. Flatten the cookies out if you prefer a flatter cookie. The shape of the mixture won't change as they are baked.
Bake for 17-20 minutes until lightly golden.
Transfer to a wire rack to cool completely.
---
Notes:
Feel free to omit the coconut.
Optional add-in ideas:
1/2 cup chopped walnuts, or any kind of nut
1/2 cup mini chocolate chips
sub any dried fruit for craisins
1/2 cup white chocolate chips
sub peanut butter for coconut oil
sub any other light oil for coconut oil
Store airtight refrigerated up to 7 days
Keywords:: healthy oat cookies, healthy oatmeal cookies, banana cookies, banana cookies recipe, healthy cookies recipe, oatmeal cookies recipe, easy cookies recipe, easy oatmeal cookies
Want To Save This Recipe?
Save
Save