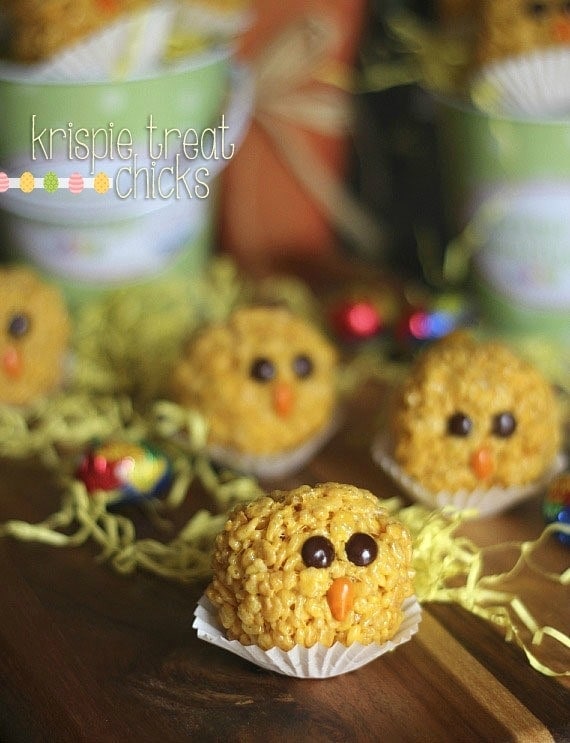 I have a favorite hobby this time of year.
It's called "Eat As Many Cadbury Eggs As Humanly Possible".
Trust me it's a thing.
I remember in high school, back when my metabolism appreciated excess amounts of junk food, hammering those things into my face until I was sick.
But as you get older, you grow to know your limits.  So instead of keg-standing Cadbury Eggs, I eat them in controlled excess… pacing yourself and all that.
And the perfect way to get your daily Cadbury Egg quota is slipping them into other unassuming treats.
Like Krispie Treats.  I mean, duh.
So today, I decided to get a little crafty while incorporating my 2 most favorite guilty pleasures…and made Krispie Treat Chicks…stuffed with a Mini Cadbury Egg.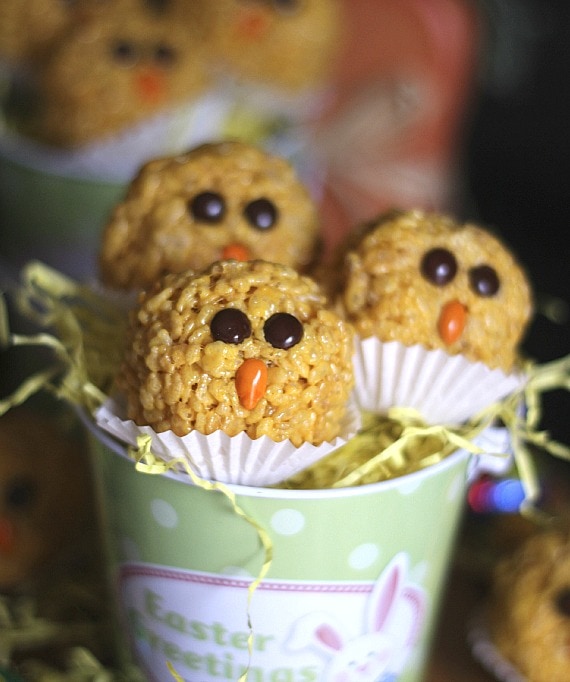 These are totally simple and perfect for the season…
Just make a batch of Basic Rice Krispie Treats…but when your marshmallow is almost melted, tint it yellow, using some yellow food coloring.  I used a gel based color.
Then mix in your cereal, as you normally would…
Let that cool for just a few minutes, so it's not quite so warm and get your Mini Cadbury Eggs ready…
Unwrap them, and try not to sneak any…
Grab about 1/4 cup of the Krispie mixture in your hands…you could spray you hands with cooking spray to help it not stick…just becareful not to use too much spray, because you will need to stick the eyes and the beak onto the krispie, and if you use too much they won't stick.
Form a ball around one egg…
Place them on a wax paper or parchment lined baking sheet.
For the chick faces I used some fun chocolate covered sunflower seeds and Mini M&Ms.
I thought the seeds were the perfect shape for their little beaks…and the M&Ms for their eyes (you could also use mini chocolate chips).
Just press them into the krispie mixture.  Mine stuck with no problem, but if you used a lot of cooking spray on your hands to form the balls, you might have some trouble.
And that's it!
I placed each into a white mini cupcake liner to look like an eggshell…
So simple, and you get 2 treats in one!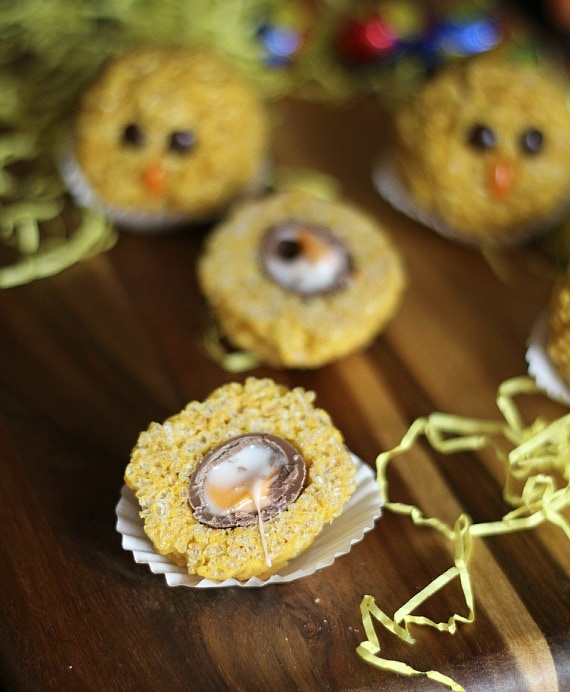 Print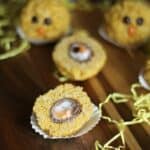 Krispie Treat Chicks
---
Description
Will make approximately 24 Krispie Treat chicks
---
Ingredients
Ingredients for

1

batch Basic Rice Krispie Treats
Yellow food coloring

24

MIni Cadbury Eggs, unwrapped
Chocolate covered Sunflower Seeds
Mini Brown M&Ms or mini chocolate chips
Mini white cupcake liners
---
Instructions
Make Krispie Treats according to directions, but as soon as the marshmallows are ALMOST melted, add in you yellow food coloring. Use as much or little as you would like to reach desired effect.
Immediately add in cereal and allow to cool for just a few minutes, so the Cadbury Egg doesn't melt.
Using about 1/4 cup of krispie mixture, form a ball around each Cadbury Egg, placing on a parchment lined baking sheet.
Press orange sunflower seed vertically on to ball, to mimic a beak, and 2 Mini M&Ms or chocolate chips for the eyes.
Place each in a mini white cupcake liner for presentation.
---
Notes
Store airtight for up to 2 days, although, best if eaten the same day, as is with any krispie treat.