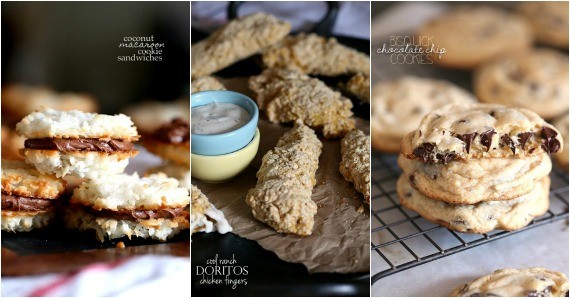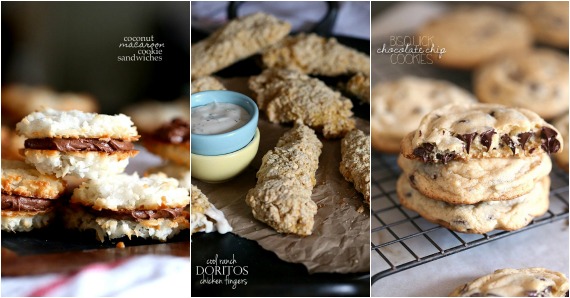 Hey friends!
Thought I'd pop in again and share some of the latest stuff in mah life again.
I know, I know…so self indulgent, right?
I can't help it, I do write a BLOG for goodness sakes. There isn't much else out there MORE self indulgent!
But anyway, here we go.
This week, of course I baked.
What we have here are Coconut Macaroon Cookie Sandwiches, Cool Ranch Doritos Chicken Fingers and Bisquick Chocolate Chip Cookies.
All good.
Ok, let's talk a little shopping addiction…
These Cropped jeans are my new favorites. Please don't let the fact that they are juniors throw you. They are roomy in the trunk area and run pretty true to size…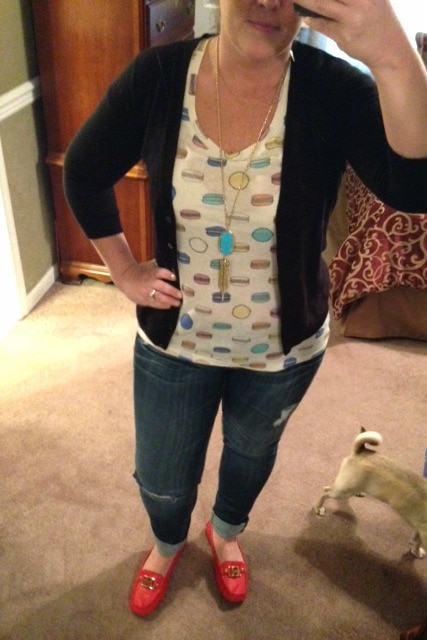 Also, I know you guys are gonna ask about the shirt. isn't it ADORABLE? I bought it a few months ago from Urban Outfitters..I can't seem to find it now to give you a link. I hope it's not sold out! I love it! Also, the shoes are my new favorites. I talked about them HERE.
Oh and the fab necklace from Kendra Scott.
Speaking of clothes I love, let's talk about this Military Jacket. So I totally copied from my friend Shaina, who had this jacket on a trip to NYC that we hung out on last fall. I literally wear it EVERYWHERE! It's super great for the in-between weather…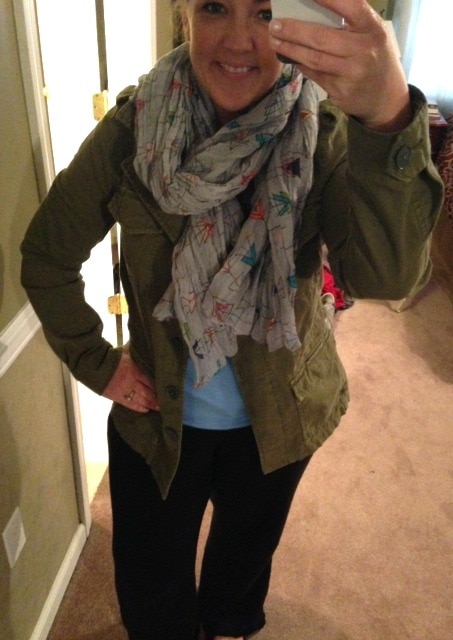 I honestly wear it with jeans, yoga pants swetas.. I am obsessed. My husband, of course, makes fun of me, asking me if I'm going to battle…but what does he know.
Also, scarf from Target.I don't see the link online for this specific one. I just happened to grab it while I was in the store a few weeks ago and have been wearing it a lot!
And finally, yes, I am still doing Stitch Fix! I haven't shared my boxes lately.. time has gotten away from me, but this last box was a real winner. Here's one of my favorite shirts..it's a light and pretty tunic with coral and navy!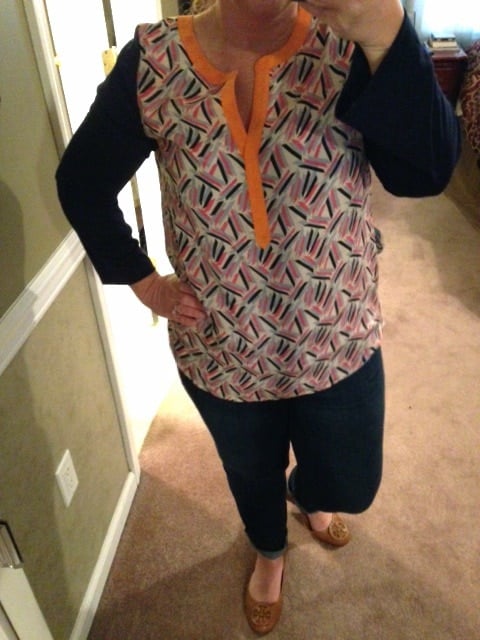 If you are interested in signing up for Stitch Fix Here's MY link. Also, if you're interested in seeing some other keepers from past boxes, check out some of our reviews over at That's What WE Said.
I've been obsessed with eyeliners lately too…the brighter the better. I am sure that one day I will REGRET wearing teal eyeliner, but not yet..not today.
My favorites are Urban Decay 27/7 liners LAYERED over this MAC liner called Marked For Glamour. layering the color over the gray changes it and makes it POP.. I have trouble finding Marked for Glamour sometimes, who knows why.. it'sthe best shade ever.. but I stock up when I find it! Totally try it!
Also, Since Walking Dead is now over I have decided to watch Game Of Thrones. Am I crazy? I am almost done with the first season and OMGIHATEJOFFREY! Over the past year I have power watched Sons of Anarchy, Breaking Bad and Walking Dead. I am officially a dude.
Oh and I got a haircut. Choppity chopped for spring!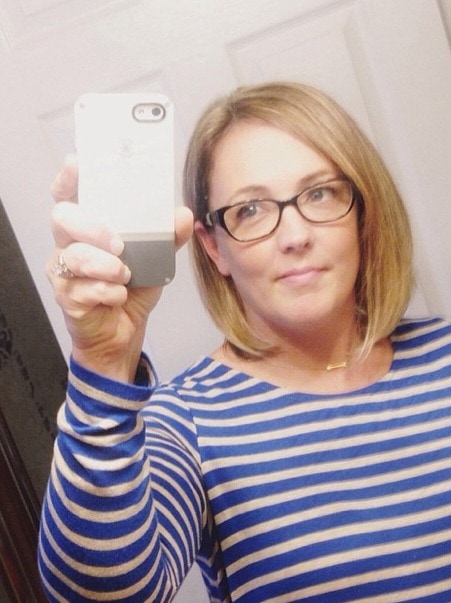 Also loving this skin cream. And this Mascara for ever and ever and ever.
Oh, before I forget, I am in a Recipe sharing group on Facebook. It's members only, so totally request a join. I will add you! I never know what facebook shows you anymore, so thought this might be a fun way to stay connected!
And of course sign up for my weekly newsletter to stay up to date on anything you might have missed!
Have a great weekend!!