As you all know I am a sucker for a marshmallow treat.
If it is bound together by marshmallow and butter there is a fair chance that I will eat it.
And I might possibly be addicted to Peanut Butter M&Ms.
It's just a possibility.
But I dream about them.
I stand and stare at them when I am at the supermarket.
I know that if I buy them I will eat them all.  In one night.
I lie to my children about why there are none left in their treat bags…"oh, your dad must have eaten them all..I have no idea".
I had to attend Peanut Butter M&M rehab.
There was an intervention and everything.
So I want you to know that I am risking my sobriety with these treats.
That's how much I love you.
With that said, I have combined 2 of my most favorite sweets into one delicious no-bake bar.
And with it being 176° outside right now I do not need a reason to turn on the oven.
You're welcome.
Peanut Butter M&M Chex Bars
6 cups Rice Chex
1 (10.5 oz) bag mini marshmallows, divided
3 Tbsp. butter
1/2 cup creamy peanut butter
1 (11.4 oz) bag of peanut butter M&Ms ~ approx 2 cups
2 oz semi sweet chocolate to drizzle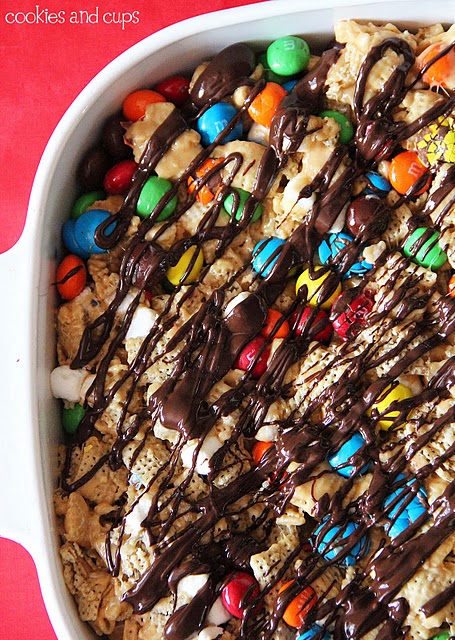 Spray a 9×9 pan with cooking spray.  Set aside.
In a large pot over low heat melt butter.
When the butter is melted add 4 cups of your mini marshmallows.
Stir until marshmallows are melted.
Remove from heat.
Stir in you peanut butter until incorporated.  Add your Rice Chex.
Stir until evenly coated.
The mixture should be cool enough now to stir in the remaining marshmallows and M&Ms without them melting.
Now transfer to your 9×9 pan.
Press mixture evenly in your pan.
Melt the 2 oz of chocolate in the microwave on 50% power for 2 minutes (or until melted), stirring after each minute.
Drizzle the chocolate on top of the Chex mix.
Let cool until chocolate is set.
Cut into squares and serve.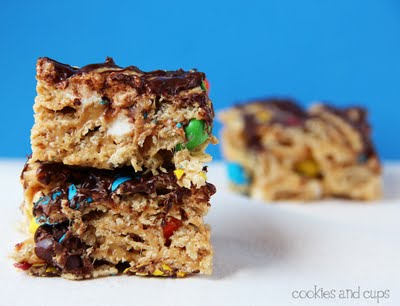 My friend Karly over at
Buns in My Oven
posted a fun Peanut Butter M&M recipe today too!
Great minds…or peanut butter obsessed food bloggers…think alike 🙂
So hop on over and check hers out too!
Tweet